Affiliate Disclosure: AmmoCave.com sometimes gets paid for listings, through sponsors or affiliate programs like Lucky Gunner, Optics Planet, Brownells, Cabelas, Academy Sports & Outdoors, Rainier Arms, Palmetto State Armory, Sportsman's Guide, Ammo.com, Ammo Man, Primary Arms, MidWayUsa, Amazon, eBay, etс. Clicking a link helps keep AmmoCave.com free, at no extra cost to you!
Authors: Each article is verified by AmmoCave's expert team. Professional hunters, firearm trainers, gunsmiths, and gun experts write the articles. AmmoCave Team independently researches, tests, reviews, and uses recommendations from our community of gun owners. We may earn commissions from shopping links.
Note: The views and opinions expressed in this article are those of the authors and do not necessarily reflect any agency's official policy or position. The articles are for informational purposes only, share your opinions about Best 12 Gauge Ammo in the comments and join the discussions. Let's share 💬 our ammo & gun experiences together!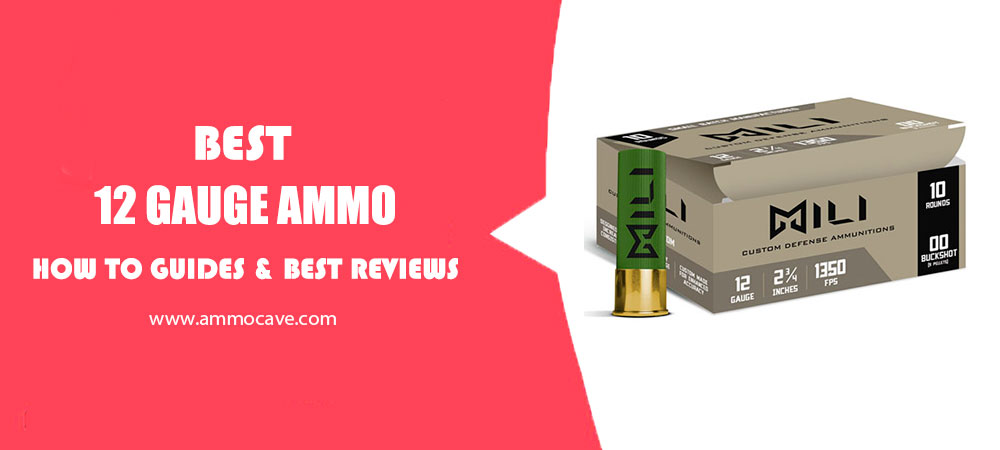 What is 12 Gauge Ammo? 🤔
It is a type of shotgun shell used in shotguns. It was originally made to fire a lead shot, but today it can be used with a variety of ammo types, including buckshot, slugs, and birdshot. This means that this ammo is suitable for hunting and target shooting.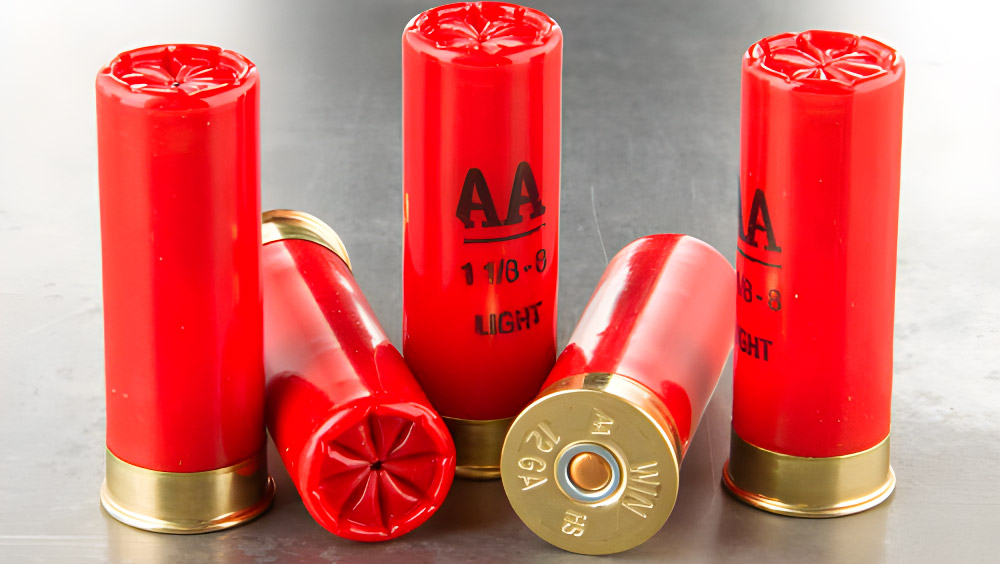 Features 📝
12 gauge ammo is a type of shotgun ammunition that is widely popular for its versatility and power. It is typically used for hunting, home defense, and sport shooting. Here are some of the key features:
🔶 Gauge Size: This ammo is named after its diameter. It is 0.73 inches in diameter, which makes it one of the largest shotgun gauges on the market. This size provides an advantage in terms of power and stopping power.
🔶 Multi-Purpose Use: For hunting, it can be used to take down games of various sizes, including birds, deer, and hogs. Home defense can provide a quick and powerful defense against intruders. For sport shooting, it can be used in skeet, trap, and sporting clays.
🔶 Varieties: Such ammo comes in a range of varieties, such as buckshot, birdshot, slugs, and specialty rounds. Buckshot is typically used for home defense, whereas birdshot is used for hunting birds. Slugs are best for larger games, while specialty rounds are used for specific circumstances.
🔶 Accuracy: With rifled barrels and proper aim, 12 gauge slugs can hit targets accurately up to 100 yards away.
🔶 Recoil: It produces a powerful recoil due to its size and power. This can also affect accuracy, so it's important to select the right ammo for the intended purpose and consider the recoil when firing.
Our Top Pick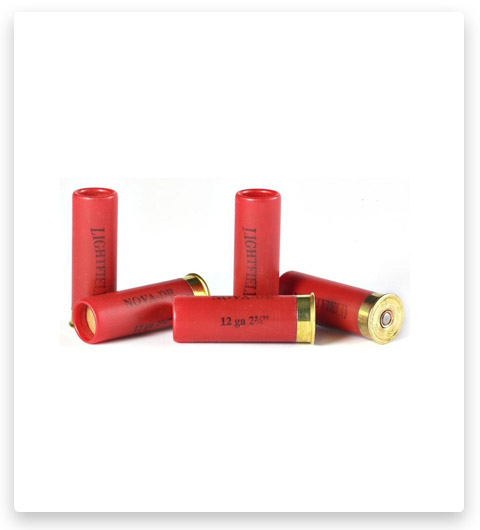 12 Gauge Ammo Shells
This ammo is ideal for shooting at both close and long range. This shell's shot is nontoxic and won't stay in the environment, making it a more sustainable choice. With a muzzle velocity from 1,300 to 1,550 fps, this shell has the power and speed you need to take down your target. Don't miss the buying of this awesome ammo!
Explore Now
If you click this link and make a purchase, we earn a commission at no additional cost to you.
Benefits ✨
The 12 gauge is one of the most popular shotgun gauges for hunting, sporting, and self-defense. Let's take a look at some of the benefits:
❇️ First, it is well known for its superior stopping power when compared to other shotgun gauges. With proper ammunition selection, it can deliver an effective range of up to 50 yards with lethal force.
❇️ Another advantage is that it offers greater versatility than some of the smaller gauges, which are limited by their inability to reach longer distances.
❇️ The 12 gauge can be used effectively in short-range self-defense situations up to long-range target practice and hunting. This makes it a great choice for anyone looking to practice or hunt with one gun.
❇️ Finally, this ammo is an extremely popular shotgun gauge that is widely available in both commercial and specialty ammunition.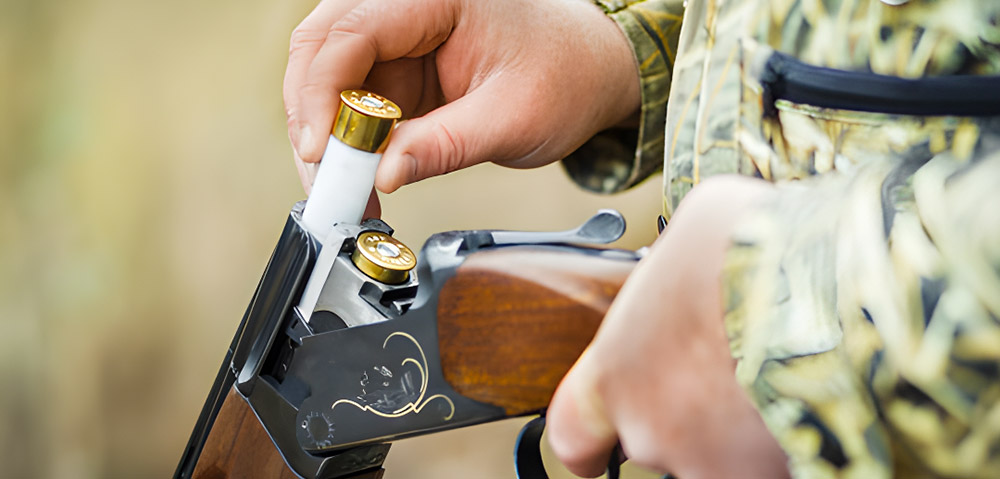 How to choose? 🔍
Deciding which 12 gauge ammo is best for your needs and budget can be a difficult task, but understanding the different types of ammo available will help. There are several factors to consider when evaluating:
⭕ Velocity – This refers to how fast the bullet travels and affects its effectiveness in both close and long-range shooting.
⭕ Round Type – Different round types offer different levels of power, accuracy, and penetration. Buckshot and slugs are two popular round types.
⭕ Price – Cost should always be taken into consideration when selecting the best ammo for your application.
➡️ Once you've identified what type of ammunition you need, it's important to understand the different brands and manufacturers available.
✍️ There are several reputable names in the industry such as Federal, Remington, Hornady, Winchester, and Estate Cartridge. Each brand offers a variety of ammunition types with different levels of power and performance.
🚨 Finally, don't forget about safety! Always follow proper firearm safety protocols when using any type of gun or ammo.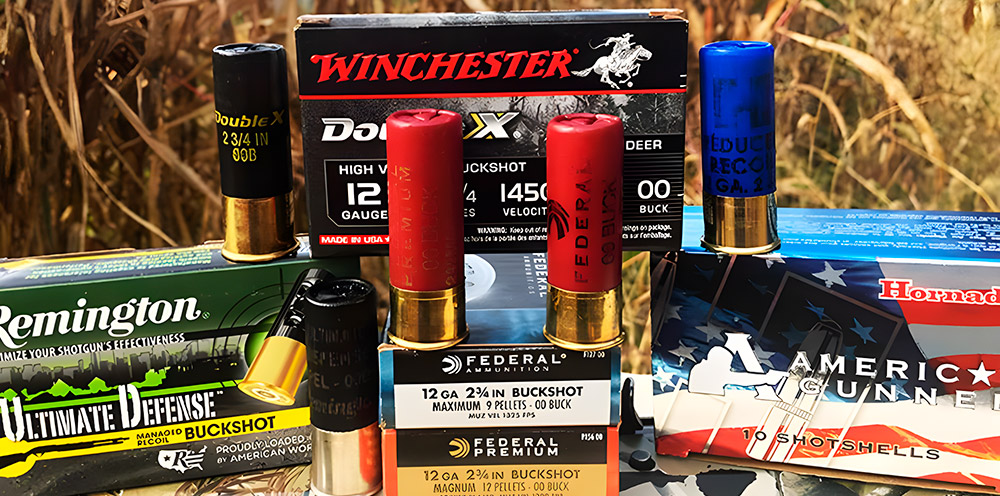 Our Selection 15 Best 🎯 12 Gauge Ammo –
Editor's Choice
1# 12 Gauge – 3″ – BB Steel –
Drone Munitions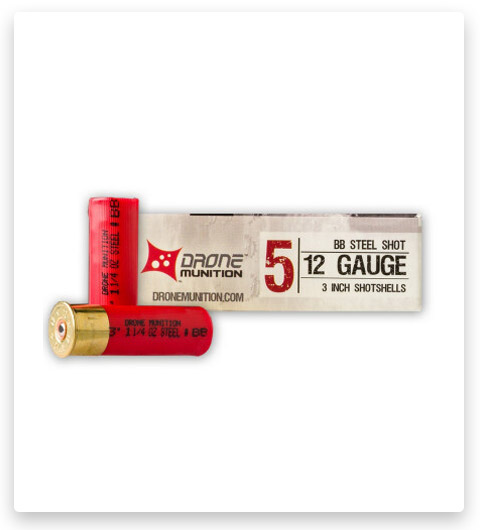 Searching for an effective and permanent solution to your drone problem? Notice the Drone Munitions. Its proprietary ferromagnetic ballistic payload is designed to instantly disrupt critical drone systems upon impact. Each 3-inch, 12 Gauge round is loaded with BB Steel Shot, making it a powerful and efficient solution to your drone problem. Lead-free and available in a 2-shot and BB variant, this ammo is a perfect choice also for hunting or self-defense. So please, be responsible for this product and do not use it in any unlawful manner. It could end up costing you more than you bargained for.
2# 12 Gauge – 3-1/2″ 1-3/8oz – №4 Steel Shot –
PMC

High-Velocity Magnum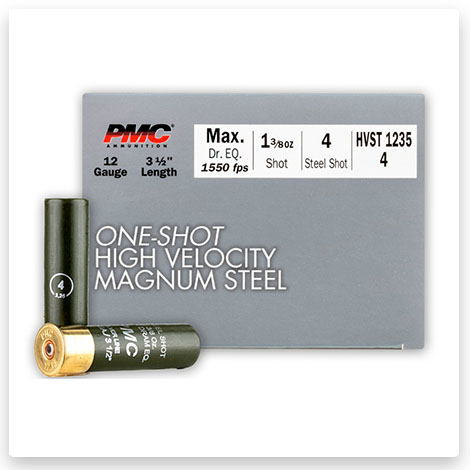 This 12 gauge magnum load by PMC is perfect for hunting ducks whether they're close to your decoys or high overhead. It's loaded with #4 steel shot, .13" diameter pellets that are ideal for shooting at both close and long range. This shell's steel shot is nontoxic and won't stay in the environment, making it a more sustainable choice. Steel shot also has a shorter flight time than lead, so it's less likely to lose energy over long distances. With a muzzle velocity of 1,550 fps, this shell has the power and speed you need to take down your target.
3# 12 Gauge – 3″ 1oz №1 Steel Shot – PMC High-Velocity Magnum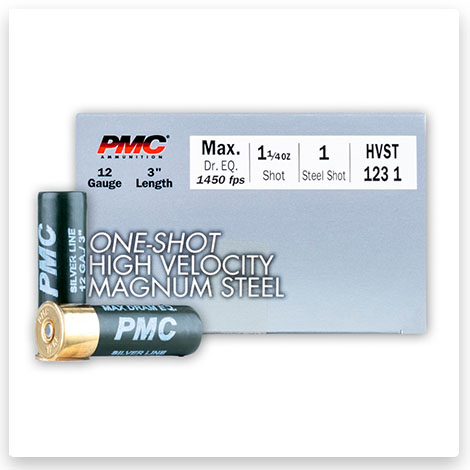 Do you need a high-powered, environmentally friendly option for duck and goose hunting? Check out the PMC's 12 Gauge magnum load! This powerful load features a muzzle velocity of 1,450 fps, making it ideal for taking down fast-flying birds. The super-round steel shot is designed for tight, accurate patterns, while the protective wad helps keep your barrel free of scratches. So whether you're a hunter who cares about protecting the environment or simply searching for a powerful and accurate option for taking down ducks and geese, this 12 Gauge magnum load from PMC is a perfect choice.
4# 12 Gauge – 3″ Super-X Waterfowl BB Shot –
Winchester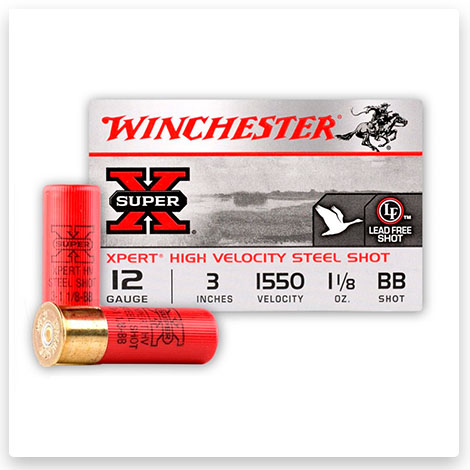 Wondering what steel shot to take with you on your next waterfowl hunt? Winchester's #4 12 Gauge – 3″ Super-X Waterfowl BB Shot is an answer! It`s designed to deliver excellent performance while complying with all applicable laws. Lead-free and loaded with a 1-1/8 ounce payload of BB-size steel shot, this ammo has a high muzzle velocity of 1,550 feet per second for great midrange ballistics. The shells feature Winchester's reliable 209 primers and a one-piece hinged wad designed to keep recoil manageable and enhance patterning. Winchester ammo is manufactured at the company's new state-of-the-art assembly plant in Oxford, Mississippi – so you can be confident in its quality and performance. Pick up a box or two of this great steel shot today!
5# 12 Gauge – Super-X Shotshell –
Winchester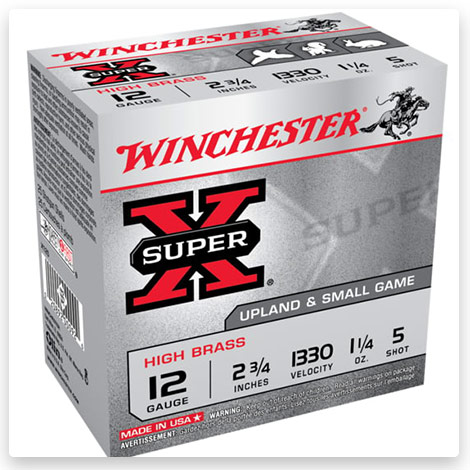 Winchester's 12 Gauge Super-X Shotshells are perfect for upland and small game hunting. Since 1922, Super-X ammunition has been providing exceptional quality and outstanding performance for hunters and shooters alike. The Xpert Steel Shot is corrosion-resistant and meets federal and state regulations for lead-free projectiles, while the thicker wad segments provide increased barrel protection. This shotshell is also engineered for a muzzle velocity of 1330 ft/s, making it ideal for upland and small game applications. So don't settle for anything less than the best – choose the Winchester 12 Gauge Super-X Shotshell.
6# 12 Gauge – Defender Shotshell –
Winchester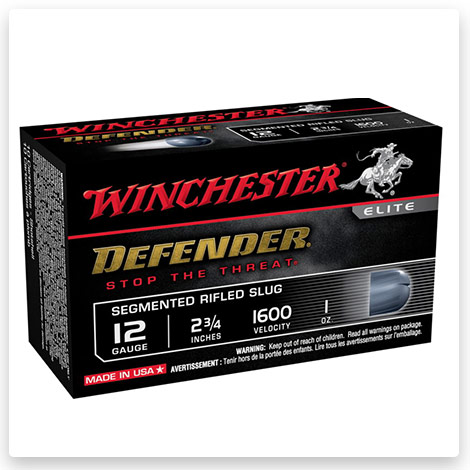 Winchester`s 12 Gauge Defender Shotshell is the perfect choice for protecting your family and loved ones. With its unique three-segment design, this slug provides accuracy, penetration, and the ability to make multiple wound channels. The tough, one-piece construction is made from high-density polyethylene (HDPE) for superior performance. The smooth bore interior prevents fragmentation upon impact, while the Grex-plated non-toxic shot helps minimize damage to shotguns and fine-rifled barrels.
7# 12 Gauge – Black Aces –
Black Aces Tactical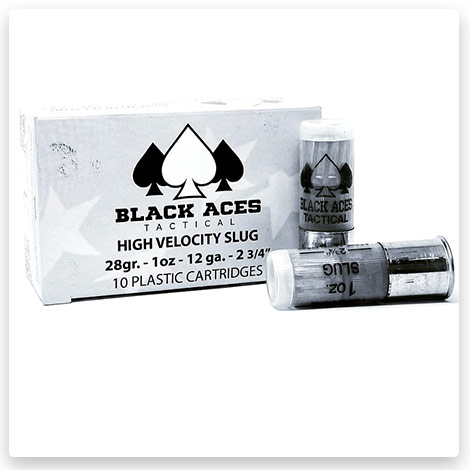 Want to buy an affordable hunting round that packs a punch? Notice the Black Aces Tactical 12 Gauge shotgun slugs. These RS (rifled slug) rounds are designed for use with 12-gauge shotguns and provide high-velocity firepower at an incredible value. Each shell is 2.75 inches long and loaded with a 1oz. slug that can be fired at a muzzle velocity of 1,640 ft/s. That's some serious stopping power! So grab a box of Black Aces 12ga shotgun slugs today and be prepared for anything.
8# 12 Gauge – TSS –
Browning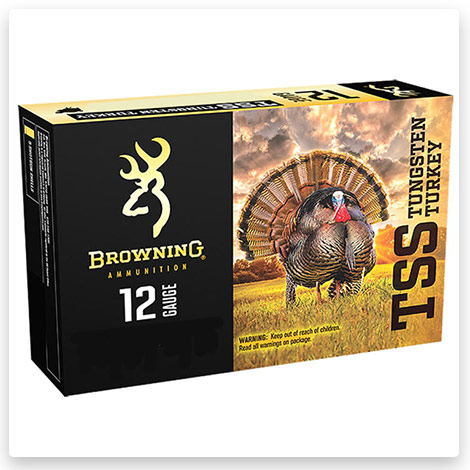 Do you want to up your turkey game this season? Browning has you covered with their 12 Gauge TSS shot. This lethal load is 60% denser than lead, meaning it will hold a pattern out to 70 yards – perfect for those challenging shots. And with a muzzle velocity of 1,200 fps, you can be sure that your turkey won't stand a chance. Available in #7 shot or a duplex load of #9 & #7, Browning TSS is the versatile way to make sure your turkey hunting is successful. So go ahead and give it a try – your turkey (and your ego) will thank you for it!
9# 12 Gauge – LUX Hunt –
BioAmmo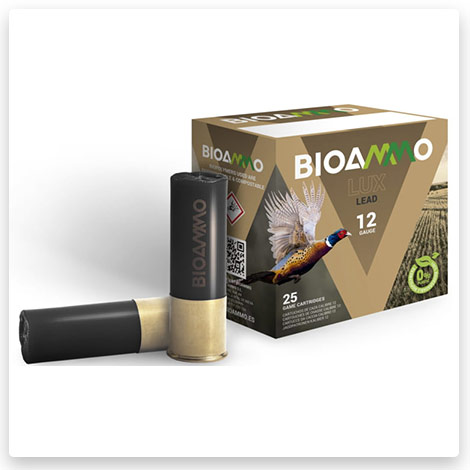 The 12 Gauge – LUX Hunt – BioAmmo is a great choice for the hunter and game shooter who wants an excellent cartridge without using any single-use plastics. The wads and cases are made from biodegradable and compostable materials, so they won't harm the environment. This shotgun ammo also offers exceptional performance, with great accuracy, patterning, recoil, and effectiveness.
10# 12 Gauge – Centerfire Shotgun Buckshot Ammunition –
Fetter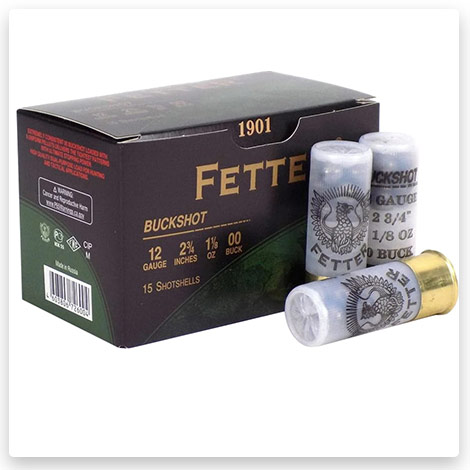 Introducing the Fetter .12 Gauge 2.75in Shotgun Buckshot Ammunition. This top-of-the-line ammo is perfect for taking down big games, and it's available at an unbeatable price. Fetter has been in the business of making high-quality products for many years, and this buckshot ammunition is their way of showing just how much they care about their customers. Made from some of the most durable and reliable materials available, this ammo will provide you with years of consistent performance. Don't miss out on this great deal – grab a box of Fetter buckshot ammunition today!
11# 12 Gauge – Centerfire Shotgun Buckshot Ammunition –
MILI Ammo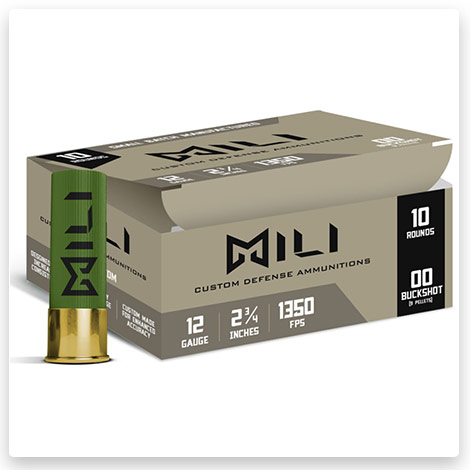 Ideal for multiple defensive scenarios, this ammo is meticulously engineered to deliver uniform patterns and consistent bulk densities. Combined with our patent-pending technology and carefully selected shot combinations, this ammo is deadly and reliable. With a muzzle velocity of 1350 ft/s, our shells are sure to take down even the biggest prey. So don't go into hunting season without the best buckshot ammo on the market – pick up our MILI Combinational Load today!
12# 12 Gauge – Gun Club Target Loads –
Remington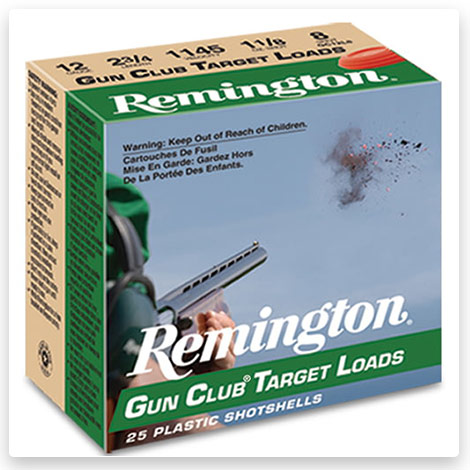 The Remington Gun Club Target Load line of ammunition represents the company's commitment to constant improvement. These shells have set a new standard for trap skeet and competition shooting all while delivering an unmatched combination of consistency and reliability. They are packed with Gun Club-grade pellets as well as Remington's Power-Piston 1-piece wad which helps to ensure tight and consistent shot patterns. So if you need the best of the best when it comes to target loads, make sure to choose the Remington Gun Club Target Loads. You won't be disappointed.
13# 12 Gauge – Rifled Slug Centerfire Shotgun Slug Ammunition –
MILI Ammo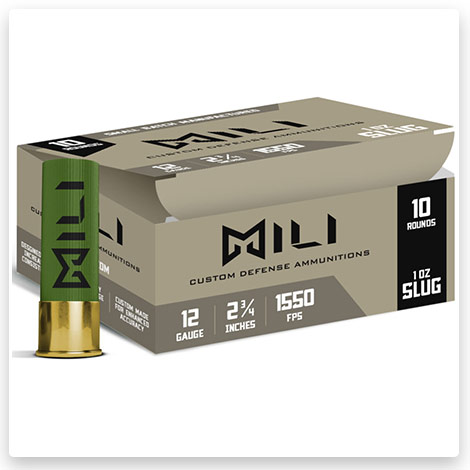 The MILI Rifled Slug Centerfire Shotgun Slug Ammunition is the perfect choice for self-defense. This high-velocity ammunition is designed to provide consistent penetration and reliable performance. It is manufactured in small batches to ensure quality and accuracy. The bullet weight is 1 oz and the cartridge case material is brass. This ammunition is designed for use in shotguns with a rifled barrel. It is ideal for situations where accuracy and density are needed at longer distances.
14# 12 Gauge – Elite Low Recoil/Training –
Kent Cartridge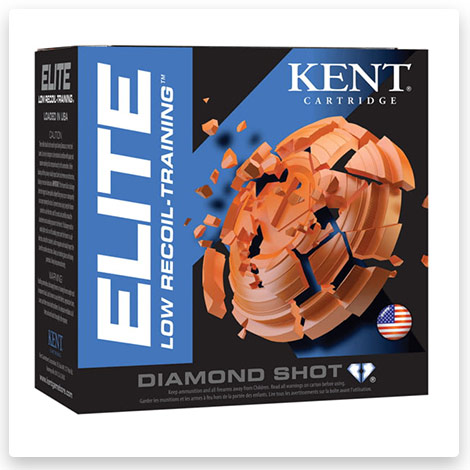 If you're recoil sensitive, or just looking to do some high-volume shooting without breaking the bank, Kent's Elite Low Recoil-Training Diamond Shot line is perfect for you. Their custom-blended powders soften recoil considerably while maintaining standard load velocities, and their proprietary Diamond Shot provides consistent patterns for on-target performance. These shells have also been loaded at moderate pressures, making them suitable for use in vintage firearms. So if you want to get a quality, affordable round that won't beat you up after a long day at the range, pick up a box of Kent's Elite Low Recoil-Training Diamond Shot.
15# 12 Gauge – Combinational –
Migra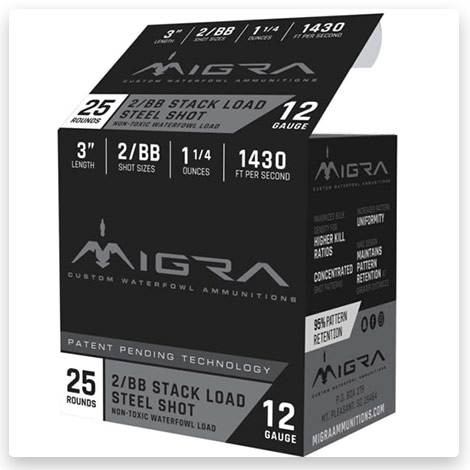 The 12 Gauge Combinational Migra is the perfect hunting solution for a variety of situations. This top-of-the-line product is meticulously engineered to deliver uniform patterns and consistent bulk densities, ensuring increased kill ratios with no fillers. Combined with our patented technology and carefully selected shot combinations, the Migra Combinational Load is deadly reliable. Each cartridge is made with high-quality steel materials for durability and longevity, making the Migra Combinational Load a great investment for any hunter.
⚙️Reloading⚙️
Reloading 12 gauge shells may seem intimidating or overly complicated at first, but it's quite simple once you understand the basics.
📌 To begin, the components you need to make a successful reloaded round are a hull (the empty casing), wad, powder, and shot.
🛠️ First, select a hull that works with your gun. Next, insert the wad (don't forget to use some adhesive) into the hull until it is flush with the crimp end of the brass or plastic casing.
🛠️ Afterward, fill the shell with powder – we suggest starting small and increasing the amount in a controlled manner to get the desired effect.
🛠️ Finally, insert the shot into the powder-filled hull and crimp it shut for a secure fit.
🚩 Once you've completed all of these steps, you can feel confident that your reloaded rounds are ready for use. However, recommend testing each new shell thoroughly before heading out to the range with them as improper techniques or components can lead to dangerous outcomes.
FAQ 😎
Conclusion 😉
The best 12-gauge ammo can be tough to find, but we have covered a wide variety of ammo types and manufacturers to help you choose the right one for the job. We hope it was helpful! Remember to always use caution when handling firearms and consult with an expert before making any decisions about ammunition. Thanks for reading! 🥰❤️‍🔥