Affiliate Disclosure: AmmoCave.com sometimes gets paid for listings, through sponsors or affiliate programs like Lucky Gunner, Optics Planet, Brownells, Cabelas, Academy Sports & Outdoors, Rainier Arms, Palmetto State Armory, Sportsman's Guide, Ammo.com, Ammo Man, Primary Arms, MidWayUsa, Amazon, eBay, etс. Clicking a link helps keep AmmoCave.com free, at no extra cost to you!
Authors: Each article is verified by AmmoCave's expert team. Professional hunters, firearm trainers, gunsmiths, and gun experts write the articles. AmmoCave Team independently researches, tests, reviews, and uses recommendations from our community of gun owners. We may earn commissions from shopping links.
Note: The views and opinions expressed in this article are those of the authors and do not necessarily reflect any agency's official policy or position. The articles are for informational purposes only, share your opinions about Best 6.5 Grendel Ammo in the comments and join the discussions. Let's share 💬 our ammo & gun experiences together!
Finding the best 6.5 Grendel ammo can be a challenge. There are many different types and brands of ammunition available on the market, making it difficult to determine which one is right for you. In this blog post, we will discuss the top-rated 6.5 Grendel ammo options currently available and provide you with some tips for finding the best ammo for your needs. So, whether you are a first-time shooter or an experienced hunter, read on to learn more about the best 6.5 Grendel ammo options out there!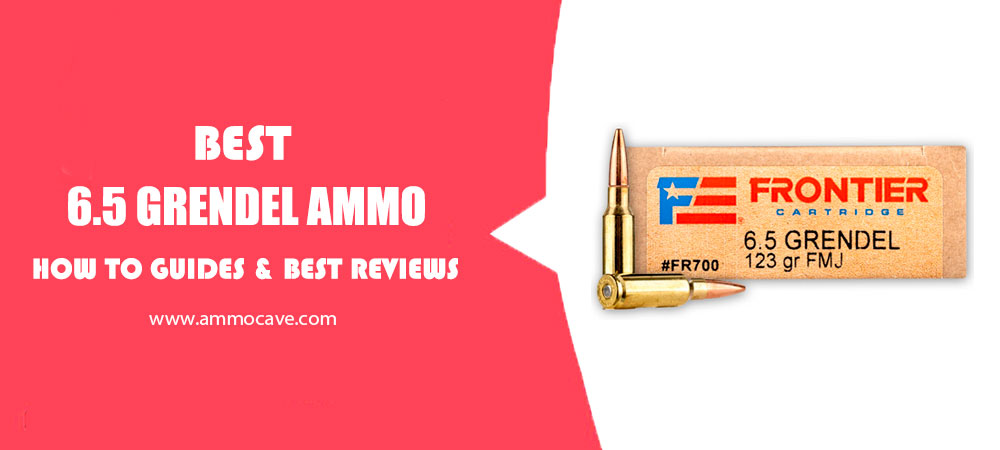 Best 6.5 Grendel Ammo Reviews
#1 6.5 Grendel – 130 Grain Hybrid OTM –

Federal

Gold Medal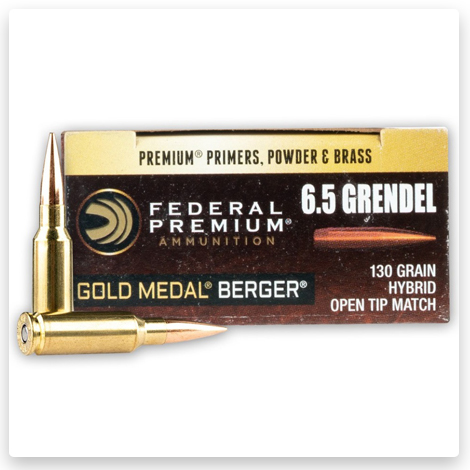 Take your shooting to the next level with Federal Gold Medal's 6.5 Grendel ammunition. This unique caliber was developed in 2003 to provide superior performance to 5.56 ammo in AR-15 rifles, and it doesn't disappoint. These 130-grain hybrid OTM projectiles are boat-tailed for incredible long-range accuracy, and each round is loaded with only the finest quality powders to ensure reliable firing. With a muzzle velocity of 2400 fps and 1663 ft/lbs of energy transfer, this 6.5 Grendel has a surprisingly modest recoil. So if you're looking to step up your shooting game, reach for Federal Gold Medal's 6.5 Grendel ammunition – it's sure to hit the mark every time!
#2 6.5 Grendel – 123 Grain BTHP –

Hornady

American Gunner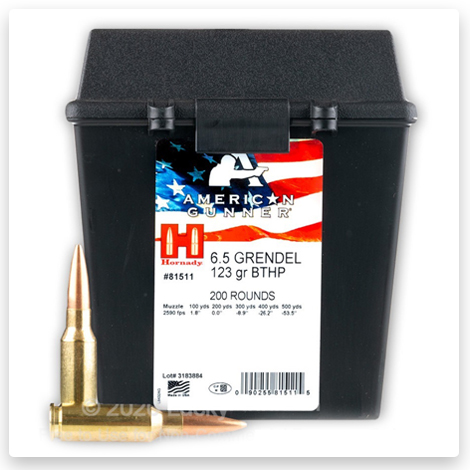 This 6.5mm Grendel cartridge from Hornady's American Gunner line of ammunition is designed for exceptional accuracy. The bullet's tapered base raises its ballistic coefficient and causes it to create less turbulence in flight, enabling it to retain a flat trajectory along with a greater part of its velocity as it whizzes downrange. Its boat tail design further immunizes this bullet greatly against crosswinds, a feature complemented by its narrow hollow point meplat which resists wind deflection as well. Hornady makes a remarkably consistent brass casing, so these rounds' casings boast highly uniform internal capacities and wall thicknesses. As a result, this ammunition will deliver superior performance time after time. Whether you're shooting for sport or hunting game, you can count on the outstanding quality of Hornady's American Gunner line.
#3 6.5 Grendel – 123 Grain FMJ –

Hornady

Frontier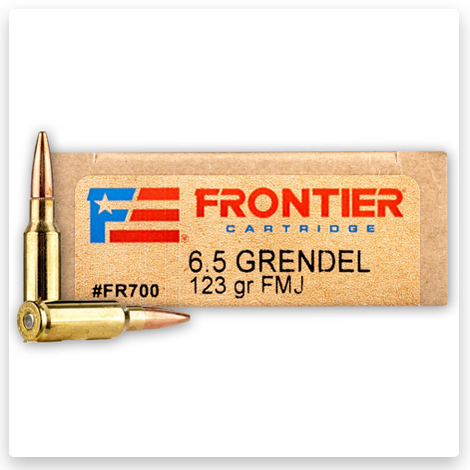 Looking for an affordable, versatile cartridge for range training or target practice? Look no further than the 6.5 Grendel from Hornady Frontier. This simple, non-expanding FMJ bullet is perfect for those who want reliable accuracy without breaking the bank. With a concentrically drawn copper jacket and uniform lead core, the 6.5 Grendel offers smooth feeding and consistent performance. And thanks to its 0.420 ballistic coefficients, this cartridge is also resistant to wind drift. So whether you're shooting at the range or hunting varmints, the 6.5 Grendel is sure to give you the performance you need.
#4 6.5 Grendel – 123 Grain ELD Match –

Hornady

Match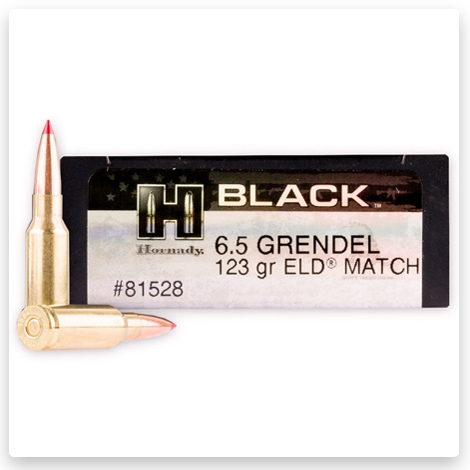 Hornady's BLACK line of ammunition is perfect for shooters who demand consistent, dependable performance from their ammo. This 6.5mm Grendel offering provides that performance in a round that is perfect for both AR-style rifles and bolt-action rifles. The ELD Match bullet at the heart of this cartridge provides outstanding accuracy and long-range performance. The dimensionally uniform AMP jacket, swagged lead core, and tapered polymer windshield all work together to ensure that this bullet performs consistently, shot after shot. Whether you're firing at targets or hunting game, you can be confident that this Hornady BLACK ammunition will provide the precise, reliable performance you need. Don't settle for anything less than the best – pick up a box of Hornady BLACK 6.5mm Grendel rounds today!
#5 6.5 Grendel – 110 Grain FMJ-BT –

Prvi Partizan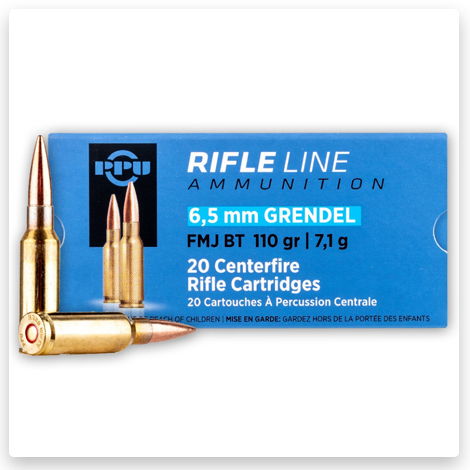 Want an affordable and accurate round of ammunition for target practice? Prvi Partizan's 110-grain FMJ-BT 6.5 Grendel ammunition is a great choice. With a muzzle velocity of 2755 feet per second, this ammo is designed for excellent accuracy at all ranges. The boat-tail design of the projectile reduces yaw and drift while in flight, making it even more accurate at longer distances. This ammunition is perfect for marksmanship training and tactical training, but not ideal for hunting. Each round is brass cased, Boxer-primed, non-corrosive, and reloadable. Get the most out of your range time with this high-quality ammunition from Prvi Partizan.
#6 6.5 Grendel – 100 Grain FMJ –

Wolf

Military Classic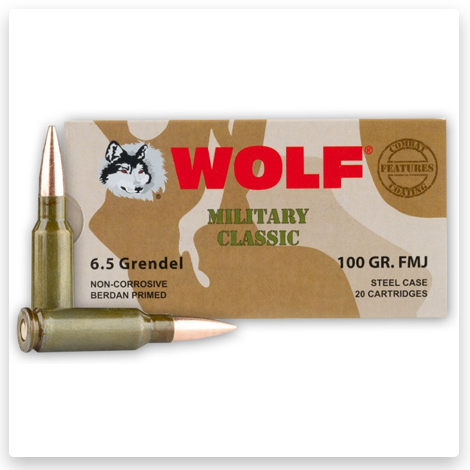 On the hunt for cheap, reliable ammunition for your 6.5 Grendel rifle? No need to look any farther than Wolf Performance's Military Classic collection. This 100-grain Full Metal Jacket round is perfect for range training and features a lead core projectile and steel casing. The non-corrosive Berdan primer ensures reliable ignition, and the round is non-reloadable for your convenience. Don't settle for less, get your hands on Wolf's Military Classic ammo today!
FAQ
What ammo can I use in a 6.5 Grendel?
6.5 Grendel ammo is designed for 6.5 Grendel rifles and will work best in those firearms. You should not use 6.5 Creedmoor ammunition in a 6.5 Grendel rifle, nor should you use 6.5 Grendel ammunition in a Creedmoor rifle.
What is the parent cartridge for 6.5 Grendel?
The 6.5 Grendel is a rifle cartridge created by Bill Alexander of Alexander Arms. It is based on the venerable .308 Winchester cartridge.
Is 6.5 Grendel round good for long-range?
6.5 Grendel ammo has proven to be an effective round for long-range shooting, delivering consistent accuracy and terminal ballistics out to 1,000 yards.
What casing does a 6.5 Grendel use?
A 6.5 Grendel round uses a .264 caliber casing.
Is a 6.5 Grendel a 30 caliber?
No, 6.5 Grendel is not a 30 caliber. 6.5 Grendel is a 6.5mm caliber round.
Why is the 6.5 Grendel ammo so popular?
6.5 Grendel ammo is popular for a variety of reasons. 6.5 Grendel ammo is designed to function with both gas-operated and piston-driven rifles without modifications, 6.5 Grendel ammo delivers more energy than the 5.56 NATO round and 6.5 Grendel rounds offer better ballistics than the 7.62x39mm round at equivalent barrel lengths – making it an ideal choice for game hunters and target shooters alike.
What can I shoot out of a 6.5 Grendel?
6.5 Grendel shooters have a wide variety of options for projectiles to send downrange. While there are many projectile weights and types available, some 6.5 Grendel shooters prefer to stick with the heavier projectiles to get the most out of the cartridge. With that in mind, we've compiled a list of the best 6.5 Grendel ammo rounds for target shooting and hunting. The 6.5mm Grendel was designed as an all-purpose cartridge to bridge the gap between 6.5mm Creedmoor and 7.62x39mm rounds. It excels at medium to long distances and is capable of taking down any North American big game animal. In addition to its hunting prowess, the 6.5 Grendel is also a popular choice for target shooters due to its low recoil and high accuracy.
Сonclusion
6.5 Grendel Ammo is a popular choice for long-range shooters and hunters. In this article, we've looked at some of the best 6.5 Grendel ammo on the market today. We've considered factors such as price, quality, and availability to help you make an informed decision about which 6.5 Grendel ammo is right for you.