Affiliate Disclosure: AmmoCave.com sometimes gets paid for listings, through sponsors or affiliate programs like Lucky Gunner, Optics Planet, Brownells, Cabelas, Academy Sports & Outdoors, Rainier Arms, Palmetto State Armory, Sportsman's Guide, Ammo.com, Ammo Man, Primary Arms, MidWayUsa, Amazon, eBay, etс. Clicking a link helps keep AmmoCave.com free, at no extra cost to you!
Authors: Each article is verified by AmmoCave's expert team. Professional hunters, firearm trainers, gunsmiths, and gun experts write the articles. AmmoCave Team independently researches, tests, reviews, and uses recommendations from our community of gun owners. We may earn commissions from shopping links.
Note: The views and opinions expressed in this article are those of the authors and do not necessarily reflect any agency's official policy or position. The articles are for informational purposes only, share your opinions about Best 224 Valkyrie Ammo in the comments and join the discussions. Let's share 💬 our ammo & gun experiences together!
As a shooter, you want to be as accurate as possible with every round that you fire. When it comes to the 224 Valkyrie cartridge, there are a lot of different ammo options available on the market. This can make it difficult to determine which ammo is best for your needs. In this blog post, we will discuss some of the best 224 Valkyrie ammo options currently available and provide the top picks. We'll also provide information on what factors you should consider when choosing ammo for your rifle. So, whether you're just starting with the 224 Valkyrie or you're looking for an upgrade, read on to learn more about the best ammo options out there!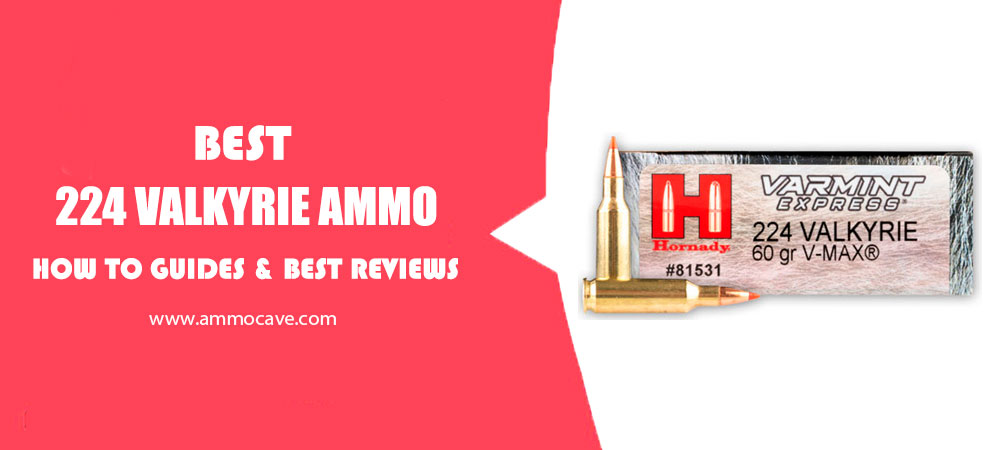 AmmoCave has collected the best hottest Best .224 Valkyrie Ammo for self-defense at sale prices
Our Selection 15 Best .224 Valkyrie Ammo – Editor's Choice
1# 224 Valkyrie – 75 Grain TMJ –

Federal American Eagle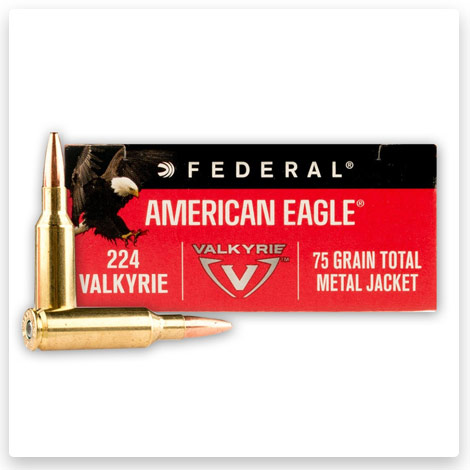 Accurate and powerful, this .224 Valkyrie ammo is perfect for your MSR 15 platform rifle. Featuring a 75-grain total metal jacket (TMJ) bullet, this ammunition provides an impressive 3000 fps muzzle velocity. The TMJ bullet type helps to contain lead particles and promotes a cleaner range experience. With similar ballistic performance to other hefty calibers, the 224 Valkyrie provides excellent velocity and power with lower felt recoil – making it a great choice for high-volume shooters. Each round is constructed with reliable Boxer-primed brass casings, ensuring smooth operation in your firearm. Get the most out of your MSR 15 platform with this top-quality ammunition from Federal American Eagle.
2# 224 Valkyrie – 90 Grain Sierra Matchking HPBT –

Federal Premium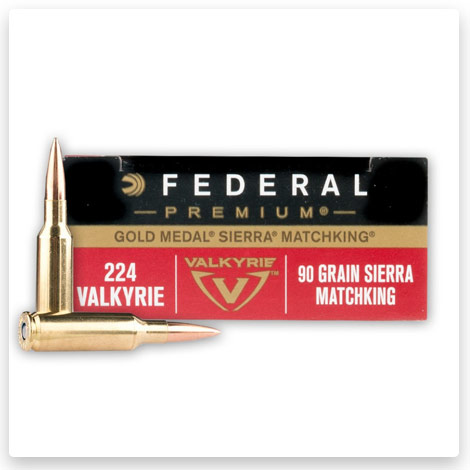 If you're looking for reliable ammunition that will help you compete at your best, look no further than Federal Premium's .224 Valkyrie. This box of 20 cartridges combines the cutting-edge performance of the Valkyrie round with the proven accuracy of Sierra's MatchKing hollow point boat tail (HPBT) bullet. The 90-grain bullet is carried in a reloadable boxer-primed brass case, making it a great choice for serious shooters. So whether you're competing for first place or just trying to set a new personal best, you can trust Federal Premium's .224 Valkyrie to help you get there.
3# 224 Valkyrie – 80.5 Grain Gold Medal Berger –

Federal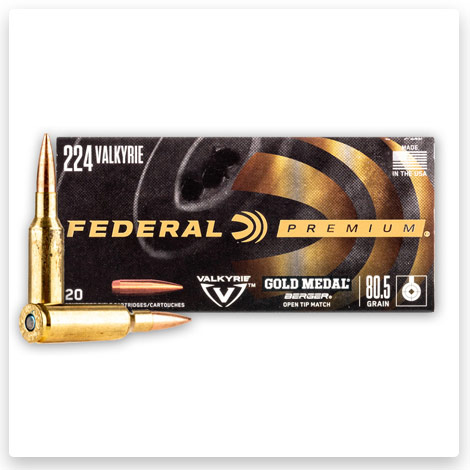 Shooters who need to cover long distances will find the Federal 224 Valkyrie shoots beyond 600 yards with consistent accuracy. The round features an 80.5-grain open tip match by Berger, a preeminent manufacturer of target bullets. The J4 Precision Jacket provides impressive stability and decreased drop and sensitivity to wind drift. Tight manufacturing tolerances give shooters a competitive edge.
4# 224 Valkyrie – 75 Grain BTHP –

Hornady

BLACK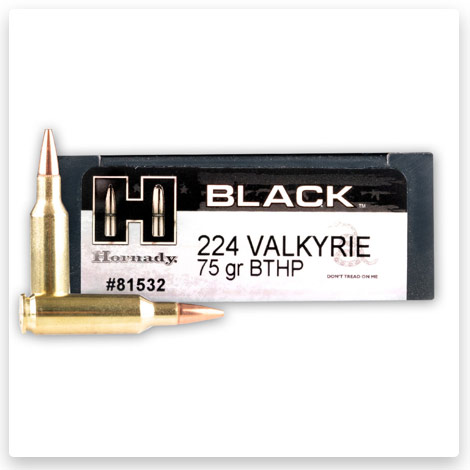 The Hornady 224 Valkyrie is a world-class cartridge designed for one thing and one thing only: accuracy. From its 75-grain projectile to its boxer-primed brass casing, everything about this round is designed for pinpoint precision. The hollow point meplat on the bullet is less sensitive to wind interference, while the boat tail design minimizes wind drift and maximizes downrange momentum. The jacket on the bullet is perfectly concentric, ensuring exceptional accuracy. This is a serious cartridge for serious marksmen. Get 20 rounds per box, 10 boxes per case.
5# 224 Valkyrie – 60 Grain V-MAX –

Hornady

Varmint Express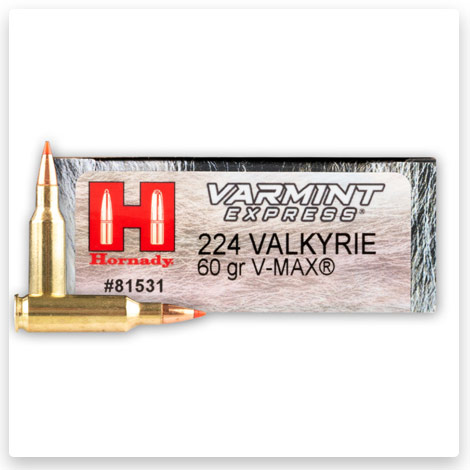 Searching for an accurate and deadly round for taking down varmints? Pay attention to the Hornady 224 Valkyrie V-MAX 60 Grain. This impressive little cartridge is designed for extreme accuracy and terminal performance. The V-MAX projectile is a dream come true for varmint hunters, with its straight-line trajectory, concentric AMP jacket, and sharp meplat. The polymer tip ensures explosive expansion even at half muzzle velocity, making this an incredibly versatile and effective round. Whether you're plinking in the backyard or taking down coyotes at long range, the 224 Valkyrie V-MAX is sure to get the job done. So don't settle for second best, pick up a box of Hornady 224 Valkyrie V-MAX today!
#6 224 Valkyrie – 75 Grain TMJ –

Federal Premium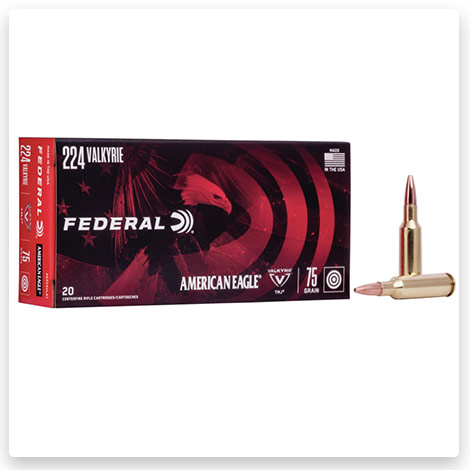 Want to purchase an ideal round for target practice shooting? Check out the .224 Valkyrie ammo! This ammunition is designed specifically for target practice, with a muzzle velocity of 3,000 fps and 1,272 ft.-lbs. of muzzle energy. The TMJ (Total Metal Jacket) bullets use a thinner copper jacket that encloses the bottom of the bullet to minimize lead exposure. And because the .224 caliber Valkyrie has become so popular with target shooters since it was designed in 2017, you'll be able to find a perfect match for your MSR (Modern Sporting Rifle) or bolt-action .224 Valkyrie. So why wait? Pick up a box of the .224 Valkyrie ammo today and see for yourself how well it performs!
#7 224 Valkyrie – 88 Grain Extremely Low Drag Match –

Hornady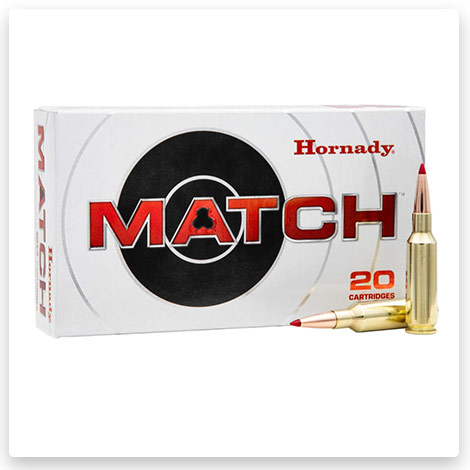 Would you like to buy accurate and reliable match ammo? Take a look at Hornady's 224 Valkyrie in 88-grain ELD Match! With technologically advanced Heat Shield tips and enhanced accuracy target bullets, this ammunition delivers top-notch performance with every shot. The cases are also hand-selected for strict criteria including wall thickness uniformity, internal capacity, case weight, and consistent wall concentricity. So you can expect proper bullet seating, consistent charges and pressures, optimal velocity, and repeatable accuracy. Don't settle for anything less than the best – get your hands on Hornady's 224 Valkyrie today!
#8 224 Valkyrie – 60 Grain V-MAX –

Hornady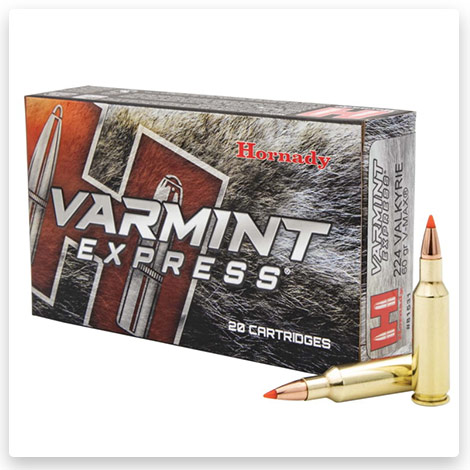 The 224 Valkyrie from Hornady is the perfect choice for varmint hunting. The 60-grain V-MAX bullet delivers superior accuracy and rapid fragmentation, making it ideal for taking down pesky critters. The high-quality cases and carefully selected propellant and primers provide optimal performance in each load. This ammunition is sure to help you make the most of your next varmint hunting trip.
#9 224 Valkyrie – 90 Grain Sierra MatchKing Boat Tail Hollow Point –

Federal Premium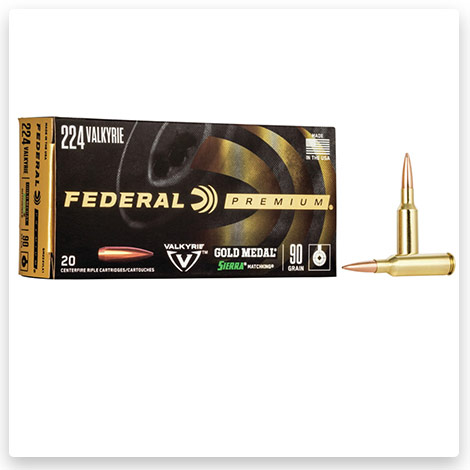 If you wish to extract the full long-range potential from your 224 Valkyrie, you need the 90-grain Sierra MatchKing from Federal Premium. The bullet design has been proven to win more matches than any other, thanks to a uniform jacket that ensures consistent long-range accuracy and a sleek boat tail that maximizes ballistic coefficient. And because it's made with Federal brass, you can be sure this ammunition will perform to the highest standards. So get the Federal Premium 224 Valkyrie 90-grain Sierra MatchKing and dominate the competition.
#10 224 Valkyrie – 69 Grain Sierra BlitzKing Nickel Plated Brass Cased –

Sierra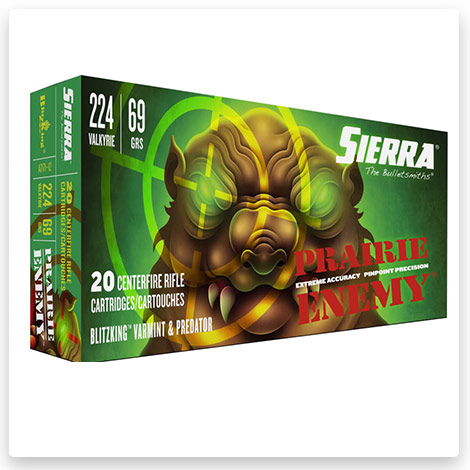 Looking for an accurate and powerful varmint round? Look no further than the Sierra Prairie Enemy .224 Valkyrie. This ammunition was developed specifically for delivering legendary BlitzKing accuracy with devastating terminal performance. The 69-grain bullet is perfect for high-volume hunting and shooting situations. Plus, the nickel-plated brass casing ensures dependable performance. So make the Sierra Prairie Enemy your go-to choice for taking down varmints and predators.
#11 224 Valkyrie – 60 Grain Nosler Ballistic Tip –

Federal Premium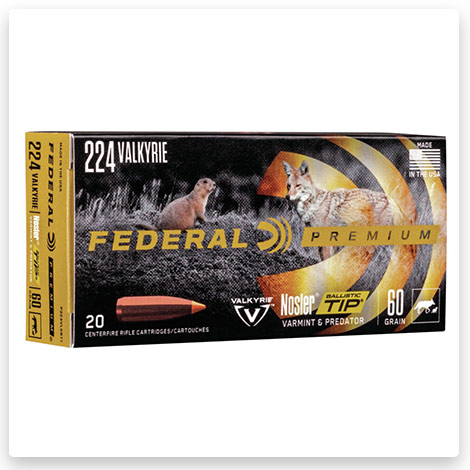 The Federal Premium Nosler Ballistic Tip Varmint is the faultless choice for long-range shots and predators. The thin jacket produces violent energy release and minimal penetration while the boat-tail design and polymer tip produce less bullet drop and wind drift. The result is a flatter trajectory and more punch at long range.
#12 224 Valkyrie – 78 Grain Barnes Triple-Shock X –

Federal Premium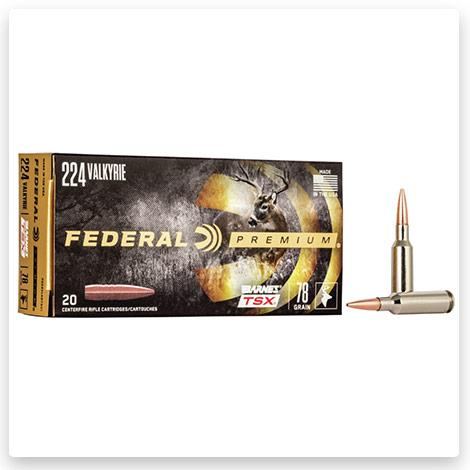 Federal Premium has designed flawless ammo for your rifle chambering needs with their .224 Valkyrie 78 grain Barnes Triple-Shock X Centerfire Rifle Ammo. Using only the best components and loaded by the most trusted professionals in the shooting community, this ammunition is sure to give you an edge over your competition. The one-piece copper construction of these bullets prevents weight loss on impact while still expanding for maximum destruction. With a grooved shank for improved accuracy, this ammo is perfect for anyone looking to up their game. Keep your rifle chambering safe and effective with this Federal Premium 224 Valkyrie 78gr Barnes Triple-Shock X 20 Rounds.
#13 224 Valkyrie – 60 Grain Hornady V-Max –

Federal Premium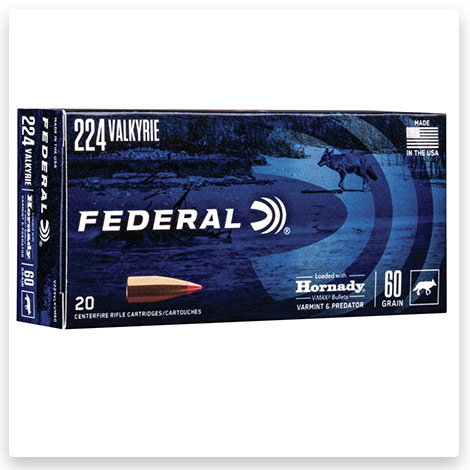 With Federal Varmint & Predator .224 Valkyrie 60gr. Hornady V-Max Rifle Ammo, you'll enjoy exceptional accuracy and explosive expansion when taking down small games. This top-quality ammunition is designed for high-volume shooters and provides reliable performance thanks to the consistent quality of the Federal brass, bullet, and primer. When prairie dogs or coyotes are in your sights, make sure you're using Federal Varmint & Predator .224 Valkyrie 60gr. Hornady V-Max Rifle Ammo for the ultimate in precision and power.
#14 224 Valkyrie – 90 Grain Boat Tail Hollow Point –

Remington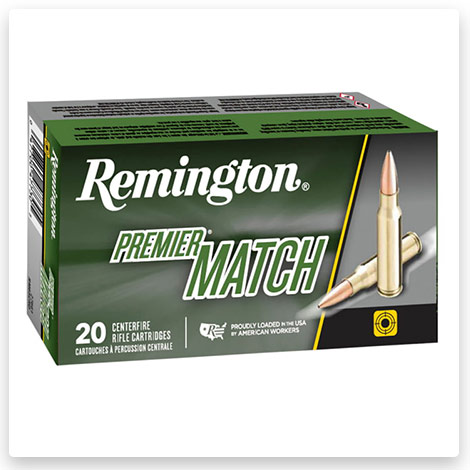 The Remington .224 Valkyrie Premier Match 90 Grain Boat Tail Hollow Point Brass Cased Centerfire Rifle Ammunition is perfect for anyone who wants a great price on a high-quality product. This .224 Valkyrie Ammo from the professional product specialists at Remington Shooting and Hunting Accessories is made using long-lasting and efficient resources, to be able to supply you with a product that will be useful for many years.
#15 224 Valkyrie – 90 Grain Fusion Soft Point –

Federal Premium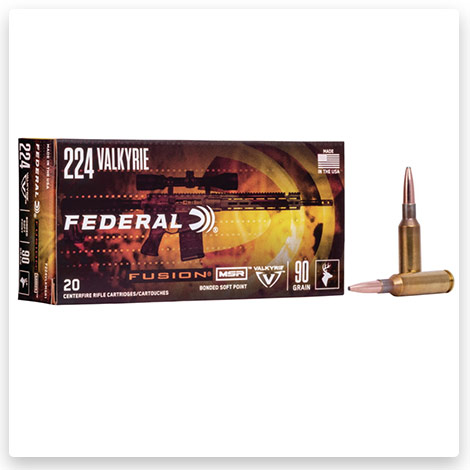 The Federal Premium Fusion .224 Valkyrie is a trustworthy and accurate option for medium-game hunting. The clean-burning, low-flash propellants boost velocity through typical-length MSR barrels, and the military-style colored case iris gives visual confirmation of proper case metallurgy. The molecularly-fused jacket around a pressure-formed core produces excellent accuracy, making this an excellent choice for hunters who demand perfection.
FAQ
What ammo does a 224 Valkyrie use?
The 224 Valkyrie uses a .224 caliber bullet and is designed to be used in an AR-15 rifle. The 224 Valkyrie is a high-performance round that offers increased accuracy, range, and velocity over other .223/5.56 rounds.
What are the benefits of 224 Valkyrie ammo?
The 224 Valkyrie provides increased accuracy, range, and velocity when compared to other .223/5.56 rounds. It is also designed to function in both direct impingement and gas piston AR-15 rifles.
What are the drawbacks of 224 Valkyrie ammo?
One potential drawback of the 224 Valkyrie ammo is that it can be expensive. Additionally, some shooters may find that the recoil of the 224 Valkyrie is greater than that of others.
Can 224 Valkyrie shoot 223?
While 224 Valkyrie can shoot 223 ammunition, it is not recommended to do so. The two cartridges have different ballistic properties, and using 224 Valkyrie ammunition in a 223 rifle may result in inaccurate shots.
Is 223 and 224 the same bullet?
224 Valkyrie and 223 Remington are both cartridges that fire the same bullet diameter. However, that's where the similarities end. The 224 Valkyrie was designed as a long-range cartridge, while the 223 Remington is better suited for close-range applications such as home defense or varmint hunting.
How far will a 224 Valkyrie shoot?
The 224 Valkyrie round was designed to have the same trajectory as a 123-grain 5.56 NATO round out to 500 yards. This makes it an excellent long-range round for AR-15 rifles.
Is a 224 bigger than 223?
No, the 224 is actually smaller than the 223. The difference is in the neck size; the 224 has a .224" neck while the 223 has a .223" neck. This means that 224 bullets can be shot through a 223 rifle, but not vice versa.
What is the best 224 Valkyrie ammo for hunting?
The best 224 Valkyrie ammo for hunting will depend on what you are hunting and what your personal preferences are. If you are looking for varmint ammunition, then you will want to choose something with a lighter bullet that will create less of a mess. If you are hunting a larger game, then you will want to choose ammo with a heavier bullet that will provide more stopping power.
What is the best barrel length for 224 Valkyrie?
The 224 Valkyrie is a versatile round that can be used for a variety of purposes, so the best barrel length for the 224 Valkyrie will depend on what you plan to use it for. If you're looking for the best overall performance, a 24″ barrel will give you the most velocity and energy, making it ideal for long-range shooting. If you need a more compact setup for hunting or close-quarters situations, a 20″ barrel will still give you good performance while being more maneuverable.
Conclusion
224 Valkyrie is a new caliber that has been gaining in popularity, and for good reason. It offers amazing performance and versatility. In this article, we've shared a top pick for the best 224 Valkyrie ammo on the market. We've also included some tips on how to select the right ammo for your needs. If you're looking to take your shooting game to the next level, 224 Valkyrie is worth considering!