Affiliate Disclosure: AmmoCave.com sometimes gets paid for listings, through sponsors or affiliate programs like Lucky Gunner, Optics Planet, Brownells, Cabelas, Academy Sports & Outdoors, Rainier Arms, Palmetto State Armory, Sportsman's Guide, Ammo.com, Ammo Man, Primary Arms, MidWayUsa, Amazon, eBay, etс. Clicking a link helps keep AmmoCave.com free, at no extra cost to you!
Authors: Each article is verified by AmmoCave's expert team. Professional hunters, firearm trainers, gunsmiths, and gun experts write the articles. AmmoCave Team independently researches, tests, reviews, and uses recommendations from our community of gun owners. We may earn commissions from shopping links.
Note: The views and opinions expressed in this article are those of the authors and do not necessarily reflect any agency's official policy or position. The articles are for informational purposes only, share your opinions about Best 32 ACP Ammo in the comments and join the discussions. Let's share 💬 our ammo & gun experiences together!
If you're looking for the best 32 ACP ammo, then look no further. In this blog post, we'll discuss some of the top-rated options on the market and why they might be a good choice for your needs. Stay safe and happy shooting!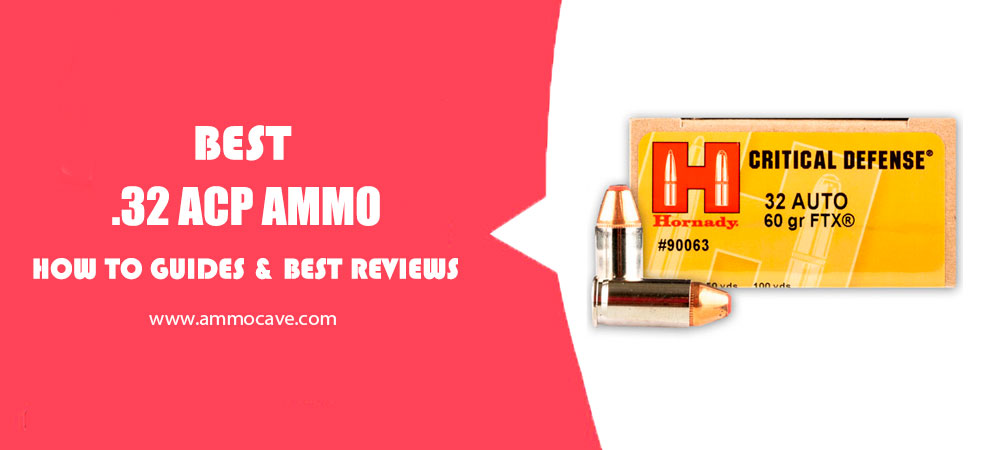 AmmoCave has collected best hottest 32 ACP Ammo for self-defense at sale prices
Best 32 ACP Ammo Reviews
#1 32 ACP – 65 Grain Hydra-Shok JHP –
Federal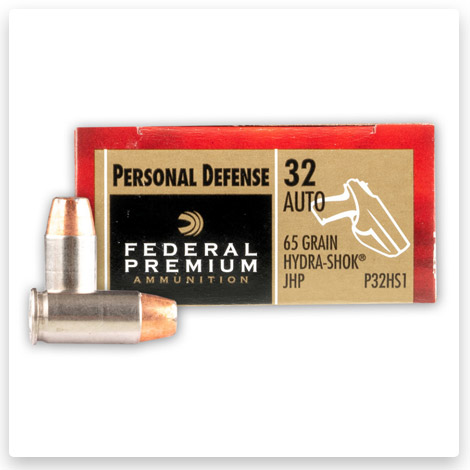 Looking for an outstanding defense round that you can count on? Look no further than Federal's Hydra-Shok JHP! This high-quality ammunition is trusted by law enforcement agencies and carry permit holders alike for its excellent energy transfer and expansion upon impact.
This round features Federal's signature Hydra-Shok jacketed hollow point bullet design which has been proven to provide superior performance in a self-defense situation. The nickel-plated brass casing is brand new and Reloadable making this an excellent choice for those who like to be prepared. Don't take chances with your safety, trust the American-made quality of Federal's Hydra-Shok JHP!
#2 32 ACP – 60 Grain JHP –
Fiocchi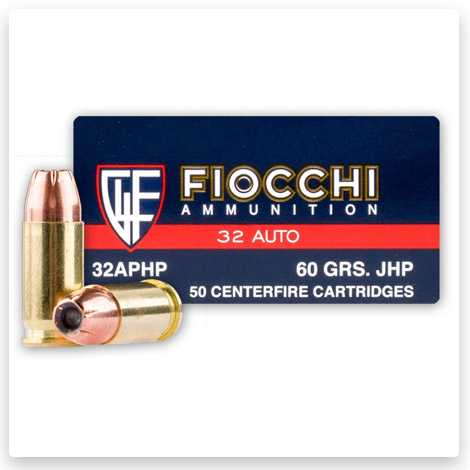 Fiocchi's Shooting Dynamics line of ammunition offers quality and consistency at a price that will allow for more hunting and shooting. This 32 ACP load features a 60-grain Jacketed Hollow Point bullet that is perfect for self-defense. Fiocchi has built a reputation for high quality and performance, making this ammo a great choice for your concealed carry handgun.
#3 32 ACP – 60 Grain FTX –
Hornady

Critical Defense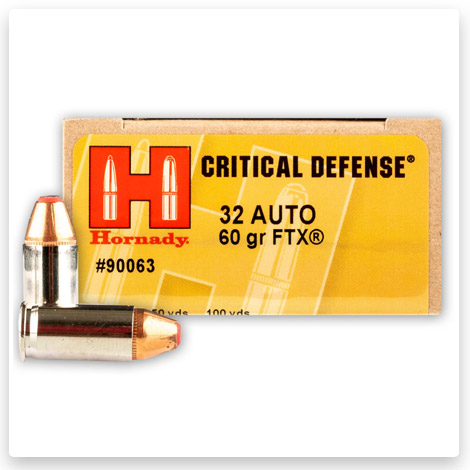 When it comes to self-defense, you can never be too prepared. That's why Hornady's Critical Defense line of ammunition is the perfect choice for those who want the best protection possible. This 32 ACP round is designed for exceptional reliability in the most demanding situations.
The brass casing is nickel-plated to resist corrosion and promote smoother feeding and ejection, while the Boxer primer is non-corrosive and dependable. The clean-burning propellant produces minimal flash, so you can fire accurately in low-light conditions. With its superior performance and reliable design, this 32 ACP round from Hornady's Critical Defense line is the perfect choice for anyone who wants the peace of mind that comes from being prepared.
#4 32 ACP – 60 Grain JHP XTP –
Hornady

Custom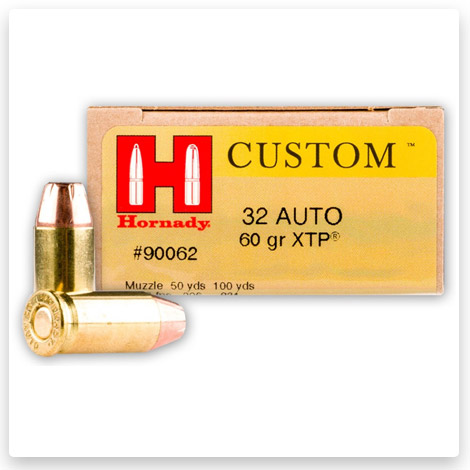 Hornady's XTP line of ammunition is custom-grade and has a great reputation among gun enthusiasts for having some of the tightest tolerances in the industry. The renowned XTP bullet provides maximum knockdown power, and features jacketed hollow point bullets which are designed to achieve high-impact energy transfer and controlled expansion upon impact. This ammunition is brand new, brass-cased, boxer primed, non-corrosive, and reloadable. It is offered in .32ACP caliber, with a 60-grain jacketed hollow point bullet. Muzzle velocity is an impressive 1,000fps, and muzzle energy is 133 ft/lbs.
#5 32 ACP – 71 Grain JHP –
Magtech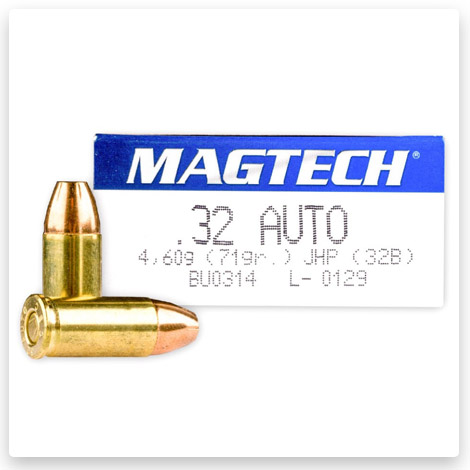 Looking for a reliable and affordable option for your home defense needs? Look no further than the newly manufactured 32 ACP – 71 Grain JHP rounds from Magtech. These reloadable rounds feature a brass casing, boxer primer, and non-corrosive propellant, making them a great choice for those who want to ensure they're always prepared.
Since 1926, Magtech has been manufacturing its components, giving them complete control over every stage of the manufacturing process. This commitment to quality ensures that each cartridge is assembled using only the highest quality components for absolute reliability. The JHP bullets produce a mushrooming effect upon impact, creating greater damage to a potential intruder and helping to quickly stop a potential threat.
So don't take chances when it comes to your safety – choose Magtech's 32 ACP – 71 Grain JHP rounds for peace of mind.
#6 32 ACP – 71 Grain LRN –
Magtech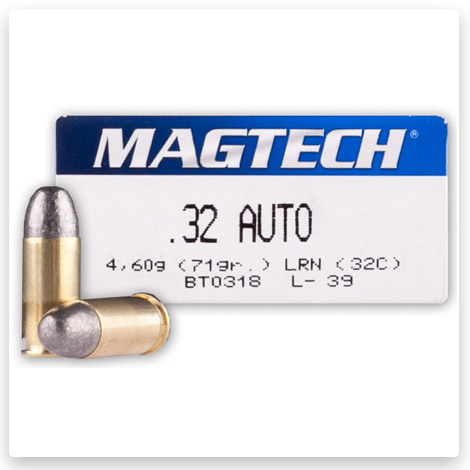 Look no further than Magtech's 32 ACP 71 Grain LRN. This newly manufactured ammunition is perfect for both indoor and outdoor ranges. The lead-free projectile is great for general target practice and is especially useful for protecting backstops at indoor ranges.
Each round is reloadable and features a brass casing, boxer primer, and non-corrosive propellant. Magtech has been manufacturing its components since 1926, so you can be sure you're getting a high-quality product. Assembled using only the highest quality components, this ammunition is perfect for recreational target shooting. Don't settle for anything less than the best – choose Magtech.
#7 32 ACP – 71 Grain FMJ –
Winchester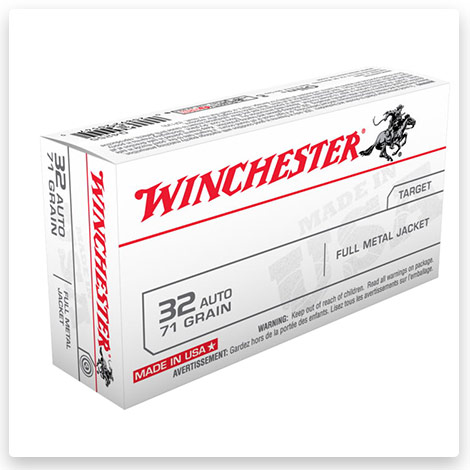 Looking for reliable and accurate ammunition for your target or range shooting? Look no further than Winchester "USA White Box" 32 ACP. This ammunition is trusted by shooters for its consistent performance and outstanding value. The full metal jacket provides positive functioning and no expansion, while the reduced barrel fouling means fewer cleanings and more range time. So if you're looking for high-quality ammunition that will suit your needs, choose Winchester "USA White Box" 32 ACP.
#8 32 ACP – 60 Grain eXtreme Terminal –
Hornady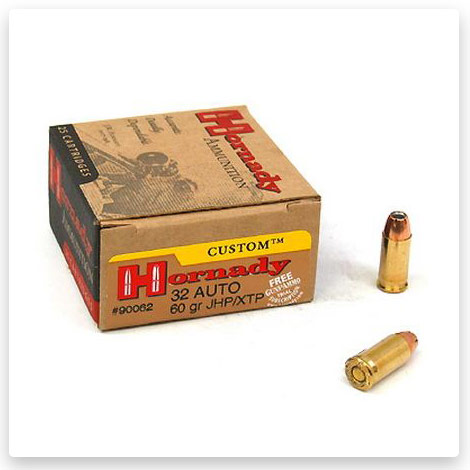 When it comes to finding the right handgun ammunition for your needs, look no further than Hornady Custom. Our XTP (Extreme Terminal Performance) bullet is designed for superior accuracy and maximum knockdown power, making it a top choice among shooters and hunters alike. Each round of Hornady Custom ammunition is hand inspected for quality control, ensuring that you always get a dependable product. With our FTX bullet, you'll enjoy even greater accuracy thanks to its advanced design. So whether you're looking for the ultimate in precision shooting or just need a reliable round for your next hunting trip, trust Hornady Custom to deliver.
#9 32 ACP – 60 Grain Silvertip Jacketed Hollow Point –
Winchester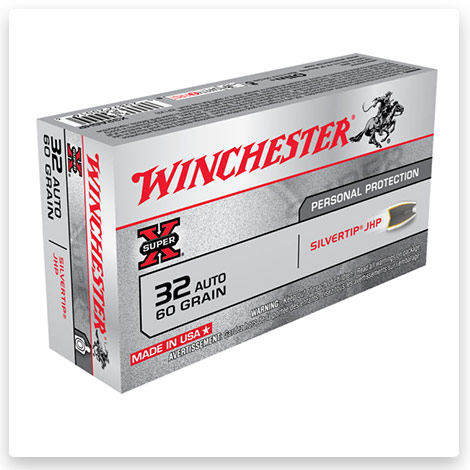 Looking for a personal defense option that provides maximum stopping power? Winchester's 32 ACP Silvertip Jacketed Hollow Point is your answer. Engineered for reliability and precision, this ammunition is perfect for shooters who demand the best. The hollow point design ensures maximum stopping power, while the consistent expansion ensures reliable functioning and accuracy. Don't take chances when it comes to your safety – trust Winchester to provide the performance you need.
#10 32 ACP – 71 Grain FMJ –
Federal Premium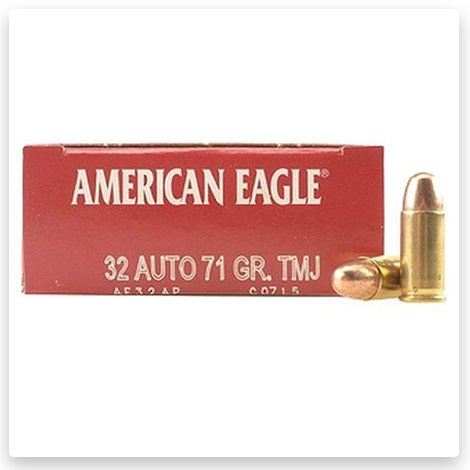 The Federal Premium 32 ACP 71 Grain FMJ ammunition is perfect for target shooting and training. This ammo provides performance similar to self-defense and competition loads, so you can get a familiar feel and realistic practice. The brass cartridge case material is durable and will stand up to repeated use. The muzzle velocity of 910 ft/s and muzzle energy of 131 ft-lbs make this ammo powerful enough for most applications. The box includes 50 rounds of ammo.
#11 32 ACP – 65 Grain Hydra Shok –
Federal Premium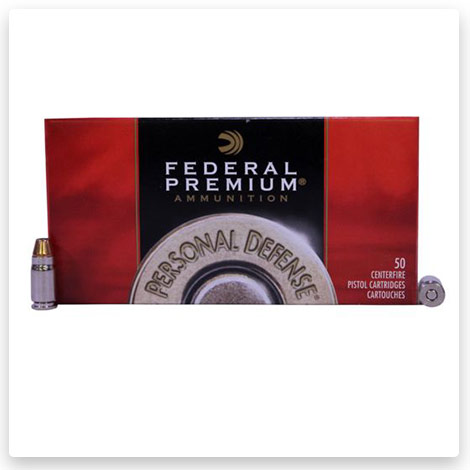 The Federal Premium 32 ACP – 65 Grain Hydra Shok is superbly accurate and reliable self-defense ammunition. The Hydra-Shok bullet's notched copper jacket initiates and controls expansion, while the center-post hollow-point design provides reliable expansion. This ammunition is perfect for those who demand the highest level of performance from their self-defense ammunition.
#12 32 ACP – 71 Grain FMJ –
Remington UMC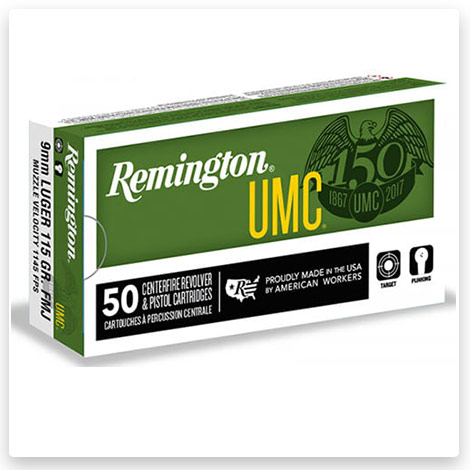 Looking for a dependable and affordable option for target shooting and plinking? Look no further than Remington UMC Handgun Ammunition. This .32 ACP Ammo is perfect for both novice and experienced shooters alike. Each round comes with a reloadable brass case and a nickel-plated extractor, ensuring reliable performance time and time again. UMC Ammunition is new factory-fresh, and never fired, making it a great choice for those who demand the very best.
#13 32 ACP – 60 Grain ACP –
Speer Gold

Dot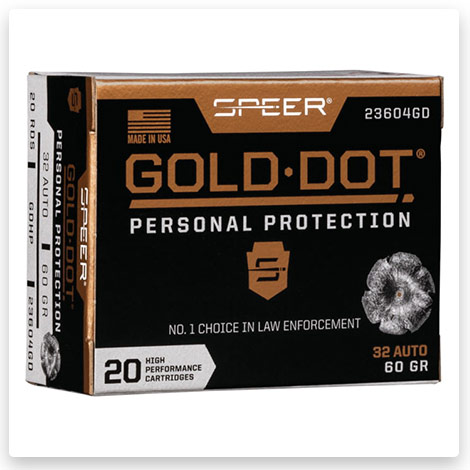 For self-defense and duty use that you can trust, choose our original Gold Dot line. Featuring a pressure-formed lead core bonded to an extremely uniform jacket one atom at a time, this design virtually eliminates separation on impact for more retained weight and penetration to depths! The Gold Dot hollow-point expands consistently through a full range of barriers, and ignition and cycling are guaranteed thanks to sealed primers and nickel-plated brass. Get the best out of your protection with our Gold Dot line.
#14 32 ACP – 71 Grain FMJ –
CCI

Ammunition Blazer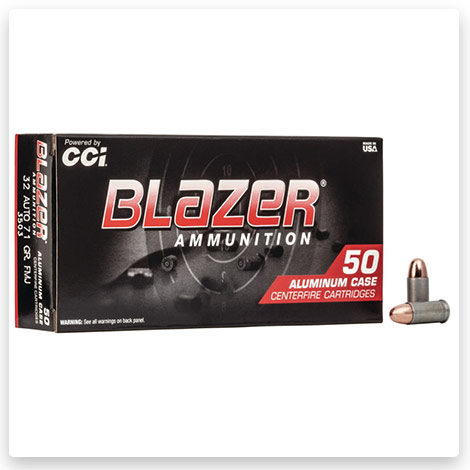 Looking for a quality, yet affordable ammunition option for practice shooting? Look no further than CCI Blazer Aluminum. These loads feature heat-treated, aircraft-grade aluminum cases for durability, quality bullets for accuracy, and reliable primers for consistent performance. Best of all, they're affordably priced so you can shoot more without breaking the bank. So don't settle for less, grab a box of CCI Blazer Aluminum the next time you hit the range.
FAQ
What is 32 ACP good for?
The 32 ACP cartridge is a small round that was originally designed for pocket pistols. It offers good accuracy and moderate power, making it a decent choice for self-defense or concealed carry. However, the tiny size of the cartridge can limit its effectiveness in larger guns.
Is 32 auto and 32 ACP the same?
No, they are not the same. 32 auto is a cartridge that was developed in 1902 and is used in pocket pistols. It is slightly shorter and less powerful than the 32 ACP.
Is the .32 ACP powerful enough?
The .32 ACP is not as powerful as some other rounds, but it is still a respectable cartridge. It can be effective for self-defense and has been used by law enforcement and military personnel for many years.
Do they still make 32 ACP ammo?
Yes, 32 ACP ammo is still being manufactured. It's a popular caliber for concealed carry pistols and backup guns. Check out the latest offerings from top ammo manufacturers like Federal, Remington, and Winchester. You'll find plenty of great deals on reliable rounds that will perform well in your firearm.
Is 7.65 the same as 32 ACP?
No, 7.65mm Browning is a different cartridge than 32 ACP. 7.65mm Browning is also known as 32 Browning and is slightly longer than 32 ACP. As a result, 7.65mm Browning will not fit in a firearm designed for 32 ACP. Additionally, 32 ACP ammunition cannot be used in a firearm chambered for 7.65mm Browning.
Conclusion
The Best 32 ACP Ammo can be found by following the product reviews and tips in this article. By using the information provided, you are sure to find the best ammo for your needs. Happy shooting!
Tags: #best 32 acp ammo for self defense / #best 32 acp ammo / #best .32 acp ammo / #best 32 acp ammo for beretta tomcat / #best .32 acp self defense ammo