Affiliate Disclosure: AmmoCave.com sometimes gets paid for listings, through sponsors or affiliate programs like Lucky Gunner, Optics Planet, Brownells, Cabelas, Academy Sports & Outdoors, Rainier Arms, Palmetto State Armory, Sportsman's Guide, Ammo.com, Ammo Man, Primary Arms, MidWayUsa, Amazon, eBay, etс. Clicking a link helps keep AmmoCave.com free, at no extra cost to you!
Authors: Each article is verified by AmmoCave's expert team. Professional hunters, firearm trainers, gunsmiths, and gun experts write the articles. AmmoCave Team independently researches, tests, reviews, and uses recommendations from our community of gun owners. We may earn commissions from shopping links.
Note: The views and opinions expressed in this article are those of the authors and do not necessarily reflect any agency's official policy or position. The articles are for informational purposes only, share your opinions about Best 32 ACP Ammo in the comments and join the discussions. Let's share 💬 our ammo & gun experiences together!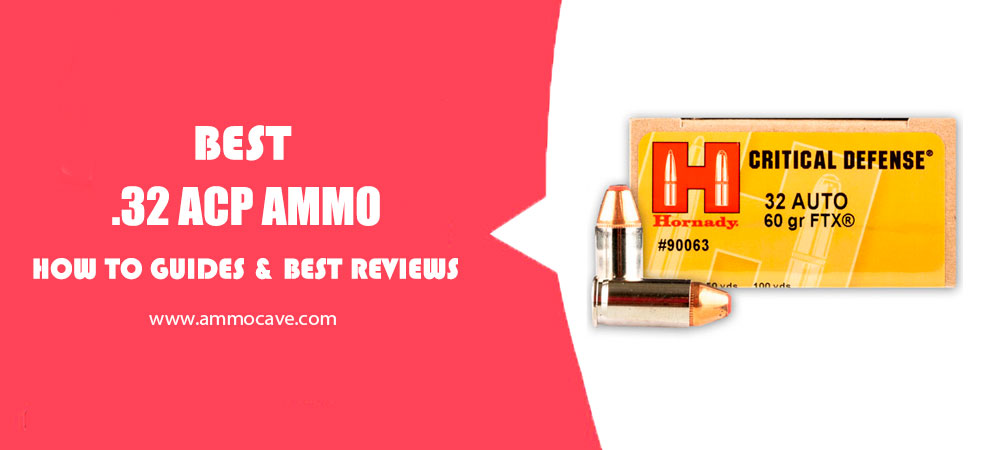 What is 32 ACP Ammo? 💡
It is a lightweight, centerfire pistol cartridge designed by John Browning in 1899. It is commonly used in small semi-automatic pistols and submachine guns, such as the Walther PPK, Beretta 70, and the Steyr M1912.
Please watch this video to learn more information 📺
Types 🔔
🧷 FMJ is perhaps the most common type of 32 ACP ammo.
It consists of a lead core surrounded by a copper jacket which prevents deformation during firing.
This type of ammo is often used for target shooting or plinking because it's relatively inexpensive and provides good accuracy without causing excessive damage to the target.
However, FMJ rounds lack expansion upon impact, meaning they won't penetrate deeply enough to cause effective damage against living targets.
🧷 JHP rounds are specifically designed with a hollow point to increase their effectiveness at penetrating soft targets like human flesh.
The round expands upon impact creating a larger wound channel than FMJ rounds and thus providing greater stopping power when used for self-defence or hunting small game animals.
As with all defensive handgun calibres, it's important to use high-quality JHP rounds if you plan on depending on them in an emergency situation.
🧷 Lead Round Nose (LRN) bullets are composed entirely of soft lead with no copper jacketing around them.
They're usually found in cheaper bulk packs as they cost less to manufacture than other types of ammunition due to their single-component construction.
Although LRN does not expand when it impacts a target, its soft nature means it creates more significant damage than FMJ due to its higher energy transfer rate when striking thin-skinned animals or people.
🧷 Finally, Wadcutter (WC) rounds are characterized by a flat front end which facilitates deeper penetration and less deflection off hard surfaces such as walls or barriers making them well suited for target use and competition shooting where precision counts above all else.
At close range, WC can also be used effectively against human targets making them an attractive option for home defence use even if they do not expand upon impact as much as JHP rounds would do so under similar circumstances.
Our Top Pick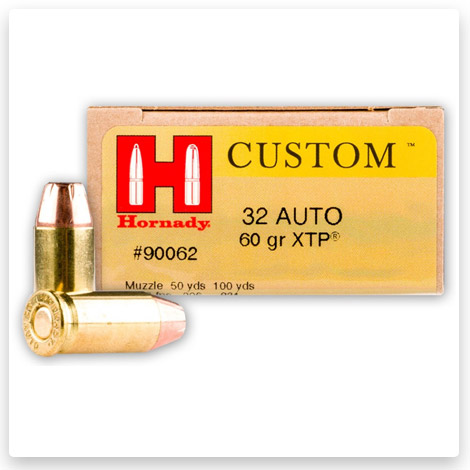 32 ACP – 60 Grain JHP XTP – Hornady Custom
The XTP bullet provides extraordinary stopping power thanks to its jacketed hollow point design, which ensures maximum energy transfer and controlled expansion on impact. This ammunition is a must-have for any shooter since it's brand new, brass-cased, boxer primed, noncorrosive, and reloadable.
Buy Now On LuckyGunner
If you click this link and make a purchase, we earn a commission at no additional cost to you.
Maintenance 🎯
📌 Ensure that it is properly stored.
It should be kept away from moisture and extreme temperatures.
Humidity can cause corrosion on your ammunition and could lead to misfires or other malfunctions when shooting.
Make sure that when storing your ammo, you use an airtight container that will protect it from any moisture or temperature fluctuations.
📌 When handling ammunition, make sure that you exercise caution and treat it as if it were already loaded into a firearm.
Even if it is not loaded, always point the muzzle in a safe direction and handle each round carefully and with respect.
Wear appropriate eye protection when loading or unloading rounds into a magazine or chamber as well.
📌 Ammunition should also be inspected periodically for any signs of damage or defects.
Before using any ammunition, look closely at each round for physical damage or discolourations which could indicate internal issues such as a bad primer or damaged powder charge.
Discard any rounds that have visible defects and never attempt to fire them even if they are still within their expiration date – safety first!
📌 Always practice safe shooting habits by following all manufacturer guidelines for operating your specific firearm model as well as taking all applicable safety courses before beginning any type of shoot session – this will help ensure both your enjoyment and safety while out on the range!
Best 💣 32 ACP Ammo Reviews
1# 32 ACP – 65 Grain Hydra-Shok JHP –
Federal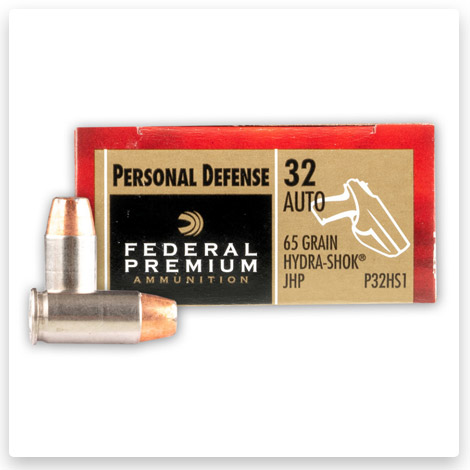 Looking for an outstanding defense round that you can count on? Look no further than Federal's Hydra-Shok JHP! This high-quality ammunition is trusted by law enforcement agencies and carry permit holders alike for its excellent energy transfer and expansion upon impact.
This round features Federal's signature Hydra-Shok jacketed hollow point bullet design which has been proven to provide superior performance in a self-defense situation. The nickel-plated brass casing is brand new and Reloadable making this an excellent choice for those who like to be prepared. Don't take chances with your safety, trust the American-made quality of Federal's Hydra-Shok JHP!
2# 32 ACP – 60 Grain JHP –
Fiocchi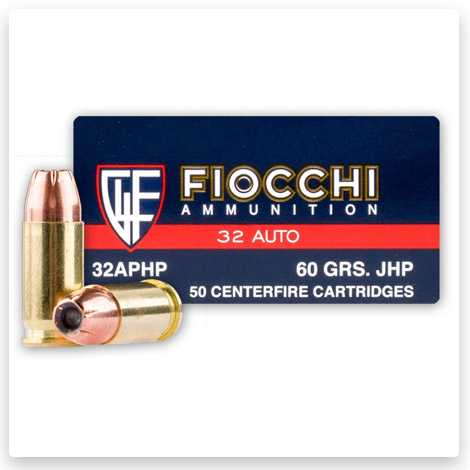 Fiocchi's Shooting Dynamics line of ammunition offers quality and consistency at a price that will allow for more hunting and shooting. This 32 ACP load features a 60-grain Jacketed Hollow Point bullet that is perfect for self-defence. Fiocchi has built a reputation for high quality and performance, making this ammo a great choice for your concealed carry handgun.
3# 32 ACP – 60 Grain FTX –
Hornady

Critical Defense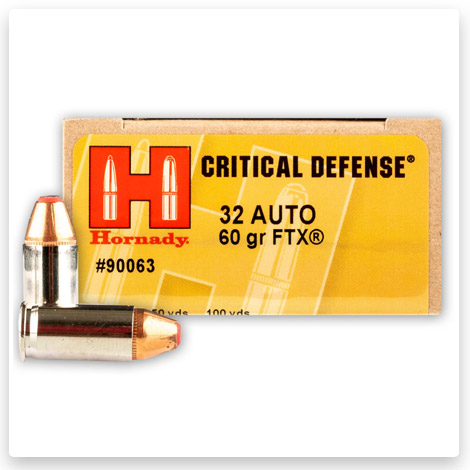 When it comes to self-defence, you can never be too prepared. That's why Hornady's Critical Defense line of ammunition is the perfect choice for those who want the best protection possible. This 32 ACP round is designed for exceptional reliability in the most demanding situations.
The brass casing is nickel-plated to resist corrosion and promote smoother feeding and ejection, while the Boxer primer is non-corrosive and dependable. The clean-burning propellant produces minimal flash, so you can fire accurately in low-light conditions. With its superior performance and reliable design, this 32 ACP round from Hornady's Critical Defense line is the perfect choice for anyone who wants the peace of mind that comes from being prepared.
4# 32 ACP – 60 Grain JHP XTP –
Hornady

Custom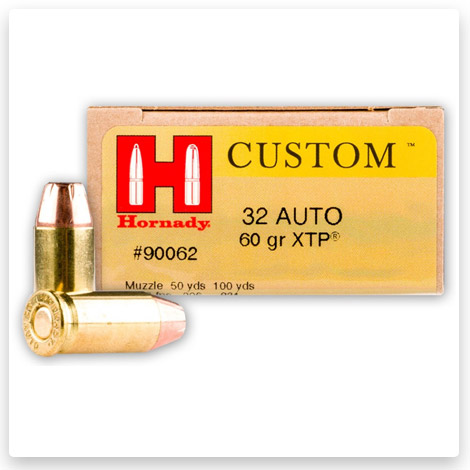 Hornady's XTP line of ammunition is custom-grade and has a great reputation among gun enthusiasts for having some of the tightest tolerances in the industry. The renowned XTP bullet provides maximum knockdown power, and features jacketed hollow point bullets which are designed to achieve high-impact energy transfer and controlled expansion upon impact. This ammunition is brand new, brass-cased, boxer primed, non-corrosive, and reloadable. It is offered in .32ACP caliber, with a 60-grain jacketed hollow point bullet. Muzzle velocity is an impressive 1,000fps, and muzzle energy is 133 ft/lbs.
5# 32 ACP – 71 Grain JHP –
Magtech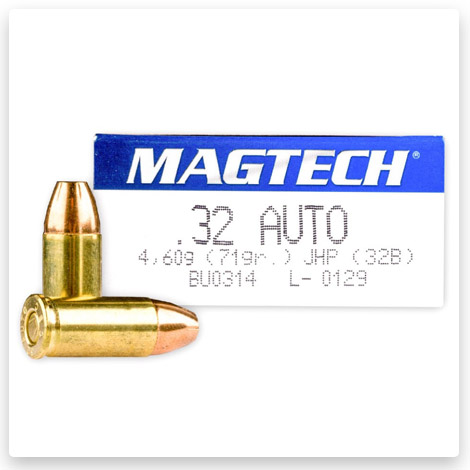 Looking for a reliable and affordable option for your home defence needs? Look no further than the newly manufactured 32 ACP – 71 Grain JHP rounds from Magtech. These reloadable rounds feature a brass casing, boxer primer, and non-corrosive propellant, making them a great choice for those who want to ensure they're always prepared.
Since 1926, Magtech has been manufacturing its components, giving them complete control over every stage of the manufacturing process. This commitment to quality ensures that each cartridge is assembled using only the highest quality components for absolute reliability. The JHP bullets produce a mushrooming effect upon impact, creating greater damage to a potential intruder and helping to quickly stop a potential threat.
So don't take chances when it comes to your safety – choose Magtech's 32 ACP – 71 Grain JHP rounds for peace of mind.
6# 32 ACP – 71 Grain LRN –
Magtech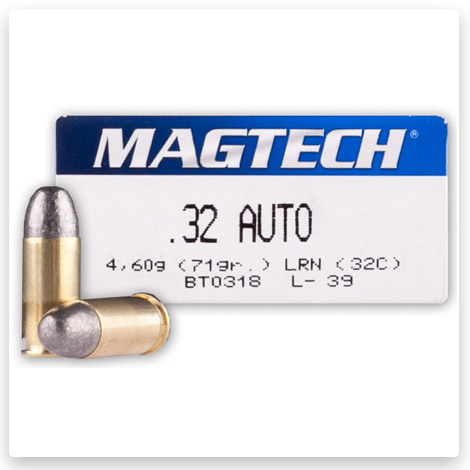 Look no further than Magtech's 32 ACP 71 Grain LRN. This newly manufactured ammunition is perfect for both indoor and outdoor ranges. The lead-free projectile is great for general target practice and is especially useful for protecting backstops at indoor ranges.
Each round is reloadable and features a brass casing, boxer primer, and non-corrosive propellant. Magtech has been manufacturing its components since 1926, so you can be sure you're getting a high-quality product. Assembled using only the highest quality components, this ammunition is perfect for recreational target shooting. Don't settle for anything less than the best – choose Magtech.
7# 32 ACP – 71 Grain FMJ –
Winchester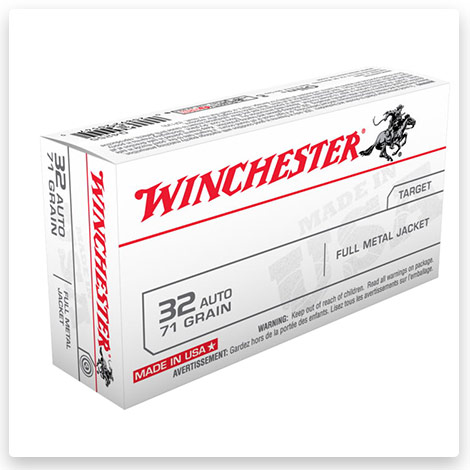 Looking for reliable and accurate ammunition for your target or range shooting? Look no further than Winchester "USA White Box" 32 ACP. This ammunition is trusted by shooters for its consistent performance and outstanding value. The full metal jacket provides positive functioning and no expansion, while the reduced barrel fouling means fewer cleanings and more range time. So if you're looking for high-quality ammunition that will suit your needs, choose Winchester "USA White Box" 32 ACP.
8# 32 ACP – 60 Grain eXtreme Terminal –
Hornady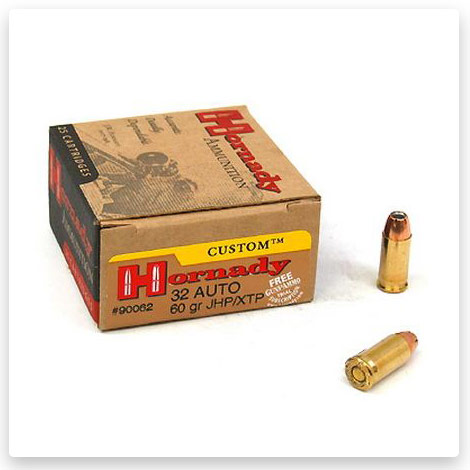 When it comes to finding the right handgun ammunition for your needs, look no further than Hornady Custom. Our XTP (Extreme Terminal Performance) bullet is designed for superior accuracy and maximum knockdown power, making it a top choice among shooters and hunters alike. Each round of Hornady Custom ammunition is hand inspected for quality control, ensuring that you always get a dependable product. With our FTX bullet, you'll enjoy even greater accuracy thanks to its advanced design. So whether you're looking for the ultimate in precision shooting or just need a reliable round for your next hunting trip, trust Hornady Custom to deliver.
9# 32 ACP – 60 Grain Silvertip Jacketed Hollow Point –
Winchester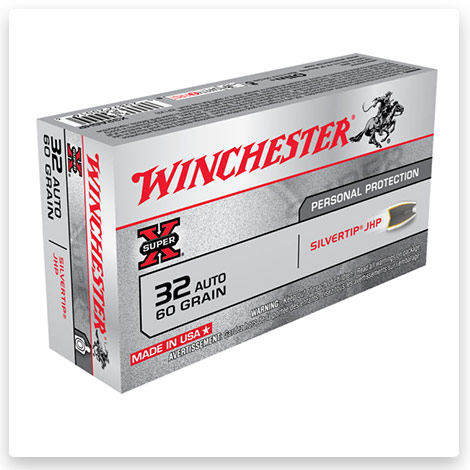 Looking for a personal defence option that provides maximum stopping power? Winchester's 32 ACP Silvertip Jacketed Hollow Point is your answer. Engineered for reliability and precision, this ammunition is perfect for shooters who demand the best. The hollow point design ensures maximum stopping power, while the consistent expansion ensures reliable functioning and accuracy. Don't take chances when it comes to your safety – trust Winchester to provide the performance you need.
10# 32 ACP – 71 Grain FMJ –
Federal Premium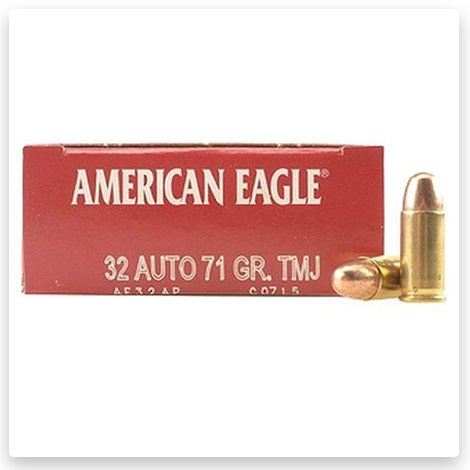 The Federal Premium 32 ACP 71 Grain FMJ ammunition is perfect for target shooting and training. This ammo provides performance similar to self-defence and competition loads, so you can get a familiar feel and realistic practice. The brass cartridge case material is durable and will stand up to repeated use. The muzzle velocity of 910 ft/s and muzzle energy of 131 ft-lbs make this ammo powerful enough for most applications. The box includes 50 rounds of ammo.
11# 32 ACP – 65 Grain Hydra Shok –
Federal Premium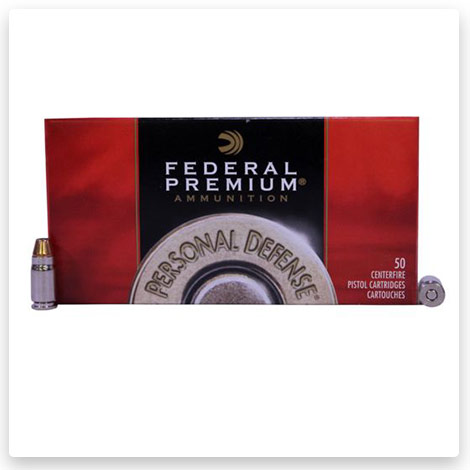 The Federal Premium 32 ACP – 65 Grain Hydra Shok is superbly accurate and reliable self-defense ammunition. The Hydra-Shok bullet's notched copper jacket initiates and controls expansion, while the center-post hollow-point design provides reliable expansion. This ammunition is perfect for those who demand the highest level of performance from their self-defense ammunition.
12# 32 ACP – 71 Grain FMJ –
Remington UMC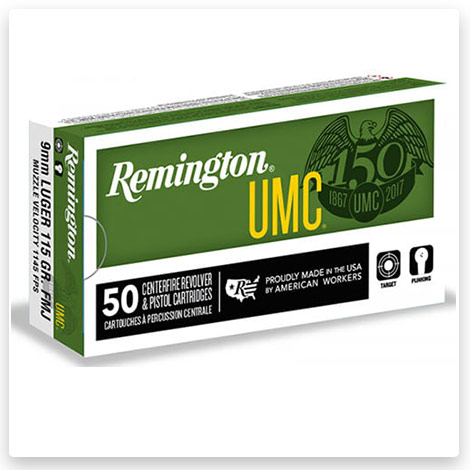 Looking for a dependable and affordable option for target shooting and plinking? Look no further than Remington UMC Handgun Ammunition. This .32 ACP Ammo is perfect for both novice and experienced shooters alike. Each round comes with a reloadable brass case and a nickel-plated extractor, ensuring reliable performance time and time again. UMC Ammunition is new factory-fresh, and never fired, making it a great choice for those who demand the very best.
13# 32 ACP – 60 Grain ACP –
Speer Gold

Dot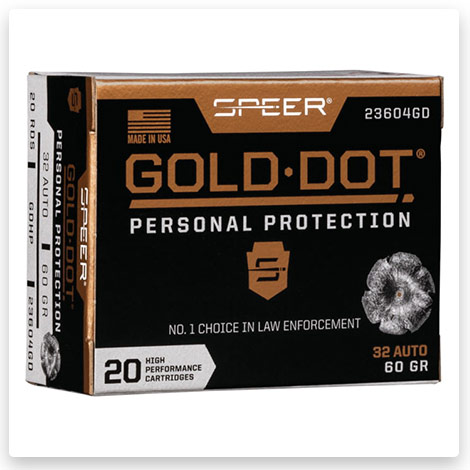 For self-defence and duty use that you can trust, choose our original Gold Dot line. Featuring a pressure-formed lead core bonded to an extremely uniform jacket one atom at a time, this design virtually eliminates separation on impact for more retained weight and penetration to depths! The Gold Dot hollow-point expands consistently through a full range of barriers, and ignition and cycling are guaranteed thanks to sealed primers and nickel-plated brass. Get the best out of your protection with our Gold Dot line.
14# 32 ACP – 71 Grain FMJ –
CCI

Ammunition Blazer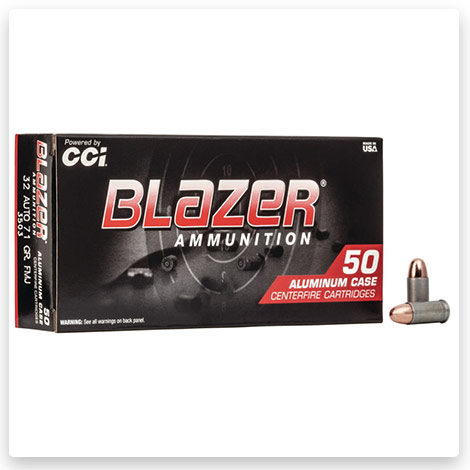 Looking for a quality, yet affordable ammunition option for practice shooting? Look no further than CCI Blazer Aluminum. These loads feature heat-treated, aircraft-grade aluminium cases for durability, quality bullets for accuracy, and reliable primers for consistent performance. Best of all, they're affordably priced so you can shoot more without breaking the bank. So don't settle for less, grab a box of CCI Blazer Aluminum the next time you hit the range.
Reloading 🔋🔌
🚩 Before reloading, you should inspect each piece of brass to make sure it is in good shape and free from any damage or deformities.
🚩 The first step is to resize the brass cases so they will fit properly in the firearm's chamber.
The size of dies used will depend on whether your firearm requires a full-length or neck-sizing resizing process.
Once the cases have been resized, they must be lightly lubricated before depriving them of a universal decapping die.
After depriming, primer pockets need to be cleaned before primers can be inserted.
🚩 The next step is charging the case with powder using either a volumetric powder measure or weighing your charges on an electronic scale.
Careful attention should be given when measuring the amount of powder to ensure that the correct charge weight is being used for your particular load.
🚩 Once the powder charge has been weighed out and placed into the case, bullets can then be seated onto each case mouth using either a seating stem or bullet seating tool.
Depending on what type of bullet you choose, you may also need to crimp them into place once they have been seated.
🚩 Finally, you should inspect each loaded round one last time before firing to ensure that everything has been completed correctly and safely.
We believe this video can be helpful for you 📺
FAQ 🤠
Conclusion 😎
The Best 32 ACP Ammo can be found by following the product reviews and tips in this article. By using the information provided, you are sure to find the best ammo for your needs. Happy shooting! 🎯
Tags: #best 32 acp ammo for self defense / #best 32 acp ammo / #best .32 acp ammo / #best 32 acp ammo for beretta tomcat / #best .32 acp self defense ammo