Affiliate Disclosure: AmmoCave.com sometimes gets paid for listings, through sponsors or affiliate programs like Lucky Gunner, Optics Planet, Brownells, Cabelas, Academy Sports & Outdoors, Rainier Arms, Palmetto State Armory, Sportsman's Guide, Ammo.com, Ammo Man, Primary Arms, MidWayUsa, Amazon, eBay, etс. Clicking a link helps keep AmmoCave.com free, at no extra cost to you!
Authors: Each article is verified by AmmoCave's expert team. Professional hunters, firearm trainers, gunsmiths, and gun experts write the articles. AmmoCave Team independently researches, tests, reviews, and uses recommendations from our community of gun owners. We may earn commissions from shopping links.
Note: The views and opinions expressed in this article are those of the authors and do not necessarily reflect any agency's official policy or position. The articles are for informational purposes only, share your opinions about Best 5.7x28mm Ammo in the comments and join the discussions. Let's share 💬 our ammo & gun experiences together!
The 5.7x28mm cartridge has been gaining in popularity in recent years, and for good reason. It's a versatile round that can be used for everything from target shooting to home defense. But with so many different types of ammo available, it can be tough to know which is the best option for you. That's why we've put together this list of the top five 5.7x28mm rounds, based on performance and price. Check it out and see which one is right for you!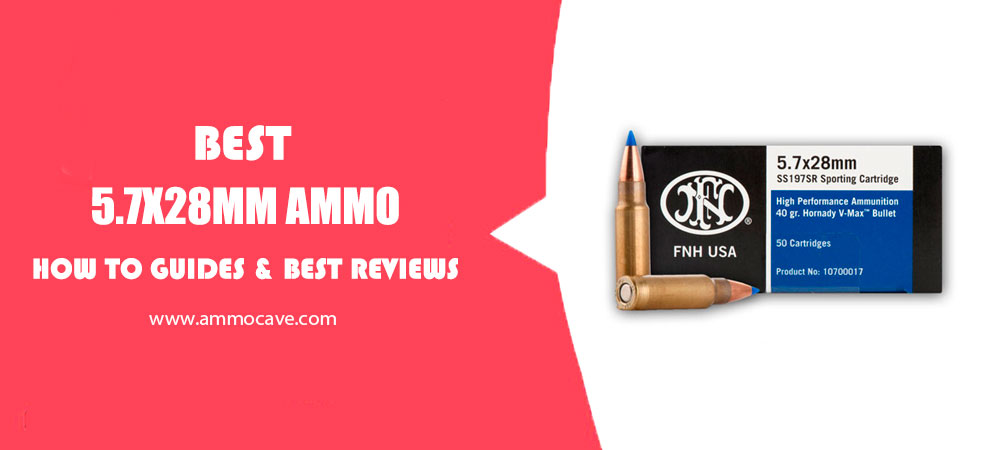 Our Selection 3 Best 5.7x28mm Ammo – Editor's Choice
1# 5.7x28mm – 40 Grain FMJ –

Federal Premium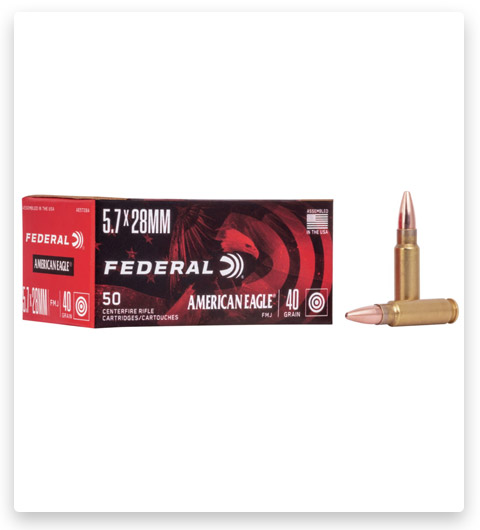 Federal Premium's 5.7x28mm – 40 Grain FMJ is the perfect ammunition for those who want quality without sacrificing performance. These bullets offer superior accuracy and reliable shot placement, while the hand-selected propellant ensures clean burning and minimal weapon fouling. The bullet is weighed and profiled meticulously to ensure each shot is as accurate as possible, and the clean burning powder ensures your weapon stays clean after extended use. So stock up on this high-quality ammunition today and enjoy shooting with confidence!
2# 5.7x28mm – 40 Grain Hollow Point –

Speer Gold Dot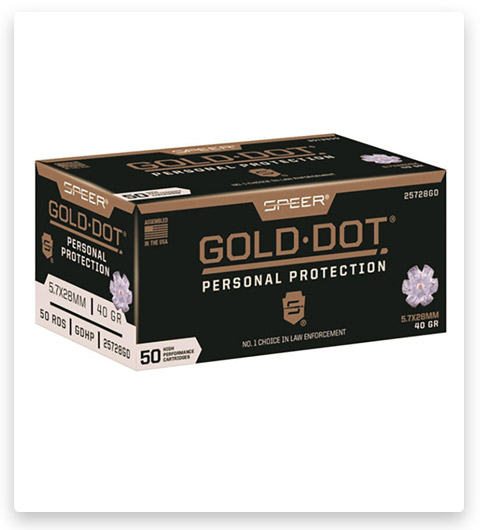 If you need top-of-the-line self-defense ammunition, then you can't go wrong with Speer Gold Dot. Its pressure-formed lead core and bonded jacket make for exceptional weight retention and penetration, while the hollow-point design ensures reliable expansion. You'll have no problems with ignition or cycling, thanks to the sealed primers and nickel-plated brass. So stock up today and be prepared for whatever comes your way.
3# 5.7x28mm – 40 Grain Hornady V-MAX Polymer Tip –

FN Herstal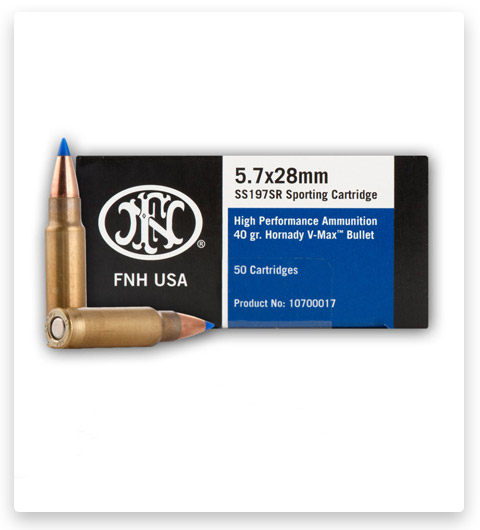 Are you looking for superior 5.7x28mm ammunition for your Five-Seven weapon? Look no further than this offering from FN Herstal, the developer of the 5.7x28mm cartridge. This ammunition is loaded with Hornady's highly accurate V-Max projectiles, which are manufactured under contract by FN Herstal. Hornady is well-known for its precision ballistic engineering, and the V-Max bullets are no exception. With a polymer tip and streamlined design, these bullets offer amazing accuracy and flat trajectories. Additionally, the match-grade jacketing provides maximum accuracy at all ranges, while the explosive expansion upon impact makes this an excellent choice for both competition shooting and varmint hunting. Each round is brass-cased, boxer-primed, non-corrosive, and reloadable for your convenience. Don't settle for anything less than the best – choose FN Herstal 5.7x28mm ammunition for your next range trip or hunting expedition.
FAQ
What are the different types of 5.7 x28 ammo?
5.7x28mm ammo is available in a variety of different types, including:
FMJ rounds
JHP rounds
V-MAX rounds
Tracer rounds
What is special about 5.7 x28?
5.7 x28 is a small caliber round that offers high velocity and stopping power. It is often compared to the 9mm Luger round, but 5.7 x28 offers more velocity and energy.
What is the 5.7×28 round good for?
5.7×28 ammunition is designed for self-defense and sporting purposes.
Are 5.7 bullets armor-piercing?
5.7 caliber rounds are not armor-piercing rounds. 5.7 bullets will not penetrate body armor under any circumstance. 5.7 rounds are safe to use in all firearms chambered in this caliber, including the AR-57 rifle.
How far can a 5.7 Shoot?
The 5.7x28mm round can travel up to 2,100 feet per second (fps) and has a muzzle energy of 548 foot-pounds (ft-lbs), making it a powerful cartridge for its size. Thanks to its high velocity and energy, the 5.7x28mm is capable of taking down small game and predators with ease.
What does 5.7 ammo compare to?
5.7 ammo is a popular round for pistols and rifles. It is similar to the .223 round but has less recoil. 5.7 ammo is also effective against lightly armored targets and has been used by law enforcement and security personnel around the world.
Conclusion
Ammunition is an important factor when it comes to owning a gun. The 5.7x28mm ammo is a great choice for shooters who are looking for something with more stopping power than the standard 9mm rounds. In this article, we have reviewed some of the best 5.7x28mm ammo on the market and given you some tips on what to look for when purchasing this type of ammunition. We hope that our buyers' guide has helped you make an informed decision about which 5.7x28mm ammo is right for you.
Tags: #best 5.7x28mm ammo / #5.7x28mm ammo / #5.7x28mm ammo ballistics / #5.7x28mm ammo sale / #where to buy 5.7x28mm ammo / #what is 5.7x28mm ammo