Affiliate Disclosure: AmmoCave.com sometimes gets paid for listings, through sponsors or affiliate programs like Lucky Gunner, Optics Planet, Brownells, Cabelas, Academy Sports & Outdoors, Rainier Arms, Palmetto State Armory, Sportsman's Guide, Ammo.com, Ammo Man, Primary Arms, MidWayUsa, Amazon, eBay, etс. Clicking a link helps keep AmmoCave.com free, at no extra cost to you!
Authors: Each article is verified by AmmoCave's expert team. Professional hunters, firearm trainers, gunsmiths, and gun experts write the articles. AmmoCave Team independently researches, tests, reviews, and uses recommendations from our community of gun owners. We may earn commissions from shopping links.
Note: The views and opinions expressed in this article are those of the authors and do not necessarily reflect any agency's official policy or position. The articles are for informational purposes only, share your opinions about Best 22 Magnum Ammo in the comments and join the discussions. Let's share 💬 our ammo & gun experiences together!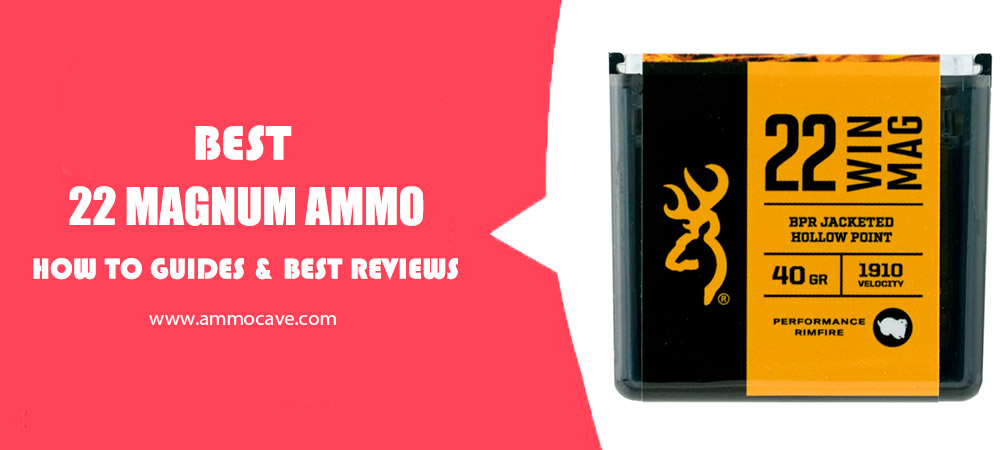 What is 22 Magnum Ammo? 🎯
It is a type of ammunition designed for 22-calibre firearms, such as revolvers and rifles. It is more powerful than 22 Long Rifle ammo but not as powerful as 22 Hornet or 22-250 Remington.
Our Top Pick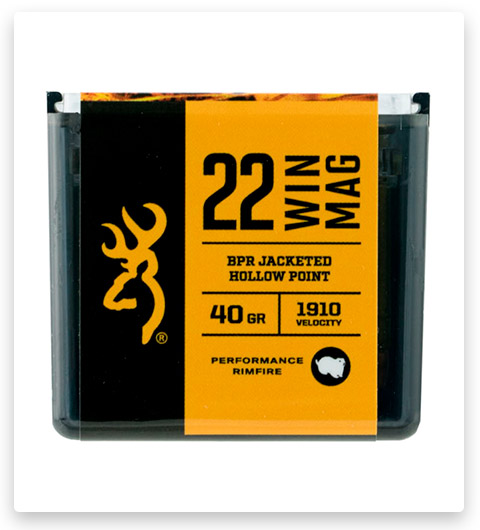 22 Magnum – 40 Grain JHP Brass Cased Rimfire – Browning
Invest your trust in Browning BPR .22 Winchester Magnum Rimfire 40 Grain Jacketed Hollow Point Rimfire Rifle Ammunition for impeccable performance. It's finely crafted to guarantee effortless feeding, smooth extraction, and unmatched reliability every time you shoot!
Buy Now On OpticsPlanet
If you click this link and make a purchase, we earn a commission at no additional cost to you.
Features 💡
🚩 High Velocity: it has a muzzle velocity of 1,710 feet per second (fps). This provides better accuracy and faster shots than other smaller calibres.
🚩 Light Recoil: it produces 22 ft/lbs of recoil energy, making it easier to control during rapid-fire sessions.
🚩 Low Cost: it is relatively inexpensive compared to other cartridges; this makes it a great choice for those on a budget who still want quality performance.
🚩 Versatile Ammo: they have many uses including target shooting, plinking, and varmint hunting. They can also be used for self-defence in certain situations.
🚩 Varied Bullet Options: it is available with different types of bullets such as hollow points, soft points, wadcutters and more. These offer versatility when choosing the right round for the job at hand.
🚩 Accurate Shooting: they are known for excellent accuracy at various distances thanks to their good velocity and bullet design.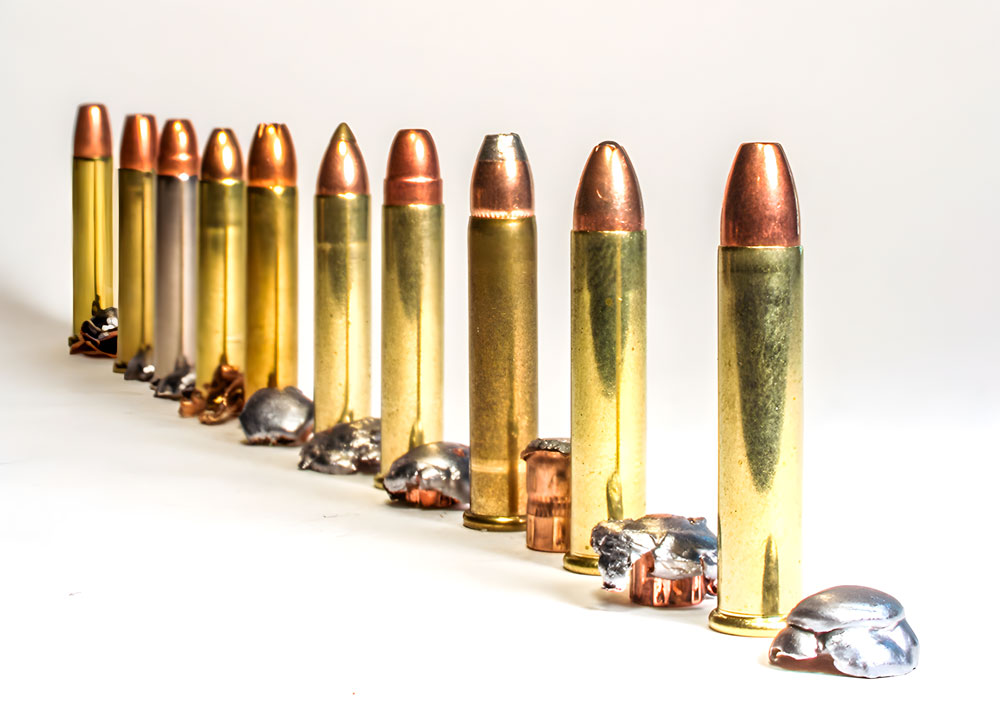 How to choose 22 Magnum Ammo? 🤔
🧨 The first is the velocity of the round – they typically travel at velocities between 1700 and 2100 feet per second (fps). This is significantly faster than standard 22LR cartridges, meaning that 22 Magnum ammo does more damage than 22LR ammo when striking a target.
🧨 You should also check the weight of the bullet – 22 Magnum bullets typically weigh between 40 and 50 grains, which allows them to penetrate targets more effectively than lighter rounds. Additionally, pay attention to the ballistic coefficient of the round; this will tell you how well it will perform while travelling through air resistance over different distances.
🧨 The cost of 22 Magnum Ammo. Because it has greater stopping power than 22LR ammo, 22 Magnum ammo tends to cost more per round – expect prices around $0.50 per round or higher depending on brand and quality of construction.
Please watch this video to learn more information📺
Our Selection ⚡ 2 Best 💣  22 Magnum Ammo
1# 22 Magnum – 30 Grain JHP –
CCI

Maxi-Mag Hyper Velocity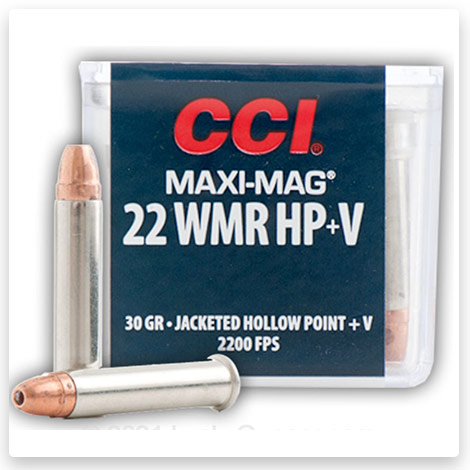 Do you need the most accurate and powerful ammo for your varmint hunting rifle? Check out CCI Maxi-Mag Hyper Velocity 22 Magnum ammunition. These 30-grain jacketed hollow point (JHP) bullets are designed for maximum penetration and expansion, making them ideal for taking down small games quickly and humanely. The rimfire-primed brass casings are nickel-plated for smoother feeding and ejection, and the high-velocity ammunition is perfect for pest control or long-range shooting.
2# 22 Magnum – 40 Grain JHP Brass Cased Rimfire –
Browning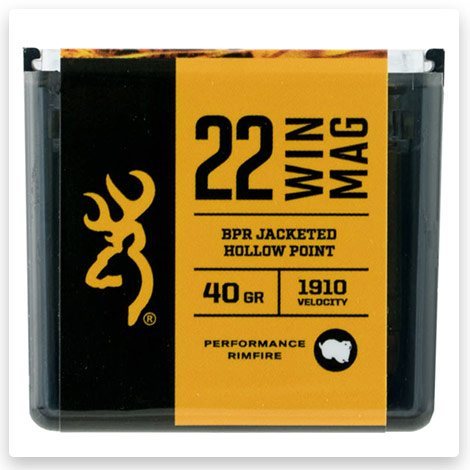 Searching for a high-performance .22 Winchester Magnum Rimfire cartridge? Pay attention to Browning BPR .22 Winchester Magnum Rimfire 40 Grain Jacketed Hollow Point Rimfire Rifle Ammunition. This ammo is designed for smooth feeding, reliable extraction, and consistent performance. It features a jacketed hollow point bullet. With a muzzle velocity of 1910 ft/s, this cartridge is ideal for varmint hunting. So don't settle for anything less than the best – choose Browning BPR .22 Winchester Magnum Rimfire 40 Grain Jacketed Hollow Point Rimfire Rifle Ammunition.
How to Test 22 Magnum Ammo? ⌛
The first step to testing is to visually inspect the ammunition. You want to make sure there are no visible defects in the ammo, such as dents, bulges, or rust. Also, check for any major defects in the casing itself and make sure there are no signs of tampering or damage.
⚡ The most common way to test 22 Magnum Ammo performance is through the chronograph. Chronographing involves firing a 22 Magnum round into a specialized device designed to measure velocity and provide data on other factors such as energy transfer and accuracy. The data collected during the chronograph will allow you to evaluate how well 22 Magnum rounds perform in terms of velocity and power. Additionally, this information can also be used as an indication of whether or not the type of 22 Magnum Ammo that you are purchasing meets your performance expectations.
⚡ Another method used is by performing ballistic tests at long distances with different types of targets. This will give you an idea of how accurate each round is at longer distances by comparing accuracy measurements across multiple target materials at various ranges from 50 yards up to 200 yards out (or more). Furthermore, this type of testing can also provide insight into bullet expansion characteristics when hunting larger game animals like deer and wild hogs.
⚡ Finally, testing can also involve examining fired cases for signs of high-pressure loads that could potentially cause damage or injury if fired in a firearm rated for lower pressures only—this can be determined by examining case headstamps prior to reloading them back into cartridges. In addition, checking case length after firing can reveal any signs of excessive chamber pressure which could lead to dangerous conditions if left unchecked before reloading them back into cartridges.
FAQ 🤔
Conclusion ☝
Price 22 Magnum Ammo is a great choice for anyone looking for an affordable, high-quality round. We've found the best items available and highlighted them in this article. Whether you were a first-time shooter or an experienced marksman, we believe that our recommendations were helpful and you got more information on how to select the right rounds for your needs! 🤩🤍
Tags: #best 22 magnum ammo / #best 22 magnum ammo for naa pug / #best price 22 magnum ammo / #best 22 magnum ammo for self defence