Affiliate Disclosure: AmmoCave.com sometimes gets paid for listings, through sponsors or affiliate programs like Lucky Gunner, Optics Planet, Brownells, Cabelas, Academy Sports & Outdoors, Rainier Arms, Palmetto State Armory, Sportsman's Guide, Ammo.com, Ammo Man, Primary Arms, MidWayUsa, Amazon, eBay, etс. Clicking a link helps keep AmmoCave.com free, at no extra cost to you!
Authors: Each article is verified by AmmoCave's expert team. Professional hunters, firearm trainers, gunsmiths, and gun experts write the articles. AmmoCave Team independently researches, tests, reviews, and uses recommendations from our community of gun owners. We may earn commissions from shopping links.
Note: The views and opinions expressed in this article are those of the authors and do not necessarily reflect any agency's official policy or position. The articles are for informational purposes only, share your opinions about Best 44-40 WCF Ammo in the comments and join the discussions. Let's share 💬 our ammo & gun experiences together!
44-40 Winchester ammo is a classic cartridge that has been enjoyed by shooters for many years. While there are many different types of 44-40 ammo available on the market, it can be tricky to figure out which one is the best for your needs. In this blog post, we will take a look at some of the top-rated 44-40 WCF ammo currently available and discuss why it might be a good choice for you. So, if you are looking for some new ammo to try out in your rifle, read on! We have got you covered.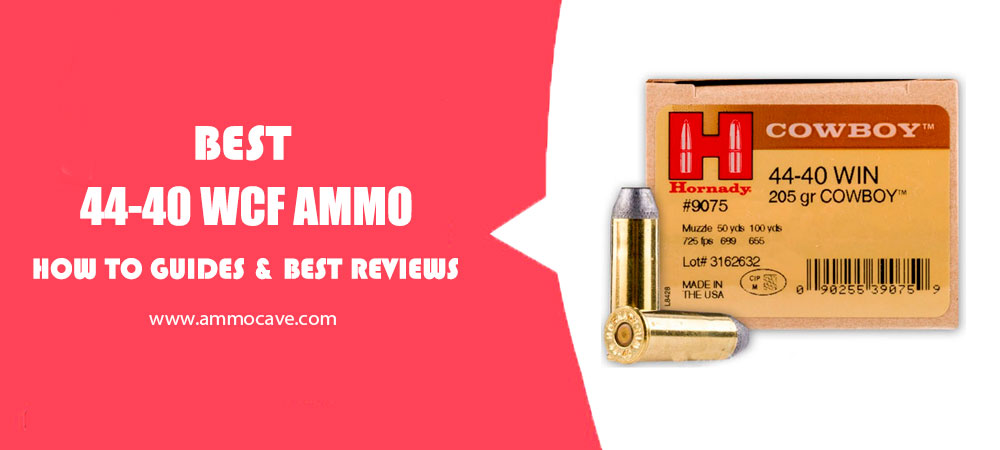 Best 44-40 WCF Ammo Reviews
1# 44-40 WCF – 200 Grain RNFP – Black Hills Cowboy
 
The 44-40 WCF cartridge was invented in 1873 and was originally one of the most influential rounds of the West. This multipurpose, high-powered cartridge was used in both the Winchester Model 1873 rifle and multiple handguns. Although it is no longer used for self-defense, the 44-40 WCF is still popular for target practice and cowboy action shooting. The Black Hills company is known for manufacturing highly accurate ammunition, and their cowboy ammo is no different. These 44-40 WCF rounds feature 200 grain lead round nose flat nose projectiles that achieve a muzzle velocity of 800 feet per second. The flat-point bullets will help cut clean round holes in the paper target for easy scoring. Order your box of 44-40 WCF cartridges today and experience the power of this legendary round!
2# 44-40 Win – 205 Grain Lead Flat Nose – Hornady Cowboy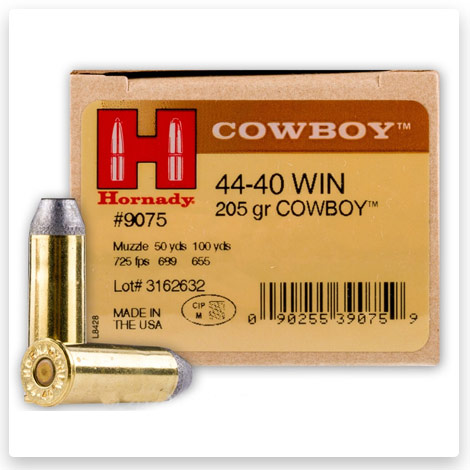 If you're looking for cowboy action ammunition, you need to check out Hornady's 44-40 Win 205 grain LFN. These 20 rounds are designed and manufactured to perform flawlessly, giving you a great day at the range. The 205-grain lead flat nose projectile is made to flatten at the target instead of fragmenting, and the propellants are clean burning. The bullet is also diamond knurled, meaning it is lubed the entire length of the bearing surface. Your ammo will arrive at your door as brand-new production, so you can be confident in its quality. Boxer-primed, brass cased, and reloadable, this non-corrosive ammo is a great addition to any Cowboy collection.
FAQ
What is a 44-40 WCF cartridge?
The 44-40 Winchester Centerfire (WCF) cartridge was introduced in 1873 by Winchester. It was originally chambered in the Winchester Model 1873 rifle, which was the first lever-action repeating rifle ever mass-produced. The 44 WCF cartridge is also known as the .44-40 Winchester.
Is the 44-40 ammo still made?
Yes, the 44-40 ammo is still made and readily available on the market. It's a popular caliber for hunting, so you shouldn't have any trouble finding it at your local gun store. However, 44-40 ammo can also be a bit pricey compared to other calibers.
What ammo can you shoot out of 44-40?
44-40 ammo is a rifle cartridge that was originally developed as a black powder round for rifles. 44-40 ammo can be fired in revolvers but is not typically used as such. 44-40 ammo is most commonly used in lever action rifles.
***
What is the effective range of a 44-40 round?
The 44-40 has a muzzle velocity of 1,275 feet per second and muzzle energy of 505-foot pounds. This makes it a great choice for hunting deer-sized games. The effective range of a 44-40 round is around 200 yards.
What is a 44-40 bullet look like?
A 44-40 bullet is a .424 caliber bullet that is about .94 inches long. It has a brass cartridge case and typically weighs about 220 grains.
What are the best 44-40 WCF ammo brands?
There are many good 44-40 WCF ammo brands on the market today. Some of our favorites include Winchester, Hornady, and Federal.
What are the different types of 44-40 WCF ammo?
There are many different types of 44-40 WCF ammo available on the market today. Some of the most popular variants include jacketed hollow point (JHP), soft point (SP), and lead round nose (LRN) rounds.
What are the benefits of using 44-40 WCF ammo?
The benefits of using 44-40 WCF ammo include its accuracy, its stopping power, and its low recoil.
Conclusion
44-40 WCF ammo is a great choice for anyone looking for an affordable round that can be used for hunting or target shooting. 44-40 WCF ammo is available in a variety of brands and bullet types, so you're sure to find the perfect round for your needs. Thanks for reading our Best 44-40 WCF Ammo buyer's guide!