Affiliate Disclosure: AmmoCave.com sometimes gets paid for listings, through sponsors or affiliate programs like Lucky Gunner, Optics Planet, Brownells, Cabelas, Academy Sports & Outdoors, Rainier Arms, Palmetto State Armory, Sportsman's Guide, Ammo.com, Ammo Man, Primary Arms, MidWayUsa, Amazon, eBay, etс. Clicking a link helps keep AmmoCave.com free, at no extra cost to you!
Authors: Each article is verified by AmmoCave's expert team. Professional hunters, firearm trainers, gunsmiths, and gun experts write the articles. AmmoCave Team independently researches, tests, reviews, and uses recommendations from our community of gun owners. We may earn commissions from shopping links.
Note: The views and opinions expressed in this article are those of the authors and do not necessarily reflect any agency's official policy or position. The articles are for informational purposes only, share your opinions about Best 38-40 WCF Ammo in the comments and join the discussions. Let's share 💬 our ammo & gun experiences together!

What is 38-40 WCF Ammo? 🤔
This ammo is a type of ammunition designed specifically for use in lever action firearms. It was developed by the Winchester Repeating Arms Company in 1882 and is frequently used in cowboy action shooting competitions.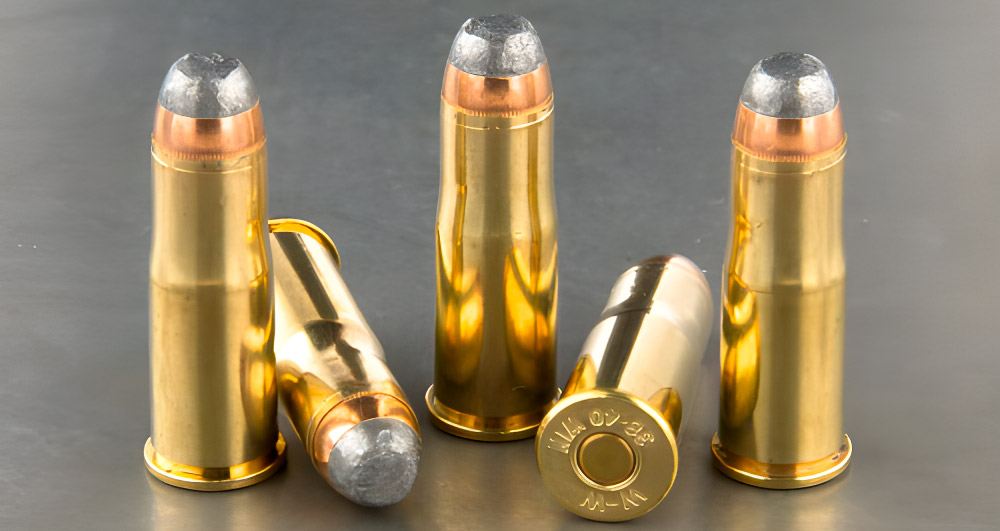 Features 🔥
38-40 WCF ammo is a popular choice among shooters due to its performance and affordability.
✳️ This round was created with the intent of providing a more powerful round than the existing .38 Long Colt and .41 Long Colt cartridges.
✳️ This high-powered cartridge is known for its versatility, making it suitable for many applications such as hunting, target practice, competitions, and law enforcement use.
✳️ It offers excellent accuracy and knockdown power from its large bullet diameter of .401 inches. This larger caliber gives the shooter an increased chance of making clean kills at longer distances compared to other handgun rounds.
✳️ Ammo is available in a variety of loadings that make it suitable for different applications. These include:
✴️ Jacketed hollow point (JHP) rounds for self-defense;
✴️ Full metal jacket (FMJ) rounds for target practice and cowboy action shooting competitions;
✴️ Lead round nose (LRN) bullets for hunting games such as deer or wild boar;
✴️ Wadcutter (WC) bullets are designed specifically for target shooting accuracy.
✳️ Its wide range of uses makes it a great choice for any shooter looking to get into reloading or trying out handgun hunting or competition shooting.
Our Top Pick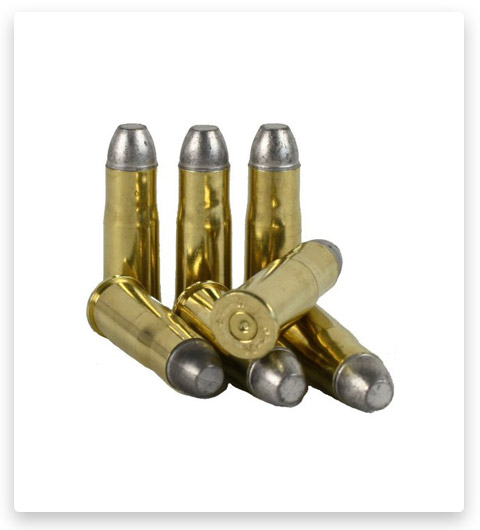 38-40 WCF Ammo
This cartridge is ideal for classic Cowboy Action shooting, as well as hunting. The results in a well-balanced combination - it has the power to penetrate steel targets and knock them over, but can also do more subtle work such as shooting paper targets cleanly with each shot. Moreover, its projectile is designed to deform rather than 'shatter' upon impact. As such, you can use the round for both self-defense and pest control just as our pioneering ancestors once did.
Explore Now
If you click this link and make a purchase, we earn a commission at no additional cost to you.
Benefits 🤩
The 38-40 Winchester Center Fire (WCF) ammo is a popular and reliable choice for shooters who want to hit their mark accurately at long range. It offers several notable benefits:
🔰 High Accuracy: The accurate design of this ammo ensures that it will hit its mark with precision, making it the ideal option for any shooter searching for accuracy over distance.
🔰 Performance at Long Range: The design of this ammo allows it to remain stable in flight over long distances, ensuring consistent performance from shot to shot.
🔰 Low Recoil: Despite being powerful enough for hunting applications, it has low recoil which makes it an excellent choice for target shooting and range practice.
🔰 Enhanced Reliability: This type of ammo is designed to withstand extended use without jamming or malfunctioning, making it an extremely reliable cartridge choice.
🔰 Quality Construction: The strong casing, non-corrosive primers, and clean burning powder contribute to the high-quality construction that makes the ammo a dependable option time after time.

Ballistic Coefficient 💡
The ballistic coefficient of 38-40 WCF ammo is highly dependent on the specific bullet design and its construction.
⌛️ Generally, a lead round nose (LRN) bullet or flat point (FP) bullet has a ballistic coefficient between 0.125 and 0.140, while a jacketed hollow point (JHP) bullet has higher ballistic coefficients that range from 0.150 to 0.180.
⌛️ This means that the aerodynamic performance of a JHP projectile is superior to an equivalent LRN or FP due to its smoother surface profile and better drag reduction in flight.
⌛️ Bullet weights vary from 150 to 200 grains, with most loads featuring either a 150 or 180-grain projectile.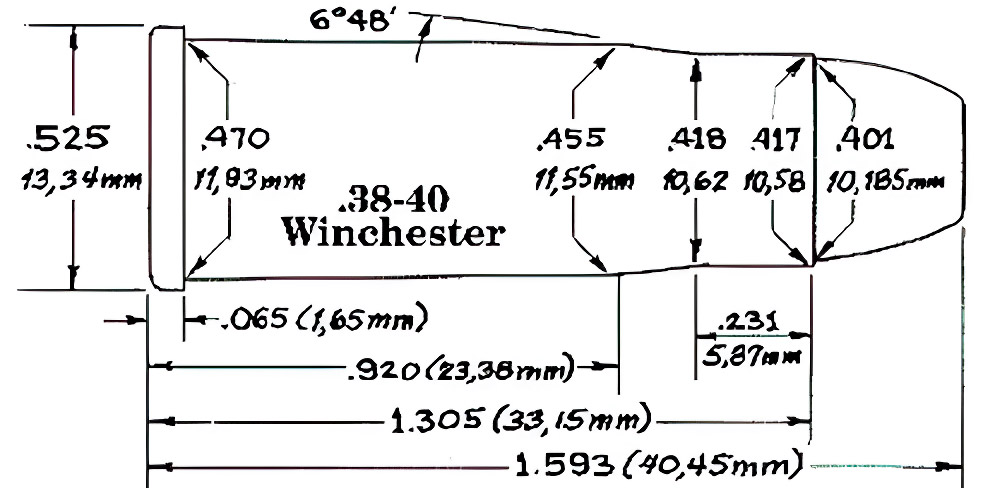 🎯 When fired out of a rifle barrel length of 16″ or greater, the velocity of the bullet can reach up to 1,200 feet per second (fps).
🎯 The corresponding energy at the muzzle can be as high as 600-foot pounds (ft/lb). 
🤠 As such, it's considered an effective medium game cartridge when used within reasonable distances. Because of its inherent accuracy, this ammo can also be used for target shooting and competitive events such as Cowboy Action Shooting and Steel Challenge matches.
38-40 WCF Ammo 🎯 Reviews
38-40 – 180 Grain LFN – Black Hills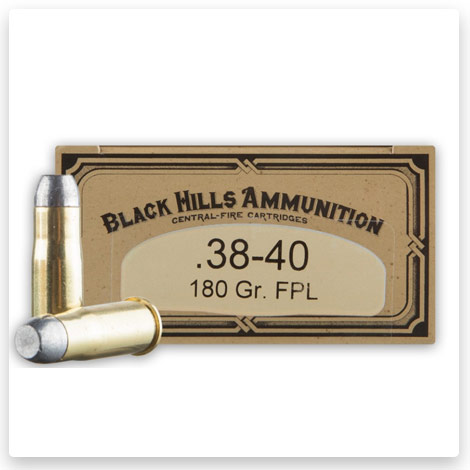 The 38-40 WCF has been revitalized by the popularity of Cowboy Action Shooting, and the Black Hills is proud to offer this classic cartridge. It delivers the performance you need to compete in sport, with a faithful recreation of its historic accuracy and power. The 180-grain lead round nose projectile erupts from the muzzle at 800 feet per second, for excellent target penetration. The broad nose bullet is ideal for paper targets or for taking down steel targets. The Black Hills is committed to providing the best quality ammunition for all your shooting needs.
How to reload? 🧑‍🔧
🔍 If you are a DIY enthusiast, reloading your 38-40 WCF ammo can be a great way to extend the life of your ammunition. Reloading is an economical means of customizing and controlling the performance of your firearm, as well as allowing for experimentation with different types of projectiles and propellants.
📌 Before you get started, some important safety considerations must be made:
⭕ Make sure the gun is unloaded and pointed in a safe direction while reloading;
⭕ Follow all safety instructions on any product used;
⭕ Wear protective eyewear when handling primers, cleaning solutions, or solvents;
⭕ Always wear hearing protection during shooting activities.
⬇️ Now let's discuss how to reload your ammo:
➡️ First, you will need a reloading press and dies, primers, powder, cases, and bullets or projectiles.
➡️ Follow all manufacturer instructions when loading, paying close attention to recommended charge weights.
➡️ Weigh each powder charge before pouring it into the case mouth and use a funnel for accuracy.
➡️ Carefully seat each primer into the case before adding powder and bullet/projectile.
➡️ The cases should be cleaned and inspected before reloading for signs of cracks or damage that may cause malfunctioning.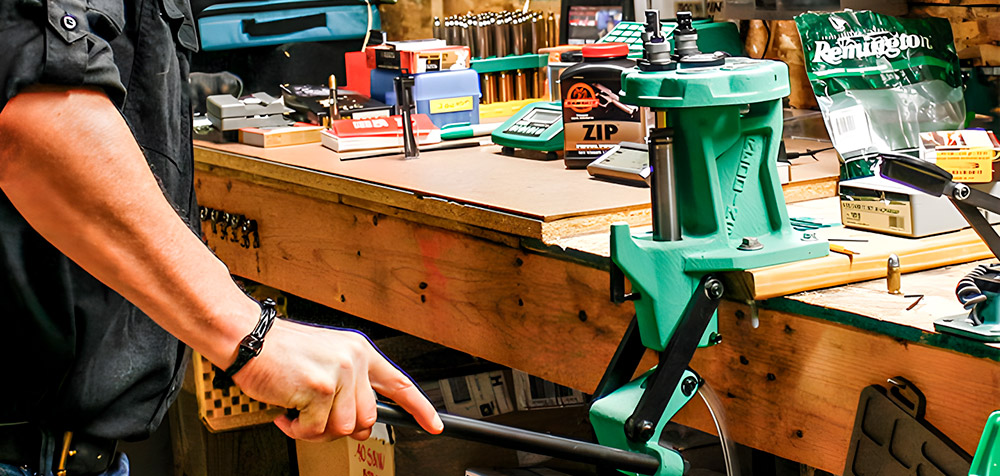 FAQ 😎
Conclusion 🥰
38-40 WCF ammo is a type of ammunition that has been around for over 100 years. It was designed for use in rifles and pistols and has seen a resurgence in popularity in recent years. This ammo is available from many different manufacturers, and there are a variety of different types available. In this article, we've looked at the best ammo on the market today. We hope that the information in this guide will help you to make the right decision! 🤠👍