Affiliate Disclosure: AmmoCave.com sometimes gets paid for listings, through sponsors or affiliate programs like Lucky Gunner, Optics Planet, Brownells, Cabelas, Academy Sports & Outdoors, Rainier Arms, Palmetto State Armory, Sportsman's Guide, Ammo.com, Ammo Man, Primary Arms, MidWayUsa, Amazon, eBay, etс. Clicking a link helps keep AmmoCave.com free, at no extra cost to you!
Authors: Each article is verified by AmmoCave's expert team. Professional hunters, firearm trainers, gunsmiths, and gun experts write the articles. AmmoCave Team independently researches, tests, reviews, and uses recommendations from our community of gun owners. We may earn commissions from shopping links.
Note: The views and opinions expressed in this article are those of the authors and do not necessarily reflect any agency's official policy or position. The articles are for informational purposes only, share your opinions about Best Drum Magazine 2023 in the comments and join the discussions. Let's share 💬 our ammo & gun experiences together!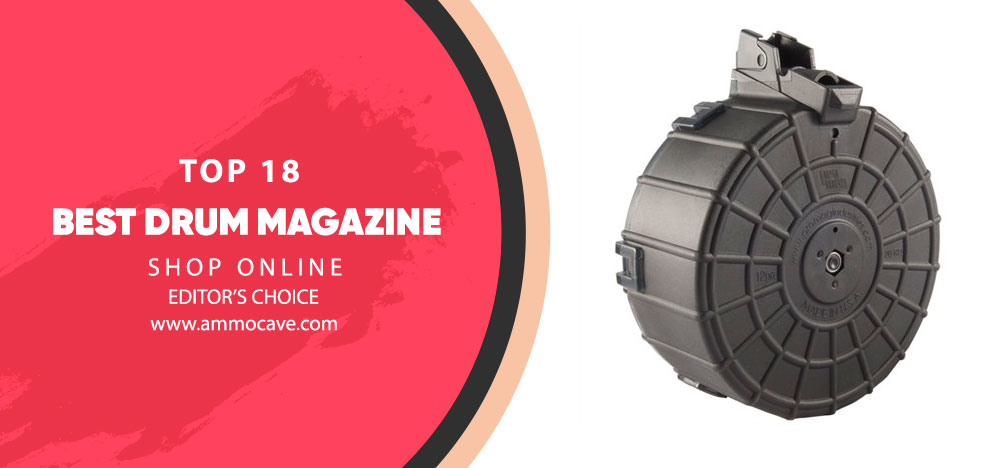 Top 18 Best AR 15 Drum Magazine
We all love to shoot with our favorite weapon. But unfortunately, the cartridges that quickly left the magazine require a neat and boring loading. The need for constant recharging forces us to buy additional magazines, which still require a separate download. But what if one magazine has double or triple ammunition? Today we will talk about enlarged drum-type magazines.
A large number of weapon platforms, calibers, and engineering combinations available create a huge inventory of accessories and weapon equipment. To understand how this applies to your weapon and your needs, check out this overview. We touched a lot of drum magazines to be able to tell which one is better. Let's start!
#1 PRO MAG – AR .308 DRUM MAGAZINE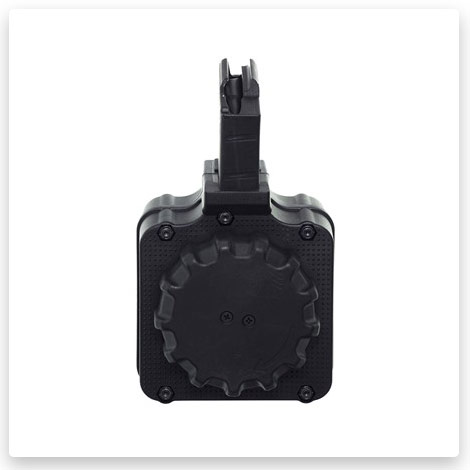 This drum magazine holds 50 .308 rounds and is compatible with most AR platform rifles. The most important requirement for compatibility is that the magazine meets the LR-308 (DPMS) or SR-25 standards. If you want to turn your rifle into a small machine gun, this might work.
This oversized magazine is created from a combination of strong and lightweight materials. Steel guiding edges are used for stable feeding of cartridges and secure fixation of the magazine in the receiver. For lighter weight, the body is made of patented DuPont ™ Zytel® polymer. The chain of the magazine is also made of a polymer by injection molding. The push spring is made of heat-treated stainless steel and is quite stiff.
This oversized magazine is classic black and fits most custom AR platform rifles. Important clarification, this is not compatible with Armalite cartridge magazines. Sometimes buyers are faced with the problem of incomplete entry of the magazine into the receiver. To eliminate this discrepancy, you need to turn the dial slightly. This will place all the bullets in the neck of the magazine and you will be able to fasten the latch. This is not stated in the instructions and could ruin your owning experience, which is why we talk about this convention prior to a possible purchase.
#2 PRO MAG – MKA 1919 MAGAZINE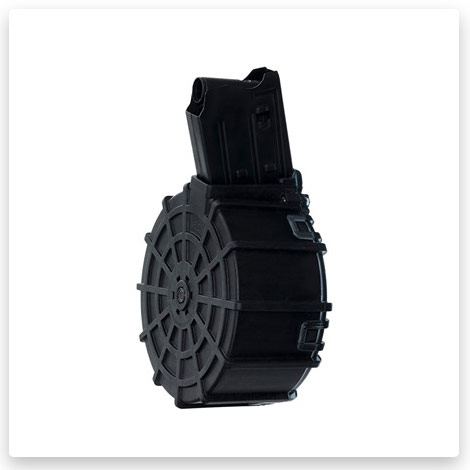 This drum is not the most spacious, but for the Akdal® MKA 1919® 12 gauge (2-3 / 4″) it is a worthy addition. With this circular magazine, your ammunition load will be 20 rounds, and given the size of the cartridge, this is serious combat power. If you always lack a few shots to rip a target to shreds, or physically destroy your target's armor, this is the offer for you.
The body of this magazine has a hybrid design, which means that the materials used are also different. The vertical part (loading tower) is made of heat-treated carbon steel. In addition, steel guides run down into the polymer body of the drum. Despite the light-weight, the polymer obtained by injection molding fully meets the requirements for combat ammunition. The magazine chain is also injection molded, in line with the philosophy of minimizing weight without sacrificing overall strength.
The magazine feels very solid and even tough. The chrome-silicon spring with noticeable resistance accepts ammunition and feeds it properly into the rifle. Works as a nice watch and looks like a great modification.
#3 KCI USA, INC. – RUGER MINI-14 100RD MAGAZINE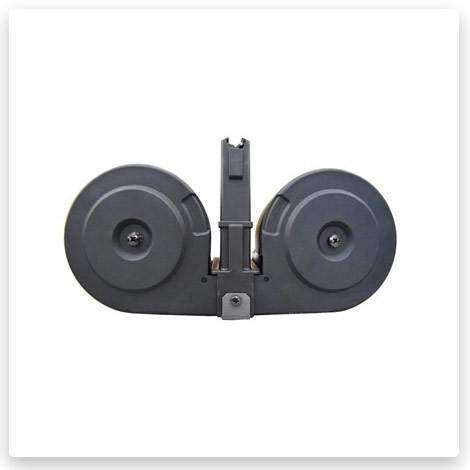 What do we value in weapons? Lots of things, but mostly firepower! If the caliber does not inspire fear, you can turn your weapon into a "bullet-armored gun". The KCI Ruger Mini-14 Drum Magazine is the right choice if you want 100 rounds for your favorite weapon (5.56 NATO / .223 Remington). This is enough to make holes in all targets on the shooting range in one reload.
Like many other competing products, this magazine is built using a combination of polymer and steel. The magazine weighs no more than 2.2 pounds without ammo, but when fully equipped it will add another 100 rounds. The dual spring is capable of returning all your cartridges to the barrel at rated speeds up to 1500 rpm. This is enough for any standard semi-automatic rifle.
It's a shame that the AR15 and Mini 14 use completely different magazine clips. If your weapon does meet the compatibility requirements, you will receive more than one 100 round store. You will find a high-speed charger that allows you to load 5 rounds at once, a beautiful bag for storage and carrying, and a bottle of graphite lubricant. Graphite is a useful addition, but be careful when using it. If the tube is squeezed too much, the grease can scatter and stain your worktable.
This is one of the most capacious Mini-14 magazines on the market, but unfortunately, it is no longer in production. If you are still considering this option as an upgrade hurry up while this item is still in stock.
#4 KCI USA, INC. – 50RD DRUM MAGAZINE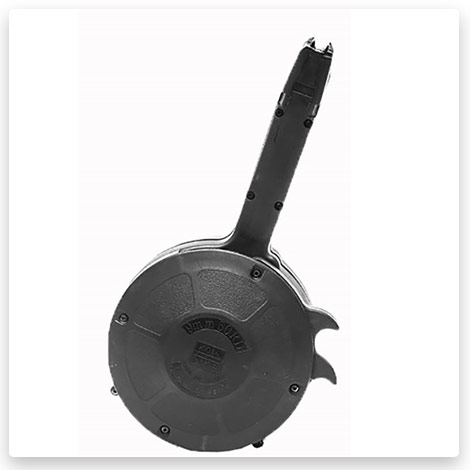 Every Glock owner spends a lot of time on the shooting range due to the need for frequent reloads. For owners of 9mm Glock® 17/19/26/34/45 rifles and pistols, there is a simple solution to this problem – the 50-round KCI drum magazine. This simple add-on will make your shooting practice really fun and carefree, and the eventual firefight will be much safer for you.
The KCI 50-round drum magazine consists of a circular stack and a central turret. Wide compatibility allows for easy integration with almost any Glock generation 3 and newer and even fits the Kel-Tec Sub 2000 carbine and AR-15 9mm rifles with Glock magazines. The only exception is G43.
The body of the magazine has a skeleton made of steel wire and a lightweight polymer shell obtained by casting. The chrome-plated spring provides a smooth and constant feed but is very resistant to loading. Therefore, this magazine uses a quick charge lever. With the KCI, you can quickly load a full load of ammunition and even keep a magazine loaded. The locking mechanism protects the spring and the feed jaws, so the feed release is much slower than with conventional spring mechanisms.
If your compatibility is okay, you should love this drum magazine. It is lightweight and sturdy enough, yet functional and affordable for every experienced shooter.
#5 PRO MAG – DRUM MAGAZINE FOR GLOCK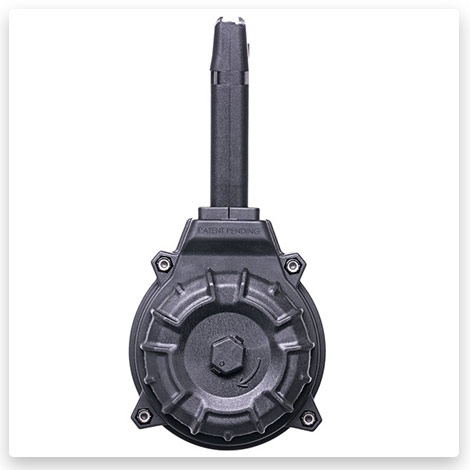 PRO MAG continues to delight us with its components for long, trouble-free shooting. This time it is a 50-round drum magazine for 9mm Glock-compatible platforms. You can use this magazine not only on Glock® Model 17 and 19 but also on AR rifles of the corresponding caliber.
This magazine is created exclusively in the USA with strict control of production technology. The body is made from a proprietary DuPont® Zytel ™ based polymer. The magazine chain goes through a production polymer cycle during which the still liquid fills the mold and hardens under pressure. After that, sanding takes place, which removes possible roughness and sagging in order to obtain perfectly smooth sliding surfaces.
The large magazine capacity requires a very strong spring to push out all 50 rounds. Because of this, you have to use a heat-treated chrome-silicon spring, which can be stiff for manual loading. We recommend the use of accessories for quick charging of drum magazines. We had no problems with this, we hope that your experience will be the best.
#6 PRO MAG – SAIGA 12 DRUM MAGAZINE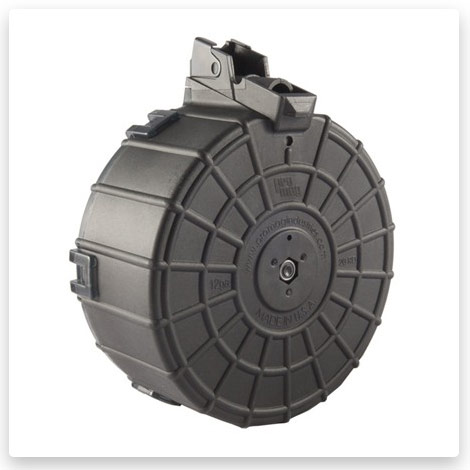 The main disadvantage of pump-action shotguns is their small ammunition. Just a few shots and you have to reload again, which is a waste of time and a good moment. To fix this, PRO MAG created a 20-round drum magazine for the Saiga (12 gauge). Compatibility with other platforms is extremely low, but if you want to upgrade this particular gun, this is your chance!
To begin with, this is made from a wear-resistant cast resin. The design is very maintenance-friendly and can be disassembled to remove dust and dirt. The great variability of the design features of the guns makes strict unification impossible. Therefore, you need to be prepared for a small fit. The 20-Rd model is equipped with a sliding mechanism. This mechanism holds the spring and is activated by the thumb. This important addition will help speed up your downloads.
If you are looking for a way to hit more targets on the range, or have more shots without reloading while defending your home, consider this option. As a reminder, this black polymer magazine is only suitable for 12-gauge Saiga shotguns and only accepts 2¾" cartridges.
#7 KCI USA, INC. – AK-74 95RD DRUM MAGAZINE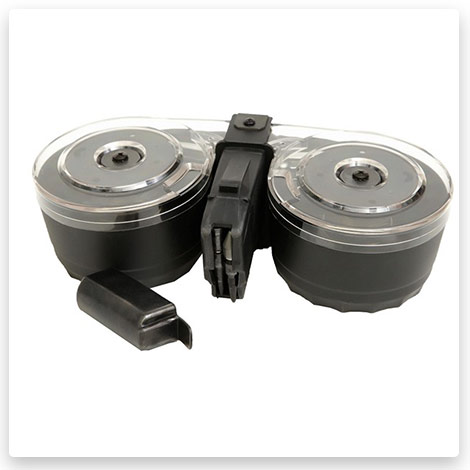 If a weapon no longer meets modern requirements for firepower and safety, then its place in a museum. The AK-74 is truly a legendary weapon that continues to receive important modifications. This time it is a drum magazine for 95 rounds of 5.45x39mm caliber. If you like to make "leaden rain" this modification is made just for you.
KCI USA manufactures drum magazines from black polymer. The front of the magazine has a transparent polymer "window" through which you can see the approach of the last cartridge. The internal compression mechanism is made taking into account the complete synchronization of the two drums. An alternating feed system picks up cartridges from each drum in turn. This allows you to keep the center of gravity in a balanced state, not toppling over to one of the sides. All of this works seamlessly thanks to metal pushers that act like ball bearings.
By choosing this offer, you get a black magazine for the AK-74 for 95 rounds, a polymer speedloader, nylon case for storage and carrying, manual, and tube of graphite grease for lubricating the pusher. We draw your attention to the AK-74 and AK-47 are different rifles. This magazine is only compatible with the AK-74 5.45×39 feed system.
#8 PRO MAG – CZ SCORPION DRUM MAGAZINE
Many types of weapons require even more matching accessories. If you are a fan of pistol-caliber rifles but have chosen something special – it can take a long time to find the compatible components. Pro Mag is on your side and creates enlarged magazines for a wide variety of weapons. This time they helped the owners of the CZ-USA Scorpion light pistol rifle.
Like most Pro Mag products, this enlarged magazine is constructed from Zytel-based polymer. Most interestingly, DuPont, which patented the discovery of this polymer, has never produced components for weapons.
The body of the magazine is made of injection-molded polymer, which provides sufficient strength, but significantly reduces the cost of production and the final cost for the buyer. The top tower is heavily stressed, so it has been awarded an extra edge and is made of carbon steel. Carbon steel is able to withstand a large number of cycles and is more lubricant-friendly. The magazine pusher is also made from Zytel-based polymer and works in conjunction with a heat-treated stainless-steel spring.
The drum magazine holds 50 pistol caliber rounds (9mm) and is designed for use with the CZ Scorpion. Manufacturing and quality control are done in the United States, so you don't have to worry about shipping or customer service issues.
#9 PRO MAG – SPRINGFIELD M1A/M14 DRUM MAGAZINE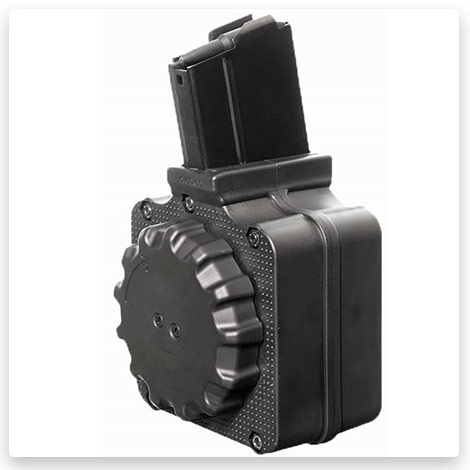 Pro Mag continues to expand the capabilities of shooters and has prepared an interesting offer for owners of the Springfield M1A. This rifle is a copy of the legendary M14, which means that it has the very problem – small ammunition. During a visit to the shooting range, you will definitely feel that 20 rounds are not a lot at all, you just have to warm up. Therefore, you may want more, for example, 50 rounds without reloading. This is what this drum magazine is for.
Pro Mag Springfield M1A / M14 Drum Magazine is a symbiosis of tough polymer and carbon steel. The drum body is molded from Zytel-based resin, but the top feeder tower is still formed from carbon steel. A heat-treated stainless steel spring presses on the die-cast pusher.
Speaking of features, there is one important clarification, this drum magazine is designed to work only with .308 Win./7.62 NATO cartridges. It holds 50 rounds and matches perfectly with the Springfield M1A / M14. The price is fully consistent with the declared quality and even visually it looks quite attractive.
#10 PRO MAG – HI-POINT 4595STS DRUM MAGAZINE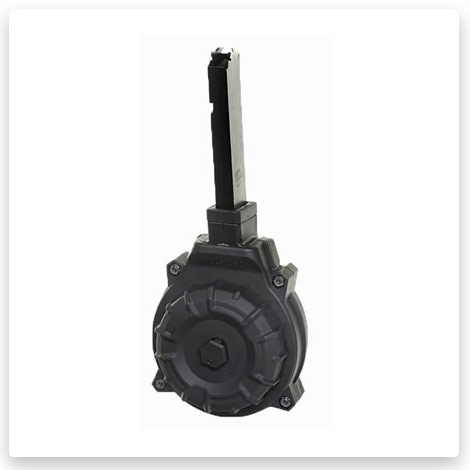 Rifles using larger pistol calibers do not have a large amount of ammunition. Fans of the .45 ACP Hi-Point have long been asking for larger magazines and Pro Mag has decided to fix that. The Pro Mag Drum Magazine for the Hi-Point 4595STS carbine can hold 40 rounds and will make your shooting much longer.
The body of this drum magazine is made of Zytel-type polymer. The feeder tower is edge-reinforced and made of carbon steel. The magazine pusher is injection molded and works great with heat-treated stainless-steel spring. The durability and endurance of this design are confirmed by practical tests and a fairly large army of fans.
This black magazine is only manufactured in the USA under the close supervision of the quality control department. All you have to do is check the compatibility with your weapon and order this drum magazine increased to 40 rounds. Pro Mag has made a good product and hopes you enjoy it.
#11 PRO MAG – SMITH & WESSON SHIELD DRUM MAGAZINE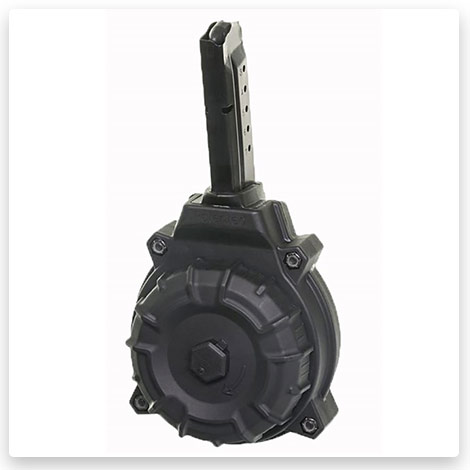 Of all the most popular, compact, and handy Smith & Wesson M&P pistols it's hard to find a pistol that surpasses the Shield. It's really cool but has too little ammo. 8 rounds in a standard store do not allow you to fully concentrate on shooting and you have to constantly reload. It tires and distracts every shooter. Pro Mag easily solved the problem of the Shield's small ammunition capacity by developing a 50-round drum magazine for this pistol.
The drum body is cast in black Zytel-based resin and mated to a reinforced carbon steel tower rim. You will also find a cartridge pusher (made by injection molding) and a heat-treated stainless-steel spring inside the magazine.
The loading process may seem daunting at first, but a little lubrication and practice will fix that. It is also worth noting that this 50-round (9mm) drum magazine was developed and is only suitable for Smith & Wesson M & P9 Shield and M & P9 Shield 2.0. Attempts to pair it with M & P9 Shield EZ or M & P9 Shield Plus are doomed to failure. Check your weapon specification again and use only guaranteed compatible components.
#12 PRO MAG – REMINGTON 597 DRUM MAGAZINES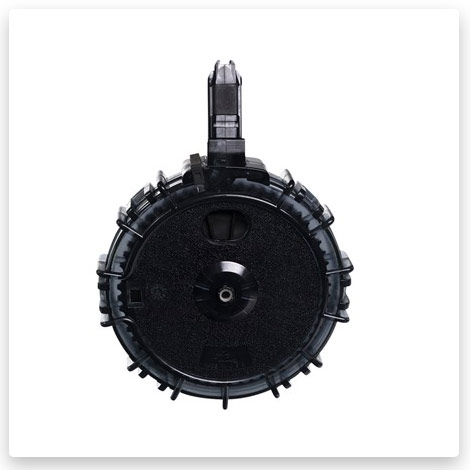 Owners of Remington® Model 597 ™ rifles using a 22 Long Rifle cartridge have received an unexpected gift. Pro Mag has developed a lightweight and roomy 55-round drum magazine that is compatible with this particular rifle.
High-impact polycarbonate was chosen to form the shell of the case. The combination of its properties makes it possible to obtain a strong and durable material while keeping the price at the lowest possible level. The chain of the magazine is made from a durable polymer by injection molding. The inner-spring is quite stiff because it is made of heat-treated chrome-silicon wire.
These black polymer drum magazines are manufactured in the USA, so delivery and service are not time-consuming. Overall, this is 8.00 (inch) wide, 13.50 (inch) tall and 2.50 (inch) deep. Quite reasonable dimensions for storing 55 not the smallest cartridges (22 Long Rifle).
#13 PRO MAG – MARLIN 795 DRUM MAGAZINES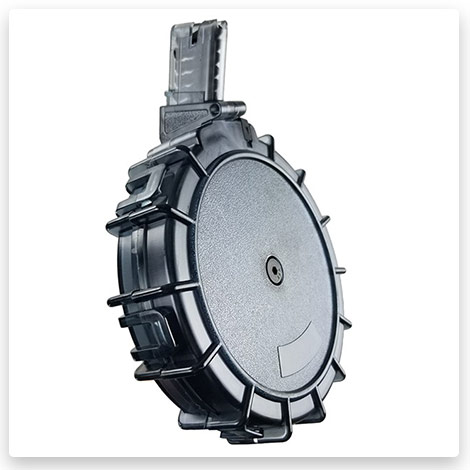 The caliber 22 Long Rifle cartridge is very popular and has good technical characteristics. So that owners of the Marlin 795 .22 LR can fully enjoy the firepower of this cartridge and their weapons, Pro Mag has created a 55-round drum magazine that is fully compatible with this platform. This made it possible to please the owners of other rifle models, such as the 795 and 795SS.
Durable polycarbonate is used for the magazine shell. The drum is about 8 inches in diameter and rises 13.5 inches in height as a central column. It's 2.5 inches deep and looks quite organic in the rifle's bottom receiver. A chain (molded under pressure) and a heat-treated chrome-silicon spring are also hidden inside.
This polymer drum magazine is made in the USA and awaits your purchase request. The price is very attractive for sure and will not burn a hole in your wallet.
#14 MAGPUL – HK94/MP5 D-50 MP PMAG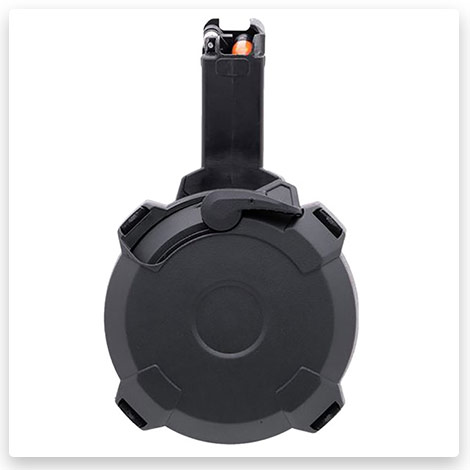 The MP5 style weapon has earned a lot of respect among shooters around the world. Not surprisingly, this led to the creation of clones of the iconic pistol-caliber platform. One of the main advantages of this rifle is its maneuverability. To maintain this advantage in combat and increase ammunition, Magpul has developed an innovative drum magazine.
Magpul PMAG D-50 MP combines many of the company's achievements and strong technological solutions that make it easier to replenish ammunition, control the remaining ammunition, and at the same time shoot in a prone position. This 50-round magazine hit the market in fall 2021 and you should definitely love it!
The drum shell is made from high-impact Magpul proprietary polymer. It is roomy enough to more than double the ammunition capacity, but at the same time it remains compact. A small, transparent, anti-reflective plastic insert allows you to monitor the remaining ammunition. In addition, a ratchet loading lever has been added that relieves tension from the internal spring. This mechanism has been tested and improved in other products of the company, therefore it is used here as well. The drum magazine can be easily disassembled with a flat screwdriver for service and cleaning from dirt. Magpul decided to add a dot matrix for painting to this lot.
This redesigned drum magazine is made in the USA and is sturdier than it sounds. The design of the device is resistant to corrosion, withstands many abuses, shock, and crushing. In addition, the function of holding the bolt in the open position has been added to lock the bolt back on the last cartridge. An additional fixing bolt allows for extended storage time without loosening the spring.
This update matches perfectly with all pistols and carbines of the HK94 and MP5 models. 50 rounds 9 x 19 is good ammo for shooting on a shooting range or when defending a home.
#15 KCI USA, INC. – SKS 75RD MAGAZINE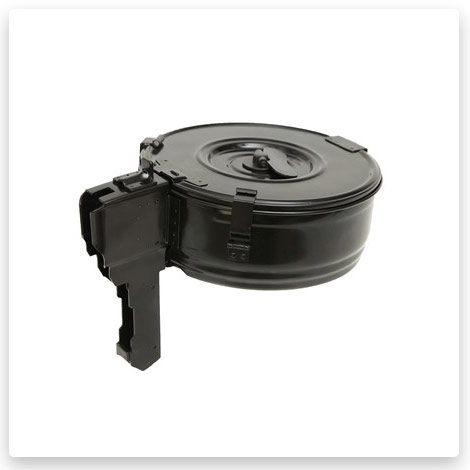 The SKS always draws attention because it is a powerful and beautiful weapon. The precision and firepower of this rifle are capable of penetrating armor or light cover, even at great distances. But there is a small problem, the factory ammunition is not enough to arrange "rock and roll". KCI SKS 75-Rd Drum Magazine completely solves this problem.
The most important feature of this magazine is the all-metal body construction. It is convenient to disassemble the case using two latches. This allows not only maintenance and cleaning of the inside surfaces of the magazine but also allows you to reload the ammunition without struggling with the spring tension. This makes it possible to store the loaded magazine for a long time and at the same time maintain zero spring tension. When it's time to use this magazine, simply turn the center knob to tighten the spring.
What else can you say about this drum magazine? Due to the use of steel, this magazine has a significant weight, which means it is not optimized for maneuverable firefights. It is best to use the KCI SKS 75-Rd Drum Magazine for range training or as an emergency source of ammunition when protecting your home. 75 rounds is a really big argument in any dispute or competition.
#16 PRO MAG – RUGER 10/22 CHARGER MAGAZINES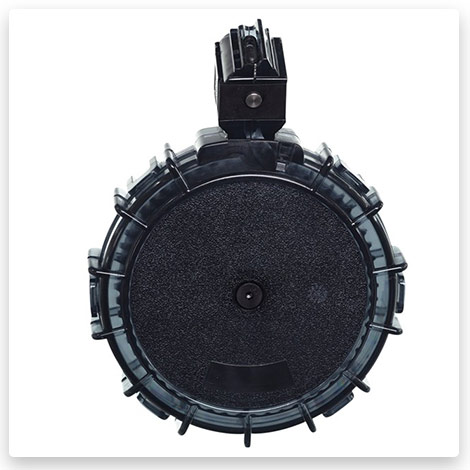 This offer contains 3 drum magazines from Pro-Mag, for the Ruger® 10/22™ and Charger™ 22 LR rifles. Depending on your needs, you can choose one magazine for 30, 55, or 70 rounds.
Polymer magazines are made of impact-resistant polycarbonate and are designed to hold 22 Long Rifle cartridges. The body has a black smoky color and goes well with the classic paintwork of most rifles. Inside you will find a polymer chain and a heat-treated chrome-plated silicone wire spring.
We have already written about the corporate identity of the Pro Mag company, so we will not repeat ourselves unnecessarily. The whole point of this proposal is to collect drum magazines in one place, for a more visual comparison. Otherwise, this is its own production from a well-known American company with a quality guarantee and responsive service.
#17 Pro Mag Saiga 12 Gauge Shotgun Drum Magazine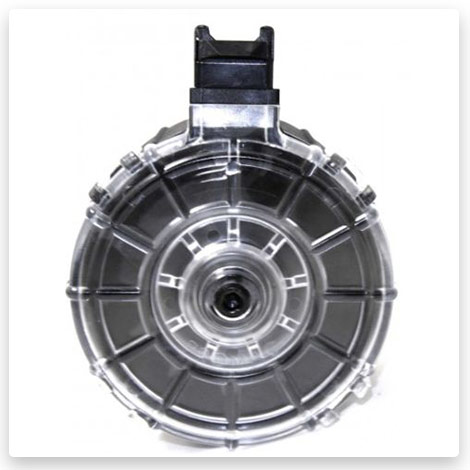 If you are tired of the obligatory adaptation of a 12-gauge Saiga semi-automatic shotgun to the requirements of every new magazine, we have found the perfect highly specialized product for you. This drum magazine holds 10 12-gauge 2-3 / 4″ rounds and does not require any modifications from the gunsmith, and the price does not tend to bite you, despite the all-American production from Pro Mag.
The body of this magazine is made of high-impact, ultra-strong black polymer. Steel reinforcement inserts have been added to add extra rigidity. The front cover is made of transparent polymer and is attached to the black base of the magazine with four fasteners. The transparency of the front cover allows you to instantly control the remaining ammunition. The overall diameter of the drum is 5 inches, which is quite proportional to the weapon and ammunition.
There is nothing superfluous or redundant here. Pro Mag Saiga 12 Gauge Shotgun Drum Magazine is the go-to choice for those who love reliability and ease of use.
#18 Thompson Drum Magazine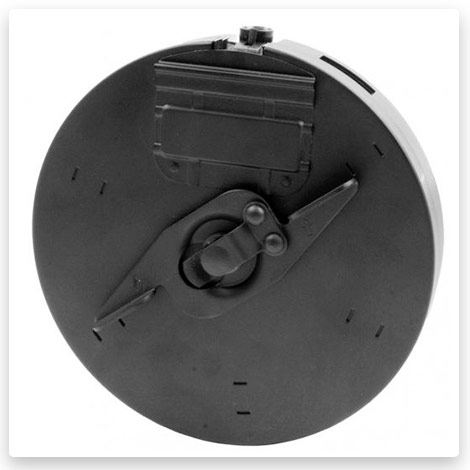 Weapons are very different and can safely teach the use of combat ammunition. We take this into account, so this proposal has been added to the review. As you can imagine, this is a drum magazine in the style of the legendary "Chicago typewriter" for airsoft. The good news is that this magazine has a capacity of 450 rounds, feels quite sturdy, and has a pretty decent price tag.
This magazine is built with a combination of metal and plastic. Metal is used In all places where increased strength is needed, for the rest light but strong polymer is enough. The reliability and safety requirements of airsoft equipment are fully met by this product. The only obstacle that can stop you is the compatibility of your weapon with the required weapon standards and the absence of conflicting modifications. This magazine corresponds to: Snowwolf, CYMA, King Arms, Cybergun, Marui system Thompson M1A1 Typewriter series rifles. That being said, we doubt this is suitable for the Thompson 1927-A1. Indulge in really huge ammo for your training and airsoft gunfights.
Conclusion
The wide variety of platforms makes the review either overwhelming or highly specialized. We tried to be as objective as possible. Of course, we paid a lot of attention to pistol-caliber rifles, because they are a very popular weapon. But we tried to mention other calibers and platforms as well.
Take a look at our top five leaders:
# 3 KCI USA, INC. – RUGER MINI-14 100RD MAGAZINE – huge ammo for 5.56 NATO / .223 Remington
# 5 PRO MAG – DRUM MAGAZINE FOR GLOCK – works well and has a charging booster
# 7 KCI USA, INC. – AK-74 95RD DRUM MAGAZINE – 95 rounds of 5.45x39mm
# 15 KCI USA, INC. – SKS 75RD MAGAZINE – can store ammunition without weakening the spring
# 17 Pro Mag Saiga 12 Gauge Shotgun Drum Magazine – Transparent Cover Design
We are quite confident in the quality of all our applicants. Your choice should only be based on the compatibility of the products presented with your weapon model. If it's compatible – do your own mini-research, or immediately order the upgrade you like. We try to introduce you to the best representatives of the industry, we hope this makes your life a little easier and shooting even more enjoyable. Thanks for staying with us. Good luck and see you again, survivalist!)
Tags: #best glock drum magazine / #best ak 47 drum magazine / #best drum magazine / #best drum magazine for saiga 12 / #best ar 15 drum magazine