Affiliate Disclosure: AmmoCave.com sometimes gets paid for listings, through sponsors or affiliate programs like Lucky Gunner, Optics Planet, Brownells, Cabelas, Academy Sports & Outdoors, Rainier Arms, Palmetto State Armory, Sportsman's Guide, Ammo.com, Ammo Man, Primary Arms, MidWayUsa, Amazon, eBay, etс. Clicking a link helps keep AmmoCave.com free, at no extra cost to you!
Authors: Each article is verified by AmmoCave's expert team. Professional hunters, firearm trainers, gunsmiths, and gun experts write the articles. AmmoCave Team independently researches, tests, reviews, and uses recommendations from our community of gun owners. We may earn commissions from shopping links.
Note: The views and opinions expressed in this article are those of the authors and do not necessarily reflect any agency's official policy or position. The articles are for informational purposes only, share your opinions about Best P320 Trigger 2023 in the comments and join the discussions. Let's share 💬 our ammo & gun experiences together!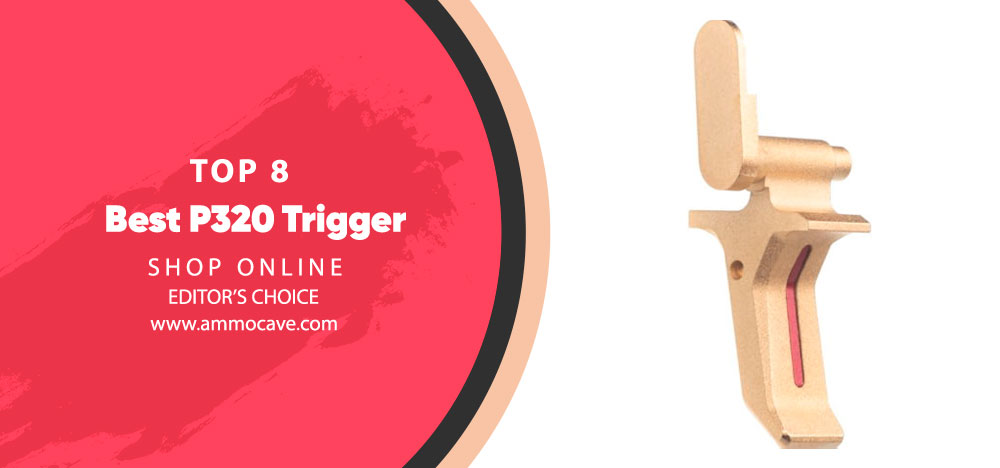 What is  P320 Trigger? 😏
It is a handgun trigger system developed by Sig Sauer for their P320 series of pistols. It operates using an internal striker-fired system, meaning the hammer is decocked and the pistol does not need to be manually cocked in order to fire.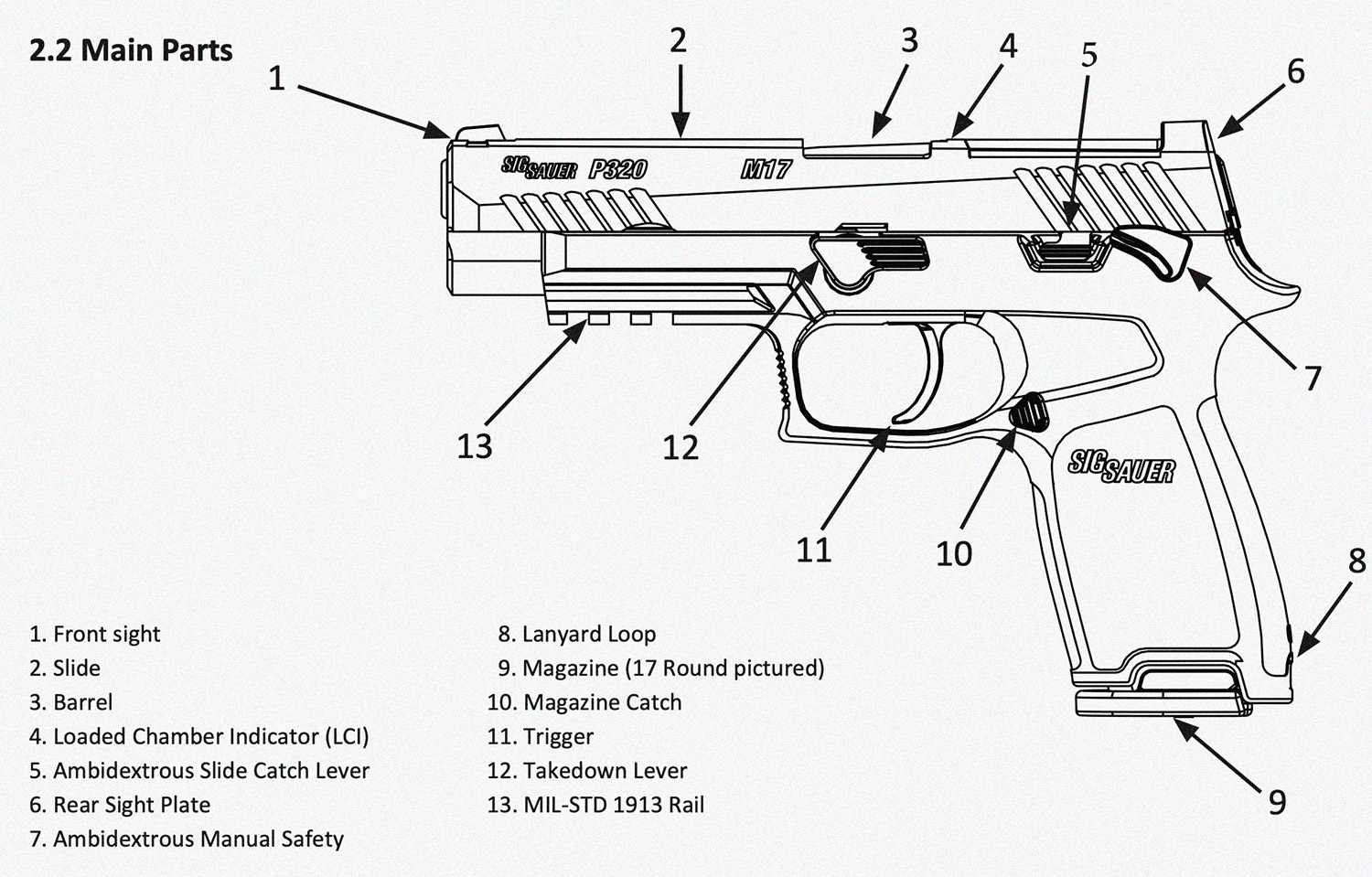 Types 🔰
🎯 The flat blade trigger – features a wide, flat surface area that provides a comfortable and precise feel when shooting. It is known for its lightweight construction, excellent accuracy, and fast reset time. It's also highly adjustable, allowing you to customize it to fit your individual shooting style.
🎯 The curved blade trigger – this option features a curved shape that helps ensure proper contact between the shooter's finger and the P320's action bar during firing. Curved blade triggers are available with either flat or adjustable faces, giving P320 owners more control over their trigger pull weight and travel distance.
🎯 Finally, custom P320 triggers are available for those who want an even higher level of customization for their firearms. They can be crafted from various metals and materials, allowing you to create a one-of-a-kind look and feel for your firearm.
Our Top Pick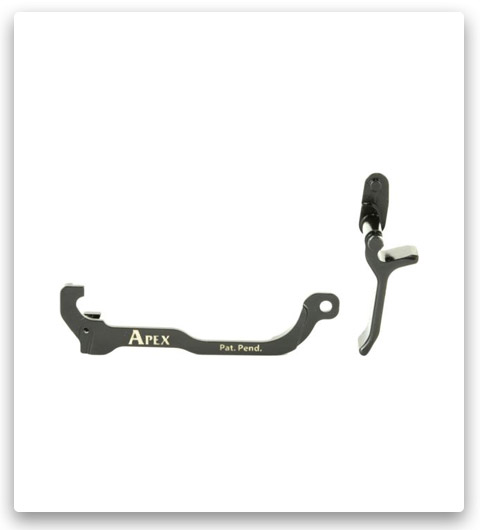 Apex P320 Triggers
Upgrade your Sig Sauer P320 pistol with the Apex Tactical Trigger Kits. These easy-to-install kits replace the factory trigger bar and curved trigger, reducing travel and reset while also softening the trigger pull weight and reach. Crafted from high-quality billet steel for a long-lasting performance that you won't want to miss out on.
Buy Now On OpticsPlanet
If you click this link and make a purchase, we earn a commission at no additional cost to you.
Factors That Make The Best P320 Trigger 💡
🚀 Trigger Pull Weight: it directly influences how easy or difficult it is to fire the firearm. Trigger pull weight determines how heavy the pull force must be when pulling the trigger in order to discharge the firearm.
🟡 Generally speaking, lighter triggers are better for precision shooting due to their low amount of required effort to fire it off.
🟡 Heavier triggers are great for self-defence situations as they require more effort before being discharged making accidental discharges less likely.
🚀 Trigger Shape and Design: The Trigger can either have a curved or flat face design which influences how comfortable you feel while using it as well as your ability to accurately place shots with precision.
🟡 A curved one provides more support by providing more surface area contact with your finger while also allowing you to make slight adjustments while aiming at the target ensuring accuracy.
🟡 However, some shooters prefer a flat Trigger due to its easier-to-manipulate design allowing them more control over each shot fired without feeling restricted by a curved trigger's extra surface area contact point.
🚀 Reset Distance: it is basically how far you need to draw back from the firing position after taking a shot before you are able to fire again without having any issues with malfunctions or misfires in your weapon system.
🟡 A shorter reset distance helps reduce the time between shots significantly that's why many competitive shooters opt for this type of P320 trigger since it allows them to operate their firearm with greater speed and efficiency than normal triggers do.
🟡 On the other hand, if you prioritize accuracy over speed then opting for a longer reset distance could prove beneficial as it gives you more time between each shot enabling you better concentrate on aiming at targets before firing off each round.
🚀 Travel & Overtravel: Travel refers to how far back (or forward) your finger moves when pulling the trigger until it reaches its breakpoint where it actually discharges your weapon system – this differs greatly depending on what type of design you select such as curved or flat-faced versions etc.
Best 🚀 P320 Trigger Review
1# Apex Tactical Specialties Flat Forward Set Trigger Kit Sig P320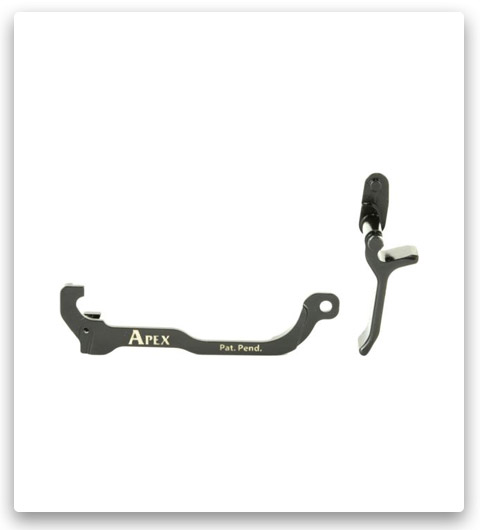 If you're looking for a direct replacement trigger kit for your Sig Sauer P320 that will reduce trigger travel, increase trigger reach, and overall provide a better shooting experience, then look the Apex Tactical Specialties Flat Forward Set Trigger Kit. This easy-to-install kit is made from billet steel for durability. Don't settle for anything less than the best – trust Apex Tactical Specialties to enhance your Sig Sauer P320 today!
2# Apex Tactical Specialties Flat Advanced Trigger Sig P320 112-026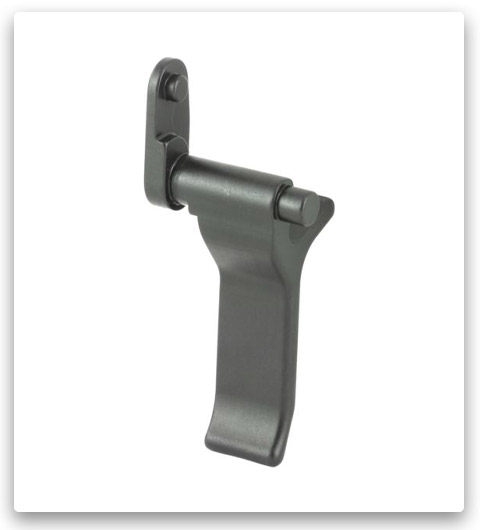 Introducing the Apex Tactical Specialties Flat Advanced Trigger for the Sig P320. This innovative product Flat Advanced Trigger is a direct drop-in replacement of your factory curved trigger and reduces your trigger pull weight by approximately 35%. Installation is easy and requires no tools, so you can get back to what's important – enjoying your shoot! So don't wait, upgrade your Sig P320 today with the Apex Tactical Specialties Flat Advanced Trigger!
3# TRYBE Defense Slide Parts Completion Kit Sig Sauer P320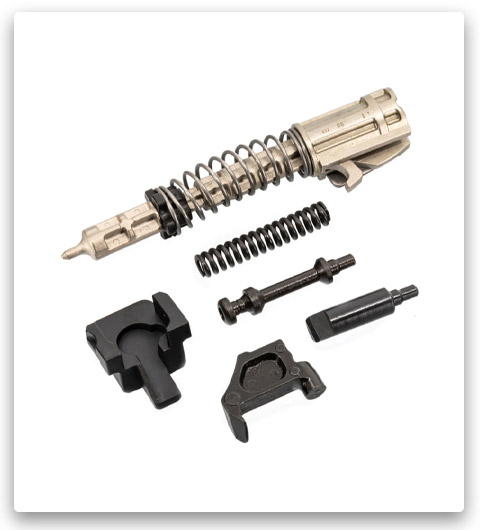 If you need a top-quality Sig Sauer P320 slide completion kit, notice the GGP Slide Completion Kit. This kit includes nearly all of the internal small parts needed to complete your slide assembly, and is compatible with 9mm GGP320 Full-size and Compact slides as well as SIG OEM 320 Full-Size, Compact, and Carry slides. The parts are made from high-quality stainless steel and are finished in black nitride for a great look and durability.
4# Apex Tactical Specialties Curved Advanced Trigger Sig P320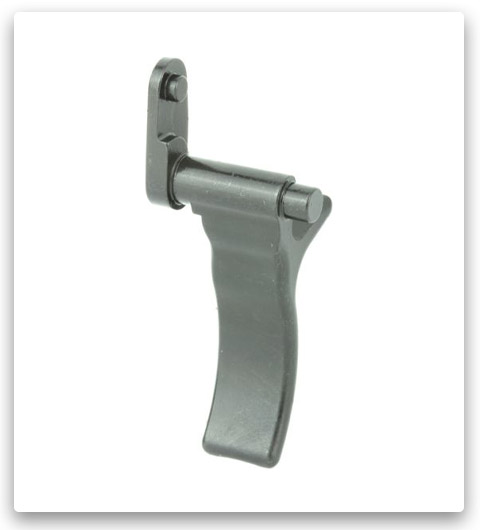 Presenting the Apex Tactical Specialties Curved Advanced Trigger for Sig P320. These drop-in parts are designed for use in factory-upgraded Sig Sauer P320 model pistols, and they can reduce your trigger pull weight by around 35%. Installation is easy and requires no special tools, so you'll be up and running in no time. The durable steel construction ensures that these trigger parts will provide years of effective service. Upgrade your pistol today with the Apex Tactical Specialties Curved Advanced Trigger for Sig P320.
5# Tyrant Designs T-Comp Sig Sauer Trigger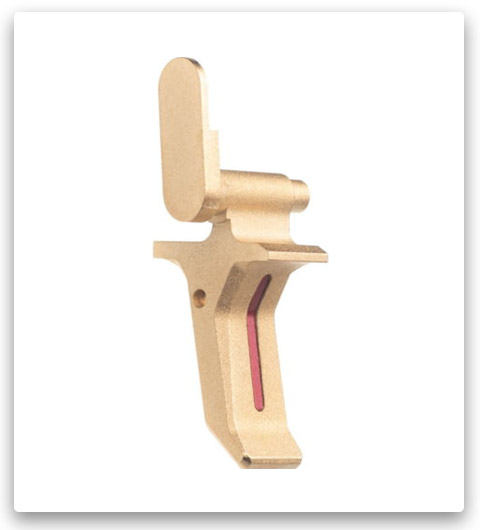 Experience the latest innovation for the Sig Sauer P320 with the Tyrant Designs T-Comp Sig Sauer Trigger! This drop-in trigger offers 10% less travel for engagement over the OEM Sig trigger, as well as more consistent and accurate groupings. It's made with a two-piece construction of stainless steel and aluminum, and its combination of robust features allows the Tyrant P320 trigger to offer the ergonomics and aesthetics of a full-bodied trigger without the added weight. So the Tyrant Designs T-Comp Sig Sauer Trigger is the way to go!
6# Sig Sauer P320 Flat Trigger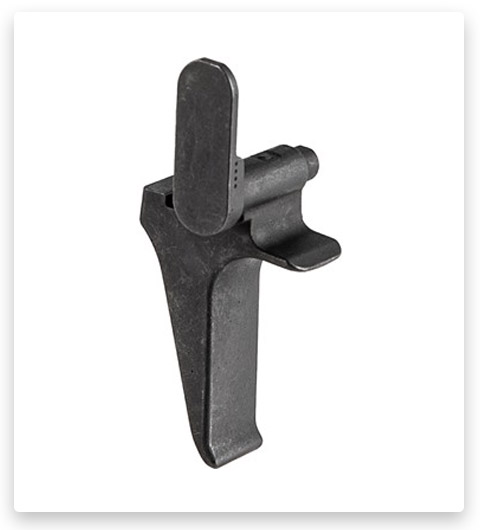 Flat triggers are all the rage these days and for good reason. They offer a significantly improved trigger pull, making your shots more accurate and consistent. The Sig Sauer P320 flat trigger is a direct replacement for your stock trigger and offers a 30% trigger pull weight reduction. The flat design also gives shooters a lower position on the trigger, which increases leverage for a smoother, more consistent pull. Finished in black, this trigger will give your P320 an updated look and feel.
7#Apex Tactical Specialties Sig Sauer P320 Advanced Trigger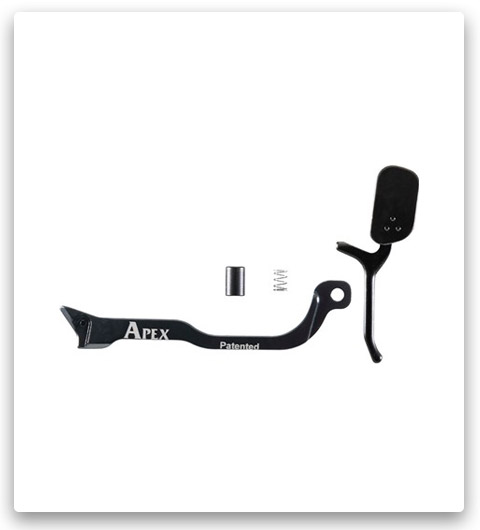 Searching for an upgrade to your Sig P320 trigger? Pay attention to the Apex Tactical Specialties Sig Sauer P320 Advanced Trigger. This trigger kit is designed to reduce trigger pull weight by approximately 30% and reset by approximately 20%. Additionally, it features a smooth uptake for a more pleasant shooting experience. So you can rest assured knowing that your gun is still just as safe as it was before. So make the switch to the Apex Tactical Specialties Sig Sauer P320 Advanced Trigger today!
8# Apex Tactical Specialties Sig  Sauer P320 Curved Advanced Trigger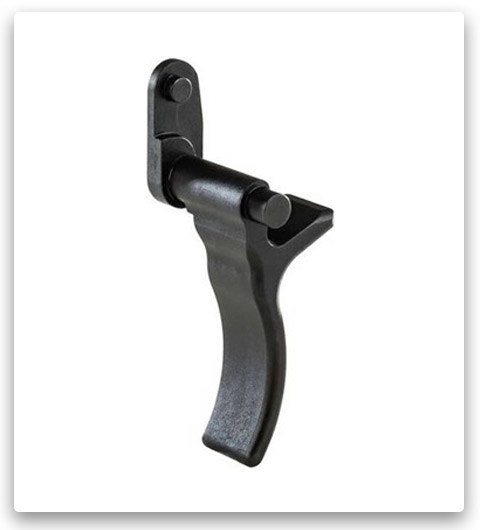 Do you want to improve your SIG P320? One of the best places to start is with the trigger. The Apex Tactical Specialties SIG P320 Advanced Curved Trigger replaces the factory trigger with a redesigned one that offers a 35% reduction in pull weight. This makes it much easier and smoother to shoot, plus it has a better overall feel. The face of the trigger also replicates the contour of the factory trigger, so there's no need to readjust your grip. It's a simple upgrade that makes a huge difference in performance.
How To Instal P320 Trigger? 🤔
💥 First, prepare the P320 model by removing the magazine, clearing the chamber and ensuring it is unloaded. Disassembling the P320 is not necessary for this process.
💥 Next, remove the slide from your P320 by pulling back on it until it releases from the frame. Then, locate and remove the existing trigger assembly from its slot.
💥 To insert your P320 Trigger into place, position it so its hole in the centre lines up with that of the P320 slide and press firmly until seated properly in place. Once you have checked to ensure everything has been properly installed, reassemble your P320 by replacing the slide with its frame.
💥 Before firing your P320 with a new trigger installed, make sure to check all of its components to ensure proper operation and safety precautions are met. Checking these components includes checking to see if there is any unnecessary play or movement throughout when moving parts within your P320 as well as examining all attachment points between each part for any damage or wear that may cause problems when operating. Also, be sure to check out any additional instructions provided by your specific trigger manufacturer before using their product.
We believe this video can be helpful for you📺
FAQ ✍
Conclusion 🚩
When it comes to P320 triggers, there are a lot of options on the market. In this article, we've taken a look at some of the best triggers and highlighted their features and benefits. We hope you found this information helpful as you search for the perfect one for your needs. Thanks for reading! 🤩🔥