Affiliate Disclosure: AmmoCave.com sometimes gets paid for listings, through sponsors or affiliate programs like Lucky Gunner, Optics Planet, Brownells, Cabelas, Academy Sports & Outdoors, Rainier Arms, Palmetto State Armory, Sportsman's Guide, Ammo.com, Ammo Man, Primary Arms, MidWayUsa, Amazon, eBay, etс. Clicking a link helps keep AmmoCave.com free, at no extra cost to you!
Authors: Each article is verified by AmmoCave's expert team. Professional hunters, firearm trainers, gunsmiths, and gun experts write the articles. AmmoCave Team independently researches, tests, reviews, and uses recommendations from our community of gun owners. We may earn commissions from shopping links.
Note: The views and opinions expressed in this article are those of the authors and do not necessarily reflect any agency's official policy or position. The articles are for informational purposes only, share your opinions about Best 308 BCG 2023 in the comments and join the discussions. Let's share 💬 our ammo & gun experiences together!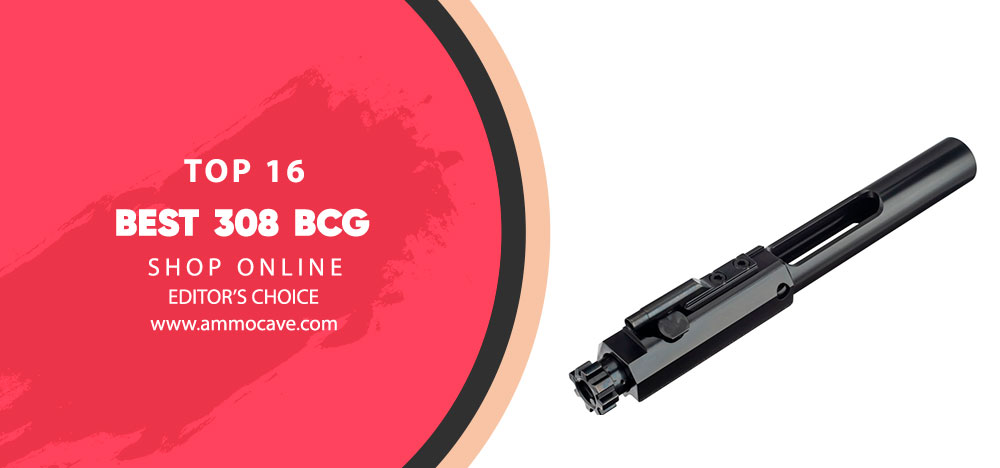 The 308 BCG is the bolt carrier group for the 308 Winchester rifle cartridge. It is a precision machined component that performs several critical functions in the operation of the rifle. The BCG includes the bolt, barrel extension, firing pin, cam pin, and gas key.Make your AR build look fierce and run at a high level due to a new Bolt Carrier Group.
Why do we need a 308 BCG?
The BCG is important because it helps to cycle the rounds through the gun. It is also important for accuracy and reliability.Bolt Carrier Groups allow improving 308 rifles operation to provide optimal performance.
Top 16 308 BCG
#1 Spikes Tactical .308 Bolt Carrier Group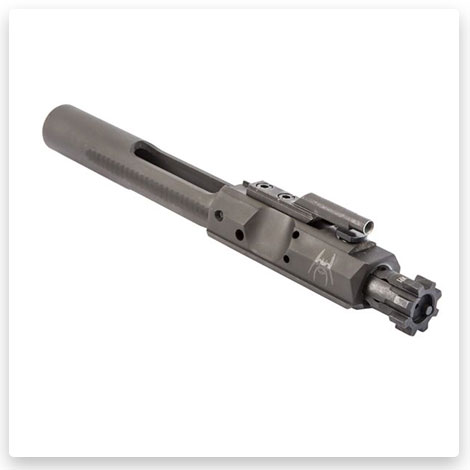 The .308 DPMS Style BCG integrates a carrier (8620 tool steel), bolt, extractor, and gas key (9310 tool steel) with Chrome Inside, Firing Pin with Hard Chrome Finish, Cam Pin Phosphate coating, Retaining Pin. The BCG is available with Nickel boron or Phosphate coating.
#2 Ballistic Advantage .308 Bolt Carrier Group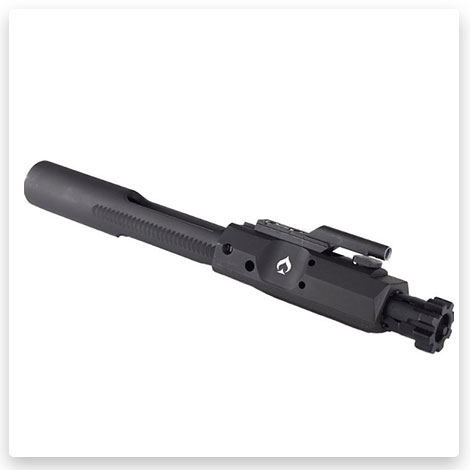 #3 Aero Precision .308 Black Nitride BCG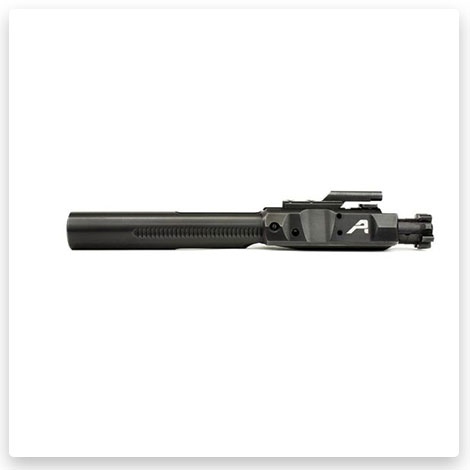 The .308/7.72 Complete Bolt Carrier Group parts are constructed from different steel types: the Billet carrier with Forward Assist serrations is from 8620 steel and case hardened, the Bolt is from 9310 Steel and shot peened, the Carrier Gas Key is made of 4130 Steel (attached with Grade 8 hardware and duly staked), the Carrier Firing Pin is from 8740 steel and hard chrome coated, the Bolt Extractor is from 4340 Steel with double o-rings and double springs.
All BCG components are black nitride coated to decrease friction during use and provide durable and reliable operation with multi calibers .308, 6.5 Creedmoor, 7.62×51, .338 Federal, and other .308 based cartridges. The external surfaces of high-pressure bolts are CNC ground after heat-treatment to ensure a precision fit. The firingpinhole diameter is diminished to .070 in.
#4 TRYBE Defense Milspec Complete 308 Bolt Carrier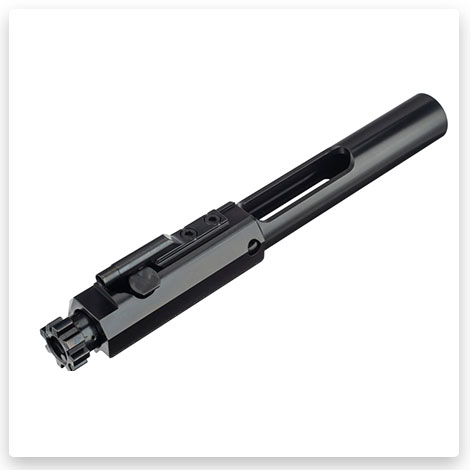 The fully-assembled BCGs integrate the shot-peened bolt, bolt carrier without Forward Assist Serrations, properly-staked gas key, cam pin, firing pin, and firing pin retaining pin. TheAR-10s (.308-chambered)- and DPMS-compatible BCG is made from 8620 steel and hardened to mil-spec conditions to ensure long-lasting dependable service. The BCGs come oiled, they still should be clean and oiled regularly.
#5 FailZero AR10 308 Bolt Carrier Group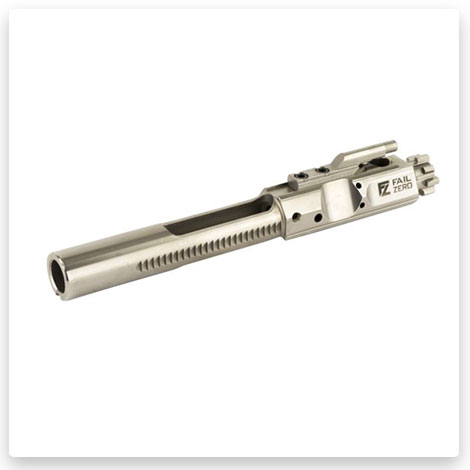 The BCG is compatible with DPMS Pattern and 6.5 Creedmoor, comes with Bolt (9310 Steel) and Extractor, Bolt Carrier (8620 Steel), Extractor, Cam Pin, Carrier Key, and Firing Pin. The AR10 .308 Assembled BCG without Hammer features the finish, which decreases friction, improving the overall firearm performance.
#6 Alpha Shooting Sports Bolt Carrier Group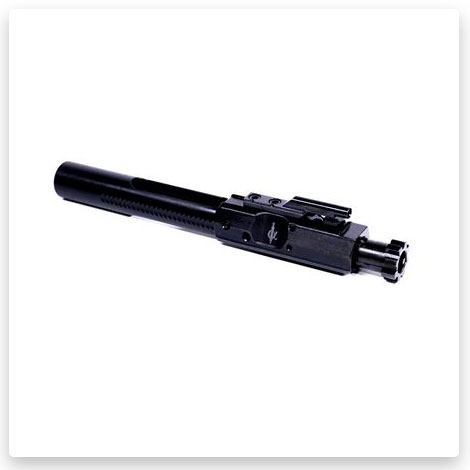 The Complete M16 BCG assembly with side staked gas key and grade-8 fasteners is ready to install in an upper receiver and start shooting, being compatible with DPMS, CMMG & POF pattern rifles. The Bolt Carrier Groups are completed with forward assist serrations, which are needed to push the bolt carrier forward in case the rifle is too dirty or suffers from another malfunction.
#7 Guntec USA AR .308 Cal Bolt Carrier Group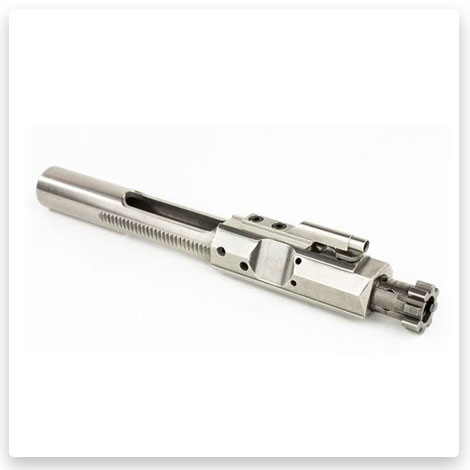 The BCG is designed for 7.62X51 / 308 Caliber and machined from 9310 Hardened Steel (Bolt) and 8620 Steel (Carrier and gas key), hardened S7 tool steel (extractor), heat-treated to H900 Condition Stainless Steel, 17-4 (Firing Pin). The Bolt assembly is supplied fully assembled with duly torqued and staked gas key.
#8 LANTAC Enhanced Full Auto Style Bolt Carrier Group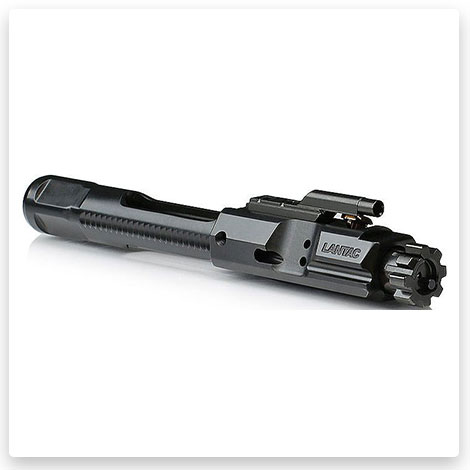 The DPMS Style 308 BCG (Gen 1 Pattern Only) is engineered for increased mass and lock time. The Carrier of AR10 Full-Auto Style BCG is manufactured from 8620 Steel, the Bolt is from 9310 Steel, covered with Electroless QPQ Nickel Boron with the patented, advanced UCT EXO process. The carrier's patented and patent pending design with unique shrouded and forward-facing resized gas ports allows venting gas differently from a standard carrier, making the system cooler and cleaner. The flared boss at the tail of the carrier enhances the BCG's position within the buffer tube at the time of cycling and makes it more consistent, resulting in smoother operation.
#9 Black Rain Ordnance Bolt And Carrier Group Nickel Boron .308 Caliber
The BCG is crafted from 8620 Steel with a Silver Nickel Boron finish. Black Rain Ordnance (BRO) biohazard is engraved on the spine of the carrier.
#10 Dark Storm Industries Bolt Carrier Groups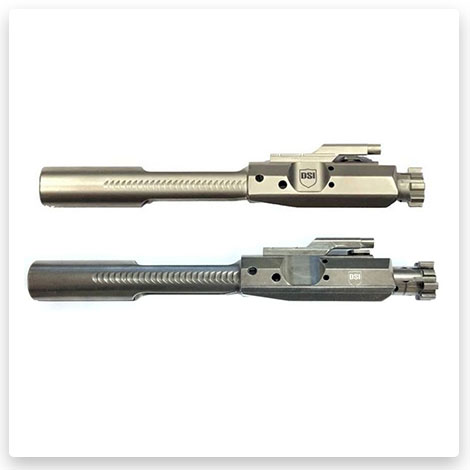 The DS-10 .308 Bolt Carrier Groups are compatible with most LR, SR, DPMS, CMMG, and DSI .308 in AR-10 Rifles. The BCG consists of Heat-Treated (9310) and Nickel Boron Coated Bolt, Hardened Tool Steel (S7) Extractor, and Heated-Treated Stainless Steel (17-4) Firing Pin, and Nickel Boron Coated (8620) Carrier and Gas Key.
#11 J P ENTERPRISES – 308 AR LOW MASS BOLT CARRIER GROUP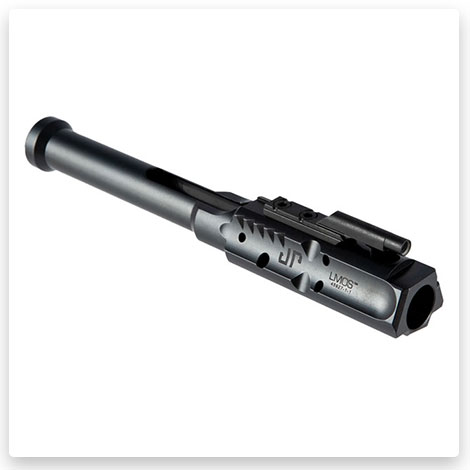 The Bolt carrier assembly integrates a complete JP Enhanced Bolt (available separately too), installed, and staked carrier key. This reduced-weight BCG allows tame felt recoil on a Remington, JP, DPMS, or AR-style .308 rifle (LR-308 pattern only). The weight-reducing cuts on this carrier and the original JPBC-3 AR-15 bolt carrier are the same. The BCG is available with QPQ or a polished stainless finish.
#12 BROWNELLS TITANIUM BOLT CARRIER GROUP DLC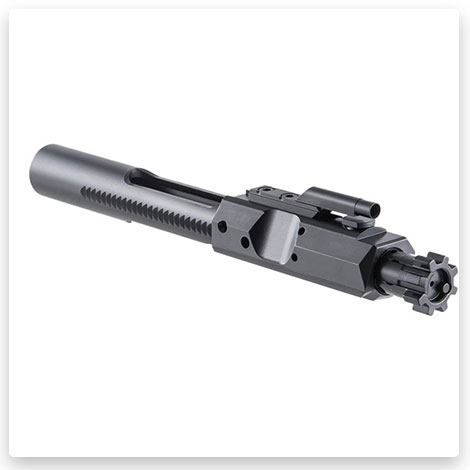 The Bolt Carrier Group allows making the rifle weight lighter. The Big-Bore AR BCG for a DPMS/SR25 pattern is manufactured from Titanium, 6A1-4V (the carrier), and tool steel, 9310 (the bolt).
#13 CMC TRIGGERS ENHANCED BOLT CARRIER GROUP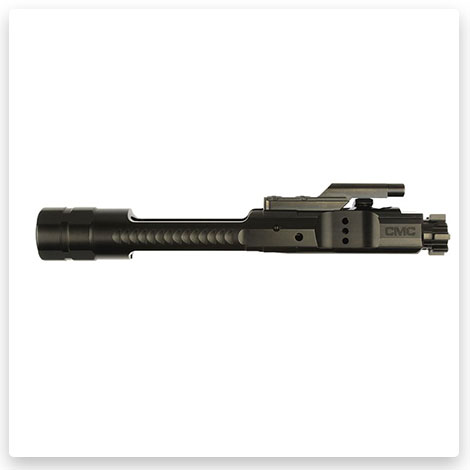 The Enhanced BCG is designed with Mil-spec dimensions and external surfaces, made from case-hardened steel (8620). The AR 308 bolt assembly enhances the functionality of the short-action ARs with 7.62 NATO cartridges and related rounds.
#14 ODIN WORKS INC BOLT CARRIER GROUP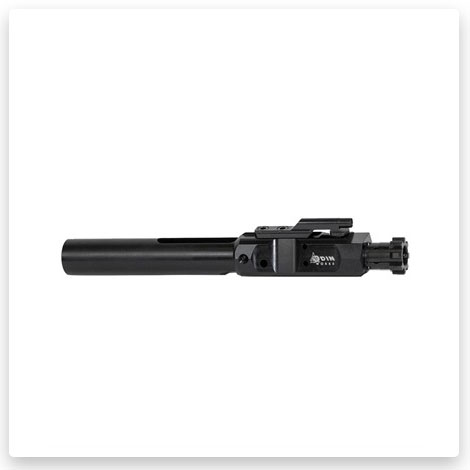 This BCG is compatible with AR-10 in .243 caliber and an Aero M5 AR-10 Upper in 6.5 CM, all AR 308 rifles, including the DPMS pattern. The 308 Bolt Carrier Group is provided with a smaller diameter firing pin and firing pin hole, allowing the good performance of the high-pressure cartridges.
#15 AERO PRECISION – AR 308 BOLT CARRIER GROUP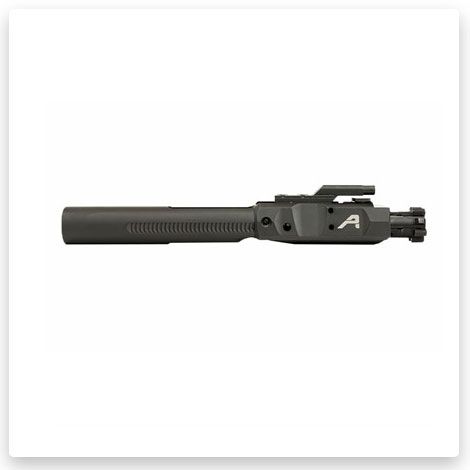 The Billet carrier is outfitted with Forward Assist serrations while the extractor (4340 steel) is equipped with double o-rings and springs. The Bolt carrier is crafted from steel (8620) and case hardened, the Bolt is from 9310 steel. The Bolt Carrier Group functions well for big-bore rifle build (.308, 6.5 Creedmoor, 7.62×51, .338).
#16 CMMG – 308 AR BOLT CARRIER GROUP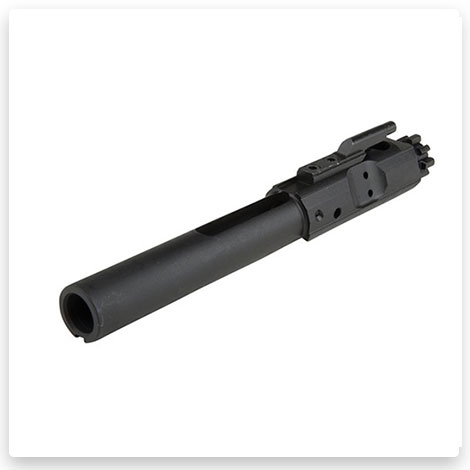 The complete bolt/carrier group is designed for AR-style .308 rifles. The carrier is without forwarding assist serrations and features a sturdy phosphate finish and chrome-lined interior. The BCG includes an extractor, gas key (torqued to spec and properly staked), firing pin, cam pin, and firing pin retaining pin.
Conclusion
There are many different types of .308 BCGs on the market, and it can be difficult to determine which is the best for your needs. In this article, we've provided a review of popular models. After updating your rifle with Mil-Spec .308 Complete Bolt Carrier Group, you'll get a reliable and permanently smooth cycle. Hopefully, this information will help you choose the right one for your needs.
Tags: #best 308 bcg / #best .308 bcg for the money / #best bcg for 308 / #best .308 bcg / #best ar 308 bcg