Affiliate Disclosure: AmmoCave.com sometimes gets paid for listings, through sponsors or affiliate programs like Lucky Gunner, Optics Planet, Brownells, Cabelas, Academy Sports & Outdoors, Rainier Arms, Palmetto State Armory, Sportsman's Guide, Ammo.com, Ammo Man, Primary Arms, MidWayUsa, Amazon, eBay, etс. Clicking a link helps keep AmmoCave.com free, at no extra cost to you!
Authors: Each article is verified by AmmoCave's expert team. Professional hunters, firearm trainers, gunsmiths, and gun experts write the articles. AmmoCave Team independently researches, tests, reviews, and uses recommendations from our community of gun owners. We may earn commissions from shopping links.
Note: The views and opinions expressed in this article are those of the authors and do not necessarily reflect any agency's official policy or position. The articles are for informational purposes only, share your opinions about Best Scope Mounts For AR 15 2023 in the comments and join the discussions. Let's share 💬 our ammo & gun experiences together!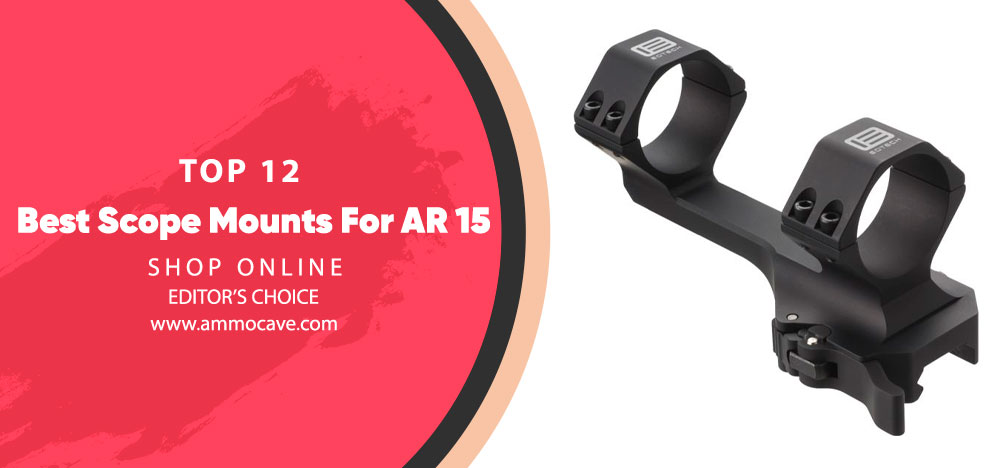 What are Scope Mounts For AR-15? 😏
This is an important part of making sure that you have the best accuracy possible when shooting. These mounts can attach to either Picatinny or Weaver rails and come in a variety of styles and configurations.
Our Top Pick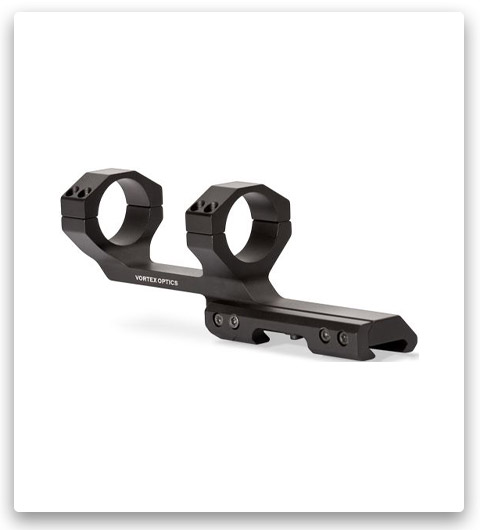 Vortex Sport Cantilever Rifle Scope Ring Mount
Featuring an offset orientation ranging from two to three inches, this exceptional product allows you to conveniently place your telescopic sight forward while also providing stability and precision accuracy. The Vortex ring mounts are designed with ergonomic construction which ensures optimal performance each and every time.
Buy Now On OpticsPlanet
If you click this link and make a purchase, we earn a commission at no additional cost to you.
Types 🔥
The most common types are Rings, Bases, Cantilevers, Picatinny/Weaver Rails, Quick Detachable (QD), One-Piece Mounts and Rifle Scope Stands.
💥 Rings are usually composed of two separate parts that attach to each end of the scope. They are held together by either a single screw or lugs. This type of mount is typically found on sporting and hunting rifles and provides an easy way to attach a scope to the rifle's receiver without having to make any modifications.
💥 Bases are much like rings but instead are mounted directly onto the receiver's grooves or dovetails on either side. These also provide a secure means for attaching a scope but require more time and effort than rings when mounting.
💥 Cantilever mounts feature an extending arm that attaches directly to the receiver with one end going forward offering more flexibility in terms of positioning the scope further out from the shooter's eye while maintaining a proper line-of-sight with the target.
💥 Picatinny/Weaver rails offer a versatile platform for mounting various optics onto firearms such as laser sights, flashlights, night vision devices and scopes in addition to providing a solid foundation from which to build custom rifle accessories such as bipods and slings. This type of mount easily attaches to any Picatinny rail-equipped firearm allowing for quick accessory changes without having to purchase multiple types of mounts or adapters.
💥 Quick detach (QD) offers shooters convenience by allowing them to quickly remove their optics or other accessories with ease making them ideal for those who frequently switch between different types of firearms or need easy access when cleaning or storing their weapons away safely.
💥 One-piece mounts consist primarily of two rings connected by a bridge that runs along the top length of both rings allowing users to quickly install a scope in one swift motion while providing added stability due to its increased contact points on the gun's receiver grooves or dovetails ensuring minimal movement once properly secured in place.
💥 Rifle Scope Stands provide shooters with an adjustable stand that can be placed anywhere desired giving them the freedom not often seen when using traditional mounts such as cantilevers and bases which must be attached directly onto the firearm itself leaving no room for experimenting with different positions before settling on one final setup best suited for their needs.
Please watch this video to learn more information 📺
Mounting Options 🚀
⚡ The most popular type of mounting system is a one-piece mount, which means all of the components needed for secure installation are already included in one package. This type of mounting system
🟨 offers quick and easy installation with minimal tools required
🟨 it is a great option for shooters who don't want to spend too much time setting up their weapons.
🟨 It can also be used with any scope or accessory that requires additional mounting hardware, such as an offset rail or Cantilever Mount.
⚡ A two-piece mount is another popular option that splits the components into two parts: one component contains the mounting base while the other component holds your scope or accessory securely in place once they are both mounted together.
🟨 This type of mount offers increased stability compared to a one-piece mount
🟨 It is preferred by more experienced shooters who prefer more stability and accuracy when shooting at longer distances.
Watch this video to find more information regards the Best Scope Mounts For AR-15 💻
Best 🚀 Scope Mounts For AR-15 Review
1# Vortex Sports Cantilever Rifle Scope Ring Mount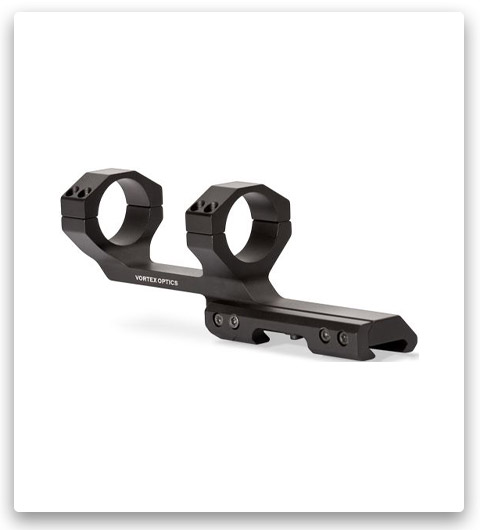 The Vortex Cantilever Rifle Scope 30mm Ring Mount is the perfect way to equip and properly use a rifle scope on your AR-15 flat-top rifle. These Vortex ring mounts feature a two to three-inch offset orientation, which allows you to install your telescopic sight in a forward location. Vortex Optics has built the offset mount out of aluminum, and its light weight won't hinder the accuracy of your AR15. So if you're searching for reliable cantilevered scope ring mounts for your AR-15 rifle, look at the Vortex Cantilever Rifle Scope 30mm Ring Mount!
2# Geissele AR-15 M4 Super Precision Scope Mount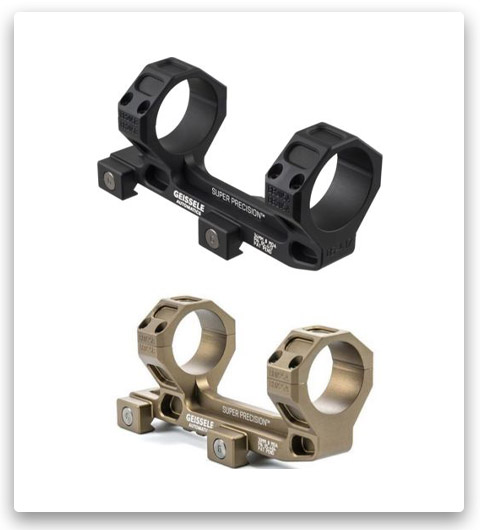 The Geissele AR-15/M4 Super Precision Scope Mount is excellent for mounting a scope on your AR-15 or M4 rifle. These mounts are available in either 30mm or 34mm tube diameters, as well as a variety of lengths, so you can find the perfect fit for your scope. They use a classic nut and bolt clamping method, but with an updated design that provides 1,400 pounds of clamping force for greater security.
3# Geissele Super Precision AR-15 Scope Mount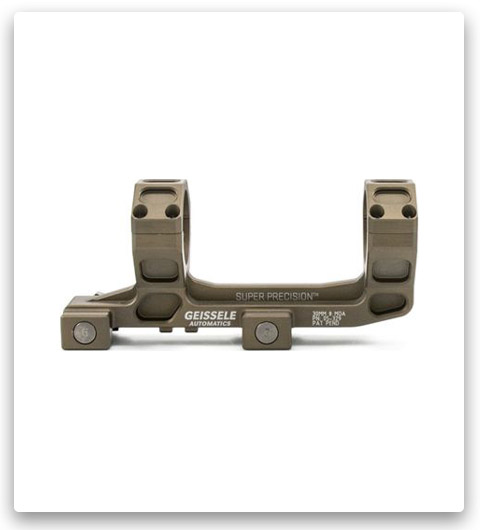 The Geissele Super Precision AR-15 Scope Mount is a top-tier scope mount specifically designed to be used with Vortex 1-6 Scopes. As part of The Geissele SOPMOD Certified Series, this scope mount is currently in use by some of the top military and counter-terrorism units in the United States. With enhanced weapon performance, target acquisition, signature suppression, and fire control, the Geissele Super Precision AR-15 Scope Mount is a vital part of any operator's toolkit.
4# Atibal Pro Mount Scope Mount AR-15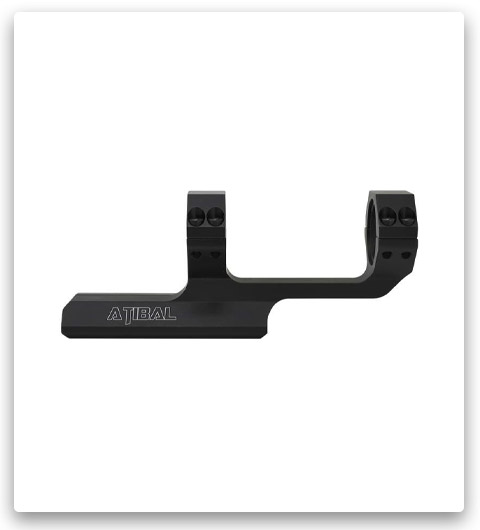 The Atibal Pro Mount scope mount is a good way to extend the length of your scope without sacrificing proper cheek weld. The cantilevered design extends the scope forward 2″, while the spring-loaded mounting system requires no tools for adjustment. The index bar ensures perfect alignment, and the aluminum construction is finished in hard coat Mil-Spec anodize for a durable, long-lasting finish.
5# EOTech PRS 2in Cantilever Rifle Scope Ring Mount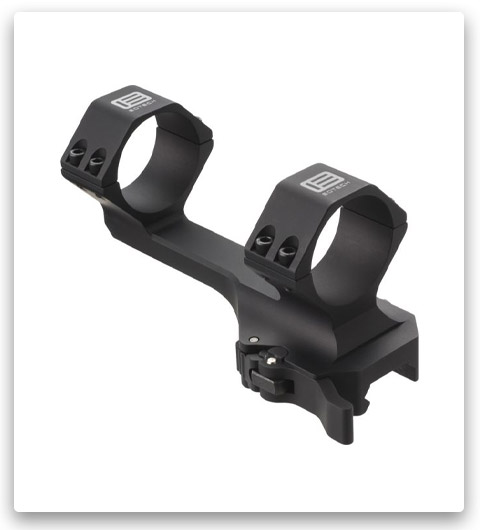 If you're searching for a top-quality scope ring mount for your AR-15, notice the EOTech PRS 2in Cantilever Rifle Scope Ring Mount. Made from MIL-STD-1913 rail material, this mount is designed to withstand the harshest conditions and provide a solid foundation for your scope. The QD lever design is taken from EOTech's proven holo sights, so you can be confident that your scope will be securely mounted. So don't settle for the second best – trust the EOTech PRS 2in Cantilever Rifle Scope Ring Mount to give you the performance you demand.
6# Spuhr SP-5616 Rifle Scope Mount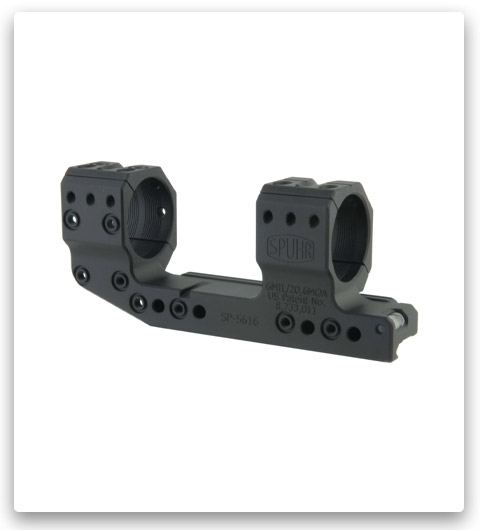 The Spuhr SP-5616 Rifle Scope Mount is the ideal choice for mounting a scope on an AR platform. With its cantilevered design, it allows the scope to be mounted 40 mm/1.57in farther forward than with a non-cantilever mount. This gives you better eye relief and a more comfortable shooting position. The mount is made of high-quality aluminum and finished in black.
7# NC Star Ar15 Weaver Mount Cantilever Scope Mount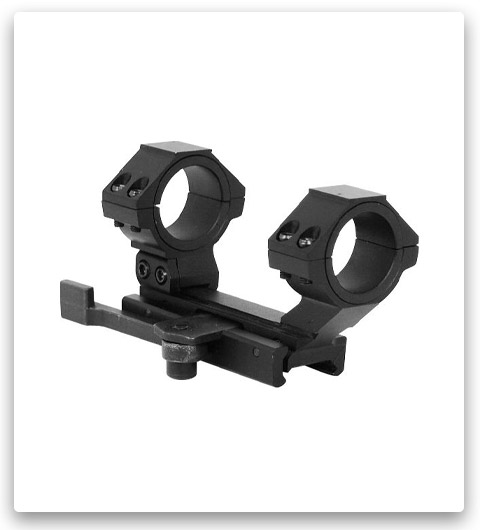 Do you need a versatile, durable, and reliable scope mount for your AR-15 rifle? Check out the NC Star Ar15 Weaver Mount Cantilever Scope Mount! This mount is designed to fit any rifle scope or red dot sight and comes with several different mounting configuration options. The QR Lever System makes it quick and easy to attach the mount to your flat top, while the adjustable dovetail rear ring lets you customize the spacing for a perfect fit. Don't miss out on this great deal – buy the NC Star Ar15 Weaver Mount Cantilever Scope Mount today!
8#American Defense Manufacturing Recon Quick Detach Scope Mount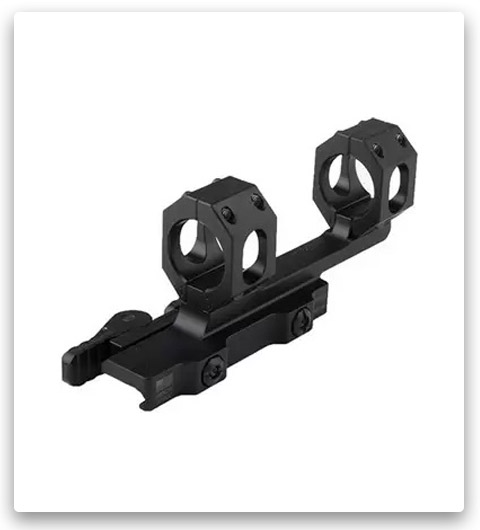 Looking for a high-quality, quick detach scope mount? Look no further than the American Defence Manufacturing Recon Quick Detach Scope Mount. This rock-solid mount is perfect for putting optics onto a flattop-style AR-15 and features ADM's patented QD Auto Lock System to accommodate both in-spec and out-of-spec rail systems. Machined from aluminum and finished in hard coat T3 Mil-Spec anodizes, this mount is built to last. Order yours today!
9# American Defense Manufacturing Recon-X Extended Scope Mount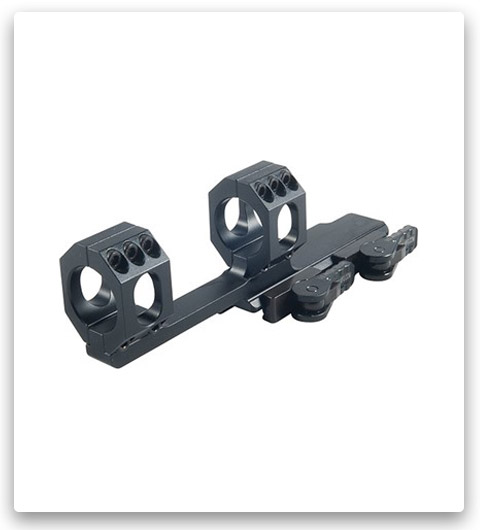 If you want to put high-power glass onto your AR-15, the American Defense Manufacturing Recon-X Extended Scope Mount is the best option. This cantilever mount provides extended eye relief, making it ideal for long-range shooting. It's precision machined from aluminum for durability. The patented QD Auto Lock Lever system makes it easy to install and remove, and it accommodates both in-spec and out-of-spec rail systems.
10# M&A Parts Ar-15/M16 Flattop Scope Mount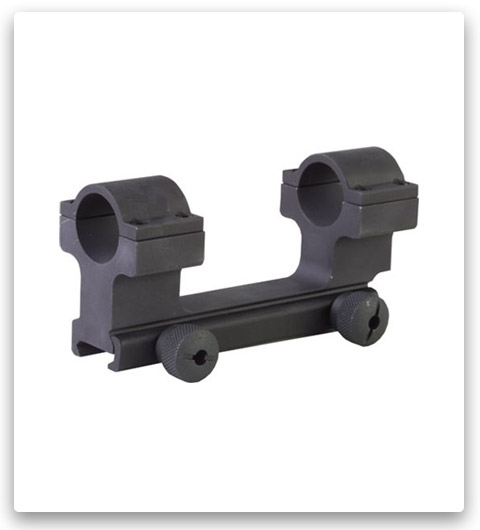 Introducing the M&A Parts AR-15/M16 Flattop Scope Mount. This one-piece mount provides a strong, secure scope attachment and positions the scope well above the flattop receiver for easy aiming. Each ring is 11/8″ long for maximum contact with the scope body, and the caps have four hex head clamping screws for recoil-proof holding power. Rounded contours and radiused edges resist snagging on other gear. Machined aluminum keeps weight to a minimum. So if you need a top-quality scope mount that can take a beating, notice the M&A Parts AR-15/M16 Flattop Scope Mount.
11# Midwest Industries Ar-15 G2 Scope Mount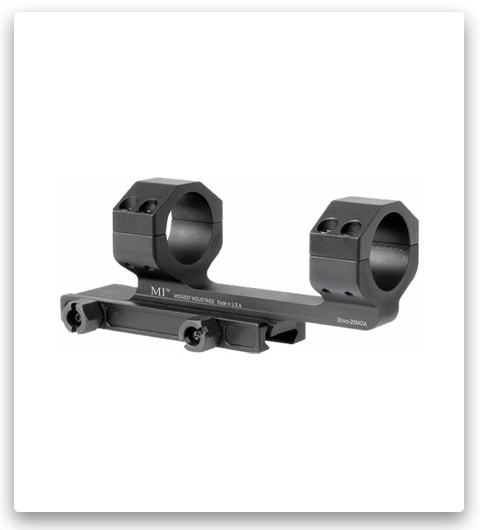 Searching for a top-of-the-line scope mount for your AR-15, pay attention to the Midwest Industries G2 Scope Mount. This heavy-duty mount is built to withstand extreme use, with dual steel locking lugs and a one-piece long clamp bar that won't loosen or shift under recoil. The 30mm ring diameter provides a sturdy foundation for your scope, and for added peace of mind, it comes with a lifetime warranty. So whether you're hitting the range or heading into the field, make sure your optics are securely mounted with the Midwest Industries G2 Scope Mount.
12# Nightforce Ultramount Scope Mount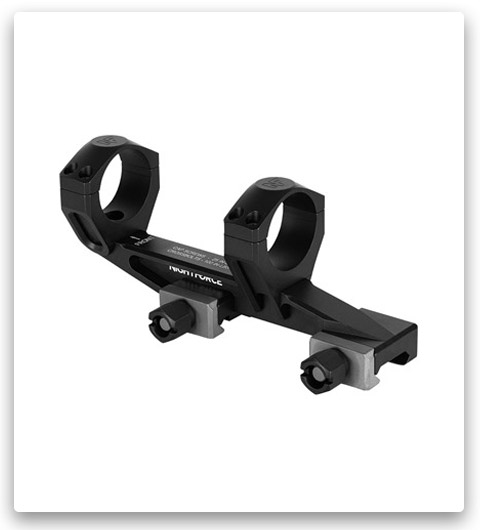 The Nightforce UltraMount is excellent for those who demand the utmost precision and reliability from their scope mount. Made from a combination of aluminum, steel, and titanium, the UltraMount balances weight, strength, and stiffness to create a mount that will stand up to even the most demanding use. Don't settle for anything less than the best – choose the Nightforce UltraMount for your next scope mount.
Step-by-Step Guide- How To Mount A Scope 🙂
Necessary tools 🦺:
📌a torque wrench
📌 screws of appropriate length and thread size (as marked in the instructions of the particular mount)
📌 locking compound such as Loctite 243 or equivalent
📌 screwdriver compatible with supplied screws if applying anti-seize/thread locker.
✅ To begin mounting start by attaching any additional rail segments if necessary and sliding them into place so they cover up any exposed threads on each side of where you plan on placing your base/mounting plate while still allowing at least a 1/16" gap between either side of each rail segment.
✅ Then take out two screws from the package that matches up with what is already marked inside on each side of where you plan on placing the mounting plate (length and diameter).
✅ Apply anti-seize/thread locker onto both screws threads before installation begins so that when it comes time for adjustments down the road screws don't become stuck due to rust/corrosion buildup over time as well as help keep any loose parts held together during use – this also helps prevent any unnecessary wear and tear from happening between parts connections which can occur over time when left untreated.
✅ Once lubricated place one screw through its respective hole from underneath then proceed upwards attaching another side by hand first followed by tightening a few turns using fingers until tight enough without causing any distortion or damage between parts
✅ After these steps get yourself calibrated torque wrench set at 15in-lbs (~1.2 ft-lbs) then begin tightening all four screws accordingly following the torque settings provided by the manufacturer starting top right corner first then proceeding clockwise around the perimeter until all four are even tightened same amount making sure not tighten them beyond designated setting otherwise risk stripping threads inside which would require entire part replacement later.
✅ At this point all that remains is to carefully place the mount onto the rifle ensuring alignment between the entrance/exit points are perfectly aligned before finally securing down the rest way all way around the perimeter making sure everything stays tightly secured together after completion.
We believe this video can be helpful for you 📺
FAQ 😎
Conclusion 🙂
When it comes to finding the best scope mounts for AR-15 rifles, there are a lot of factors to consider. The good news is that we've done all of the hard work for you and have narrowed down the top-rated items on the market today. In this article, we discussed what makes a great scope mount and provide reviews of some of our favourite models. We hope that this information will help you make an informed decision when purchasing your next one. Thanks for reading! 😉❤️