Affiliate Disclosure: AmmoCave.com sometimes gets paid for listings, through sponsors or affiliate programs like Lucky Gunner, Optics Planet, Brownells, Cabelas, Academy Sports & Outdoors, Rainier Arms, Palmetto State Armory, Sportsman's Guide, Ammo.com, Ammo Man, Primary Arms, MidWayUsa, Amazon, eBay, etс. Clicking a link helps keep AmmoCave.com free, at no extra cost to you!
Authors: Each article is verified by AmmoCave's expert team. Professional hunters, firearm trainers, gunsmiths, and gun experts write the articles. AmmoCave Team independently researches, tests, reviews, and uses recommendations from our community of gun owners. We may earn commissions from shopping links.
Note: The views and opinions expressed in this article are those of the authors and do not necessarily reflect any agency's official policy or position. The articles are for informational purposes only, share your opinions about Best 10 Gauge Ammo in the comments and join the discussions. Let's share 💬 our ammo & gun experiences together!
Looking for the best 10 gauge ammo? Look no further! In this blog post, we'll list and review the top-rated 10 gauge ammunition on the market. Whether you're looking for birdshot, buckshot, or slug rounds, we've got you covered. So don't miss out – read on to find the perfect 10 gauge round for your needs!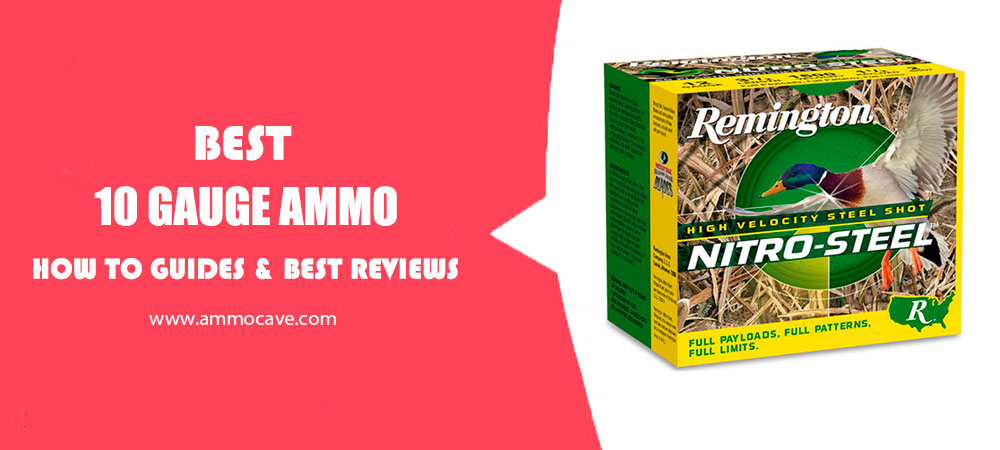 AmmoCave has collected the best hottest Best 10 Gauge Ammo for self-defense at sale prices
Our Selection 12 Best 10 Gauge Ammo – Editor's Choice
#1 10 Gauge – 2-7/8″ Super-X Blank –

Winchester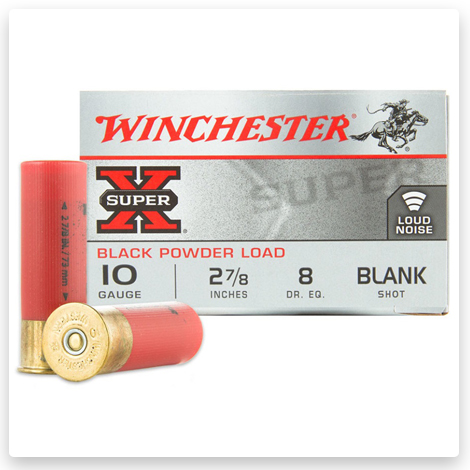 The 10 Gauge – 2-7/8″ Super-X Blank from Winchester is just what you need. These 10 gauge shells are designed for dependable performance, with a 209 primer and black powder loaded into each 2-7/8″ shell. This box of 25 shells is great for when you need to make some noise, but don't necessarily want to hit your target. Keep in mind, however, that even though these blanks are designed for less-than-lethal force, they can still cause serious injury or death under certain circumstances. So handle with care!
#2 10 Gauge – HEVI-BISMUTH WATERFOWL –

HEVI-Sh

ot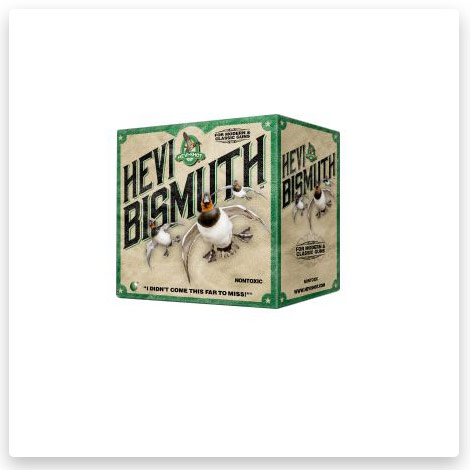 Introducing HEVI-Bismuth 10 gauge shotgun ammunition from HEVI-Shot. This high-performance 10 gauge ammo is perfect for serious waterfowl hunters who demand the best. Bismuth shot delivers 22% more density than steel, making it ideal for taking down larger birds like geese. And because it's safe to use in older firearms, you can rely on HEVI-Bismuth 10 gauge ammo no matter what kind of shotgun you're using.
#3 10 Gauge – DRYLOK –

Winchester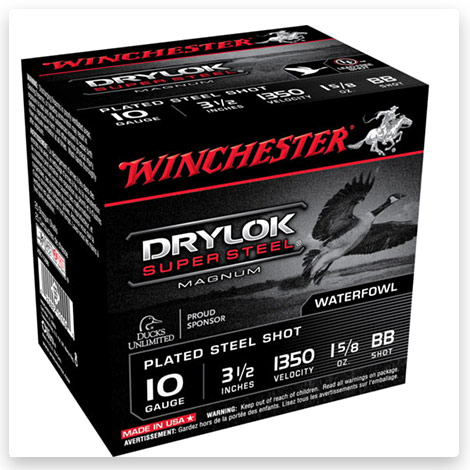 Super-X Drylok Super Steel waterfowl ammunition from Winchester is the perfect choice for serious hunters. Available in 10-gauge, 12-gauge, and 20-gauge shells with up to a 1-ounce payload, these waterfowl loads offer superior performance in any situation. The water-resistant plated steel shot provides outstanding patterning and knockdown power, while the premium quality ensures years of reliable use. With more than 140 years of experience, Winchester is the name you can trust for all your hunting needs.
#4 10 Gauge – HEVI-METAL LONGER RANGE –

HEVI-Shot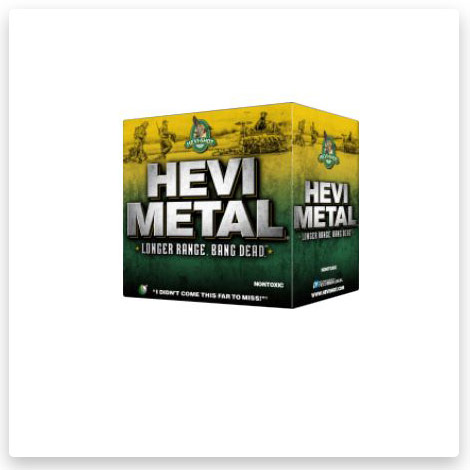 Waterfowl hunters everywhere rejoice! HEVI-Shot has once again revolutionized hunting with the introduction of their 10 Gauge – HEVI-METAL LONGER RANGE – HEVI-Shot. This fantastic new ammunition is designed to offer serious waterfowlers the improved performance and range they need to be successful in the field.
So if you're looking for ammunition that will offer you dramatic increases in performance and shot distance, all at a reasonable price, look no further than HEVI-Shot's 10 Gauge – HEVI-METAL LONGER RANGE – HEVI-Shot. Try it out today and see the difference it can make on your next waterfowl hunt!
#5 10 Gauge – Sportsman Hi-Speed Steel –

Remington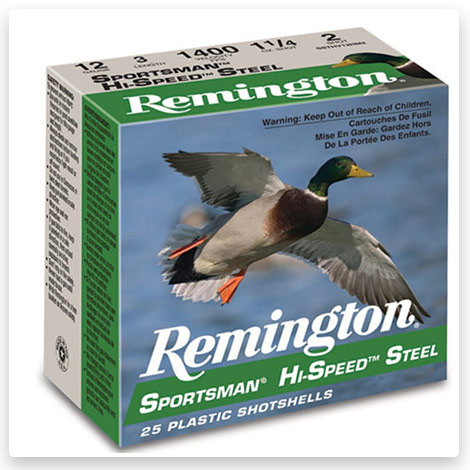 10 Gauge – Sportsman Hi-Speed Steel – Remington is a high-quality steel shot that is perfect for short-range shooting. The sealed primer and high muzzle velocity make this ammunition perfect for use in adverse weather conditions. The consistent patterns and retained energy make this an ideal choice for duck hunting or upland game hunting.
#6 10 Gauge – Premier Magnum Copper Plated –

Remington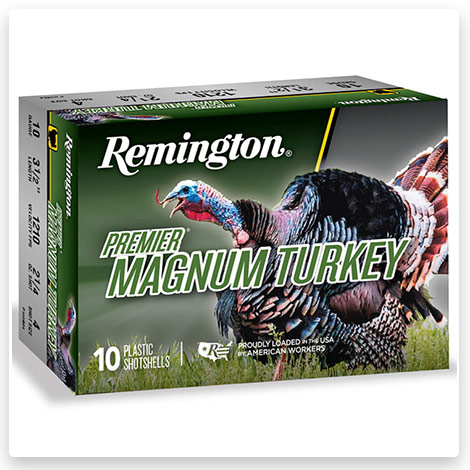 If you're looking for a shotgun shell that can pack a punch, then you need to check out the 10 Gauge – Premier Magnum Copper Plated – Remington. Part of the Remington Premiere line of ammunition, this 10 gauge, 3.5-inch shotshell is perfect for taking down big game. The extra velocities packed into these shells allow for unmatched accuracy, while the waterproof Power Piston wad and polymer buffering ensure that each shot is delivered with power and precision. Plus, the cases are crimped for added security and reliability. When you need a shotgun shell that won't let you down, reach for the 10 Gauge – Premier Magnum Copper Plated – Remington.
#7 10 Gauge – DOUBLE X –

Winchester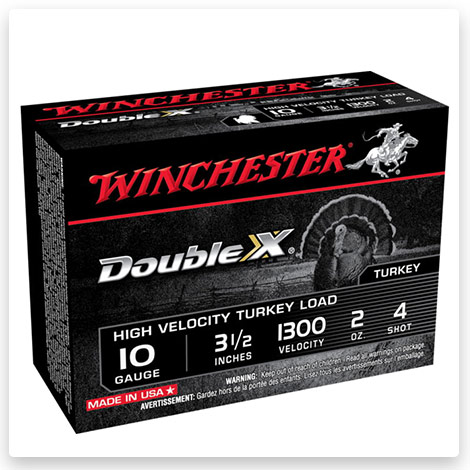 When you want the ultimate in high-velocity, knock-down performance for hunting, trust Double X Ammunition. Copper-plated lead shot ensures tight, uniform patterns at long range, delivering maximum impact and knock-down power. Custom blended powders result in consistent, high-velocity payloads, while Grex buffering reduces set-back forces on the shot, improving pattern performance. Whether you're taking down big games or small varmints, Double X has the quality and consistency you can rely on.
#8 10 Gauge – Speed Shok –

Federal Premium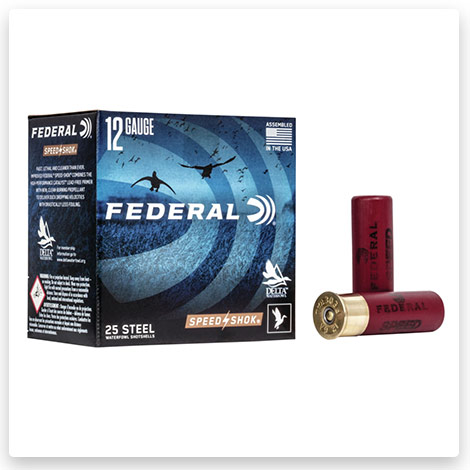 Looking for a duck or goose hunting round that will give you the speed and power you need to take down your prey? Look no further than Federal Premium's Speed Shok. This ammunition is designed for optimal performance, with a high-performance primer and fast-burning powder that reduces residue dramatically. The optimized velocities are sure to knock birds out of the sky, making Speed Shok the perfect choice for discerning hunters.
#9 10 Gauge – Nitro-Steel High Velocity –

Remington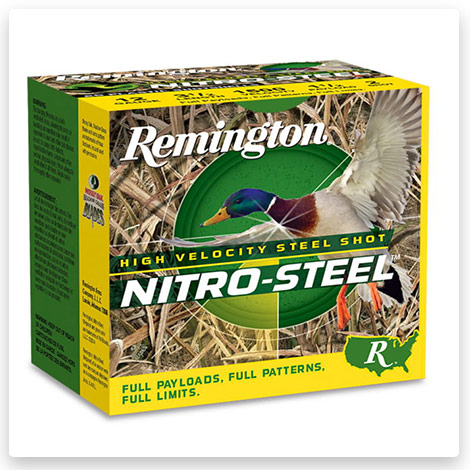 Remington Nitro-Steel High Velocity shotshells are the perfect choice for high-velocity waterfowling. With a muzzle velocity of 1,450 ft/s, these shells deliver the same reliable pattern you've come to expect from Remington shotgun ammo. Nitro-Steel High-Velocity shotshells are zinc-plated to resist corrosion and maintain their high velocity even in high recoil situations. If you're looking for a top-of-the-line steel shotshell load to take down waterfowl, look no further than Remington Nitro-Steel High Velocity shotshells.
#10 10 Gauge – Magnum Blend – HEVI-Shot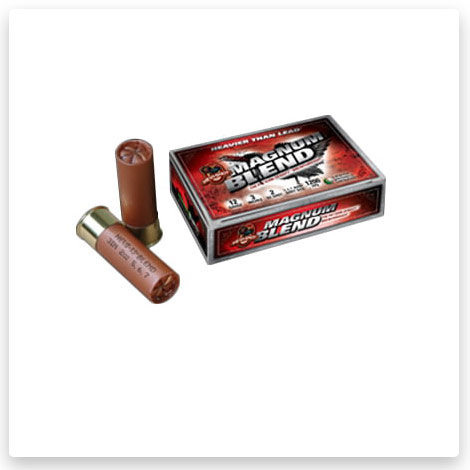 The 10 Gauge – Magnum Blend – HEVI-Shot is perfect for open-field hunting. The mix of shot sizes and high velocity makes it a lethal choice for any game. With a shotgun shot weight of 2 3/8 oz and a muzzle velocity of 1200 ft/s, this product is sure to give you the edge you need on your next hunt.
#11 10 Gauge – Hypersonic Steel –

Remington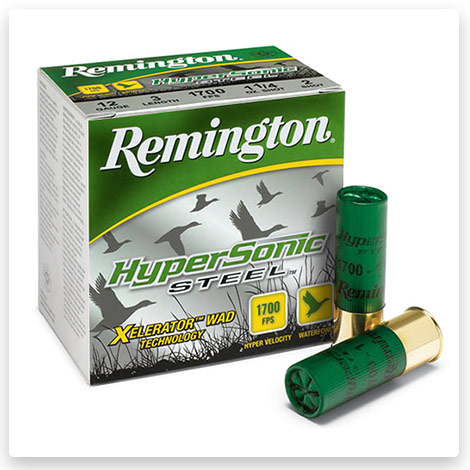 Remington's 10 Gauge Hypersonic Steel shotgun shells are designed for maximum terminal performance, delivering unrivaled velocity and downrange pattern energies. This results in more birds being dropped with fewer shots, even at the farthest reaches of your abilities. And only Remington has harnessed the wad technology to make it possible. With unparalleled velocity and lethality, HyperSonic Steel takes your hunting to new heights. So don't miss out on your chance to own the most innovative and effective shotgun ammunition on the market today.
#12 10 Gauge – DRYLOK Centerfire Shotgun Ammunition –

Winchester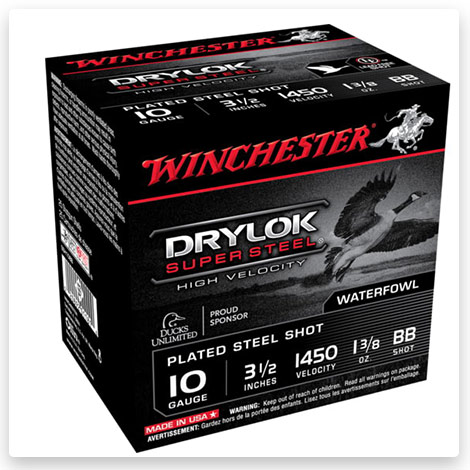 Whether you're hunting in flooded timber, swamps, marshes, or duck blinds, you can trust Winchester's Drylok Super Steel shotgun ammunition. The patented technology is designed to keep your shells dry, no matter where you are or how wet conditions get. With a muzzle velocity of 1450 ft/s and a shotgun shot weight of 1 3/8 oz, this steel shot centerfire cartridge is perfect for waterfowl hunting. Each brass-cased shell also contains 25 rounds, so you can keep the action going all day long. When it matters most, reach for Winchester's Drylok Super Steel shotgun ammunition.
FAQ
What do you use a 10 gauge shotgun for?
A 10 gauge shotgun is most commonly used for hunting waterfowl, as the large payload and high muzzle velocity help take down birds with a single shot. It's also used for competitive clay shooting, where its size and power make it a formidable opponent. Finally, some people use 10 gauge shotguns for home defense, as the high power and large ammo capacity can be a serious deterrent to burglars or other intruders.
How much more powerful is 10-gauge?
The 10-gauge shotgun shell is the most powerful shotgun ammunition available. It fires a slug that is twice the size of a standard 12-gauge slug, and it delivers more than three times the muzzle energy.
How far can a 10 gauge slug shoot?
A 10 gauge slug can shoot up to 1,500 yards depending on the type of slug.
Why is 10 gauge bigger than 12?
10 gauge is bigger than 12 because the diameter of the projectile is larger. A 10 gauge shotgun fires a .775 inch diameter projectile while a 12 gauge shotgun fires a .729 inch diameter projectile.
Are 10 gauge shotgun shells still made?
Yes, 10 gauge shotgun shells are still made. They are popular for hunting larger game, such as deer and hogs.
Conclusion
Now that you have seen our top picks for the best 10 gauge ammo, it is time to make a decision. All of the ammo on this list would be great choices for your next hunt or shooting range trip. It all comes down to personal preference and what you are looking for in terms of performance. Hopefully, our buyer's guide has helped narrow down your search and you can now make an informed decision about which type of 10 gauge ammo is right for you.