Affiliate Disclosure: AmmoCave.com sometimes gets paid for listings, through sponsors or affiliate programs like Lucky Gunner, Optics Planet, Brownells, Cabelas, Academy Sports & Outdoors, Rainier Arms, Palmetto State Armory, Sportsman's Guide, Ammo.com, Ammo Man, Primary Arms, MidWayUsa, Amazon, eBay, etс. Clicking a link helps keep AmmoCave.com free, at no extra cost to you!
Authors: Each article is verified by AmmoCave's expert team. Professional hunters, firearm trainers, gunsmiths, and gun experts write the articles. AmmoCave Team independently researches, tests, reviews, and uses recommendations from our community of gun owners. We may earn commissions from shopping links.
Note: The views and opinions expressed in this article are those of the authors and do not necessarily reflect any agency's official policy or position. The articles are for informational purposes only, share your opinions about Best Thermal Scope 2023 in the comments and join the discussions. Let's share 💬 our ammo & gun experiences together!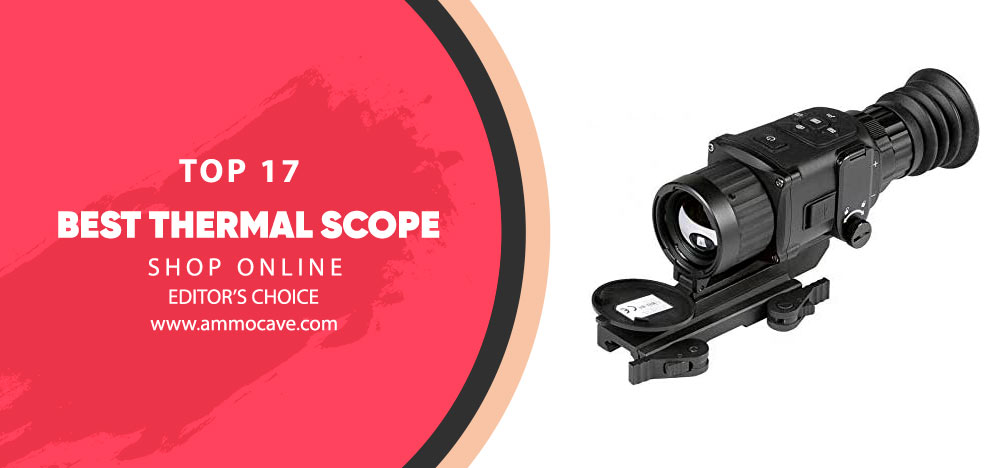 Top 17 Thermal Scope
What is a thermal scope
Since ancient times, the night was the most dangerous and difficult period for humans. The reason is that the human eye can't see in the pitch dark, while other predators have a built-in night vision, which makes us simple prey. Modern technologies made it possible for people to hunt in the dead of the night. With the help of Thermal Rifle Scopes,you can have a clear image of targets, no matter what time it is.
We've created a list of top Thermal Scopeson the market for today, so you can easily pick the most suitable model for you, without wasting a tremendous amount of time. Check out the following models and make your choice right now without any complications.
#1 theOpticGuru ATN Thor 4 Thermal Scope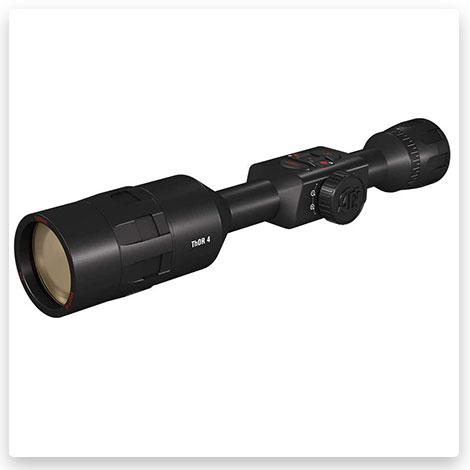 Thermal Sensors of the Future are Here, and they're powered by ATN's Obsidian IV Dual Core. This revolutionary rifle scope has higher thermal sensitivity, greater contrasts, a near-silent shutter, and increased resolution, making it the sight to possess. Simple to operate and understand, yet with all the capabilities you've come to expect from an ATN Smart scope.
#2 ATN Thor 4, Thermal Rifle Scope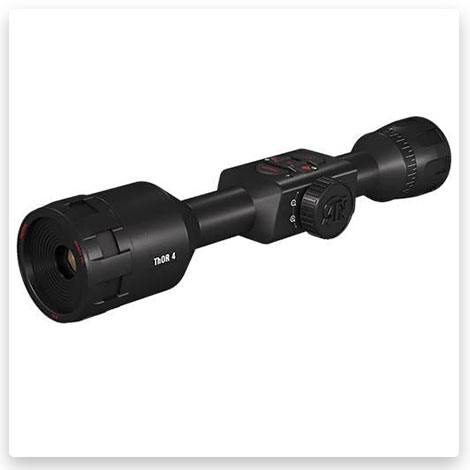 The ThOR 4 has the same appearance and feels like a classic optic. Rings for mounting are standard. There is a lot of eye-relief here. Picking up is simple. Hidden targets have a thermal signature and can be seen quickly. The laser range finder aids in the determination of longer-range targets, delivering data via Bluetooth to the ballistics calculator for all POI adjustments for your reticle. The ATN Quick Detach Mount is an excellent complement to this scope. Use your scope's profile manager to migrate it from platform to platform while maintaining zero.
#3 Leupold LTO Tracker 2 Thermal Viewer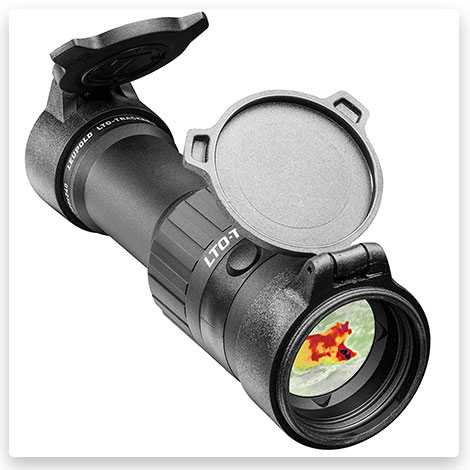 It needs not just expertise, but also the necessary tools to be aware of your surroundings. This scope is the next step in thermal technology, allowing you to see through the darkness, follow an animal, assist in search and rescue, and perform any other work where recognizing a heat source is useful. The scope has a new Beacon mode that allows you to easily adjust the screen for better daylight performance. This makes it easy to distinguish items with heat Signatures that are similar to their surroundings. It's ready to travel wherever your next adventure takes you, thanks to its small, lightweight all-aluminum body.
#4 AGM Rattler  Compact Short/Medium Range Thermal Imaging Rifle Scope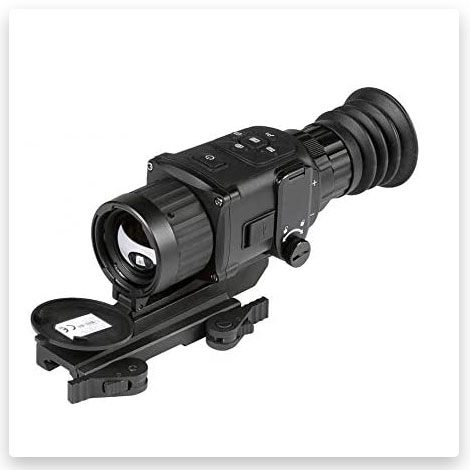 The next type on the list is a small thermal imaging scope designed to work 24 hours a day in any weather or situation. The user may pick between two objective lens alternatives, with the 25 mm lens optimized for short-range shooting and the 35 mm lens type being ideal for medium-range missions. The 384288 thermal detectors and 1024768 OLED monitor in the thermal imaging rifle scope give a crisp image under adverse situations such as darkness, fog, smoke, dust, rain, snow, wood, and camouflage. Thermal rifle scopes are mostly used in situations such as patrolling and hunting.
#5 AGM Model Python TS75-640 Long Range Thermal Imaging Rifle Scope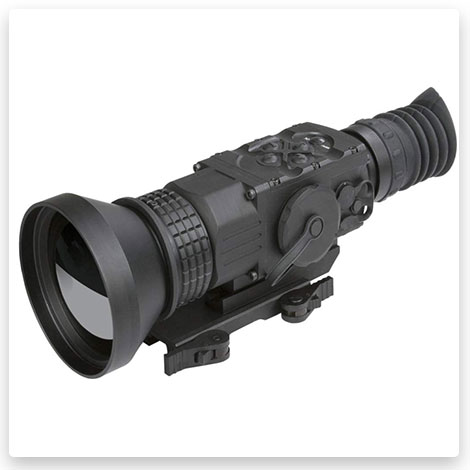 The AGM Python is a long-wave infrared, uncooled, thermal imaging weapon sight that may be used continuously without having to remove it from the rifle. The housing is composed of a high-grade aviation aluminum alloy, which makes it light but robust enough to withst and heavy recoil. Even under harsh environmental and weather situations, the waterproof construction provides exceptional performance. The device may be customized in several ways, giving users the option of selecting from a choice of Germanium objective lenses and FLIR Tau 2 detector types, allowing the operator to get the best possible performance for the tasks at hand. Adoption and application are exceedingly straight forward because of Python's user-friendly interface, pleasant and ergonomic buttons, and wireless remote control.
#6 ATN ThOR-HD  Thermal Rifle Scope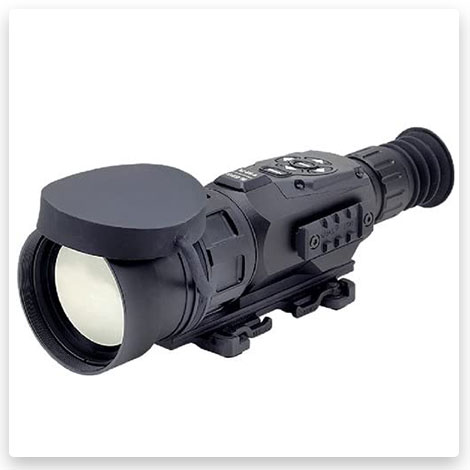 This thermal scope is more than simply a thermal scope; the Smart HD Optics Technology sets it apart from the competition. The thermal sensor captures your prey's heat energy, transforms the pictures, and displays a crisp view of the target. You may use Recoil Activated Video to capture all of your triumphs. Nothing will go unnoticed, and your adventures will be documented and easily shared. You can forget about charts and complicated reticles when you use the ballistic calculator. Simply enter the environmental data, and all calculations will be carried out automatically. This increases your chances of hitting your target on your first try. In addition, the built-in rangefinder will make things easy for you. To range your target, you don't need any further equipment.
#7 EOTECH Vudu  Precision Rifle Scope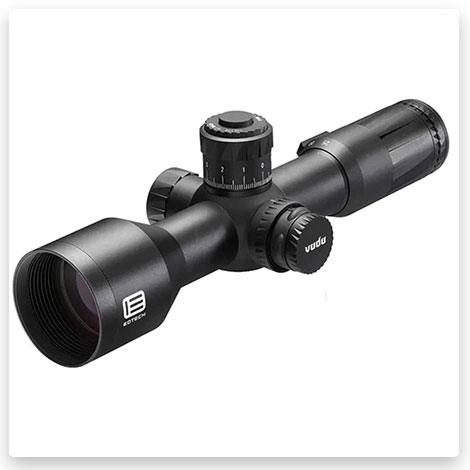 This precision rifle scope is intended for use with rifles with short platforms. Bright and clear XC high-density glass is used in the optical system, which is coated with broadband anti-reflection multi-coatings to offer bright, clear, low-distortion, and high-contrast images. The large 50 mm objective aperture covers the void left by normal apertures in collecting enough light to generate viewable images in the most difficult lighting circumstances. The H59 reticle in the First Focal Plane provides dazzling Red light with customizable brightness and switches out automatically after two hours of inactivity.
#8 Pulsar Thermion XG50 Thermal Riflescope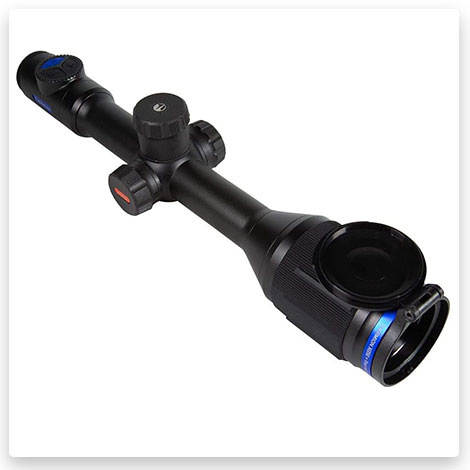 The Thermion thermal rifle sight meets all of the demands of today's hunter. This model's 2,400-yard thermal detection range is achieved by combining 640×480 microbolometer strength with 12-micron pixel resolution on an HD AMOLED display. The sight has an 8x digital zoom and Picture-in-Picture feature to assist varmint, hog, and big-game hunters in almost any situation. Users may be certain that their memories will be saved and maintained thanks to the highly sought-after BAE sensor with color palettes and built-in recording with audio. The XG50 stands out with a Wi-Fi connection, compatibility with the Stream Vision App, recoil activation, 5 rifle profiles, 13 configurable electronic reticles, and a one-shot zeroing freeze feature.
#9 Pulsar Trail LRF XQ50 Thermal Riflescope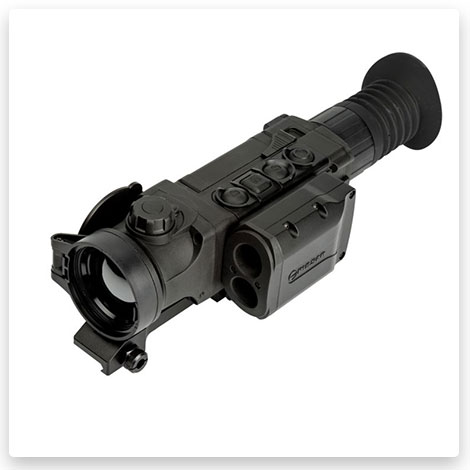 This thermal scope will make your night hunt considerably easier and more fun. The Pulsar specialists designed these unique Thermal Imaging Scopes with a heat signature detecting range of up to 2,000 yards and an inbuilt laser rangefinder that can offer pinpoint precise reads up to 1,100 yards. This rifle sight has a user-friendly UI that lets you choose from 13 distinct digital reticles with variable colors, patterns, and brightness to match your tastes and target backdrop. A picture-in-picture function allows you to target your reticle without losing your complete field of view, ensuring that you don't lose out on a crucial hunting chance. The 640×480 AMOLED display shows whatever your scope views. This is one of the most sophisticated thermal imaging devices on the market. It lets you save three distinct zeroing profiles, record and share your hunts using the included 8 GB memory and Wi-Fi, and broadcast your hunts using the free Stream Vision app, among other things.
#10 Pulsar Thermion XG50 Thermal Riflescope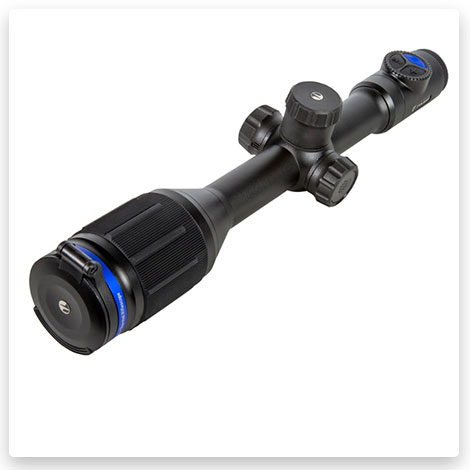 #11 Burris BTS  Thermal Riflescope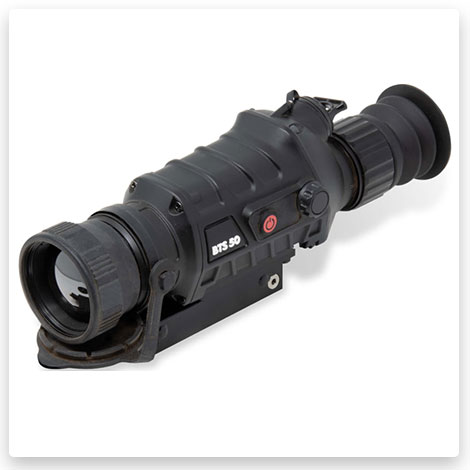 With this thermal weapon sight, you may add heat-tracking functionality to your hunts. These Thermal Imaging Scopes attach to the Picatinny rail of your handgun and may be used with one hand. The sight puts you in charge of the hunt with 7 color palettes and 10 reticle variations, enabling you to choose the optimal combination for your current needs and location. Burris designed these thermal imaging scopes with hot track technology, which pushes the tracking box to the region with the greatest temperature measurement when triggered, allowing you to respond faster in the field. You can adjust the contrast and brightness for good views in any situation, and integrated stadiametric rangefinding delivers exact distances to remote targets.
#12 Trijicon Mini Thermal Riflescope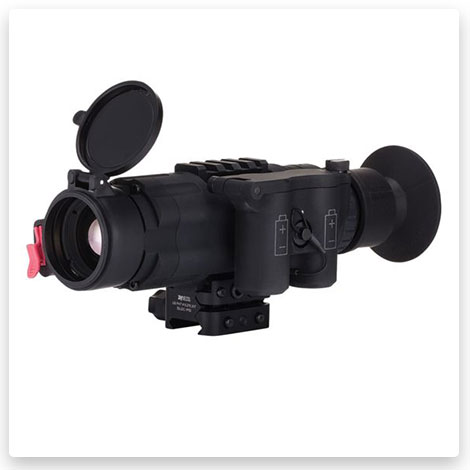 By putting this sight on your rifle, you may capture targets at any time of day or night. Trijicon Electro Optics designed this tiny thermal scope with an inbuilt stadiametric rangefinder that provides exact distances to any targets. The waterproof thumbstick control mechanism is surprisingly easy to operate, especially in the dark, and the scope packs a lot of functionality into a tiny package. For a more efficient experience, this thermal scope has the unique "Easy Zero" System. To dramatically boost your utility on a hunt or during tactical operations, try this model.
#13 ATN Thermal Smart HD Rifle Scope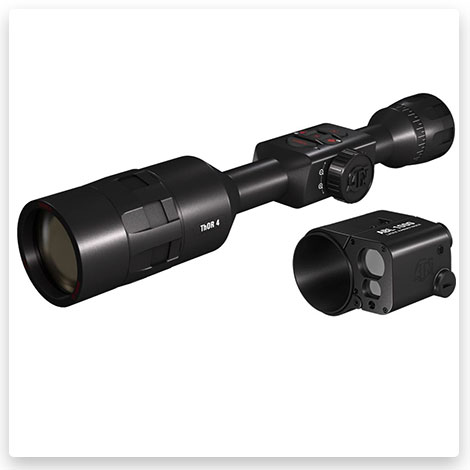 At an inexpensive price, the ATN rifle scope offers Gen 4 dual-core thermal sensor technology. This well-designed ATN product preserves popular features while adding an ultra-sensitive HD thermal sensor that allows you to simultaneously see and record video. The groundbreaking scope includes several new, user-friendly apps, such as a ballistics calculator, that make utilizing this cutting-edge technology seem comfortable. With the aid of this site, you can see incredibly clear HD photographs as you've never seen before.
#14 Armasight Apollo Thermal Imaging Rifle Scopes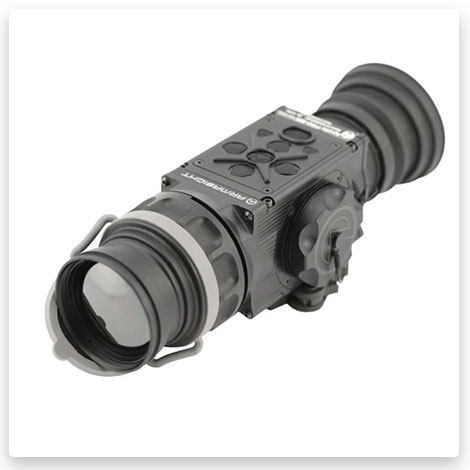 To easily transition from regular glass to a sophisticated thermal imaging weapon sight, mount this digital thermal weapon sight onto your daylight scope. We've got a model with a QR mount for a convenient connection, and you can turn this sight on and off as needed without having to re-zero it. The scope is ideal for predator hunters and tactical operators that need a daylight Rifle Scope as well as a thermal Rifle Scope in their arsenal. This thermal sight adapter is fully digital, allowing for improved target recognition and identification at any time of day or night. Because it's powered by a thermal core and has an HD display, you'll always have a clear, bright image of your surroundings.
#15 Meprolight Dual Channel Thermal 2x Sight w/Night Camera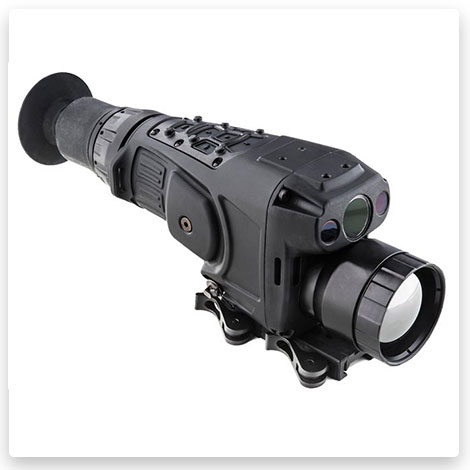 A multi-spectral sight with a 640 x 480 thermal channel and a 640 x 480 day or low-light digital camera channel, this cutting-edge technology is a game-changer. Even under blackout situations or when the target is camouflaged, the thermal channel identifies heat signatures and offers excellent detection. Even in the harshest of situations, the camera's day channel or low-light mode gives the shooter maximum situational awareness. With the day camera channel option, the photographer may utilize the Mepro NYX 200 24 hours a day and retain optimal accuracy. The shooter can clearly detect targets or peek through windows thanks to the low-light camera channel.
#16 ATN – THOR LT 320 THERMAL RIFLE SCOPE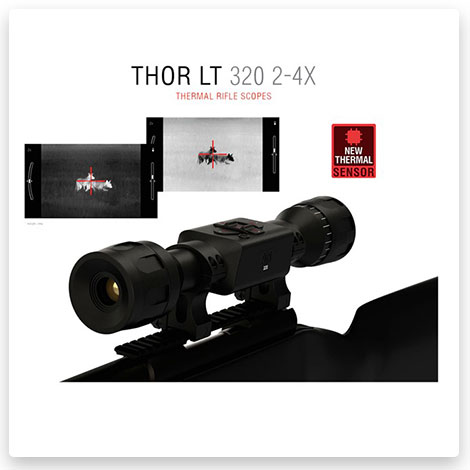 By improving our manufacturing process, ATN aims to make thermal imaging technology more accessible to the public. SMART HD thermal and night vision lenses are known for their high quality and low cost. For their ThOR LT range, they've updated it to a 320×240 12um resolution sensor. This strong, compact thermal unit provides you with a hunting choice that will take your game to the next level. With an astonishing 10+ hours of run time, the new internal lithium-ion battery will keep you hunting late into the evening or early in the morning. It's simple to attach using standard 30 mm rings, and the controls are simple to use, reducing the learning curve and getting you out in the field hunting sooner.
#17 ATN – THOR THERMAL SCOPE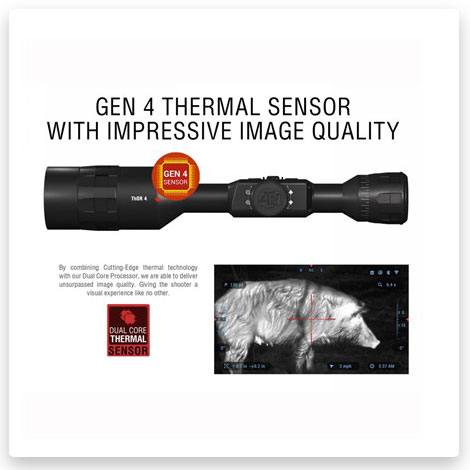 Expanding optical choices into night-vision and thermal designs is the industry's way of the future, and the ATN thermal scope is one of the market's inventors. This model is manufactured with the company's next-generation sensor and dual-core processor and is built to be both robust and inexpensive while yet being cutting-edge. This one-of-a-kind system allows users to record their hunts and range trips, either internally or via a phone app. The ATN Thermal Scope also can be mounted on a rifle using normal 30 mm scope rings, guaranteeing that a sturdy, secure mount can be found quickly.
Conclusion
Frankly saying, thermal scopes are not a cheap solution. However, this is a great solution for experienced and not skilled shooters, which will make your shooting experience amazing and much better. Anyway, let's take a look at a few scopes that will be the best choice for you, according to your budget.
Best high-budget thermal scope:
Best medium-budget thermal scope:
Tags: #best thermal scope / #best thermal scope for the money / #best clip on thermal scope / #best thermal scope for coyote hunting / #thermal scope