Affiliate Disclosure: AmmoCave.com sometimes gets paid for listings, through sponsors or affiliate programs like Lucky Gunner, Optics Planet, Brownells, Cabelas, Academy Sports & Outdoors, Rainier Arms, Palmetto State Armory, Sportsman's Guide, Ammo.com, Ammo Man, Primary Arms, MidWayUsa, Amazon, eBay, etс. Clicking a link helps keep AmmoCave.com free, at no extra cost to you!
Authors: Each article is verified by AmmoCave's expert team. Professional hunters, firearm trainers, gunsmiths, and gun experts write the articles. AmmoCave Team independently researches, tests, reviews, and uses recommendations from our community of gun owners. We may earn commissions from shopping links.
Note: The views and opinions expressed in this article are those of the authors and do not necessarily reflect any agency's official policy or position. The articles are for informational purposes only, share your opinions about Best Thermal Scope 2023 in the comments and join the discussions. Let's share 💬 our ammo & gun experiences together!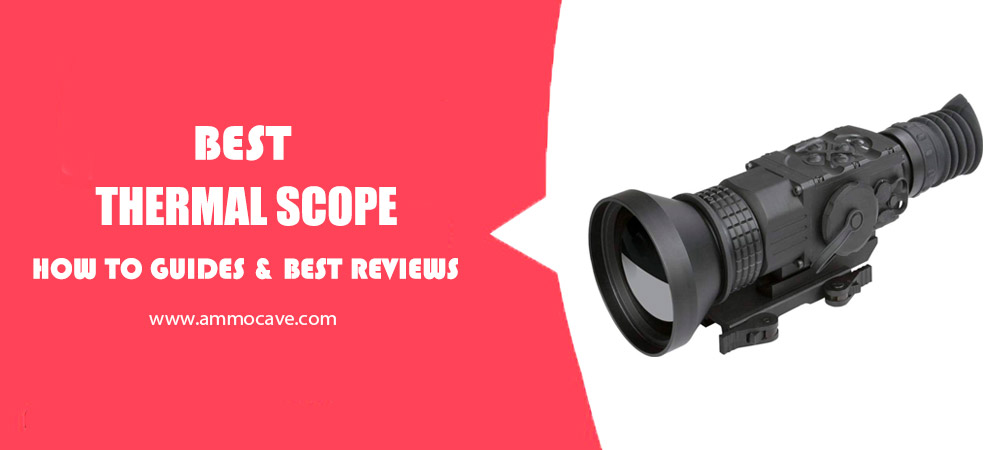 What is the thermal scope? 🧐
It is a type of night vision device that uses thermal imaging technology to detect infrared radiation. It works by using special sensors that can detect the heat generated by objects, even in complete darkness.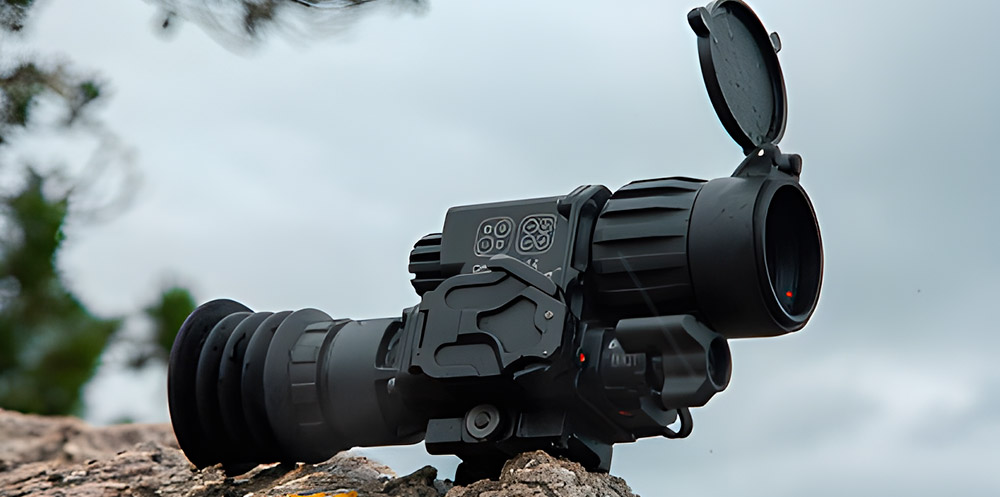 Features ✍️
Thermal scopes have revolutionized the hunting and shooting industry, allowing hunters and shooters to see their targets in complete darkness or low-light conditions. Here are some of the key features:
⌛️ Detection Range – The range varies significantly between different models and depends on various factors such as the size of the sensor and the lens quality. Quality scopes can detect targets at distances up to 1000 yards and beyond.
⌛️ Magnification – Such scopes come with different magnification levels, ranging from 1x to as high as 16x or 20x. The higher the magnification level, the more precise you can be with your shot.
⌛️ Refresh Rate – A higher refresh rate ensures that the images displayed on the screen are smooth and jitter-free, making it easier to track moving targets. Top-quality scopes offer a refresh rate of 60Hz or higher.
⌛️ Durability – durability is a crucial factor when choosing, as hunters and shooters will often use them in harsh conditions.
⌛️ Battery Life – These scopes require power to operate, so battery life is an essential consideration. Quality scopes will provide several hours of continuous use on a single battery charge.
⌛️ Reticles – They are the aiming marks displayed on the screen that help you align your shot. Look for scopes that offer multiple reticle options, such as crosshairs, dots, and Mil-Dot reticles.
⌛️ Image Quality – Determined by its sensor resolution, lens quality, and digital processing power. High-quality scopes offer clear, sharp images with vibrant colors and high contrast.
Our Top Pick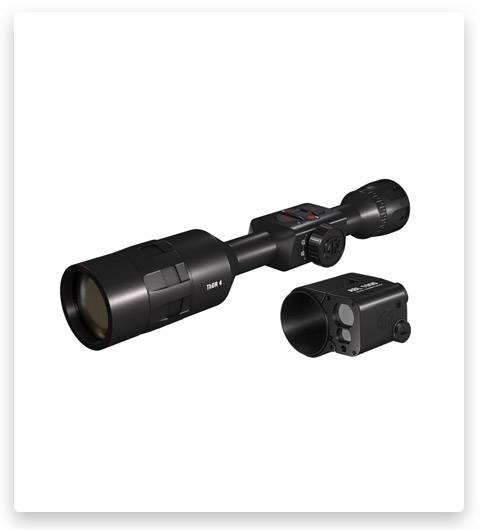 ATN Thor 4 Thermal Smart HD Rifle Scope
This thermal imaging scope includes favorite features and a high-definition thermal sensor that allows for simultaneous video recording and viewing. It is a revolutionary addition that offers a variety of new, user-friendly applications such as a ballistics calculator to make using this advanced technology more accessible. With this scope, you can experience exceptionally clear HD images that are unlike anything you've seen before.
Buy Now On OpticsPlanet
If you click this link and make a purchase, we earn a commission at no additional cost to you.
Benefits 🔥
Thermal scopes have a few advantages over regular scopes and can be beneficial in various scenarios.
✳️ Firstly, using it means you don't need to worry about lighting conditions. Since they detect heat rather than light, they work just as well during darkness or in foggy weather. This makes them especially useful for hunting at night or in other low-visibility situations.
✳️ Such scopes also provide better accuracy and clarity when used at long distances. These devices can detect minor temperature changes shown by colors on their display screens making them very accurate even at long ranges.
✳️ Finally, they come with a variety of features that make them easier to use and more versatile. These include image stabilization for better accuracy, digital zoom for better magnification, and even the ability to store images or videos on an internal memory card.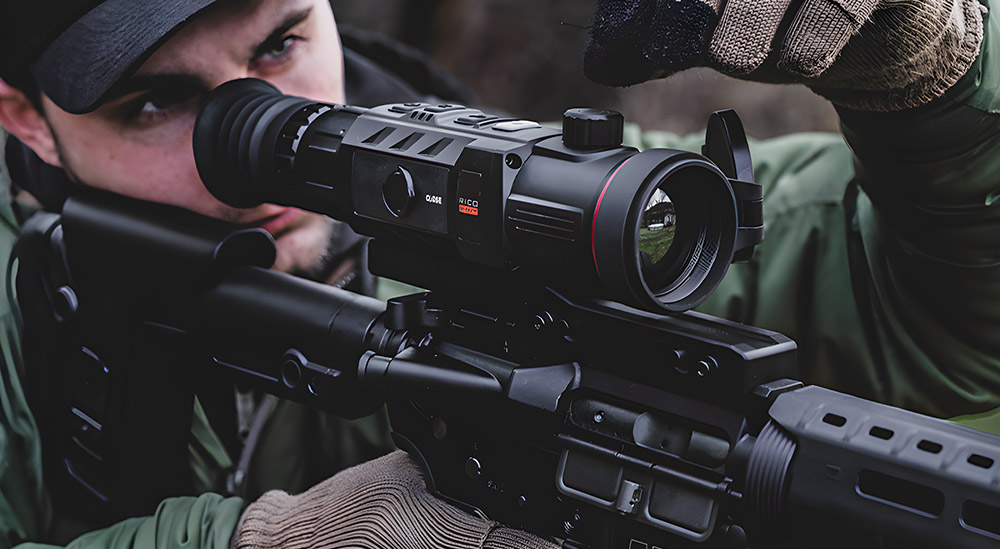 Should you use it? 🤔
Many shooters are attracted to the idea of being able to view prey and other targets in complete darkness or through smoke. With an advanced thermal riflescope, you can do just that. If you're already familiar with traditional scopes of thermal, imaging then a thermal technology scope has been worth looking for for years, and next its purchases becoming increasingly popular.
💣 Overall, upgrading can be a worthwhile investment if you're an avid hunter or a professional in law enforcement.
💣 They provide better visibility in low light conditions and challenging weather while also detecting heat signatures.
💵 However, it's essential to consider your budget and the type of hunting you plan on doing before making a final decision.
Best Thermal Scope Reviews 🗒✏️
1# OpticGuru ATN Thor 4 Thermal Scope w/Video Rec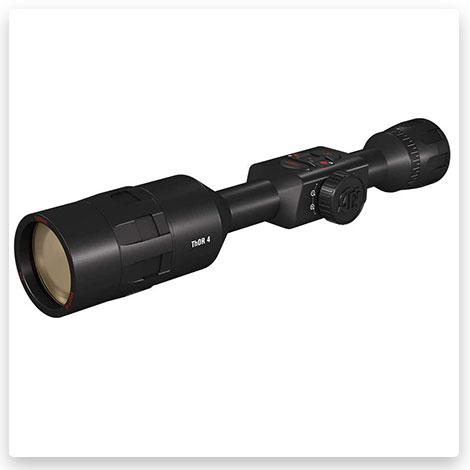 For hunters searching for an exceptional combination of technology and performance, the OpticGuru ATN Thor 4 Thermal Scope w/Video Rec is the ideal choice. With the ability to switch between black-and-white or vivid color palettes in HD resolution, this device offers versatility in various hunting situations. The ballistic calculator feature is another highlight that automatically adjusts the point of impact with consideration for ammo type, range to target, and environmental data, ensuring every shot hits its mark. OpticGuru ATN Thor 4 Thermal Scope w/Video Rec along with its impressive features, make it a must-have for hunters who seek unparalleled performance and technology.
2# ATN Thor 4 Thermal Rifle Scope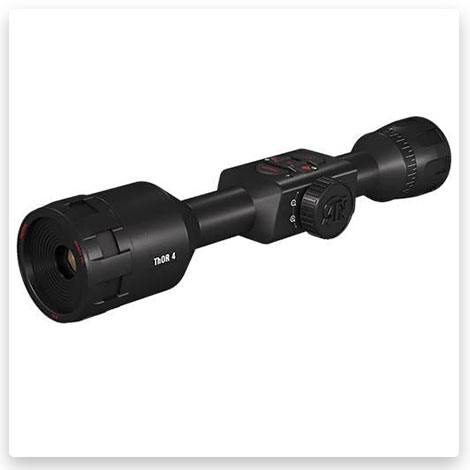 The ATN Thor 4 boasts an Ultra Sensitive Next Gen Sensor that captures sharp, clear images at long ranges with improved resolution, sensitivity, and gradations even in complete darkness. This advanced technology ensures that hunters can accurately identify their targets, even at the furthest distances. The RAV (Recoil Activated Video) feature takes the pressure off hunters by automatically recording video when the rifle recoils, allowing them to focus on the game and not worry about capturing footage. From the ultra-sensitive next-gen sensor to the ballistic calculator and dual-stream video recording, this ATN Thor 4 Thermal Rifle Scope provides everything a hunter needs to make their next hunt a success.
3# Leupold LTO Tracker 2 Thermal Viewer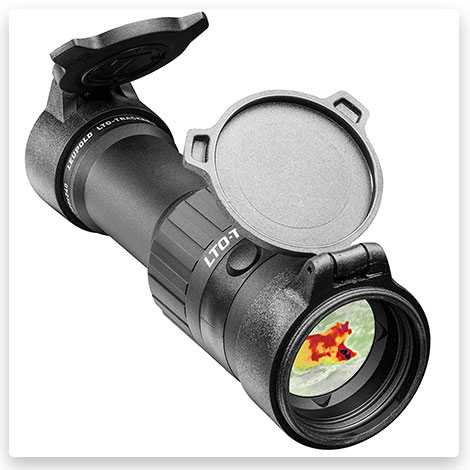 Introducing the Leupold LTO Tracker 2 Thermal Viewer is a lightweight and compact hand-held thermal imager that can be easily carried on even the most remote backcountry hunts. One of the standout features is its new Beacon mode, which quickly recalibrates the screen for improved daytime use. This feature makes it easier to use the device in any lighting condition. Using this product, our team found that with its 100% waterproof, fog proof, and shockproof design, it is built to withstand the toughest hunting conditions. Whether you're tracking game, scouting for new hunting locations, or just exploring the great outdoors, the Leupold LTO Tracker 2 Thermal Viewer is the perfect tool for the job.
4# AGM Rattler TS25-384 Thermal Imaging Rifle Scope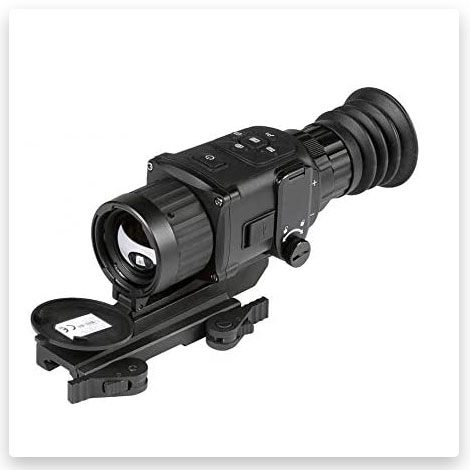 Pay attention to the AGM Rattler TS25-384 Thermal Imaging Rifle Scope. It is a reliable and adaptable device designed to function 24/7, no matter the environmental conditions. This scope boasts a high-sensitivity thermal detector and advanced image processing technology, resulting in detailed and clear images in extreme environments. It also features an OLED display with adjustable color palettes and supports distance measurement, providing the user with maximum situational awareness and accuracy. The scope also comes with built-in video recording and image capture capabilities for easy documentation. Don't wait – order and try it just now!
5# AGM Global Vision Python TS75-640 Thermal Imaging Rifle Scope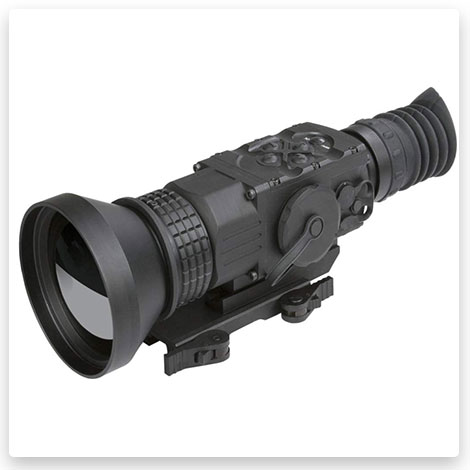 The AGM Global Vision Python TS75-640 Thermal Imaging Rifle Scope is built to provide 24-hour operation, eliminating the need to remove the unit from the rifle. Its lightweight, high-grade aircraft aluminum alloy housing makes it durable enough to withstand high recoil, while its waterproof design ensures reliable performance in severe environmental and weather conditions. Python's user-friendly interface, ergonomic buttons, and wireless remote control make it easy to use. It features a range of color palettes and reticle patterns, adjustable image brightness, and contrast, an internal menu, and digital zoom. If you need a quality scope – the AGM Global Vision Python TS75-640 Thermal Imaging Rifle Scope is an excellent choice!
6# EOTech Vudu Precision Rifle Scope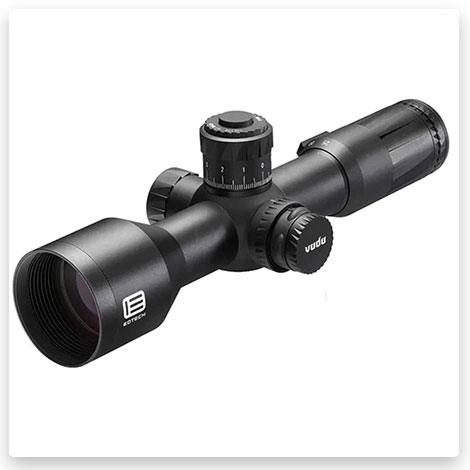 Do you want to get a top-quality rifle scope? Check out the EOTech Vudu Precision Rifle Scope. Its unique design feature enables users to attach a clip-on night vision or thermal device to the front of the scope for added versatility in various lighting conditions. The scope boasts a first focal plane reticle that increases in size with magnification, allowing for accurate ranging and holdovers at any magnification level. It also comes with the EOTech Vudu Advantage lifetime warranty for added peace of mind. Order and try it today!
7# Pulsar Thermion Thermal Riflescope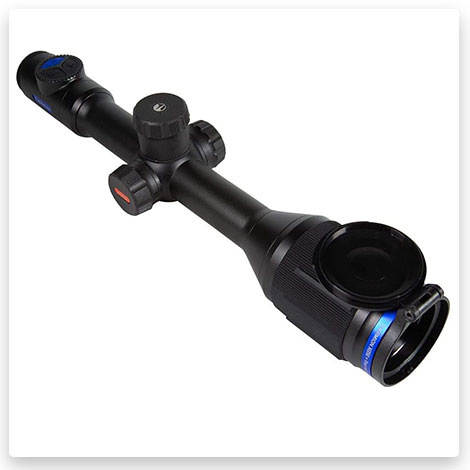 The Pulsar Thermion Thermal Riflescope is a top-of-the-line device that is packed with features for the most demanding of users. It boasts a BAE sensor with multiple color palettes that capture and preserve memories in stunning detail and comes equipped with built-in recording with audio to ensure that nothing is missed.  Based on our own experience with Wi-Fi connectivity and compatibility with the Stream Vision app, users can easily manage 5 rifle profiles, choose from 13 variable electronic reticles, and utilize the one-shot zeroing freeze function for the ultimate customization. It is powered by a rechargeable battery pack and offers a rangefinder plus rock, forest, and identification viewing modes. So don't miss the opportunity to get this awesome scope – order it today!
8# Pulsar Trail LRF XQ50 Thermal Rifle Scope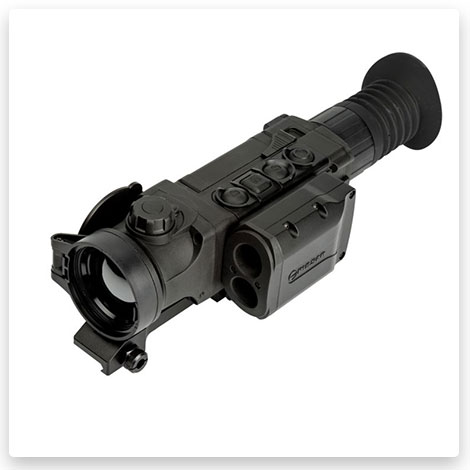 Get ready to hunt day and night with the Pulsar Trail LRF XQ50 Thermal Rifle Scope. With a heat signature detection range of up to 2,000 yards and an integrated laser rangefinder that can deliver pinpoint accurate reads up to 1,100 yards, this innovative Thermal Imaging Scope is the ultimate hunting companion. The scope's customizable, user-friendly interface offers a choice of 13 different digital reticles in varying colors, patterns, and brightness to best suit your preferences and target background. A picture-in-picture feature enables you to aim your reticle without losing your entire field of view, ensuring you never miss an important shot. Don't let the darkness stop you from making the perfect shot – harness the Pulsar Trail LRF XQ50 Thermal Rifle Scope!
9# Pulsar Thermion XG50 Thermal Rifle Scope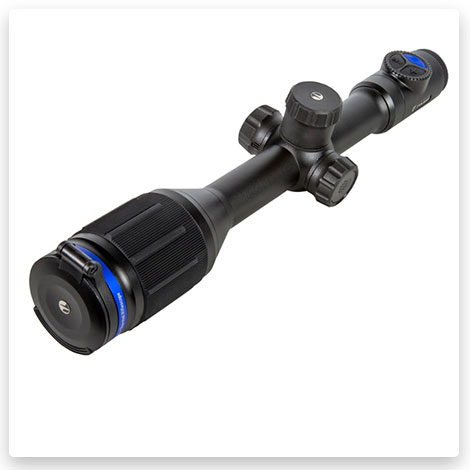 Introducing the Pulsar Thermion XG50 Thermal Rifle Scope is the ultimate choice for modern shooters. The 8x digital zoom and picture-in-picture feature makes it ideal for varmint, hog, or big-game hunters in any environment. This advanced thermal rifle scope also boasts a highly-sought BAE sensor with multiple color palettes and built-in recording with audio to capture and preserve your hunting memories.
10# Burris BTS 50 Thermal Rifle Scope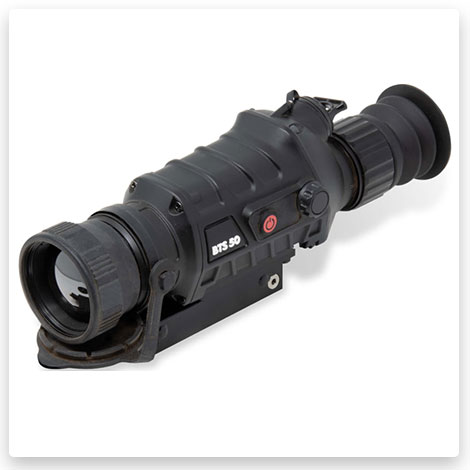 Elevate your coyote and predator hunts with the addition of a powerful thermal weapon sight. The Burris BTS 50 Thermal Rifle Scope can easily mount onto your firearm's Picatinny rail and can be operated with one hand, providing you with quick and easy target acquisition. With seven color palettes and ten reticle options, this thermal imaging scope gives you complete control of your hunt, allowing you to choose the best combination for your needs and environment. Integrated rangefinding provides accurate distances to faraway targets, and you can adjust the contrast and brightness to ensure clear views in any lighting conditions. With the Burris BTS 50 Thermal Rifle Scope, you can detect hidden prey on the hunting grounds and take your best shots yet with this powerful and reliable thermal hunting rifle scope!
11# Trijicon Mini Thermal Rifle Scope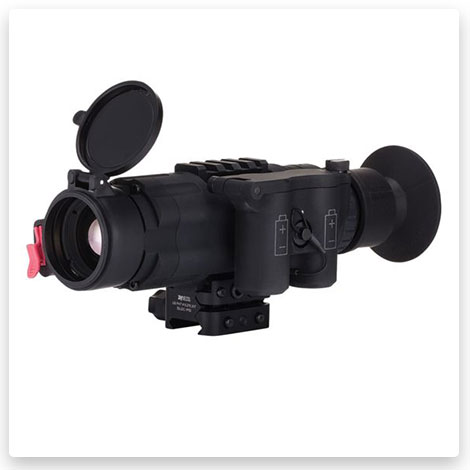 The Trijicon Mini Thermal Rifle Scope is the perfect tool for acquiring targets day or night. It comes equipped with an integrated rangefinder that provides precise distances to any targets. Our research has shown that this scope is designed for optimal functionality and ease of use, with a weatherproof thumbstick control system that is simple to operate, even in low-light conditions. The scope also features an innovative "Easy Zero" System, which streamlines the zeroing process for a more efficient experience. Whether on a hunt or during tactical operations, this Trijicon Mini Thermal Rifle Scope is a valuable asset that greatly increases your utility.
12# ATN Thor 4 Thermal Smart HD Rifle Scope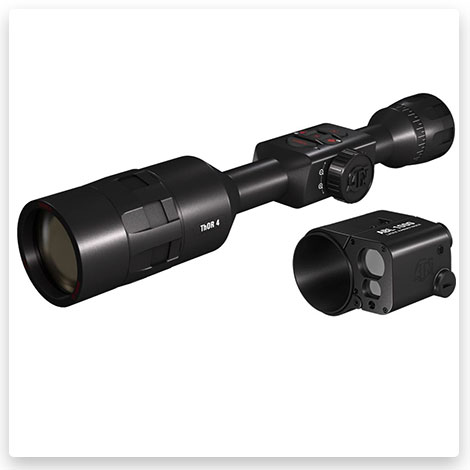 Experience the power of Gen 4 dual-core thermal sensor technology with the ATN Thor 4 Thermal Smart HD Rifle Scope. This affordable yet reliable thermal imaging scope features an ultra-sensitive HD thermal sensor that allows you to view and record video simultaneously. The ergonomic design includes a suite of new and intuitive applications, such as a ballistics calculator, to help you quickly and easily make use of this advanced technology. Enjoy the unparalleled clarity of HD images with the ATN Thor 4 Thermal Smart HD Rifle Scope!
13# Armasight Apollo Pro Thermal Imaging Rifle Scopes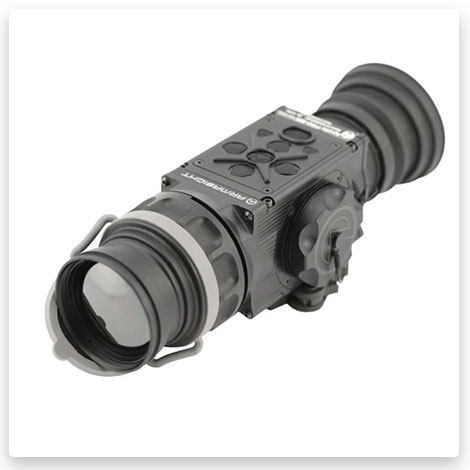 Elevate your hunting or tactical experience with the Armasight Apollo Pro Thermal Imaging Rifle Scopes. It boasts a QR mount for quick and easy attachment, without requiring any re-zeroing. This lightweight scope offers enhanced detection and identification of targets, day or night, using a FLIR Tau 2 thermal core and a high-definition (HD) AMOLED SVGA display. The device is designed to provide a bright, vivid sight picture of your environment through smoke, haze, fog, rain, and even in complete darkness. The built-in digital compass and inclinometer also enable you to calculate precise distances and angles of incline to targets. With this Armasight Apollo Pro Thermal Imaging Rifle Scopes, you can easily upgrade your vision and gain a tactical edge!
14# Meprolight NYX212 Dual Channel Thermal 2x Sight w/Night Camera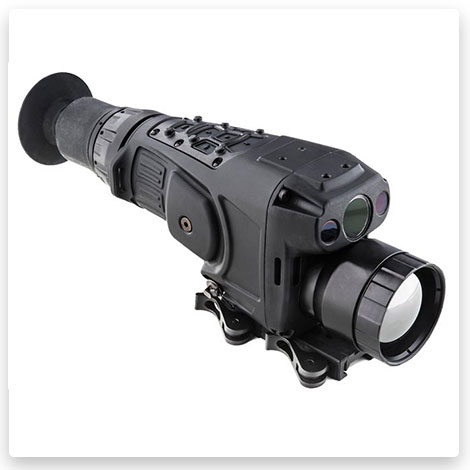 Experience the advanced Meprolight NYX212 Dual Channel Thermal 2x Sight w/Night Camera. You can use the sight day and night, thanks to the day camera channel option. Additionally, the low-light camera channel enables you to spot targets or look through windows with clarity. Designed with user experience in mind, it features an ergonomic design, a user-friendly keypad, and unique icon-based menus for easy operation under all conditions. Upgrade your tactical arsenal with the Meprolight NYX212 Dual Channel Thermal 2x Sight w/Night Camera and gain a tactical advantage in any situation.
15# ATN Thor LT 320 Thermal Rifle Scope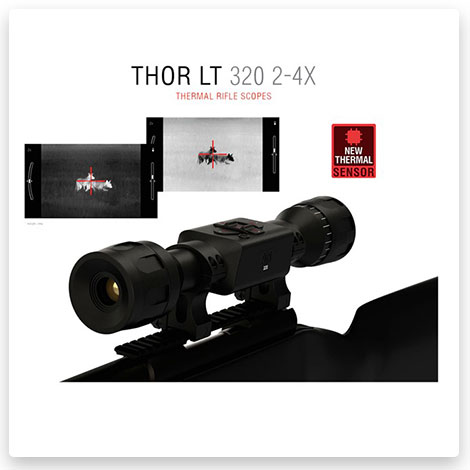 Do you want to get a powerful yet compact thermal unit that is a game-changer? The ATN Thor LT 320 Thermal Rifle Scope is the best choice! The internal lithium-ion battery is new and will last you all day, from early morning to late evening, with an incredible 10+ hours of run time. Our findings show that the scope is easy to mount with standard 30 mm rings, and the controls are easy to navigate, so you can spend less time learning and more time hunting. So order and try this quality ATN Thor LT 320 Thermal Rifle Scope just now!
16# ATN Thor 4 Thermal Scope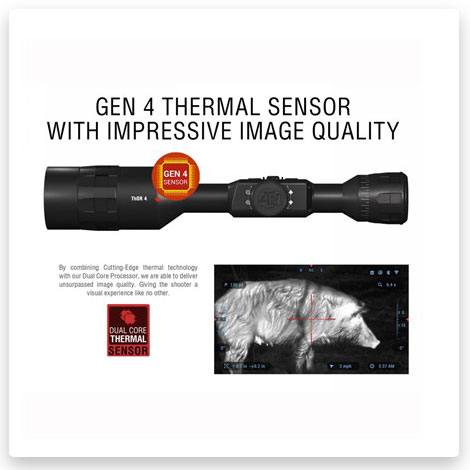 The future of the optics industry is expanding into night-vision and thermal designs, and the ATN Thor 4 Thermal Scope is one of the innovators leading the way. With a focus on durability, affordability, and cutting-edge technology, this thermal scope features ATN's next-generation sensor and dual-core processor, allowing users to record their hunts and range visits internally or stream them to their phones. Plus, mounting the optic to a firearm is a breeze with standard 30mm scope rings, ensuring a solid and stable mount for any hunting or shooting excursion.
⚙️How to zero it?⚙️
Zeroing a thermal scope is one of the critical tasks for any shooter who wants to achieve consistent accuracy, regardless of the lighting conditions. So here are the steps:
➡️ Mount the Scope Properly – Before anything else, ensure that the scope is correctly mounted to your rifle. Make sure that the rings are correctly tightened and in the right position to give you the best possible view. Incorrect alignment can lead to parallax error, which adversely affects accuracy.
➡️ Understand Thermal Imaging Technology – They operate differently from traditional riflescopes and are based on heat signatures emitted by the target. As such, you need to familiarize yourself with the technology before attempting to zero the scope.
➡️ Know Your Rifle and Ammunition – Accuracy in shooting depends on the bullet's weight, velocity, and trajectory. Therefore, it's crucial to determine the grain weight of your ammunition and the chambering pressure to establish your rifle's zero. Establishing zero means that the bullet will hit the point of aim and deliver the required performance at a particular distance.
➡️ Establish a Stable Shooting Position – When you have a clear understanding of your rifle and ammunition, it's time to establish a stable shooting position. Place the rifle on a stable shooting platform such as a rest or bipod and adapt your shooting position. A solid shooting platform will ensure that the rifle stays stationary and reduces recoil, allowing for consistent shots.
➡️ Start the Zeroing Process – Now that you've prepared your rifle and understood the basics of thermal imaging, it's time to start the zeroing process. Start by aiming at a known distance to establish the point of impact. Then, adjust the thermal scope's elevation and windage turrets until the crosshairs align with the desired point of aim.
➡️ Refine Your Zero – After establishing a basic point of aim, fire a shot at the target. This step provides feedback on whether your zeroing adjustments were adequate. If the bullet hits the target as expected, repeat the process by firing more rounds to confirm the zero. If it misses the point of aim, use your turrets to adjust accordingly until you achieve the desired accuracy.
FAQ 😎
Conclusion 😊
With so many different models, features, and capabilities on the market today, it can be difficult to decide which one is right for you. We suggest researching each option carefully before making a purchase decision. Be sure to consider factors such as quality of construction, image resolution clarity, frame rate refresh rates, range distances available with various models, and any additional accessories or features that may come included with certain options. Investing in a good-quality thermal scope will ensure years of reliable performance when hunting outdoors. Good luck finding the perfect scope! 🛒🙂
Tags: #best thermal scope / #best thermal scope for the money / #best clip on thermal scope / #best thermal scope for coyote hunting / #thermal scope