Affiliate Disclosure: AmmoCave.com sometimes gets paid for listings, through sponsors or affiliate programs like Lucky Gunner, Optics Planet, Brownells, Cabelas, Academy Sports & Outdoors, Rainier Arms, Palmetto State Armory, Sportsman's Guide, Ammo.com, Ammo Man, Primary Arms, MidWayUsa, Amazon, eBay, etс. Clicking a link helps keep AmmoCave.com free, at no extra cost to you!
Authors: Each article is verified by AmmoCave's expert team. Professional hunters, firearm trainers, gunsmiths, and gun experts write the articles. AmmoCave Team independently researches, tests, reviews, and uses recommendations from our community of gun owners. We may earn commissions from shopping links.
Note: The views and opinions expressed in this article are those of the authors and do not necessarily reflect any agency's official policy or position. The articles are for informational purposes only, share your opinions about Best 7.62mm Nagant Ammo in the comments and join the discussions. Let's share 💬 our ammo & gun experiences together!
If you're looking for the best 7.62mm Nagant ammo, you've come to the right place. In this blog post, we'll take a look at some of the top-rated 7.62mm Nagant ammo on the market today. So whether you're looking for cheap rounds or premium rounds, we've got you covered. Keep reading to learn more!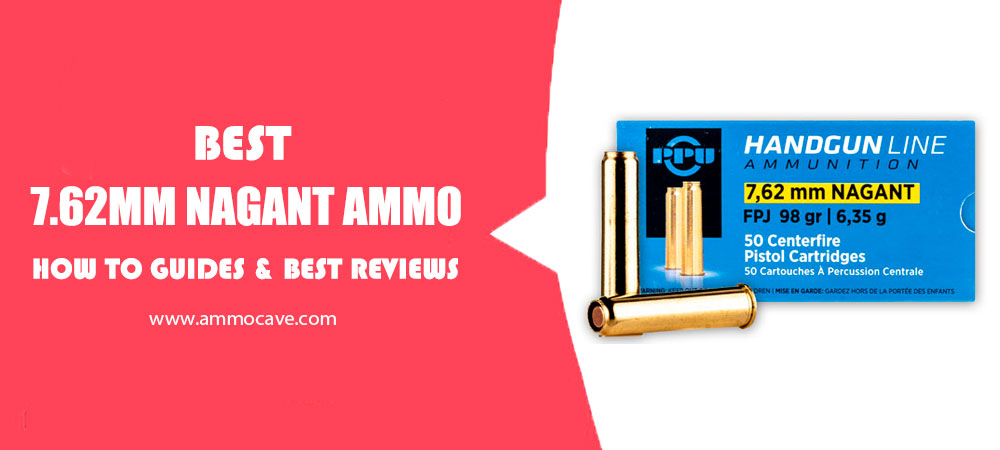 Best 7.62mm Nagant Ammo Reviews
1# 7.62 Nagant – 97 Grain FMJ – Fiocchi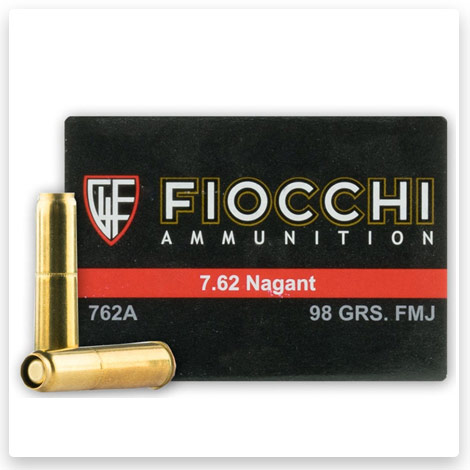 Need 7.62 Nagant ammo? Pay attention to this new production of ammunition from Fiocchi. This 97-grain full metal jacket load is perfect for target practice with your M1895 revolver. Each cartridge in this 50-round box is loaded with fresh brass and has a muzzle velocity of 1,082 feet per second.
This particular ammunition features the 7.62 Nagant's tall brass case. When fired, the case expands and creates a 'gas seal' between the cylinder and barrel of the revolver. This increases muzzle velocity and keeps fouling confined to the barrel where it is easier to clean. Don't miss your chance to get your hands on this hard-to-find ammo – order today!
2# 7.62mm Nagant – 98 gr FPJ – Prvi Partizan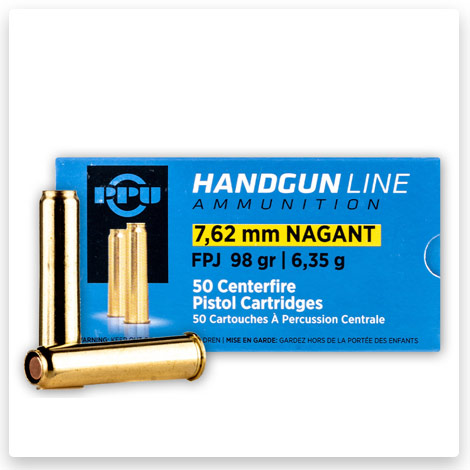 Prvi Partizan has been producing high-quality ammunition since 1928, and their 7.62 Nagant rounds are no exception. These newly manufactured rounds are perfect for target practice, as they are both economical and precision-made. Each round features a boxer-primed brass casing, non-corrosive propellant, and a flat-point jacketed bullet. With a muzzle velocity of 738 feet per second and muzzle energy of 119-foot pounds, these rounds are sure to pack a punch. So if you're searching for hard-to-find 7.62 Nagant ammo to feed your classic revolver, Prvi Partizan has you covered.
FAQ
What is 7.62mm Nagant Ammo?
7.62mm Nagant Ammo is a cartridge used in rifles and pistols chambered for the 7.62×38mmR round. It was designed in 1891 by Belgian arms manufacturer Fabrique Nationale de Herstal (FN) for the Russian Empire and has been used by militaries all over the world ever since. The 7.62mm Nagant round is also known as 7.62x38R or 7.62x38mmR.
What are the benefits of 7.62mm Nagant Ammo?
 7.62mm Nagant Ammo is popular among shooting sports enthusiasts and hunters because of its accuracy and reliability.
 7.62mm Nagant Ammo is also economical, making it a great choice for budget-minded shooters.
7.62mm Nagant Ammo is available in a variety of bullet weights and configurations, so there is a 7.62mm Nagant load that will fit your needs whether you are shooting varmints or big game.
What is the difference between 7.62mm Nagant ammo and other rounds?
7.62mm Nagant ammo is a type of ammunition designed for use in Nagant M1895 revolvers. Rounds are typically more powerful than other revolver ammunition, making them ideal for self-defense or hunting purposes. However, the ammo is also often more expensive than other types of revolver ammunition.
How do I choose the right 7.62mm Nagant ammo for my needs?
When choosing 7.62mm Nagant ammo, it is important to consider the intended use. There are three main types of 7.62mm Nagant ammo: full metal jacket (FMJ), hollow point (HP), and soft point (SP). FMJ rounds are typically used for target practice, while HP and SP rounds are designed for self-defense and hunting respectively. Some of the best 7.62mm Nagant ammo are presented in the article. So you may read it and choose the ammo which fits best your needs.
What ammo does a Nagant revolver use?
7.62mm Nagant Ammo is unique ammunition designed specifically for the Nagant revolver. Some of the best 7.62 Nagant Ammo you may find in the article.
Is 7.62 x51 the same as 7.62 x39?
No, 7.62 x51 is not the same as 7.62 x39. 7.62 x51 is a larger caliber than 7.62 x39. 7.62 x51 is typically used in military rifles, while 7.62 x39 is typically used in civilian rifles.
Conclusion
7.62mm Nagant Ammo is a type of ammunition that is used in the 7.62mm Nagant revolver. The ammo is known for its stopping power and ability to penetrate body armor. In this article, we have reviewed some of the best 7.62mm Nagant ammo on the market. We have also provided tips on how to choose the right ammo for your needs.