Affiliate Disclosure: AmmoCave.com sometimes gets paid for listings, through sponsors or affiliate programs like Lucky Gunner, Optics Planet, Brownells, Cabelas, Academy Sports & Outdoors, Rainier Arms, Palmetto State Armory, Sportsman's Guide, Ammo.com, Ammo Man, Primary Arms, MidWayUsa, Amazon, eBay, etс. Clicking a link helps keep AmmoCave.com free, at no extra cost to you!
Authors: Each article is verified by AmmoCave's expert team. Professional hunters, firearm trainers, gunsmiths, and gun experts write the articles. AmmoCave Team independently researches, tests, reviews, and uses recommendations from our community of gun owners. We may earn commissions from shopping links.
Note: The views and opinions expressed in this article are those of the authors and do not necessarily reflect any agency's official policy or position. The articles are for informational purposes only, share your opinions about Best Red Dot For Astigmatism 2023 in the comments and join the discussions. Let's share 💬 our ammo & gun experiences together!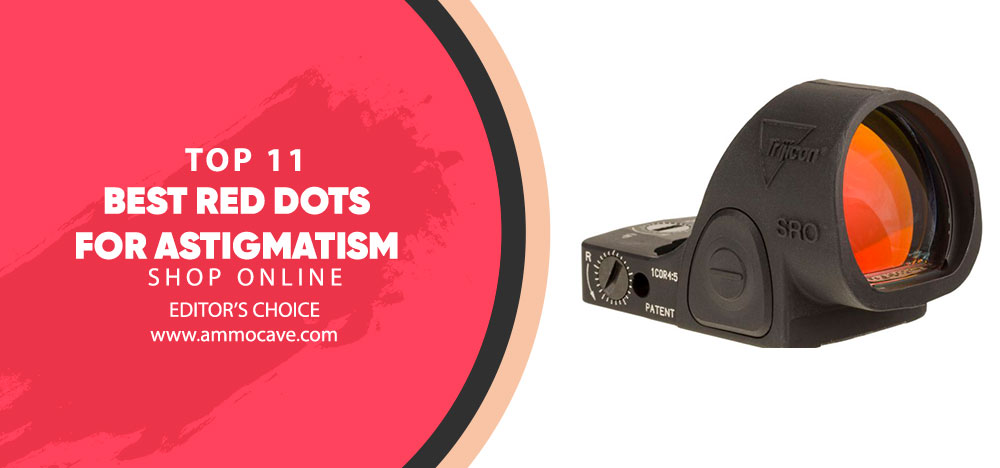 What is Red Dot Sight For Astigmatism? 💡
It is a type of optical device that projects a red dot onto a target, improving accuracy and precision when aiming a firearm. However, people with astigmatism often struggle to use traditional red dot sights, as the red dot appears blurry and distorted, affecting their accuracy.
⚡ A red dot sight for astigmatism features specialized lenses that correct astigmatism and provide a clear and crisp dot. These sights are designed with a larger objective lens, which helps reduce distortion and scattering of light, resulting in a clearer image.
We believe this video can be helpful for you 📺
Features 🔔
🎯 One of the key features is the reticle style.
Many of these sights feature reticles that are more akin to crosshairs, which can help individuals with astigmatism better define the dot.
Some red dot sights also allow you to customize the reticle by changing the size, shape, and brightness to suit your specific needs.
🎯 Another feature to look at is the type of dot itself.
Some manufacturers have created dots that appear more like an actual point source, as opposed to a starburst or halo.
These types of dots tend to be clearer and more defined, which can help with accurate shot placement.
🎯 Another thing to consider is the size of the dot.
For individuals with astigmatism, it may be easier to see a larger dot. However, larger dots can sometimes be harder to work with, especially at longer ranges.
Some red dot sights for astigmatism come with multiple dot sizes that you can choose from, while others have adjustable dots that can change in size.
Our Top Pick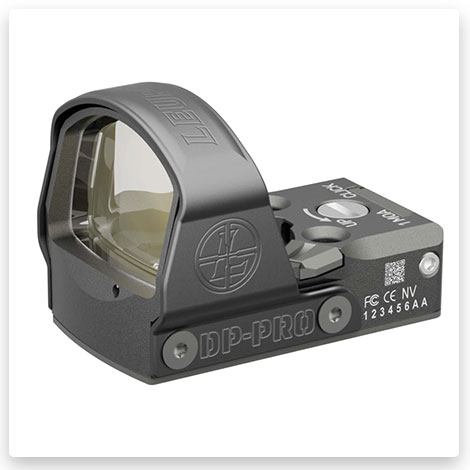 Leupold DeltaPoint Dot Sight
The Red Dot with Diamond Coat is equipped with Motion Sensor Technology (MST), enabling the lights to automatically switch off after 5 minutes of inactivity, or reactivate immediately upon detection of motion.
Buy Now On OpticsPlanet
If you click this link and make a purchase, we earn a commission at no additional cost to you.
How to Fix Astigmatism 👓
🔎 1. Use Astigmatism-Friendly Red Dot Sights
The best way to fix red dot sights for astigmatism is to use sights that are designed specifically for people with this eye condition. Astigmatism-friendly red dot sights use special lenses or coatings to correct the distortion caused by astigmatism.
🔎 2. Use Magnifiers
Magnifiers can help to zoom in on the target and reduce the impact of the distortion caused by astigmatism. Some red dot sights come with built-in magnifiers, while others require a separate magnifier to be attached. Either way, using a magnifier can improve the clarity of the sight picture and make it easier to aim accurately.
🔎 3. Use Prescription Glasses
If you wear prescription glasses for astigmatism, you may be able to fix your red dot sight by simply wearing your glasses while shooting. This can help to correct the distortion caused by astigmatism and provide a clearer view of the target.
🔎 4. Contact Lenses:
Like prescription glasses, contact lenses will correct your vision and ensure that you see accurately through a red dot sight. One advantage of contact lenses is that they provide a wider field of view compared to glasses.
🔎 5. Change the Sight Position:
For some people, moving the sight closer or farther from the eye can help, while for others, a slight adjustment to the angle of the sight can make a difference. Experimenting with different sight positions is an excellent way to find what works best for you.
Best 💣 Red Dot Sight Review
1# Vortex Razor Reflex Red Dot Sight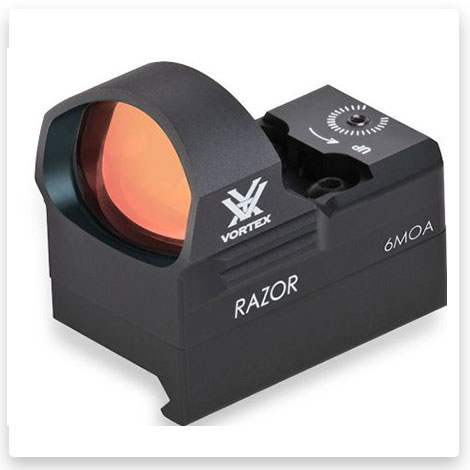 The Wide-Field glass lens with ArmorTek Finish provides perfect edge-to-edge brightness for a crisp sight picture. The Compact sight is available in 3 MOA or 6 MOA dot sizes with the adjustment range for elevation -170 MOA, and for windage – 114 MOA.
The LED red dot with High-intensity, Unlimited Eye Relief centre dot comes with a one-piece Aluminum Alloy chassis to withstand the pistol recoil and a built-in mount for MIL-STD 1913 Picatinny rail installation.
2# Holosun HS507C-X2 Reflex Red Dot Sight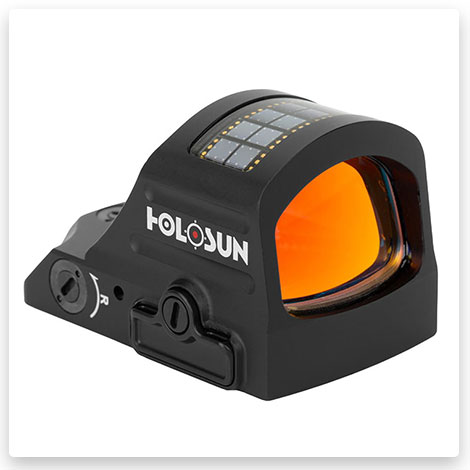 Two models are available with reticle options: ACSS Vulcan or 2 MOA dot, 32 MOA circle. There are 12 brightness settings and multiple reticle modes to match the reticle to the ambient lighting conditions.
The Reflex Red Dot Sight is manufactured of Aluminum (7075-T6) with Black hard-coat anodized, coming without parallax adjustment or mount. The admitted operating and storage temperature of the sight is -30 – 60; -40 – 70 Celsius (correspondingly).
3# Sig Sauer Romeo5 Red Dot Sight with Juliet3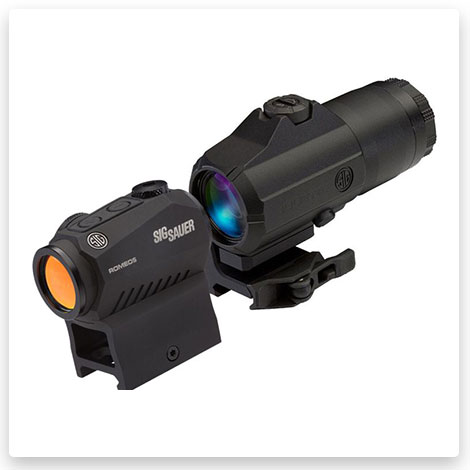 The Compact Red Dot Sight with Adjustable MOA and Fixed Magnification features Motion-sensing technology that activates or deactivates it. The Romeo 5 is equipped with Glass Lens with HDX Coating, Unlimited Eye Relief, a built-in M1913 Picatinny interface for various applications, and a co-witness 1.41-inch riser mount, including a front thread-in and rear flip-back lens protectors. The height is adjusted with the spacers, PowerCam 90-degree Mount can be pivoted to the side if unnecessary. The sight's admitted operating temperature is from -40 to +140 Fahrenheit.
4# Trijicon MOA Red Dot Sight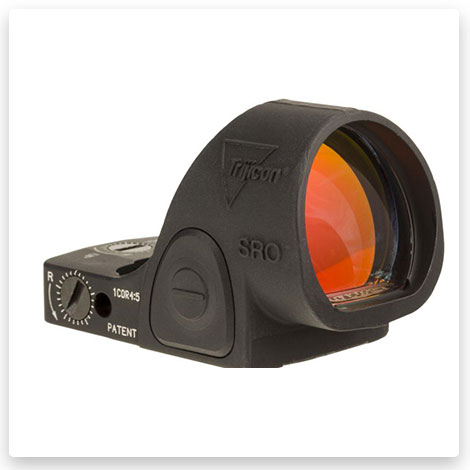 The Red Dot Sight features a wide, unobstructed FOV, which allows it to improve firearm accuracy. The Sight incorporates Glass Lens, Fixed Magnification, durable Aluminum (7075-T6) housing with button "lock-in"/"lock-out" mode, and RMR Attachment, fitting suppressor height iron sights.
5# Athlon Optics Midas Red Dot Sights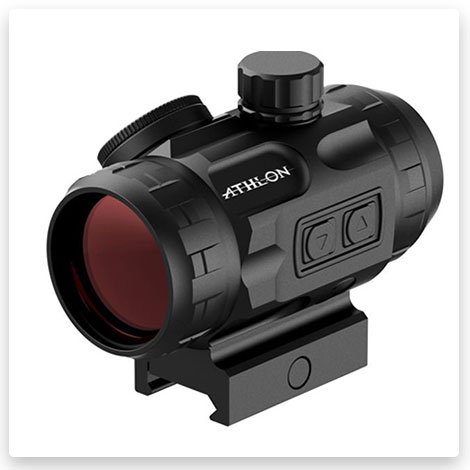 A fully Multi-Coated Glass Lens effectively diminishes reflected light and increases the light transmission delivering a brighter image than normal single-coated lenses. The LED sight with Fixed Magnification comes with Picatinny Rail Mount, which fits most hunting and tactical rifles.
6# Ultradot 30mm Red Dot Weapon Sight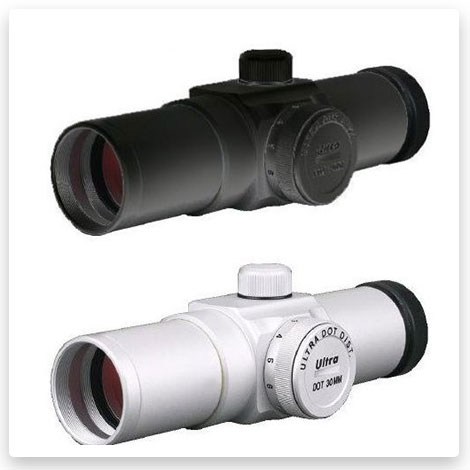 The Red Dot Gun Sight features Fixed Magnification, Adjustable MOA, Red LED illumination, and click-adjustable brightness control for easy adaptation to any lighting condition. The Ultra Dot 30-mm pistol Scope includes a battery, tube extension, polarizing cap, and polarizing filter.
7# Leupold DeltaPoint Dot Sight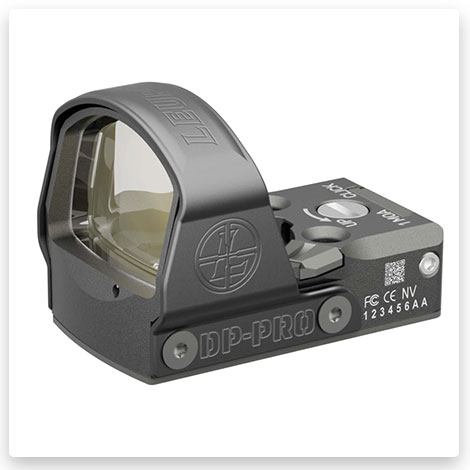 The Red Dot with Diamond Coat integrates Motion Sensor Technology (MST), which automatically deactivates illumination after 5 minutes of inactivity, or activates it at once with movement.
8# Trijicon Red RMR Type 2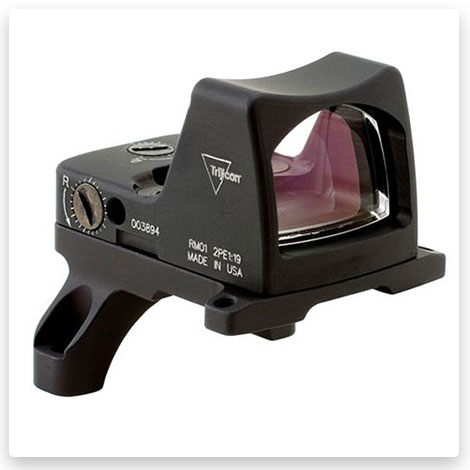 The 3.25 MOA is one of the most versatile size dots, which are available for the RMR sights. The Red Dot Sight is constructed of durable Aluminum (7075-T6) patented housing, keeping the lens safe during strong firearm recoil or other impacts. The battery-powered RM01 LED Sight with Fixed Magnification automatically adjusts the red dot brightness under surrounding lighting conditions due to the sensor.
9# Swampfox Liberty RMR Red Dot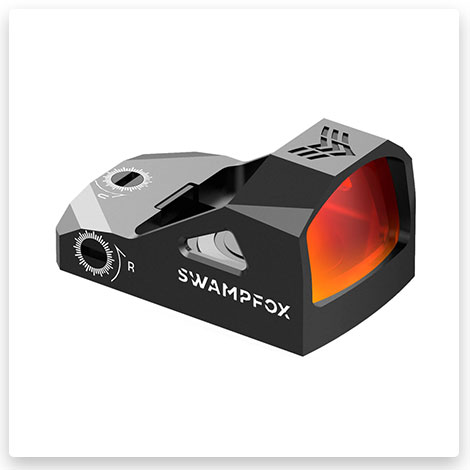 The LED light features a Multi-Coated Glass Lens with a 1x22mm window size, RMR Mount, and a widely-improved life battery. This reflex red dot sight of 7075 Aluminum is appropriate for everyday carrying and law enforcement duty use on carbines, pistols, or shotguns. The Liberty is narrower and shorter than the previous Kingslayer series.
10# Crimson Trace Reflex Sight Moa Red Dot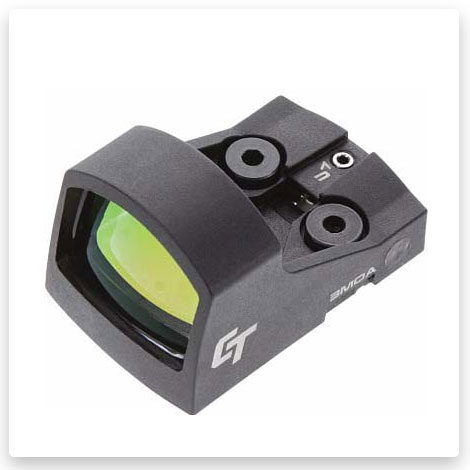 The CTS-1550 Open Reflex Sight is designed for concealed carry handguns (including most 365 XL, 365, Shield, and SCCY), improving pistols' performance. The Electronic Polymer Sight with Notch cut for co-witness is paired with an industry-standard mounting interface.
11# Crimson Trace Corporation Compact Open Reflex Sight For Pistols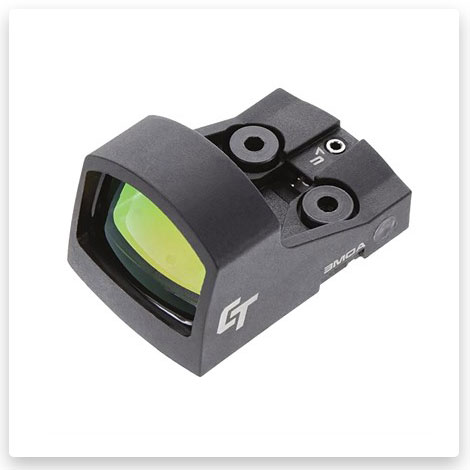 The CTS-1550 uses the industry-standard J-Point or Shield RMSc mounting interface or "footprint" to provide breeze installation on pistols. The sight is outfitted with an ambient light sensor for auto adjustment to the lighting conditions and turning off when it's covered, extending battery life. The underneath battery location ensures a lower profile and co-witness.
How To Mount Red Dot 🔰
📌 1. Choose the Right Mounting System
Picking the right mounting system is essential when mounting your red dot sight. There are various kinds of mounting systems, including Weaver, Picatinny, and more. Ensure that you select a mounting system that is compatible with your firearm.
📌 2. Prepare Your Firearm for Mounting
Always start by unloading your firearm and remove any existing optic or iron sight. Clean the mounting surface thoroughly and remove any oil, residue or dirt from the surface.
📌 3. Attach the Mounting Plate
Attach the mounting plate on the firearm using the provided screws. Make sure you tighten the screws firmly to avoid any movement while shooting. Use a torque wrench to ensure the screws are tight to the manufacturer's specifications.
📌 4. Mount the Red Dot Sight
After attaching the mounting plate, mount the red dot sight on the plate with the screws provided. Ensure that you don't over-tighten the screws, as it may cause internal damage to the red dot sight. Also, ensure that the sight is level and aligned with your firearm.
📌 5. Zero your Red Dot
After mounting the red dot sight, zero it by following the manufacturer's guidelines. This process ensures that your point of aim matches your point of impact.
Please watch this video to learn more information 📺
FAQ 🤠
Conclusion 🤩
A red dot for astigmatism is a great way to improve your vision and make it easier to see clearly. There are many benefits to using a red dot, including improved clarity, focus, and comfort. Red dots work by correcting the shape of your eye so that you can see more clearly. If you're looking for the best item, be sure to check out our top-rated products. We've gathered some of the best options on the market so that you can find the perfect one for your needs. Thanks for reading! 😇
Tags: #best red dot for astigmatism / #best red dot sight for astigmatism / #best red dot site for astigmatism / #best pistol red dot sight for astigmatism / #best pistol red dot for astigmatism