Affiliate Disclosure: AmmoCave.com sometimes gets paid for listings, through sponsors or affiliate programs like Lucky Gunner, Optics Planet, Brownells, Cabelas, Academy Sports & Outdoors, Rainier Arms, Palmetto State Armory, Sportsman's Guide, Ammo.com, Ammo Man, Primary Arms, MidWayUsa, Amazon, eBay, etс. Clicking a link helps keep AmmoCave.com free, at no extra cost to you!
Authors: Each article is verified by AmmoCave's expert team. Professional hunters, firearm trainers, gunsmiths, and gun experts write the articles. AmmoCave Team independently researches, tests, reviews, and uses recommendations from our community of gun owners. We may earn commissions from shopping links.
Note: The views and opinions expressed in this article are those of the authors and do not necessarily reflect any agency's official policy or position. The articles are for informational purposes only, share your opinions about Best Red Dot For AR 2023 in the comments and join the discussions. Let's share 💬 our ammo & gun experiences together!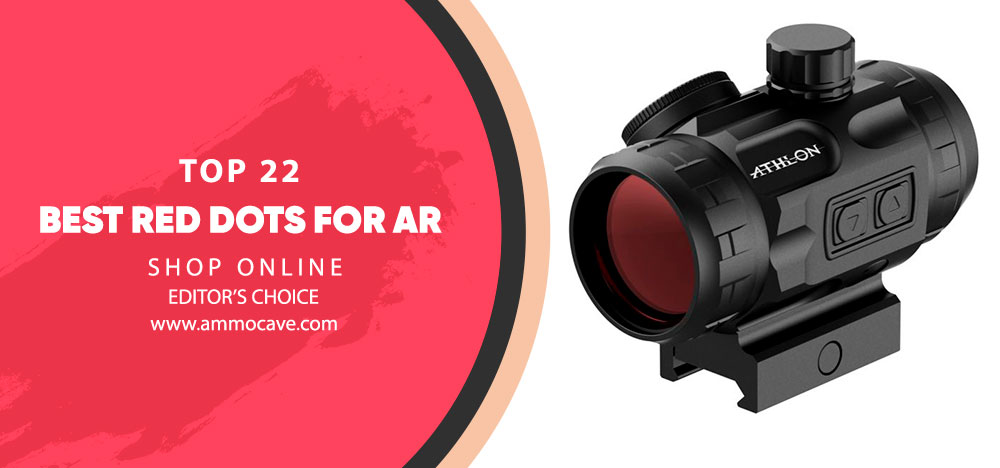 Top 22 Red Dots For AR
Shooting precisely is crucial in all situations. Sometimes, standards setups are not thought to provide the best performance. Therefore, shooters mount additional devices. Red dots are extremely popular among rifle and pistol users. They are simple to use, efficient, and comfortable. Read our list of top models on the market to help yourself. Don't spend your precious time exploring hundreds of dot sights — just rely on our experienced opinion. Here are the Red Dots for AR we can suggest.
#1 Vortex SPARC AR MOA Red Dot Sight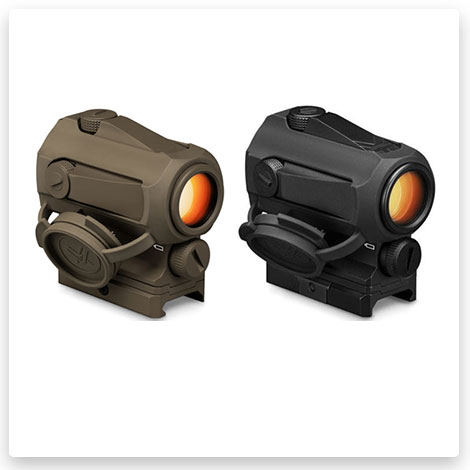 With the new-and-improved dot sight, you can aim with the newest and finest in weapons technology. The completely multi-coated lenses on these Red Dot Sights enhance light transmission while preventing glare and reflection for consistently precise shots. This model's limitless eye relief enables faster and more accurate target acquisition without losing your vision. With the greatly enhanced red dot, you can shoot longer, farther, and quicker.
#2 Vortex Crossfire Red Dot Sight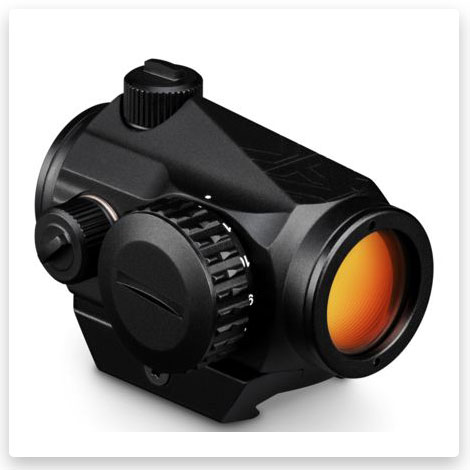 The greatest dot sight on the block is an accurate, trustworthy, and adaptable dot sight. Vortex's Red Dot Sights provide 11 brightness settings for usage in low-light, dusk, and other less-than-ideal circumstances. With a parallax-free design, this model won't hinder your vision with slight motions. The sight has you covered for all of your hunting, tactical, and outdoor needs, day or night. The 2 MOA dot is small enough to acquire quickly in close quarters while being fine enough to encourage pinpoint accuracy at a distance. The Crossfire red dot will remain operating in a range of scenarios because of its 50,000-hour battery life and night-vision compatibility at the lowest two levels.
#3 Aimpoint Pro Patrol Rifle Optic Red Dot Riflescope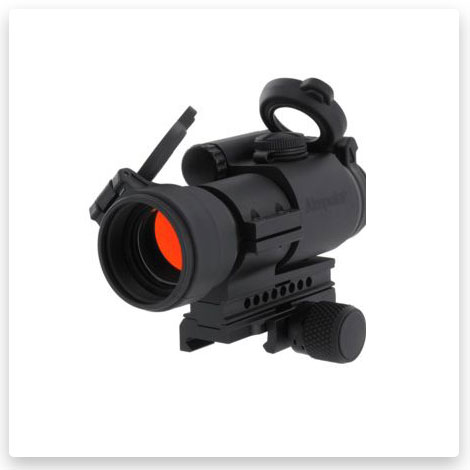 With every use, the next scope will astonish you with its high first shot hit probability and increased speed on target. This Aimpoint redo dot features a 30 mm hard-anodized tube with a high-efficiency circuit that allows the sight to work for up to three years on a single charge. The red dot scope is ideal for use with flat-top AR15, M4, and M16, and mounts simply with the accompanying QRP2 rail grabber attachment. It also has flip-open front and rear lens covers to safeguard your expensive optics, as well as a threaded front lens opening for an anti-reflection device and a clear back cover for emergency usage.
#4 C-MORE Railway Red Dot Sight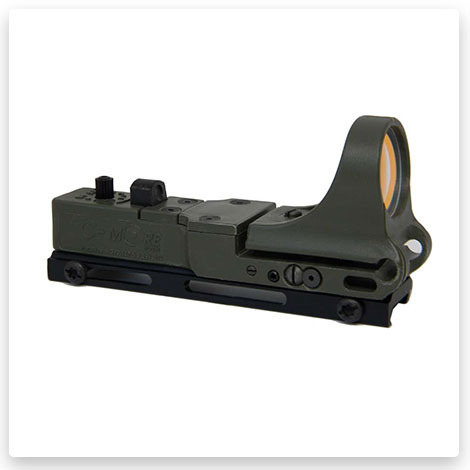 With the built-for-speed red dot sight created by C-MORE, you can take your shooting skills to the next level. This reflex sight has a one-of-a-kind HUD design that enables an infinite field of view while minimizing the impediment and tunnel vision that tube-type scopes are known for. The gadget is particularly adaptable since it can be quickly removed and put on various weapons. With this model, acquiring a target is as simple as pointing and shooting.
#5 Bushnell AR Optics Engulf Red Dot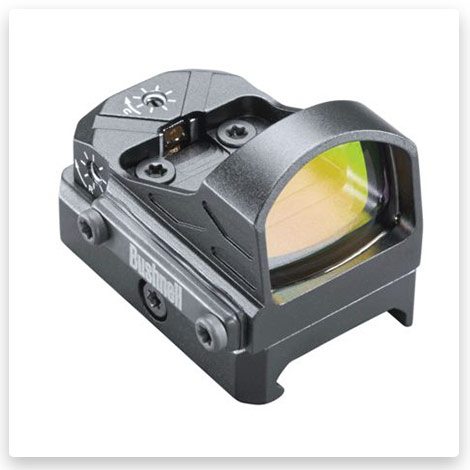 Here is a red dot sight with a micro reflex that may be mounted to a handgun. It uses waterproof, fog-proof, and shockproof optics to project a 5-MOA dot. The small design works with a wide range of semiautomatic handguns, providing for fast and accurate target acquisition. This type is AR Optics' smallest and lightest red dot, making it excellent for close-quarter applications. The weapon pictured is not included. 5-MOA red dot compatible with handguns and rifles. It also features a more powerful battery.
#6 Leupold DeltaPoint Pro Red Dot Sight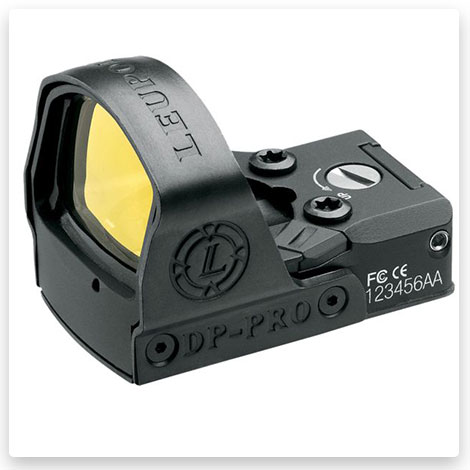 The sight is suitable for any shooter wishing to improve their shooting abilities, and it's fantastic for minimizing acquisition time. The aspheric lens generates a wide field-of-view with some of the best image quality ever seen in a reflex sight, and it's designed by Leupold experts. It's made with a lightweight aluminum housing that's shrouded by spring steel, and it's made with an aspheric lens that generates a wide field of view with some of the best image quality ever seen in a reflex sight. The device's sensor technology detects any movement of the sight and triggers the lighting, which is built into a light tunnel to minimize light signature in tactical scenarios. The spring-activated, tool-free battery compartment allows for quick and easy battery changes while retaining industry-leading 66 feet of waterproofs.
#7 Vortex Spitfire 1x-AR Prism Scope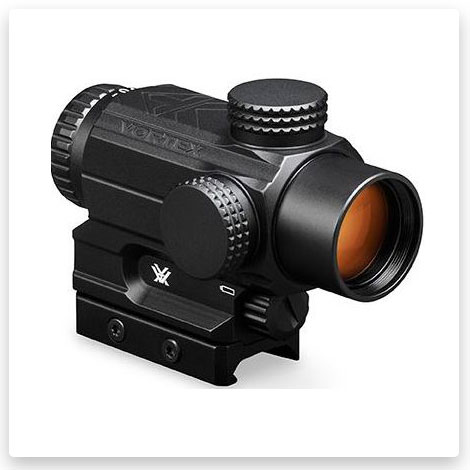 For bright, crisp visuals and quick target acquisition, mount this sight on your AR rifle. This Vortex gadget has straightforward, rear-facing controls for quick access and rapid sight of the power and dot lighting changes. For optimum visibility in all light conditions, choose between a red or green reticle and one of five illumination intensity settings. A red dot sight that is waterproof, fog proof, and shockproof will be your go-to optic for every setting and gun.
#8 Sightmark Wolfhound Red Dot Sight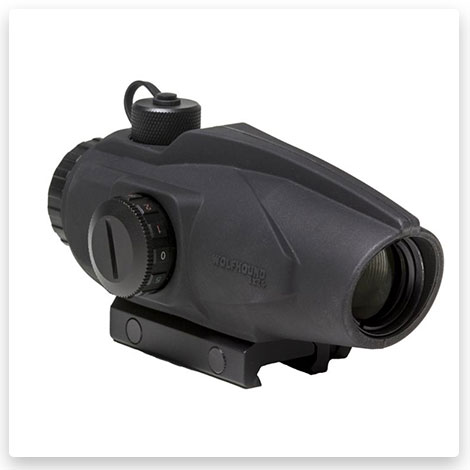 The SightMark scope offers faultless short- to medium-range shots on an AR platform in some tough shooting circumstances, including 3-gun competitions, hunting, and law enforcement applications. This Rifle Scope has a longer than typical eye relief and a ballistically matched sophisticated horseshoe dot reticle. With holdovers ranging from 300 to 900 yards, 223, 55, and 62 grain are used. The sight is completely submersible, waterproof, dustproof, and shockproof. A built-in aluminum Picatinny mount and rubber armor coating are included with the Sightmark rifle scope.
#9 AimPoint Micro Red Dot Sight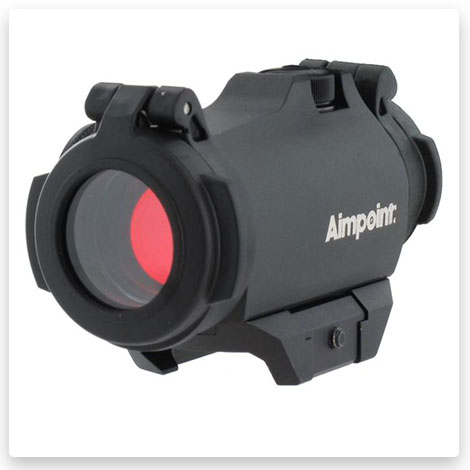 With this model and your selected rifle, you may achieve incredible accuracy. This Aimpoint red dot sight uses ACET technology to provide 50K hours of operation on a single lithium battery, ensuring that you always have a stable point of aim. This model's multi-layer optical coatings deliver the cleanest, brightest images imaginable, enhancing your photography experience. This sight is completely waterproof and made of high-strength aluminum for optimal durability and lightness. 12 brightness settings give you complete control over your sight, allowing you to tailor the dot to changing lighting situations on the go.
#10 Eotech Transverse Circle Dot Reticle Red Dot Sight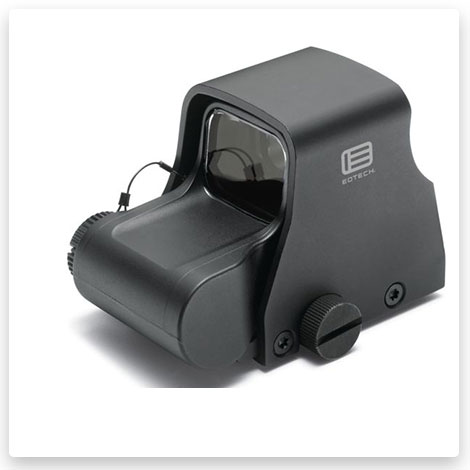 In comparison to the 4 inch N battery sights, Eotech supplies us with the shortest scope, with a base that only takes 2 3/4 inches of rail space at most. This variant is smaller than earlier generations and is powered by a single 123 battery. With three reticle configurations, the XPS3 sight is smaller, lighter, and always quick. This model has more rail space than ever before thanks to the new single battery arrangement, allowing for rear iron sights or a night vision attachment.
#11 Athlon Optics Midas Red Dot Sights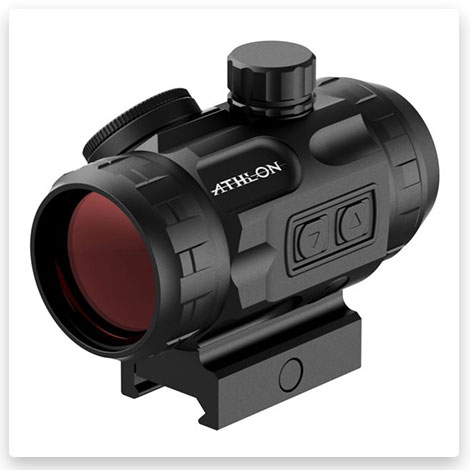 In close-range engagements, the quickness and agility of a red dot are unrivaled. The TSR series of red dots has you covered whether you're shooting an AR or PCC in competition, hunting, or using a red dot on an optics-ready handgun. The TSR series is always ready with a battery life of 50,000 hours and motion sensor activation. When attacking close-range targets, TSR3's broad field of vision allows the operator to keep both eyes open.
#12 SightMark Illuminated Red Dot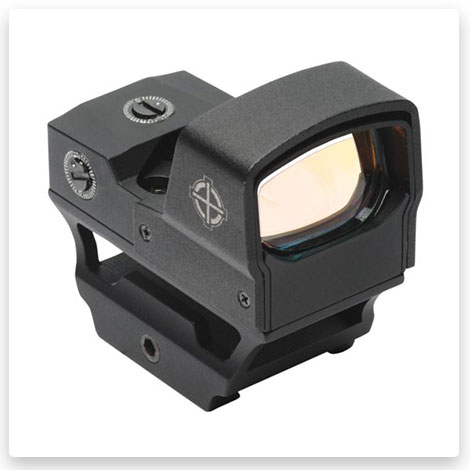 This SightMark Reflex Sight delivers pinpoint accuracy and dependability to high-stakes competition shooting and once-in-a-lifetime hunts for enthusiastic shooters. This model enhances accuracy in leisure, professional, and competitive contexts by providing greater optic performance to shooters. The housing is made of aircraft-grade aluminum for a durable, compact, and lightweight design, with an exterior battery compartment for quicker battery access. The Core Shot comes with a riser mount that works well with ARs.
#13 Burris AR-1X CQB Prism Sight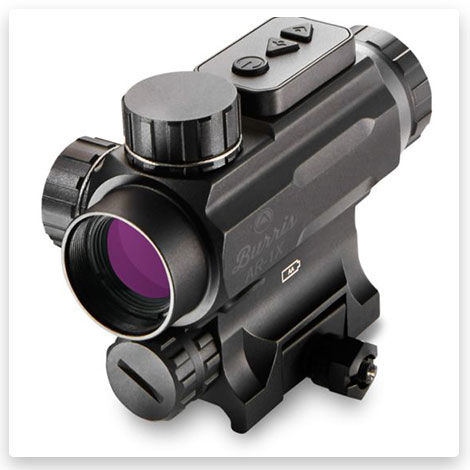 Using the incredible Burris Prism Sight, stay precise with both eyes open. Burris' expertise created this model with a Ballistic CQ 1X Reticle, which is built for quick, high-stakes shooting. The scope's prism is engraved with a black reticle, keeping it useable even when the batteries are dead, and easy push-button operation allows for fast switching between green and red reticle settings. The device's reticle hash markings, which are easy to detect, provide trajectory adjustment out to 600 yards. The tiny design leaves a place on your rail for a flip-out tripler, and one lithium AA battery will last up to 5,000 hours.
#14 Leupold Freedom 1×34 Red Dot Sight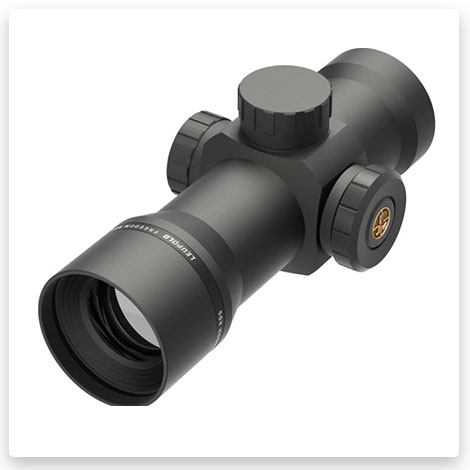 This red dot sight is a wonderfully consistent optic that can be used on any handgun. This model, which has the Twilight Light Max Management system, delivers excellent performance in low light conditions, greater contrast, and reduced glare for a vivid aiming experience that ensures your bullets hit on target. Its waterproof and fog-proof characteristics ensure that it will perform well in inclement weather. Each scope is Punisher tested to ensure its longevity in the field, enduring many test cycles on Leupold's recoil simulation equipment that truly puts this red dot to the test.
#15 Burris Prism Red Dot Sight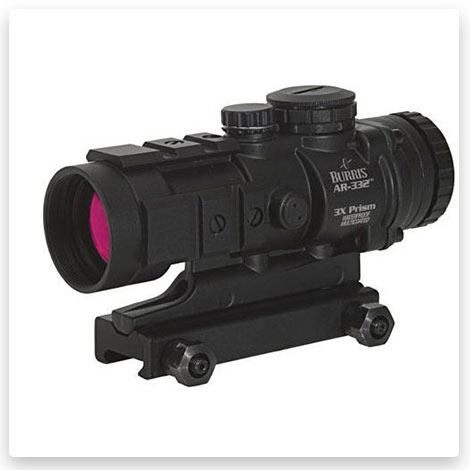 Another fast-acquisition optic version for your AR platform. Burris developed the red dot optic for duty or enjoyment, but many shooters found it especially useful for mid-range target shooting, hunting, or dinging steel targets at close range. This model has a fast-action reticle, three reticle color options, five lighted settings that help you get on target faster and match any light condition, and a fixed 3x magnification. The sight was designed by Burris to be both waterproof and fog-proof, as well as shot- and vibration-resistant.
#16 Burris Tactical Red Dot Sight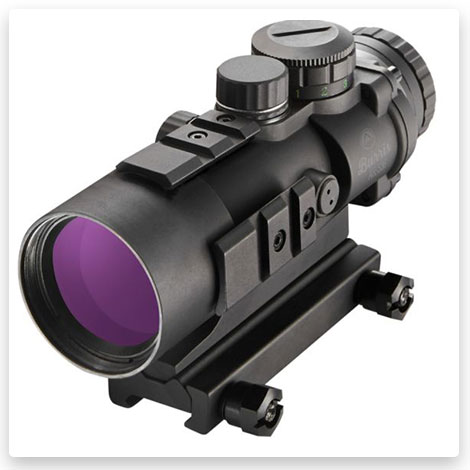 Burris sets the norm for tactical prism sight performance with another red dot sight. This Prism Sight's 5x magnification makes it simpler to locate and engage targets out to 600 yards, while the bigger 36 mm objective provides brighter sharper pictures. The sight has five variable illumination levels, allowing it to adapt to any lighting situation. The renowned Ballistic CQ illuminated reticle is used in this Burris Red Dot Sight, making it perfect for tactical operations or friendly competition. This model will withstand recoil, misuse, and the elements. Multi-coated lenses, an adjustable diopter, integrated lens coverings, and three Picatinny rail mounting points are also included.
#17 Sightmark Wolverine Red Dot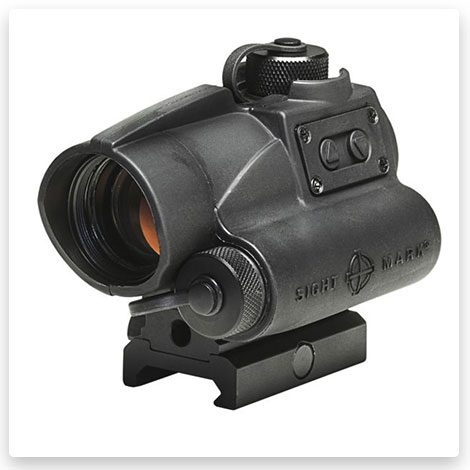 When it comes to this type, it's made for shotguns and rifles with short barrels. This SightMark red dot sight is made of 6061-T6 aluminum and is rubber armored, making it tough enough to last a lifetime. The device's matte coating provides it a military appearance while also reducing reflections for increased stealth. With the dust-resistant, waterproof, fog proof, nitrogen purged, shockproof, and cheap red dot, you can aim in any weather, temperature, or terrain.
#18 Sig Sauer Bravo3 Red Dot Sight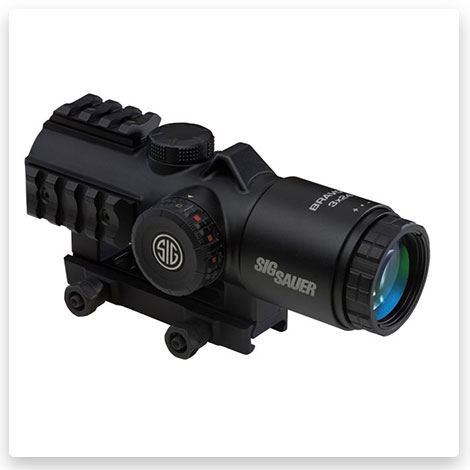 The following opponent is a formidable weapon for your AR/MSR platform rifle. It combines crystal clear fixed power optics with extremely bright lighting to provide a clear image that will help you find your target faster. The sight is meant to work for you and with you, featuring intuitive reticles and durable aluminum housing. Install it on your favorite weapon and experience the Sig Sauer difference.
#19 Aimpoint CompM5 Red Dot Sight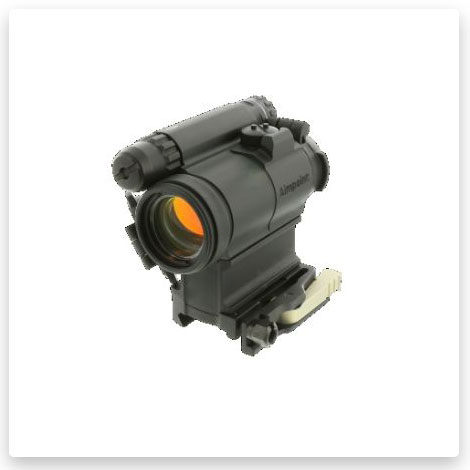 The Aimpoint sight, designed for law enforcement and military use, allows you to shoot with both eyes open while providing increased situational awareness and quicker target acquisition. This model appears to be a wonderful pick, with higher light transmission, 4-night vision, and 6 daylight settings for better accuracy in the day and night, and a 2 MOA red dot for over 50,000 hours of continuous operation. The gadget is keyed onto the mount base for recoil absorption, and advanced optical lenses are contained in a sturdy and lightweight chassis. This strategy is essential when you need to hit your target precisely while remaining aware of your surroundings.
#20 VORTEX OPTICS – SPARC AR RED DOT SIGHT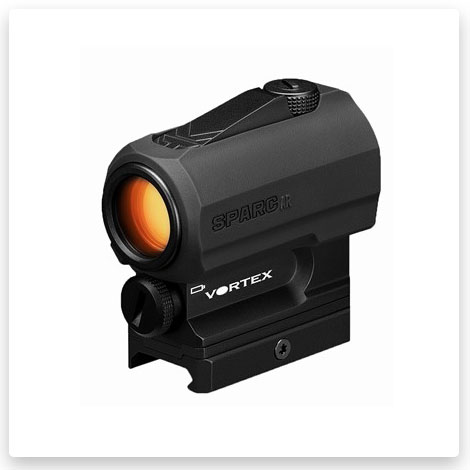 The sight has a bomb-proof-like structure and a small and lightweight form factor, making it ready for any situation. The 2 MOA dot is simple to acquire in close-quarters situations, yet fine enough to encourage pinpoint accuracy at longer ranges. Any AR or equivalent platform can benefit from a unique, integrated basis. Look no farther than this model for outstanding, dependable performance and a plethora of user-friendly features.
#21 LEUPOLD – DELTAPOINT PRO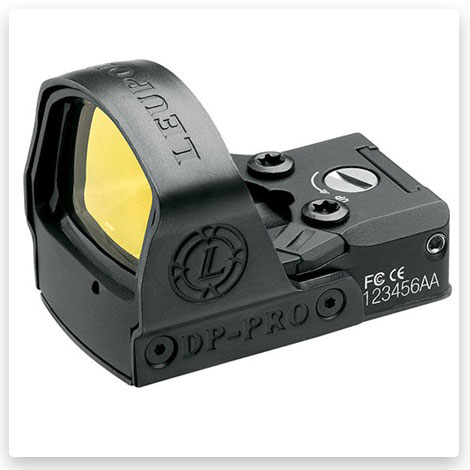 When placed on a pistol, shotgun, or tactical rifle, Leupold's very flexible reflex sight is equally effective. Gives professional marksmen and novice shooters equally traditional, easy red dot aiming that helps them strike the target with speed and precision. For optimal shock resistance, the lightweight aluminum housing is encased with spring steel. The non-magnifying aspheric lens provides a broad field of vision with excellent picture clarity, while Leupold's Motion Sensor Technology detects any movement of the sight and turns it on automatically, eliminating the need to fiddle with switches.
The auto-brightness sensor increases reticle intensity automatically, although it may be bypassed if you prefer manual control. The built-in light tunnel lowers the light signature created by the reticle in tactical settings. The battery compartment may be accessed without using any tools, making battery replacement simple.
#22 VORTEX OPTICS – SPITFIRE 1X-AR PRISM SCOPE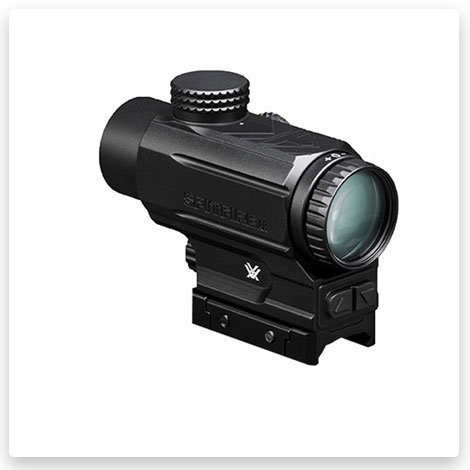 This scope was designed from the bottom up to enhance the quick-handling performance of AR-platform rifles. It has exceptional optical quality and ultra-fast functionality in a light, streamlined compact. Power and lighting intensity settings on the back of the camera are easy to reach, use, stay visible from the shooting position, and are shielded from accidental touch. You may change the intensity to properly match the ambient light conditions with 10 different settings. It's powered by a single AAA battery. The lightweight Spitfire AR, weighing just 11.2 ounces, performs in close-to-medium range shooting conditions where speed is critical, making it the ideal choice for AR shooters who need to get on target quickly.
Conclusion
To submit all we've researched today, we want to point out a few models for both small- and large budgets, so you can save your time, based on our experience.
Bestcheapmodel:
Bestexpensivemodel:
Tags: #best red dot for ar / #best red dot for ar pistol / #best red dot for ar 15 / #best red dot sight for ar 15 for the money / #best red dot sight for ar 15 with fixed front sight