Affiliate Disclosure: AmmoCave.com sometimes gets paid for listings, through sponsors or affiliate programs like Lucky Gunner, Optics Planet, Brownells, Cabelas, Academy Sports & Outdoors, Rainier Arms, Palmetto State Armory, Sportsman's Guide, Ammo.com, Ammo Man, Primary Arms, MidWayUsa, Amazon, eBay, etс. Clicking a link helps keep AmmoCave.com free, at no extra cost to you!
Authors: Each article is verified by AmmoCave's expert team. Professional hunters, firearm trainers, gunsmiths, and gun experts write the articles. AmmoCave Team independently researches, tests, reviews, and uses recommendations from our community of gun owners. We may earn commissions from shopping links.
Note: The views and opinions expressed in this article are those of the authors and do not necessarily reflect any agency's official policy or position. The articles are for informational purposes only, share your opinions about Best 7mm Win Short Magnum Ammo in the comments and join the discussions. Let's share 💬 our ammo & gun experiences together!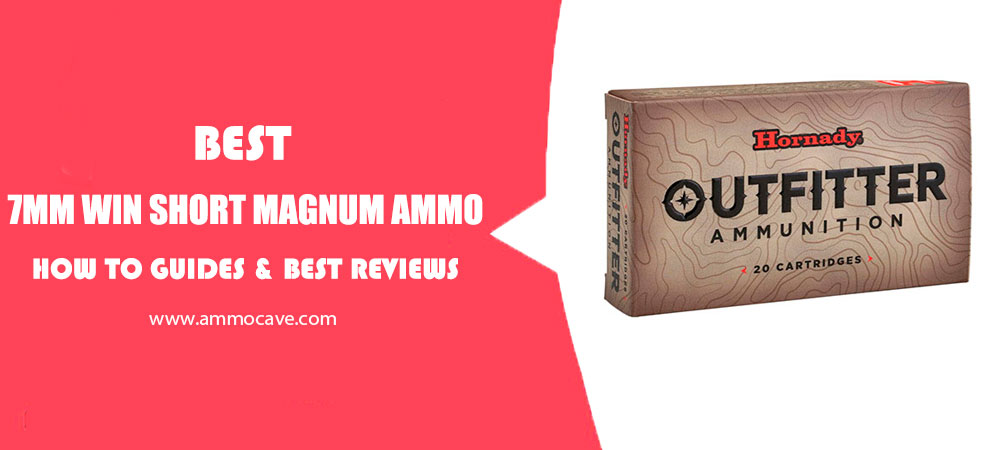 What is 7mm Win Short Magnum Ammo? 🧐
It is a type of centerfire rifle cartridge that was developed by Winchester in 2002 and released to the public. It has a smaller case size as compared to other magnum rounds and is designed for short-action rifles, such as Remington's Model 7.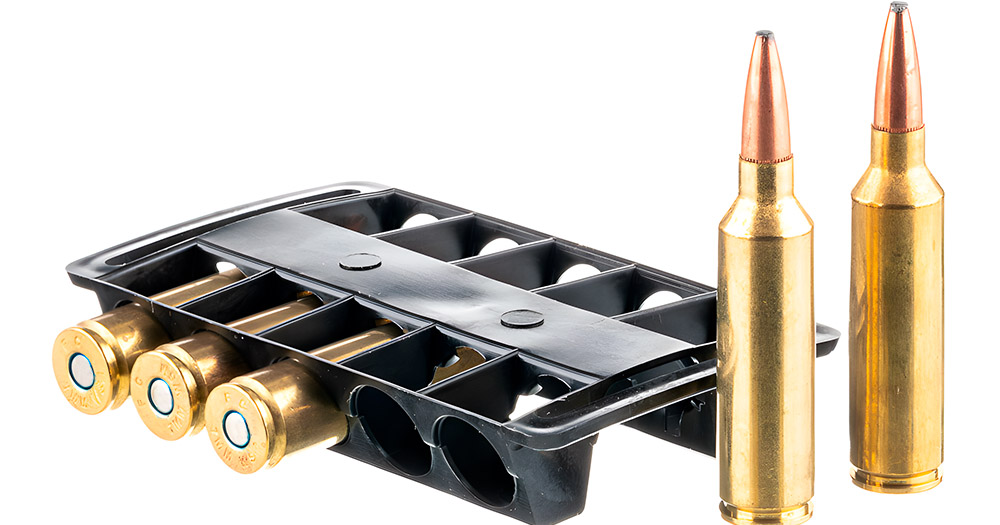 Features 🔥
7mm Winchester Short Magnum (WSM) ammo is a popular choice among hunters and shooters due to its powerful performance and reliable accuracy. Here are the key features:
📝 Ballistics: This ammo is known for its excellent ballistics, offering flat trajectories and long-range accuracy. With a high muzzle velocity and a heavy bullet weight, it delivers impressive energy and stopping power at a distance.
📝 Recoil: While powerful, the recoil of 7mm WSM ammo is manageable for most shooters. It produces less recoil than heavier calibers such as the .300 Win Mag, making it a popular choice for hunters.
📝 Accuracy: This ammo is known for its exceptional accuracy, thanks in part to its high-quality bullets and consistent powder loads.
📝 Terminal Performance: When it comes to big game hunting, it is highly effective, delivering lethal and humane terminal performance.
Our Top Pick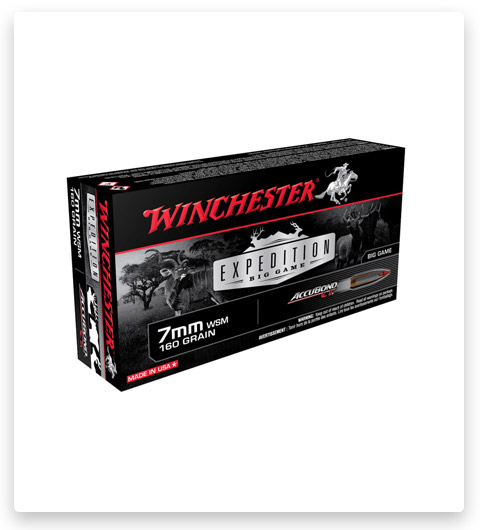 Winchester Ammo 7mm Winchester Short Magnum Expedition Ammunition
The ammunition boasts exceptional precision with a flat trajectory, making it an ideal choice for hunting at longer distances. This ammunition utilizes the bullet, renowned for its toughness and deep penetration, which ensures optimal performance on large games. The controlled expansion feature enables the bullet to penetrate even the thickest hide and bone, delivering tremendous knock-down power. Whether you're planning a hunting trip in remote locations or pursuing your dream game, this ammunition is an exceptional choice for ultimate performance.
Buy Now On OpticsPlanet
If you click this link and make a purchase, we earn a commission at no additional cost to you.
Benefits ✨
7mm Win Short Magnum ammo is a versatile and effective cartridge for hunters and shooters alike. Here are some of the benefits of using:
🔰 High Precision: The round is designed to offer high precision which in turn results in better accuracy. This is due to the bullet's shape and construction, which is often made using lead or copper.
🔰 Versatility: This ammo is an incredibly versatile round that can be used for a variety of hunting applications, including deer, elk, and bear. It is also a great choice for tactical training and competitive shooting.
🔰 Reliability: It is highly reliable, with consistent performance and performance over time. This consistency ensures that you will be able to hit your targets accurately and effectively time and time again.
🔰 Affordability: Despite its superior ballistic performance, this ammo is very affordable compared to some of the other cartridges in its class. This makes it an excellent choice for those who want a high-performance round without breaking the bank.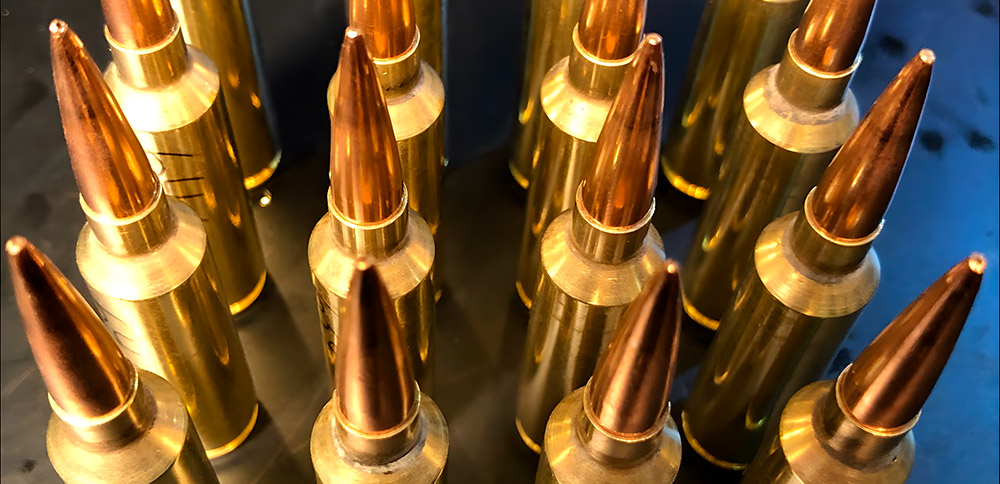 Bullet Drop 🎯
The 7mm Winchester Short Magnum (WSM) is a popular cartridge for big game hunting due to its excellent ballistics and high accuracy.
💣 One of the key factors that contribute to its effectiveness is its bullet drop, which refers to how much a bullet slows down and drops as it travels toward the target.
➡️ The bullet drop depends on several factors, including the weight and shape of the bullet, the velocity at which it is fired, and the distance it needs to travel. In general, a heavier bullet will experience less drop than a lighter one, while a faster bullet will experience less drop than a slower one.
💥 For example, a 140-grain bullet fired from a 7mm WSM at a muzzle velocity of 3,250 feet per second (fps) will drop around 2.7 inches at 100 yards, 7.4 inches at 200 yards, and 14.4 inches at 300 yards.
💥A heavier 160-grain bullet fired at the same velocity will drop around 2.1 inches at 100 yards, 5.7 inches at 200 yards, and 11.1 inches at 300 yards.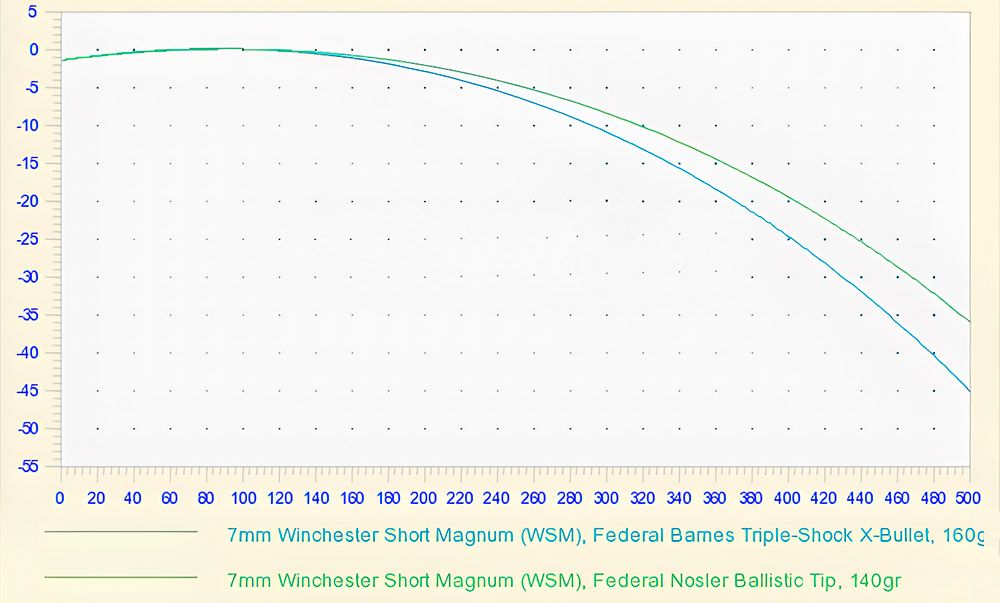 Our Selection 10 Best 🚀 7mm Winchester Short Magnum Ammo –
Editor's Choice
1# 7mm Win Short Mag – 160 Grain Nosler Trophy Bonded Tip – Federal Vital-Shok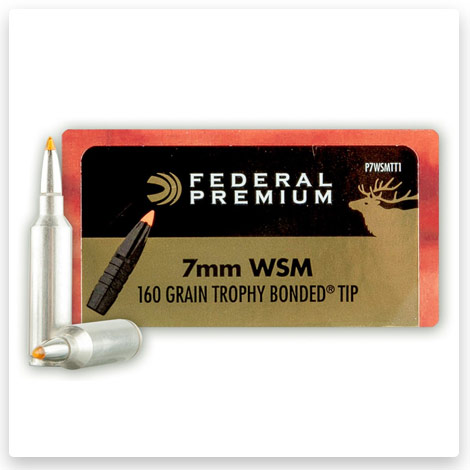 The Federal Vital-Shok 7mm Win Short Mag is precision ammunition at its finest. Each round is loaded with a 160-grain trophy bonded tip bullet, giving you exceptional accuracy and terminal performance. The nickel-plated brass casings ensure smooth feeding and reliable extraction, while the boxer-primed design makes reloading a breeze, this ammunition is perfect for your next hunting trip or competition.
2# 7mm WSM – 150 Grain GMX – Hornady Outfitter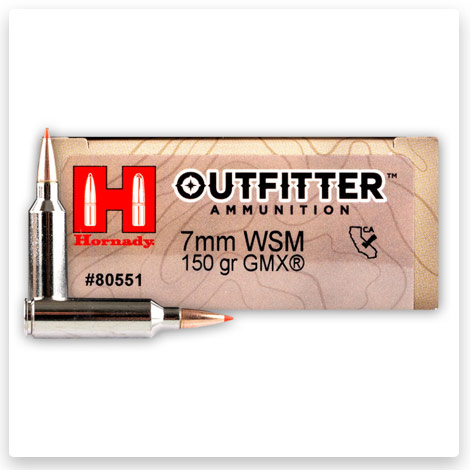 The 7mm WSM Outfitter from Hornady is one of the most powerful and accurate ammo options available on the market today. This round is perfect for long-range shooting, with a muzzle velocity of 3075 fps and muzzle energy of 3149 ft-lbs. The 150-grain GMX bullet delivers unbeatable accuracy and terminal performance, making it the perfect choice for big-game hunting. The nickel-plated brass casing is boxer-primed and reloadable for even more value.
3# 7mm Winchester Short Magnum – 150 Grain Bonded Rapid Expansion Protected Hollow Point –
Winchester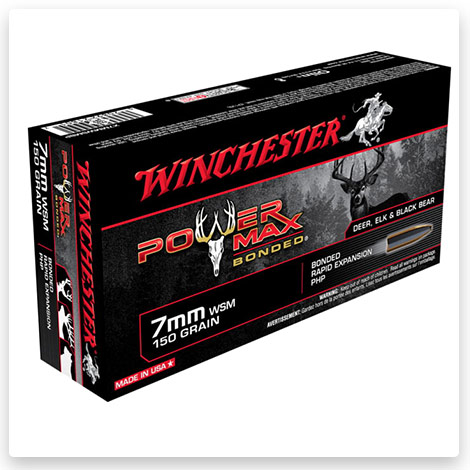 Introducing Winchester's new Power Max Bonded line of ammunition, specifically designed with the whitetail deer hunter in mind. This 7mm Winchester Short Magnum cartridge features a 150-grain Bonded Rapid Expansion Protected Hollow Point bullet, which is bonded to the lead core using a proprietary process that delivers massive expansion, long-range accuracy, and maximum knock-down power. The result is a round that is sure to put down even the biggest and toughest game animals.
4# 7mm Winchester Short Magnum – 150 Grain Power-Point Brass Cased – Winchester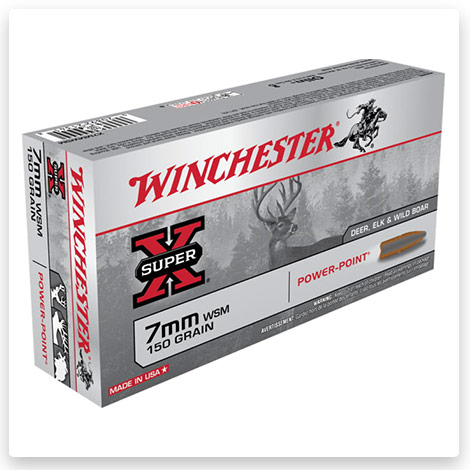 Searching for a powerful round to take down deer? Notice the 7mm Winchester Short Magnum – 150 Grain Power-Point Brass Cased from Winchester. This round is designed for quick and massive knock-down power, thanks to the PowerPoint bullet design. The strategic notching on the bullet provides reliable and consistent expansion, making it a great choice for hunters who demand the utmost in performance.
5# 7mm Winchester Short Magnum – 140 Grain Fragmenting Polymer Tip Brass Cased –
Winchester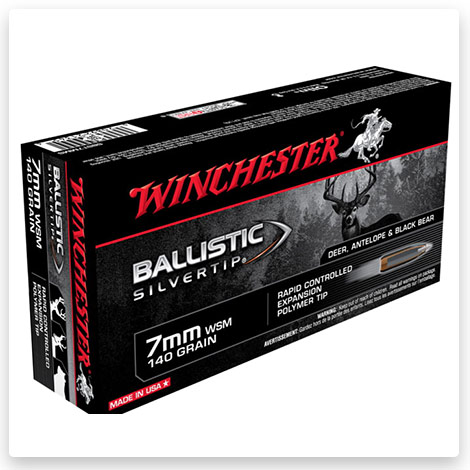 If you are looking for a great option for deer hunting, you should check out Winchester's Ballistic Silvertip 7mm Winchester Short Magnum 140 grain Fragmenting Polymer Tip Brass Cased Centerfire Rifle Ammunition. This ammunition provides hunters with proven immediate knock-down power and extreme precision. The combination of innovation and engineering excellence makes Ballistic Silvertip the perfect choice for those who appreciate the legendary excellence Winchester is known for around the world.
6# 7mm Winchester Short Magnum – 150 Grain Trophy Copper –
Federal Premium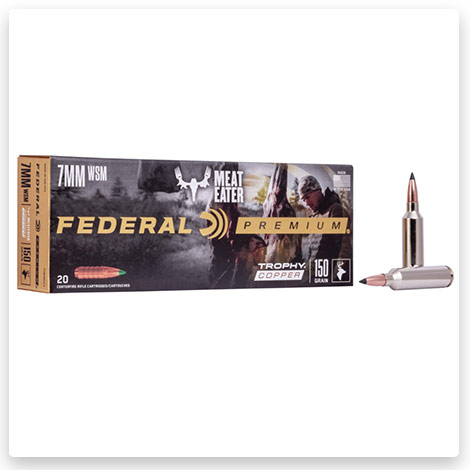 The 7mm Winchester Short Magnum is a high-performance cartridge that is perfect for harvesting big game. The 150-grain Trophy Copper bullet provides pinpoint accuracy and aggressive expansion, while still retaining up to 99 percent of its weight for deep penetration. The nickel-plated brass cartridge case ensures reliable feeding and function in all types of firearms, and the primer style is a centerfire for maximum reliability. With a muzzle velocity of 3140 ft/s and muzzle energy of 3284 ft-lbs, this ammunition is sure to provide the power and performance you need to take down even the biggest game animals.
7# 7mm Winchester Short Magnum – 150 Grain Jacketed Soft Point –
Federal Premium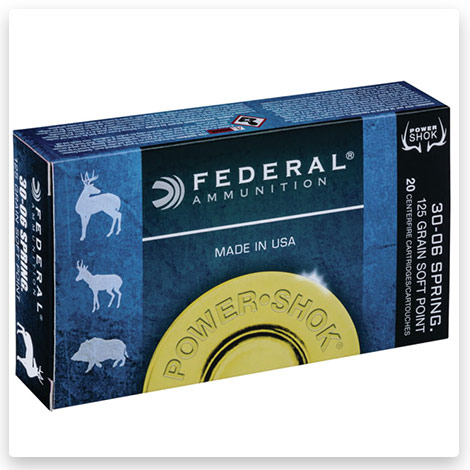 Rely on the ultimate product with Federal Premium Cape-Shok Centerfire Rifle Ammunition because each of the bullets is noncorrosive and you can see deeper penetration and better performance. It is easy to see why this company has repeatedly been ranked one of the best. According to various reviews for the Federal Premium rifle ammunition – it's the toughest and most dependable product for everything from varmints to big game.
8# 7mm Winchester Short Magnum – 160 Grain Nosler AccuBond –
Federal Premium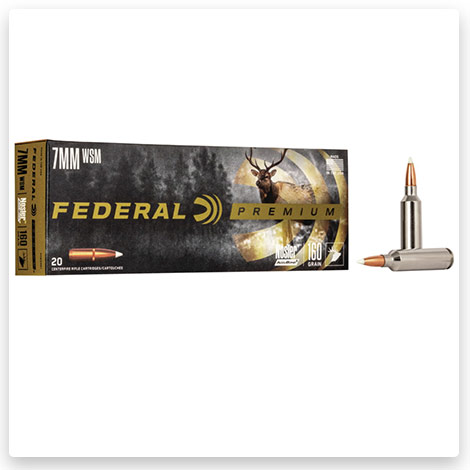 Do you need a high-powered 7mm magnum rifle ammunition that can offer explosive impact and deep penetration? Check out the Federal Premium Vital-Shok 7mm Short Magnum 160gr Nosler AccuBond Rifle Ammo. This specialized ammo features a boat-tail design and bonded bullet construction that provides better-controlled expansion and deeper penetration than conventional ammo. The lead core bonded to a copper-clad steel jacket also helps the bullet expand faster, making it an ideal choice for medium to large games. So when you need reliable, powerful 7mm magnum rifle ammunition, trust Federal Premium to deliver.
9# 7mm Winchester Short Magnum – 150 Grain Gilding Metal eXpanding –
Hornady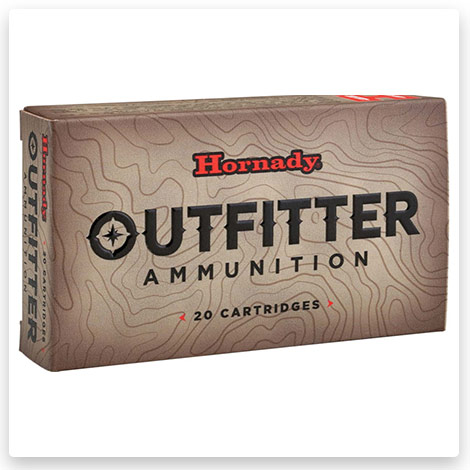 No matter where your next hunt takes you, Outfitter ammunition will be sure to perform. Featuring corrosion-resistant nickel-plated cases that are sealed watertight and topped with the accurate and rugged GMX bullet, Outfitter ammunition is designed for the toughest and most demanding conditions. The GMX bullet provides uniformly controlled expansion, deep penetration, and +95% weight retention – making it the perfect choice for a wide range of hunting situations. So whether you're headed, trust Outfitter ammunition to get the job done.
10# 7mm Winchester Short Magnum – 160 Grain AccuBond –
Winchester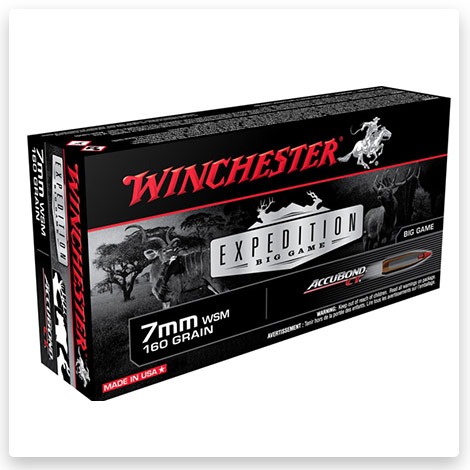 The Winchester 7mm Short Magnum is a big game hunting rifle cartridge that offers flat shooting and pinpoint accuracy. The tough, deep-penetrating Accubond Long Range bullet provides supreme performance on the biggest game, even at longer distances. Controlled expansion allows for penetrating thick hide and bone before delivering massive knock-down power. This is the ultimate performance hunting load for wherever your dream hunt takes you.
Reloading 🧑‍🔧
One of the most common questions about the 7mm Win Short Magnum ammo is how to reload it. There are two main ways for reloading this type of ammunition: manually and with specialized equipment.
🛑 Manually reloading involves measuring, cutting, and loading each cartridge individually, which can be time-consuming.
🔷 However, if you choose to go that route, begin with, you should measure the length of your brass case using a caliper or micrometer.
🔷 Once you have the measurements, use a resizing die or a similar tool to resize the brass before trimming any excess material off with a pair of shears or nippers.
🔷 Next, you will need to weigh your powder charge carefully using a scale and ensure that it is the appropriate weight for your cartridge. You can then load the powder into your case with a funnel or drop tube.
🔷 After the powder is loaded in, use a seating die to seat the bullet of your choice onto the case neck.
🔷 Once everything has been properly loaded, crimp the case neck securely with a crimping tool.
🛑 If you would rather not manually reload each cartridge, there are several pieces of equipment available that allow for faster loading.
🔷 Many gun owners opt for progressive press reloading systems. With this press, you can quickly and reliably reload large batches of cartridges in a fraction of the time it would take to do so manually.
FAQ 🤠
Conclusion 😉
7mm Win Short Magnum ammo is a powerful cartridge that is perfect for hunting medium to large games. In this article, we've looked at some of the best ammo on the market and shared our top picks. We've also provided tips on how to choose the right ammunition for your needs and shared some helpful advice on using these cartridges. Thanks for reading! 😎👍