Affiliate Disclosure: AmmoCave.com sometimes gets paid for listings, through sponsors or affiliate programs like Lucky Gunner, Optics Planet, Brownells, Cabelas, Academy Sports & Outdoors, Rainier Arms, Palmetto State Armory, Sportsman's Guide, Ammo.com, Ammo Man, Primary Arms, MidWayUsa, Amazon, eBay, etс. Clicking a link helps keep AmmoCave.com free, at no extra cost to you!
Authors: Each article is verified by AmmoCave's expert team. Professional hunters and gun experts write the articles. AmmoCave Team independently researches, tests, reviews, and uses recommendations from our community of gun owners. We may earn commissions from shopping links.
Note: The views and opinions expressed in this article are those of the authors and do not necessarily reflect any agency's official policy or position. The articles are for informational purposes only, share your opinions about Best Red Dot in the comments and join the discussions. Let's share 💬 our ammo & gun experiences together!
Red dots are some of the most popular optic sights on the market today. They are simple to use, and they provide a clear sight picture that makes it easy to aim your firearm accurately. In this blog post, we will take a look at some of the best red dots available on the market today. We will discuss what makes these red dots stand out from the competition, and we will give you a few recommendations for models that you may want to consider purchasing for your own shooting needs. So without further ado, let's get started!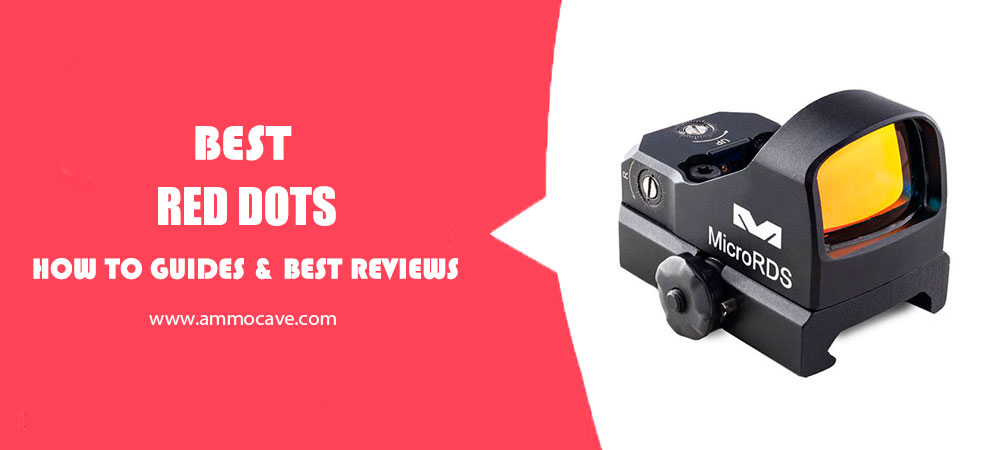 Top 19 Red Dots
#1 Aimpoint CompM4 and CompM4s 2 MOA Red Dot Sight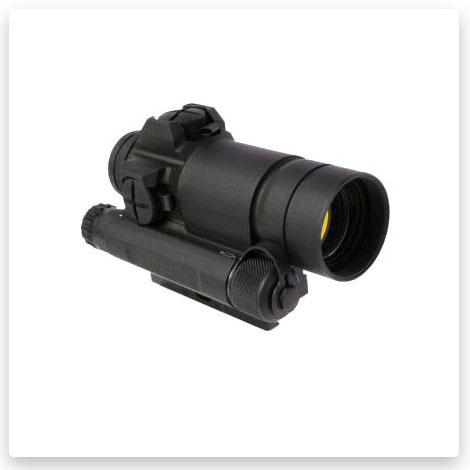 If you are looking for the finest red dot sight that Aimpoint has ever produced, look no further than the Aimpoint CompM4 and CompM4s 2 MOA Red Dot Sight. These sights offer improved energy efficiency, with a single AA battery providing up to 8 years of continuous use. The CompM4 is the latest version of the US Army's M68 CCO (Close-Combat Optic) and is optimized for use with all generations of night vision devices (NVDs). Whether you are a professional shooter or just looking for a high-quality sight for your next hunting trip, the Aimpoint CompM4 and CompM4s Red Dot Sight will not disappoint.
#2 Meprolight Micro Red Dot Sight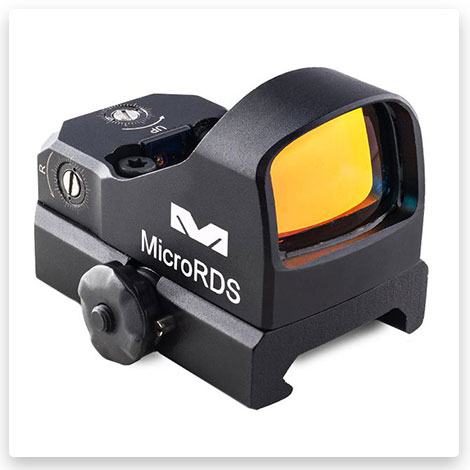 The Meprolight Micro Red Dot Sight is a versatile and easy-to-use sight that is perfect for both handguns and rifles. The red or green LED light ensures optimum accuracy, while the patent-pending quick-release mount allows for quick and easy attachment or removal. This site is also unique in that it can be mounted so close to the slide that you can operate it without any obstruction, making it the perfect choice for low light or no light conditions.
#3 Steiner P7TR Reticle Red Dot Sight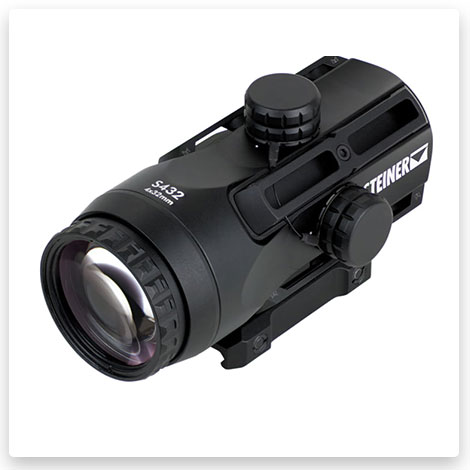 The Steiner P7TR Reticle Red Dot Sight is a reliable and sturdy option for those looking for an enhanced sight for their firearm. The wide field of view is perfect for remaining aware of your surroundings, while the 4x magnification allows you to target enemies from 800 meters away with ease. Additionally, the P7TR features Picatinny compatibility for easy mounting, making it a great option for upgrading your current platform. With its rugged design and superior optics, the Steiner P7TR Reticle Red Dot Sight is a top choice for anyone in need of a reliable sight.
#4Holosun Red Dot Sight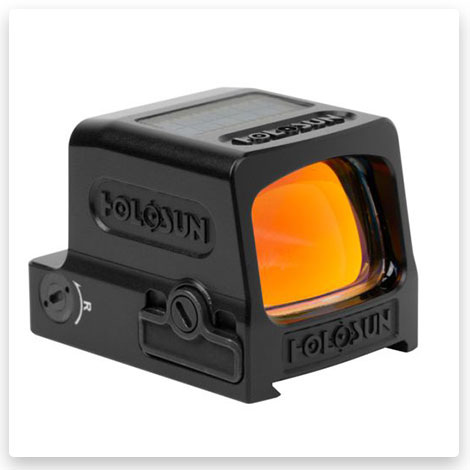 The Holosun HE509Ts are enclosed reflex handgun Red Dot Sights that provide a large field of view (FOV) paired with useful features to help you stay on target while greatly reducing target acquisition time. The HE509T pistol red dot has a tough, lightweight titanium housing with an enclosed design for better protection against the elements than open reflex optics. The multi-coated lenses provide a bright, crisp sight picture in any condition. Plus, the parallax-free views and unlimited eye relief offer maximum ease and comfort for nearly any shooting activity.
#5 Sig Sauer Romeo3XL Red Dot Sight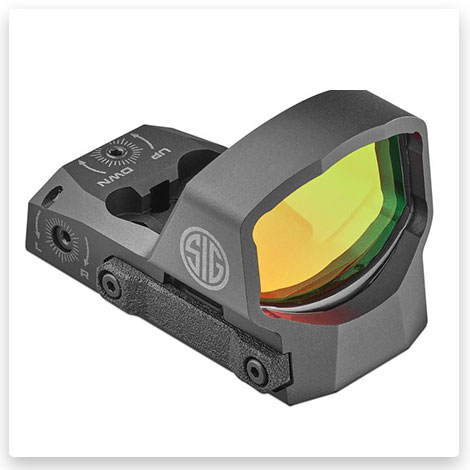 The SIG SAUER Romeo3XL is a high-performance red dot sight that's perfect for nearly any application. This site features aircraft-grade aluminum housing that's rugged yet lightweight, and the waterproof and fog-proof performance allows you to acquire targets in any weather conditions. The Sig Romeo 3XL 1x35mm Red MOA Dot Sight conserves power through the MOTAC (Motion Activated Illumination System) that turns the optic on when it senses motion and powers down when it does not. So whether you're using it for hunting, tactical operations, or target practice, you can be sure of enhanced precision with the SIG SAUER Romeo3XL Red Dot Sight.
#6 Hi-Lux Optics Red Dot Sights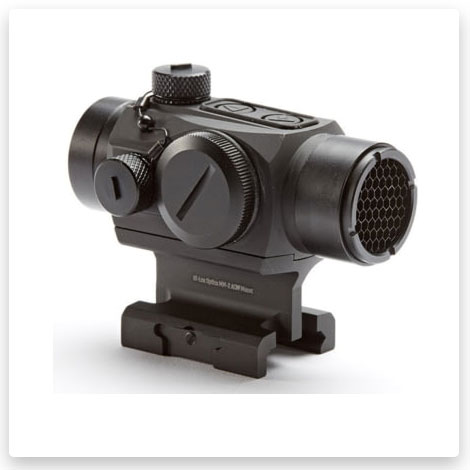 Introducing the Hi-Lux Optics MM-2 Red Dot Sight. This tough and rugged sight can take a beating and keep on working when you need it most. Featuring an absolute co-witness mount, it easily attaches to any Weaver-style one-piece base. With 1X20 magnification, it is brighter and more powerful in sunny conditions. In tense tactical situations, the Hi-Lux b-Dot LED sight has your back. Order yours today and be prepared for anything.
#7 Holosun Reflex Red Dot Sight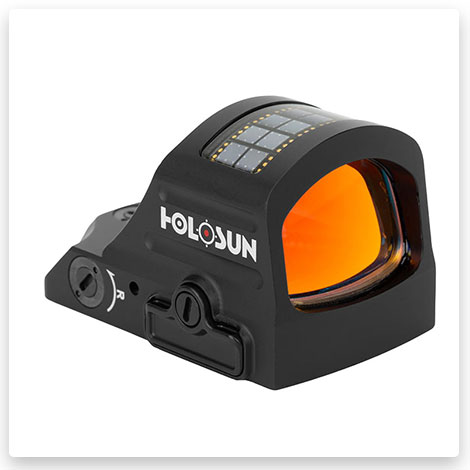 The Holosun HS507C X2 is an updated version of the popular HS507C red dot sight, and it is the perfect optic to improve your accuracy and performance with your pistol, rifle, or shotgun in close to medium-range engagements. Holosun designed this reflex sight with multi-coated lenses and a red circle/dot reticle for clear views in any environment, and it offers unlimited eye relief for maximum comfort while practicing at the range or protecting others in the field. This open reflex weapon sight offers some upgrades over its predecessor, including Lock Mode to prevent accidental operation and an ergonomic button layout for easy access. The Holosun HS507C X2 Reflex Sight is perfect for CQB engagements, and you can get up to 50,000 hours of battery life with this sight.
#8 TrijiconA Reticle Red Dot Sight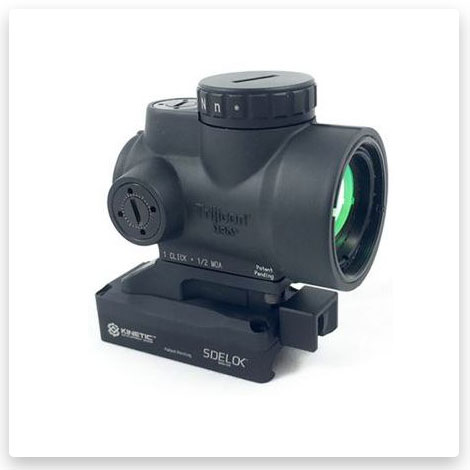 If you're looking for a powerful reflex sight that will help you acquire targets faster, the Trijicon MRO 1×25 Red Dot Sight is a great option. This site is designed for use with rifles, carbines, and shotguns, and features a large viewing area that makes it easy to engage targets. The multi-coated lenses and advanced electronics provide crisp, clear views in nearly any condition, while the 7075 forged housing and fully-sealed construction make the sight incredibly durable.
#9 Sightmark Wolfhound Prismatic Weapon Red Dot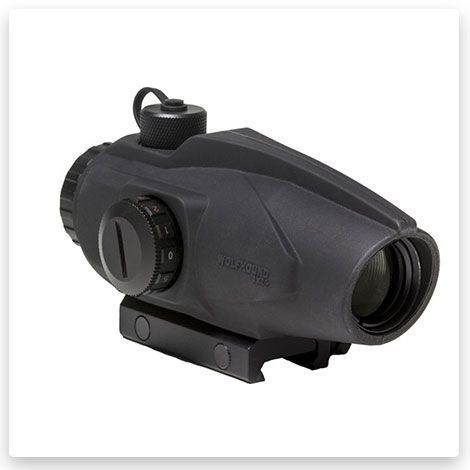 The Sightmark Wolfhound Prismatic Weapon Red Dot is an excellent choice for short- to medium-range shots on an AR platform. With its advanced horseshoe dot reticle and longer-than-average eye relief, this site is perfect for a variety of applications, including 3-gun competitions, hunting, and law enforcement.
The Wolfhound's reticle is ballistically matched to .223, 55, and 62 grain with holdovers from 300 to 900 yards, making it an ideal choice for targeting at range. The site is also fully submergible, making it 100% waterproof, dustproof and shockproof. Additionally, the Wolfhound includes a built-in aluminum Picatinny mount and rubber armor finish for added durability.
If you're looking for a high-quality, reliable optic for your AR platform rifle, the Sightmark Wolfhound Prismatic Weapon Red Dot is an outstanding choice.
#10 Steiner P7TR Reticle Red Dot Sight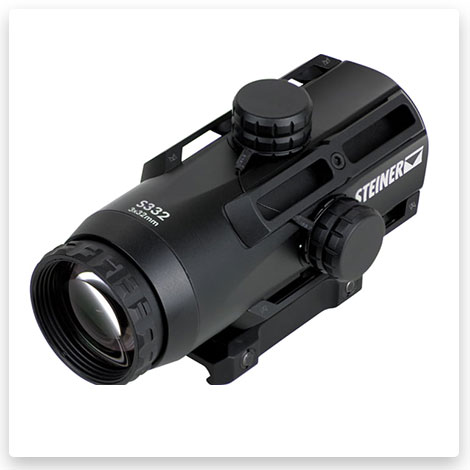 The Steiner S332 Red Dot Sight is a top-of-the-line optic that is perfect for both hunting and tactical operations. This site features a large eye box that provides extended eye relief, making it more comfortable to use. The Rotary Digital Control illumination system allows you to adjust the reticle brightness to perfectly match your environment. Additionally, this site is built with rugged construction to withstand the rigors of combat. So if you're looking for an optic that will provide enhanced accuracy without sacrificing situational awareness, then the Steiner S332 Red Dot Sight is the perfect choice for you.
#11 Vortex SPARC Red Dot Sight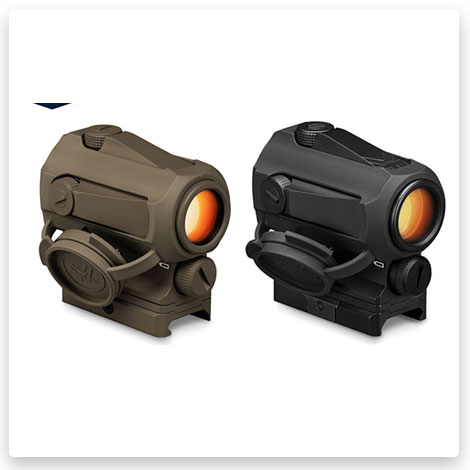 Do you want to take your shooting game to the next level? Check out the new Vortex Sparc II AR Red Dot Sight. These red dot sights feature fully multi-coated optics that optimize light transmission and prevent glare and reflection, so you always have a clear shot. With unlimited eye relief, the Sparc II allows for faster target acquisition without sacrificing your vision. So you can shoot longer, further, and faster with ease. Get the competitive edge with the Vortex Sparc II AR Red Dot Sight.
#12 Falke Red Dot Reflex Sight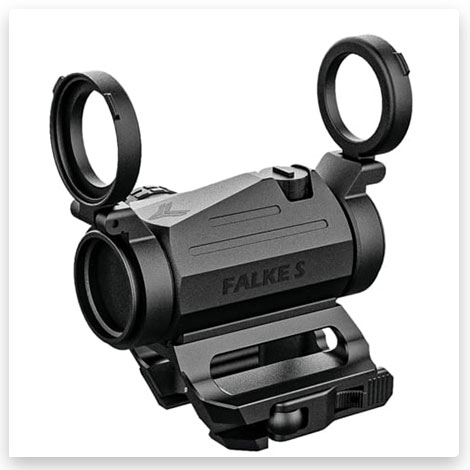 The Falke S is one of the best red dot sights that was engineered and designed in Germany. It comes with a host of features that makes it one of the most technically advanced sights on the market, such as a battery life of almost 200,000 hours, a clear 2 MOA point, and the ability to be used in any light or weather conditions. This site was put through rigorous testing to ensure that it can withstand even the most extreme conditions, such as 10m water depth, extreme temperatures from -60 Celsius to +70 Celsius, and shock and recoil up to cal. 338LM. With its superior build quality and wide range of features, the Falke S is the perfect sight for any situation.
#13 C-MORE Railway Red Dot Sight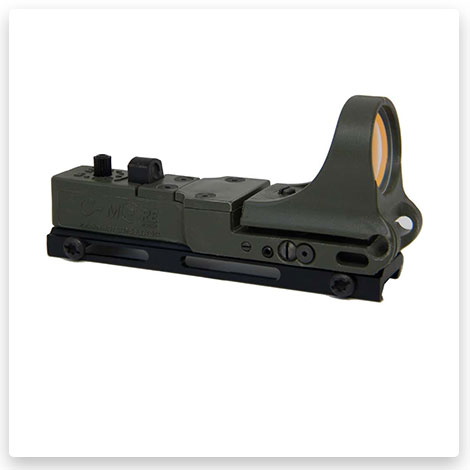 The C-MORE Railway Red Dot Sight is a top-of-the-line reflex sight that provides an unlimited field of view, making it perfect for speedy target acquisition. The Heads-Up-Display design eliminates tunnel vision and allows for quick and easy installation on other weapons. This versatile sight is perfect for any shooter looking to take their game to the next level.
#14 Burris FastFire MOA & 8 MOA Red Dot Sight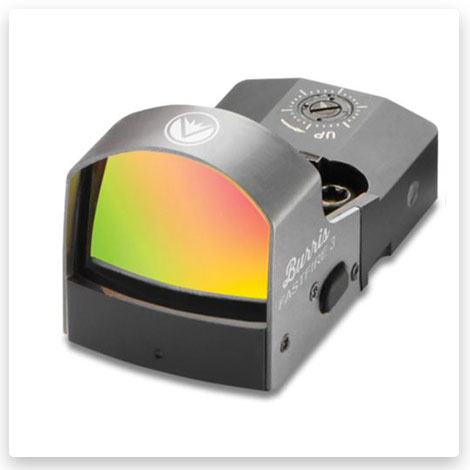 If you're searching for a versatile and reliable red dot sight, the Burris FastFire 3 is a great option. Available in 3 MOA or 8 MOA reticle options, this reflex sight is perfect for mounting on a rifle, shotgun, or handgun. With a Picatinny/Weaver mount, the FastFire 3 is easy to install and use. The automatic brightness sensor ensures that the reticle is visible in all lighting conditions, while the 3 manual settings give you even more control. The top-access battery compartment means you don't have to remove the sight to change the battery (CR1632 included), and the 8-hour automatic time-out feature helps extend battery life.
#15 TRYBE Optics 3 MOA Micro Red Dot Sight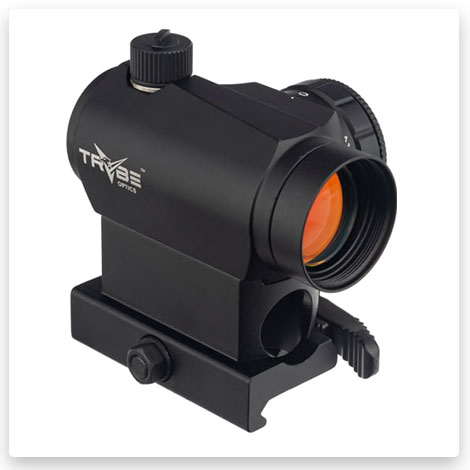 The TRYBE Optics 3 MOA Micro Red Dot Sight w/ QD Riser is a reliable sight that quickly acquires targets with pinpoint precision. This site features adjustable illumination with 11 brightness settings, so you can match your reticle to your ambient lighting conditions for optimal performance. This site is also built tough to handle harsh weather conditions and provides 1,000 hours of runtime when set to medium brightness. Dominate targets at the range or in the field with the ultra-bright and crisp dot of this TRYBE Optics 3 MOA Waterproof Micro Red Dot Sight w/ QD Riser.
#16 VORTEX OPTICS RAZOR RED DOT SIGHT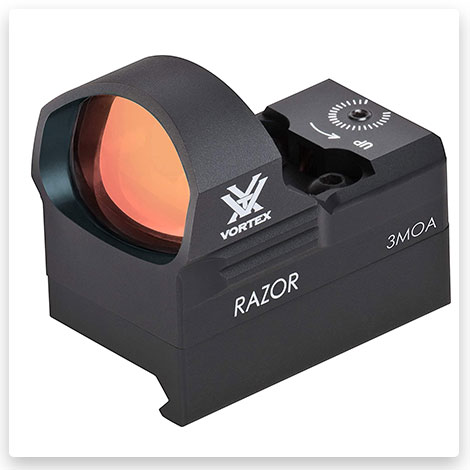 If you need a compact, accurate, and rugged red dot sight, take a look at the Vortex Optics Razor. This site is perfect for short- to mid-range shots, and with its wide-field glass lens and scratch-resistant coating, you'll have a clear sight picture no matter what the conditions are. The high-intensity center dot is available in 3 or 6 MOA sizes, and with 10 brightness settings, you can use this sight in any light condition. The Razor also features a built-in mount for MIL-STD 1913 Picatinny rail installation, making it easy to install on your favorite firearm. So if you're looking for a top-of-the-line red dot sight that will stand up to anything you throw at it, pick up a Vortex Optics Razor today.
#17 C-MORE SYSTEMS RAILWAY RED DOT SIGHT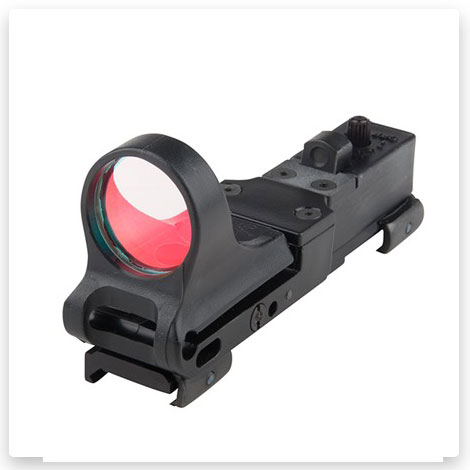 If you wish to find a quick and easy way to add a red dot sight to your firearm, the C-More Systems Railway is the perfect solution. This rugged and versatile sight can be attached to any Weaver or Picatinny rail-mounted gun, making it ideal for use on everything from rifles and shotguns to handguns and crossbows. The sight's 8 MOA red dot reticle is perfect for rapid target acquisition, while its black finish ensures that it won't reflect light and give away your position. With a battery life of up to 1500 hours, you can be sure that the Railway will be ready when you need it.
#18 VORTEX OPTICS SPARC SOLAR RED DOT SIGHT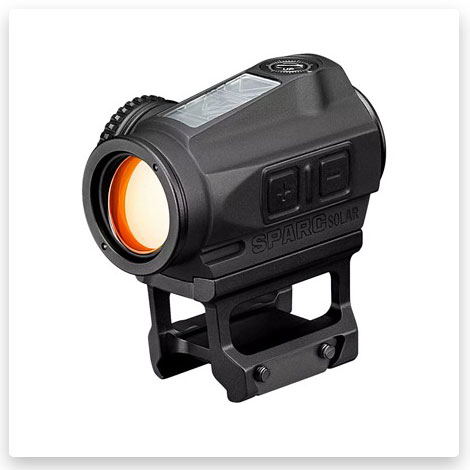 The latest iteration of Vortex's SPARC series of red dots is now powered by the sun for up to 150,000 hours of battery life. The SPARC SOLAR is Vortex's smartest red dot to date, featuring an Auto D-TEC that automatically switches from solar to battery power when the sun can't power the dot. The dot is motion activated and always ready, with daylight bright, 2 MOA dot that provides a clear, precise point of aim. The SPARC SOLAR is a great choice for anyone who wants a reliable, high-performance red dot sight that they can rely on day or night.
#19 VORTEX OPTICS CROSSFIRE RED DOT SIGHT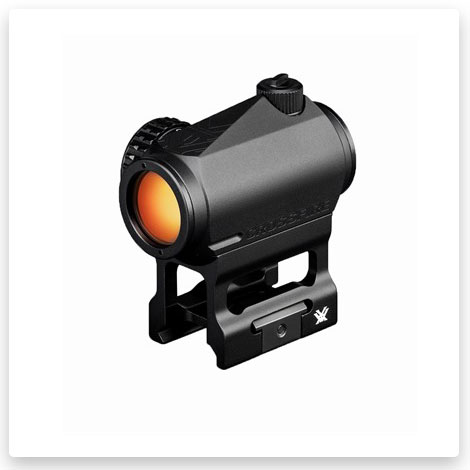 If you're looking for an affordable red dot sight that doesn't skimp on performance, the Vortex Optics Crossfire should be at the top of your list. The 2 MOA dot is quick to acquire in close-quarters scenarios while remaining fine enough to promote pin-point accuracy at an extended range. The included skeletonized lower 1/3 co-witness mount provides a rock-solid and extremely lightweight platform for your red dot, and the improved battery life of up to 50,000 hours and 2 night-vision illumination settings make it a great choice for any application.
FAQ
What are Red Dots good for?
Red Dots are popularly used for fast target acquisition, as they allow the shooter to simply place the dot on the target and shoot, without the need to align the sights. Red dots are especially popular with tactical shooters and hunters, as they can be used with both eyes open, providing greater situational awareness.
Can you use a red dot if you have astigmatism?
The answer is yes! There are a few different ways to make this happen. The first option is to purchase a red dot sight that has an adjustable diopter. This will allow you to dial in the perfect setting for your eyesight. Another option is to purchase a red dot sight with an eyepiece that has a built-in diopter correction. This is a great solution if you don't want to mess with fiddling with an adjustment knob.
Do red dot sights work at night?
Yes, red dot sights work at night. However, they may not be as effective as during the day. It's recommended to use a red dot sight in conjunction with night vision goggles for the best results.
How do red dot sights work?
Red dot sights work by reflecting a red dot of light off of a glass lens and into the user's eye. This allows the user to see a bright, red dot superimposed over their target.
How far is a red dot accurate?
A red dot sight is accurate at close range because the dot covers a very small area of the target. The further away the target, the larger the area covered by the red dot and the less accurate the sight. A red dot sight is most accurate at close range, between 15 and 25 yards. Beyond that distance, the red dot becomes less precise.
Do you need to zero a red dot?
No, you do not need to zero a red dot. Red dots are designed so that they can be used without being zero. This is because red dots project an aiming point onto the target, rather than using traditional crosshairs. This means that as long as the red dot is on the target, the shot will be accurate. Zeroing a red dot is only necessary if you want to adjust for windage and elevation.
How long do red dot sights last?
The answer to this question depends on the brand and model of red dot sight that you purchase. Generally speaking, however, most red dot sights will last for several years with proper care and maintenance. If you are looking for a red dot sight that will last a lifetime, then it's recommended to check out some of the higher-end models on the market.
Conclusion
When it comes to Best Red Dots, there are a lot of things to consider. We hope that this buyer's guide has helped you figure out what you need and given you some useful tips for purchasing your red dot sight. Remember to always do your research before making a purchase and be sure to ask questions if you're unsure about anything!
Tags: #best red dot sight / #best red dot for ar / #best budget red dot / #best pistol red dot / #best red dot