Affiliate Disclosure: AmmoCave.com sometimes gets paid for listings, through sponsors or affiliate programs like Lucky Gunner, Optics Planet, Brownells, Cabelas, Academy Sports & Outdoors, Rainier Arms, Palmetto State Armory, Sportsman's Guide, Ammo.com, Ammo Man, Primary Arms, MidWayUsa, Amazon, eBay, etс. Clicking a link helps keep AmmoCave.com free, at no extra cost to you!
Authors: Each article is verified by AmmoCave's expert team. Professional hunters, firearm trainers, gunsmiths, and gun experts write the articles. AmmoCave Team independently researches, tests, reviews, and uses recommendations from our community of gun owners. We may earn commissions from shopping links.
Note: The views and opinions expressed in this article are those of the authors and do not necessarily reflect any agency's official policy or position. The articles are for informational purposes only, share your opinions about Best SKS Muzzle Brake 2023 in the comments and join the discussions. Let's share 💬 our ammo & gun experiences together!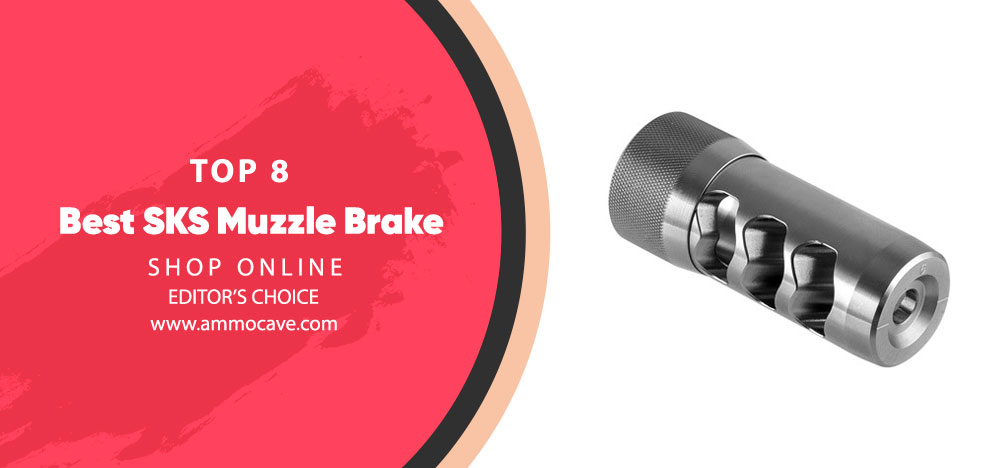 What is  SKS Muzzle Brake? 😏
It is a firearm accessory designed to reduce the felt recoil of a weapon by redirecting the propellant gases released from the muzzle. It is mounted on the end of a rifle barrel and works by utilizing slots, ports, or baffles that redirect some of the escaping gasses in order to reduce kickback.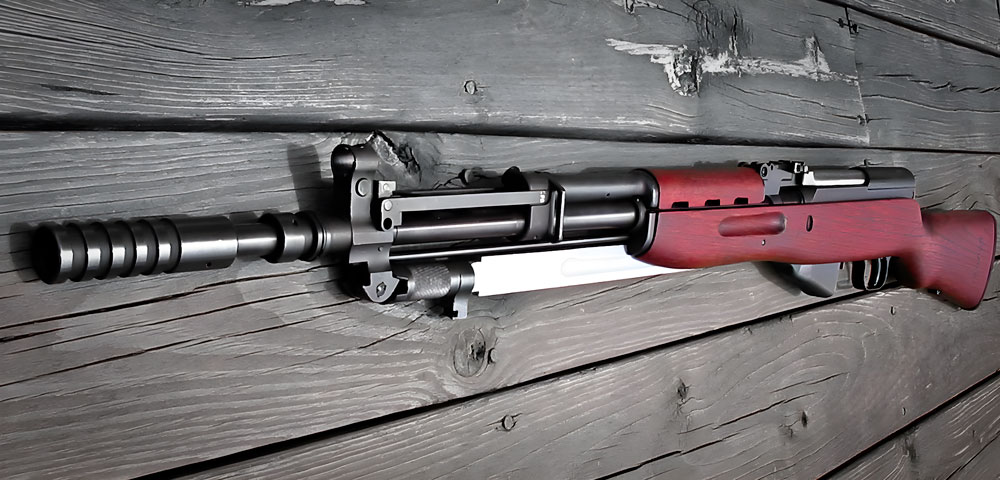 Features 🧨
🚩 Size: a larger brake will provide greater recoil reduction, but may be too large for some applications, such as shooting from a bench rest.
🚩 Construction: most brakes are constructed with either steel or aluminium; while steel provides greater durability, aluminium tends to be more lightweight and usually more affordable.
🚩 Modular design elements such as removable end caps or baffles that allow you to customize them according to your preferences or needs. This versatility can allow you to adjust porting or change other design features in order to maximize performance for specific shooting conditions or applications.
Our Top Pick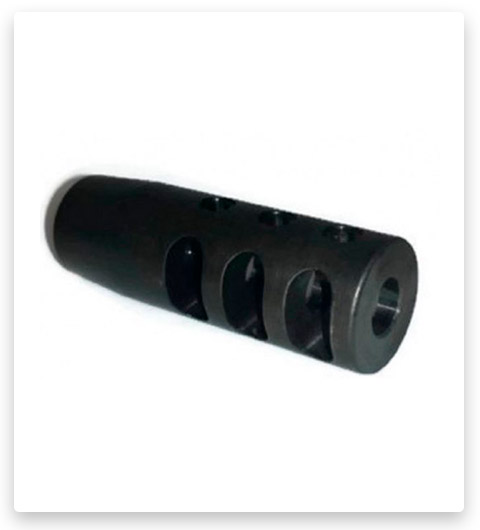 DELTAC SKS Muzzle Brakes
Discover the variety of muzzle brakes for your SKS from Deltac! They are durable and strong, made of steel! They effective in reducing recoil and look perfect on your carabine!
Buy Now On OpticsPlanet
If you click this link and make a purchase, we earn a commission at no additional cost to you.
Guide about SKS Muzzle Brake Installation 🗼
✅ To begin, you will need to gather the necessary materials, such as an SKS rifle, muzzle brake, appropriate tools and any other parts or accessories that may be needed.
✅ Start by removing the barrel from the SKS rifle. This is done by first unscrewing the front sight post to remove the gas block and then unscrewing the barrel retainer which is located at the back of the receiver.
✅ Thread the muzzle brake onto your SKS barrel until it stops moving freely on its own. Typically this is around 1 inch but it may vary depending on your SKS model or muzzle brake type.
✅ Once it is secure, use some thread locker or blue Loctite to make sure it stays in place when shooting or cleaning as well as during transport and storage.
✅ After attaching your muzzle brake securely, there are two common methods for finalizing installation; using a self-aligning crush washer or using a timed jam nut for indexing purposes.
✅ Finally, put some lubricant such as gun oil or moly grease on all metal contact points between both components (SKS rifle & Muzzle Brake) and then check that all screws are tight before testing out at an outdoor range where allowed by law.
We believe this video can be helpful for you 📺
Best 🚀 SKS Muzzle Brake Review
1# DELTAC Slingshot Muzzle Brake AK47/SKS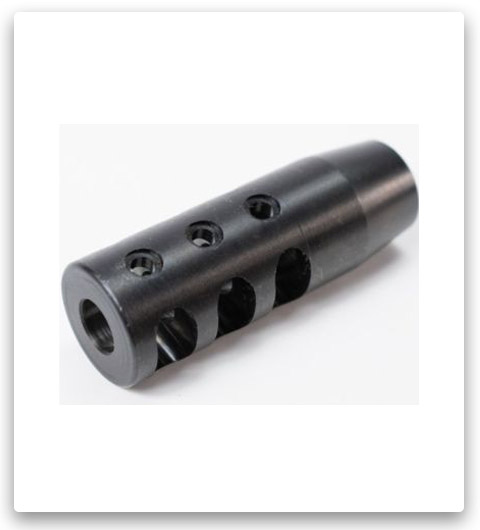 Looking to tame the recoil and muzzle rise of your firearm? Notice the DELTAC Slingshot muzzle brake. Made of weapon-grade steel for strength and durability, the DELTAC Slingshot muzzle brake will reduce your firearm recoil effectively. With its black finish, it's a great addition to any firearm. So don't let recoil keep you from enjoying your shooting experience, get the DELTAC Slingshot muzzle brake and get back to shooting with confidence.
2# DELTAC Slingshot Muzzle Brake VZ58/Yugo SKS BRK114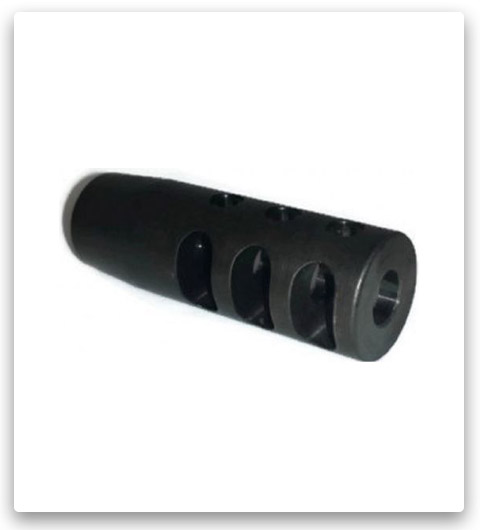 The DELTAC Slingshot muzzle brake is a great choice for anyone looking to reduce the recoil and muzzle rise of their firearm. Made from weapon-grade steel, the Slingshot is durable and effective at reducing recoil. It also looks great on your gun, with a sleek black finish that will make it stand out from the crowd. The exit hole is approximately .356 inches, and the brake will fit most CZ Sa Vz. 58 firearms.
3# DELTAC Slingshot Muzzle Brake AK47/SKS Threading Kit Combo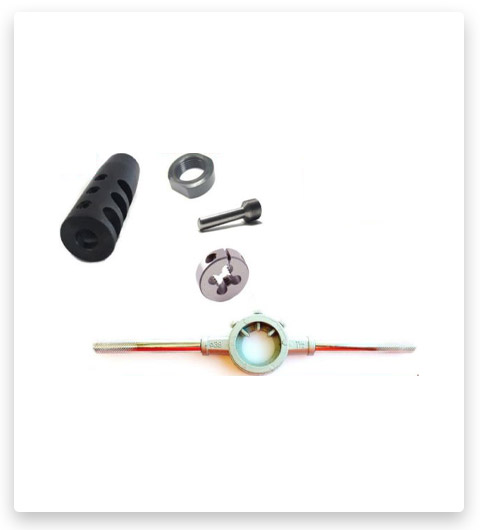 The DELTAC Slingshot Muzzle Brake for AK47/SKS Threading Kit Combo is the best addition to any firearm. With an adjustable thread-cutting round die for a more permanent hold, and removable handle dies, this muzzle brake is heavy-duty enough to handle tight tensile strength without breaking. Update and upgrade your firearm with the latest and greatest DELTAC Slingshot Muzzle Brake Complete Threading Kit.
4# John Masen Co. SKS Pin On Muzzle Brake SKMB01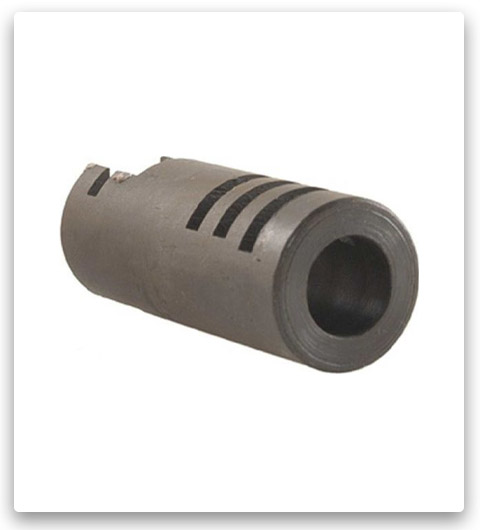 The John Masen Co. SKS Pin On Muzzle Brake is an easy-to-install, original Chinese brake that significantly reduces recoil. It comes with a replacement pin, so no other tools are needed for installation. Whether you're target shooting or plinking, this muzzle brake is a great addition to your SKS rifle. Don't wait and get one for your needs!
5# Choate Tool Sks Suppressor CMT-18-07-02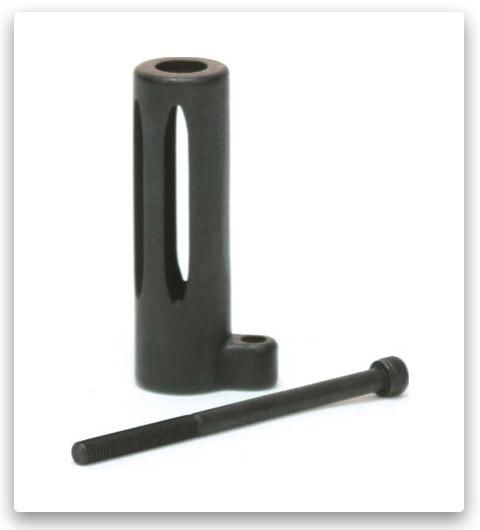 Do you want to add a little somethin' extra to your S.K.S.? Choate Tool has got you covered with their SKS suppressor. This handy dandy little attachment will not only reduce the recoil of your S.K.S., but it will also give it that sleek, finished look. The SKS suppressor is acid-bath blued and attaches easily to your bayonet ring. It's the perfect addition for any S.K.S. lover who wants to take their rifle to the next level. So don't wait, pick up your very own Choate Tool SKS suppressor today!
6# Precision Armament Hypertap Muzzle Brake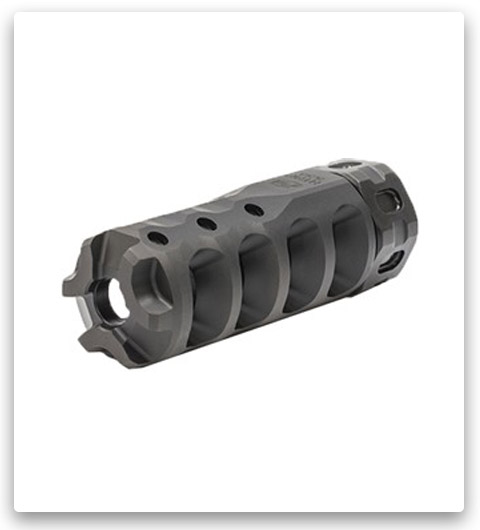 Precision Armament Hypertap Muzzle Brake – an excellent blend of recoil reduction and sight-picture preservation. Utilizes Precision Armament's proprietary Convergent-Divergent port geometry to reduce felt recoil by an impressive 84%. This design also preserves the 35-degree baffle angles and bore clearance found in the original design, making it one of the most effective muzzle brakes available.
7# Surefire Procomp 762 Muzzle Brake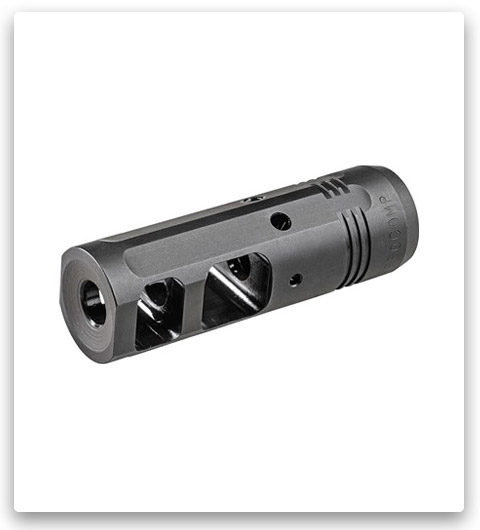 If you're looking for a muzzle brake that will greatly reduce both recoil impulse and muzzle rise, the SureFire PROCOMP 762 is a great choice. It's also a standalone muzzle device, so you don't need a suppressor adapter. The vertical porting on the PROCOMP 762 evenly distributes the force of the shot to keep you on target for faster follow-up shots. So if you're looking for better performance and accuracy out of your 7.62mm rifle, the SureFire PROCOMP 762 Muzzle Brake is a great option.
8# Area 419 Hellfire Muzzle Brake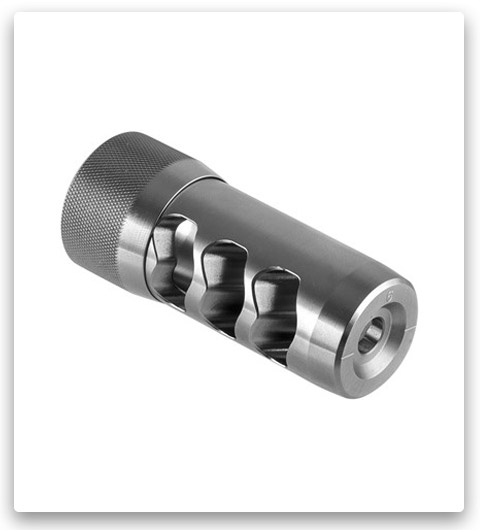 Introducing the Area 419 Hellfire Muzzle Brake is the best option. This unique muzzle brake was designed to enhance several guns, thanks to its self-timing design and independent collar. The Hellfire Muzzle Brake is easy to install and lets you keep your rifle's zero intact. It's also available in matte black and stainless finishes, so you can choose the perfect look for your gun.
How to Pin And Weld SKS Muzzle Brake 🏆
🚨 Before beginning this process, you will need to make sure you have all the necessary materials available. This includes an SKS rifle with threaded muzzle brake, flat head punch or drift pin, high-temperature arc welder with flux core wire, protective gear (mask/goggles/gloves), file set to remove excess material and hammer.
🚨 The first step in this process is to install the muzzle brake onto the rifle itself. This is done by threading the muzzle brake into place on the SKS's barrel until it comes into contact with the threads on the end of the barrel.
🚨 Once a tight fit has been achieved, use a flat-head punch or drift pin to secure the muzzle brake in place. The pin should be placed through both sides of the SKS's barrel so that it prevents any movement from occurring between them.
🚨 The next step involves welding around the edges of where the SKS muzzle brake meets its threads on both sides of its barrel. To weld properly you will want to start at one corner of where your muzzle brake meets its threads and work your way around carefully until all four sides have been secured by welds. It may also be beneficial to use a file set to remove any excess metal created during this process if needed afterwards.
Please watch this video to learn more information📺
FAQ 🎯
Conclusion 🔥
SKS Muzzle Brakes are a must for anyone who owns an SKS rifle. A muzzle brake can help reduce recoil and improve accuracy. If you're searching for the best one on the market, we hope that the information in this article will help you with this and you can choose a muzzle brake that is basic to your needs. Best regards and thanks for reading! ❤️‍ 🔥