Affiliate Disclosure: AmmoCave.com sometimes gets paid for listings, through sponsors or affiliate programs like Lucky Gunner, Optics Planet, Brownells, Cabelas, Academy Sports & Outdoors, Rainier Arms, Palmetto State Armory, Sportsman's Guide, Ammo.com, Ammo Man, Primary Arms, MidWayUsa, Amazon, eBay, etс. Clicking a link helps keep AmmoCave.com free, at no extra cost to you!
Authors: Each article is verified by AmmoCave's expert team. Professional hunters, firearm trainers, gunsmiths, and gun experts write the articles. AmmoCave Team independently researches, tests, reviews, and uses recommendations from our community of gun owners. We may earn commissions from shopping links.
Note: The views and opinions expressed in this article are those of the authors and do not necessarily reflect any agency's official policy or position. The articles are for informational purposes only, share your opinions about Best Flash Hider For SBR 2023 in the comments and join the discussions. Let's share 💬 our ammo & gun experiences together!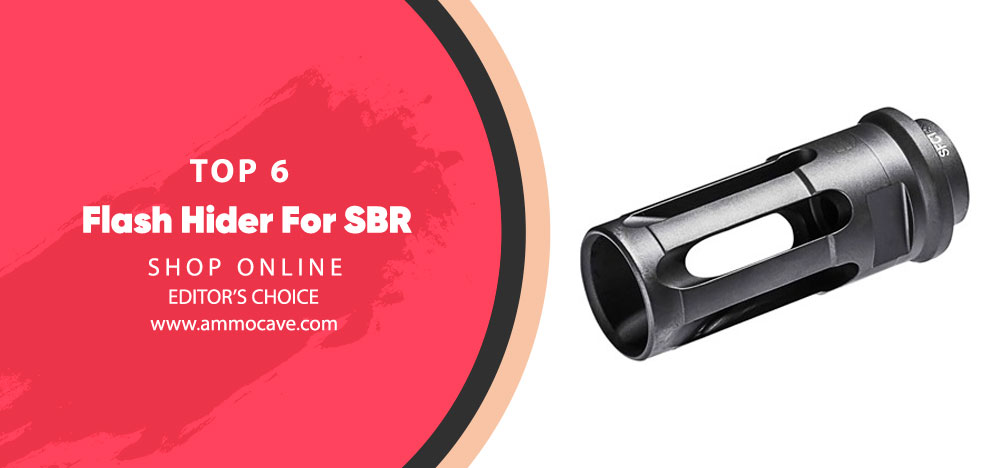 What is an SBR Flash Hider? 💡
It is a muzzle device designed to reduce or minimize the visible muzzle flash from a short-barreled rifle (SBR) when firing.
Our Top Pick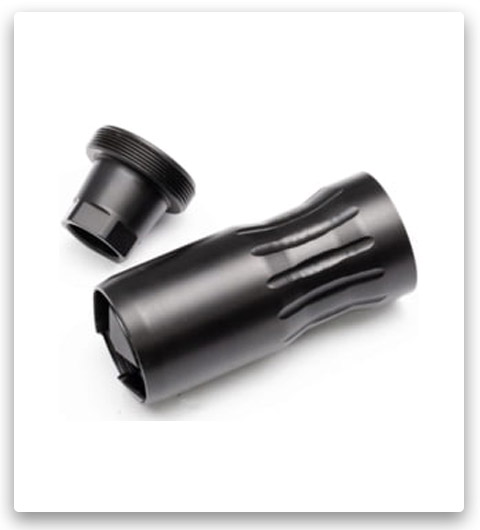 Area 419 Hellfire Linear Flash Suppressor
Get the most out of your muzzle device with Area 419's Hellfire Linear Flash Suppressor! This two-part system is specifically crafted for carbine, SBR, and AR pistol applications. Made from durable 17-4 PH stainless steel that has been black nitrided to ensure long lasting performance -- it not only reduces the flash signature but also mitigates concussion in one easy to install package! Put it on your firearm in just minutes and feel confident you have chosen a quality product.
Buy Now On OpticsPlanet
If you click this link and make a purchase, we earn a commission at no additional cost to you.
How Do Flash Hiders Work 🔥
⚡ They work by allowing some of the expanding gases from the propellant to escape sideways instead of frontward.
⚡ When these gases escape outwards at an angle, it causes them to spread out and dissipate faster than if they were directed straight ahead, reducing the amount of light emitted from the muzzle.
⚡ They also help keep excess dust and debris away from the shooter's face.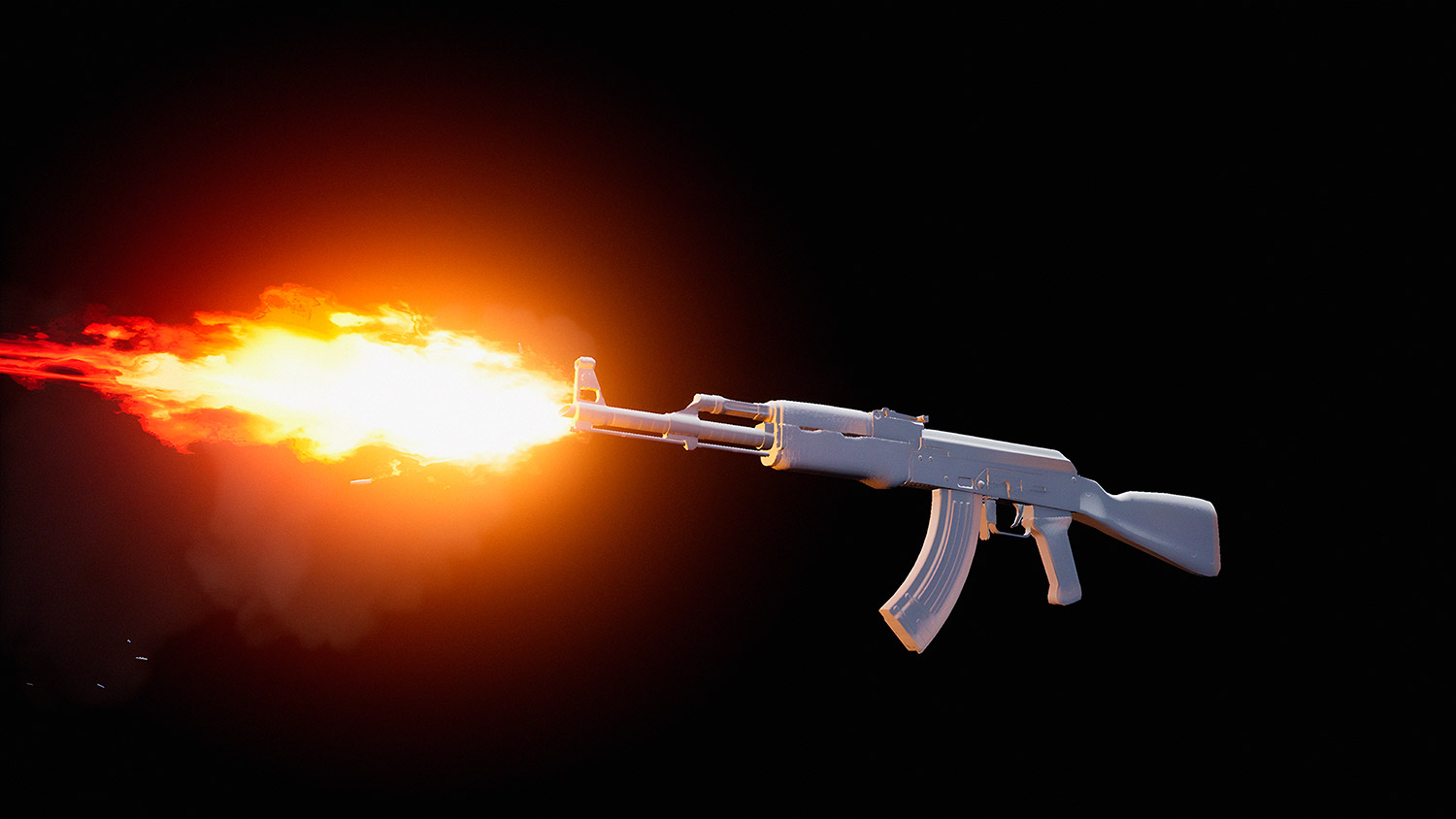 Why You Need A Flash Hider?🤔
🔰 It is designed to direct the gases away from the shooter and also reduce the sound of gunfire, allowing for greater accuracy and performance when shooting.
🔰 It also reduces recoil, providing a more comfortable shooting experience for the user.
🔰 For law enforcement officers who are dealing with potentially dangerous situations, having a Flash Hider not only reduces visibility but also reduces noise pollution – enabling them to remain unseen while still being able to maintain accuracy and precision when needed most.
🔰 Recreational shooters often out at night or in low-light environments can benefit from this item to reduce their risk of detection by ensuring their shot remains hidden from view or sound where possible.
🔰 Besides some of these muzzle devices help prevent gas blowback from entering your face or clothing as well as keeping debris away from your eyes when shooting outdoors.
I hope this video will help you to understand the philosophy of this item💻
Flash Hider Materials ✅
💥 Steel is one of the most common materials. Steel is strong and durable, making it suitable for use with powerful rifles and handguns. Steel items also tend to be relatively inexpensive when compared to other materials.
❗ However, steel can rust over time when exposed to moisture or wear down faster under heavy use than other metals.
💥 Aluminium flash hiders provide a lightweight alternative to steel while still offering good corrosion resistance and durability. Aluminum is also easier to machine than steel, resulting in smoother, more precise designs and better accuracy.
❗ However, aluminium may not be as strong as steel under heavy use. It can deform over time due to heat exposure or hot temperatures when shooting outdoors without proper cooling methods in place.
💥 Titanium items are one of the strongest and lightest available on the market today. Titanium offers superior corrosion resistance compared with other metals and is highly resistant to heat distortion from repeated shooting sessions outdoors. Titanium also provides excellent durability for long-term use with high-power firearms such as rifles or handguns with powerful cartridges like .308 Winchester or .45 ACP rounds.
❗ But titanium is often more expensive than steel or aluminium
Watch this video to find more information about choosing the Flash Hider 💻
Our Selection 🚀 6 Flash Hider For SBR
| Image | Product | Brand | |
| --- | --- | --- | --- |
| | Noveske M16 A2 Flash Hider 5000503 | Noveske | |
| | Area 419 Hellfire Linear Flash Suppressor | Area 419 | |
| | Noveske KX5 Flash Suppressor | Noveske | |
| | FORWARD CONTROLS DESIGN LLC AR-15 6315 FLASH HIDER | FORWARD CONTROLS DESIGN LLC | |
| | SUREFIRE SOCOM CLOSED-TINE FLASH HIDER | SUREFIRE | |
| | ACETECH-Blaster Tracer | ACETECH | |
Best 🎯 Flash Hider For SBR Reviews
1# Noveske M16 A2 Flash Hider 5000503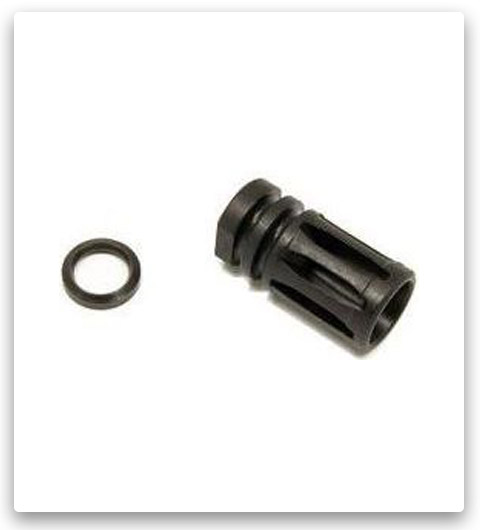 If you are interested in a flash hider that looks as good as it performs, then you need the Noveske M16 A2 Flash Hider. This stylish flash hider features a cutout design that reduces muzzle rise and down range accuracy, while still maintaining a sleek, contoured look that seamlessly blends into the existing Noveske Linear Comp M16-A2 body. The smooth, straight sides of the flash hider reduce dust signatures when firing in DPR or SBR fashion, and the proprietary carbon fiber with an ion-nitride finish provides maximum durability and strength. The flash hider works best with a threaded barrel with a 1/2-28 uniform thread pitch.
2# Area 419 Hellfire Linear Flash Suppressor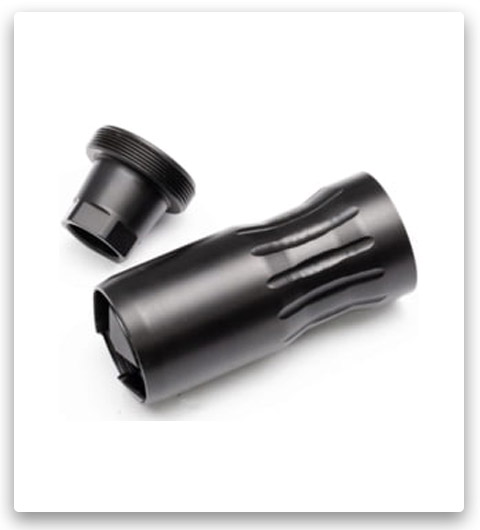 With the Area 419 Hellfire Linear Flash Suppressor, you get the best of both worlds: a muzzle device that effectively reduces flash signature while also mitigating concussion. This two-part system is made from durable 17-4 PH stainless steel and black nitrided for long-lasting performance. It's designed specifically for carbine, SBR and AR pistol applications, and can be easily installed in minutes. Whether you're looking to improve your shooting accuracy or reduce muzzle rise, the Hellfire Linear Flash Suppressor is an ideal choice.
3# Noveske KX5 Flash Suppressor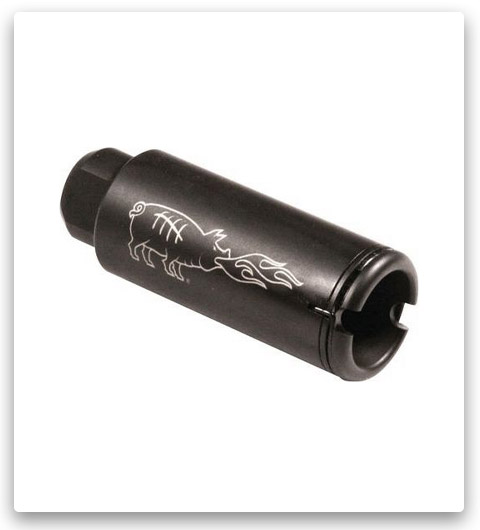 The Noveske KX5 Flash Suppressor is a high-quality, durable product that will work on any barrel length. Each unit is individually serial numbered for quality control, and the heat-treated CM construction and nitride finish provides superior strength and durability. The 1.2-inch diameter and 3.25-inch overall length make it perfect for a variety of applications, while the 4.5-ounce weight makes it easy to handle. This product is made in specialized factories and is backed by a Satisfaction Guarantee.
4# Forward Controls Design LLC AR-15 6315 Flash Hider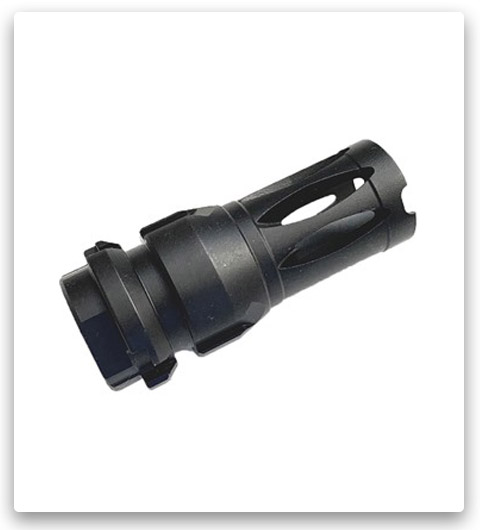 The AR-15 6315 Flash Hider from Forward Controls Design LLC is a precision machined, nitrided comp/flash suppressor that is the finest A2 style muzzle device on the market. Its unique porting design vents gas upward through the 3 and 9 o'clock ports which are 25% smaller than the other three ports, making it an excellent compensator and flash suppressor. The 6315 is compatible with M16 BFA and most A2-mounted sound suppressors and is threaded for 1/2×28. It is a light and short blended performance muzzle device that is perfect for your AR-15.
5# Surefire Socom Closed-Tine Flash Hider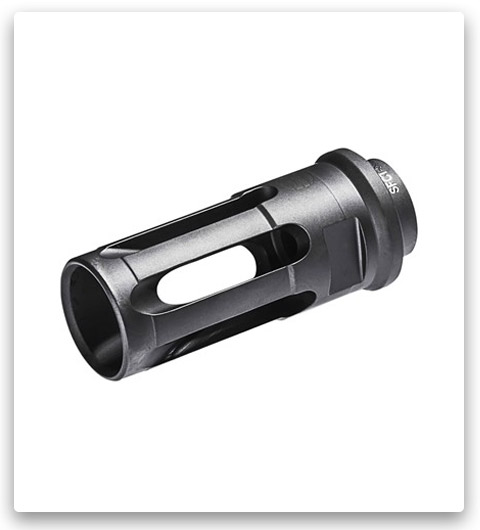 The Surefire Socom Closed-tine Flash Hider is the perfect choice for those who want to conceal their weapon with confidence. This adapter serves as a rock-solid, precision mounting platform for the SureFire SOCOM Fast-Attach Suppressors, as well as serving as a standalone muzzle device. The SFCT-556-1/2-28 closed-tine adapter closely represents a traditional birdcage flash hider, with wrench flats for easy installation. Just like other SureFire SOCOM muzzle devices, this adapter is precision machined from heat-treated stainless steel, which is highly resistant to gas and particle erosion. Additionally, these adapters utilize multiple bearing surfaces to ensure proper suppressor alignment every time.
6# ACETECH-Blaster Tracer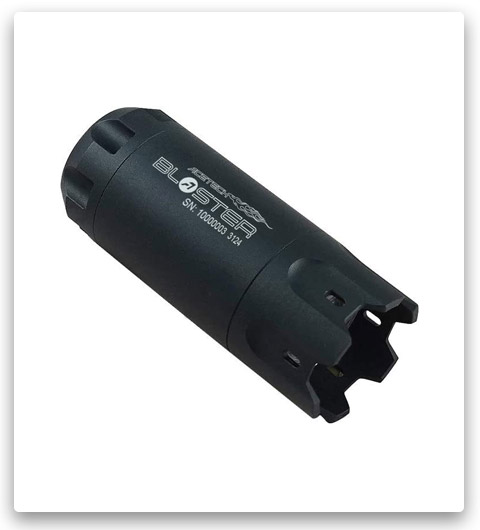 Acetech-Blaster Tracer is the perfect device for commercial airsoft and gel BBs. It simulates muzzle flash and the effect of the flame depends on the volume of gas or water mist around the muzzle. With more volume, the effect will be better. It features three modes: tracer and flame, tracer only, and flame only. The intelligent energy-saving system saves power while you're not using it, and it automatically enters sleep mode after five minutes of idle time. The large battery is fully charged and lasts over 20,000 rounds.
How to install an SBR Flash Hider? 🤔
✅ The first step is to make sure you have the correct Flash Hider for your specific rifle model. They come in different sizes and thread pitches, so it's important to verify the correct one for your rifle before beginning.
✅ Then you will need to remove the old muzzle device from your gun. To do this, first use an adjustable wrench or vice grips to loosen and unscrew the Flash Hider from the muzzle threads. If it is tightly stuck on, you may need to apply penetrating oil to help loosen up any rust or dirt that has accumulated on it.
✅ After that continue by cleaning off any excess debris or residue from both the muzzle threads and your new item using a toothbrush and some solvent such as Gun Scrubber or brake cleaner.
✅ To install your newly purchased unit onto your gun's muzzle threads, hold it securely with one hand while turning it clockwise into place with a wrench or vice grips in your other hand until it is snugly fitted against its shoulder at the back end of its threads. Be careful not to overtighten as this could cause damage to both components and prevent proper alignment of the muzzle device when firing.
✅ Once installed correctly, inspect again for any signs of fouling on either component that may cause misalignment or inaccuracy during operation and fire a few test rounds if possible before going live out in the field or range.
In this video you can watch the installation process of one brand of flash hider 💻
FAQ ❓
Conclusion 🙂
Choosing the best flash hider for your SBR can be a daunting task. With so many products on the market, it can be hard to know which one is right for you. In this buyer's guide, we've reviewed six of the top-rated items on the market and provided useful tips to help you choose the right product for your needs. We hope that this information will help make your decision easier and allow you to find the perfect one for your SBR. ❤️‍ 🔥