Affiliate Disclosure: AmmoCave.com sometimes gets paid for listings, through sponsors or affiliate programs like Lucky Gunner, Optics Planet, Brownells, Cabelas, Academy Sports & Outdoors, Rainier Arms, Palmetto State Armory, Sportsman's Guide, Ammo.com, Ammo Man, Primary Arms, MidWayUsa, Amazon, eBay, etс. Clicking a link helps keep AmmoCave.com free, at no extra cost to you!
Authors: Each article is verified by AmmoCave's expert team. Professional hunters, firearm trainers, gunsmiths, and gun experts write the articles. AmmoCave Team independently researches, tests, reviews, and uses recommendations from our community of gun owners. We may earn commissions from shopping links.
Note: The views and opinions expressed in this article are those of the authors and do not necessarily reflect any agency's official policy or position. The articles are for informational purposes only, share your opinions about Best 300 Blackout Flash Hider 2023 in the comments and join the discussions. Let's share 💬 our ammo & gun experiences together!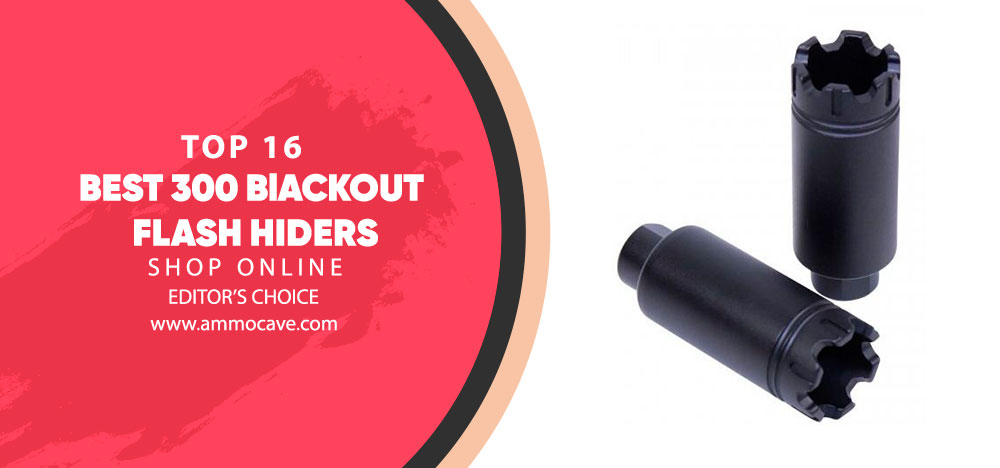 What is 300 Blackout Flash Hider? 🔋
It is a device that attaches to the muzzle of a firearm to reduce the visible flash that occurs when a round is fired. It is especially useful for those using short-barrel rifles or pistols chambered in the 300 Blackout cartridge, which creates a large fireball due to the slower burning powder used in its design.

Types 💡
1. Birdcage Flash Hider🌐
It features a series of slots that allow hot gases to escape quickly, reducing flash and muzzle rise.
Birdcage flash hiders are very effective at reducing muzzle flash, but they can be louder than other types due to the escaping gases.
2. A2 Flash Hider🌐
The A2 flash hider is similar to the birdcage, but with a closed bottom that directs the escaping gases downward.
This directs the blast away from the shooter, reducing noise and recoil. The A2 flash hider is a great choice for shooters who want to reduce the noise and blast from their rifles.
3. Muzzle Brake/Flash Hider Hybrid🌐
Muzzle brake/flash hider hybrids are designed to reduce both flash and recoil.
They feature an advanced design that directs hot gases forward and reduces the amount of recoil felt by the shooter.
This design can be very effective at reducing both flash and recoil but can be louder than other types due to the redirected gases.
4. Three-Prong Flash Hider🌐
The three-prong flash hider is designed to be sleek and effective at reducing muzzle flash.
It features three prongs that are angled to reduce the amount of flash visible to the shooter and those around them.
This design is very effective at reducing flash but can be louder than other types due to the escaping gases.
5. Flash Can🌐
The Flash Can is a unique type of flash hider that is designed to be very effective at reducing flash.
The design is based on a small can, with openings at the end that allow hot gases to escape quickly.
This design is very effective at reducing muzzle flash and is a great option for those who need maximum flash reduction.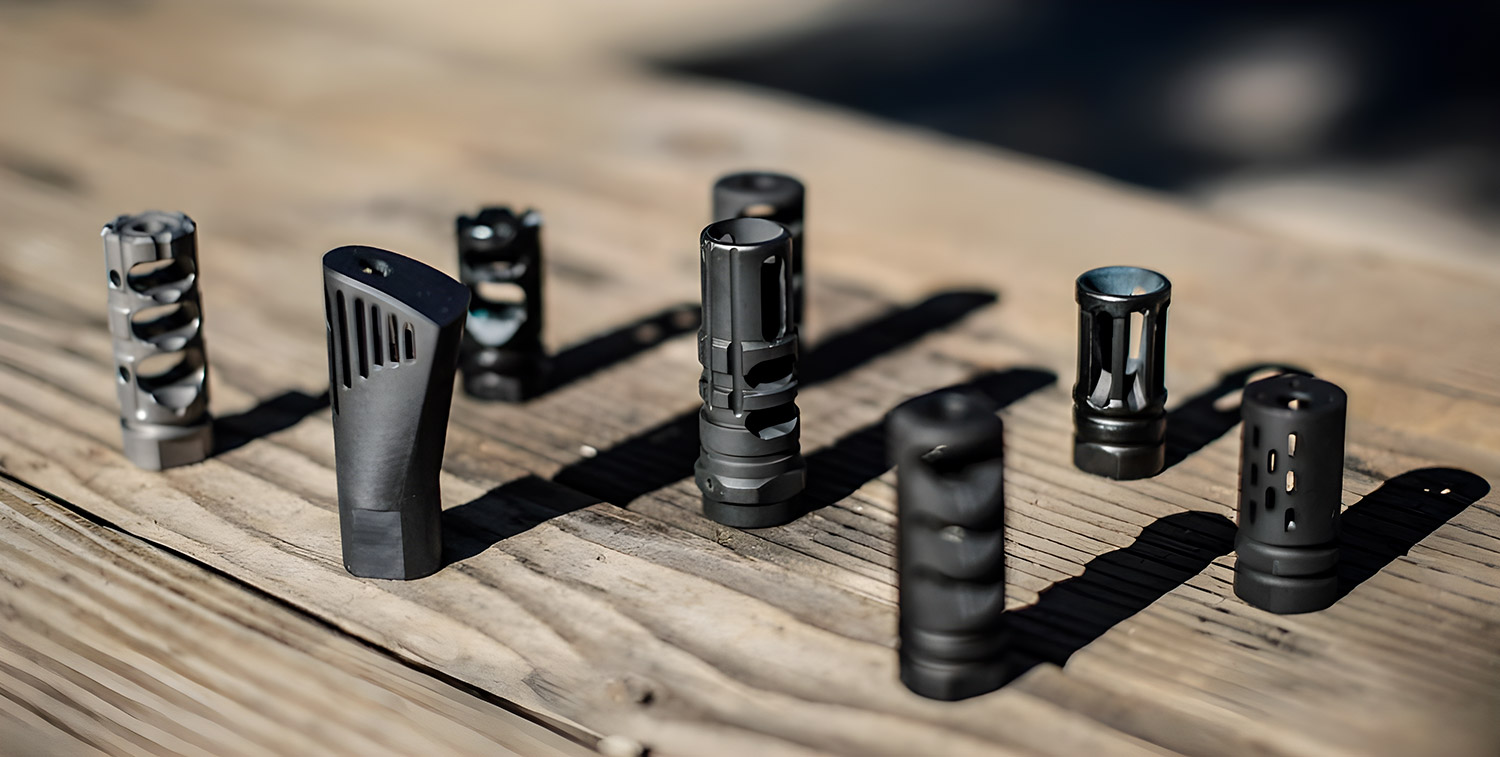 Advantages 🧲
⚡ 1. Better Recoil Management: it can help reduce recoil and muzzle rise, allowing for more accurate follow-up shots.
⚡ 2. Greater Accuracy: The absence of an intense muzzle flash makes it easier to stay on target while taking multiple quick successive shots in rapid succession.
⚡ 3. Enhanced Visibility: Without the large muzzle blast caused by standard rounds, you'll be able to better spot your target or any changes in terrain without having to worry about obscuring flashes from the muzzle end of your gun.
⚡ 4. Reduced Noise Pollution: A good quality flash hider will also reduce the level of noise that's released from each shot sent down range, helping protect your hearing as well as those around you at the firing range or out in public areas where loud bangs may prove disruptive or even dangerous.
⚡ 5. Tactical Advantages: Flash suppression is important when considering tactical scenarios like nighttime operations and military/law enforcement applications; with a flash hider, you're less likely to give up your position due to intense flashes emanating from your weapon after each round fired off its barrel.
Our Top Pick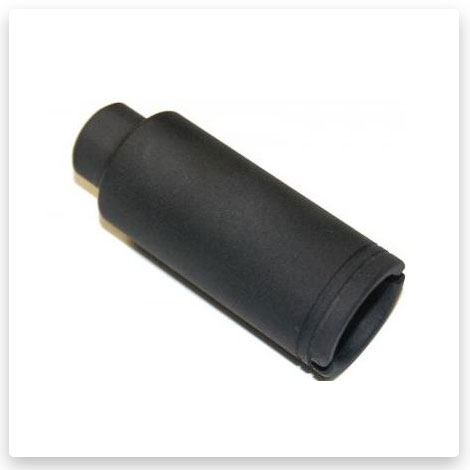 Guntec Slim Line Micro Cone Flash Can
The Micro Cone Flash Can for AR15 pistols tucks in easily on Aero Precision slim (S-series) guards. These flash cans are great for prone shooting due to the closed bottom (no downward ports).
Buy Now On OpticsPlanet
If you click this link and make a purchase, we earn a commission at no additional cost to you.
Best 💣 300 Blackout Flash Hiders
1# Stag Arms AR-15 Flash Hider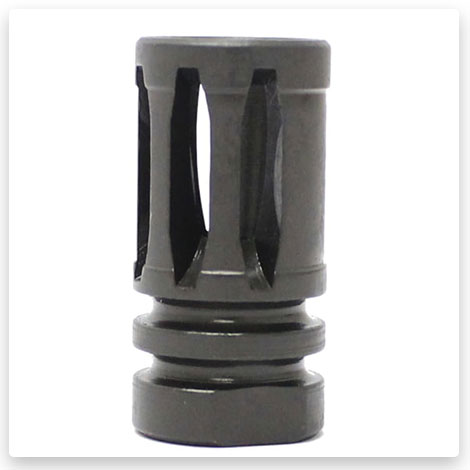 The Stag Arms AR-15 Flash Hider is the perfect choice for serious hunters and shooters. Manufactured with advanced technology and precision craftsmanship, it is a top-of-the-line flash hider specifically designed for .300 Blackout rifles that have a threading of .30 calibre 5/8×24. Out tests show that with its effective design reducing muzzle flash, the Stag Arms AR-15 Flash Hider is the perfect accessory to enhance your shooting experience. Featuring easy installation, this lightning-fast flash hitter is sure to provide maximum performance combined with superb accuracy every time you take aim. No matter if you're hunting in low light conditions or need the proper performance when using full auto, this flash suppressor will make sure you can make your shots without missing a beat. Get yours today and enjoy ultimate satisfaction while hunting or shooting.
2# Manticore Arms Shadow Flash Hider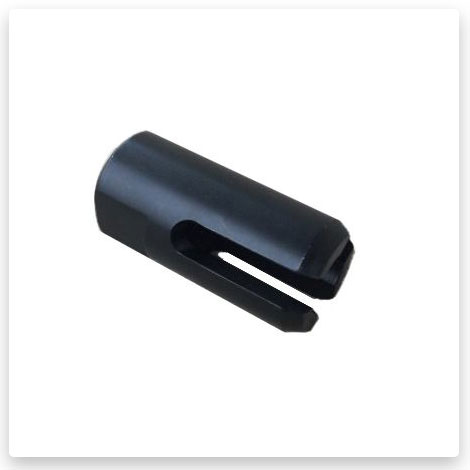 The Shadow Flash Hider is designed with three short, straight prongs for the flawless performance of flash hiding. This compact and economical version of the Eclipse flash hider will clear any round up to 9mm in diameter (i.e. 300 Blackout, 5.56mm, .22LR, etc). The muzzle devices are marked "MA" and "9mm" as they are compatible with 922r parts by Manticore Arms.
3# Guntec Slim Line Micro Cone Flash Can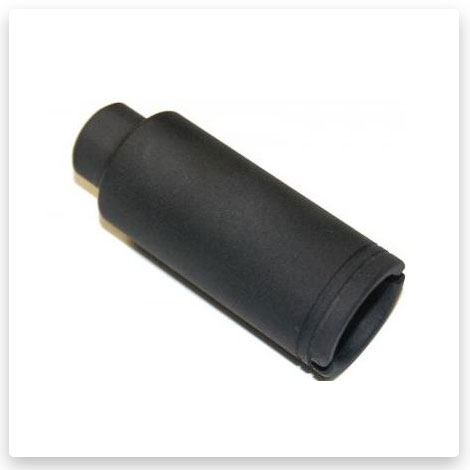 Introducing the Guntec USA AR-10 Slim Line/Micro Cone Flash Can. This flash can is made from solid T6 aluminium and has 5/8×24 threading, perfect for those who own an AR-10 rifle. The micro version has an outer diameter of 1.245″ so it won't take up too much space on your gun while still serving its purpose. This slender design makes it great for use with slimline or thin free floating handguards. Keep your rifle operating at its best giving you the extra functionality you need out in the field with this easy, no-hassle solution that's sure to keep you shooting accurately and precisely all day long. Don't settle for less, invest in quality performance with the Guntec USA AR-10 Slim Line/Micro Cone Flash Can and enjoy optimal performance each time you pull the trigger.
4# Guntec Slim Line Trident Flash Can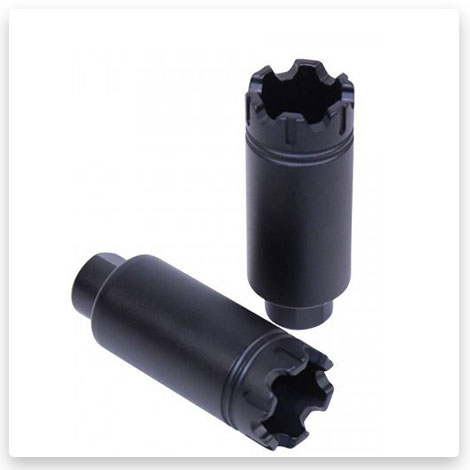 The Flash Can with Glass Breaker pushes the Flash forward and scatters it. The muzzle unit is crafted from Aluminum (T6) and Anodized. These cans can be paired with most Slimline Thin Free-Floating Handguards. The flash cans are available in 2 models for AR15 or AR10 guns in Black or Flat Dark Earth correspondingly.
5# GUNTEC Claw Multi-Prong Flash Hider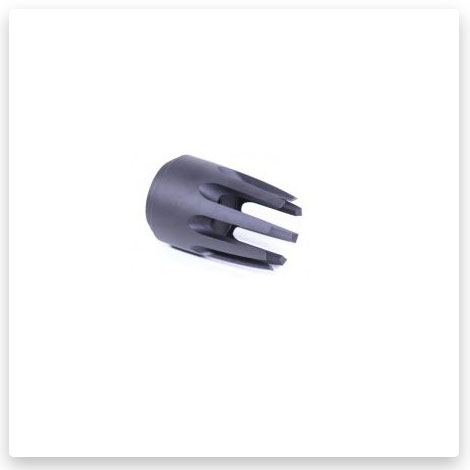 Those in the market for a dependable flash hider need to look no further. The Guntec Slim Line Micro Cone Flash Can is everything you could hope for and more. Built with only the finest materials like T6 Aluminum, this flash can is just as tough and durable as it is beautiful. Our researches demonstrate that it is easy to attach to your AR-10 with its 5/8×24 threads per inch, the Micro Cone Flash Hider is perfect for all .308 Caliber firearms. Plus its slim 3.5" length and 1.45" diameter make it possible to fit into tight spaces comfortably. Our research has shown that not only will the Guntec Slim Line Micro Cone Flash Hider reduce muzzle flash by up to 70%, but it also features a convenient Claw Style Door Breacher for added strength and versatility. Lightweight yet built to an exacting standard of quality and precision, you won't find a better flash hider than the Guntec Slim Line Micro Cone Flash Can! Get yours today and experience the difference yourself!
6# GUNTEC USA Cone Flash Can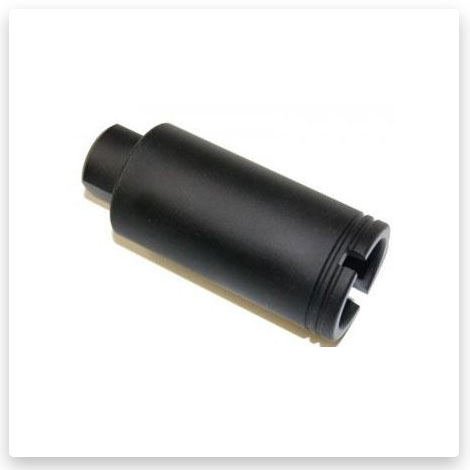 The GUNTEC USA AR-10 Cone Flash Can is the perfect product for virtually any shooter or hunter looking for lasting reliability. Manufactured with some of the strongest materials available, these flash hiders are crafted to provide years of strength and optimal performance. Guntec USA has been crafting premium quality products for a long time, and this cone flash can is their way of proving that they are devoted to delivering top-notch solutions. As a result of our tests, we determined that from simple target shooting to difficult hunting situations, this cone flash can ensure accuracy and dependability each time you use it.
7# GUNTEC USA Predator Flash Hider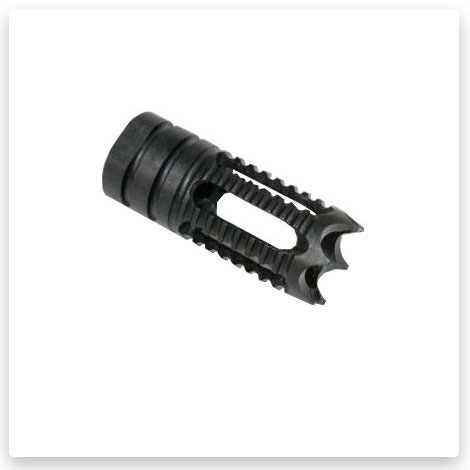 It is designed to help hunters and shooters improve their performance on the range and out in the field. Using this product, our team found that this flash can have slots cut all the way around for effective muzzle drift reduction so you can stay on target even in low-light conditions. Made from strong yet durable steel, it features a 5/8×24 thread that's perfect for .308 or 300 AAC BLACKOUT calibres. With this flash can, you'll quickly notice improved recoil management and a more enjoyable experience shooting your rifle or carbine without dealing with an unpleasant muzzle blast. In the package, you'll find the GUNTEC USA AR-15/LR-308 A1 Predator Flash Hider so you can get started right away. This device not only greatly reduces noise but also seals off gases at chamber pressure while keeping your rifle free of foreign object incursion. Upgrade your gun today with the GUNTEC USA Cone Flash Can – ditch distracting noise and increase accuracy with one easy purchase!USA Predator Flash Hider
8# Guntec USA Micro Trident Flash Can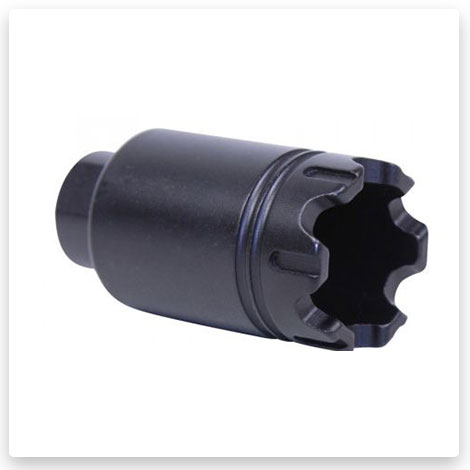 Whether you're a hunter or a shooter, the Guntec USA AR-15 Micro Trident Flash Can is the perfect addition to your rifle. This anodized black finish flash can get rid of annoying flashes and helps reduce muzzle blasts. Made from durable T6 Aluminum, this Micro Short Version features an aggressive machining design for glass-breaking capabilities and pushes the flash forward into most slimline handguards. You'll love its 1.25″ outside diameter, 2.25″ length, and 2.2 oz weight—all elements that make up this new design that works perfectly for AR15 pistols. Get rid of annoying flashes and add some serious protection to your rifle with Guntec USA AR-15 Micro Trident Flash Can.
9# Spikes Tactical Forged Upper Receiver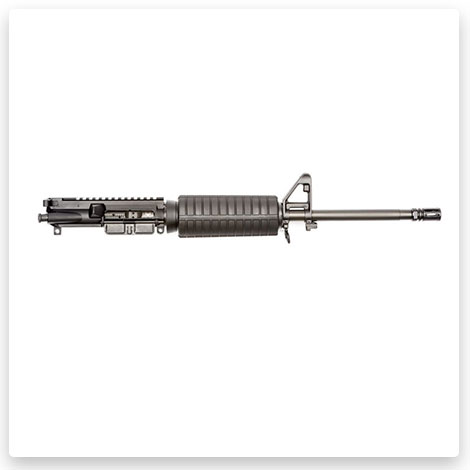 Building a rifle? Get ready to up your game with the Spikes Tactical Forged Upper Receiver. This upper receiver provides great value coupled with top-of-the-line craftsmanship and performance. Built with Cold Hammer Forged Barrel and Receiver technology, this upper will stand the test of time against wear and tear. The .750 gas block seat is designed for smooth-feeding operation, while the free-floating rail and snag-free apertures make it invaluable for shooters looking for accuracy. According to our experience, a phosphate coating offers enhanced resistance to corrosion, something especially beneficial for hunters in more humid climates. A forward assist adds an extra layer of security to your firearm, ensuring it is always ready to fire safety when you are out on the hunt. Put together by a team of experts and function checked before shipping, the Spikes Tactical Forged Upper Receiver help you create an unbeatable firearm assembly – something that every hunter or shooter knows is essential for success on target.
10# Spikes Tactical 300 Black Out Forged Upper Receiver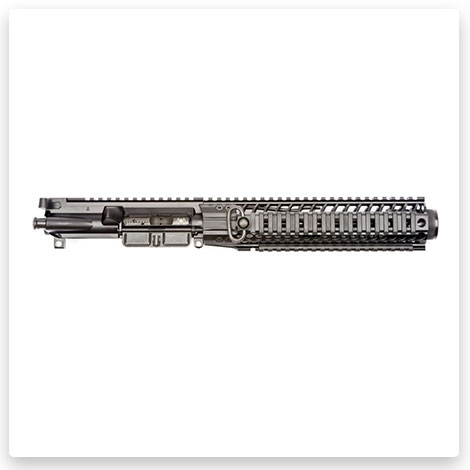 Spikes Tactical introduces the 300 Black Out Forged Upper Receiver. This receiver is crafted from 7075 T6 construction and provides a secure platform for your optics and accessories. Featuring a forward assist, and an ejection port door with spring and rod, the upper is designed for optimum firing performance. The 8.3″ premium barrel is machined by Douglas Blank and has a 1/7 twist rate that works well with ample shots. The M4 NIB-coated feed ramps ensure that the receiver remains securely sturdy while working at its best. With a 10" BAR2 rail featuring free floating 1 piece, this upper also gazes at rapid-fire accuracy with QD attachment points and stainless steel heat shield. Also included is a low profile gas block that fits .750 I.D., as well as a pistol gas tube, both finished in black nitride finish inside and out with a gas tube roll pin for tactical locks to engage without fail each time you fire. Charging handle with forged aluminium completes the machined look of your set-up along with phosphate M16 BCG which comes laser engraved with ST Spider Logo, high pressure tested (HPT) and magnetic particle inspected (MPI). Lastly to complete your weapon design: the Barking Spider Muzzle – ensures the impeccable presence of precision when holding that rifle ready in your arms!
11# Radical Firearms 16in Round Rail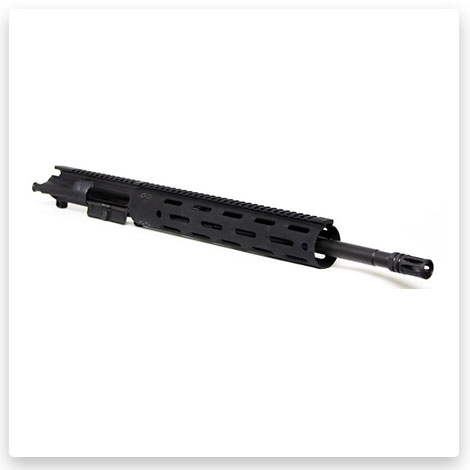 These AR15 Upper Receivers feature an A2 mil-spec flash hider, pistol length gas system, RF Round Rail with FGS 12in Rail, the 16-in HBAR melonite barrel (made of 4150 CMV steel), 12-in radical firearm billet Forward Guard Shield, Complete bolt carrier assembly, charging handle, M4 feed ramps, low profile micro gas block, forward assist/shell deflector.
12# Aero Precision Handguard Complete Upper Receiver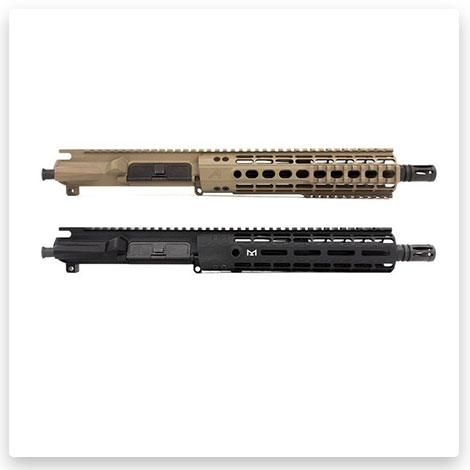 This Complete one-piece free float designed Upper is equipped with a Standard A2 Flash Hider, Enhanced Quantum Handguard of choice, .300 Blackout CMV Barrel, a Low-Profile Gas Block, a Pistol-Length Gas Tube, an addition of built-in anti-rotation tabs, removable 4-slot Picatinny rail section for the front sight and a 7-mounting surface for accessories. The barrels are constructed from 4150 Chrome Moly Vanadium, covered with Corrosion-Resistant QPQ. The Quantum Handguard's inside diameter (1.78 in) fits most muzzle devices, low-profile gas blocks, and 1.5-in suppressors. The M4E1 Enhanced Assembled Upper Receiver with the installed port door and forward assist is forged from Aluminum (7075 T6); it doesn't come with BCG or Charging Handle. There are 6 models available in two colours Black or Flat Dark Earth and two finishes corresponding hard-coat Anodized (Mil 8625 Type 3 Class 2) or Magpul Cerakote.
13# Grid Defense Blackout Upper Receiver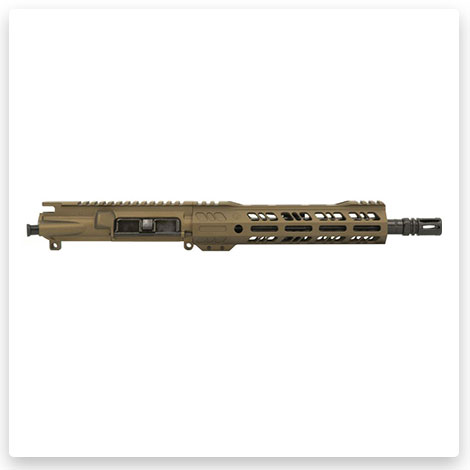 Are you looking for an upper receiver that offers superior performance and reliability? Look no further than the Grid Defense Blackout Upper Receiver. Crafted with Mil-Spec 7075 T6 aluminium, this product is built to last and will provide you with maximum protection on every hunt or shooting range outing. Chambered in .300 Blackout (7.62×35), our rifle comes with a 1:8 Twist Barrel and pistol-length gas system, ensuring accuracy and precision from your shots. Whether you're a hunter or shooter looking for an accessory that packs a punch without sacrificing strength and reliability, or simply in search of something to improve upon your existing gun setup – the Grid Defense Blackout Upper Receiver has it all! Invest in this upper receiver today to experience superior performance with every shot!
14# TRYBE Defense Complete Upper M-LOK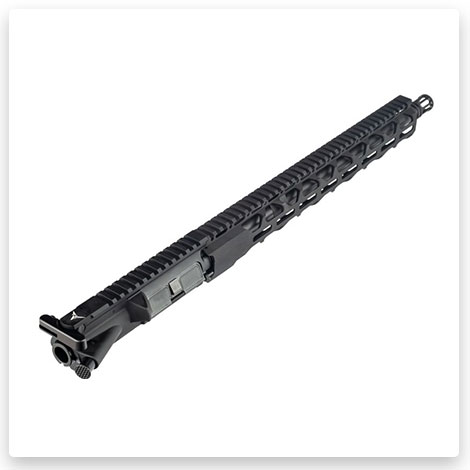 The TRYBE Defense Complete Upper M-LOK is the perfect rifle accessory for any serious hunter or shooter. Crafted with the AR-15 platform in mind and featuring a high-end black nitride finish, this upper offers unmatched quality and functionality. Featuring an impressive 16" barrel crafted of 4140 chrome moly vanadium and equipped with a gas system great for pistol-length operations, this upper is sure to meet all your shooting needs. For added strength and stability, the hand guard type is an easy-to-use free-float system which locks firmly in place over the M-LOK rail. Based on our observations there's also an A2 flash hider included to reduce muzzle flash and maintain accuracy in all light conditions. With unrivalled accuracy and power, the TRYBE Defense Complete Upper provides everything you need for success on your next hunting or shooting excursion.
#15 Ghost Firearms Vital Blackout Upper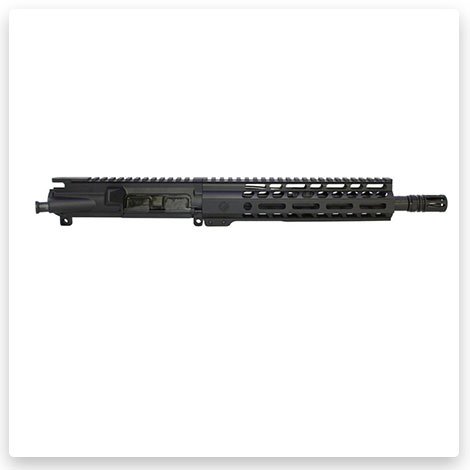 The Ghost Firearms Vital Blackout Upper is the ideal choice for those who demand high-precision accuracy, reliable performance, and rugged construction. Manufactured using premium components and durable materials, the Vital Blackout Upper stands up to extreme temperatures and rapid-fire shooting with ease. This upper is chambered in .300 Blackout (7.62×35), has a 10.5″ 1:8 twist 4150 Light HBar barrel black nitride finish, a pistol length gas system, an A2 Birdcage Flash Hider, Ghost Firearms 9″ M-LOK Free Float Hand Guard and a mil-spec 7075 T6 upper receiver that's hard coat anodized for enhanced durability. Get ready to enjoy unparalleled precision with this top-of-the-line AR upgrade from Ghost Firearms!
16# Primary Weapons Upper Receiver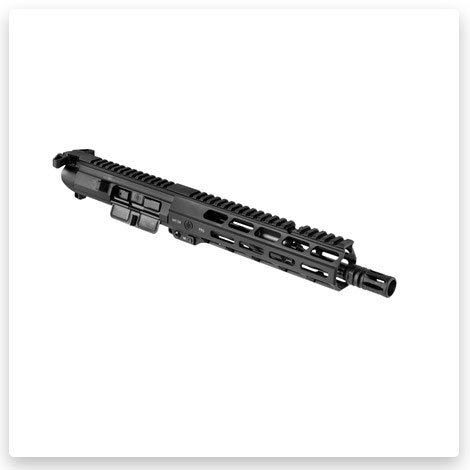 Introducing the Ghost Firearms Vital Blackout Upper, the essential piece for any hunter or shooter looking for reliable performance. From Primary Weapons Systems' MK1 MOD 1-M line of upper receivers comes an unquestionably reliable and hardened design with a free-float MLOK handguard, forward assist controls and true to-mil-spec construction that is sure to stand up against the toughest of tests. This complete upper will provide unrivalled precision and accuracy due to its fully forged upper and built-in long-stroke piston system that has become trusted by not only civilians but also law enforcement personnel. Be prepared for your next hunt or shooting excursion with the Ghost Firearms Vital Blackout Upper.
Installation🚦
Tools Needed for Installation:⚓
AR-15 armourer's wrench;
Vice or clamp;
Allen wrenches;
Thread-locking fluid;
Cleaning supplies;
Gun oil.
Installation Steps: 🔔
🔰 Step 1: Preparation. Before beginning the installation, make sure your firearm's chamber is empty and the magazine is removed. Next, secure your firearm in a vice or clamp to prevent it from moving around while you work on it.
🔰 Step 2: Remove the Old Flash Hider. Using the AR-15 armourer's wrench, remove the old flash hider by turning it counterclockwise. Once you've removed the old hider, make sure you clean the threads of the barrel to remove any debris or dirt.
🔰 Step 3: Apply Thread Locking Fluid. Apply thread-locking fluid to the new flash hider's threads. This step is important to ensure that the flash hider stays in place and doesn't work itself loose during use.
🔰 Step 4: Install the New Flash Hider. Now it's time to install the new flash hider onto the barrel. Start by threading it onto the barrel by turning it clockwise until it is hand-tight. Using the AR-15 armourer's wrench, tighten the flash hider two to three turns past hand tight.
🔰 Step 5: Final Checks. Once you have tightened the flash hider, perform a final check to ensure that it is securely attached to the barrel. Check to see that there is no wobble or play in the flash hider, as this can indicate that it was not properly tightened.
🔰 Step 6: Cleaning and Maintenance. After completing the installation, make sure you clean the firearm to remove any debris or dirt that may have accumulated during the installation process. Additionally, remember to lubricate your firearm with gun oil to ensure its optimal performance.
We believe this video can be helpful for you 📺
FAQ 🎲
Conclusion 🔊
If you're looking for the best 300 Blackout Flash Hiders on the market, then our comprehensive buyer's guide should help point you in the right direction. We have provided a range of options with different features and prices to suit your needs. Additionally, we've given useful tips about what to look out for when purchasing these flash hiders so that you can make an informed decision. With all this information at hand, now it's time to pick up one or two of these amazing products and get ready to experience their quality performance! 😎💛
Tags: #best 300 blackout flash hider / #best flash hider for 300 blackout / #best flash hider for 300 blackout pistol / #best flash hider for 300 blackout pistol california legal / #best flash hider for 7.5 300 blackout pistol