Affiliate Disclosure: AmmoCave.com sometimes gets paid for listings, through sponsors or affiliate programs like Lucky Gunner, Optics Planet, Brownells, Cabelas, Academy Sports & Outdoors, Rainier Arms, Palmetto State Armory, Sportsman's Guide, Ammo.com, Ammo Man, Primary Arms, MidWayUsa, Amazon, eBay, etс. Clicking a link helps keep AmmoCave.com free, at no extra cost to you!
Authors: Each article is verified by AmmoCave's expert team. Professional hunters, firearm trainers, gunsmiths, and gun experts write the articles. AmmoCave Team independently researches, tests, reviews, and uses recommendations from our community of gun owners. We may earn commissions from shopping links.
Note: The views and opinions expressed in this article are those of the authors and do not necessarily reflect any agency's official policy or position. The articles are for informational purposes only, share your opinions about Best 300 Blackout Flash Hider 2023 in the comments and join the discussions. Let's share 💬 our ammo & gun experiences together!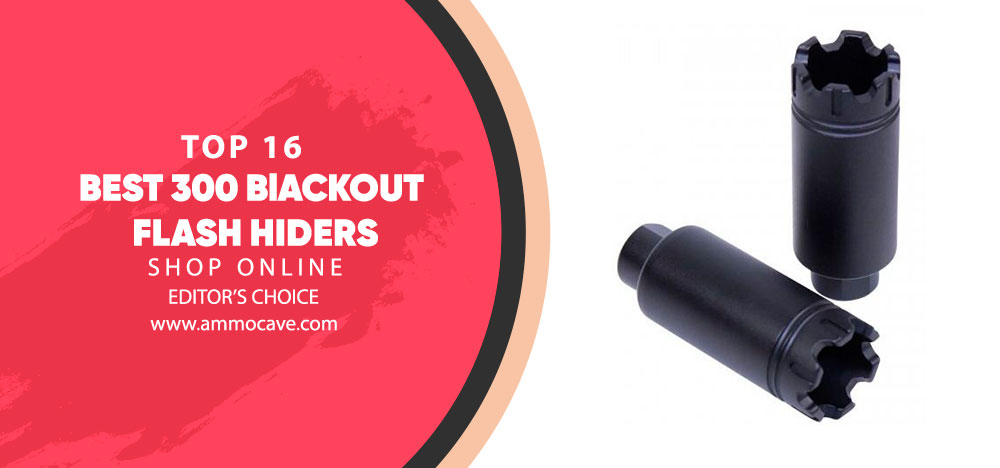 There are a lot of flash hiders on the market that can be purchased separately and included in the complete upper receivers, as you can see in our review. If you're looking for the best 300 Blackout flash hider, look no further than this guide. We'll take a look at some of the most popular models and help you choose the one that is right for you. So, whether you're looking for something to reduce recoil or just want a cool-looking muzzle brake, we've got you covered. Keep reading to learn more!
Why do we need 300 Blackout Flash Hiders?
The 300 Blackout flash hider is a necessary component for anyone looking to build or upgrade their AR-15 rifle. The flash hider helps to reduce recoil and muzzle flash, making it an important part of any build. The flash hiders are necessary for shooting in dim light conditions or at night, as they help keep night vision intact, decreasing the firing of smoke.  Additionally, it can also help to improve accuracy and provide a more comfortable shooting experience. So, if you're looking to upgrade your rifle, be sure to consider a flash hider.
Best Pick
Guntec Slim Line Micro Cone Flash Can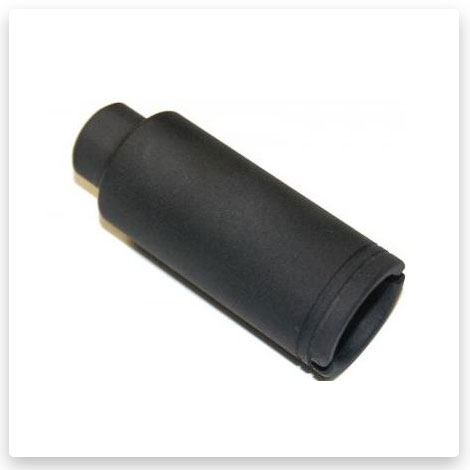 The Micro Cone Flash Can for AR15 pistols tucks in easily on Aero Precision slim (S-series) guards. These flash cans are great for prone shooting due to the closed bottom (no downward ports).
Top 16 300 Blackout Flash Hiders
#1 Stag Arms AR-15 Flash Hider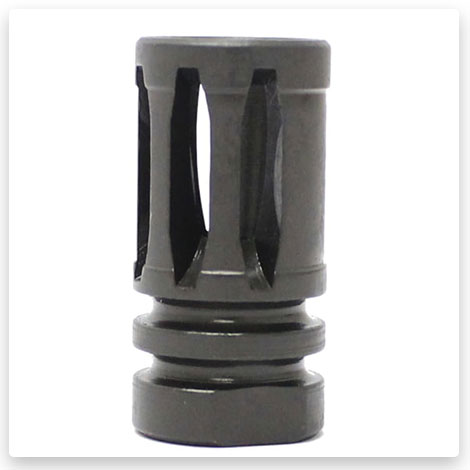 #2 Manticore Arms Shadow Flash Hider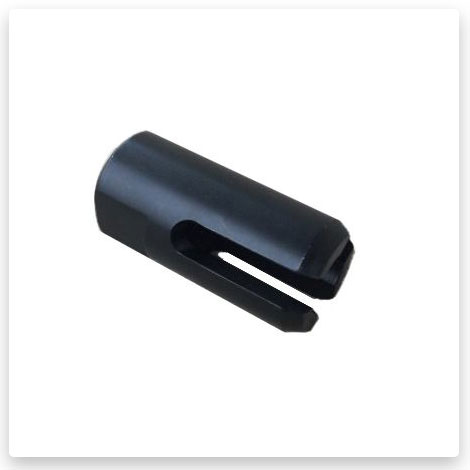 The Shadow Flash Hider is designed with three short, straight prongs for the flawless performance of flash hiding. This compact and economical version of the Eclipse flash hider will clear any round up to 9mm in diameter (i.e. 300 Blackout, 5.56mm, .22LR, etc). The muzzle devices are marked "MA" and "9mm" as they are compatible with 922r parts by Manticore Arms.
#3 Guntec Slim Line Micro Cone Flash Can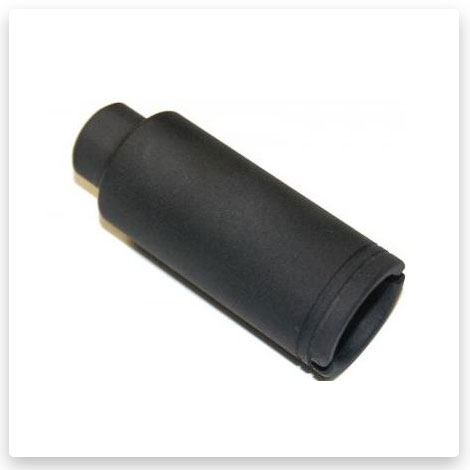 The Micro Cone Flash Can pushes Flash forward, fitting perfectly on AR15 pistols. There are 2 models available in Flat Dark Earth or Black colors.
#4 Guntec Slim Line Trident Flash Can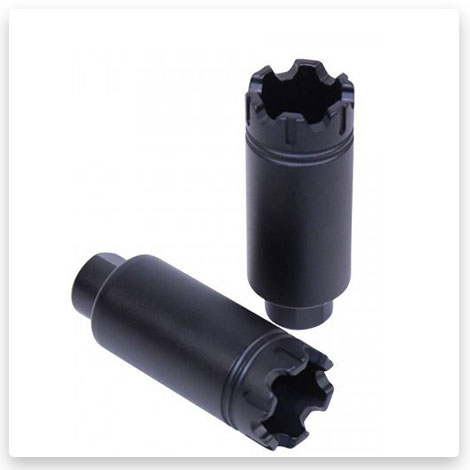 The Flash Can with Glass Breaker pushes the Flash forward and scatters it. The muzzle unit is crafted from Aluminum (T6) and Anodized. These cans can be paired with most Slimline Thin Free-Floating Handguards. The flash cans are available in 2 models for AR15 or AR10 guns in Black or Flat Dark Earth correspondingly.
#5 GUNTEC Claw Multi-Prong Flash Hider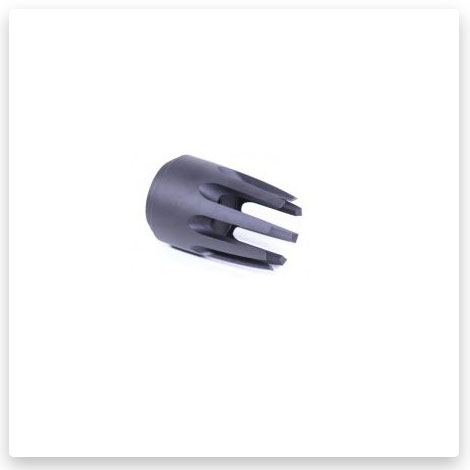 These Claw Multi-Prong muzzle devices are machined from Aluminum (T6) and covered with a Black Anodized Finish. The Rifle Flash Hiders are designed with a recessed counterbore to mount flush with 15-in handguards (with 16-in barrels).
#6 GUNTEC USA Cone Flash Can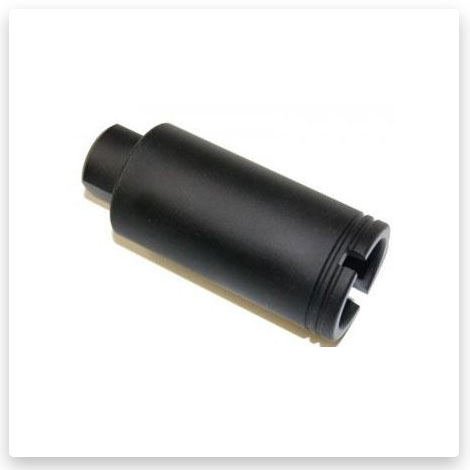 The AR-10 Cone Flash Can is manufactured of Aluminum (T6), and covered with Black Anodized. These cans push the flash-forward, providing them with efficient functionality.
#7 GUNTEC USA Predator Flash Hider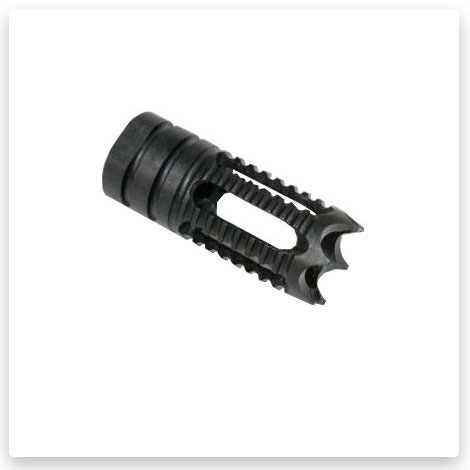 The A1 Predator Flash Hider is constructed from Steel with slots cut around the body.
The A1 Design Flash Hiders are compatible with any barrel that is outfitted with 5/8×24 threads and supports .308 as well as 300 Blackout.
#8 Guntec USA Micro Trident Flash Can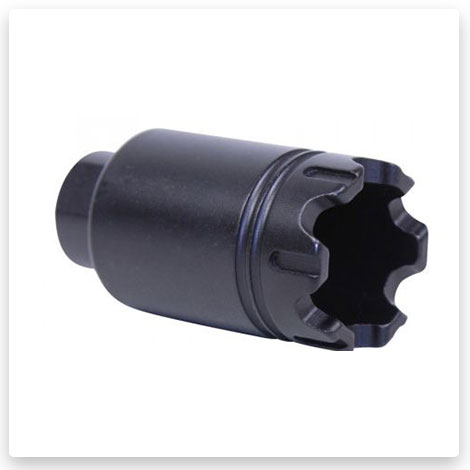 The Micro Trident Flash Can is manufactured for AR-15 from T6 Aluminum with Black Anodized Finish. The muzzle device pushes flash forward; it is paired with most Slimline Handguards. There are 3 models available for 9mm Luger, .223 Remington/ 5.56x45mm NATO or .300 AAC Blackout calibers and 1/2×36, 1/2×28, or 5/8×24 threads correspondingly.
#9 Spikes Tactical Forged Upper Receiver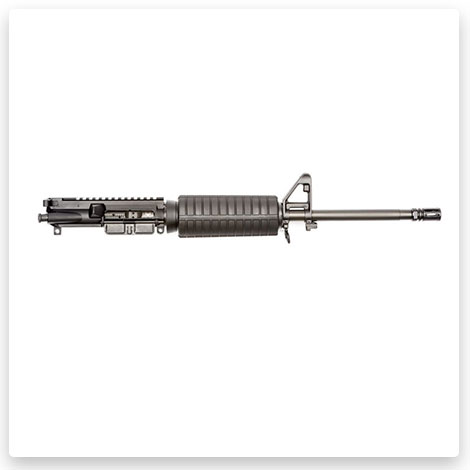 The complete upper assemblies are presented with 13 models of different rails and their lengths. The Black Anodized Forged Aluminum Upper Receivers consist of 7075 T6 Construction with A2 Flash Hider, Forward Assist, Ejection Port Door with Spring and Rod, Cold Hammer Forged Barrel, Chrome Lined, 1/7 Twist Rate, .750 Gas Block Seat, M4 Feed Ramps, Mil-Spec Phosphate Coating, SAR3 Rail (6061 T6), Continuous Top Rail, one Free Floating, QD Attachment Points, Stainless Steel Heat Shield, Low Profile Gas Block, Pistol Gas Tube with its Roll Pin, Charging Handle, and M16 Complete BCG.
#10 Spikes Tactical 300 Black Out Forged Upper Receiver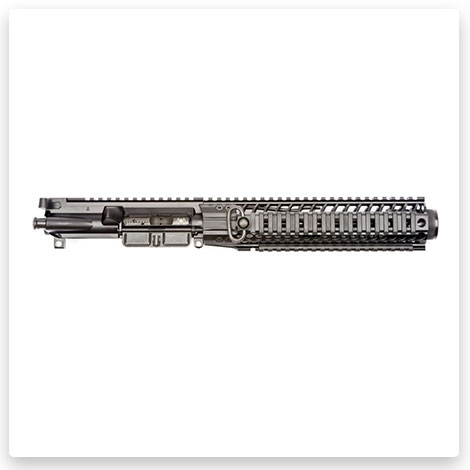 The Spikes Tactical Forged Upper Receiver is equipped with 10-in BAR2 Rail (6061 T6), Gas Tube Roll Pin, Charging Handle, Phosphate Coated M16 Complete BCG, Forward Assist, Ejection Port Door with its Spring and Rod. The 8.3-in Premium Barrel is crafted from Douglas Blank, featuring 1/7 Twist Rate, .750 Gas Block Seat, and M4 NIB Coated Feed Ramps. Continuous Top Rail comes with one Free Floating, Q.D. Attachment Points, and Stainless-Steel Heat Shield.
#11 Radical Firearms 16in Round Rail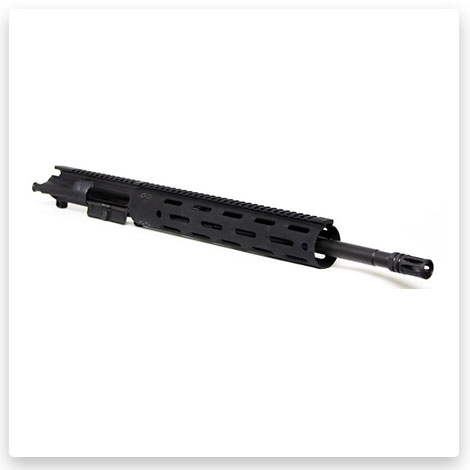 These AR15 Upper Receivers feature an A2 mil-spec flash hider, pistol length gas system, RF Round Rail with FGS 12in Rail, the 16-in HBAR melonite barrel (made of 4150 CMV steel), 12-in radical firearm billet Forward Guard Shield, Complete bolt carrier assembly, charging handle, M4 feed ramps, low profile micro gas block, forward assist/shell deflector.
#12 Aero Precision Handguard Complete Upper Receiver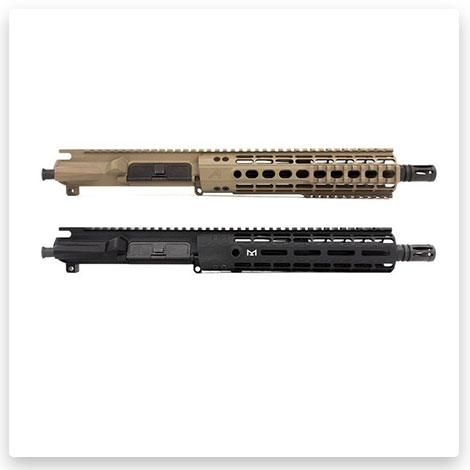 This Complete one-piece free float designed Upper is equipped with Standard A2 Flash Hider, Enhanced Quantum Handguard of choice, .300 Blackout CMV Barrel, Low-Profile Gas Block, Pistol-Length Gas Tube, an addition of built-in anti-rotation tabs, removable 4-slot Picatinny rail section for the front sight and a 7-mounting surface for accessories. The barrels are constructed from 4150 Chrome Moly Vanadium, covered with Corrosion-Resistant QPQ. The Quantum Handguard's inside diameter (1.78 in) fits most muzzle devices, low-profile gas blocks, and 1.5-in suppressors. The M4E1 Enhanced Assembled Upper Receiver with the installed port door and forward assist is forged from Aluminum (7075 T6); it doesn't come with BCG or Charging Handle. There are 6 models available in two colors Black or Flat Dark Earth and two finishes correspondingly hard-coat Anodized (Mil 8625 Type 3 Class 2) or Magpul Cerakote.
#13 Grid Defense Blackout Upper Receiver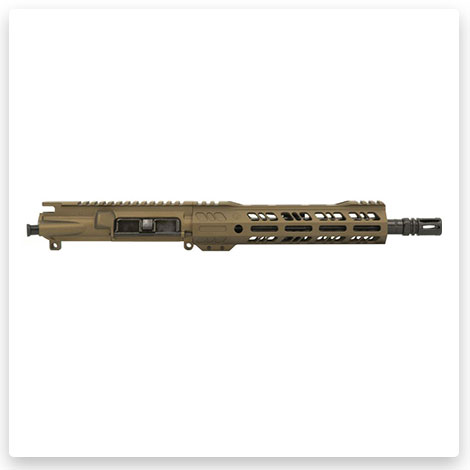 This AR15 Upper Receiver with an M-LOK free-float handguard delivers easy accessory attachment and more precise barrel shooting. These uppers come with a barrel, A2 Flash Hider/Dimpled Flash Can. The Mil-Spec Upper Receivers are manufactured from Aluminum (7075 T6), featuring sturdy yet lightweight.
#14 TRYBE Defense Complete Upper M-LOK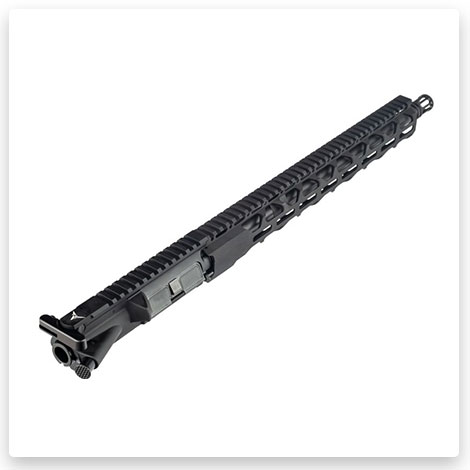 The AR-15 Upper includes a 16-in Barrel, made of 4140 CMV (Chrome Moly Vanadium) with Black Nitride Finish, 15-in M-LOK free float Rail, A2 Flash Hider, black nitride fully assembled BCG, a mil-spec low-profile ambidextrous charging handle, and Safety Selectors.
#15 Ghost Firearms Vital Blackout Upper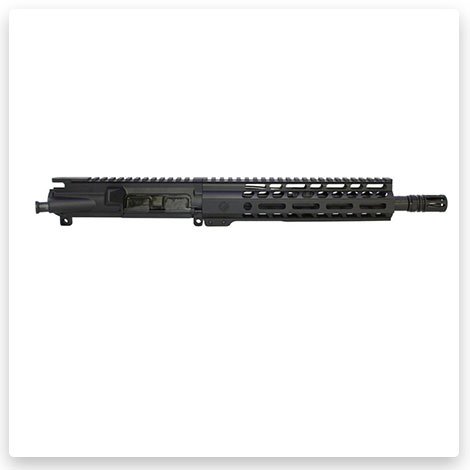 The Upper Receiver with A2 Birdcage Flash Hider, 9-in M-Lok Free Float Handguard, and 10.5-in Black Nitride Barrel is chambered in .300 Blackout (7.62×35). The Upper is Mil-Spec 7075 T6 with Matte Black finish and comes without a BCG or CH.
#16 PRIMARY WEAPONS UPPER RECEIVER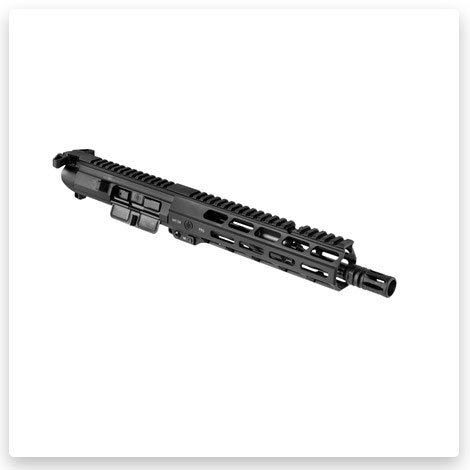 Conclusion
There are many different flash hiders on the market, and it can be hard to choose the right one. We have highlighted some of the best options for you. Our top pick is the #1 TRYBE Defense Complete Upper M-LOK because it is a high-quality product that shoots straight with no issues. It also fits any high-quality AR build. If you are looking for an affordable option, we recommend the #15 Ghost Firearms Vital Blackout Flash Hider.
Note:
While choosing the flash hider, check the compatibility issues: the due thread should match your rifle.
Tags: #best 300 blackout flash hider / #best flash hider for 300 blackout / #best flash hider for 300 blackout pistol / #best flash hider for 300 blackout pistol california legal / #best flash hider for 7.5 300 blackout pistol