Affiliate Disclosure: AmmoCave.com sometimes gets paid for listings, through sponsors or affiliate programs like Lucky Gunner, Optics Planet, Brownells, Cabelas, Academy Sports & Outdoors, Rainier Arms, Palmetto State Armory, Sportsman's Guide, Ammo.com, Ammo Man, Primary Arms, MidWayUsa, Amazon, eBay, etс. Clicking a link helps keep AmmoCave.com free, at no extra cost to you!
Authors: Each article is verified by AmmoCave's expert team. Professional hunters, firearm trainers, gunsmiths, and gun experts write the articles. AmmoCave Team independently researches, tests, reviews, and uses recommendations from our community of gun owners. We may earn commissions from shopping links.
Note: The views and opinions expressed in this article are those of the authors and do not necessarily reflect any agency's official policy or position. The articles are for informational purposes only, share your opinions about Handcuff Pouch 2023 in the comments and join the discussions. Let's share 💬 our ammo & gun experiences together!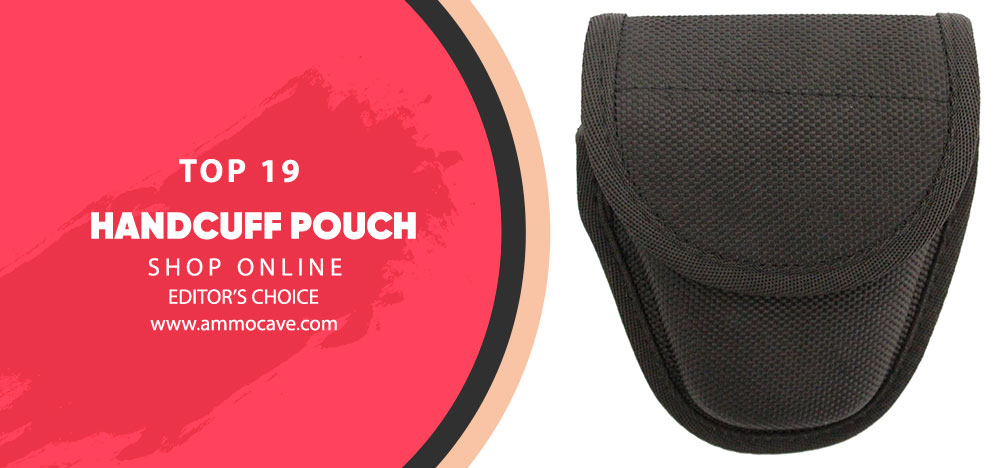 What is Handcuff Pouch? 🔊
It is a specially designed holder for handcuffs that provides an easy and convenient way to carry them securely. It is mostly used by law enforcement officers, security personnel, and other professionals who need access to handcuffs quickly during an emergency situation.
Watch this video to find more information 💻
Features 💡
🔰 One important feature is the material of the pouch.
High-quality materials like leather, nylon, and polymer are durable and can withstand wear and tear, making them ideal for the rigours of law enforcement activities.
The material should also be water-resistant to protect the cuffs from damage by moisture.
🔰 Size and compatibility are also crucial features to consider.
The pouch should be compatible with the type of handcuffs you use.
Different handcuff types come in various sizes, so be sure to get a pouch that fits your specific cuffs. A
Additionally, check that the pouch is the right size to fit your belt or vest, as this will affect accessibility and ease of use.
🔰 The accessibility of the pouch is also vital.
It should have a secure closure mechanism such as a snap button or Velcro to keep the handcuffs in place.
Some designs feature a flip-top or open-top design for easy access.
🔰 Another feature is compatibility with other tools such as flashlights or multi-tools.
This feature is convenient as it allows for the easy carrying of multiple tools in one pouch, which could free up space on an officer's belt.
Our Top Pick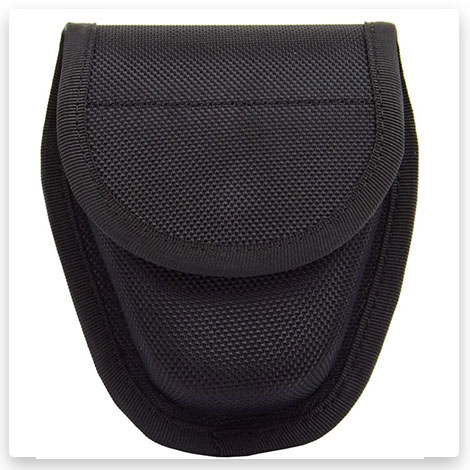 Keklle Standard Cuff Pouch
This cuff pouch is constructed from durable 1680D nylon material and features a hidden snap closure to keep your cuffs secure. Additionally, the high-temperature molding guarantees a precise fit.
Buy Now On Amazon
If you click this link and make a purchase, we earn a commission at no additional cost to you.
How To Use? 🔔
🎯 1. Properly fit the handcuff pouch to your waist: Make sure you properly adjust the length of the belt and secure it comfortably around your waist for optimal comfort and convenience.
🎯 2. Choose a quality model: Select a high-quality handcuff pouch that is durable, up to standard safety regulations, and fits your budget.
🎯 3. Ensure quick access to handcuffs: Positioning is key when it comes to accessing handcuffs quickly so make sure you practice with dummy cuffs or an empty pouch until you find an ideal position that works best for you.
🎯 4. Check if it has a locking mechanism: Most quality models of handcuffs pouches come with locking mechanisms like zipper locks or snaps which offer extra protection against tampering while still allowing easy access in case of emergency situations
🎯 5 Store additional items inside the Pouch (optional): Some handcuff pouches also feature storage compartments designed specifically for storing extra gear such as batons and magazines, giving officers added convenience on patrol shifts
🎯 6 Clean & maintain regularly: Like most other law enforcement gear, regular cleaning and maintenance are important factors when using any type of restraint device including cuff pouches
Best Handcuff Pouch 💣
1# Safariland Open Top Handcuff Pouch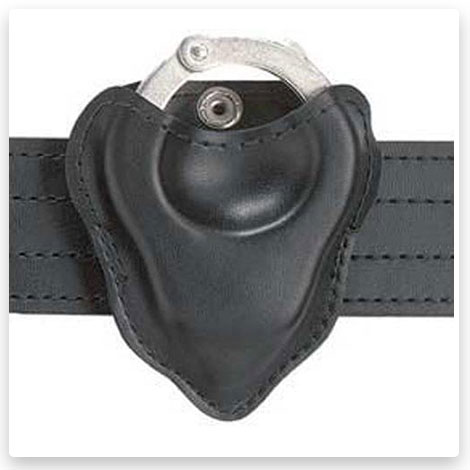 The Safariland Open Top Handcuff Pouch is the perfect way to keep your handcuffs close at hand. Constructed of durable SafariLaminate material, the cuff case fits standard chain or hinged handcuffs and is designed for 2.25″ (58mm) duty belts. Our findings show that the convenient open-top design provides easy access to your cuffs, while the thermal moulded construction offers long-lasting durability and protection against moisture and bloodborne pathogens. Whether you're a police officer or security guard, this essential piece of law enforcement gear is a must-have for anyone who carries handcuffs on a duty belt.
2# Bianchi Open Cuff Case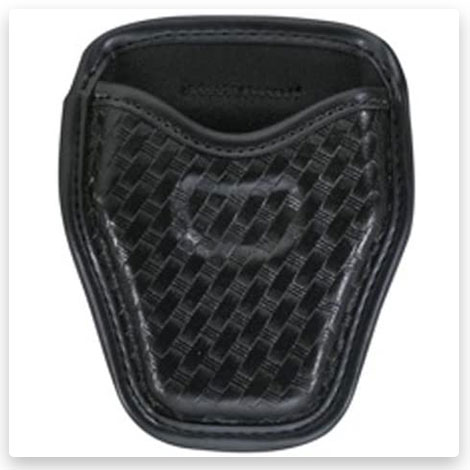 The Bianchi Open Cuff Case is the perfect solution for keeping your handcuffs easily accessible. Made of lightweight trilaminate construction with a synthetic leather-like finish, this case features a dual web belt loop design that accommodates both 2″ (50mm) and 2.25″ (58mm) belt widths. The complex knit lining provides a snug fit for your handcuffs, while the contoured design ensures a comfortable fit on your duty belt. Whether you're using standard Smith & Wesson model 100s or hinged cuffs, the Bianchi Open Cuff Case is an essential piece of equipment for any law enforcement officer.
3# First Class Police Handcuff Case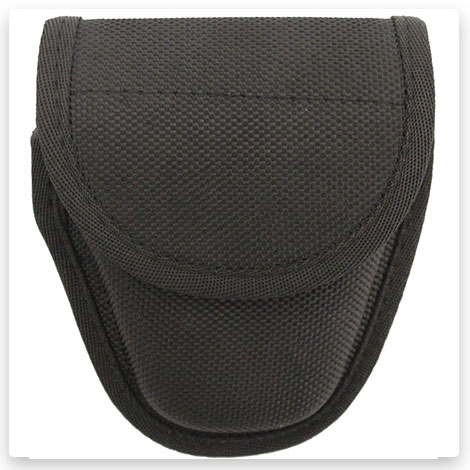 If you're looking for a tough and durable cuff case, the First Class Police Handcuff Case is a great option. Made of high-quality nylon, it's built to last and can withstand the rigours of daily use. The case also features a velcro closure, which keeps your cuffs securely in place. As a result of using this product, we found that the nylon belt loop is designed to withstand repeated use and can be easily attached to your duty belt.
4# High Speed Gear Handcuff Pouch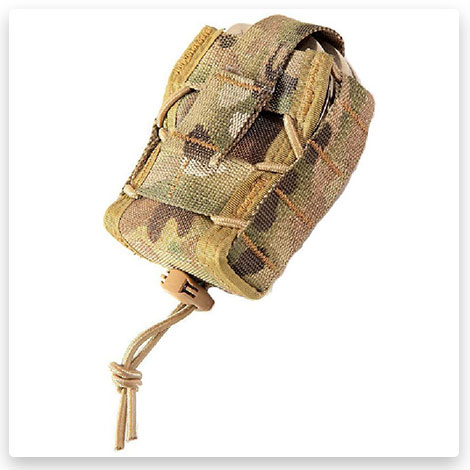 Looking for a reliable and modular way to carry your handcuffs? Look no further than the High-Speed Gear Handcuff Pouch! This handy little pouch can be attached to a plate carrier or tactical belt via MOLLE webbing and features bungee retention straps to keep your handcuffs securely in place. The top closure ensures that your handcuffs won't fall out, even after a long chase. And because it's completely modular, you can customize your loadout to suit your needs. Whether you're looking for a rapid response rig for home defense or a precision-oriented setup for law enforcement, the High-Speed Gear Handcuff Pouch has you covered.
5# Kydex Handcuff Case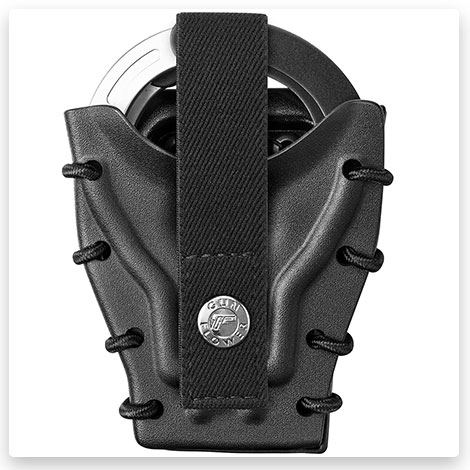 The Kydex Handcuff Case is the perfect solution for carrying and protecting your handcuffs. Made from durable Kydex, this case will withstand the harshest conditions and keep your handcuffs safe and secure. The case is universal, fitting both hinged and chain handcuffs, as well as ASPs. It also has an adjustable retention strap to ensure a snug fit and prevent accidental deployment. Additionally, the case comes with a removable nylon strap with a snap closure for additional retention. When we tried this product we admitted that it is the ideal way to keep your handcuffs close at hand and ready for action.
6# Kydex Taco Handcuff Holder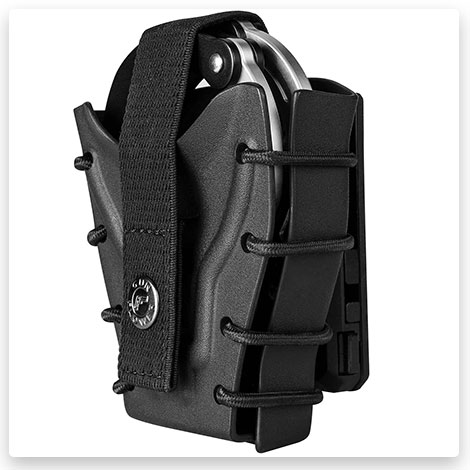 The Kydex Taco Handcuff Holder is the perfect accessory for law enforcement professionals. This versatile holder can accommodate several different brands of handcuffs and provides quick and easy access when you need it most. The Belt Attachment system also allows you to reorganize your duty belt without losing your tightness. We know that handcuffs can be a pain to keep track of, so we've made it easier than ever with this helpful holder.
7# Gun&Flower Polymer Handcuff Holder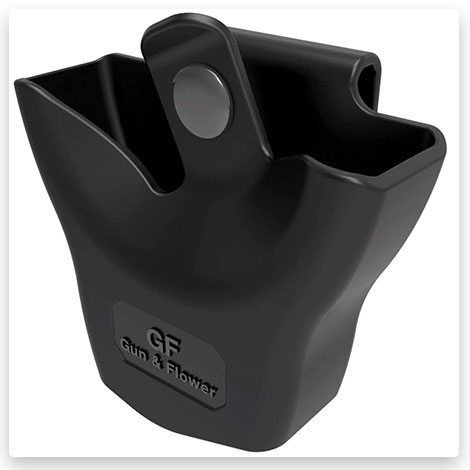 Introducing the Gun&Flower Handcuff Holder, perfect for law enforcement and military personnel. This high-quality holder is made of fibre-reinforced polymer, making it extremely durable. It also features an open-top design for easy access to your handcuffs. The holder comes in black and small size, making it perfect for concealment. Get yours today and be prepared for anything!
8# Nylon Open Top Handcuff Holder Pouch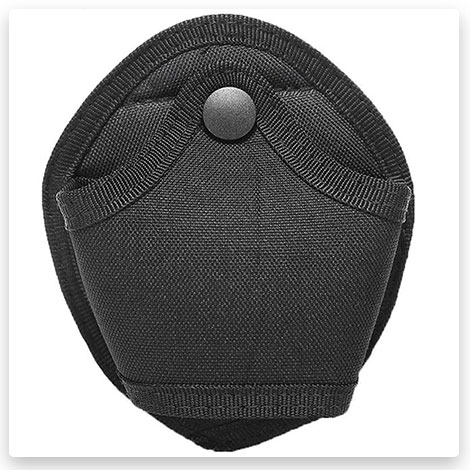 The Nylon Open Top Handcuff Holder Pouch is a quick-release, open-top handcuff pouch made from durable nylon material. It is a great choice for those who want easy access to their cuffs. Using this product, our team found that the pouch is weatherproof and washable, making it easy to keep clean. It is also black Trilaminate Construction with a 1680D nylon exterior for added durability. The large size fits most chain or hinged cuffs. The inside slot also holds an extra cuff key. The handcuff case comes with a 100% satisfaction guarantee.
9# Handcuff Sheath-Holster-Holder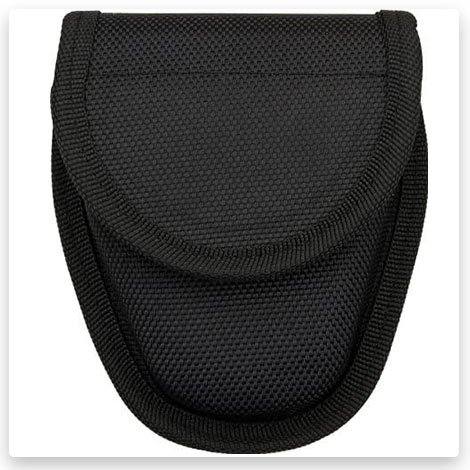 Looking for a reliable and durable handcuff sheath? Look no further than the Rite Edge Handcuff Sheath from SZCO Supplies. This sheath is constructed from tough nylon material, with a contoured mould underneath for added support and cushioning. The mould also features ribbed slots to accommodate different types of handcuffs, as well as a hidden Velcro closure. Plus, the small size and discreet belt loop allow you to carry it with you wherever you go. When you need a dependable handcuff sheath, trust the Rite Edge!
10# High Speed Gear Handcuff Pouch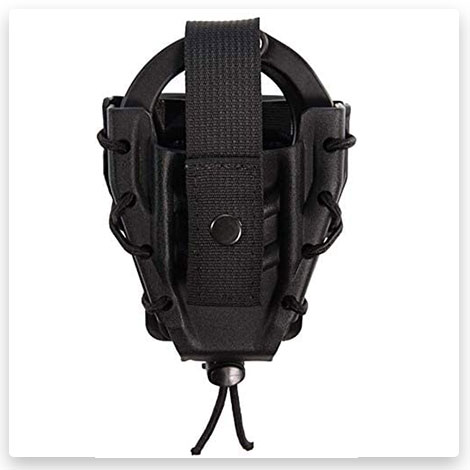 The High-Speed Gear Handcuff Pouch is the perfect way to keep your handcuffs close by and easily accessible. Made from aircraft-grade Kydex, this pouch is tough and resistant to breaking, while also being modular in design for easy stacking of multiple items. The smooth finish makes it easy to insert and draw your handcuffs, and the removable nylon snap closure provides additional retention. Whether you're carrying chained or hinged handcuffs, this pouch is a must-have for any law enforcement or security professional.
11# Keklle Standard Cuff Pouch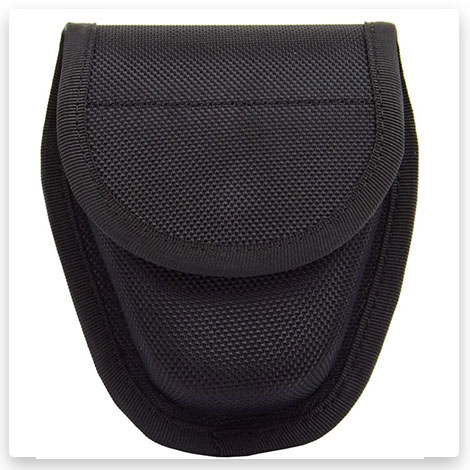 Looking for a top-quality, durable handcuff pouch? Look no further than the Keklle Standard Cuff Pouch! Made of 1680D nylon, this cuff pouch is built to last. The hidden snap closure keeps your cuffs securely in place, while the high-temperature moulding ensures a precision fit. Whether you're carrying one set of cuffs or two, this versatile pouch has you covered. Don't miss out on this must-have accessory for any law enforcement professional.
12# Condor Double Handcuff Pouch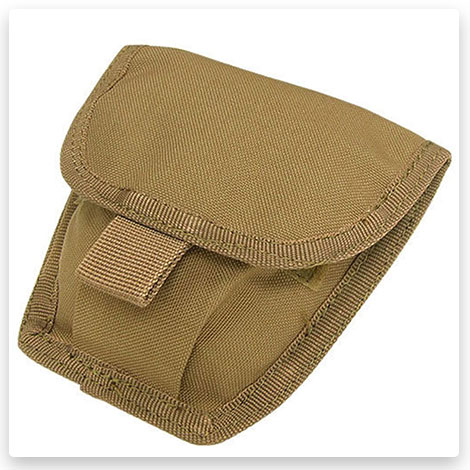 Whether you're a law enforcement officer or civilian looking for a great way to store your handcuffs, the Condor Double Handcuff Pouch is the perfect solution. This Molle modular belt handcuff storage pouch is widely used and trusted by many, and can easily accommodate two pairs of handcuffs with a spacer in between each pair. There are multiple carrying options with this pouch, as it features two straps for attaching to your belt or tactical pack with securely sewn-on MOLLE webbing and quick snap and release button snaps. As our tests have shown the rubber pull tab provides quick access to your handcuffs, while the stitching all around the top flap and strapping ensure that the pouch will stay securely closed. Don't be caught without your handcuffs when you need them – pick up a Condor Double Handcuff Pouch today!
13# CyberDyer Handcuff Holder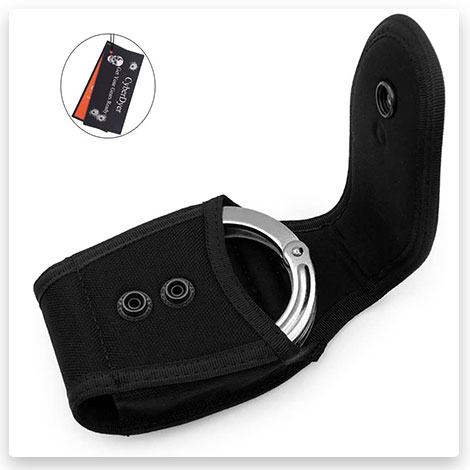 CyberDyer's Handcuff Holder is a must-have for any law enforcement or military personnel. This holder is made of high-quality, thick nylon which is worn and tear-resistant, and features a high-temperature molding for long-lasting shape retention. It also has a belt loop on the back which can be attached to most duty belts and has two snap fasteners to adjust the height. The covered hidden snap keeps handcuffs safe and secure inside, while still allowing for quick and easy access. It is compact, durable, and makes a great addition to any uniform.
14# ASP Tactical Handcuff Pouch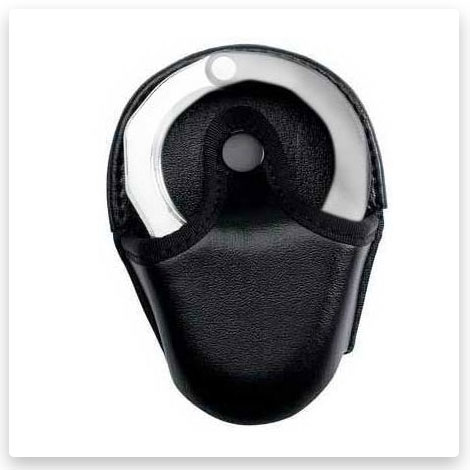 The ASP Tactical Handcuff Pouch is the perfect way to carry your hinged or chain handcuffs. Made from durable ballistic weave, this pouch is built to last and will look great with daily use. The key pocket on the back of the cuff holder is a great feature, and the pouch is easily adjustable to fit any belt width. Order your ASP Tactical Handcuff Pouch today!
15# Fobus Handcuff Pouch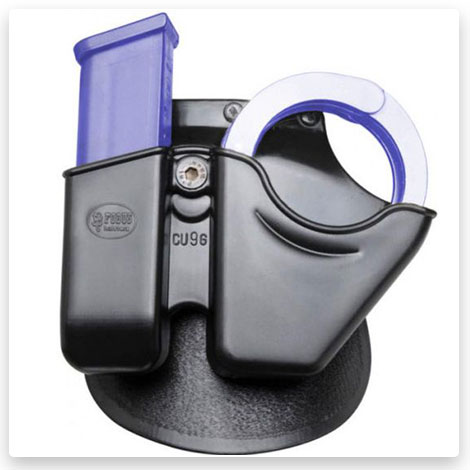 Looking for a versatile and discreet way to carry your handcuffs and magazine? Look no further than the Fobus Handcuff Pouch. This one-piece pouch body is designed for easy on-the-job concealed carry. The rubberized paddle provides extra stability, while the adjustable tension design ensures a snug fit for most magazines and chain handcuffs. So whether you're on duty or off, you can rest assured that your gear will be close at hand.
16# Safariland 090 Handcuff Pouch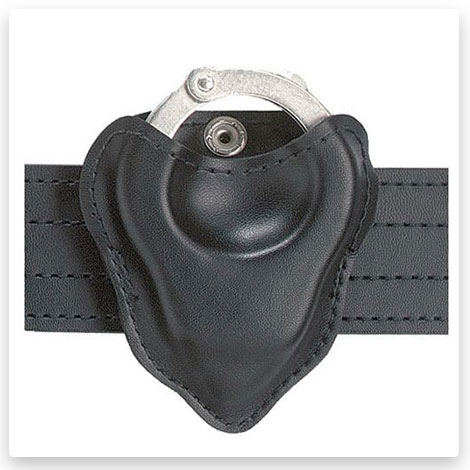 If you're looking for an outstanding handcuff pouch, you'll want to check out the Safariland 090 Handcuff Pouch. This top-of-the-line handcuff pouch is perfect for law enforcement professionals who need quick and easy access to their handcuffs. The open-top design of the pouch allows for easy access to the handcuffs, while the formed construction provides superior retention. The pouch is also available with a Nylon Look finish in a variety of colors, so you can find the perfect match for your duty gear. Order your Safariland 090 Handcuff Pouch today!
17# Safariland 290HS Handcuff Pouch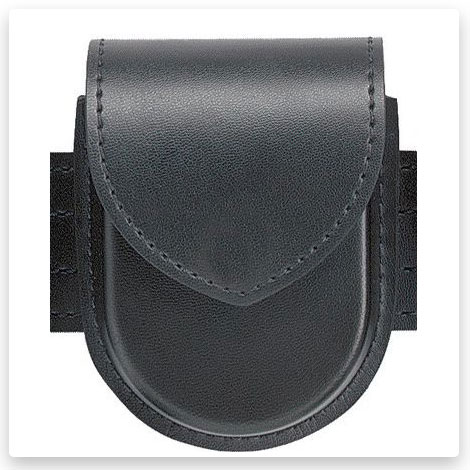 The Safariland 290HS Handcuff Pouch is a top-quality soft-sided pouch designed specifically for double handcuffs. It features strong and durable construction, a vertical belt loop for easy attachment, and an internal compartment for secure storage. The quick-release snap closure keeps contents safe and secure, while the roomy interior provides ample space for extra cuffs or other duty gear. Additionally, the pouch features two internal pockets and a vertical carry handle for convenient transport.
18# High Speed Gear Handcuff Pouch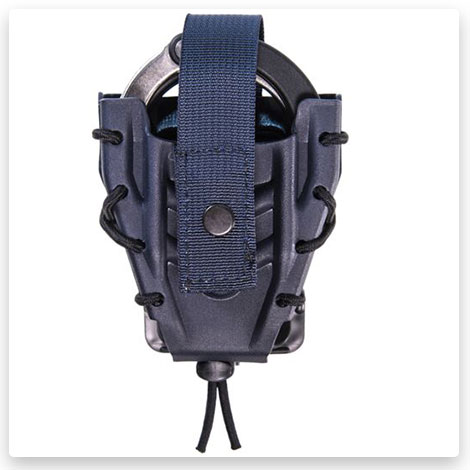 The High-Speed Gear Handcuff TACO Kydex U-Mount Pouch is the perfect way to carry your handcuffs. Made from 100% aircraft-grade Kydex, this pouch is lightweight yet rugged, ensuring that your handcuffs are always within reach. The discreet design allows you to carry your handcuffs without drawing attention to them, and the positive locking system ensures that they stay securely in place.
19# Bianchi Cuff Case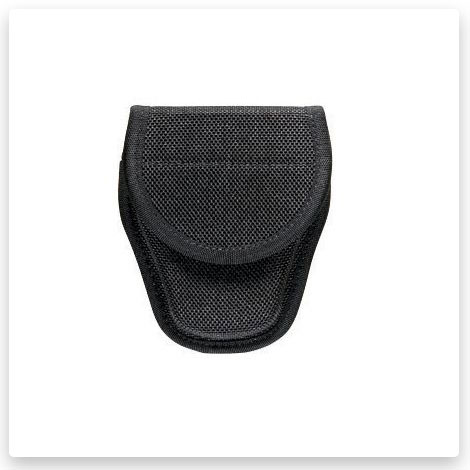 The Bianchi 7300 AccuMold Covered Cuff Case is a great way to keep your handcuffs concealed and close at hand. This cuff case is made from AccuMold trilaminate construction with a ballistic weave exterior and Complex lining. It features a hook/loop and hidden snap closure for security. The dual web belt loop design accommodates 2″ (50mm) – 2.25″ (58mm) belts.
Placement of the Handcuff Pouch 👮‍♀️👮
⭕ Traditionally, they are placed on the non-dominant side, opposite the holster.
This placement allows for quick and easy access with the non-dominant hand while leaving the dominant hand free for weapon retention.
However, some officers prefer to place the pouch on the same side as the holster for balance purposes.
⭕ Another factor to consider is the type of handcuff pouch being used.
Some designs, such as open-top pouches, allow for even quicker access but may not provide as much retention as a closed-top pouch.
Closed-top pouches may require a slight adjustment in placement to ensure smooth and efficient handcuff removal.
It's important to also consider the other equipment being carried on the duty belt when determining the placement of the handcuff pouch. If the pouch is too far forward or back on the belt, it can interfere with the placement and accessibility of other items such as magazines or batons.
Cleaning 🧼
🧷 Use a mild detergent, such as dish soap or laundry detergent, with warm water for general cleaning.
🧷 Avoid abrasive cleaners that can damage the leather or synthetic material of the pouch.
🧷 For tougher stains, use a soft brush or cloth soaked in soapy water before rinsing it off with clean water.
🧷 After cleaning thoroughly, make sure to dry it completely before storing it away from direct sunlight and moisture.
🧷 Once dried off, apply a leather conditioner if needed for extra protection against wear and tear over time.
FAQ 😎
Conclusion ⌛
Handcuff pouches are an important piece of equipment for law enforcement and security professionals. The best pouch can help protect your handcuffs from damage, make them easier to carry and keep them accessible when you need them. We've provided reviews of the top-rated items on the market so that you can find the right one for your needs. Whether you're looking for a leather or nylon holster, we have something here for you. Thanks for reading! 🙂 ❤️
Tags: #handcuff pouch / #molle handcuff pouch / #double handcuff pouch / #molle double handcuff pouch / #safariland handcuff pouch / #how to make handcugfs fit in handcuff pouch