Affiliate Disclosure: AmmoCave.com sometimes gets paid for listings, through sponsors or affiliate programs like Lucky Gunner, Optics Planet, Brownells, Cabelas, Academy Sports & Outdoors, Rainier Arms, Palmetto State Armory, Sportsman's Guide, Ammo.com, Ammo Man, Primary Arms, MidWayUsa, Amazon, eBay, etс. Clicking a link helps keep AmmoCave.com free, at no extra cost to you!
Authors: Each article is verified by AmmoCave's expert team. Professional hunters, firearm trainers, gunsmiths, and gun experts write the articles. AmmoCave Team independently researches, tests, reviews, and uses recommendations from our community of gun owners. We may earn commissions from shopping links.
Note: The views and opinions expressed in this article are those of the authors and do not necessarily reflect any agency's official policy or position. The articles are for informational purposes only, share your opinions about Best 22 LR Ammo in the comments and join the discussions. Let's share 💬 our ammo & gun experiences together!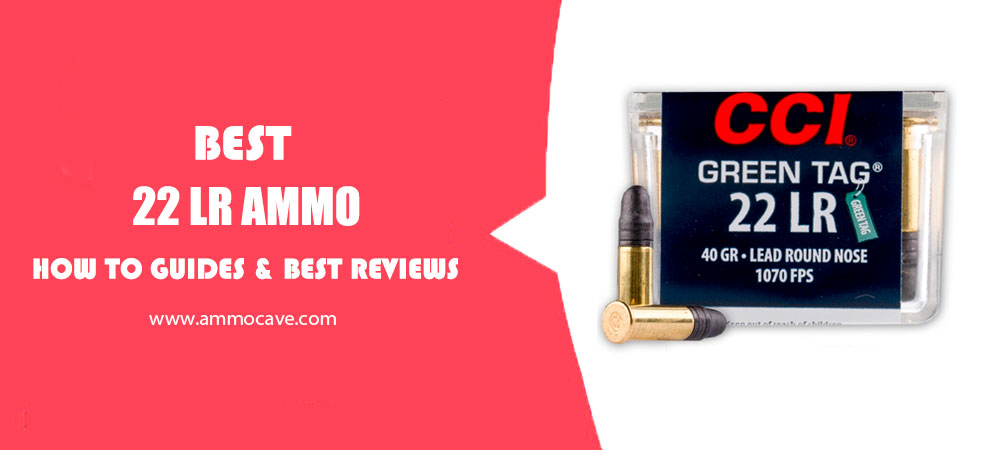 What is 22 LR Ammo? 🤔
Also known as the .22 Long Rifle, is a rimfire cartridge designed for use in small firearms. It has been around since 1887, making it one of the oldest cartridges on the market. Due to its diminutive size and relatively low cost, this ammo is popular among beginner shooters and experienced gun owners alike.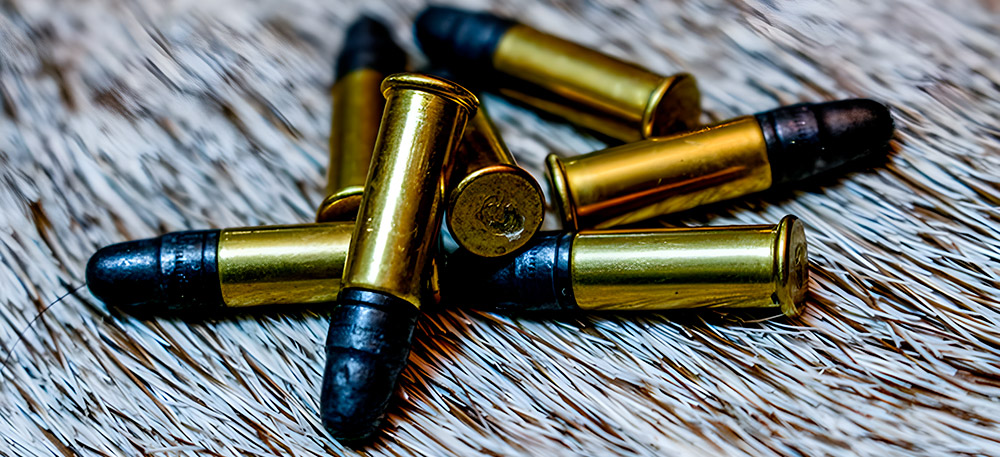 Features 😎
22 LR ammo is a small-caliber ammunition used in rifles, handguns, and even some shotguns.
❇️ It is available in a variety of bullet styles including flat nose, hollow point, round nose, semi-jacketed hollow point, and wadcutter.
❇️ The most common type is the standard-velocity round; however, there are also high-velocity rounds available for those who require higher velocities.
❇️ This ammo is particularly beneficial to shooters because it is relatively inexpensive compared to other types of ammunition.
❇️ Additionally, due to its low recoil and lightweight, it can be used in handguns with lighter triggers that may not handle larger caliber rounds well.
❇️ Finally, due to its small size, such ammo does not have a significant environmental impact when compared to larger calibers.
Our Top Pick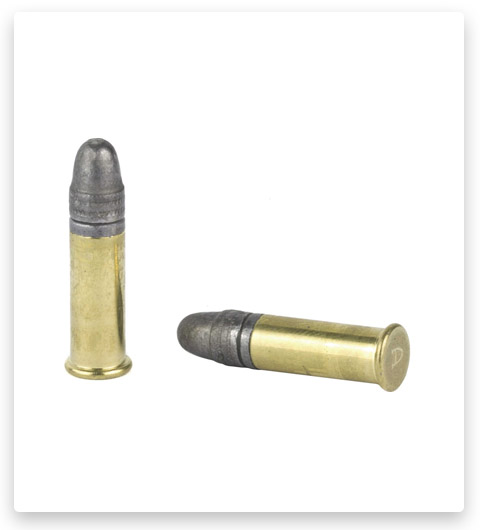 22 LR Ammo
It is the perfect choice for any high-volume shooter looking to maintain a well-stocked supply of quality rimfire ammunition. Each round features a copper-plated hollow point projectile loaded into a non-corrosive, rimfire-primed brass casing with a muzzle velocity of 1260 FPS for reliable performance with every shot. Stock up today so you're always ready no matter your application - whether it be recreational target shooting or serious hunting.
Explore Now
If you click this link and make a purchase, we earn a commission at no additional cost to you.
Benefits 🤩
When it comes to long-range shooting, 22 LR ammo is a great choice for both beginner and experienced shooters.
☑️ This type of ammunition offers several benefits, including affordability and low recoil.
☑️ Furthermore, ammo is designed with accuracy in mind, making it an ideal option for more precise shooting.
☑️ It also produces minimal sound when fired so it's often used in competitions that require quiet firings such as small game hunting or target practice at the range.
☑️ This ammo is lightweight so it's easy to transport and store without taking up too much space.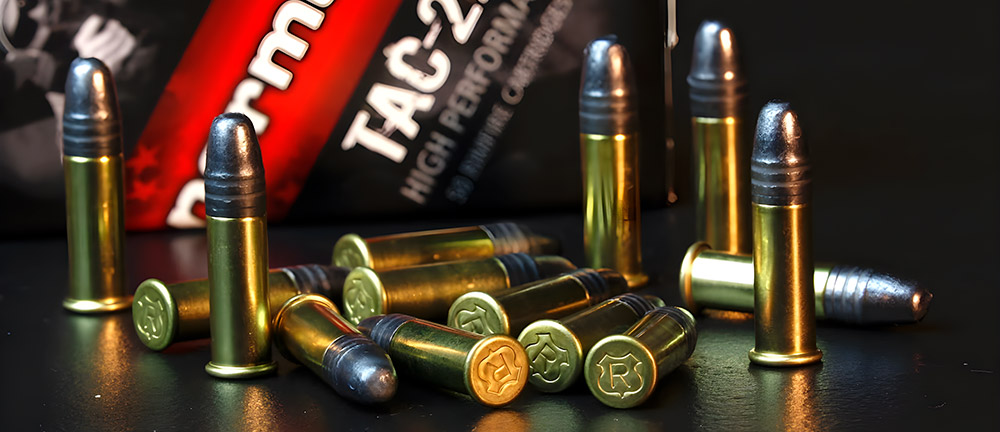 Ballistic Properties 💥
When searching for the best 22 LR ammo, it's important to consider more than just the price. The type of bullet and its ballistic properties are often more important factors in determining what's ideal for your needs.
🔍 This ammo typically has a relatively low muzzle velocity compared to other cartridges, ranging from 1,075 FPS to 1,250 FPS for standard loads. This low velocity is one of the major reasons why this ammo is so effective at distances up to 200 yards without needing excessive amounts of gunpowder or leads in the bullet.
🔍 The size of the projectile used also matters as it generally comes either in hollow-point or full metal jacket variants.
⚡ Hollow-point bullet designs are more reliable in terms of accuracy, but their lead fragments can be dangerous if used indoors.
⚡ Full metal jacket bullets don't fragment as easily and are often used for target shooting.
🎯 For example, if you plan on using your 22 LR gun at relatively short distances (up to 200 yards), then standard velocity loads with full metal jacket bullets may work best.
🎯 If you need greater accuracy over longer distances, high-velocity or hyper-velocity ammo might provide better results.
Our Selection 18 Best 🎯 .22 Long Rifle Ammo –
Editor's Choice
1# 22 LR – 40 Grain LS –
Armscor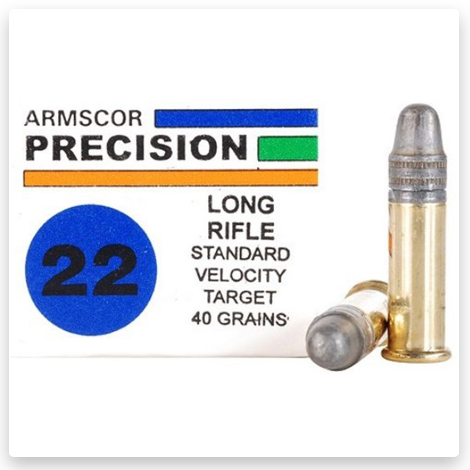 If you need high-quality, precision ammunition at an affordable price, then Armscor is the perfect choice for you. With a wide selection of products that meet or exceed all industry standards, you can be confident that you're getting the best possible value for your money. Whether you're a police officer, military personnel, gun enthusiast, or just enjoy shooting for sport, Armscor has the perfect product to suit your needs. When choosing ammunition, make sure you choose a brand you can trust to deliver on its promises. Choose Armscor and get the best bang for your buck!
2# 22 LR – 45 Grain LHP –
CCI

Suppressor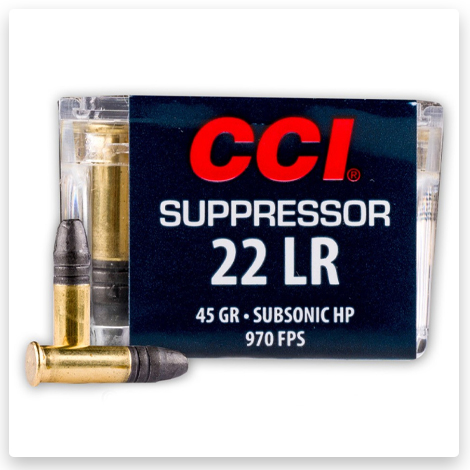 Whether you're using a suppressor or not, this CCI Suppressor 22 LR ammunition is perfect for when you need to be discreet. This 45-grain LHP is perfect for use with a suppressor, and it also has a softer report even without one. The lead hollow point projectile is designed to expand on impact, making this an ideal choice for self-defense or hunting. So if you're looking for a quiet round that packs a punch, then be sure to try CCI's Suppressor line.
3# 22 LR – 40 Grain LRN Competition –
CCI

Green Tag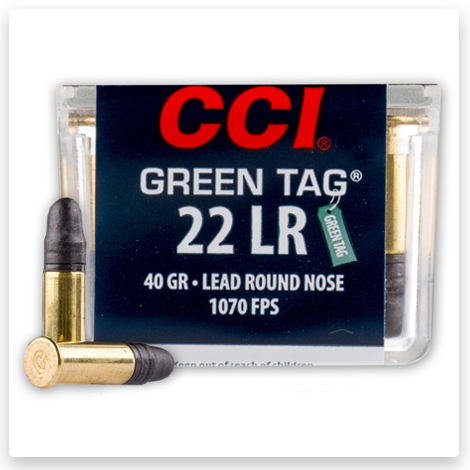 Searching for top-quality, affordable ammunition for your next shooting competition? CCI Green Tag Competition is a perfect choice! This ammunition is Rigorously tested for maximum consistency and accuracy, shot after shot. It's newly manufactured by CCI, so you can be sure it's of the highest quality. Plus, the clean-burning propellants help keep your gun's action clean for optimal performance. The rounds come packaged in a reusable plastic box with a dispenser lid – perfect for taking to the range. And they're loaded to the same velocity as CCI's premier match rimfire cartridges, so you'll get outstanding results. Get ready to dominate the competition with CCI Green Tag Competition ammunition!
4# 22 LR – 40 Grain LRN – Pistol Match –
CCI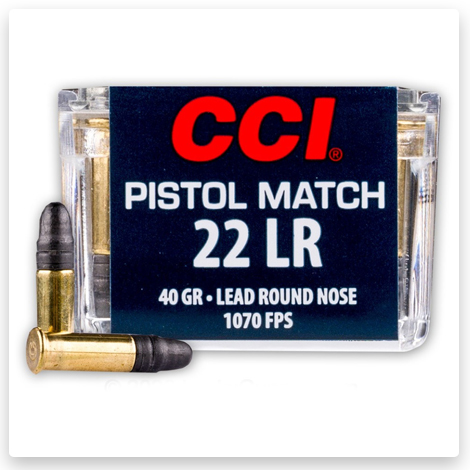 Searching for an affordable and accurate choice for target shooting? Look no further than CCI Pistol Match Ammo! This high-quality ammunition is perfect for competitions or casual plinking and will provide the reliable accuracy you need. The clean-burning propellants help keep your action clean for maximum performance, and the rounds come packaged in a durable and reusable plastic box. So don't waste any more time – pick up a box of CCI Pistol Match Ammo today and start hitting your targets with precision!
5# 22 LR – 31 Grain Shotshell –
CCI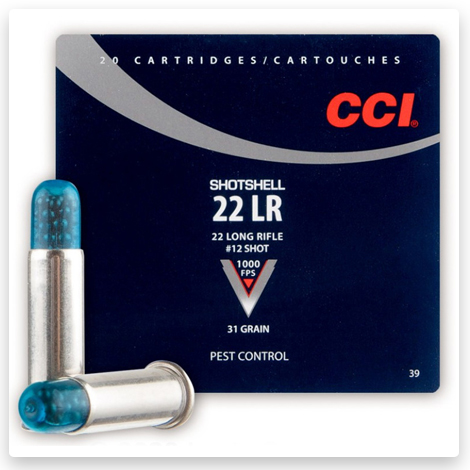 If you need a high-quality 22 LR cartridge that will do the job quickly and efficiently, consider the CCI 31 Grain Shotshell. Ideal for pest control situations involving close-range targets such as rats, mice, and snakes, this ammunition is manufactured to CCI's high standards using clean-burning propellants to keep your action cleaner. Thanks to its precision construction and trustworthy performance, the CCI 31 Grain Shotshell is sure to become a favorite among 22 LR shooters.
6# 22 LR – 40 Grain HP –
Eley Subsonic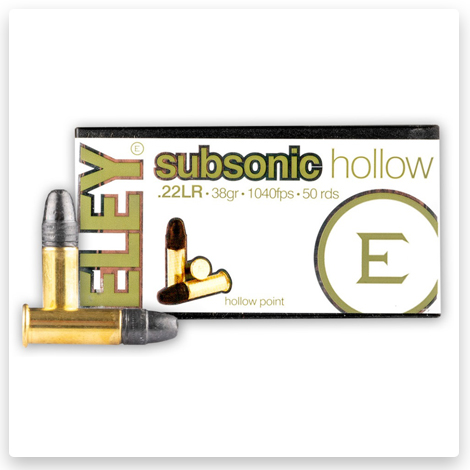 Do you need a reliable and accurate subsonic hunting cartridge? Look at the Eley's Subsonic Hollow. These rounds are loaded with a dry lubricant to help ensure smooth feeding and reliability in all weather conditions. The hollow point projectiles are designed for maximum expansion and stopping power, making them ideal for taking down games of all sizes. And thanks to Eley's 180 years of experience in ammunition manufacturing, you can be assured of top-notch quality and performance. So don't settle for anything less on your next hunt – go with Eley's Subsonic Hollows and make the most of your time in the field.
7# 22 LR – 40 Grain CPRN –
Federal

Range. Target. Practice.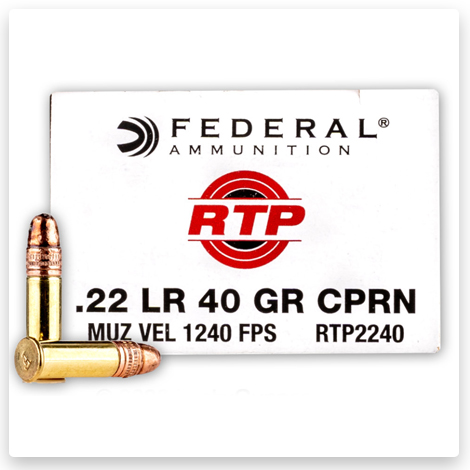 No matter what your intended use for this 22 LR cartridge by Federal is, you can be sure that it will serve you well. Its 40-grain bullet is lightweight enough for a muzzle velocity of 1,240 fps, making it perfect for target practice, plinking, or anything else you can think of. The round nose bullet is also plated with copper, ensuring that your weapon's riflings will stay clean and free of lead. With over 100 years of experience in the firearms industry, Federal is a name you can trust to provide high-quality ammunition for all your needs.
8# 22 LR – 40 Grain CPRN –
Fiocchi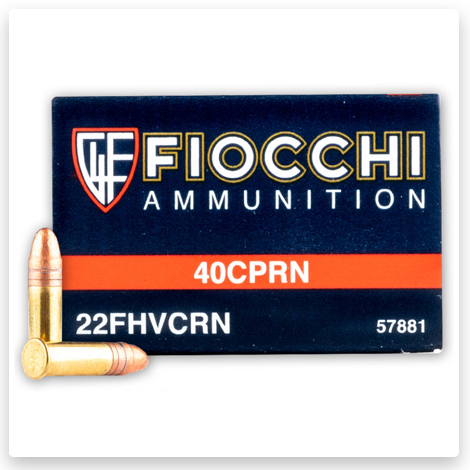 Fiocchi's Copper Plated Round Nose High-Velocity cartridges are made of top-notch components for reliable and accurate performance. The 22 LR is a great choice for the shooter who is hunting small game or plinking. Fiocchi draws from over 130 years of experience in the shot shell market and they utilize their rich Italian heritage to produce high-quality loads that deliver premium performance. This ammo is a new production rimfire, non-reloadable, and non-corrosive.
9# 22 LR – 40 Grain LRN –
Remington

Thunderbolt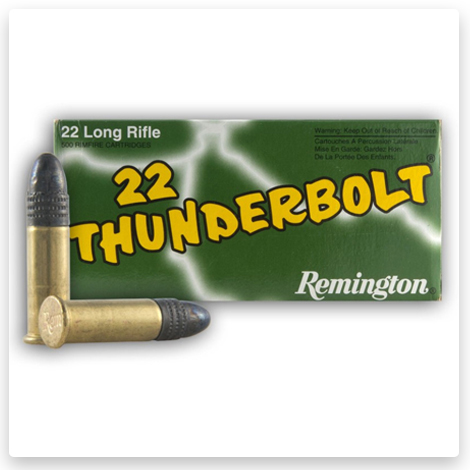 Searching for a versatile and reliable rimfire round? Remington Thunderbolt LRN is a great choice for a variety of applications. Whether you're shooting in competition, plinking at the range, or hunting, Thunderbolt LRN provides excellent performance. Remington is one of the leaders in ammunition advancements, so you can be confident that you're getting a quality product. Thunderbolt LRN loads create a pleasant shooting experience for all shooters, young and old alike. So whatever your needs, make sure to give Remington Thunderbolt LRN a try.
10# 22 LR – 40 Grain LRN –
Winchester

Wildcat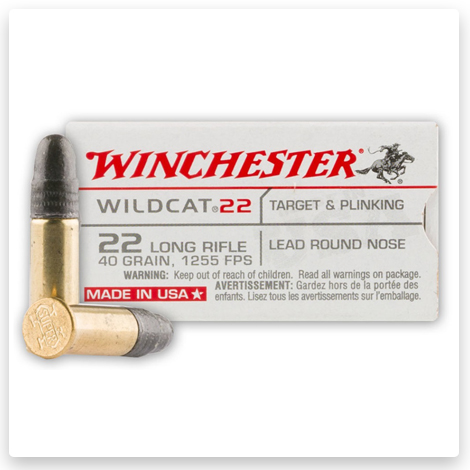 Want to get an affordable, reliable, and accurate 22LR cartridge? Notice the Winchester Wildcat. This ammunition is perfect for target practice or small-game hunting. It has been a trusted name in the industry since 1866, providing citizens and military personnel with top-quality products. The brass casing and boxer primer make it a non-corrosive and long-lasting option, while the rimfire primer is perfect for consistent ignition. Most Winchester ammo is produced in their state-of-the-art facility in Oxford, Mississippi, so you can be sure you're getting a product of the highest caliber. Order your Winchester Wildcat 22LR today!
11# 22 LR – 40 Grain Hyper Velocity CPHP –
Winchester

Super-X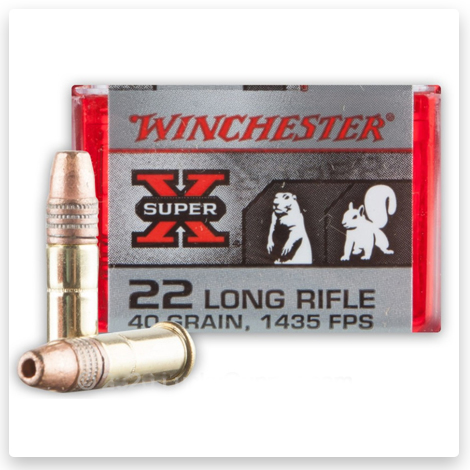 Winchester's Super-X line of ammunition offers tried and true approaches to every shooting you could imagine, and this 22 LR cartridge is no exception. Target shooters and varmint hunters alike will appreciate the flat trajectory and impressive speed of this hypervelocity round, which has a muzzle velocity of 1,435 fps. The hollow point bullet is designed to distribute more of its energy on impact, making it an ideal choice for small game hunting. The thin sheet of copper coating on the bullet helps to keep your bore clean and free of fouling, so you can enjoy accurate shooting for seasons to come. Order your supply of Winchester Super-X 22 LR today!
12# 22 Long Rifle – 40 Grain Lead Round Nose –
CCI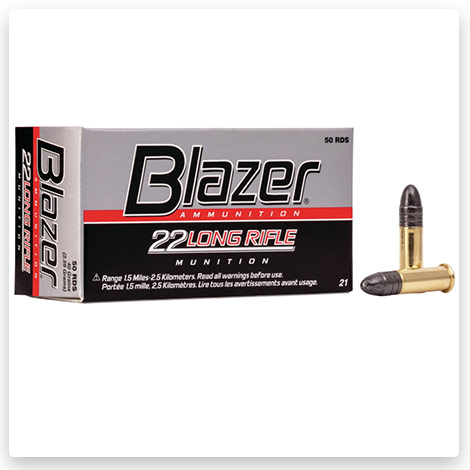 Want to buy a versatile and affordable 22 Long Rifle round? Check out CCI Blazer 22 Long Rifle ammo. This 40-grain lead round-nose bullet is great for a variety of applications, from small game hunting to casual plinking. It cycles well in semi-automatic rifles, making it a great choice for those looking for an all-purpose 22LR round. So whether you're headed to the range or out in the field, pick up some CCI Blazer 22 Long Rifle ammo and enjoy the shooting experience.
13# 22 Long Rifle – 40 Grain Eps –
Eley Ammo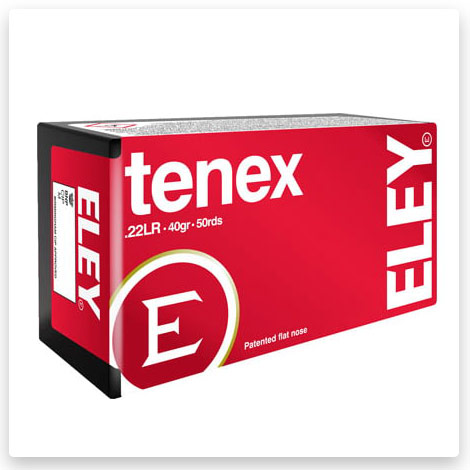 If you're searching for an excellent deal on the Eley Ammunition Eley Ammo Tenex .22lr 40gr. Eps 50-pack, then you've come to the right place. These 22 Long Rifle Ammo from the professional product specialists at Eley Ammunition are designed using durable and reliable materials, so you can be sure they'll last for years to come. Made with some of the best materials and engineering available, these special 22 Long Rifle Ammo from the product experts at Eley Ammunition will give you many years of service. Order yours today and see for yourself!
14# 22 Long Rifle – 40 Grain Round Nose –
Eley Ammo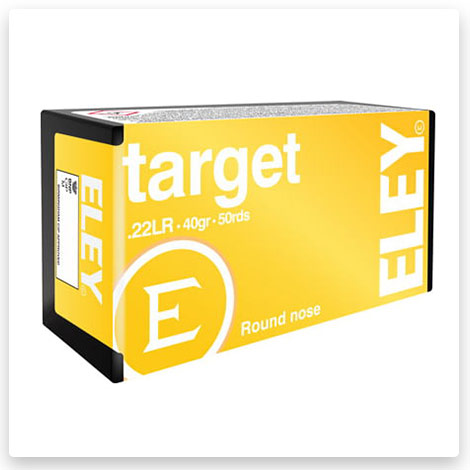 Pay attention to the Eley Ammo Target .22lr 40gr. Round Nose 50-pack. These rounds are made with only the finest materials and components, so you can be sure they will stand up to any test you put them through. Whether you're plinking at cans in the backyard or taking down the game in the woods, these rounds will perform flawlessly every time. With their outstanding accuracy and reliability, these rounds are sure to make any shooter happy. So don't settle for anything less than the best, pick up a box of Eley Ammo Target .22lr 40gr. Round Nose 50-pack today!
15# 22 Long Rifle – 36 Grain Hollow Point –
Browning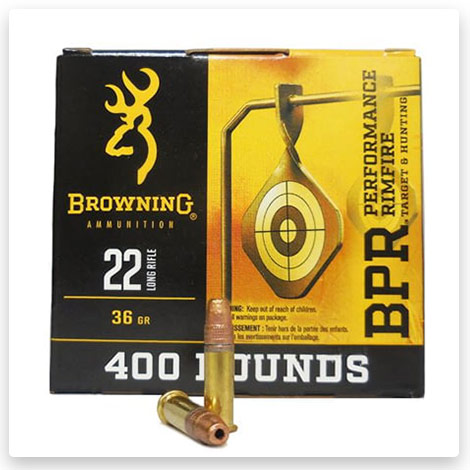 Searching for an accurate, high-velocity 22 Long Rifle? Notice the Browning 36 Grain Hollow Point. This bullet has a black oxide coating that provides reliable functioning and performance in semi-automatic rifles. Plus, the fragmenting design rapidly transfers energy for consistent performance on varmints. And with its high velocity, you'll get increased downrange energy extending your effective range. So if you need superior accuracy and performance in a 22 Long Rifle, choose the Browning 36 Grain Hollow Point.
16# 22 Long Rifle – 32 Grain Copper Plated Hollow Point –
CCI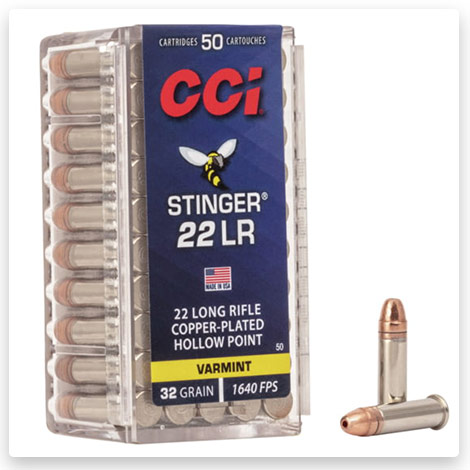 CCI Stinger is one of the best choices for taking down varmints quickly and efficiently. The special-edition "Stangers" load is named after YouTube shooting sensation 22plinkster and features his signature drawl on the packaging. This load is perfect for those who want the same great performance as the original Stinger, with the bonus of CCI's legendary precision and accuracy.
17# 22 Long Rifle – 40 Grain Lead Round Nose Brass Cased –
SK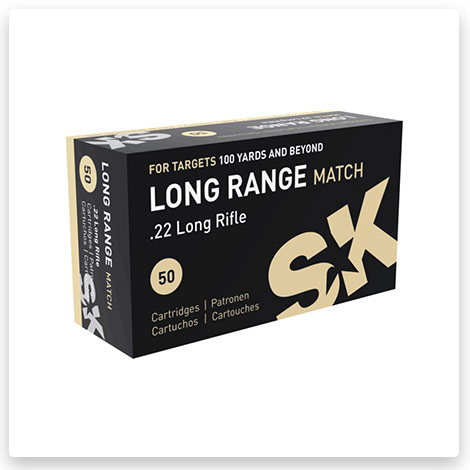 SK Long Range Match is the perfect ammunition for the long-range shooter. With a muzzle velocity of over 1,099 fps, these 40-grain bullets are designed to be sighted in at 100 yards for an impact point of 0 above/below the line of sight. This makes them ideal for competition shooting or training for centerfire competitions. Whether you're looking to win the next tournament or just impress your friends at the range, pick up a few boxes of SK 22lr Long Range Match before your next trip.
18# 22 Long Rifle – 36 Grain Copper Plated Hollow Point –
Winchester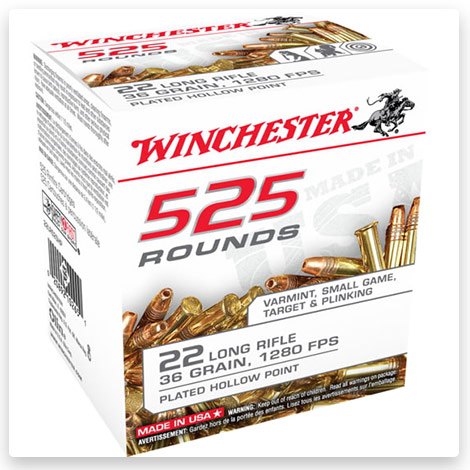 Winchester's 22 Long Rifle – 36 Grain Copper Plated Hollow Point ammunition is the ideal choice for any hunter or shooter searching for consistent performance and outstanding value. This high-quality ammunition is perfect for a wide range of applications and is sure to function reliably in any rimfire firearm. With its accurate, hollow point design, this Winchester ammo is perfect for taking down small game or pests at close range. Don't settle for less than the best – choose Winchester!
How start reloading? 🧑‍🔧
If you're looking to save money and increase the longevity of your 22 LR ammo collection, reloading may be a great option for you.
⚙️ Reloading is a process that involves taking apart used brass casings, cleaning them with special tools and chemicals, adding new primers and bullets, then reassembling the rounds.
⏰ It takes time to get proficient at reloading and requires knowledge of safe practices when handling explosives like gunpowder.
💵 You'll need to invest in specialized equipment such as brass tumblers, crimping dies, scales, and more before you can start reloading ammunition yourself.
👍 Many shooters find that it's worth it in the long run since they can significantly extend the life of their current ammo supplies while also saving money in the process.
🚨 As always, be sure to follow all safety guidelines and laws when handling ammunition.
FAQ 🧐
Conclusion 😉
22 LR ammo is a popular round for hunting, target shooting, and plinking. It's available in a variety of brands and bullet types to fit your needs. In this article, we've reviewed some of the best ammo on the market to help you make an informed purchase. We've also answered some common questions to help you get started. So what are you waiting for? Start shopping for your next batch of ammo today! 🤠👍