Affiliate Disclosure: AmmoCave.com sometimes gets paid for listings, through sponsors or affiliate programs like Lucky Gunner, Optics Planet, Brownells, Cabelas, Academy Sports & Outdoors, Rainier Arms, Palmetto State Armory, Sportsman's Guide, Ammo.com, Ammo Man, Primary Arms, MidWayUsa, Amazon, eBay, etс. Clicking a link helps keep AmmoCave.com free, at no extra cost to you!
Authors: Each article is verified by AmmoCave's expert team. Professional hunters, firearm trainers, gunsmiths, and gun experts write the articles. AmmoCave Team independently researches, tests, reviews, and uses recommendations from our community of gun owners. We may earn commissions from shopping links.
Note: The views and opinions expressed in this article are those of the authors and do not necessarily reflect any agency's official policy or position. The articles are for informational purposes only, share your opinions about Best Suppressor Cover 2023 in the comments and join the discussions. Let's share 💬 our ammo & gun experiences together!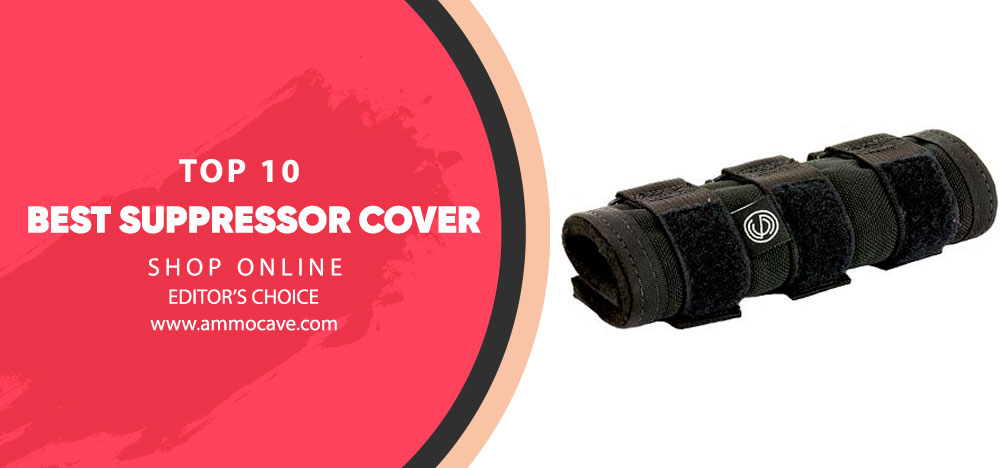 The 10 Best Suppressor Cover for the Money – Editor's Choice
It's time to talk about silent weapons. In this article, we will look at a suppressor cover, what is it for at all, what are the pros and cons of it, and also show you some good models. We'll talk about how the suppressor and suppressor cover are used on military and civilian weapons and so on.
What Is a Suppressor Cover For? 
But before we start our review, let's figure out what this cover is for? This is not some kind of cosmetic decoration. Suppressor covers are of great practical importance. As soon as you buy a suppressor and go with it to the shooting range, you will notice that after three magazines have been released, the suppressor heats up pretty quickly. It is not visible to the eye, but in a night vision device, or even more so in a thermal imager, the suppressor glows like a flashlight.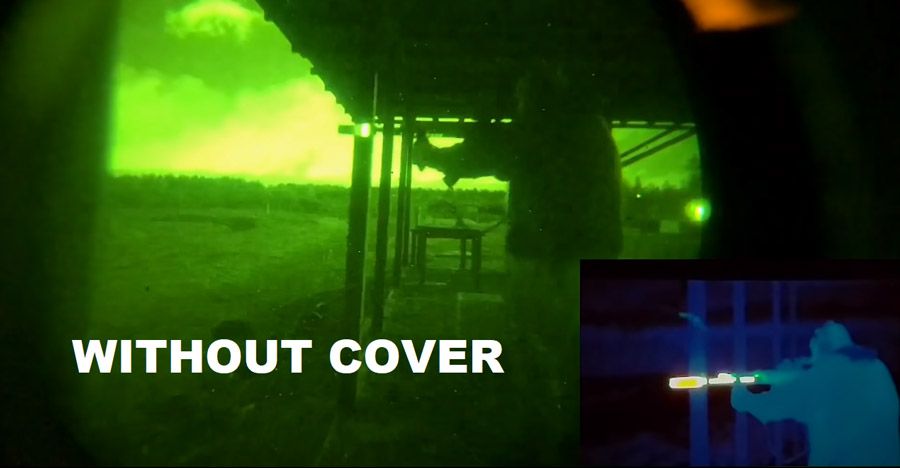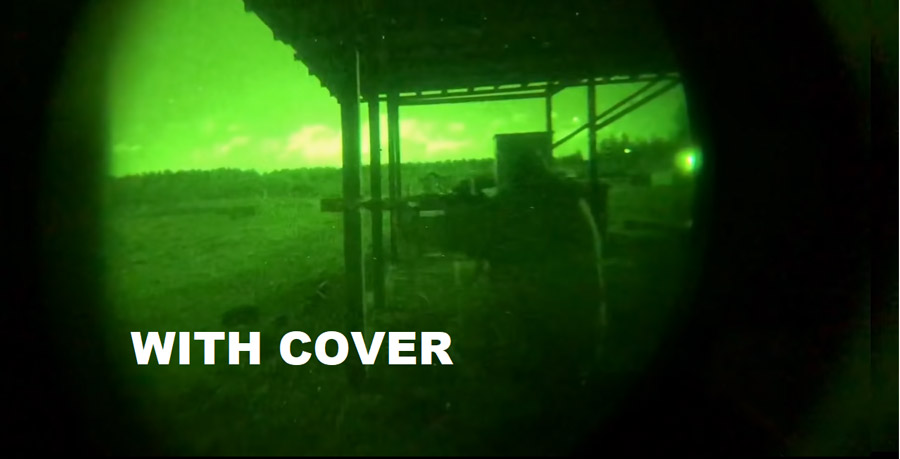 So the main purpose of a suppressor cover is for is to extinguish heat and camouflage your weapons for scanners and night vision devices. 
Secondly, on some weapons, it is much more convenient to control the recoil by holding on to the suppressor, rather than using the forend (for example, vityaz, saiga, MP5 in some modifications). But when heated, you will not only be unable to control the recoil using a suppressor, but you will also burn your hand.
Here again, suppressor covers come to the rescue, which does not allow the suppressor to burn you and remove heat, remaining at a comfortable temperature. Besides, you can never be protected from accidentally touching your body with a heated suppressor. And this is not a very pleasant feeling, you know. 
And third, the suppressor cover improves your accuracy. How? Weapons, even with a suppressor on, can create heat mirages. And the image obtained through the scope will be indistinct and blurry, you can assume that you are blinded for a time while a mirage is going on. Suppressor covers save your weapon from this.
Pros of Suppressor Covers 
So, in total, we get the following advantages from suppressor covers:
Almost invisible on night vision devices and thermal imagers.
Save from burns and allow you to grab the suppressor with your hands, disassemble the weapon without waiting for cooling.
Improve accuracy, save from heat mirages.
Help reduce the sound of a shot when used with a silencer.
Top 10 Best Suppressor Covers Review 
Now that we understand the usefulness and usefulness of suppressor covers, let's take a look at the 10 best models for your pistol or rifle.
1# Burn Proof Gear Suppressor Cover – Best Pick For Rifles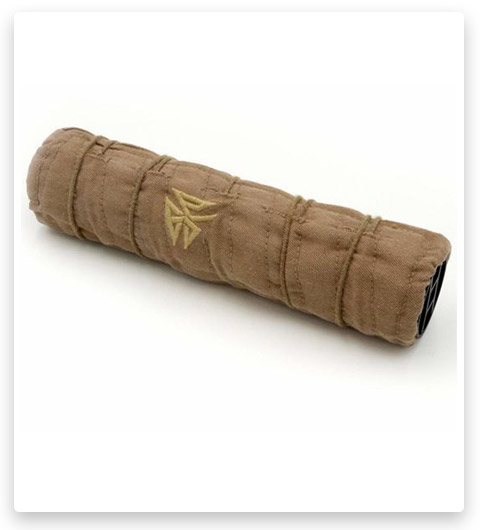 I think this is the simplest and most effective pick at an affordable price. This suppressor cover has a traditional core and jacket configuration. You can find any of the three available configurations, depending on your weapon. Burn Proof makes covers for pistols, rifles, and rimfires. This is a heavy configuration for rifles. Nomex and Kevlar were used in the manufacture of the core, which allows the cover to withstand temperatures up to 1000 degrees F. In simple words, you can shoot more than three magazines in a row and the cover will still be a little warm. Besides, the Heavy and Medium models allow you to increase the load up to 2000 degrees with an additional fiberglass insert. By design, everything is quite simple here: black, flat dark, and cartoons are available. The suppressor cover has a pretty good price and high quality.
2# Burn Proof Gear Suppressor Cover Medium– Best Pistols/Rifles Pick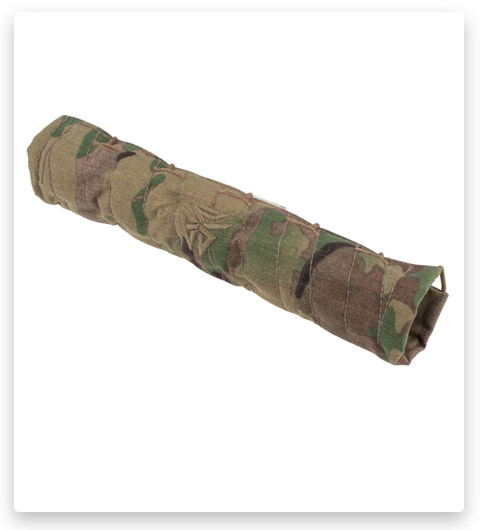 Almost the same model as the previous one from Bern Proof. The only difference is that this configuration is for pistols and small-sized rifles. The core is made from the same Nomex and Kevlar. It is possible to improve the temperature load up to 2000 degrees F. The jacket is very simple and effective, it does not tear or get dirty. Unfortunately, the same three colors remain here: green, Multicam, and flat dark, the manufacturer did not add anything new.
3# Silencer Co Suppressor Cover – Best High-Temp Shooting Pick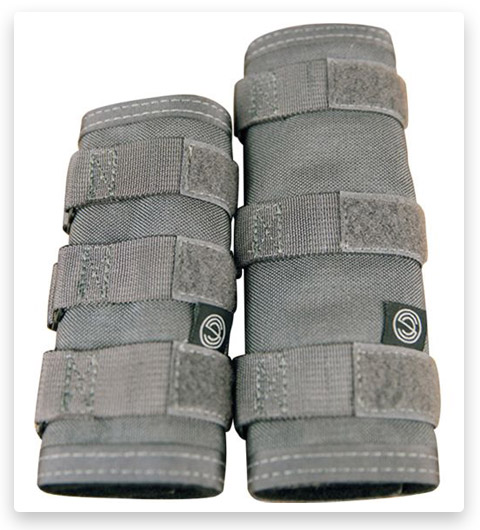 If you maintain a high rate of fire at all times, then you need a suppressor cover that can handle very rapid heat build-up. The Silencer is one of those. It looks pretty simple, but it does its job well. It is fastened with Velcro, which loses much to other mounts, but metal buckles are installed here. This greatly improves strength and temperature resistance compared to other covers. The usual 1000 denier Cordura was used in the manufacture. I can't say that it is extremely durable, but for its price it is ok. The model is available for installation on 6″ and 7.5″ suppressors. But I can say that it will fit any suppressor with a diameter of 1.5 ± 0.15 inches. Despite all the simplicity and price, this suppressor cover is designed for temperatures over 1800 F. It stops working at the fully automatic fire within a few minutes, but with semi-automatic fire, I have never noticed that it gets hot enough. In a combat mission, you are unlikely to face overheating. A simple but cheap suppressor cover for those who like high rates of fire.
4# Manta Defense Suppressor Cover – Best Silicon Pick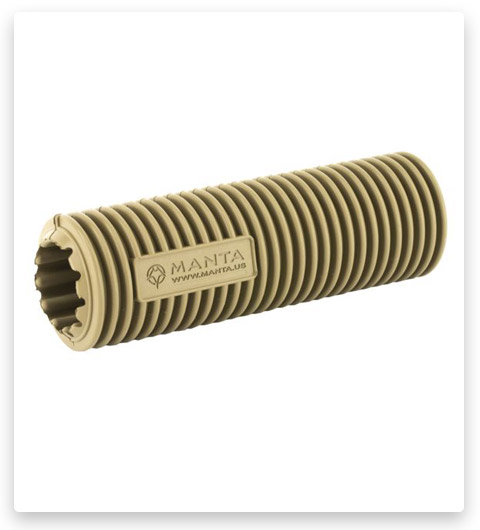 Manta offers an excellent silicon option that performs all the same functions as the suppressor of other cover materials. The perforated body increases surface area and allows air to circulate inside. This form cools the suppressor cover much faster. Besides, this cover allows you to interact with the suppressor before it cools down if you want to remove it or something else. Suppressor cover from Manta Defense has two drawbacks. First, it is not as durable as the cover tissue suppressor. Secondly, this particular model is suitable for 7" suppressors, which significantly narrows its scope. On the other hand, it is very cheap, efficient, and copes very well with high temperatures, cools down quickly. For your money, this is a great option.
5# Magpul Industries Suppressor Cover – Best Pick For Money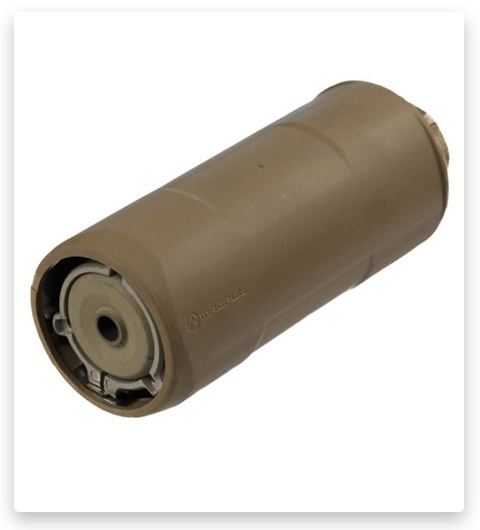 Magpul is one of the most unique and affordable suppressor covers. Its body consists of a heat-resistant sleeve and a stainless steel heat shield. On average, the Magpul maintains a temperature 1000 F lower than the suppressor. It's pretty easy to use and attaches directly to the jar without any Velcro or laces. The only downside to this suppressor cover is that it weighs almost 10 ounces. On rifles based on AR or AK, this cover shows itself at the highest level. 
6# Silent Legion Suppressor Cover Heat Shield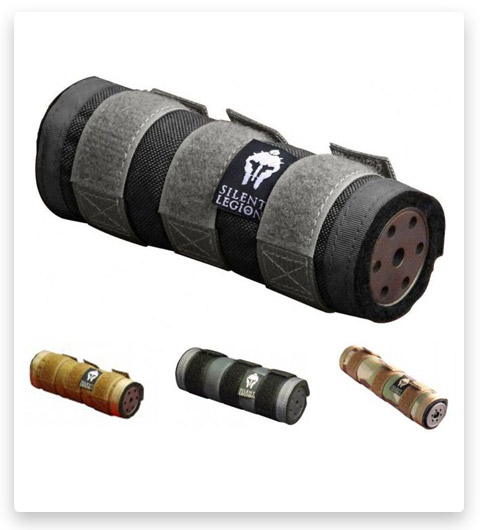 Silent Legion is one of the classic suppressor covers with Velcro. It differs in that it is well suited for long suppressors 8 inches long. This suppressor cover is rated for 1800 degrees F. This is enough for most single, semi-automatic, and bolt-action shooting. The problem with many Velcro covers is that they tend to slip off. Here, the manufacturer saved you from this problem and added metal buckles to the suppressor cover, which securely fixes it. The only problem here is that when heated too much, the tissue will melt and stick to your suppressor. And believe me, it will be very difficult to rip it off. But if you use it for measured controlled shooting, then there will be no problems with overheating. For the price, I think it's definitely worth a try.
7# SureFire Suppressor Cover SF-SC556 BK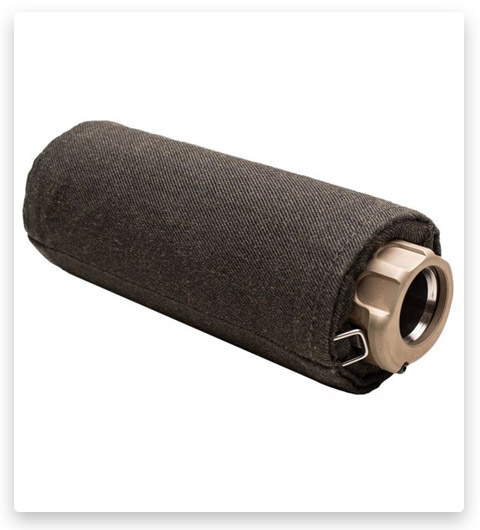 It is one of the few suppressor covers that can withstand the heat from full automatic fire from a variety of rifles and pistols. Despite its simple design, this suppressor cover proved to be one of the most productive on the test site. The suppressor cover is very easy to use. Attached to the suppressor with a conventional rubber band. This is a very convenient solution, but over time, the elastic may stretch and the cover will slip off.
8# CGS Coletac Suppressor Cover Woodland Camo 6"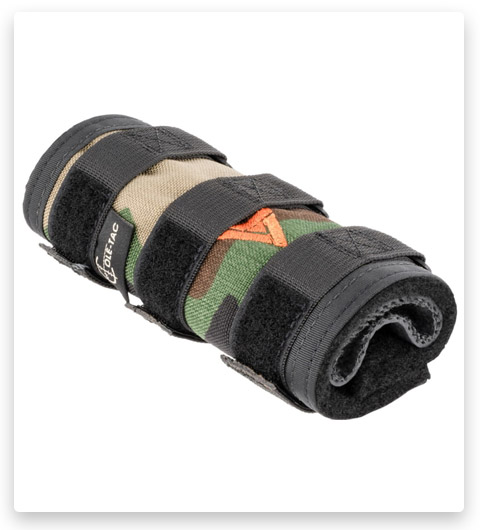 If you are looking for efficient heat suppression with the lowest hassle and cost, then you should take a look at CGS-COLETAC. This suppressor cover uses a three-layer protection system. It consists of an inner tube rated at 3000 degrees F, a middle layer rated at 1800 degrees F, and an outer Cordura cloth rated at 600 degrees F. Besides, COLETAC is stitched with Kevlar thread for added strength and heat protection. This way, you get an incredibly durable system that preserves the accuracy of your rifle and protects you from mirages. Weighing in at just over 5 ounces, it reliably protects your suppressor with minimal impact on the weapon. While it is a bit pricey, it is well worth the investment in it.
9# CGS Coletac Suppressor Cover Woodland Camo 9"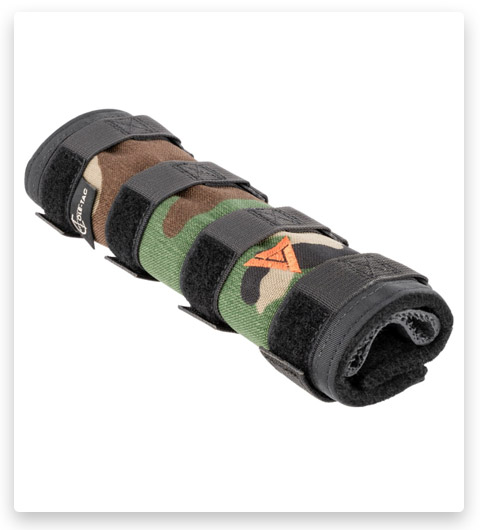 Model similar to the previous one, but in a different size. This suppressor is a 9″ cover. The same three-layer protection system will allow you to avoid heat mirages and increase accuracy.
10# Ulfhednar Miragecover Suppressor Cover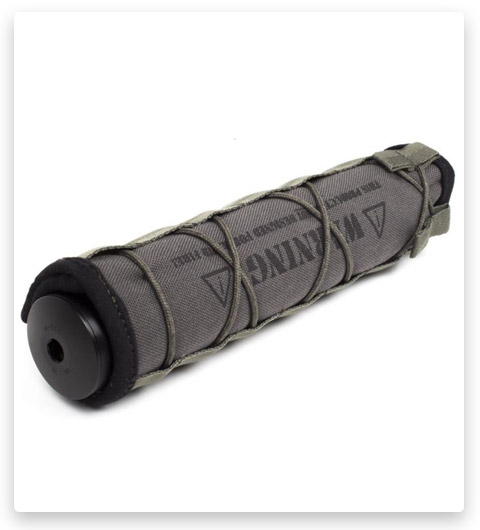 The Ulfhednar cover is also an excellent defense for your weapon. The inner core and containment are rated for temperatures over 2000 F. This is very good protection and eliminates almost any mirage. Ulfhednar offers a wide variety of covers to suit your combat environment.
Features to Consider When Choosing a Suppressor Cover
A suppressor cover is a very simple device. It consists of an inner core and an outer jacket. However, they have their own nuances that should be considered. Now we will deal with them. Let's start with the inner core. Most often it is made from a fire-resistant material that does not melt. A good manufacturer will by all means save the cover from melting to keep your suppressor safe. They are mainly Kevlar or Nomex.
The jacket is made of some kind of synthetic fabric that attaches the cover to the suppressor. Quality fabrics also provide extra thermal protection and camouflage. Also, lately, I've started to notice more and more silicone covers, for example, Magpul or Manta Defense. But in 80% of cases, it will be a two-layer tissue suppressor from the core and jacket.
There is no universal size suppressor cover. Because all manufacturers produce suppressors according to their own production technology. To match your suppressor cover you need to know the length and diameter of your can. You study the sizes that the manufacturer of the suppressor cover gives, compare it with the size of your suppressor, and then make a purchase.
If we are talking about the core, then the heating rating (or temperature rating, as you prefer) is much more important here. This rating is most often shown in Fahrenheit degrees, less often in Celsius. The optimum temperature for average operation on assault rifles is 1800 degrees F. Anything below are fairly weak covers that are suitable mainly for pistols and semi-automatic or single fire. Above 1800 F are powerful suppressor covers designed for long automatic fire. But remember that the higher the temperature rating, the higher the final weight of the cover.
Final Verdict 
Well, now you know everything there is to know about suppressor covers and why they are so useful. We have selected the 3 best models for you – laces, Velcro, and a silicone cover to be versatile for any shooter. Here they are:
We hope our article was useful to you and you will find the protection for your weapon that you like!
Tags: #best suppressor cover / #best suppressor cover 2018 / #best suppressor cover for acc 45m / #best suppressor cover for the money