Affiliate Disclosure: AmmoCave.com sometimes gets paid for listings, through sponsors or affiliate programs like Lucky Gunner, Optics Planet, Brownells, Cabelas, Academy Sports & Outdoors, Rainier Arms, Palmetto State Armory, Sportsman's Guide, Ammo.com, Ammo Man, Primary Arms, MidWayUsa, Amazon, eBay, etс. Clicking a link helps keep AmmoCave.com free, at no extra cost to you!
Authors: Each article is verified by AmmoCave's expert team. Professional hunters, firearm trainers, gunsmiths, and gun experts write the articles. AmmoCave Team independently researches, tests, reviews, and uses recommendations from our community of gun owners. We may earn commissions from shopping links.
Note: The views and opinions expressed in this article are those of the authors and do not necessarily reflect any agency's official policy or position. The articles are for informational purposes only, share your opinions about Best 25 ACP Ammo in the comments and join the discussions. Let's share 💬 our ammo & gun experiences together!
If you are looking for the best 25 ACP ammo, you have come to the right place. In this blog post, we will take a look at some of the top-rated 25 ACP ammo on the market. We will also discuss the benefits of using 25 ACP ammo and offer some tips on how to select the right ammo for your needs. So, whether you are a first-time shooter or an experienced gun enthusiast, read on to learn more about 25 ACP ammo and find the right ammunition for your needs.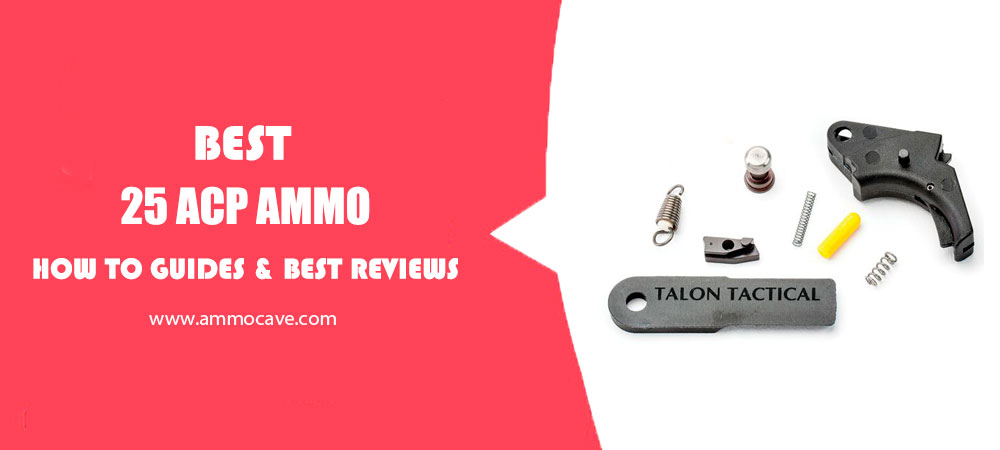 AmmoCave has collected the best hottest 25 ACP ammo for self-defense at sale prices
#1 25 ACP – 50 Grain FMJ –

Fiocchi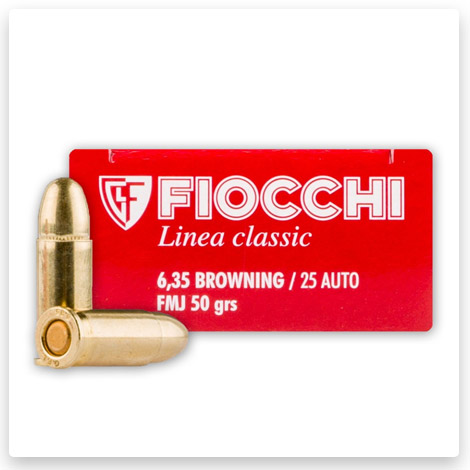 If you're looking for superior quality and reliability in your ammunition, look no further than Fiocchi Shooting Dynamics. Loaded with similar grain weights as their Exacta line, this 25 ACP AUTO ammo is perfect for both teaching and practicing, with comparable results at a much cheaper price. That means you can shoot, plink, or hunt as much as you like without breaking the bank. And when you compare Fiocchi's performance to the competition, you'll see that they're miles ahead of the pack! Fiocchi Shooting Dynamics comes in a box of 50 rounds or a case of 1000 rounds. Order a case of Fiocchi 25 ACP AUTO bulk ammo today and enjoy a superior performance at an unbeatable price!
#2 25 ACP – 50 Grain FMJ –

PMC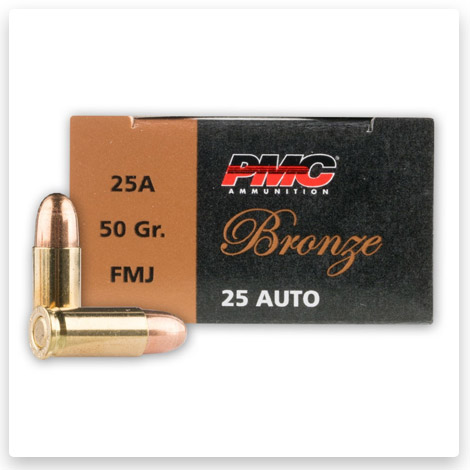 Check out PMC Bronze Handgun Ammo! This ammo is manufactured with the same quality and dependability as PMC's Starfire ammunition, so you know you're getting a great product. All PMC cartridges must pass through a rigorous electronic powder check station inspection to ensure reliable performance. PMC Bronze Handgun Ammo is perfect for recreational shooters and sportsmen who want great performance without breaking the bank. With PMC, you know you're getting quality and dependability that you can trust.
#3 25 ACP – 50 Grain FMJ –

Federal

American Eagle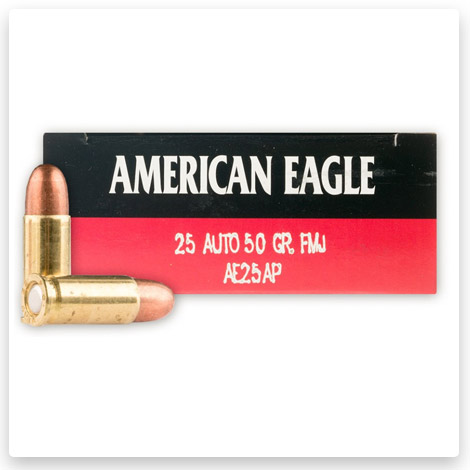 Federal American Eagle's 25 ACP is a great choice for those who want reliable and accurate performance from their pocket pistol. This round features a full metal jacket projectile that is perfect for target practice or self-defense. With a muzzle velocity of 760 fps, this cartridge provides the power you need in any situation. Whether you are at the range or out on the streets, you can count on the Federal American Eagle 25 ACP to get the job done.
#4 25 ACP – 35 Grain XTP JHP –

Fiocchi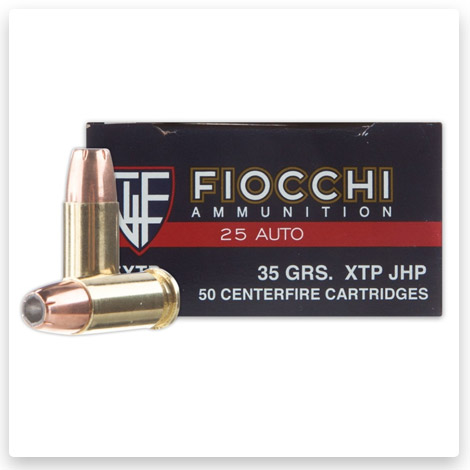 Looking for a little sidearm that packs a punch? Fiocchi's Pistol Extrema XTP ammo is exactly what you need! This round is topped off with Hornady's 35 grain XTP, a jacketed hollow point projectile that is designed for self-defense. The XTP's swaged lead core also aids in uniform expansion, and along with Hornady's signature, the concentric jacket possesses the rotational stability that accurate shooting demands. Fiocchi Extra ammo is loaded right here in the United States using the finest ammunition components on the market, so you can be sure you're getting a high-quality product. The nickel-plated brass casings are 100% reloadable, making this ammo a great value. And with a muzzle velocity of 900 fps and muzzle energy of 63 ft lbs, you can rest assured knowing that your little sidearm packs a serious punch.
#5 25 ACP – 35 Grain FTX –

Hornady

Critical Defense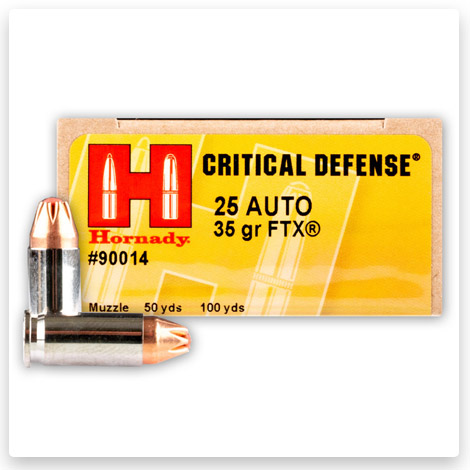 Looking for a high-quality, reliable round for self-defense, look no further than the Hornady Critical Defense 25 ACP.  This round is fitted with a 35 grain FTX Projectile – the columnar Flex Tip of which prevents its hollow cavity from clogging with fabric as it penetrates a threat. during penetration, the tip wedges hard within the FTX's high antimony lead core, causing devastating expansion that will stop a threat in its tracks. The FTX also boasts the ability to tunnel deeply within a target, as the InterLock ring which mechanically binds its core and jacket together promotes superior weight retention. Plus, the brass casing is plated with nickel for great lubricity, easy spot checking in dark settings, and enhanced corrosion resistance. So when your life is on the line, you can count on Hornady Critical Defense 25 ACP to get the job done.
#6 25 ACP – 35 Grain JHP XTP –

Hornady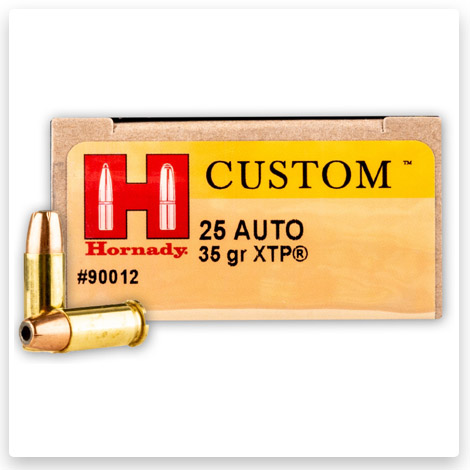 The Custom line of handgun ammunition from Hornady is the perfect choice for hunting, self-defense, and law enforcement applications. The XTP bullet provides maximum knockdown power and features jacketed hollow point bullets which are designed to achieve high-impact energy transfer and controlled expansion upon impact. With a muzzle velocity of 900 feet per second and 63 foot pounds of muzzle energy, this round is sure to stop any threat in its tracks. Don't take chances with your safety, trust the Custom line of handgun ammunition from Hornady.
#7 25 ACP – 35 Grain JHP –

Speer

Gold Dot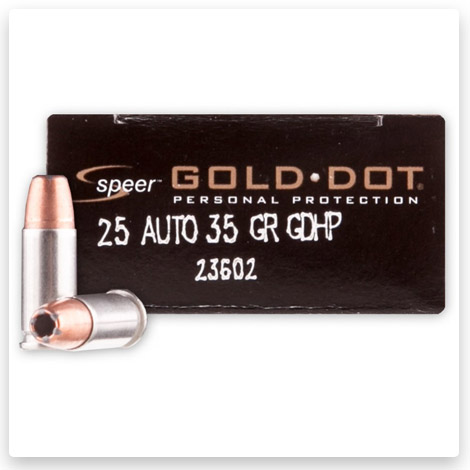 Introducing the Speer Gold Dot 25 ACP – 35 Grain JHP. This premium line of defense ammunition is designed for personal protection and is bonded for superior weight retention and reliability. The core-jacket separation is eliminated with this design, making it more effective than traditional hollow-point bullets. The smooth profile and consistent muzzle velocity make it ideal for use in semi-automatic handguns. With a muzzle velocity of 900 fps and 6 ft/lbs of energy, this 25 ACP ammunition is sure to give you the stopping power you need in a self-defense situation.
#8 25 ACP – 50 Grain FMJ –

Fiocchi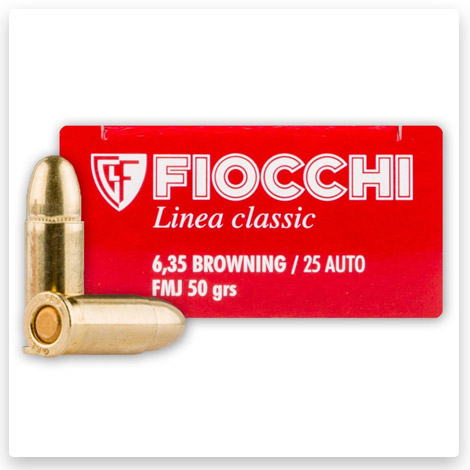 Looking for quality ammunition that won't break the bank? Look no further than Fiocchi Shooting Dynamics. These rounds are perfect for high-volume shooters and hunters who want great quality without breaking the bank.
Each round is loaded with a 50 grain full metal jacket bullet, making it perfect for target practice and plinking. The reloadable brass casing and non-corrosive powder make this ammunition easy to use and reload, while the 800 fps muzzle velocity ensures that you'll hit your target with precision.
Don't settle for less when you can have the best with Fiocchi Shooting Dynamics. Order your ammunition today and enjoy the shooting experience.
#9 25 ACP – 50 Grain MC –

Remington

UMC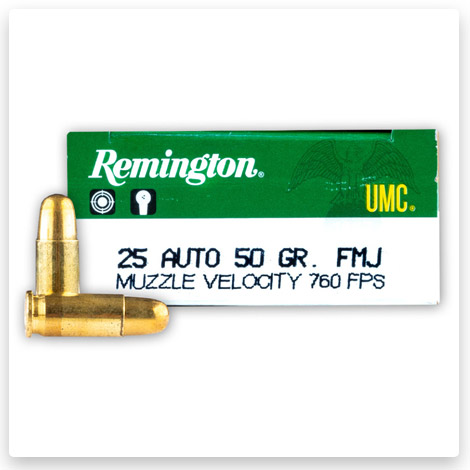 Remington Arms is a legendary name in the world of firearms, and their 25 ACP rounds are perfect for range and target practice. These new, brass-cased rounds are reloadable and non-corrosive, making them a great choice for avid shooters. The full metal jacket 50 grain bullet provides excellent accuracy and penetration, and the muzzle velocity of 760 fps ensures that you'll hit your target with precision. Kleanbore primers provide reliable ignition, making this ammunition a great choice for law enforcement agencies and competitive shooters alike. Pick up a box of these high-quality 25 ACP rounds from Remington today!
#10 25 ACP – 50 Grain FMJ –

Winchester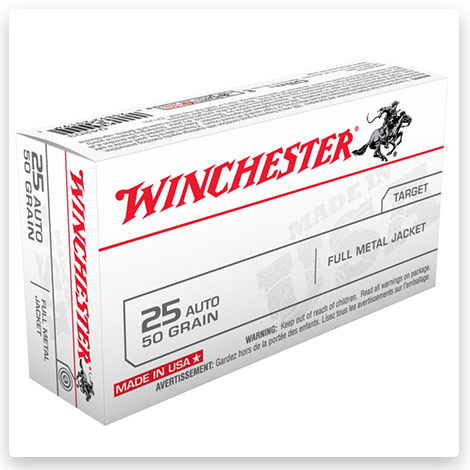 Looking for a cleaner and smoother draw with your handgun? Winchester's Centerfire Handgun Ammunition with Full Metal Jacket is just what you need. The reduced barrel fouling means that you'll have an easier time drawing your weapon, and the FMJ ensures positive functioning and no expansion. Whether you're at the range or in the field, you can trust Winchester to provide the high-quality ammo you need to get the job done right.
#11 25 ACP – 50 Grain FMJ –

CCI

Ammunition Blazer Aluminum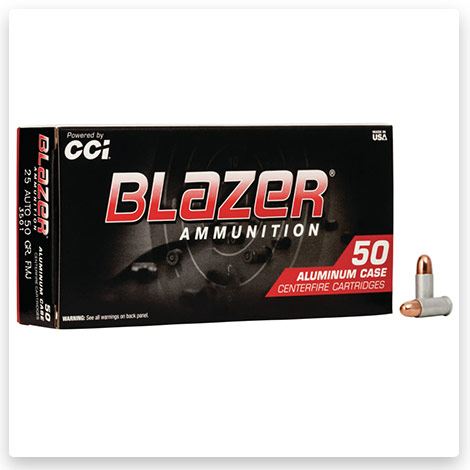 Looking for a budget-friendly option for your next trip to the range? Check out CCI Blazer Aluminum ammunition. These loads feature aluminum cases to keep the price low, without sacrificing accuracy or performance. The non-reloadable cases and boxer primers make this ammunition a great choice for training exercises. And with clean burning propellants, you can expect optimum velocity and consistent chamber pressures. So don't break the bank the next time you're stocking up on ammo. Choose CCI Blazer Aluminum instead.
#12 25 ACP – 50 Grain FMJ –

Remington

UMC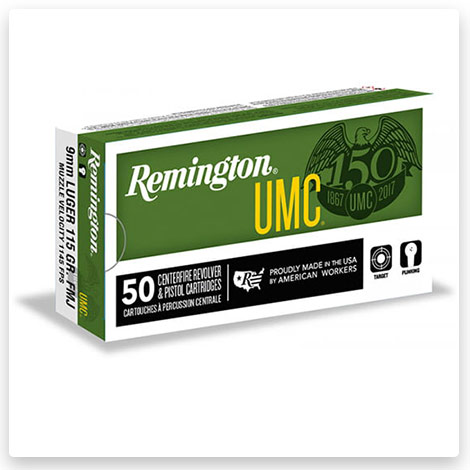 Looking for versatile ammunition that is suitable as for target shooting practice, as for plinking? Pay attention to the Remington UMC 25 ACP Auto. It features a muzzle velocity of 760 feet per second and muzzle energy of 64 feet pounds, making it a great choice for any shooter. The brass casing and Boxer primers are designed to provide smooth feeding and extraction, while the nickel-plated casing helps reduce oxidation. The powder-coated bullets also help reduce muzzle flash, making this ammo perfect for any situation. Order your box of Remington UMC 25 ACP Auto today and be ready for anything.
#13 25 ACP – 50 Grain FMJ Brass Cased –

Federal Premium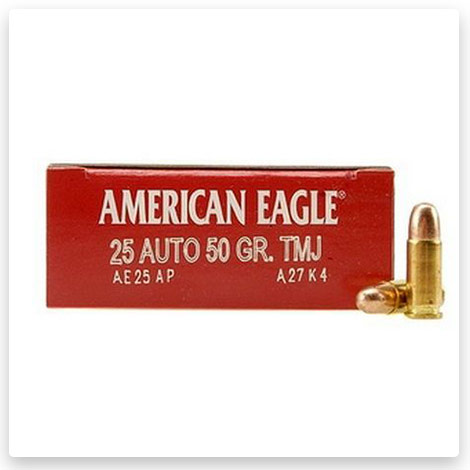 Federal American Eagle 25 ACP Auto is an excellent choice for those high-volume shooters who enjoy reloading their own ammunition. This American Eagle ammo is designed to have similar ballistic qualities as Federal Premium rounds, but at a value price that makes it perfect for target training and plinking. The 50 grain Full Metal Jacket bullet is clean burning and provides great ballistics and reliable feeding. With a wide selection of bullet styles available, Federal American Eagle 25 ACP Auto is sure to have the perfect option for your needs. So don't miss your target – pick up a box of Federal American Eagle 25 ACP Auto today!
#14 25 ACP – 35 Grain Hollow Point –

Speer

Gold Dot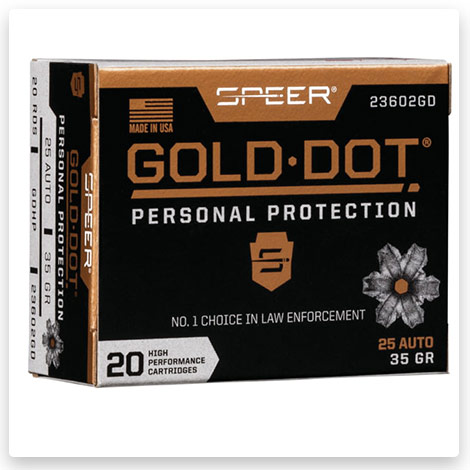 Speer Gold Dot ammunition is the choice of law enforcement agencies across the country. Its pressure-formed lead core and bonded jacket provide exceptional accuracy and penetration, while its Gold Dot hollow-point design expands consistently through a variety of barriers. With its Uni-Cor process, Speer has control over the expansion of the bullet, making it a reliable and effective choice for self-defense. With muzzle velocities of up to 900 ft/s, this is the ammo you need to keep you safe and in control.
#15 25 ACP – 35 Grain Extreme Terminal Performance –

Hornady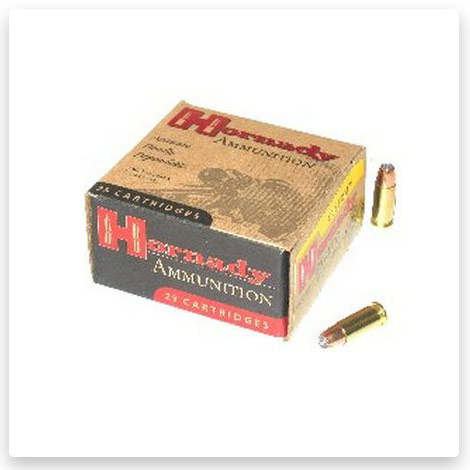 Hornady Custom pistol ammo is the perfect choice for handgun shooters looking for supreme accuracy and maximum knock down power. The XTP (Extreme Terminal Performance) bullet provides outstanding accuracy and terminal performance. Hornady produces most of the brass for Hornady Custom pistol ammo, ensuring it meets their high standards for reliable feeding, corrosion resistance, proper hardness and the ability to withstand maximum chamber pressures. The powders in each cartridge are loaded to ensure optimal pressure, velocity, and consistency from lot to lot. Each primer is matched to individual loads and specifically selected for its ability to quickly, completely, and reliably ignite the powder charge. The Hornady XTP bullet will not disappoint.
#16 25 ACP – 45 Grain Expanding Point –

Winchester

SUPER-X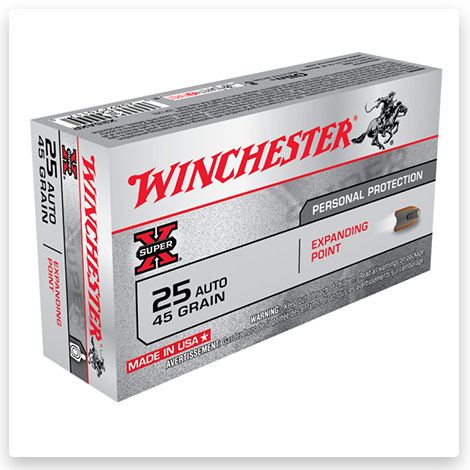 Looking for high-quality, dependable, and powerful ammunition that won't let you down? Look no further than Winchester SUPER-X. With over 90 years of experience manufacturing quality ammo, Super-X is a name you can trust. This 25 ACP ammunition features a 45 grain expanding point bullet that is engineered for reliable functioning and accuracy. The hollow point design provides consistent expansion, while the expanding point ensures optimum penetration and rapid energy release. Super-X ammo is the perfect choice for hunters and shooters who demand the very best.
FAQ
What caliber is 25 ACP?
The 25 ACP is a small caliber pistol round that is also known as the 25 Auto. It was first introduced in the early 1900 and has been used in a variety of small pistols since then.
The 25 ACP has a case length of 0.623 inches (15.8 mm) and a bullet diameter of 0.251 inches (6.4 mm). The overall length of the cartridge is 1.066 inches (27.0 mm).
The average weight of the 25 ACP cartridge is 5.5 grains (0.357 grams). The bullet itself typically weighs between 2.5 and 4.0 grains (0.16 and 0.26 grams).
What is the maximum effective range of 25 ACP?
The maximum effective range of the 25 ACP is usually considered to be around 50 yards (45 meters). However, some experienced shooters have been known to hit targets at much greater distances.
What are the most popular 25 ACP pistols?
Some of the most popular 25 ACP pistols include the Beretta 21A Bobcat, the Colt Mustang, and the Ruger LCP.
How to choose the right 25 ACP Ammo for your needs?
When it comes to choosing the right 25 ACP Ammo for your needs, there are a few things you need to take into consideration. The first is what type of gun you will be using the ammunition in. There are three main types of guns that use this ammunition; semi-automatic pistols, revolvers, and derringers. Each type of gun has its own specific needs when it comes to the size and shape of the bullet. For example, a semi-automatic pistol needs a round that is small enough to fit in the magazine but also has enough power to cycle through the action without jamming. A revolver needs a bullet that is long and skinny so that it can spin around in the cylinder without hitting the sides. A derringer needs a bullet that is short and squat so that it can fit in a small space.
The second thing you need to take into consideration is what you will be using the gun for. If you are going to be using it for self-defense, then you will want to choose a 25 ACP Ammo that has a hollow point. This type of bullet expands when it hits something, which makes it more likely to cause serious damage. If you are going to be using the gun for target practice, then you can choose any type of bullet you want. The third thing you need to take into consideration is the price. 25 ACP Ammo is not cheap, so you will want to make sure that you are getting the best deal possible.
There are a few different places you can look to find the best deals on 25 ACP Ammo. The first place you should look is at your local gun store. They will usually have a good selection of this ammo and they will be able to tell you what the going rate is. The second place you can look is online. There are several websites that sell this ammo and they will often have sales or special offers. The third place you can look is at a pawn shop. Pawn shops are a great place to find bargains on 25 ACP Ammo because they buy it from people who have no use for it anymore.
What has more power a 22 or 25?
The 25 ACP is a rimless pistol cartridge designed by John Browning in 1905. It was originally designed for the Fabrique Nationale Model 1905 semi-automatic pistol but was also used in a number of other pistols and revolvers over the years. The 25 ACP has relatively low muzzle energy, but its small size and light weight make it a popular choice for self-defense. The 22 LR is a rimfire rifle cartridge designed by J. Stevens Arms & Tool Company in 1887. It is one of the most popular cartridges in the world, due to its low cost and ease of use. The 22 LR has less power than the 25 ACP, but its higher velocity makes it more effective for long-range shooting.
In general, the 25 ACP will have more power than the 22 LR. However, the 22 LR is a more versatile cartridge and can be used for both long-range shooting and self-defense.
Conclusion
The Best 25 ACP Ammo can be found by following the advice in this article. By considering different factors such as price and quality, you should be able to find the perfect ammunition for your needs. We hope that you have found this content helpful and informative. Thank you for reading!