Affiliate Disclosure: AmmoCave.com sometimes gets paid for listings, through sponsors or affiliate programs like Lucky Gunner, Optics Planet, Brownells, Cabelas, Academy Sports & Outdoors, Rainier Arms, Palmetto State Armory, Sportsman's Guide, Ammo.com, Ammo Man, Primary Arms, MidWayUsa, Amazon, eBay, etс. Clicking a link helps keep AmmoCave.com free, at no extra cost to you!
Authors: Each article is verified by AmmoCave's expert team. Professional hunters, firearm trainers, gunsmiths, and gun experts write the articles. AmmoCave Team independently researches, tests, reviews, and uses recommendations from our community of gun owners. We may earn commissions from shopping links.
Note: The views and opinions expressed in this article are those of the authors and do not necessarily reflect any agency's official policy or position. The articles are for informational purposes only, share your opinions about Best 7.62x54r Ammo in the comments and join the discussions. Let's share 💬 our ammo & gun experiences together!
In this post, we will take a look at the best 7.62x54R ammo on the market today. We have done our research and compiled a list of what we believe to be the five top-rated rounds for this cartridge. So, whether you are looking for practice ammo or something for hunting, we have you covered. Let's take a closer look!

Best 7.62x54R Ammo Reviews
#1 7.62x54r – 174 Grain HPBT Sierra Match King –

Sellier & Bellot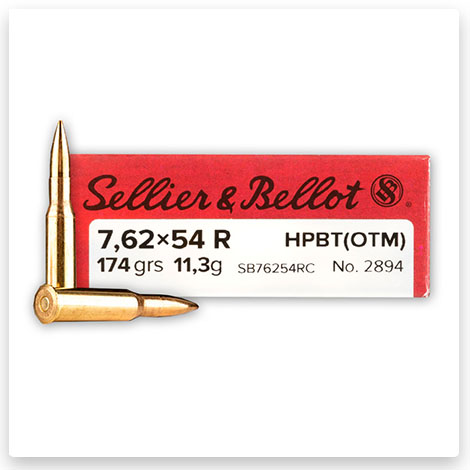 Looking for a top-of-the-line 7.62x54r round that is sure to deliver accurate, precise shots? Look no further than the 174 Grain HPBT Sierra Match King from Sellier & Bellot. With a long history of producing high-quality ammunition, you can be confident that this round will meet your expectations. The Sierra Match King boat tail projectile design ensures flatter trajectories, making it ideal for competition shooting or hunting. reloadable brass case makes this an economical choice for those who enjoy shooting regularly. Don't miss your chance to get your hands on this top-of-the-line 7.62x54r round!
#2 7.62x54r – 203 Grain SP –

Silver Bear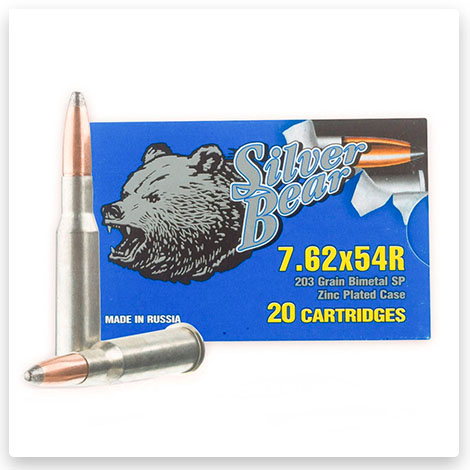 The 7.62x54r is a powerhouse of a round, perfect for sniping and long-range target shooting. But its accuracy and power also make it ideal for hunting deer and other games. Silver Bear's soft point 7.62x54R ammunition is a great choice for hunters, as the exposed lead tip expands on impact for a clean kill, without fragmenting and damaging the meat or trophy. Each cartridge in this 500-round case fires a 203-grain soft point bullet at a muzzle velocity of 2,306 feet per second. Compared to other 7.62x54R ammo, this load trades velocity for a heavier bullet and deeper penetration; making it an excellent choice for taking down larger deer and other big game. So stock up today and be prepared for your next hunting adventure.
#3 7.62x54r – 148 Grain FMJ –

Tula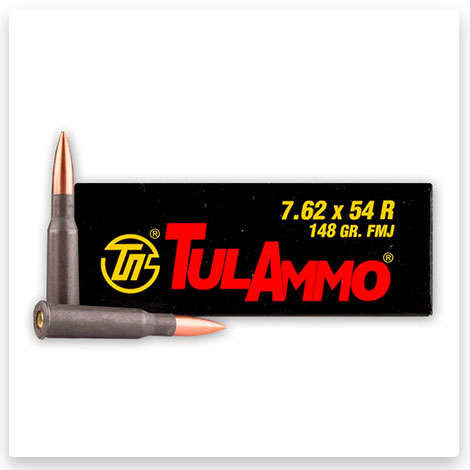 Looking for reliable and affordable ammunition for your next target practice or range training session? Look no further than the 7.62x54r – 148 Grain FMJ from Tula. This newly manufactured ammunition is perfect for anyone looking for an economical and reliable option.
Tula Ammunition is one of the most established and well-respected ammunition manufacturers in the world. The company got its start in 1880 in Tula, Russia and has since become one of the largest ammo manufacturers in the world. Tula ammo is known for its durability, reliability, and affordability, making it a favorite among shooters worldwide.
This particular cartridge complies with CIP requirements and features a polymer-coated steel casing with a non-corrosive Berdan primer. So you can rest assured that you're getting a high-quality product that will perform well in the range. Pick up a box or two of 7.62x54r – 148 Grain FMJ from Tula today and see for yourself why this ammo is so popular among shooters!
#4 7.62x54r – 148 Grain FMJ –

Wolf

Military Classic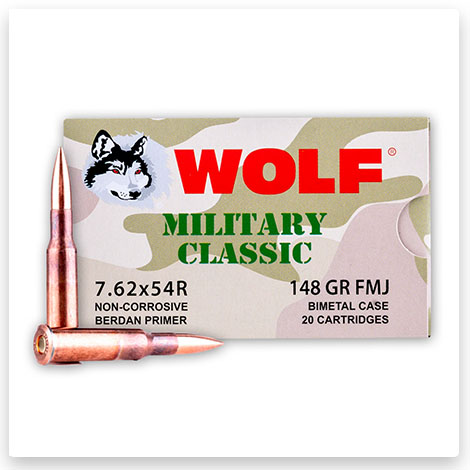 Looking to purchase reliable ammunition for your Mosin-Nagant? Consider the Military Classic 7.62x54r 148 Grain FMJ from Wolf. This cartridge has a bimetallic FMJ bullet, which means it's tough and resistant to warping, yet gentle on the barrel of your firearm. The copper pad also helps keep the gun in good condition between cleanings. The steel sleeve is also economical, making it a great choice for shooters looking for value. So, if you're looking for reliable, inexpensive and effective ammo, Wolf's Military Classic 7.62x54r 148 Grain FMJ is the perfect choice for you.
FAQ
What round is a 7.62 by 54R?
The 7.62x54R cartridge is a rimmed rifle round that was originally designed for the Russian Mosin-Nagant rifle.
What can I shoot a 7.62x54R in?
7.62x54R rounds are typically used in rifles, but can also be used in some pistols. The most popular rifles chambered for 7.62x54R rounds are the Mosin-Nagant and SKS.
How far can a 7.62x54R bullet travel?
A 7.62x54R bullet can travel up to 2,500 meters or 8,202 feet.
When was the 7.62x54R developed?
The 7.62x54R was developed in 1891 by the Russian Empire.
Is the 7.62x54R round a good choice for hunting?
The 7.62x54R round is a good choice for hunting purposes. It has good stopping power and can take down medium to large games with ease. Additionally, the 7.62x54R round is relatively affordable, making it a good option for budget-minded hunters.
Is 7.62x54R ammo corrosive?
The 7.62x54R cartridge is not corrosive.
What are the benefits of using 7.62x54R Ammo?
The 7.62x54R cartridge is a powerful round that provides excellent accuracy and penetration. It can be used for a variety of purposes, including hunting, self-defense, and target shooting.
Conclusion
The 7.62x54R cartridge is a powerful round that has been used for centuries in Russia and other parts of the world. It's still popular today with hunters, sports shooters and militaries around the globe. In this article, we looked at some of the best 7.62x54R ammo on the market today. We also answered some common questions about this cartridge to help you make an informed purchase decision. So, whether you're looking for 7.62x54R rounds for your next hunting trip or you need them for self-defense purposes, we have you covered. Thanks for reading!