Affiliate Disclosure: AmmoCave.com sometimes gets paid for listings, through sponsors or affiliate programs like Lucky Gunner, Optics Planet, Brownells, Cabelas, Academy Sports & Outdoors, Rainier Arms, Palmetto State Armory, Sportsman's Guide, Ammo.com, Ammo Man, Primary Arms, MidWayUsa, Amazon, eBay, etс. Clicking a link helps keep AmmoCave.com free, at no extra cost to you!
Authors: Each article is verified by AmmoCave's expert team. Professional hunters, firearm trainers, gunsmiths, and gun experts write the articles. AmmoCave Team independently researches, tests, reviews, and uses recommendations from our community of gun owners. We may earn commissions from shopping links.
Note: The views and opinions expressed in this article are those of the authors and do not necessarily reflect any agency's official policy or position. The articles are for informational purposes only, share your opinions about Best AK Trigger 2023 in the comments and join the discussions. Let's share 💬 our ammo & gun experiences together!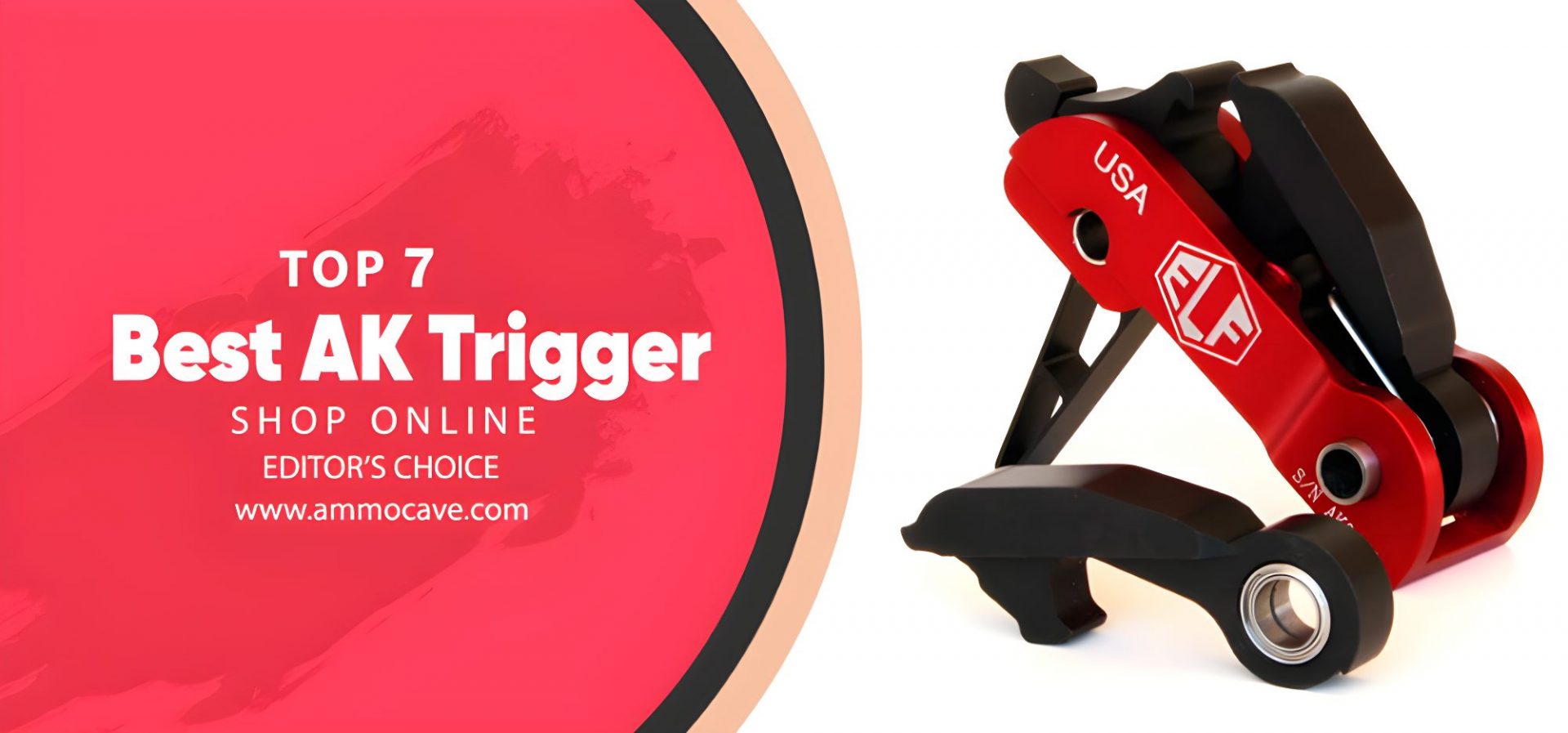 ⚫️ AK Trigger is…
⇢ a component of the popular AK series of rifles that controls the firing mechanism of the firearm. The AK trigger group typically includes the trigger, hammer, disconnector, and related springs and pins.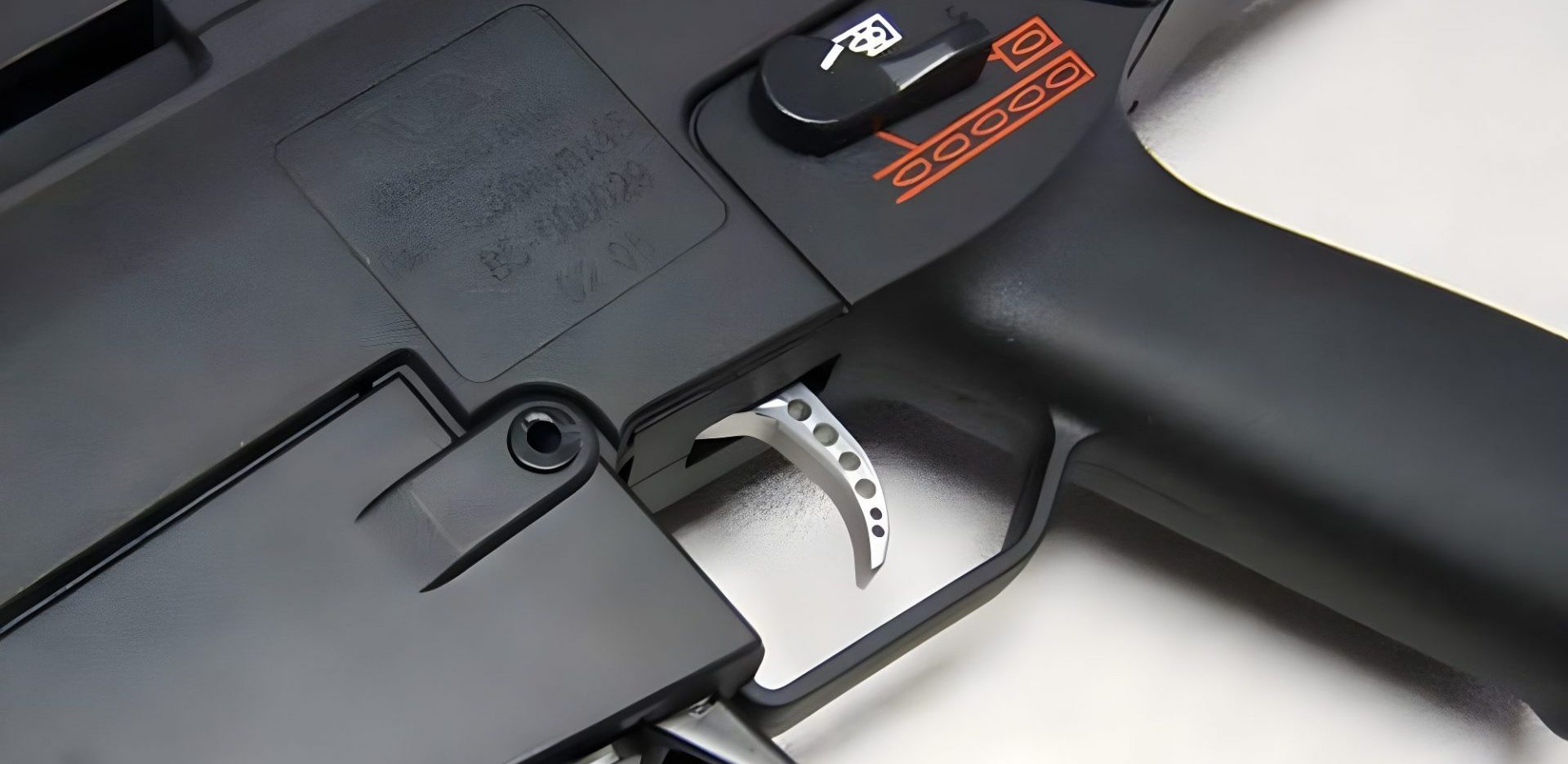 | | |
| --- | --- |
| Features 💣 | Benefits 🔐 |
| ✅ Single-stage or two-stage design | ☑️ A high-quality trigger can improve accuracy by reducing trigger pull weight and improving trigger control. |
| ✅ Adjustable pull weight | ☑️ A good AK trigger can help prevent accidental discharges by reducing the amount of force required to pull the trigger. |
| ✅ Improved trigger reset | ☑️ A lighter trigger pull can help increase shooting speed and accuracy, making it easier to hit targets. |
| ✅ Enhanced durability | ☑️ With adjustable pull weight, it can be customized to suit individual shooting preferences. |
| ✅ Drop-in installation | ☑️ Drop-in triggers are easy to install and can be done without the need for gunsmithing. |
Our Top Pick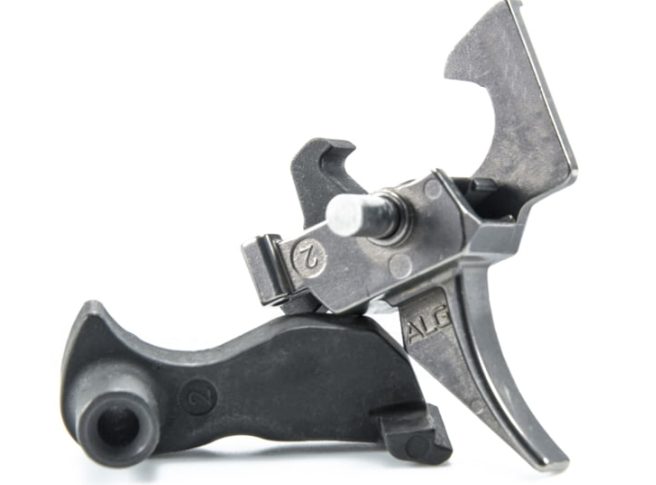 What type to choose? 💡
💁🏽 The type of AK trigger you choose will depend on your specific needs and preferences. However, we outlined some factors to consider:
📍 Single-stage vs. Two-stage: Single-stage triggers have a simpler design and offer a consistent pull weight throughout the trigger pull, whereas two-stage triggers have a more complex design and provide two distinct stages of pull weight. ◾️ Two-stage triggers are typically used for precision shooting and can help to improve accuracy, but they may not be necessary for all applications.
📍 Trigger pull weight: The pull weight of a trigger is the amount of force required to fire the rifle. Some shooters prefer a lighter trigger pull for increased sensitivity and control, while others prefer a heavier trigger pull for safety and consistency. ◾️ Look for a trigger with an adjustable pull weight so that you can customize it to your specific needs.
📍 Durability: AK triggers can be made from a variety of materials, including steel, aluminum, and polymer. A trigger made from high-quality materials and designed for durability will last longer and be less prone to malfunctions.
📍 Ease of installation: Some options require gunsmithing skills and special tools to install, while others are designed to be easily installed by the average shooter. If you are not comfortable with gunsmithing, look for a trigger that is labeled as "drop-in" and can be installed without any modifications.
Our Top Pick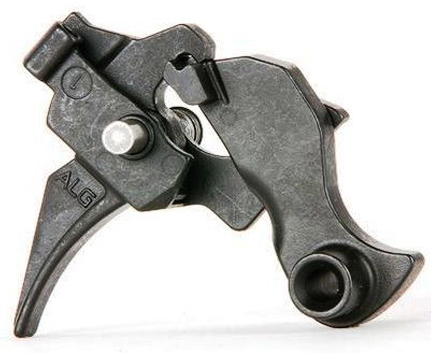 ALG Defense AK 47/74 Drop-In Trigger 05-326
AK 47 and 74 triggers are appropriate for home defense and combat usage. The single-stage trigger features drop-in mounting and replacement type. The trigger with corrosion-resistant coating doesn't slop when the safety is engaged.
Buy Now On OpticsPlanet
If you click this link and make a purchase, we earn a commission at no additional cost to you.
Our Selection 7 Best AK Triggers –
Editor's Choice
| Image | Product | Brand | |
| --- | --- | --- | --- |
| | ALG Defense AK Trigger 05-327 | ALG Defense | |
| | CMC Triggers AK Tactical Trigger | CMC Triggers | |
| | Century AK Double Trigger Kit OT011 | Century | |
| | Century Arms RAK-1 N-PAP Trigger OT1727A | Century | |
| | ALG Defense AK 47/74 Drop-In Trigger 05-326 | ALG Defense | |
| | FosTech Outdoors Echo AK-47 Trigger 4702 | FosTech Outdoors | |
| | Fime Group Fime Trigger Ak FM-922US | Fime Group | |
| | Franklin Armory BFSIII AK-C1 Trigger | Franklin | |
1# ALG Defense AK Trigger Ultimate with Lightning Bow 05-327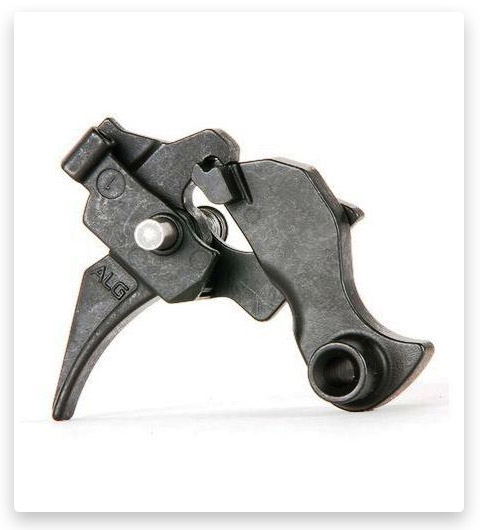 The ALG Defense AK Trigger Ultimate with Lightning Bow (AKT-UL) is a single-stage trigger designed for AK-47 and AK-74 variant platforms. It is designed to work with most AK variants without fitting, but for those with a rivet at the rear of the trigger guard, the rivet must be no greater than 0.062 inches tall. The trigger can be modified to increase clearance if necessary. The AKT-UL is black and provides a smooth, consistent trigger pull for improved accuracy and control.
2# CMC Triggers AK Tactical 3 Single Stage Trigger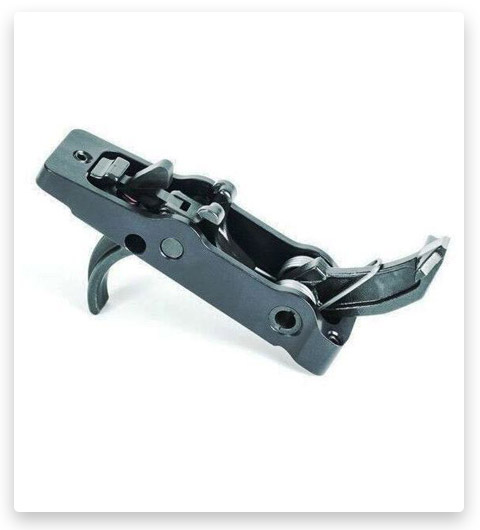 The CMC Triggers AK Tactical 3 Single Stage Trigger is an innovative and reliable trigger group designed for AK shooters who demand the highest quality and reliability. Although the demand for this product has been high since its introduction, CMC is now confident in its ability to keep the supply lines full by incorporating advanced methods and new production tooling. After proper testing, our team revealed that the trigger group is easy to install and comes fully self-contained, allowing for a simple upgrade to a fine match-grade trigger pull.
3# Century AK Double Trigger Kit OT011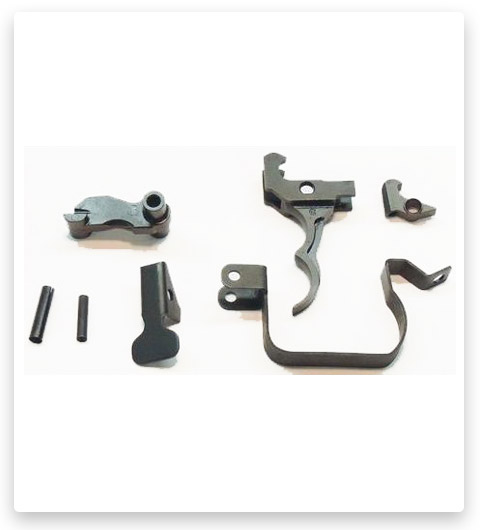 The Century AK Double Trigger Kit OT011 is a versatile and durable upgrade for AK-style rifles. This kit is made of sturdy steel and comes in a sleek black color, ensuring longevity and aesthetic appeal. It features an ambidextrous design, allowing both left and right-handed shooters to use it comfortably. This double-trigger kit is designed specifically for Kalashnikov rifles, making it a perfect fit for any AK-style rifle. With its high-quality construction and compatibility, the Century AK Double Trigger Kit OT011 is an excellent choice for shooters looking to enhance their rifle's performance.
4# ALG Defense AK 47/74 Drop-In Trigger 05-326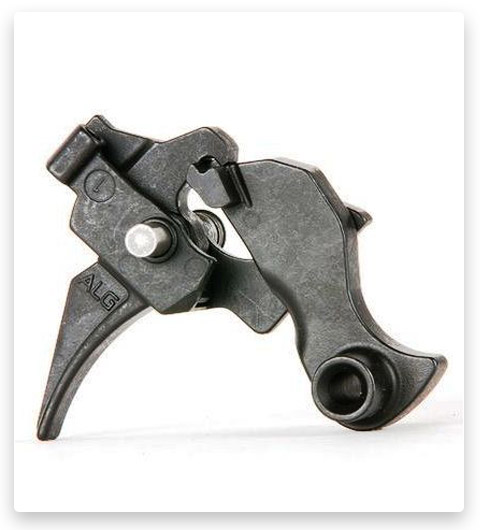 The ALG Defense AK 47/74 Drop-In Trigger is a high-quality replacement trigger for AK-47 and AK-74 rifles. This drop-in trigger features a proprietary Lightning Bow trigger for improved control and comfort and a smoother, shorter journey than the stock trigger. Made from machined gun-quality alloy steel and finished with a corrosion-resistant Manganese Phosphate coating, this trigger is flawless for combat or home defense applications.
5# FosTech Outdoors Echo AK-47 Trigger 4702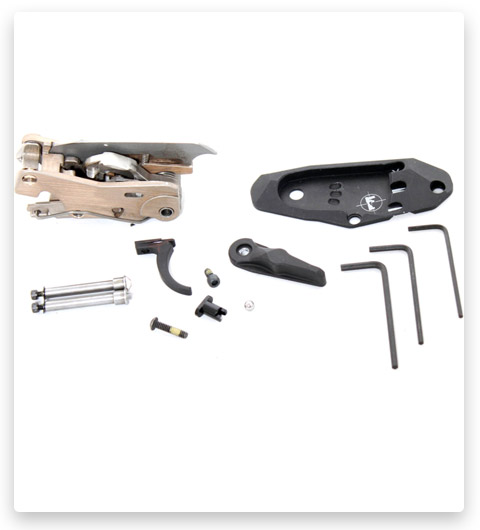 The Fostech Outdoors Echo AK-47 Trigger 4702 is a drop-in trigger designed for the AK-47 platform. It features a patented trigger lock technology that prevents the operator from accidentally firing the firearm. The trigger has three settings: Safe Mode, Semi-Automatic Mode, and Echo Mode. Echo Mode allows the shooter to fire a round both on the pull and release of the trigger. The trigger is designed to work with most stamped AKs, and milled AKs should work with some adjustments. This black-colored trigger is brand new and superb for AK-47 rifle enthusiasts.
6# Fime Group Fime Trigger Group Ak Based Firearms FM-922US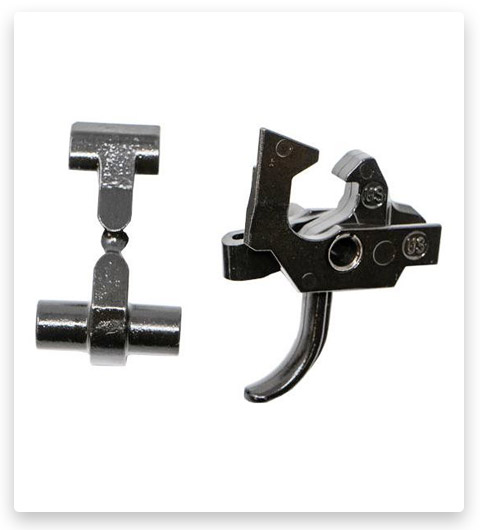 The Fime Group Fime Trigger Group is a high-quality trigger designed for AK and RPK-based firearms. Built with durable and dependable alloy steel and finished with black oxide, this trigger is built to last. It is ambidextrous, making it suitable for both right and left-handed shooters. This trigger group is designed for Kalashnikov rifles and RPK machine guns. The package includes the Fime Group Fime Trigger Group Ak/rpk Based Firearms, measuring 1.45 x 4.90 x 6.65 inches. Our staff found out that FIME Group has a reputation for producing top-of-the-line products, and the Fime Group Fime Trigger Group Ak/rpk Based Firearms is no exception.
7# Franklin Armory BFSIII AK-C1 Trigger – Binary Firing System for AK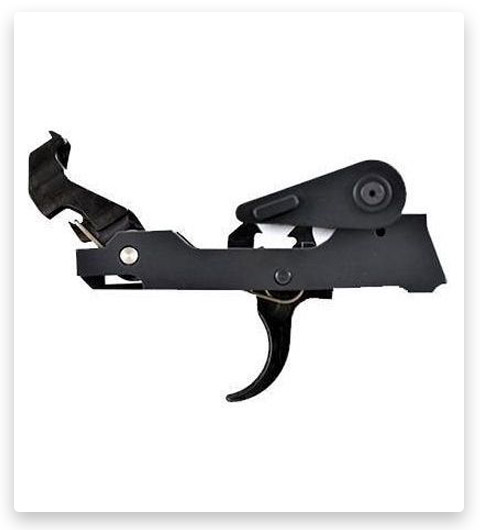 The Franklin Armory BFSIII AK-C1 Trigger is an innovative 3-position trigger system designed for the AK-47 rifle. It allows for incredibly fast semi-automatic firing, with one round fired on the trigger pull and another on the release, making it the fastest trigger on the market. This is easy to install and features a positive reset on release. It's perfect for competition, tactical, and recreational shooting, and its Binary Firing System™ allows for the release round to be canceled by moving the selector out of Binary® mode. The trigger pull weight is approximately 5.5 lbs, making it a wonderful addition for shooters required to improve their speed and accuracy.
How to install AK Trigger? 👨🏽‍🔧
Installing an AK trigger can be a relatively simple process, but it's important to follow proper safety procedures and ensure the rifle is unloaded before beginning. 🔧 Here are the general steps for installing:
1️⃣ Clear the rifle: Remove the magazine and ensure that the chamber is clear by visually inspecting it and running your finger through it.
2️⃣

Remove the old trigger:

Remove the dust cover and recoil spring, and then remove the retaining clip that holds the old trigger in place. Lift the trigger out of the receiver.
3️⃣

Install the new trigger:

Place the new trigger into the receiver, aligning it with the holes for the retaining clip. Insert the retaining clip and press it down until it clicks into place.
4️⃣

Test the trigger:

Before reassembling the rifle, test the trigger to ensure it functions properly. Pull the trigger and check that it releases the hammer and resets correctly.
5️⃣

Reassemble the rifle:

Reinsert the recoil spring and replace the dust cover. Reinstall the magazine and test fire the rifle to ensure proper function.
It's important to note that the specific steps and tools required for installation may vary depending on the particular model of trigger and rifle. 🤔 If you are unsure about your ability to install the trigger correctly, seek the assistance of a qualified gunsmith.
🎥 Watch the video to see the approximate process:
FAQ 🤔
Conclusion⏰
We hope this buyer's guide has been useful in helping you decide which trigger will be the best fit for your needs. With so many high-quality options on the market today, there are plenty of choices when selecting a replacement or upgrade for your current setup. Be sure to consider all aspects before making a decision – from the ease of installation to cost-effectiveness – as well as any other factors that may influence your purchase such as compatibility and safety features. Happy shooting! 😎
Tags: #best Tactical AK Trigger / #best ak-74 trigger / #best ak-47 trigger