Affiliate Disclosure: AmmoCave.com sometimes gets paid for listings, through sponsors or affiliate programs like Lucky Gunner, Optics Planet, Brownells, Cabelas, Academy Sports & Outdoors, Rainier Arms, Palmetto State Armory, Sportsman's Guide, Ammo.com, Ammo Man, Primary Arms, MidWayUsa, Amazon, eBay, etс. Clicking a link helps keep AmmoCave.com free, at no extra cost to you!
Authors: Each article is verified by AmmoCave's expert team. Professional hunters, firearm trainers, gunsmiths, and gun experts write the articles. AmmoCave Team independently researches, tests, reviews, and uses recommendations from our community of gun owners. We may earn commissions from shopping links.
Note: The views and opinions expressed in this article are those of the authors and do not necessarily reflect any agency's official policy or position. The articles are for informational purposes only, share your opinions about Best AR Trigger 2023 in the comments and join the discussions. Let's share 💬 our ammo & gun experiences together!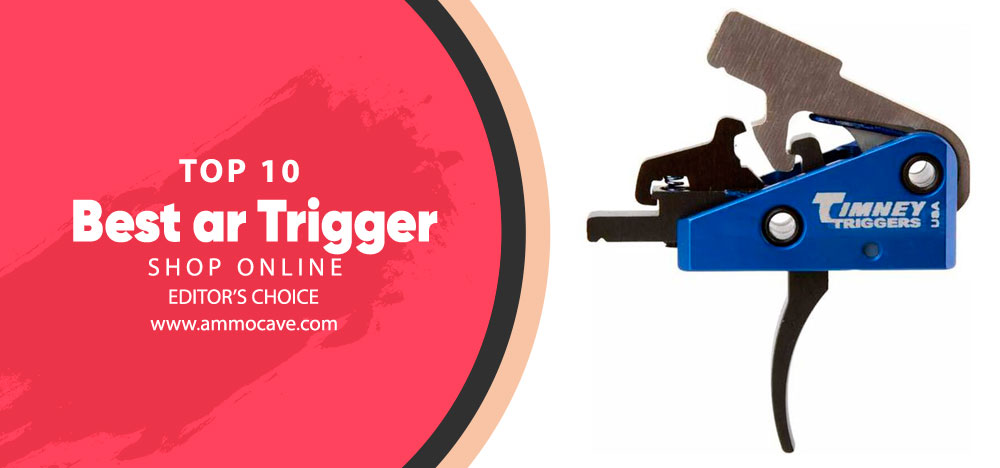 Our Selection 15 Best AR Triggers – Editor's Choice
A trigger is more than a simple lever that propels the bullet into flight. It is the sensitivity of the rifle to your intentions and the accuracy of the execution of the order. Your attitude to training depends on the softness and smoothness of pressing. It can be a painful finger exercise, or it can be a fun walk. It all depends only on your expectations and trigger capabilities, and we can help with this!
Today our review will feature the best AR triggers. Someone looks at the price, someone is looking for a specific trigger weight or shape of the trigger shoe – we will try to satisfy all these desires by talking about the 15 best triggers for the AR10 / AR15. It's time to start!
| Image | Product | Brand | |
| --- | --- | --- | --- |
| | Timney Triggers Impact AR Trigger | Timney Triggers | |
| | Timney Triggers AR-15 Competition Trigger | Timney Triggers | |
| | CMC Triggers AR-15/AR-10 Single Stage Drop-In Trigger | CMC Triggers | |
| | CMC Triggers AR-15 Drop-in Single Stage Trigger | CMC Triggers | |
| | FosTech Outdoors Echo AR-II Drop-In Binary AR-15 Trigger | FosTech Outdoors | |
| | CMC Triggers AR-15/AR-10 Single Stage Drop-in Competition Trigger | CMC Triggers | |
| | Timney Triggers AR-10 Competition Trigger | Timney Triggers | |
| | FosTech Outdoors Echo Sport AR-15 Trigger | FosTech Outdoors | |
| | HIPERFIRE Xtreme 2 Stage Mod-2 AR15/10 Trigger Assembly X2SM2 | HIPERFIRE Xtreme | |
| | Timney Triggers Calvin Elite AR Triggers | Timney Triggers | |
| | TRYBE Defense AR-15 Curved Drop-In Trigger | TRYBE Defense | |
| | CMC Triggers AR-15/AR-10 Rifle Single Stage Drop-in Trigger | CMC Triggers | |
| | Timney Triggers AR-15 Skeletonized Trigger | Timney Triggers | |
| | Timney Triggers AR PCC Shoe Trigger | Timney Triggers | |
| | Timney Triggers AR PCC 2 Stage Shoe Trigger | Timney Triggers | |
1# OpticsPlanet Exclusive Timney Triggers Impact AR Trigger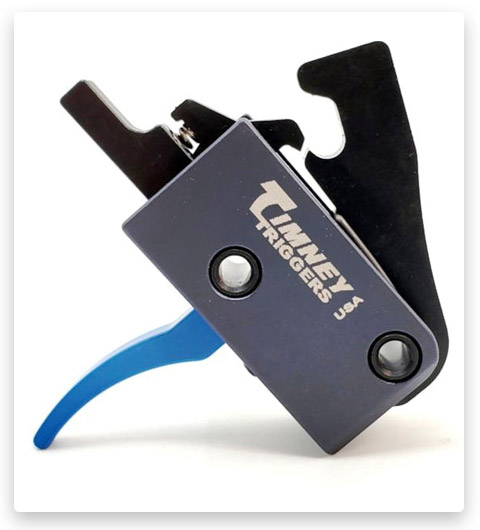 Timney took a step towards his fans and created 3 triggers in the mid-price segment, but retained the premium quality. The models differ in the shape of the trigger bend (from straight to slightly curved). Impact AR Triggers are recommended to be installed in place of the factory trigger. This will reduce the drag force from gritty 9 pounds to glass 3 pounds. Whether you are looking for a versatile and durable build for hunting or quick double shots, your wallet will love this offer.
By holding this trigger in hand, you will note the light-weight and precision machining precision. The aluminum alloy body houses the S7 tool steel hammer and the rest of the A2 tool steel parts. Components are manufactured using EDM technology to meet the exacting requirements of mil-spec.
With this trigger, you get a crisp and clean break. A short reset is expected and completely controllable. You will not find overrun or interception here. The single-stage mechanism combines all of these qualities to create the perfect complement for home use or speed shooting competition.
To install this trigger, you will need to follow the instructions and a little patience. Use a small flathead screwdriver to move the spring legs inward. This will give you access to the set screws (on both sides). If you have adequate lighting, everything should go smoothly (if not, use a headlamp, it will help). When you get over the tiny set screws, the trigger is just as good after 100 and 1000 rounds.
2# OpticsPlanet Exclusive Timney Triggers AR-15 Competition Trigger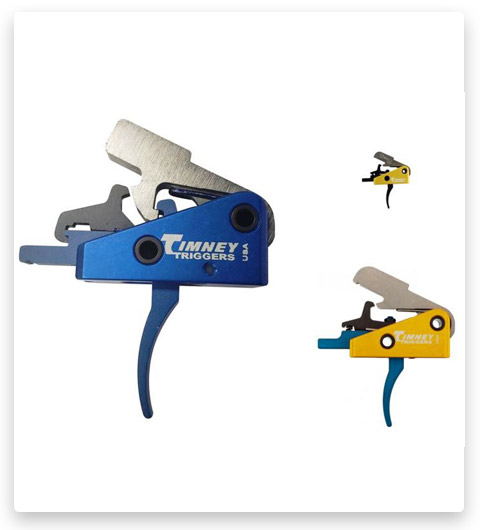 Timney has created a unique offering for AR-15 owners and is available exclusively on Optics Planet. 14+ single-stage triggers with different designs, trigger shapes, and pre-set pulling weights (3, 4, and 4.5 lbs). Choose any and enjoy a new level of your accuracy. The manufacturer guarantees that you will notice the difference and will be able to significantly improve your shooting accuracy thanks to precision machining and thoughtful design. It only takes 10 minutes to install, even if you are new to gunsmithing.
Like most "products" of the Timney team, these triggers are constructed from S7 tool steel. For the hammer to withstand thousands of rounds without chipping, very strong steel goes through a mandatory EDM process. The design of this trigger is designed in such a way that the main pin is completely impossible to exit, and the installation is smooth and fast thanks to the use of the original trigger pins.
Important note, the compatibility of these triggers with all AR-15 / M4 platforms fully meets the requirements of the army. The design uses a small pin, which is completely incompatible with Colt receivers produced between 1991 and 2009. Colt uses a thick pin, so setting this trigger will be very problematic.
Otherwise, you get an easy and smooth ride, crisp fracture, and no overtravel. Timney shows a decent level of quality control as always. There is no need to adjust anything because the set pulling weight remains that way (within 1 oz.). The only wish for this kit is to add redesigned assembly pins to it.
3# OpticsPlanet Exclusive CMC Triggers AR-15/AR-10 Single Stage Drop-In Trigger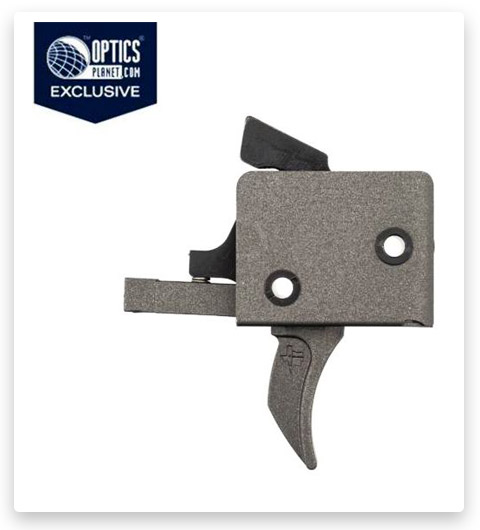 It is very difficult to find a shooter who really likes the standard mil-spec triggers. 9 pounds of traction, overtravel, and gritty travel is not the best base for your new build. There is always a way out! CMC has introduced 2 trigger models that are compatible with the AR-15 / AR-10 at the same time. The only difference is the color (1 – Tungsten Cerakote, 2 – Black / Silver), otherwise, they are brothers with a preset pulling weight of 3.5 pounds.
CMC Triggers AR-15 / AR-10 are hand-assembled and tested multiple times for reduced blocking time and ultra-fast reset. This makes the interval between subsequent shots as short as possible. To withstand the high rate of fire possible, the single-stage trigger is constructed from 8620 alloy steel and the hammer is made from S7 tool steel.
The manufacturer took care of the ease of installation of its product. Monoblock one-stage system CMC Triggers AR15 / AR10 – has an addition in the form of a set of CMC Anti-Walk pins. When compared with competitors in this price segment, this is an undeniable plus.
Many shooters like the color and design of the trigger. Smooth bending lines allow the finger to find its comfortable position on its own. The Texas logo is engraved and shimmers beautifully in the sun. Otherwise, this trigger uses small pins and fits easily into the AR-15 / AR-10. If you want to turn your weapon into a rattlesnake ready to jump at the slightest touch, you will love this trigger.
4# CMC Triggers AR-15 Drop-in Single Stage Trigger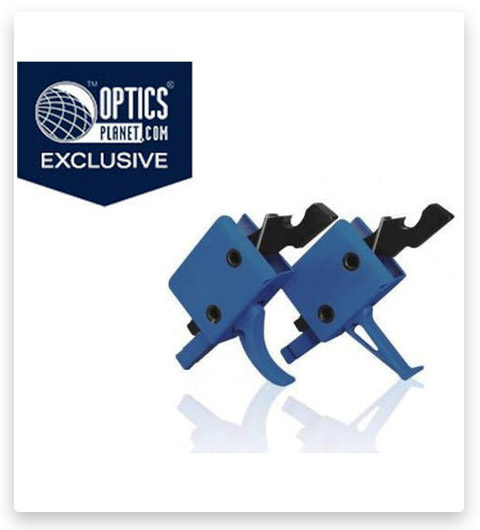 If you have a tight budget but a new build needs an updated trigger – consider the exclusive offer from CMC Triggers. Especially for fans of OpticsPlanet, an easy-to-install and inexpensive trigger (cartridge type) has been created. In just 10 minutes to set up, your launch weight is converted to an accurate 3.5 pounds.
OpticsPlanet's CMC Triggers AR-15 is constructed from 8620 alloy steel and of course, S7 tool steel is used for the striking parts. The overlapping operation of the sear is 6-8 times more than that of competitors, which means the whole mechanism is more reliable. The design is as a one-piece cartridge that fits easily into the bottom of the AR-15. The single-stage mechanism is already set for 3.5 lb. pulling force.
This conditional value was obtained when measured at the usual point of depression (taking into account the anatomy of the shooter's hand). If you move above this "point", you can get about 4 pounds of force. If you move to the very edge, you need 2.8 – 3.0 pounds to push. It depends on the shooter how much pressure is required because CMC Triggers have already fine-tuned and rechecked everything before shipping to your door.
There are 2 models available in this offer, with a curved hammer and classic straight hammer. Both triggers are painted in matte blue and differ in price only slightly. You also get a set of CMC Anti-Walk pins, making the installation a pleasant walk, even for a beginner.
When choosing this trigger, you should get crisp, even traction with a clean lift. The absence of overshoot, side play, sand, and double shots is a must. Forget about the severity and unreliability of standard triggers – this is your new favorite.
5# FosTech Outdoors Echo AR-II Drop-In Binary AR-15 Trigger 4150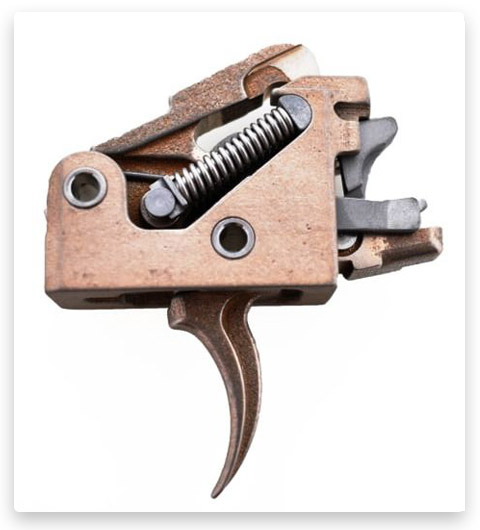 The Echo AR-II is a trigger like we've never seen before. In addition to the unconditional compliance with all safety requirements, this trigger has three configuration modes: safe, semi-automatic, and echo mode. In semi-automatic fire mode, you get classic single shots every time you pull the trigger. Echo mode allows you to fire double shots when the trigger is pulled and when the trigger is released. If you are interested in this model, we have a lot to tell you about it.
Produces Echo AR-II Drop-In Trigger for AR-15 rifles in stainless steel. The patented design is ATF-approved, so there is no doubt about the reliability of this modification. The curved shape of the trigger makes the actuation smooth and clean. You need 4.5 to 5 pounds of force to push, but this creates a sense of predictability and total control. This trigger has a cassette design and weighs just 4 ounces, which won't weigh down your build. The manufacturer claims to include HiperFire technology and a FosTecH secondary disconnector. This addition increases the prestige and makes life easier for the shooter by adding another ball to the piggy bank of this lot.
Setting up a trigger is simple and straightforward, although no instructions are provided. If you want to take a closer look at the details and mechanism of the trigger – use tape and wrap it once. This will protect your purchase from component fireworks and you won't lose anything. Once the trigger enters the bottom of the receiver, the adhesive tape must be removed. If you would like to modify this trigger by changing the traction weight for echo mode and semi-automatic mode, do so. The trigger uses different pulls, so you can customize it to your liking.
With enough training, you can hit a target 30 times in just 3 seconds! This is a real "lead shower" in your hands. If you're gearing up for a Rapid-Fire Survival Challenge, this is the one for you. The only major downside to this offer is the price, but you get what you pay for.
6# CMC Triggers AR-15/AR-10 Single Stage Drop-in Competition Trigger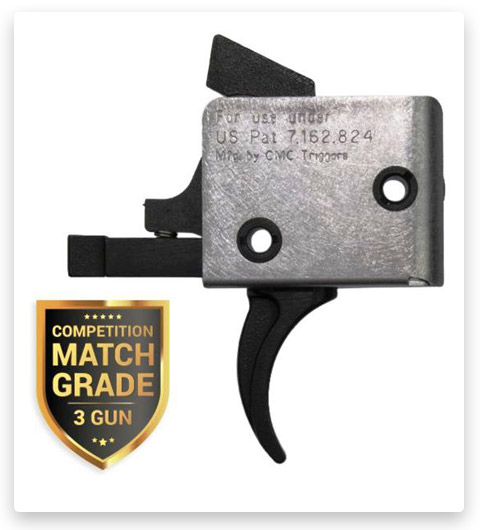 CMC fans may disagree on which trigger is the best, but they all agree that the single-stage competition launcher (AR-15/10) is a cool upgrade. The fact is that the trigger has a reduced pulling weight, which makes every shot an enjoyable mini-adventure. Now you can find out your true accuracy and test your shooting skills.
This trigger was created with the opinion of three of the best shooters in the United States. The patented design matches the AR-15/10 receiver as simply as possible. The steel parts of the movement are aluminum-framed and maintain a surface finish of about 1–2 RMS. It is an almost mirror-like surface, which means that dimensional control and processing quality are at the highest level. The trigger cartridge is 1.05 "high and 7.15" long. Preset trigger weights range from 2 to 2.5 pounds, which is substantially less (4x!) of standard Mil-Spec triggers.
By creating an ultra-sharp trigger, the CMC achieves maximum smoothness without slipping, breaking like glass, and no sand feeling. A positive reset will quickly return the trigger to readiness for subsequent shots. For trouble-free operation of the trigger, it was decided to remove the possibility of self-regulation of the release weight. This is now hand-assembled and always fits 2-2.5 lbs.
Included with the trigger you will find the CMC Anti-Walk Pin Set. The Lifetime Warranty is a great addition to this product. You can choose between three trigger versions that differ in the face shape of the trigger (straight or curved). Installation takes no more than 10 minutes and does not require a lot of effort. If you are in doubt, watch the video reviews that will confirm the ease of installation and smooth operation. Want to narrow your groups by 1/2 "or more – add this trigger to your wishlist and you won't regret it!
7# Timney Triggers AR-10 Competition Trigger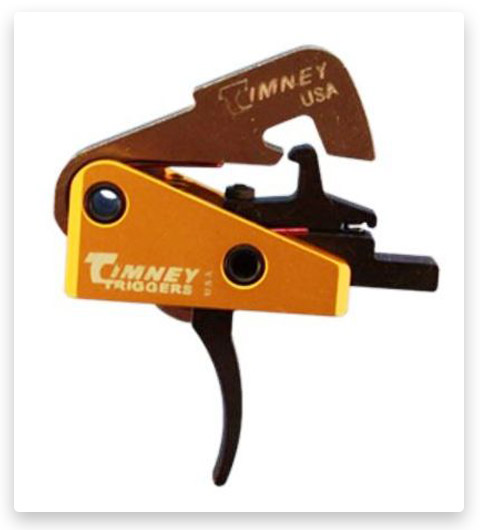 This trigger is also a completely standalone add-on ready to be installed in your build. You can choose from three models that differ in shoe design. A skeletal trigger has been added to the curved and straight hammer. It looks really stylish and professional. The only detail that needs to be said before the detailed review is that the trigger has a factory-set release weight of 4 lbs. There is no fix for this, so you buy the stable version with moderately tight traction.
The trigger design is patented and includes the original AR-10 hammer / trigger pins. The set screws prevent any rotation and loss of the pins. Lightweight 6061 T6 aluminum alloy is used to create the case, with additional anodizing for even greater strength. The hammer is made of S7 tool steel using an EDM machine and is nickel-plated. This creates incredibly smooth surfaces and incredible durability. The rest of the parts are cut from A2 tool steel and heat-treated to achieve the required hardness (up to Rc 56-60).
Timney Triggers have been in the arms business since 1946, which means they can create trends in which the industry will develop. This product is built for competition and meets all military requirements for AR-10 and .308 caliber platforms. In operation, this trigger is clearly pushed straight back, without backlash and slippage. The gap is clear and almost pleasing, as you'd expect from Timney.
The only inconvenience you may encounter is installation. Tiny set screws push the trigger pin down and lock it completely in place, preventing it from moving. Once you get past this stage, you will be able to fully enjoy the perfect job. Is it worth the money? Definitely yes!
8# FosTech Outdoors Echo Sport AR-15 Trigger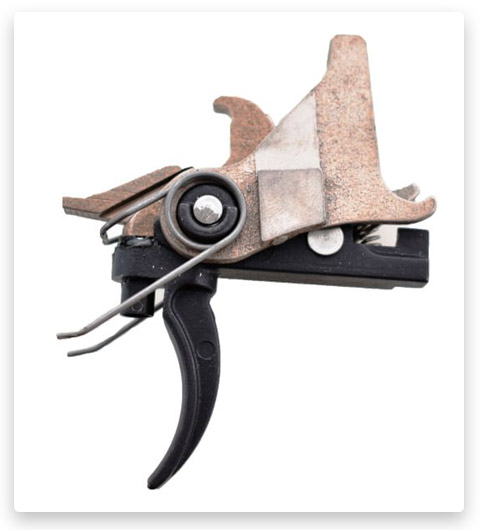 The FosTech Outdoors Echo Sport AR-15 Trigger is the fun lover's choice and a true ammunition eater. The firing mode switch allows you to choose between full block, single shots, and echo mode. If you like the ability to empty your clip in 3 seconds – this offer will delight you with a nice price.
Unlike the monoblock design of the Fostech Echo AR-II, this model (Echo Sport) has several separate parts. In addition to being more difficult to set up this trigger, this kind of layout makes it possible to install a less stiff spring (h2). This is a really important modification because the base pulling weight is around 8 pounds, which is a lot.
Internally, this trigger has some problems. A lot of pulling weight and some gritty feel are felt due to the rough surfaces of the parts. Even copious amounts of gun lubricant will not solve this problem. In addition, a common problem after "delivery" is the collection of a bunch of parts into one working mechanism. There is no normal instruction manual with detailed illustrations, which means this adventure can last several hours and go through a trial-and-error path. A little trick, the installation video is rubbish, but the rebuild video will answer all your questions.
Keep in mind that echo mode is available for fully automatic BCG. The difference is that the fully automatic BCG pushes the lever, making it impossible for the hammer to fall prematurely. With gas piston BCG and Sig516 (even with FA BCG), the trigger will not work properly for "design reasons".
Yes, it works as advertised! But when compared with other rivals, there is a slight disappointment due to the severity of the pressure and the complexity of the installation. The only significant argument that raises doubts is a very pleasant price, especially for an echo trigger. If you are experienced in gunsmithing and love real rock and roll when shooting, this is definitely the offer for you.
9# HIPERFIRE Xtreme 2 Stage Mod-2 AR15/10 Trigger Assembly X2SM2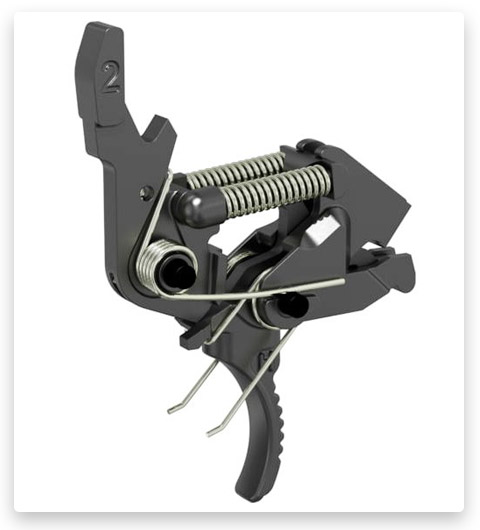 In moments when you need customization for your preferences and maximum accuracy, you will want to use this particular trigger. HIPERFIRE has created an excellent semi-automatic adjustable trigger with two-stage depression for AR15, AR10, AR9 / PCC (including SIG MPX). This model became a logical continuation of Mod-1 and has a shorter first stage. If you want to get a novelty with guaranteed quality without overpaying for big names – here's your chance!
This new product from HIPERFIRE really breaks the rules. The two-stage trigger is adjustable, but the hammer's impact energy is always high. This is made possible by the use of a cam motor. Another novelty is a soft start interlock, which eliminates flinching when switching to the second stage.
You can switch between red and green spring and change the pulling weight from 2 to 3 pounds for the first stage. The second stage always adds 1.5 pounds, so when you push it fully, you will need to apply force corresponding to the pressure of 3.5 – 4.5 pounds.
The quality of processing and anodizing with heavy metal phosphate leaves no doubt, this trigger from real professionals for true fans of small arms. It looks and feels like an engineering work of art. Whatever the task at hand, this trigger will be a breeze for range training, competition, or home defense.
The curved trigger is comfortable enough, but it can be additionally equipped with a HIPERSHOE. To do this, there are notches on the back of the hook that make it easier to fix the shoe at the selected level. The only drawback of this modification is the need for separate additional purchaseы. There are no additional shoes in the basic offer.
10# OpticsPlanet Exclusive Timney Triggers Calvin Elite AR Triggers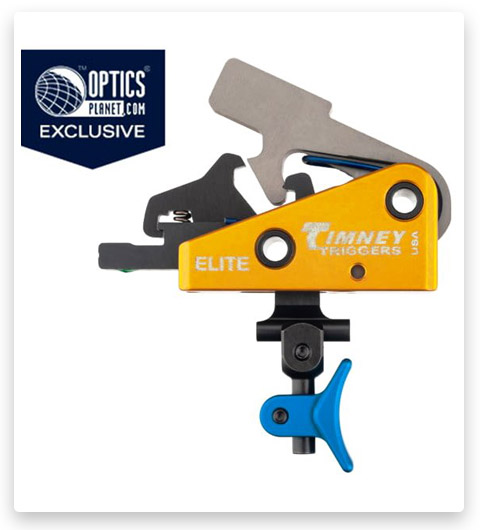 When it comes to smooth operation and ease of pressing, it is simply impossible not to think of the Timney Triggers Calvin Elite AR Trigger. This trigger can be fully adjusted for stroke length and strong tension. Installation at home takes only 5-10 minutes, of which half the time you will only consider a new trigger. The update is available for AR and M4 platform rifles.
This trigger is designed as a one-piece monolithic unit, ready to install right out of the box. The steel parts are well polished and hidden in an aluminum case. The quality of processing can be judged by the smoothness of pressing and the ease of the trigger. Timney's trigger requires just 1.5 pounds to fire (it could be slightly more from the box – about 1.8 pounds).
Despite the low pulling force, the 5-pound hammer spring will do the job as required.
You will need a small pin (0.156 inches) to complete the installation. In the last installation step, you will tighten the 2 internal set screws located under the hammer spring legs. This will complete the short setup and enjoy the ease and reliability of this trigger.
Another highlight of this offer is the interchangeable shoe for personalized customization. The curved shape of the trigger can be adjusted to the optimum height for you. You can also choose between blue and red shoes. The trigger color is only yellow, but the right shoes will highlight the uniqueness of your build.
This trigger feels like a feather, or a stem of a flower – very soft and smooth. Easy installation and the ability to modify the design with interchangeable shoes make this offer even more attractive. If you are not afraid of the price of this offer – you know what to do!)
11# TRYBE Defense AR-15 Curved Drop-In Trigger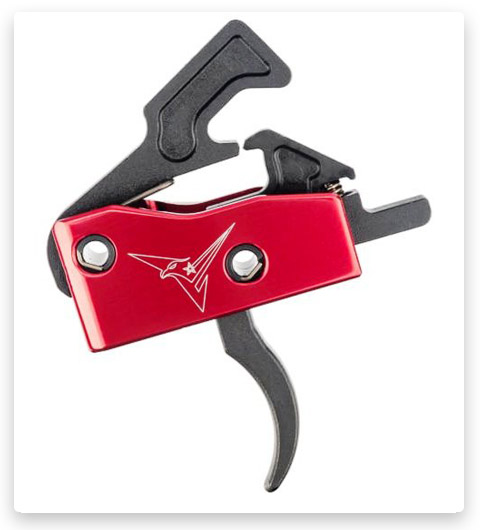 When your budget is limited but you still want to update the trigger – TRYBE offers you a great deal. Single-stage trigger for AR-15 with adjustable trigger weight from 3.5 to 5 lbs. For OP fans, there are 3 models available with different color options (black, blue, and red).
TRYBE Defense AR-15 combines components made of steel 8620. Parts are heat treated and additionally coated with nitride for greater resistance to corrosion and mechanical wear. The 6061-T6 anodized aluminum body is riveted to secure all internal parts.
You will need a hex wrench and a little patience to adjust the trigger weight. Insert the wrench into the set screw on the top of the trigger and rotate 1/4 turn. Turning the screw counterclockwise will decrease the pull on the trigger. Clockwise rotation will make the trigger harder. The only non-obvious limitation is that over-loosening the screw can damage the trigger – be careful not to unscrew the screw completely.
Complete with the TRYBE Defense AR-15 Curved Trigger you will find Anti-Walk pins and detailed installation instructions. Be very careful and follow the instructions strictly. Pay particular attention to "step 11". If the set screws under the spring are not fully tightened, there may be problems with resetting or causing re-firing.
Another really significant caveat, especially for 7.62×39 hobbyists. This trigger is ideal if you are using the AR-15 (Mil-Spec) .223 / 5.56. In other cases, you act at your own peril and risk.
12# CMC Triggers AR-15/AR-10 Rifle Single Stage Drop-in Trigger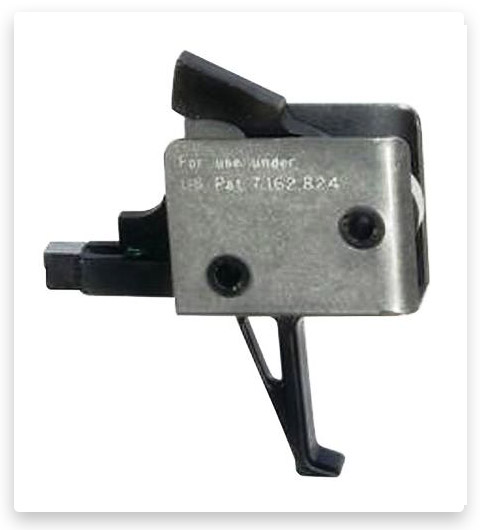 The lower price segment (under $200) has many good deals. The CMC Triggers AR-15 / AR-10 single-stage trigger is exactly the offer that is difficult to beat in terms of price or quality. There are 4 models available for purchase with different trigger shapes (classic curved and straight) and with different sets of pins (small 0.154 "and large 0.170"). The weight is already preset at the CMC factory at 3.5 lbs.
These triggers are assembled by hand and tested right at the factory. The cassette structure combines 8620 alloy steel parts and S7 tool steel impact parts. Sanding to a surface finish of 1-2 RMS and subsequent blackening makes this kit really tough and durable.
In operation, this trigger is not whimsical. It has good cleanliness and does not slip before the descent. The fracture is crisp and expected like glass, with no gritty feel. A positive reset makes subsequent shots almost instantaneous. The trigger shoe (the hook itself) is about 5/16 inches wide, which feels very nice.
If you are a beginner and do not know what type of pin is suitable for your rifle, you have 2 outputs. You can measure the current pin (0.154 "is small, 0.170" is large), or ask the manufacturer. Large pins were ONLY used by Colt between 1991 and 2009. Otherwise, a set with small pins will do the trick.
This kit looks good and comes complete to fit right out of the box. The low price point makes the offer even more desirable.
13# Timney Triggers AR-15 Skeletonized Trigger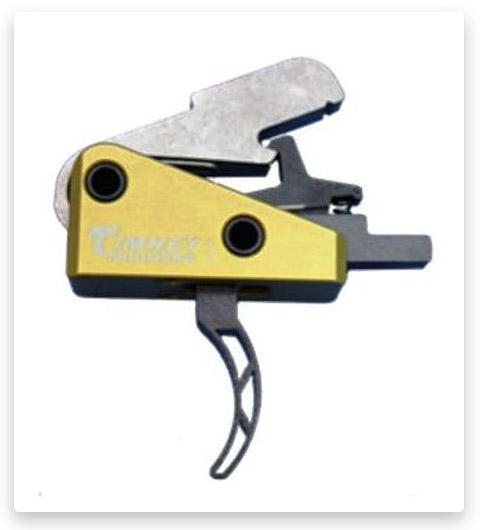 Timney Triggers AR-15 Skeletonized Trigger is chosen by those for whom reliability is as important as spectacular appearance. All the good things you used to get from Timney you will get here too. With 6 models to choose from, you can choose from 3, 4, or 4.5 lb pressure with small or large pins.
Timney is true to his principles and stacks these triggers with care and attention to detail. Everything available for viewing looks smooth and neat. The case is sealed with rivets, so you don't have to worry about the complexities of installation. Even if your experience with firearms comes down to 1 minute, you can still install it without assistance. Just watch the instructional video (or instruction) and you will succeed.
Skeletonized adjustments are made at the factory and subsequent testing minimizes any deviations from the target level. This also applies to tolerances, which are also strictly controlled. A good fit leaves no wobble or play after installation. The patented design eliminates any rotation of the pin by being held down by the set screws. In the kit, you will also find the hex keys that you need for installation.
Everything you need to upgrade your rifle is already included in this kit. All you have to do is determine the optimal trigger weight, specify which pin size fits your rifle, and make money.
14# Timney Triggers AR PCC Shoe Trigger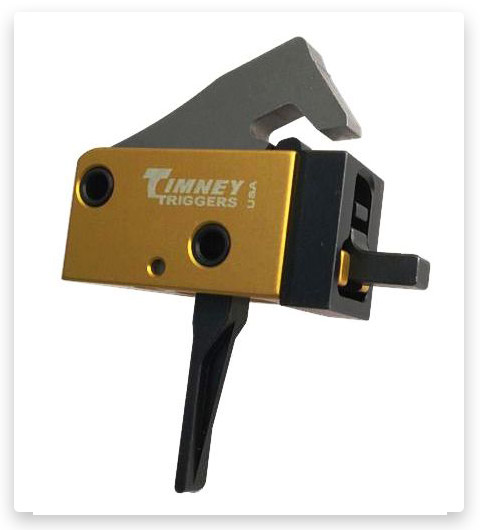 Pistol caliber (9mm) requires increased impact force from the trigger. Timney has completed its line of semi-automatic AR-style triggers with the addition of (AR Pistol Caliber Carbine) to do just that. There are two models available in this offer, which differ in the shape of the trigger shoe (curved and straight). One-stage triggers are already factory preset to between 2.5 and 3 pounds of force, you just have to pick and place them in the basket.
AR PCC Shoe Trigger body is made of 6061 Alloy and T6 Anodized Alloy. Internal parts such as trigger and bridge are made of heat-treated steel. Everything is done in the best Timney traditions. In addition, the mechanism is supplemented with an additional steel bridge that protects the trigger components from the gate impulse. When firing pistol calibers, this is an important addition, because it significantly extends the life of the entire assembly.
Installation is simple and intuitive. Remove the factory trigger and remove the safety roller pin (1/16-inch punch) and slide the safety catch. This is necessary so that the installed trigger slides under it. Otherwise, the factory Hammer and Trigger pins are reused and just take their places. The two set screws must be screwed in until they are completely seated and, for reliability, they must additionally be turned by 1/8 of a full turn.
In addition to the beautiful golden design with blackening, you get an increased inaccuracy. Your groups are guaranteed to be several inches smaller even with cheap ammo (115 grain). This is especially noticeable at long distances, 100 yards or more. If you want an exclusive product – here it is! (waiting to be immersed in the basket).
15# Timney Triggers AR PCC 2 Stage Shoe Trigger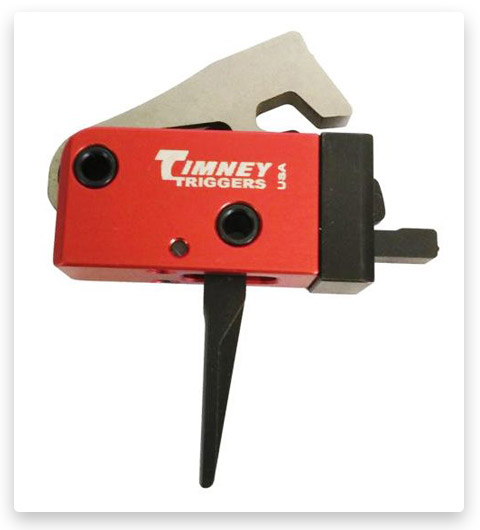 When it comes to pistol caliber triggers, Timney's two-stage trigger should also be mentioned. The AR-style semi-automatic interchangeable trigger is available with this straight and curved trigger. The first stage is factory set to 2 pounds of resistance, and the second stage adds another 2 pounds before firing. The price of this kit is much lower than the price of the competition, but the OP makes the difference even more noticeable.
As expected from Timney, this product combines anodized aluminum and heat-treated steel. Everything is sanded and blackened for even more durability. The PCC trigger has additional kickback protection.
There is no regulation for this trigger, which means you only get that pulling weight. 2lb + 2lb is still less than a standard sand trigger. You also have no options for choosing the trigger color, here only the red coating.
The trigger works quite smoothly, predictably, and reliably. Installation takes just a few minutes and after screwing in the set screws you are ready to fire. Factory safety also works fine if you set everything up correctly. Therefore, be sure to follow the instructions and enjoy the updated accuracy.
Conclusion
We tried to go beyond reviewing only the top representatives of the industry and wanted to be objective. If we succeeded, we are very happy!
It's time to reward the winners:
#2 Exclusive Timney and #3 Exclusive CMC Triggers – pre-installed (3, 4, and 4.5 lbs) and ready to install from the box + impeccable reputation
#6 CMC Triggers – Competition One-Stage (Sensitive)
#9 HIPERFIRE – Competition Two-Stage (Sensitive)
#10 Timney – Trigger Weight 1.5lbs!
#11 TRYBE – lowest price
#13 Timney – Skeleton Trigger Design
#14 and #15 Timney – for pistol calibers
The winners are awarded and the shopping cart is full of purchases. We expect delivery and the next review). Thank you for being with us, meet us at the shooting range!
Tags: #Best AR Trigger for Hunting / #Best AR-15 Trigger Kit for the Money / #Ar 15 Trigger Under 100 / #Best AR Triggers That Money Can Buy