Affiliate Disclosure: AmmoCave.com sometimes gets paid for listings, through sponsors or affiliate programs like Lucky Gunner, Optics Planet, Brownells, Cabelas, Academy Sports & Outdoors, Rainier Arms, Palmetto State Armory, Sportsman's Guide, Ammo.com, Ammo Man, Primary Arms, MidWayUsa, Amazon, eBay, etс. Clicking a link helps keep AmmoCave.com free, at no extra cost to you!
Authors: Each article is verified by AmmoCave's expert team. Professional hunters, firearm trainers, gunsmiths, and gun experts write the articles. AmmoCave Team independently researches, tests, reviews, and uses recommendations from our community of gun owners. We may earn commissions from shopping links.
Note: The views and opinions expressed in this article are those of the authors and do not necessarily reflect any agency's official policy or position. The articles are for informational purposes only, share your opinions about Best 5.45×39 Ammo in the comments and join the discussions. Let's share 💬 our ammo & gun experiences together!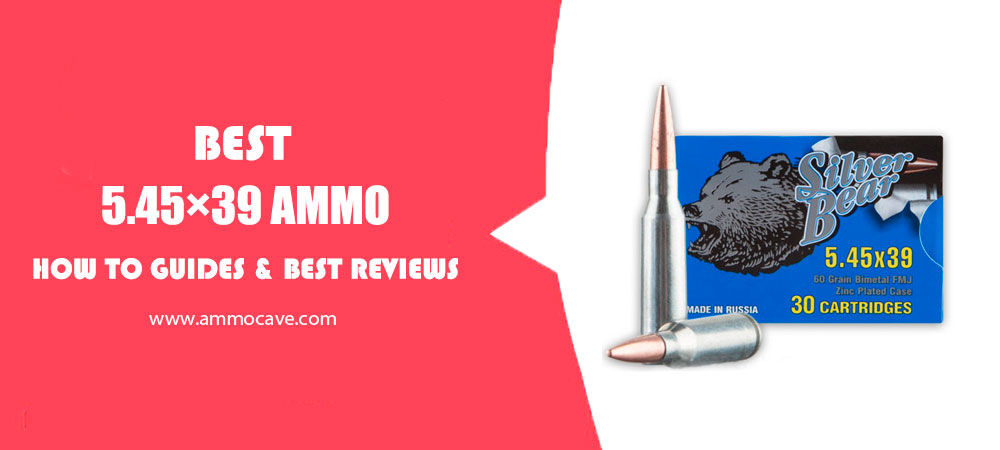 What is 5.45×39 ammo? 🧐
It is a type of rifle ammunition used by many military and civilian shooters around the world. It was first developed in 1973 and has been used in several military conflicts since then, including the Soviet invasion of Afghanistan and the wars in Chechnya.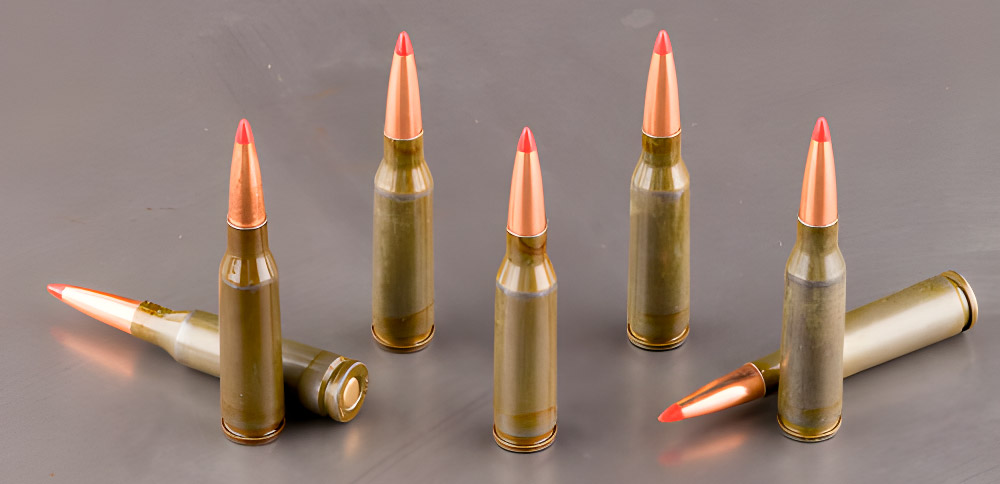 Features ✍️
The 5.45×39 round is a popular choice due to its excellent accuracy, high velocity, and lightweight. Some features include:
🔷 Velocities: These rounds typically have a muzzle velocity of 2,800 to 3,300 feet per second (fps). High-quality loads can reach even higher velocities, making them more suitable for long-range shooting.
🔷 Accuracy: The round is known for its good accuracy at medium and long ranges with minimal wind drift. It has a lower trajectory than many other cartridges, so it requires less adjustment when aiming at targets further away.
🔷 Terminal Performance: It is designed for use in hunting and self-defense applications. It has excellent terminal performance due to its reliable expansion characteristics and milder recoil compared to other military rifle calibers.
🔷 Cost: This ammo is typically less expensive than other centerfire rifle cartridges, making them a great choice for budget-minded shooters.
Our Top Pick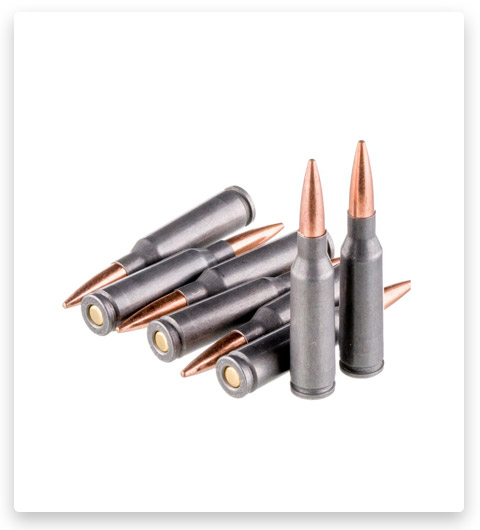 5.45x39 Ammo
This authentic AK-74 cartridge provides a reliable, consistent performance every time. Its boat tail construction gives it a flatter trajectory and higher energy transfer on impact, giving you better accuracy downrange. And you don't need to worry about corrosion, either – its non-corrosive primers provide long-lasting performance without additional cleaning. For those searching for high-quality ammunition that won't strain the wallet, this ammo is an easy choice.
Explore Now
If you click this link and make a purchase, we earn a commission at no additional cost to you.
Benefits 🤩
When considering the best 5.45×39 ammo for your needs, you may find this type of ammunition to have several advantages over other types.
❇️ For starters, the ammo is lightweight and compact, allowing shooters to carry more rounds without having to lug around heavy boxes or magazines.
❇️ Furthermore, due to its smaller size, the shots fired are less likely to miss their intended target.
❇️ Additionally, it has a high velocity when compared with other calibers, making it ideal for use in medium-range engagements.
❇️ The round also features a non-toxic compound that allows it to be used safely indoors and in situations where environmental protection is desired.
❇️ Finally, the relatively low cost makes this particular caliber one of the most budget-friendly choices on the market.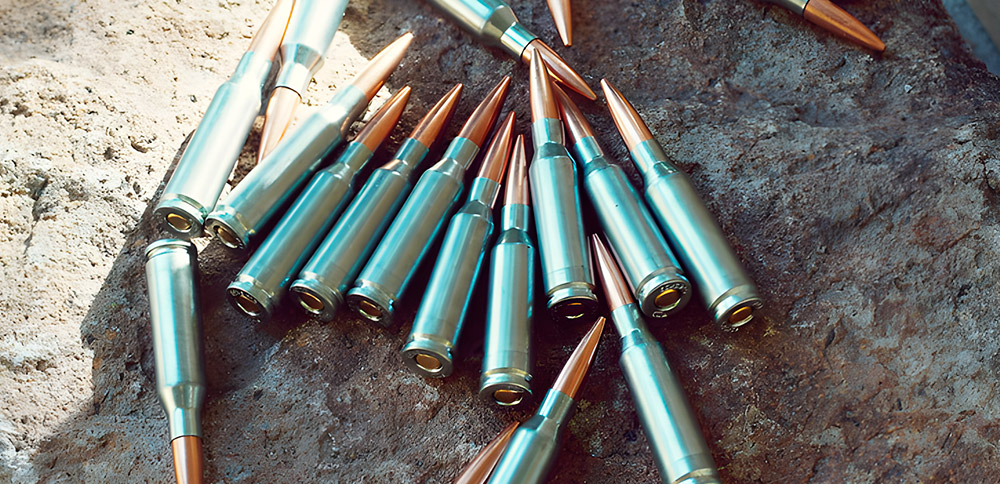 How effective is it? 🤔
The 5.45×39 round is a Soviet military rifle cartridge designed in 1974 for use with the AK-74 family of weapons.
🎯 It has become increasingly popular due to its light recoil, flat trajectory, and good terminal performance at long ranges.
🎯 Generally speaking, it is most effective within 500 yards and is capable of penetrating body armor at up to 600 yards when using certain ammo types.
💡 The most common bullet types include hollow point (HP), soft point (SP), full metal jacket (FMJ), and armor-piercing (AP).
💥 HP bullet designs are great for self-defense due to their expansion upon impact, while SP bullets provide more reliable penetration on hard targets.
💥 FMJ bullets are the most common and cost-effective but lack the stopping power of HP or SP rounds.
💥 AP rounds are designed for increased penetration through hard surfaces and body armor, making them ideal for tactical applications.
Best 🎯 5.45×39 Ammo Reviews
1# 5.45×39 – 59 Grain FMJ – Red Army Standard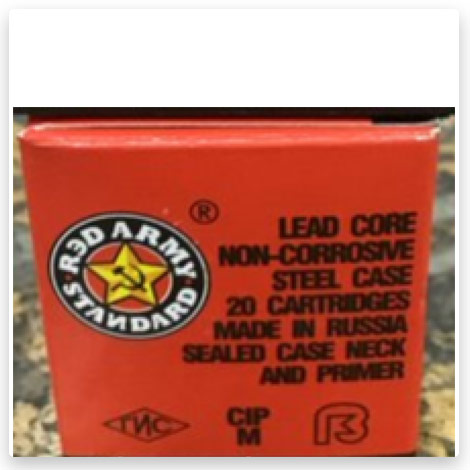 Searching for high-quality carefully selected 5.45×39 ammo from an American supplier you can trust? Check out Red Army Standard's 59 Grain FMJ. This authentic AK-74 ammo is perfect for range training and plinking, thanks to its accurate 59-grain projectile and conventional muzzle velocity. Plus, the bullet's boat tail design helps to preserve velocity downrange, resulting in a flatter trajectory and more energy on impact. Just keep in mind that steel casings are not reloadable, so be sure to shoot it all in one go!
2# 5.45×39 – 60 Grain FMJ – Silver Bear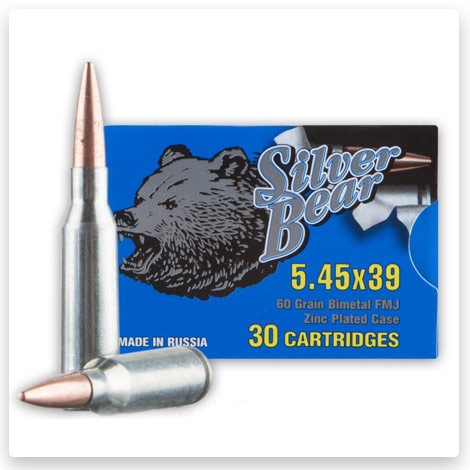 Real Russian-made Silver Bear's 5.45x39mm 60 gr FMJ ammo! Manufactured at the Barnaul plant in Russia, this ammo is both economical and precision manufactured, making it perfect for range use. The zinc-plated steel casings are highly polished to prevent corrosion and improve shelf life, while the zinc plating also provides a lower friction coefficient than plain steel, helping these rounds to the chamber and extract more reliably. Don't miss out on this great product – order your Silver Bear 5.45x39mm ammo today!
3# 5.45×39 – 60 Grain FMJ – Tula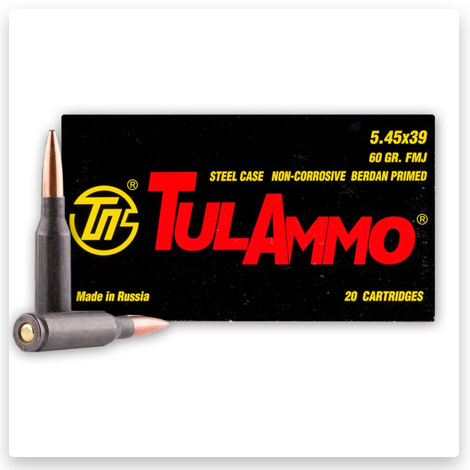 Welcome to the exciting world of 5.45×39 full metal jacket ammunition! This newly manufactured ammo is perfect for target practice, range training, or plinking. It is both economical and reliable and is produced by one of the most established ammunition plants in the world. This cartridge complies with CIP requirements and the casing features a polymer-coated steel casing with a non-corrosive Berdan Primer. So what are you waiting for? Get out there and start shooting!
Reloading Kit 🛠️
A 5.45x39mm reloading kit is a complete set of components used to craft ammunition for firearms chambered in this specific caliber.
📝 It typically includes bullets, powder, primers, and cases – everything needed to produce your rounds from scratch. They also allow you to customize the performance of your ammo by choosing appropriate components for each application.
⤵️ When shopping for a reloading kit, there are several important factors to consider:
🔰 First and foremost is cost: while reloading can save money in the long run, you must select equipment that fits your budget.
🔰 Additionally, it's important to select a kit that is compatible with your firearm and provides the performance you need.
🔰 Finally, quality components are essential for reliable ammo production.
FAQ 🤠
Conclusion 🙂
As you can see, there are a lot of great best 5.45×39 ammo rounds available on the market today. It can be tough to choose the right one for your needs, but our buyer's guide tried to help. We've included some of our favorite rounds and shared some tips to help you make the best decision for your needs. Good shopping and thanks for reading! 😎👍