Affiliate Disclosure: AmmoCave.com sometimes gets paid for listings, through sponsors or affiliate programs like Lucky Gunner, Optics Planet, Brownells, Cabelas, Academy Sports & Outdoors, Rainier Arms, Palmetto State Armory, Sportsman's Guide, Ammo.com, Ammo Man, Primary Arms, MidWayUsa, Amazon, eBay, etс. Clicking a link helps keep AmmoCave.com free, at no extra cost to you!
Authors: Each article is verified by AmmoCave's expert team. Professional hunters, firearm trainers, gunsmiths, and gun experts write the articles. AmmoCave Team independently researches, tests, reviews, and uses recommendations from our community of gun owners. We may earn commissions from shopping links.
Note: The views and opinions expressed in this article are those of the authors and do not necessarily reflect any agency's official policy or position. The articles are for informational purposes only, share your opinions about Best M&P Magazine Extension 2023 in the comments and join the discussions. Let's share 💬 our ammo & gun experiences together!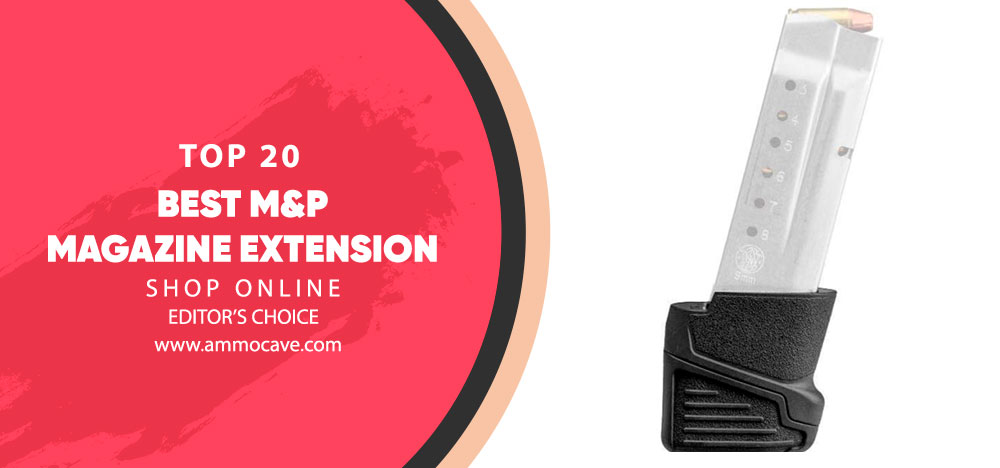 Top 20 M&P Magazine Extension
If you like your concealed carry gun, you won't need to find a compromise between capacity and size with a magazine extension.
Why do we need Base Plate Magazine Extension M&P?
Magazine extension allows small firearms to feel bigger and enhance strong hand grip while adding both length and magazine capacity.
Best Pick
ARREDONDO – S&W M&P EXTENDED MAGAZINE BASE PAD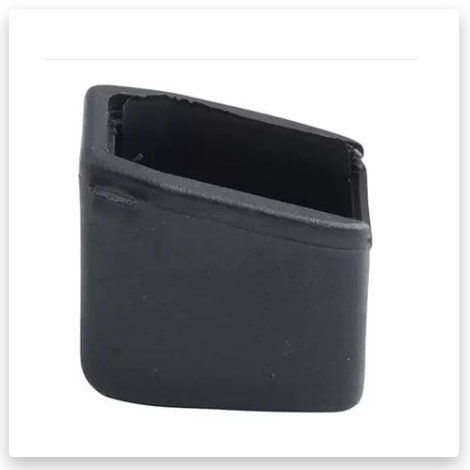 This mag extension is good for Competitive Shooting, Hunting, Self Defense, Tactical or Target Practice, increasing the mag capacity +5 rounds for .40S&W and +6 rounds for 9mm .40 S&W, 9mm Luger, fitting comfortably in hand.
#1 FAB Defense MPS-12 Magazine Extension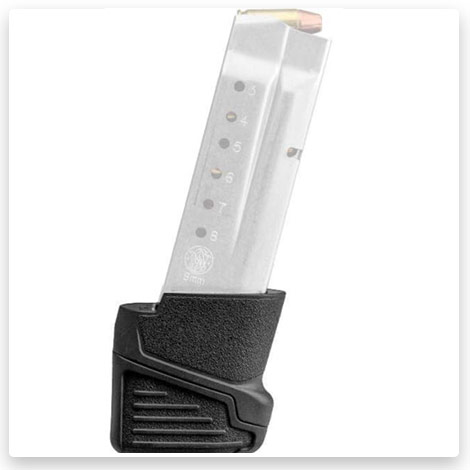 FAB Defense increased capacity to four more rounds in their M&P 9 SHIELD Grip Mags, keeping the Smith and Wesson magazine's low profile. The M&P 9 SHIELD Polymer Grip Magazine Extension +4 features a special ergonomic design, which is the most appropriate for conceal-and-carry situations. The unit case is equipped with contoured finger grooves for a firm grip during magazine handling. The mags are available in Matte Black with extra colors. These mags are only compatible with the original 8 rds M&P 9 and 7 rds M&P 40 magazines.
#2 HYVE Technologies Magazine Extension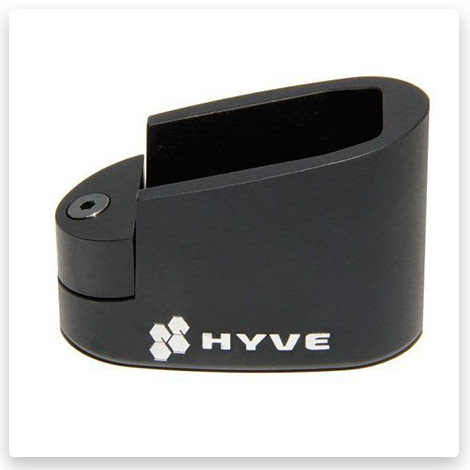 These Magazine Extensions Base Pad for M&P Shield 9mm only fit the 8-round mags, adding some extra firepower to the firearm. They are machined from Aluminum (6061-T6) with an anodized coating to ensure strong but lightweight construction. The Mag Extensions are available in 8 colors: Red, Violet, Copper, Gray, Black, Blue, OD Green, Tan.
#3 HYVE Technologies Magazine Extension Base Pad for M&P Shield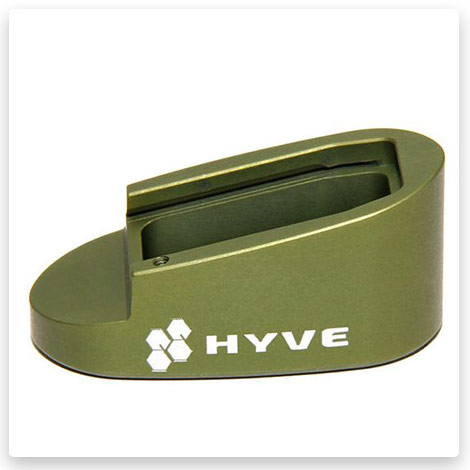 The M&P Shield 9mm +1 extension for the Shield 9mms 7 round factory magazine features classic Hyve style grip, adding length to allow pinky to grab it. The extension is crafted from Aluminum (6061 T6), anodized in Hyve standard 8 Colors: Red, Violet, Copper, Gray, Black, Blue, OD Green, Tan.
#4 Tyrant Designs S&W M&P Magazine Extension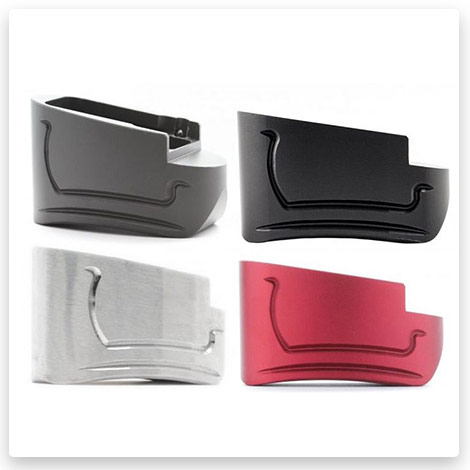 The Shield mag extension is a CNC-machined from aerospace-grade Aluminum, +2 extending an OEM mags capacity of the single-stack defensive pistols with ease. The M&P magazine extension profile features smooth chamfered edges, allowing S&W Shield to conceal well despite the extra length. This extension does not fit shield plus magazine.
#5 HYVE Technologies S&W M&P9c Magazine Extension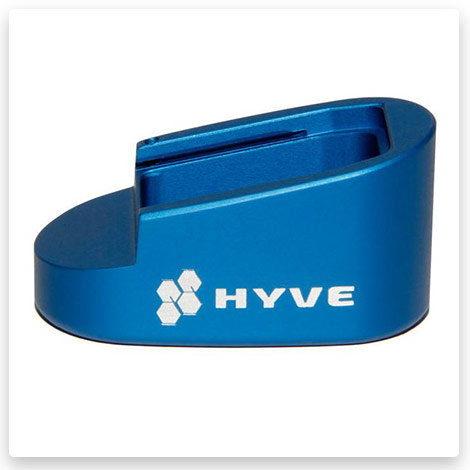 This Extension Base Pad +3 will only fit the S&W M&P 9c 12 Round Magazine, adding about one inch to the length of the handgrip for M&P9c. The extension is made of Anodized Aluminum (6061-T6), available in 8 finish colors: Copper, Gray, Black, Red, Violet, Blue, OD Green, Tan. These +3 mag extensions aren't appropriate for sale to California residents because of the exceeding of the legal 10 round magazine limit.
#6 HYVE Technologies M&P Shield .45 Magazine Extension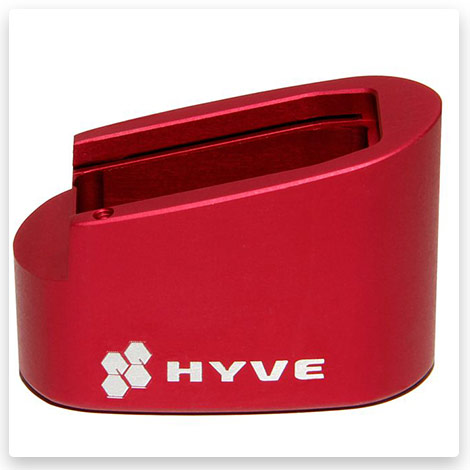 This S&W M&P Shield .45 Magazine Extension Base Pad +1 is equipped with a new snap-in design, after which a set screw is fixed to prevent the mag from sliding off the back of the extension. The Extension is manufactured from Aluminum (6061-T6), covered with Anodized Finish; there are 8 standard available colors: Black, Gray, OD Green, Copper, Red, Tan Violet, Blue. This Extension Base Pad converts the 7+1 to 8+1, but it doesn't fit the 6+1 as the spring is not the same as the 7+1. If the spring bends or binds up the extra round won't fit. A set screw is small, make sure the supplied Allen wrench is properly seated.
#7 Taran Tactical Innovations Base Pad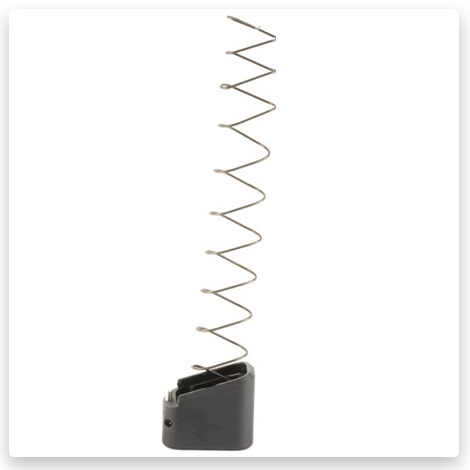 The M&P base pad operates on any full-size M&P handgun, adding 6 extra rounds for 9mm Caliber and 5 extra rounds in .40 Caliber to the magazine. Although the M&P base pad adds a bit of weight to the magazine, this allows the empty mag drop-free for quicker reloads. To strip and clean the mag just push down the pin, slide the base pad on and push the pin up to lock the base pad onto the magazine. The +5/6 Base Pad base pad is crafted of billet Aluminum with a hard-anodized finish, available in two colors: Flat Black and Coyote Bronze.
#8 Taran Tactical Innovations M&P Base Pad and Spring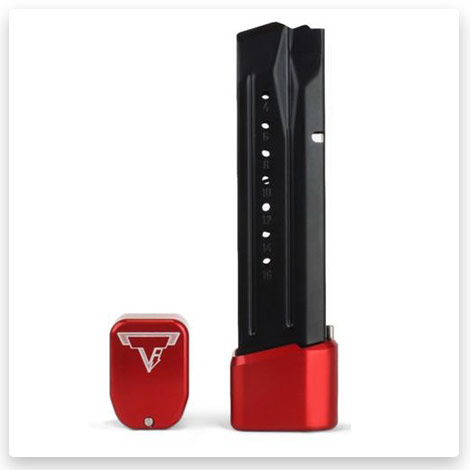 Taran Tactical currently produces Base pads only for full-size M&P models 9/40 (fits the USPSA 140mm gauge), not for compact ones. The Base Pad extension comes with Spring and a push-pin of patented, proven design. The M&P Base Pad is CNC-machined from Billet Aluminum and Hard Anodized; available in two colors: Red, Black, and Gray.
#9 Taran Tactical Innovations +1/2 Base Pad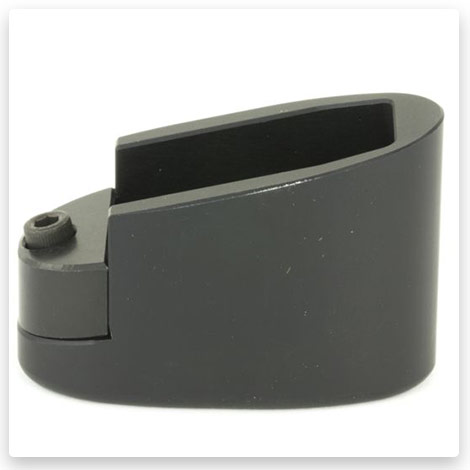 The base pads are made from aircraft aluminum and hard anodized to provide durable long-lasting colors such as Black, Flat Black, Coyote Bronze, Titanium Gray, Blue, OD Green, Red.
#10 Samson Smith & Wesson  Magazine Extension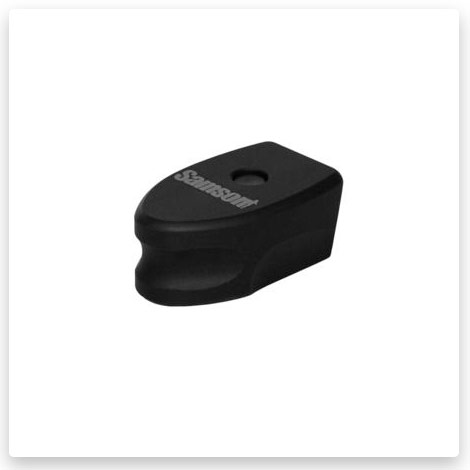 The Shield Carry Contour +1 Magazine Extension allows not only holding more ammunition but also clearing malfunctions. The base pads are constructed with relief cuts, which help extract magazines to clear Type III (double-feed) malfunctions and even with one hand.
Replacement base plate retainer delivers positive feeding using the factory magazine spring.
#11 Strike Industries EMP for M&P Shield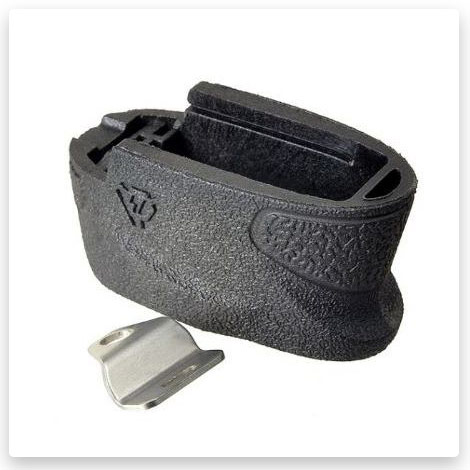 The Magazine Extensions fit both standard and extended length factory magazines. The Base Pads feature sturdy impact-resistant polymer construction. To make the silver gap unnoticeable, it's possible to paint the bottom mag half right before base black with the super black touch-up pen.
#12 Mec-Gar Plus2 Metal Floorplate Magazines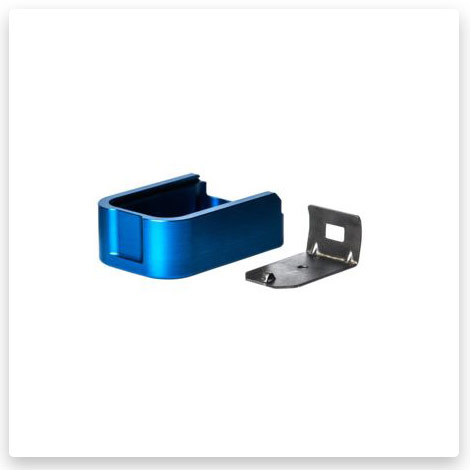 The "Plus-2" adapters with a frontal notch and a metal locking floor plate fit Mec-Gar mag to replace a polymer floorplate. They are Aluminum (7075 aircraft grade) with a Hard-Anodized finish.
Mec-Gar mags' compatibility:
+ 1 round for: MGBRHP13 B/N – Browning HP 9mm 13rd and MGBR4010 B/N – Browning .40 10rd;
+ 2 rounds for: MGBRHP15 B/N – Browning HP 9mm 15rd, MGCZ7516B – CZ 75B 9mm 16rd, MGCZ7514B – CZ 75 Compact 9mm 14rd, P85/89/93/94/95 9mm 17rd, MGSW5917 B/N – S&W 5900 Series 9mm 17rd;
+ 3 rounds for P85/89/93/94/95 9mm 15rd.
#13 Taran Tactical Innovations +2/4 Base Pad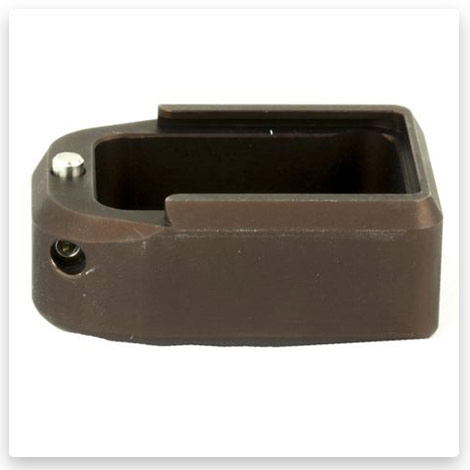 This base pad with sturdy Aluminum construction replaces factory one, ensuring dependable operation.
#14 Pachmayr Grip Extender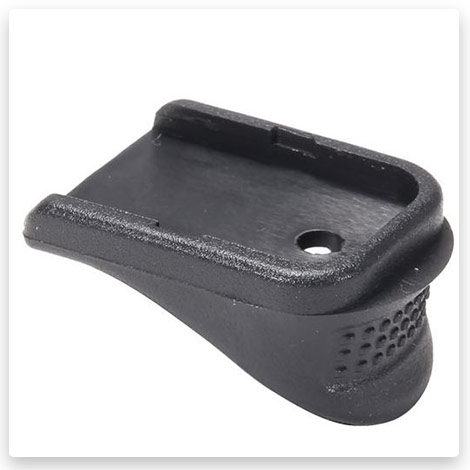 The sturdy polymer extension matches the pistol shape and texture, ensuring reliable handling.
#15 TARAN TACTICAL INNOVATIONS – M&P FIREPOWER BASE PAD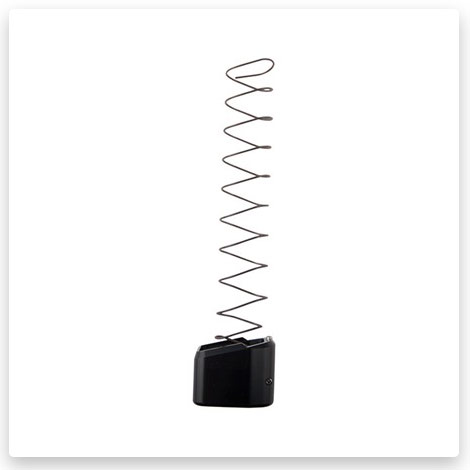 The one-piece Base pads fit the USPSA 140mm gauge, holding 20+1 rounds of 40 S&W and 23+1 rounds of 9mm Caliber. The CNC-machined M&P extension includes Spring and patented, proven design push-pin. The unit is reloaded easily into the firearm with a full magazine.
#16 TARAN TACTICAL INNOVATIONS – MAGAZINE EXTENSION FOR  M&P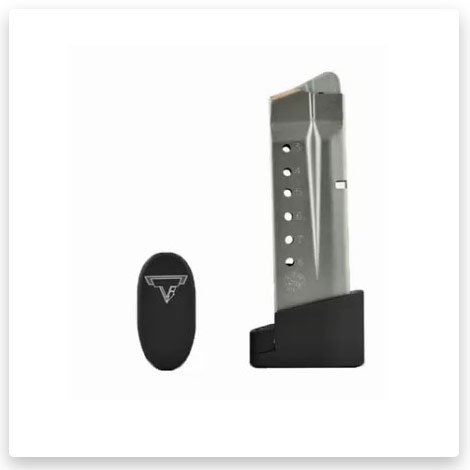 The M&P Shield Magazine Extension replaces the factory base plate, well-performing with factory mag springs. These Magazine Extensions add two rounds to 9mm and one round to .40 S&W Shields, operating only on OEM S&W magazine bodies.
#17 PEARCE GRIP – S&W M&P GRIP EXTENSION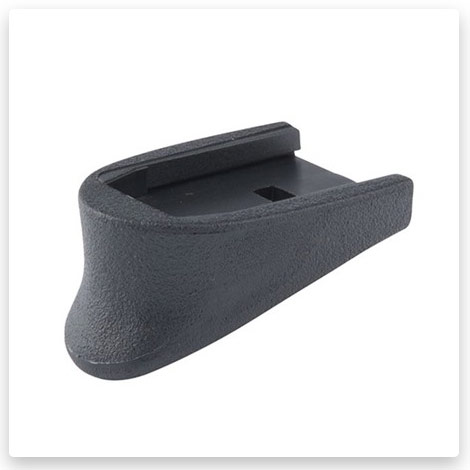 The Grip Extenders don't add magazine capacity or weight, allowing shooters to use their entire hand to grip the pistol, making firing more comfortable.
#18 ARREDONDO – S&W M&P EXTENDED MAGAZINE BASE PAD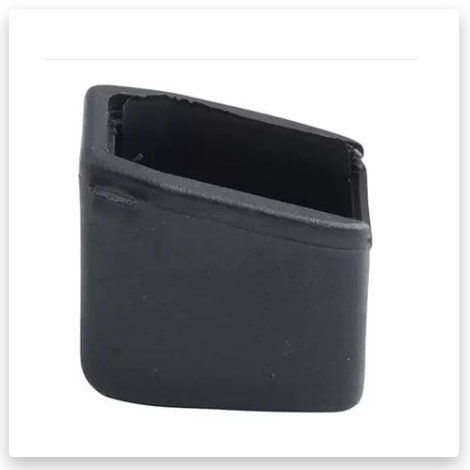 Two-piece, extended base pad replaces factory one to add mags capacity (+5 rounds for 40S&W or +6 rounds for 9mm), ensuring reliable operation. It locks securely to the mag body, allowing the factory magazine spring usage. Overall mag length will remain less than 140 mm for competition use.
Conclusion
While choosing the Base Plate Magazine Extension S&W M&P, pay attention to the magazine's compatibility, sturdiness of construction, durability of finish; a bit extra weight improves the magazine removal.
Tags: #best m&p magazine extension / #best m&p shield magazine extension / #best magazine extension m&p shield / #m&p shield magazine extension / #m&p shield 40 magazine extension / #m p shield magazine extension / #best base plate magazine extension s&w m&p / #m&p shield 9mm ez magazine extension