Affiliate Disclosure: AmmoCave.com sometimes gets paid for listings, through sponsors or affiliate programs like Lucky Gunner, Optics Planet, Brownells, Cabelas, Academy Sports & Outdoors, Rainier Arms, Palmetto State Armory, Sportsman's Guide, Ammo.com, Ammo Man, Primary Arms, MidWayUsa, Amazon, eBay, etс. Clicking a link helps keep AmmoCave.com free, at no extra cost to you!
Authors: Each article is verified by AmmoCave's expert team. Professional hunters, firearm trainers, gunsmiths, and gun experts write the articles. AmmoCave Team independently researches, tests, reviews, and uses recommendations from our community of gun owners. We may earn commissions from shopping links.
Note: The views and opinions expressed in this article are those of the authors and do not necessarily reflect any agency's official policy or position. The articles are for informational purposes only, share your opinions about M&P 9mm Magazine 2023 in the comments and join the discussions. Let's share 💬 our ammo & gun experiences together!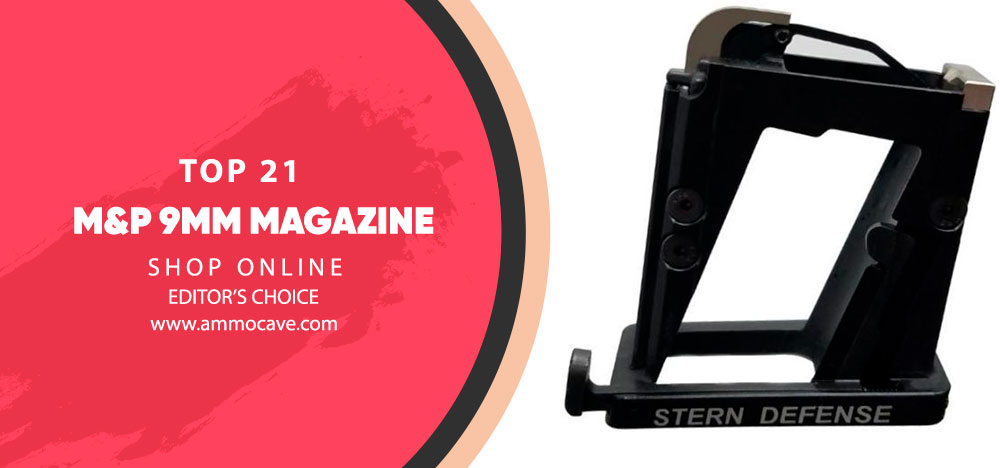 Top 20 S&W M&P Shield EZ 9mm Extended Magazine
M&P Shield (in 9mm or .40 calibers) features a 3.1-inch barrel, 6.1-inch long and 0.94-inch wide, with a weight of about 19 oz, when it's unloaded. The M&P Compact is a little heavier and cut down for easier concealment. Shield mags are usually interchangeable, but M&P 2.0 gun mags are not always replaceable between various models.
Why do we need M&P Shield 9mm Magazines?
S&W Shield 9mm is a recognizable pistol at the American market of concealed firearm carry, being a good alternative to Glock and Springfield Armory handguns. The best capacity for S&W Shield 9mm guns is a seven-round flush fit magazine and an 8-round extended mag with a mag sleeve to allow avoidance of mags over-insertion. The Shield Plus capacity is upped from 7 and 8 rounds to 10 and 13 round mags.
The Best Pick
Smith & Wesson Magazine M&P SHIELD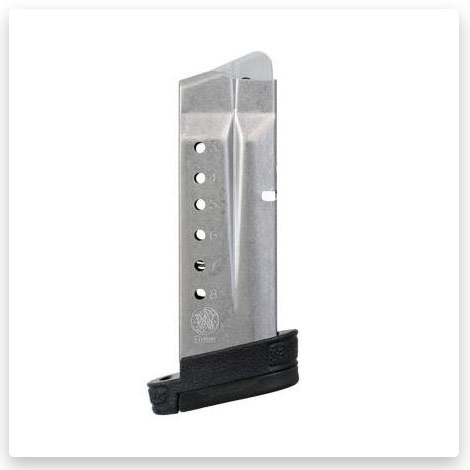 This OEM 8-rd magazine with sturdy stainless steel and polymer construction, covered with corrosion-resistant coating, ensures a smooth fit and flawless operation. The springs are rigid enough but still able to be loaded by hand.
#1 Smith & Wesson M&P 9mm 10-Round Magazine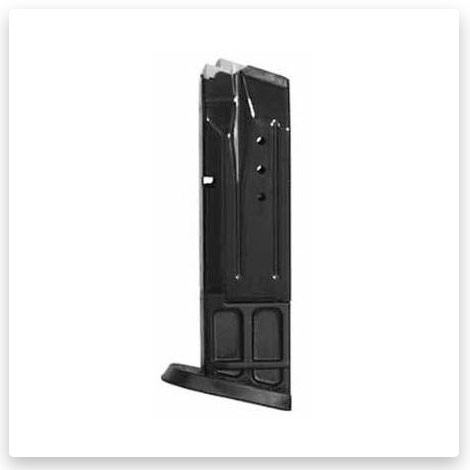 These compact mags are designed for the full-size M&P handguns (in original M&P and M&P 2.0 models), and don't fit the M&P 2.0 EZ shield 9mm. The 10-round magazines come with rigid polymer base plate extenders, which allow them to fill the full-size grip. The steel body of the magazine makes it sturdy but lightweight. The follower and follow spring move smoothly and compress well. These mags can be perfectly used for reloading, as an extra magazine or spare one.
#2 Smith & Wesson  M&P M2.0 Compact 9mm Magazine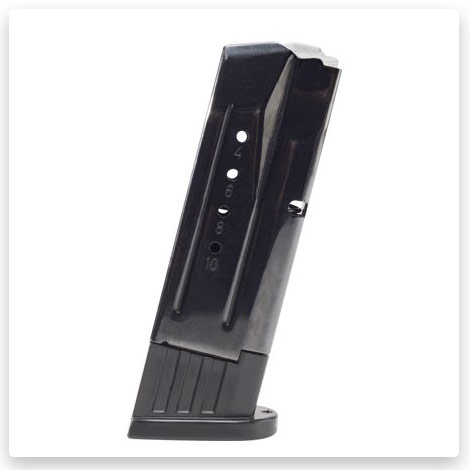 These Steel Detachable magazines fit only the Compact M&P models, they are not compatible with Full-Size M&Ps.
#3 Pro Mag Smith & Wesson M&P 10-Round 9mm Magazine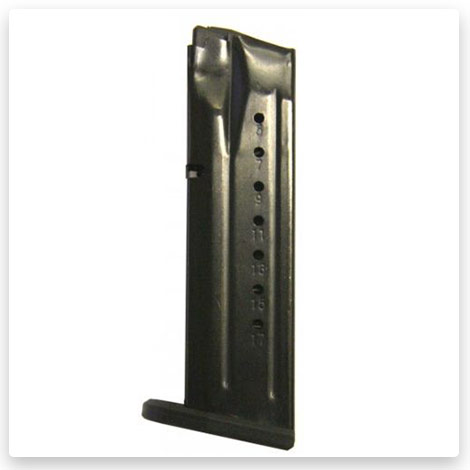 This 10-round magazine is a restricted capacity version of the 17-round SMI-A12 mags, saving the same sturdiness and dependability of construction. The ProMag mags crafted these magazines from heat-treated carbon steel, covering bodies with a black oxide finish, which is rust and wear-resistant even during abused usage. The magazine consists of the injection-molded follower to provide constant round feeding into the chamber, and the mag spring, formed from heat-treated chrome silicon wire, to deliver maximum durability. These mags are compatible with Smith & Wesson M&P 9mm series pistols.
#4 Smith & Wesson S&W M&P 9mm Luger Magazine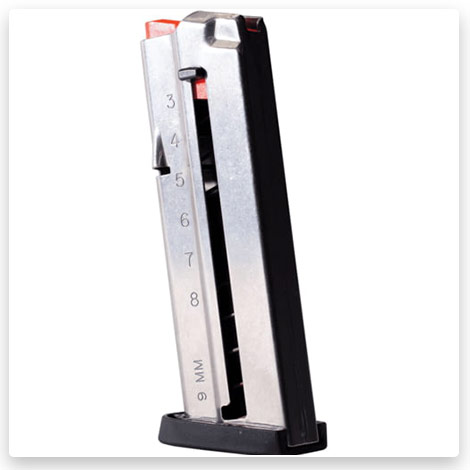 Smith & Wesson crafted M&P Shield EZ 9 Magazines from stainless steel, covered with a natural (Stainless Steel) finish. These mags, chambered in 9mm, are dependable replacements for standard factory ones. They consist of a stainless-steel body with Polymer Follower and Base Plate.
#5 Stern Defense M&P 9mm/.40 Magazine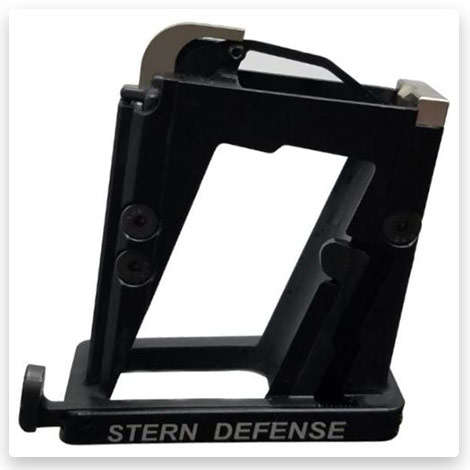 The mags adapters are suitable for law enforcement and civilian gun enthusiasts because of the important function of the last round hold open. This magazine adapter converts standard Mil-spec AR 15, M4, M16 lower receiver to 9mm and .40 S&W M&P and P320/P250 Magazines. The Stern Mag-AD series adapters are made from aircraft-grade Aluminum (6061 T6) with NiB coated feed ramp (4140), hard coat anodized (type 3). These adapters should be used for a 9mm or 40 S&W barrel with the chosen caliber and a Glock cut bolt.
#6 Smith & Wesson Magazine M&P SHIELD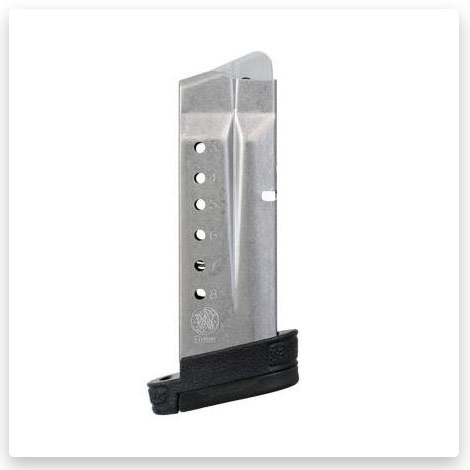 The Smith & Wesson ensures that their magazines for M&P SHIELD 9MM will be dependable for extra firepower, just be ready with some spare ammo on hand. The stainless steel and polymer mags feature durable bodies, which can be flawlessly used in the field, even with abuse.
#7 Smith & Wesson  M&P Shield M2.0 9mm Luger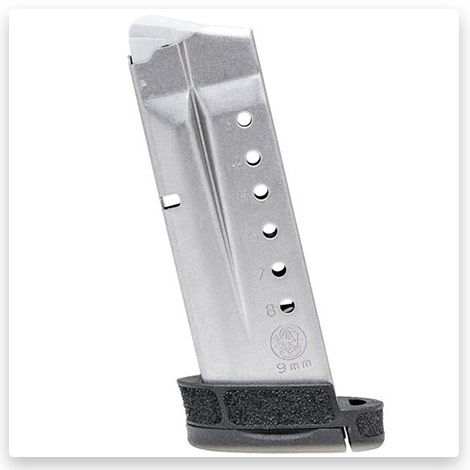 The 8-rd magazine consists of steel casing, covered with Black Finish, a polymer butt-plate, and a red follower. The mags have the extra capacity or can be an appropriate replacement for the original. They are not compatible with the Shield EZ models.
#8 Pro Mag Heckler / Koch P7 M8 9MM Pistol Magazine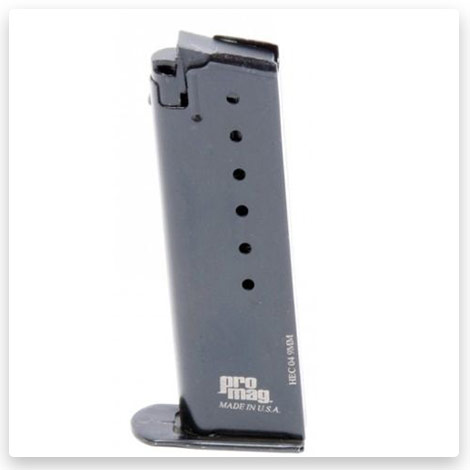 This magazine is crafted of Steel with a Blue finish and a Pro Mag logo below.
#9 Pro Mag Smith / Wesson M/P Compact-9 9MM Pistol Magazine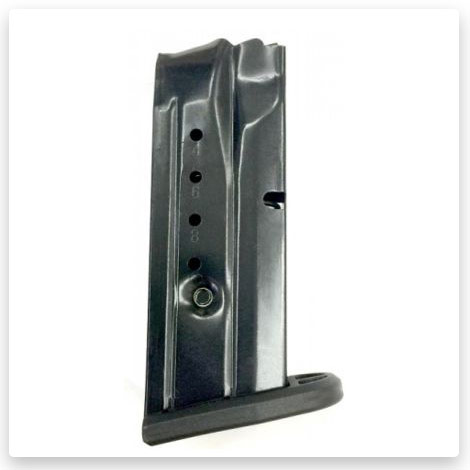 These magazines are not compatible with the Shield EZ or Shield models. The compact 10-round magazine is manufactured from heat-treated steel. The mags integrate polymer baseplates, chrome silicon internal springs, followers, and clear-cut witness holes to provide great operation.
#10 Pro Mag Smith & Wesson Shield 9MM Pistol Magazine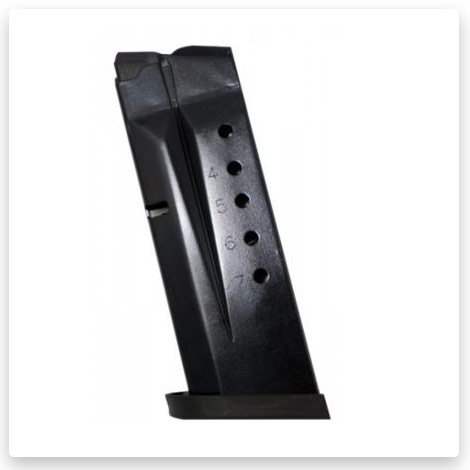 The mags ensure suitable capacity for classes or competitions where a higher round count is necessary. It is better to use a loading aid to load; thumb loading can be rough.
#11 Smith & Wesson Magazine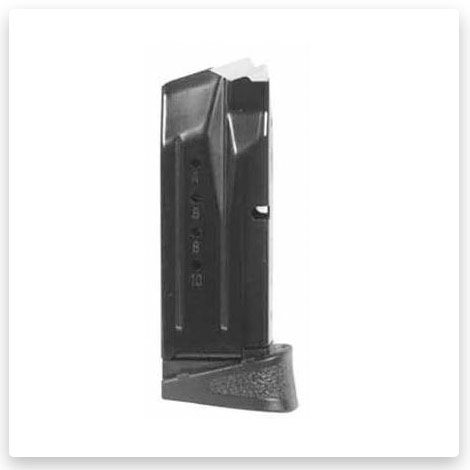 The magazines fit the M&P Compact 9 mm but aren't compatible with subcompact shields. Smith & Wesson offers 2 models of the magazine: one comes with finger rest, the second one is without it.
#12 Smith & Wesson S&w Magazine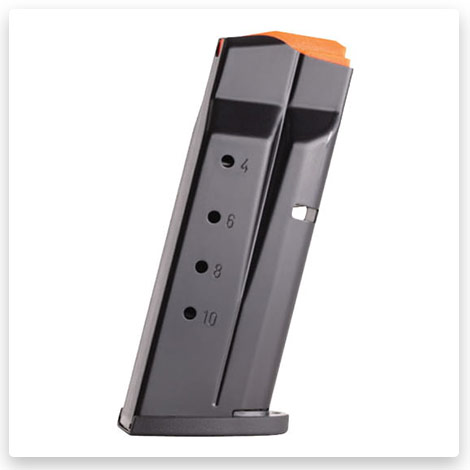 The mags are crafted from Stainless steel with Black and Silver coating. These M&P 9 Shield Plus 10-Round magazines are good as an extra one on hand at the range.
#13 SMITH & WESSON – M&P 9MM MAGAZINES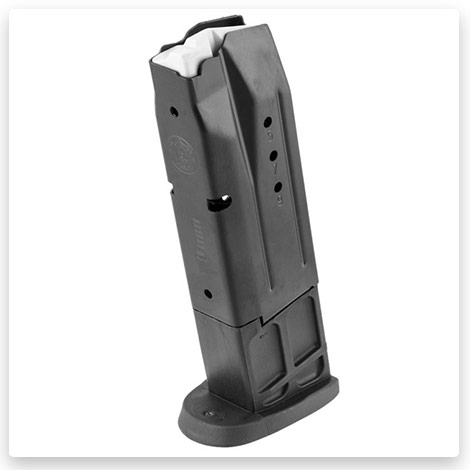 The mags come with steel bodies, base pads, and polymer followers. The mags are available in 10- and 17-round capacities; with a Black and Silver finish. Brand-new Smith & Wesson M&P 9mm replacement magazine operates as well as the one, which is included with the firearm.
#14 SMITH & WESSON – M&P SHIELD 9MM MAGAZINES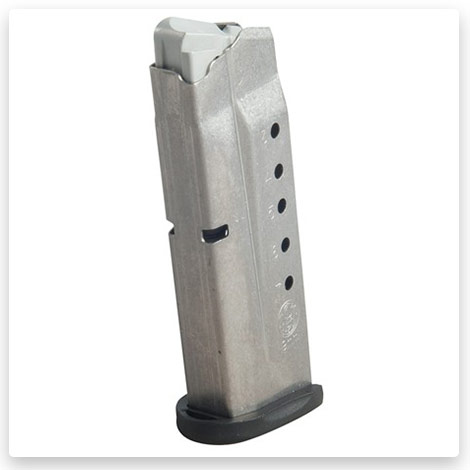 The magazines with Steel construction are available for the 9mm Luger in the quantity of 1, 3, 5, and 10 mags in the pack. Higher-capacity magazines (7 and 8 Rounds) are equipped with polymer follower and base-plate, an extended base-plate for the extra gripping surface. The magazine isn't compatible with the M&P Shield M2.0.
#15 SMITH & WESSON – M&P COMPACT MAGAZINE 9MM BLACK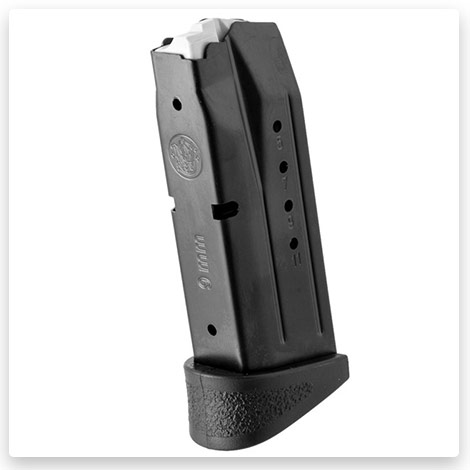 These factory OEM M&P Compact mags are chambered in 9mm; they are designed in 10 or 12 rounds and come with or without the finger ridge.
#16 SMITH & WESSON – M&P M2.0 COMPACT MAGAZINE 9MM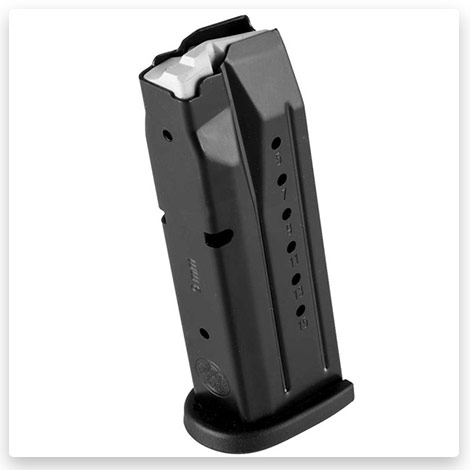 The replacement spare magazine with the floor plate and 6 witness holes to relieve the round monitoring are available in 15-round. The mags are steel with a Black finish.
#17 SMITH & WESSON – M&P SHIELD PLUS 9MM MAGAZINES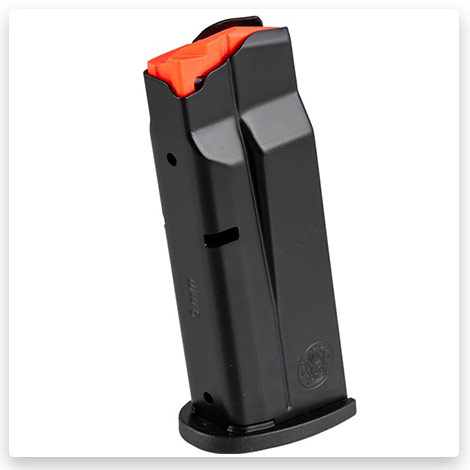 This Smith & Wesson factory OEM 9mm magazine is constructed for the M&P Shield Plus.
With one in the chamber, the extended mags in the Shield Plus increase the capacity of the original and 2.0 Shield platforms.
#18 SMITH & WESSON – M&P MAGAZINE 9MM BLACK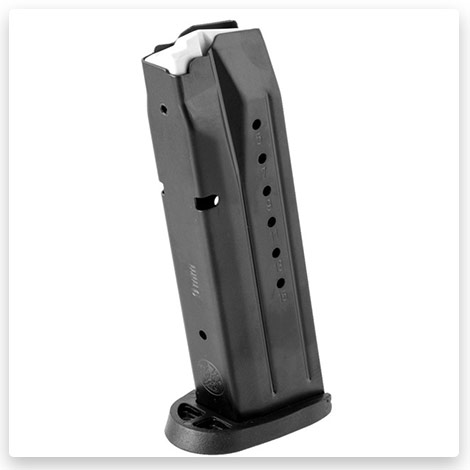 The standard magazines for M&P Shield Plus models for concealed carry come in with 10-rounds, these extended mags give the gun 15-rounds of 9mm ammo.
#19 WILSON COMBAT – EDC X9 9MM MAGAZINE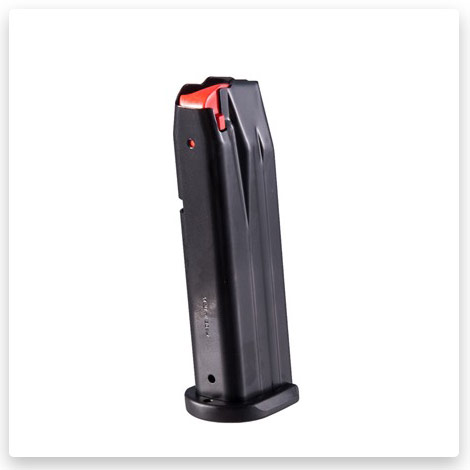 This Replacement magazine is based on a standard Walther PPQ magazine with modifications for use in Wilson Combat's advanced double-stack gun design. The mags are made from steel with a Black finish.
#20 SIG SAUER  MICRO COMPACT 9MM MAGAZINE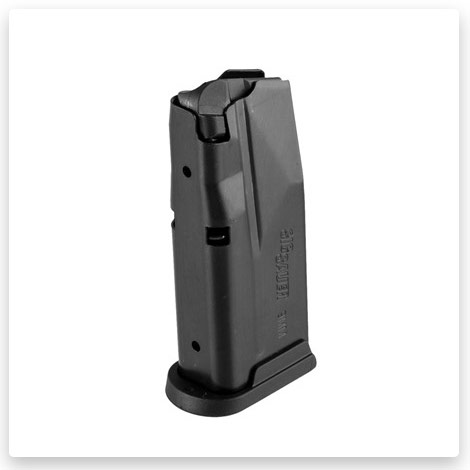 Sig Sauer ensures that P365 9mm replacement mags will fit properly only the Sig P365 Micro Compact guns and function flawlessly as they are identical to the factory original mags. The mags with Black oxide finish integrate a Black molded-polymer base pad, a smooth follower, and witness holes at the 5 and 10 round marks.
Conclusion
The Smith Wesson M&P Shield mags are designed with decent overall ergonomics. While looking for the mags, it's important to choose mags with sturdy construction, strong springs, and smooth self-lubricating inner surfaces to provide flawless performance.
Tags: #m&p shield 9mm magazine / #m&p shield 9mm 30 round magazine / #m&p 9mm magazine / #m&p shield 9mm 17 round magazine / #s&w m&p shield ez 9mm extended magazine