Affiliate Disclosure: AmmoCave.com sometimes gets paid for listings, through sponsors or affiliate programs like Lucky Gunner, Optics Planet, Brownells, Cabelas, Academy Sports & Outdoors, Rainier Arms, Palmetto State Armory, Sportsman's Guide, Ammo.com, Ammo Man, Primary Arms, MidWayUsa, Amazon, eBay, etс. Clicking a link helps keep AmmoCave.com free, at no extra cost to you!
Authors: Each article is verified by AmmoCave's expert team. Professional hunters, firearm trainers, gunsmiths, and gun experts write the articles. AmmoCave Team independently researches, tests, reviews, and uses recommendations from our community of gun owners. We may earn commissions from shopping links.
Note: The views and opinions expressed in this article are those of the authors and do not necessarily reflect any agency's official policy or position. The articles are for informational purposes only, share your opinions about Best 300 Blackout Magazine 2023 in the comments and join the discussions. Let's share 💬 our ammo & gun experiences together!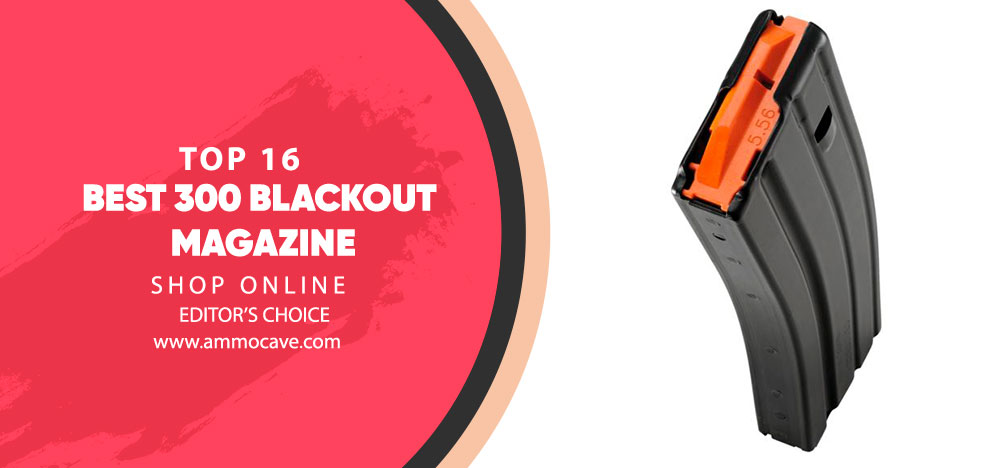 Top 16 Best Magazine For Diamondback 300 Blackout
Earlier many shooters had to use a magazine designed for another cartridge, using .300 Blackout in the AR-15 rifle, limiting its compatibility and performance. As a rule, 5.56x45mm becomes an alternative because of both cartridge parts' compatibility.
Why do we need 300 Blackout Magazines?
It is better to choose a magazine specially chambered in .300 Blackout, because of increasing overall reliability, safer way to feed this round without dangerous cross-loading issues.
Best Picks
MAGPUL GEN M3 WINDOW MAGAZINE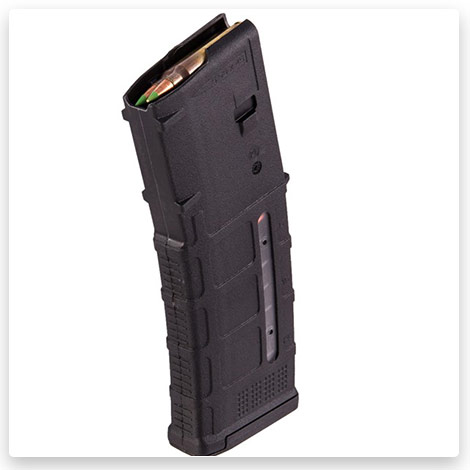 The 30-Round magazine features impact and crush-resistant molded hard Polymer construction with clear polymer side windows to see the load status. It comes with a pop-off dust cover to minimize debris intrusion and prevent storage damage; a four-way anti-tilt follower to ensure smooth feeding even with dust or sand.
LANCER SYSTEMS 300BLK SMOKE MAGAZINE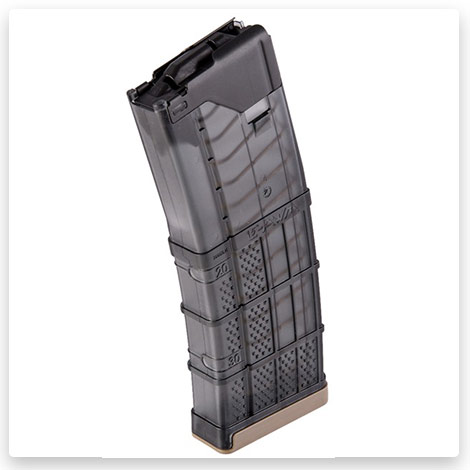 The 30-Round polymer magazine is equipped with a specially built non-tilting follower, providing flawless feeding, translucent smoke finish (easy to count rounds), and aggressive texturing for better grip.
#1 Lancer L5 Advanced Warfighter Magazine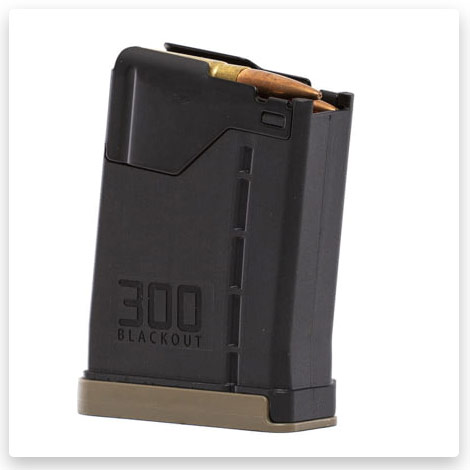 These mags are manufactured for use with weighty subsonic .300 Blackout ammo (200+ grain) due to the updated inner geometry that facilitates longer heavier cartridges to stack duly. The mags are equipped with a floor plate, which is a contrasting flat dark earth color for easy visualization. Lancer designed three magazine models: two 10-rd in Translucent Smoke and Opaque Black for .300 Blackout, and one 5-rd in Translucent Smoke for .223/5.56 calibers. There are particular molded .300 Blackout markings on the magazine body exterior.
#2 CompMag 10-Round Compliant Locked Magazine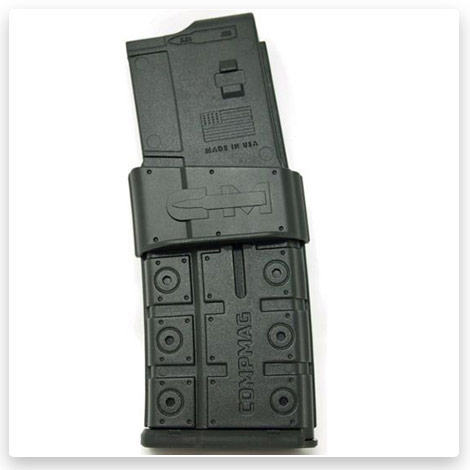 The AR-15 CompMag with a round counter features a new expandable insert built right into its side for better locking. Unique fixed magazine design ensures an ammo feeding of a contained or constantly attached device to a gun: magazine can be removed only after disassembly of the firearm action.
The mags fit apart from standard AR-15 type lowers (M4, M16, AR15), also firearms, which accept STANAG (AR-15) magazines and have removable upper receivers (the Bushmaster ACR, SCAR16, CZ Bren, Daewoo DR200, SIG MCX, and SIG 556. But they are not paired with lowers, which are outfitted with a custom or extended magazine well (such as Sharps Bros, Seekins SP225, Spike's Jack, and HKMR), or with BullPup guns such as the Tavor.
#3 Hexmag HX Ar-15  Magazine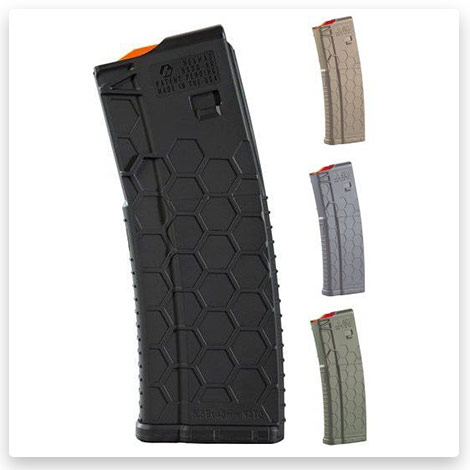 The Hexmag Polymer Magazine, Series 2, is a 30 round magazine body, which is limited to 10 rounds; it is not a short one. There are 4 available models in different colors: OD Green, Grey, Flat Dark Earth, or Black: they can be assembled with HexID colors according to the order. Such custom mags are not for resale, they are only available for consumers. The mags are made from PolyHex2 Advanced with the HEXTURE design pattern to ensure a solid grip for easy and fast reloading.
#4 Duramag Speed  Aluminum Rifle Magazine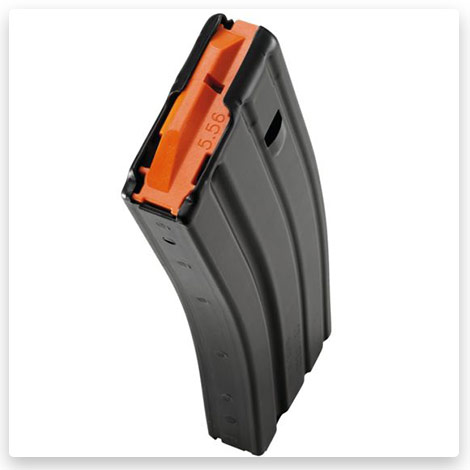 The Speed magazine is an improved version of the battle-proven USGI one, which is good for OEM, Law Enforcement, and Military units. These CPD mags are equipped with the new snap anti-tilt follower. The body is constructed from heat-treated aluminum (6061-T6), delivering sturdiness with only a slight increase in weight. The due rounds' stacking improves thanks to a combination of the .020-gauge material in stainless steel with the increased inner dimensional room, significantly decreasing jams failure.
#5 MDT Polymer Detachable Box Magazine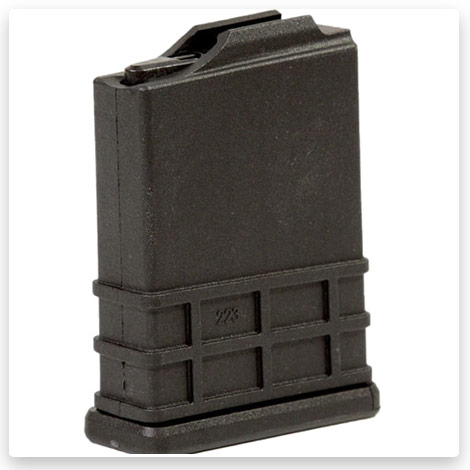 This high-quality polymer magazine with tempered-steel spring operates well with the ACC, MDT TAC21, ESS, XRS, LSS-XL, and LSS Chassis systems, and many other M24 type chassis and bottom metals. But the mags do not fit the following inlets: Browning X-bolt, Ruger American in 204/ 223/ 556/ 300 AAC, Winchester XPC (may need fitting in Winchester Model 70). According to the customers' feedback, some systems may need adjustment: KRG X-Ray, XLR Chassis; GRS rifle stocks, CDI Precision bottom metals, Pacific tool, and Gauge bottom metals are configured for AICS mags; 223 Magazine requires feed lip fitting and modifications to the inner ribs; 300 Blackout AR-15 mags may not feed on an AICS magazines in the bolt action rifle.
#6 Duramag  Stainless Steel Rifle Magazine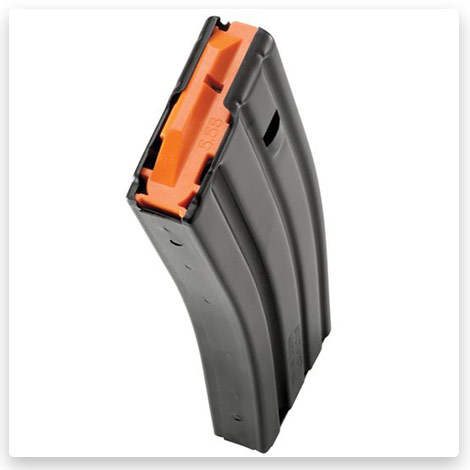 Duramag constructed the mags incorporating Specially Engineered Geometry and Advanced Proprietary Coatings, which due to Black-T at the molecular level minimizes the coefficient of friction, extending service life through an unparalleled lubricity. All CPD mags have the new snap on the anti-tilt follower.
#7 CZ AAC Blackout 5 Rd Black Finish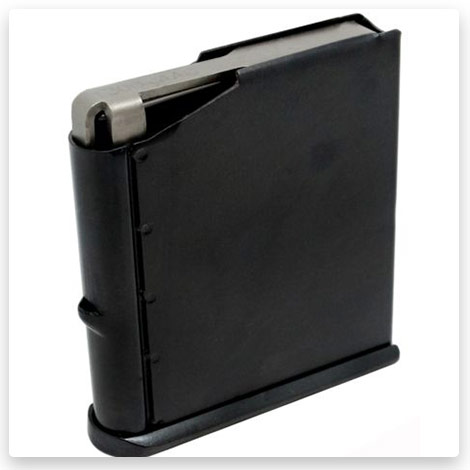 CZ USA designed these detachable mags for CZ 527 guns, appropriate for 2 calibers: .300 AAC Blackout, .300 Whisper.
#8 MDT Polymer Magazine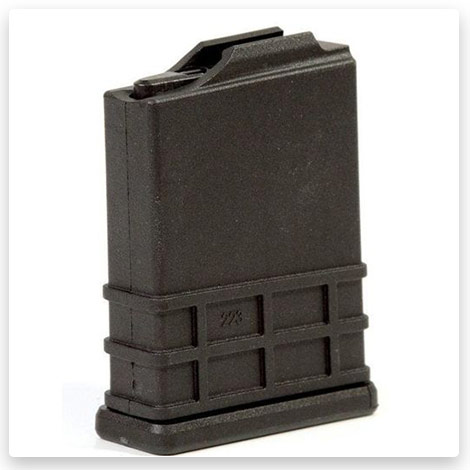 MDT Detachable box mags are engineered to be compatible with the MDT TAC21, LSS Chassis systems, and many other M24 type chassis and bottom metals, as well as Howa 1500 mini-action.
#9 H-S Precision Remington 700 BDL Detachable Magazine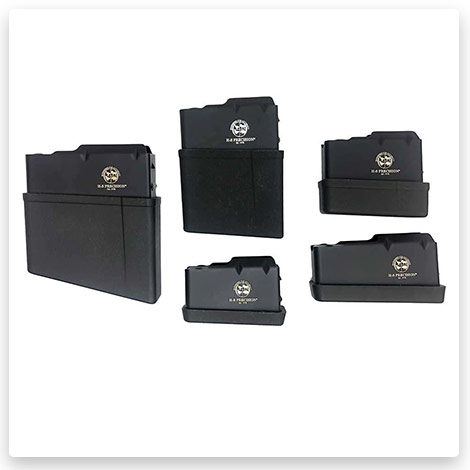 The stainless-steel magazine with Teflon matte black finish comes with the polymer boot, which allows easily installing and removing the magazine box. Thanks to a center-feed design every round stack properly, because the cartridge directly lines with the chamber every time. After adjusting the feed lips, one of the magazine boxes with a new Gen II design can be used for almost any caliber. They will not be compatible with floor plate conversion sets before 2012.
#10 MagPump  AR-15 Magazine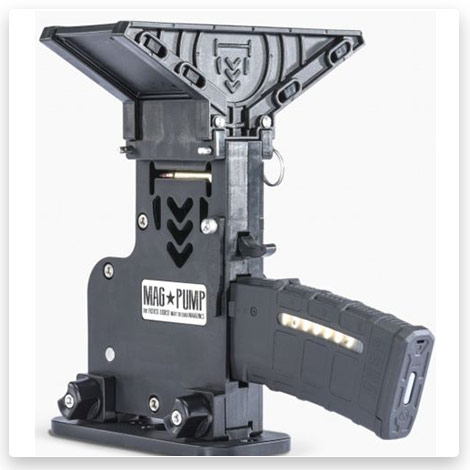 Magazine Loader without MagDump comes with Weaver or Picatinny rail attachment. The hopper-fed, loose ammunition loader is manufactured of lightweight and rigid Polymer. This loader is irreplaceable for preparing for a full day at the range.
#11 MAGPUL GEN M3 WINDOW MAGAZINE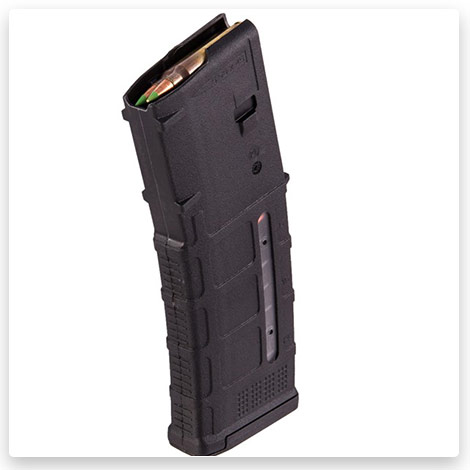 These mags with extra reinforcement in the mag catch and feed lip areas fit AR-15, M4, M16, HK 416, MR556A1, M27 IAR, British SA-80, FN SCAR MK 16/16S, and other similar lower. Advanced clear polymers in windows are more resistant to chemicals and impact than the original MagLevel PMAG. MAGPUL offers 1, 10 or 100 mags (only for 5.56 mm NATO) in the pack.
#12 D&H INDUSTRIES BLACKOUT MAGAZINES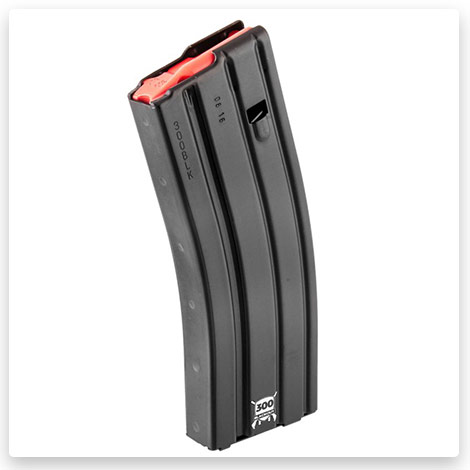 The AR-15 Aluminum magazine comes with a red follower.
#13 CVA CASCADE 300 BLACKOUT MAGAZINE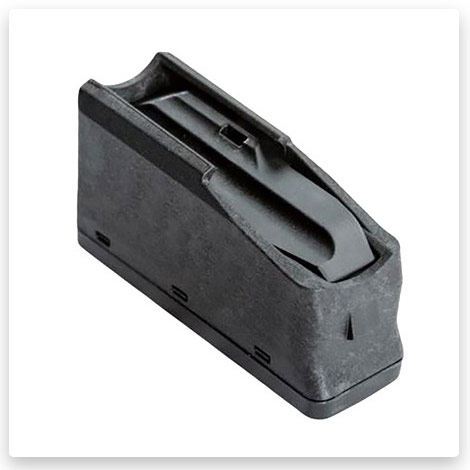 These detachable mags are constructed for the CVA Cascade bolt action rifles. They are good for replacement and backup.
#14 MAGPUL 300 BLK  MAGAZINE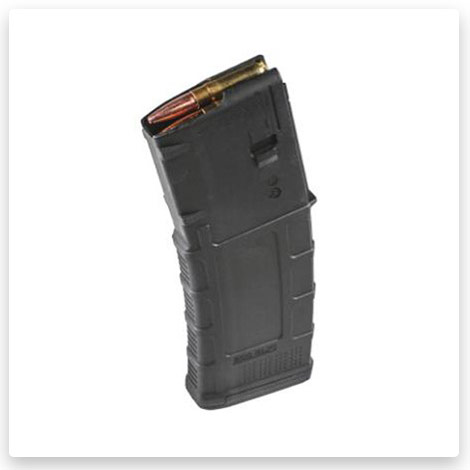 These mags feature distinct rib designs to allow the shooter a distinct visual and tactile difference from any other PMAG to minimize dangerous cross-loading issues. The magazines are outfitted with an easily removable slim floor plate, aggressive front and rear texture, a paint pen dot matrix for marking and identification, and a dust/impact cover.
#15 LANCER SYSTEMS  300BLK  SMOKE MAGAZINE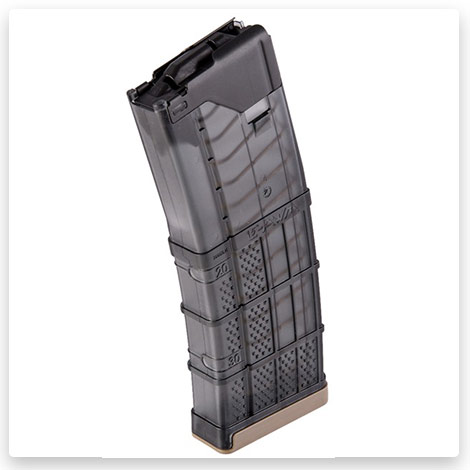 The polymer magazine with the translucent smoke finish is equipped with a specially built non-tilting follower, which geometry is purpose-built for the cartridge, and hardened steel feed lips.
#16 MAGPUL – 20 AR 300B GEN M3 PMAG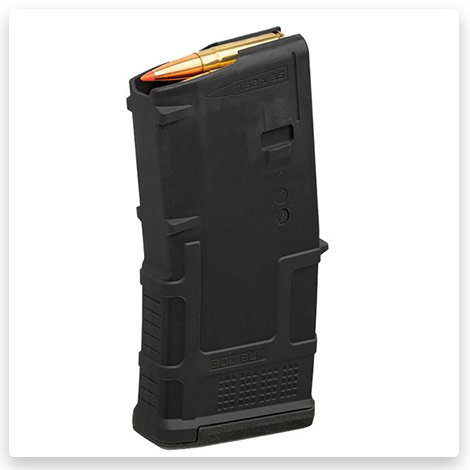 The more compact magazine operates well with small rifle-caliber platforms, textured so the shooter can feel the difference, easier to use at the range. The mags are made of rugged polymer, coming with an easy-to-remove baseplate for cleaning, a dot matrix for organization, and a dust cover, which protects feed lips from impacts as well.
Conclusion
Aluminum construction magazines are light but sturdy, they get dents when dropped but are usually fine. 5-round magazines, compared with full-length ones, are convenient for prone shooting. If you live in the states with strict magazine limits, Lancer or MDT magazines with 5 and 10 round capacity.
Tags: #best 300 blackout magazine / #best magazine for 300 blackout / #best 300 blackout 10 magazine / #best magazine for diamondback 300 blackout / #best magazine 300 blackout