Affiliate Disclosure: AmmoCave.com sometimes gets paid for listings, through sponsors or affiliate programs like Lucky Gunner, Optics Planet, Brownells, Cabelas, Academy Sports & Outdoors, Rainier Arms, Palmetto State Armory, Sportsman's Guide, Ammo.com, Ammo Man, Primary Arms, MidWayUsa, Amazon, eBay, etс. Clicking a link helps keep AmmoCave.com free, at no extra cost to you!
Authors: Each article is verified by AmmoCave's expert team. Professional hunters, firearm trainers, gunsmiths, and gun experts write the articles. AmmoCave Team independently researches, tests, reviews, and uses recommendations from our community of gun owners. We may earn commissions from shopping links.
Note: The views and opinions expressed in this article are those of the authors and do not necessarily reflect any agency's official policy or position. The articles are for informational purposes only, share your opinions about Best M92 Pap Muzzle Brake 2023 in the comments and join the discussions. Let's share 💬 our ammo & gun experiences together!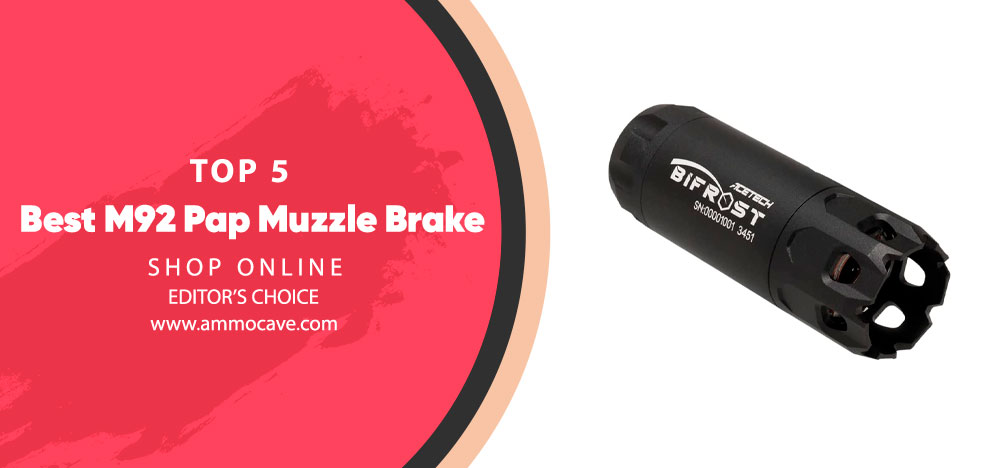 What is  M92 PAP Muzzle Brake? 😏
It is an accessory that is designed for M92 PAP (Serbian M92) assault rifles, which are based on the AK-47 design. This muzzle brake has been engineered to help reduce felt recoil for improved accuracy and control when firing.
Our Top Pick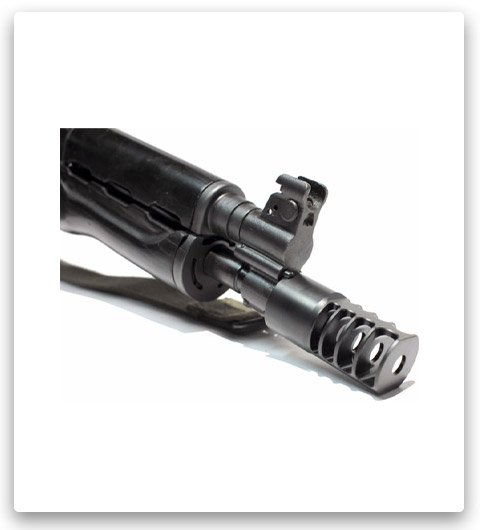 JMac Customs 4C Muzzle Brake
The remarkable JMac Customs 4C Muzzle Brake RRD-4C-26 is a lightweight muzzle brake compensator that contributes immensely to recoil control and minimalizes flash. Not only does it reduce felt recoil by 20%, but it also eliminates all muzzle rise, making the shot more accurate and controlled. This model has undergone several design upgrades since the original RRD-4, thus reducing weight even further for effortless use.
Buy Now On OpticsPlanet
If you click this link and make a purchase, we earn a commission at no additional cost to you.
How M92 PAP Muzzle Brake Works? 🎯
✅ Muzzle brakes essentially redirect the hot gases created during shooting away from the shooter's face and towards the sides of the gun. This redirection of the gases creates a counter-pressure, which helps to reduce the recoil felt by the shooter. ✅
💡 The M92 PAP Muzzle Brake has two large ports on either side that redirect gases sideways as well as smaller ports at the top and bottom for additional gas deflection.
💡 In addition, it features an adjustable top port which allows shooters to customize their muzzle brake for optimal performance.
💡 When a gun is fired, high-pressure gas is released from behind the bullet as it travels down the barrel of the gun. This gas exits through a small hole known as a "muzzle port" which causes some of it to escape ahead of and around the bullet itself. So it works by redirecting this exiting gas through its two large side ports in order to reduce felt recoil and muzzle climb while also reducing flash signature.
💡 As these redirected gases rush past, they create an additional counter-force (also known as back pressure) that helps reduce felt recoil even further by pushing against the rearward motion of your firearm's frame and stock when you fire it.
💡 Additionally, because these Side Ported Muzzle Brakes are so efficient at controlling back pressure they can often result in even lower muzzle rise than standard non-ported muzzle brakes while still providing superior levels of noise reduction – making them ideal for usage in hunting situations or any time where keeping loud report levels under control is essential.
Just to understand how it works, please watch this video 📺
Features 🚀
🔰 They feature a unique three-prong design with an integrated compensator. This allows the brake to redirect gas away from the shooter, drastically reducing muzzle climb and felt recoil.
🔰 Additionally, they have been CNC machined from solid steel, ensuring a tight fit and long-lasting performance.
🔰 They also include screws which allow it to be securely attached to the barrel of your M92 pistol.
🔰 Usually they are tested by professionals for optimal performance in both indoor and outdoor shooting conditions, giving shooters superior durability and confidence in their setup.
Best 🚀 M92 PAP Muzzle Brake Review
1# Manticore Arms Nightbrake Compensator Fits Yugo Krinkov MA-3000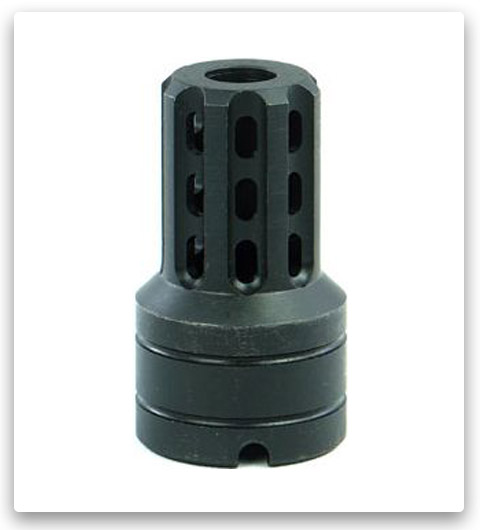 The Nightbrake is an excellent choice for reducing felt recoil and virtually eliminating muzzle rise. It has eighteen ports distributed to help stabilize exiting gas pressure, and the lower 90-degree arc has no ports to prevent a dust signature when fired. Whether you're using it for competition shooting or just plinking around at the range, you'll appreciate the improved performance that the Manticore Arms Nightbrake provides. Order yours today!
2# Century Arms PAP M85 M92 Muzzle Brake PAP00013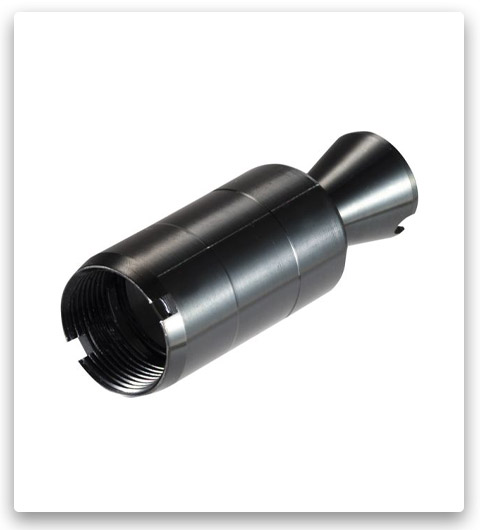 If you're searching for a top-quality muzzle device that will keep your PAP M92 PV or M85 NP pistol in top operating condition, then you need the Century Arms PAP M85 M92 Muzzle Brake. This factory OEM muzzle device is designed to collect propellant gas and aid in the cycling of the pistol action, and it comes with a detent pin to keep it securely in place. Plus, it's easy to install and remove, so you can keep your gun clean and ready for action at a moment's notice.
3# JMac Customs 4C Muzzle Brake RRD-4C-26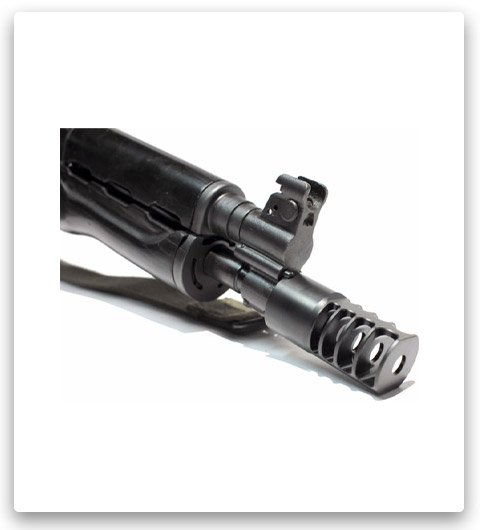 The JMac Customs 4C Muzzle Brake RRD-4C-26 is a lightweight muzzle brake compensator that reduces recoil by 20% and virtually eliminates muzzle rise while also reducing flash. Since the release of the original RRD-4, the design improve muzzle control and reduced weight. The RRD-4C has cut-outs on the top sides to allow gas to vent upwards, in turn forcing the barrel downwards and virtually eliminating muzzle rise.
4# Midwest Industries M92 Blast Diverter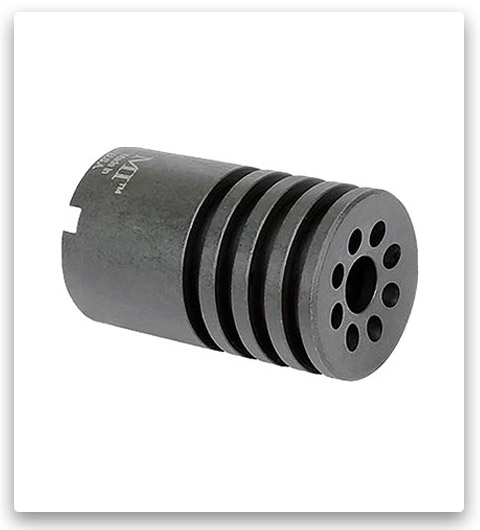 Do you need to reduce muzzle blasts and keep your firearm safe? Notice the Midwest Industries M92/85 Blast Diverter. This linear comp design diverts muzzle blast forward, away from the shooter and bystanders. It's perfect for 30 cal and 5.56 model rifles and is constructed of tool steel with a phosphate finish. So don't wait, pick up a Midwest Industries M92/85 Blast Diverter today!
5# ACETECH Bifrost Tracer Unit M14-CCW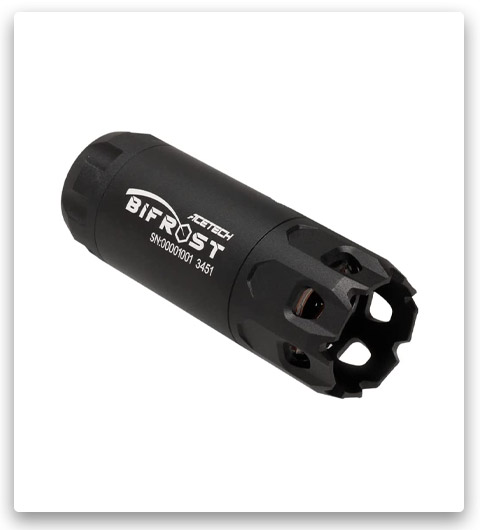 Introducing the Acetech Bifrost Tracer Unit M14-CCW. It gives you 11 different modes to choose from, so you can always be prepared for anything. The Smart Power Saving System ensures you'll never be caught without power when you need it most. And if you're worried about being seen, don't be – the Bifrost Tracer Unit is perfect for day or night use. So next time you're gearing up for battle, make sure you're equipped with the best – the Acetech Bifrost Tracer Unit M14-CCW.
Tips for Installing A Muzzle Device On A M92 💥
🔥Before beginning the installation process, it is important to first have all the necessary tools and supplies, including safety glasses and gloves.
🔥The first step in installing is to remove the existing muzzle device from the firearm. This should be done with caution as some devices are held on with s crews or bolts, while others are welded or pinned into place.
🔥 Next, you will need to prepare the Muzzle Brake for installation by carefully inspecting it for any signs of damage or wear and tear, such as burrs, dents or chips in the surface finish. Cleaning dirt and debris off of both sides of the Muzzle Device will help ensure that it seats correctly when being installed, allowing for proper alignment and secure attachment.
🔥 It's time to attach it to your firearm.
🔷 To do this, use appropriate fasteners (screws/bolts) depending on whether you're attaching a clamp-on style Muzzle Device or one that requires welding or pinning in place.
🔷 When attaching screws/bolts, use thread locking compound to ensure they don't come loose over time due to vibration caused by firing rounds through your firearm.
🔷 For weld-on Muzzle Devices, be sure that your welder is properly set up according to manufacturer specifications prior to beginning work on your firearm.
🔷 Lastly for pinned-in devices make sure you insert them correctly so they won't move after firing rounds through your gun.
🔥 Inspect again for any signs of damage and make sure everything looks good before firing rounds through your gun with its new Muzzle Brake installed!
Watch this video to find more information💻
FAQ 😎
Conclusion 🤩
When it comes to M92 pap muzzle brakes, there are a lot of choices on the market. It can be hard to determine which one is the best for your needs and budget. In this article, we've provided reviews of some of the top-rated products on the market and given you tips on what to look for when making your purchase decision. We hope that this information will help you choose the right pap muzzle brake for your needs. ❤️‍ 🔥