Affiliate Disclosure: AmmoCave.com sometimes gets paid for listings, through sponsors or affiliate programs like Lucky Gunner, Optics Planet, Brownells, Cabelas, Academy Sports & Outdoors, Rainier Arms, Palmetto State Armory, Sportsman's Guide, Ammo.com, Ammo Man, Primary Arms, MidWayUsa, Amazon, eBay, etс. Clicking a link helps keep AmmoCave.com free, at no extra cost to you!
Authors: Each article is verified by AmmoCave's expert team. Professional hunters and gun experts write the articles. AmmoCave Team independently researches, tests, reviews, and uses recommendations from our community of gun owners. We may earn commissions from shopping links.
Note: The views and opinions expressed in this article are those of the authors and do not necessarily reflect any agency's official policy or position. The articles are for informational purposes only, share your opinions about Best 260 Remington Ammo in the comments and join the discussions. Let's share 💬 our ammo & gun experiences together!
Are you searching for the best 260 Remington ammo? Check out our list of the top-rated options available on the market today. With something for everyone, we've got you covered whether you're looking for general use rounds or something more specific. So, what are you waiting for? Start browsing and find the perfect type of ammo for your next shooting adventure!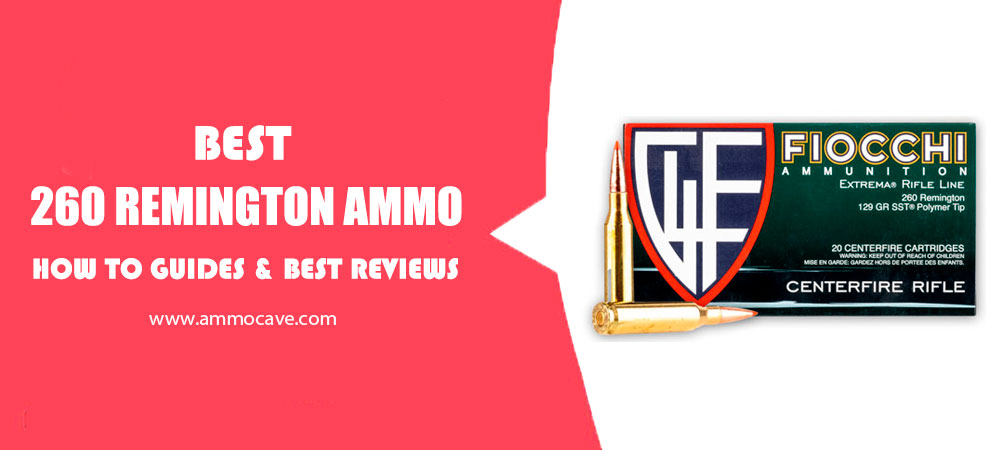 Our Selection 13 Best 260 Remington Ammo – Editor's Choice
1# 260 Rem – 120 Grain SP –

Federal Fusion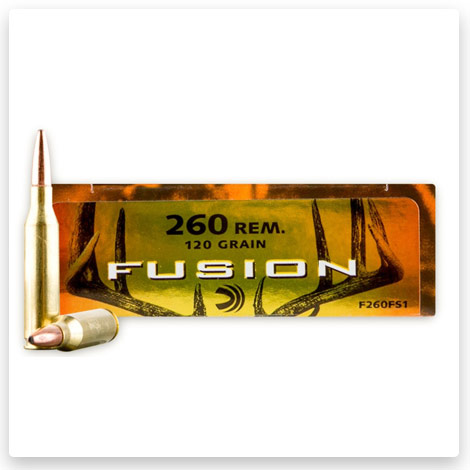 Do you need a top-quality round for deer hunting? Check out the Federal Fusion 260 Rem – 120 Grain SP. This ammunition is designed for maximum accuracy and performance, providing hunters with the perfect tool for taking down the game. The bullets are made from a soft point material that expands on impact, while the brass casings are boxer-primed for reliability. Whether you're a seasoned hunter or just starting, the Federal Fusion 260 Rem – 120 Grain SP is an excellent choice for your next deer hunting adventure.
2# 260 Rem – 129 Grain SST –

Fiocchi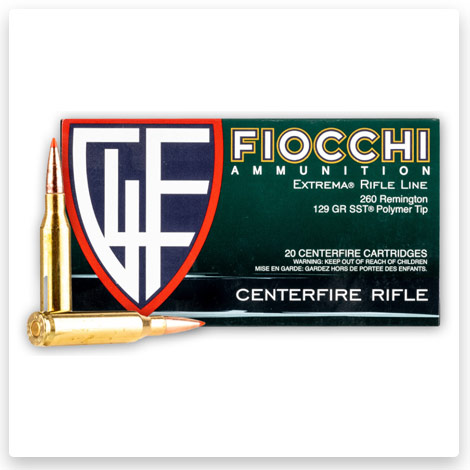 Introducing the Fiocchi's 260 Rem – 129 Grain SST. These bullets are super shock tips (SST) for maximum deer hunting success. With a muzzle velocity of 2800 fps and muzzle energy of 2245 ft-lbs, you'll be sure to take down your target with ease. The boxer-primed brass casing also makes this ammo easy to reload for future use. Don't miss out on your chance for the perfect deer hunting trip – order Fiocchi's 260 Rem – 129 Grain SST today!
3# 260 Rem – 129 Grain SST –

Hornady

Superformance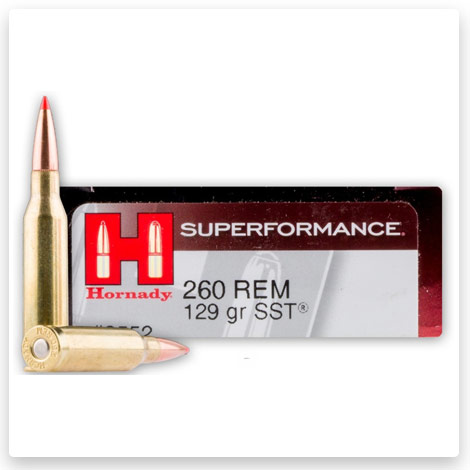 The 260 Rem – 129 Grain SST – Hornady Superformance is the best choice for any hunter who needs a reliable and accurate bullet. The 129-grain super shock tip (SST) provides outstanding accuracy and terminal performance, while the boxer-primed brass casing ensures consistent shots. With a muzzle velocity of 2930 fps and 2459 ft-lbs of energy, this ammo is sure to take down even the biggest game.
#4 260 Remington – 140 Grain Ballistic Tip Brass Cased –

Nosler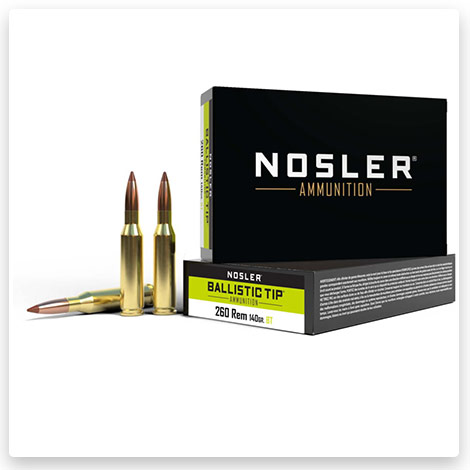 Presenting the Nosler .260 Remington 140 gr Ballistic Tip. The bullet flies flatter, straighter, and packs a wallop upon impact. The new Nosler ammo features the Nosler Ballistic Tip, a bullet design that has received continual improvements over its 30-year history. The bullet features a polymer tip, color coated by caliber, that helps keep the bullet intact ahead of impact. The design includes a full-tapered jacket with a special lead-alloy core and a heavy jacketed base.
#5 260 Remington – 120 Grain TTSX Boat Tail –

Barnes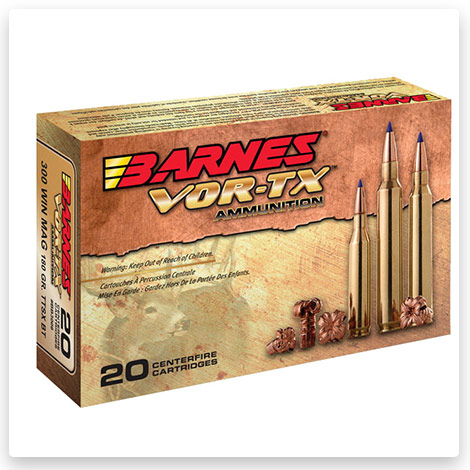 Searching for the deadliest bullets on the planet? Pay attention to Barnes VOR-TX precision ammunition. Loaded with Barnes TSX, Tipped TSX, and TSX FN bullets, this ammunition offers superb accuracy, terminal performance, and hand-loaded precision. The TSX bullets feature double-diameter expansion, maximum weight retention, and excellent accuracy, making them ideal for taking down big game animals. The bullets' shanks are grooved to reduce pressure and improve accuracy, and the all-copper construction ensures quick expansion on contact.
#6 260 Remington – 129 Grain Super Shock Tip –

Hornady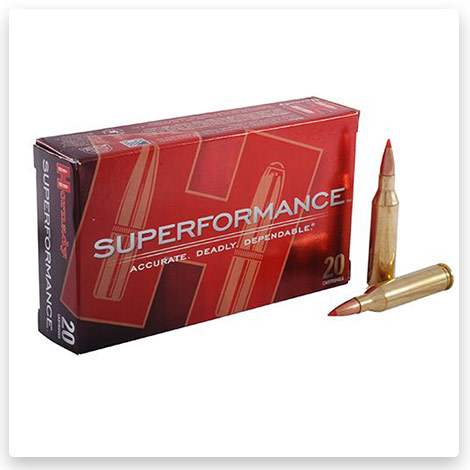 Do you want to buy the perfect ammunition for your next hunt? Check out Hornady's Superformance line of ammunition. This unique ammunition is 100 to 200 fps faster than traditional ammunition, without any increases in felt recoil, muzzle blast, temperature sensitivity, or fouling. Thanks to its innovative design, Superformance ammo achieves superior performance in every gun it's fired in. Additionally, its specialized propellants take your favorite SST or GMX bullets to new levels of performance that are unattainable with traditional propellants.
#7 260 Remington – 129 Grain Brass Cased –

Nosler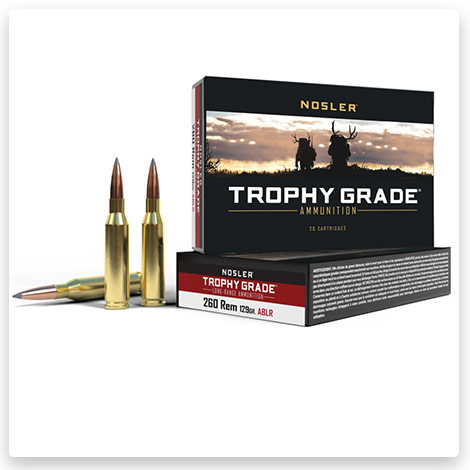 Introducing the all-new AccuBond-LR from Nosler – the sleekest, flattest-shooting, bonded hunting bullet ever created! This high-performance boat tail bullet is designed for long-range hunters and shooters who demand the very best in terms of accuracy and performance. The unique design of the AccuBond-LR allows for the highest possible ballistic coefficient in a bullet of the same caliber and weight, making it the perfect choice for anyone looking to get the most out of their rifle.
#8 260 Remington – 130 Grain Controlled Expansion Tip Brass Cased –

Sig Sauer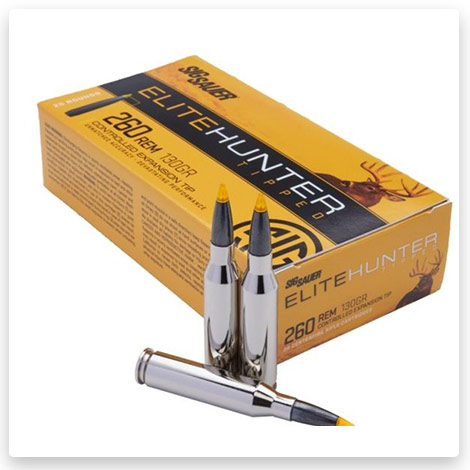 The Sig Sauer 260 Remington is a high-powered rifle cartridge that is perfect for hunting medium to big games at extended ranges. The exclusive jacket design delivers reliable explosive expansion and devastating on-game performance. The concentric blackened jacket ensures reliable explosive expansion while the translucent yellow tip increases the ballistic coefficient and improves terminal performance. The enhanced boat tail design provides superior flight characteristics over a wide range of velocities.
#9 260 Remington – 130 Grain Hybrid Tactical Open Tip Match Brass Cased –

Berger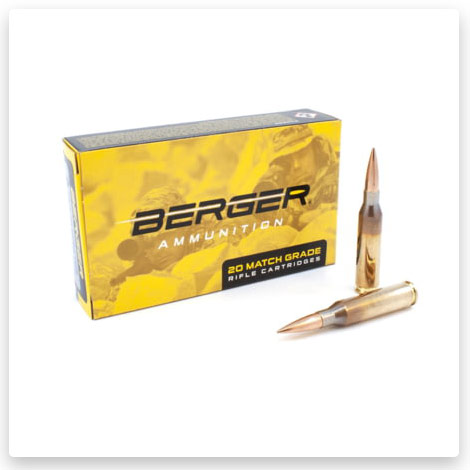 If you need a round that strikes the ideal balance between ballistic performance and overall length, the 260 Remington from Berger is a great choice. The 130 gr AR Hybrid OTM Tactical load is designed to deliver maximum performance from your AR-10 platform or any magazine-fed rifle. The hybrid design of the bullet ensures excellent aerodynamic properties, while the open tip match ensures superb accuracy.
#10 260 Remington – 140 Grain Core-Lokt Pointed Soft Point – R

emington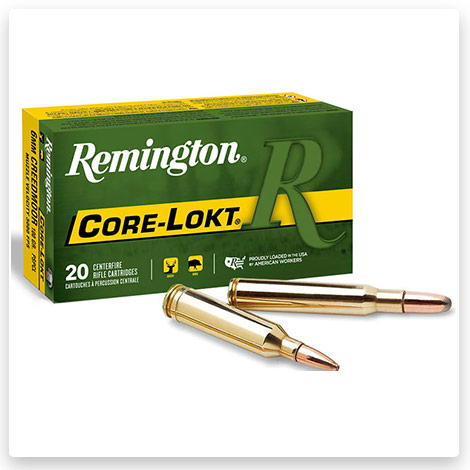 The Remington 260 Remington – 140 Grain Core-Lokt Pointed Soft Point Rifle Ammo is a good choice for hunters who need an effective and reliable bullet. The Core-Lokt Controlled Expansion Vulture Smoothie is a controlled expansion bullet that's been relied on by hunters for over 75 years. The tapered copper jacket on this Remington 260 Remington 140gr Core-Lokt Pointed Soft Point Rifle Ammo is locked to a solid lead core that delivers massive two-fold expansion, impressive weight retention, and astounding terminal performance that's ideal for use in dangerous games.
#11 260 Remington – 140 Grain Match Burner Open Tip Match Boat Tail –

Barnes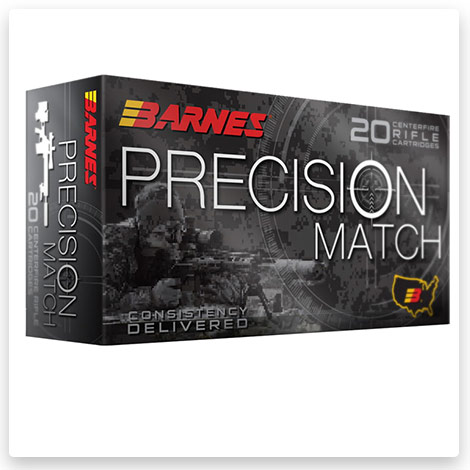 Do you want to choose an exceptionally accurate, long-range precision ammunition? It's Barnes' 260 Remington Match Burner Open Tip Match Boat Tail. These rounds are loaded with a match-grade OTM (Open Tip Match) BT projectile featuring a long boat tail and high B.C., making them perfect for extreme precision at extreme distances, you can be assured of consistency and top-tier performance. So if you're searching for the best of the best, choose Barnes.
#12 260 Remington – 125 Grain Partition Brass Cased –

Nosler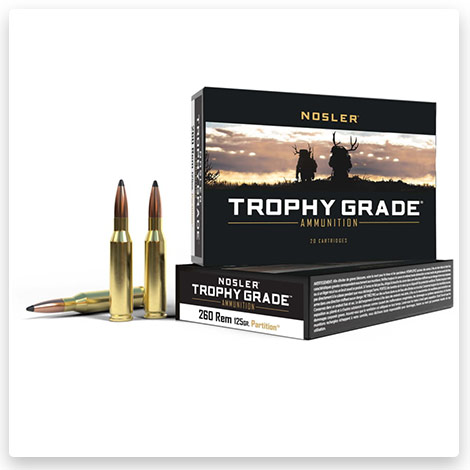 Introducing the Nosler Trophy Grade Centerfire Rifle Ammunition is your answer. Nosler bullets and brass create optimum hunting performance, and many options are available, including those loaded with Partition Ballistic Tip E-Tip and AccuBond. The combinations of bullet and powder are high-performance and each round has been visually inspected to ensure measurements and weights are correct. So if you need a dependable bullet that will get the job done right, check out Nosler Trophy Grade Centerfire Rifle Ammunition.
#13 260 Remington – 130 Grain Brass Cased –

Nosler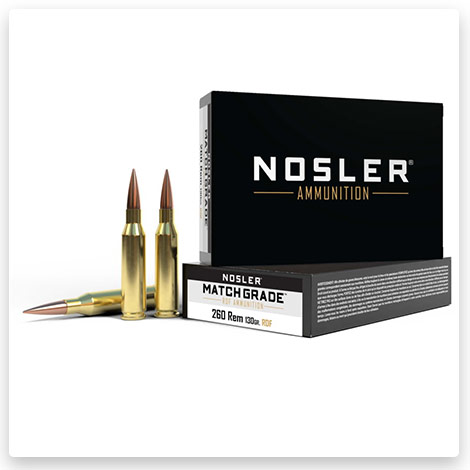 The Nosler Match Grade-RDF ammunition is high-performance ammunition loaded with the Nosler RDF bullet, which features best-in-class BCs for consistent precision and flat trajectory at long range. The brass is Nosler head stamped for guaranteed quality, and each round is visually inspected for perfect reliability. Whether you're a seasoned marksman or a beginner who wants to up your game, Nosler Match Grade-RDF ammo provides the consistency and accuracy you need to come out on top.
FAQ
What is a 260 Remington good for?
260 Remington is a great choice for long-range target shooting and hunting applications. It is also popular among precision rifle competitors. The 260 Remington is capable of excellent accuracy and has relatively low recoil for a cartridge of its performance level.
What are the best 260 Remington ammunition brands?
There are many great 260 Remington ammunition brands on the market, but some of the most popular include Hornady, Federal, and Winchester. Each of these manufacturers offers a wide range of 260 Remington ammunition types, so you can find the perfect load for your needs.
What is the best 260 Remington ammunition for long-range shooting?
For long-range shooting, you will want to choose a 260 Remington ammunition with a high ballistic coefficient. This will ensure that your shots remain accurate and stable over long distances. Some of the best 260 Remington ammunition for long-range shooting include the Hornady ELD Match and the Federal Gold Medal Match.
What is the best 260 Remington ammunition for hunting?
The best 260 Remington ammunition for hunting will depend on what game you are hunting. If you are hunting small games, such as varmints, you will want to choose a lighter bullet load. For big game hunting, such as deer or elk, you will want to choose a heavier bullet load. Some of the best 260 Remington ammunition for hunting include the Winchester Super-X Power-Point and the Hornady Interlock.
How far can a 260 Remington shoot?
260 Remington can shoot accurately at long ranges, making it a popular choice for hunting and target shooting. The average 260 Remington ammunition is capable of accuracy at around 1,000 yards.
Conclusion
260 Remington is the best choice for long-range precision shooting and hunting. Its high ballistic coefficient makes it ideal for long-range shots, while its relatively low recoil means that it can be used comfortably by shooters of all experience levels. In addition, its wide range of load options makes it suitable for everything from varmint hunting to big game hunting. We hope that information about the brands and loads mentioned above will help you to find the best 260 Remington ammunition for your needs.