Affiliate Disclosure: AmmoCave.com sometimes gets paid for listings, through sponsors or affiliate programs like Lucky Gunner, Optics Planet, Brownells, Cabelas, Academy Sports & Outdoors, Rainier Arms, Palmetto State Armory, Sportsman's Guide, Ammo.com, Ammo Man, Primary Arms, MidWayUsa, Amazon, eBay, etс. Clicking a link helps keep AmmoCave.com free, at no extra cost to you!
Authors: Each article is verified by AmmoCave's expert team. Professional hunters, firearm trainers, gunsmiths, and gun experts write the articles. AmmoCave Team independently researches, tests, reviews, and uses recommendations from our community of gun owners. We may earn commissions from shopping links.
Note: The views and opinions expressed in this article are those of the authors and do not necessarily reflect any agency's official policy or position. The articles are for informational purposes only, share your opinions about Tipton Best Gun Vise 2023 in the comments and join the discussions. Let's share 💬 our ammo & gun experiences together!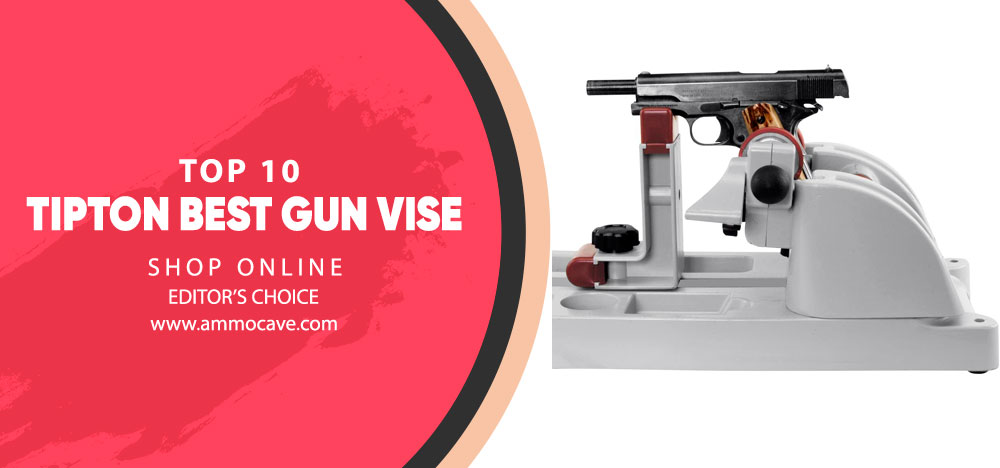 What is Tipton Ultra Gun Vise? 🔔
It is an indispensable tool for gun owners. This versatile and heavy-duty vice is designed to accommodate almost any type of firearm, from handguns to long guns.
Please watch this video to learn more information 📺
Features 💠
💠 Adjustable Design: it features a fully adjustable design, allowing it to securely hold firearms of different sizes and shapes. This makes it a versatile tool for gun owners and gunsmiths.
💠 Steel Frame Construction: The main frame is made from high-quality steel, which provides a sturdy and durable base for holding firearms. The steel frame is also powder-coated to resist corrosion and ensure long-lasting performance.
💠 Polymer Components: The Tipton Ultra Gun Vise features several polymer components, including the front and rear supports and the adjustable clamps. These components are designed to protect firearms from damage while they are being held in the vise.
💠 Non-Marring Surface: The clamps and supports are covered in a non-marring surface that protects the finish of firearms from scratches and other damage. This is particularly important for collectors or those who want to maintain the value of their firearms.
💠 Modular Design: it has a modular design that allows for easy disassembly and storage. The components can be quickly and easily removed for transport, making it a great choice for those who need to take their gun vise with them on the go.
💠 Dual Clamp Technology: it features a unique dual clamp technology that securely holds the firearm in place. This design ensures that the firearm will not move or shift during cleaning or maintenance tasks.
💠 Integrated MOLLE System: it includes an integrated MOLLE (Modular Lightweight Load-carrying Equipment) system that allows for the attachment of various accessories, such as cleaning kits, bore guides, and other tools. This feature makes it a versatile tool for gun owners and gunsmiths who want to customize their vise to their specific needs.
Our Top Pick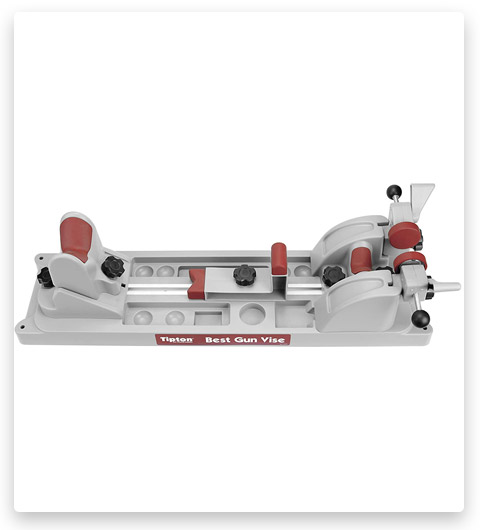 Tipton Best Gun Vice For Cleaning & Maintenance
We ranked this unit as number one due to its high demand and popularity in the market. It features a center channel made of aluminum and polymer materials which supports the vice, making cleaning a quick and easy process. The nylon surface also provides protection for the vice against harmful detergents and substances. In addition, this model is compatible with almost any base, whether it's a pistol or an AR.
Buy Now On Amazon
If you click this link and make a purchase, we earn a commission at no additional cost to you.
Advantages 🏆
🔰 Securely holds firearms: Tit securely holds firearms in place, preventing them from moving or shifting during cleaning or maintenance tasks. This ensures that the firearm remains stable and secure, reducing the risk of accidents or damage.
🔰 Protects firearms: it is designed to protect firearms from damage during cleaning and maintenance tasks. Its non-marring surface and polymer components prevent scratches and other damage to the finish of the firearm.
🔰 Versatile: it is versatile and can hold a variety of different firearms, including rifles, shotguns, and handguns. Its adjustable design and dual clamp technology allow it to securely hold firearms of different sizes and shapes.
🔰 Easy to use: Its adjustable design, modular construction, and clear instructions make it simple to set up and use.
🔰 Portable: The Tipton Ultra Gun Vise is portable and can be easily disassembled for transport or storage. This makes it a great choice for gun enthusiasts and professionals who need to take their vise with them on the go.
🔰 Customizable: It is customizable and can be modified to suit the specific needs of the user. Its integrated MOLLE system allows for the attachment of various accessories, making it a versatile tool for gun owners and gunsmiths.
Best Tipton Best Gun Vise 🚀
1# Tipton Best Gun Vice For Cleaning & Maintenance –
Editor's Choice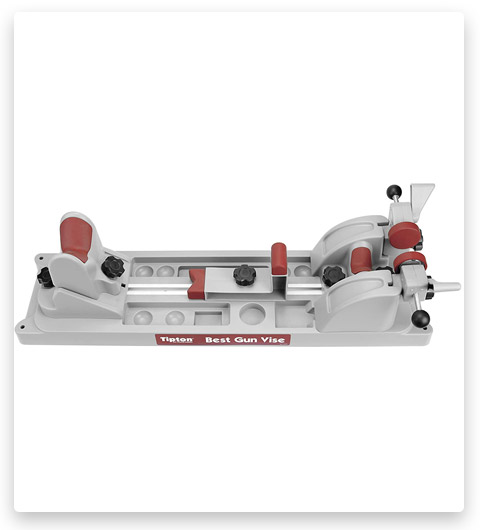 This is one of the most popular and demanded units on the market. That is why we decided to put it in 1st place. A centre channel made of aluminium with polymer materials supports the vice. This will make the cleaning process very quick and easy. The nylon surface protects the vice from harmful detergents and substances. Besides, this model fits almost any base, be it a pistol or an AR. When you grip the weapon, the vice will provide you with access to all of its parts and will hold it securely. The only drawback is the plastic body. This makes it not as strong and durable as other models, but it reduces the cost and makes it affordable for most users.
2# Tipton Ultra Gun Vice Heavy-Duty Body Gun Vice – Best Flexible Pick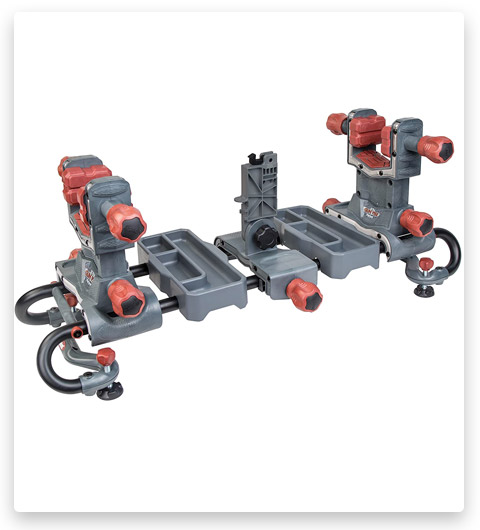 Our second choice is undoubtedly Tipton Ultra Gun Vice. This gun vice will benefit you immensely with its large frame design. Its main difference is that it dissipates energy from recoil better than any other vice we have encountered. As our tests have shown the frame is easily adjustable for any type of weapon, from bolt-action rifles to break-open shotguns. Tipton is a very stable and durable model. Many users note that it has served them successfully for many years and they do not use anything else to clean their weapons. After you fix the weapon, it will remain in place until you are finished cleaning and want to remove it.
3# Tipton Lightweight Collapsible Construction Ultra Gun Vice – Best Portable Pick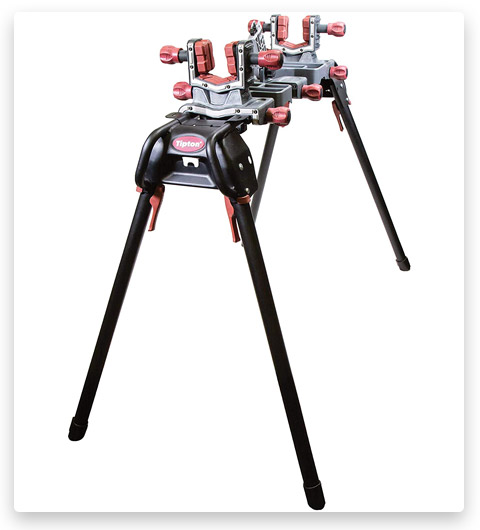 A distinctive feature of the Tipton Collapsible Construction Ultra Gun Vice is its versatility and portability. We were simply amazed by its ability to accommodate break-open shotguns, sporting rifles, classic AR and AK, bows, crossbows, and other types of weapons. This model can withstand years of intensive use and will still delight you with excellent cleaning performance even after a few years. The vice has a customizable design and is durable, and easy to use. This model, like all the previous ones, is resistant to chemicals and cleaning agents. It also has rubber contact pads to prevent damage to your weapon. Since it uses a double clamp, you can be sure that your weapon will be firmly gripped, stable and safe for you. This vice is equipped with 4 adjustable legs to make it comfortable for you with your weapon, setting up the scope, and more. Its only drawback is its higher price compared to analogues.
4# Tipton Best Gun Vice & Wheeler Scope Mounting Kit Combo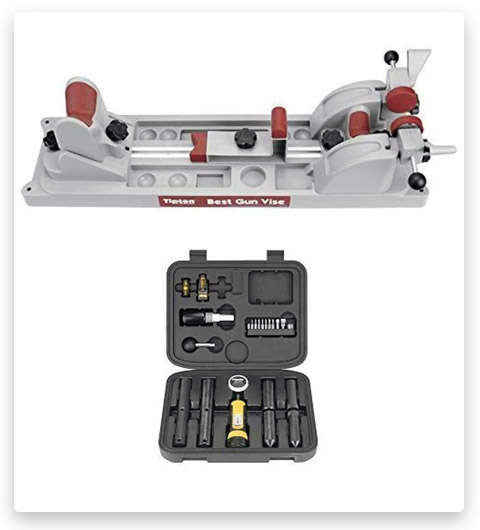 Tipton Best Gun Vice & Wheeler Scope Mounting Kit Combo make gun maintenance easy and intuitive. Complete any mount with top-of-the-line accuracy and precision. This kit is designed for serious hunters and shooters who demand the best performance from their firearms. The L-shaped centre support holds break-open guns securely, while the cam blocks ensure a secure fit on different stock shapes. This complete gun vice and the mounting kit include a torque screwdriver, multiple screwdriver bits, several lapping and alignment bars, a lapping bar handle, a lapping compound, and the Wheeler Level-Level-Level that helps accurately level the crosshairs of your scopes. Get ready to take your mounts to the next level with Tipton's Best Gun Vice & Wheeler Scope Mounting Kit Combo.
5# Tipton Best Gun Vice With Professional Reticle Leveling System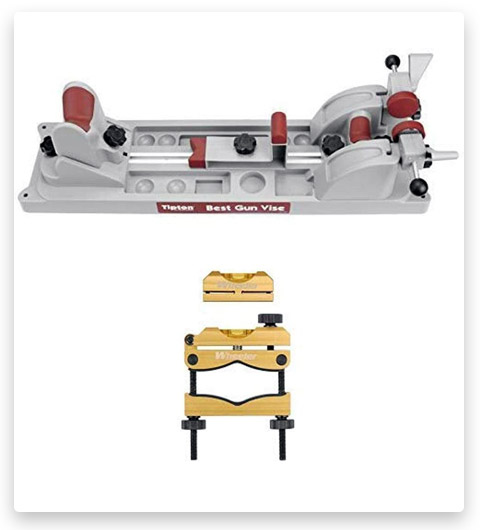 Tipton Best Gun Vice with Professional Reticle Leveling System is the ultimate companion for shooters and hunters. Crafted with precision, it offers unmatched accuracy and ease of use – so that you can confidently focus on the task at hand. The L-shape centre support stably holds break-open guns while quick-release cam blocks move independently to ensure an individualized fit for any stock shape. Furthermore, each level features a bubble level to assist in precise measurement, while a magnetic bottom allows the Reference Level extra stability. Its barrel clamp also allows for flexibility by fitting around even the largest diameter barrels, including shots. With Tipton Best Gun Vice, you can take your shooting to the next level as each component adjusts to give unequalled comfort during reloading processes. Welcome greater precision and accuracy today with this top-tier gun vice!
6# Tipton Compact Range Vice For Cleaning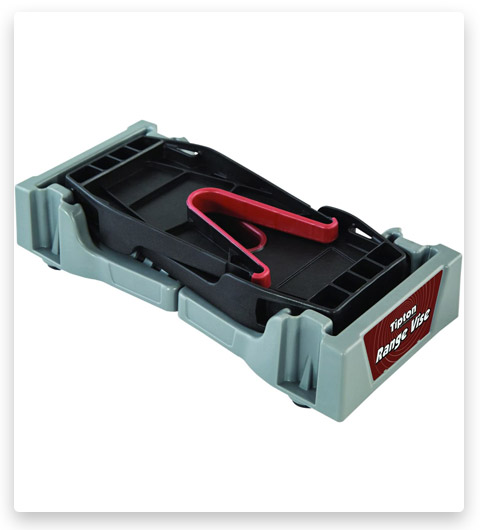 If you've always looked for a compact vice that you can take with you to the shooting range and clean your weapon right there, then you won't find a better model than this. Two non-slip forks hold your weapon securely without leaving any scratches. And the non-slip feet will prevent the vice from moving at the most unnecessary moment. The resin from which the vice is made is resistant to all solvents and chemicals. Plus, the recessed compartments allow you to store your weapon parts right inside the vice without worrying about accidentally losing them.
7# Tipton Best Gun Butler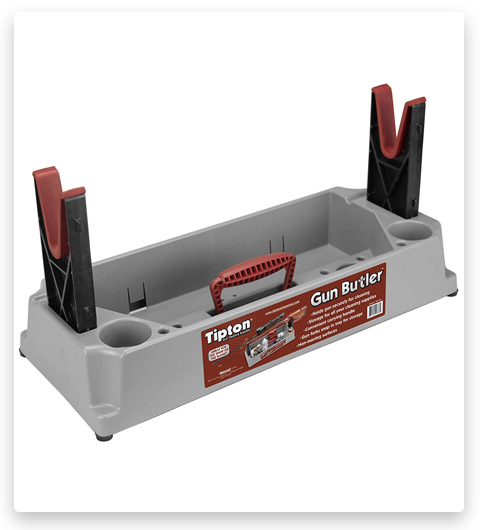 Get organized for any shooting session with the Tipton Best Gun Butler. This essential custom-built firearm organizer is designed to streamline and simplify the cleaning, organizing, and transporting of firearms accessories. Constructed from a solvent-resistant polymer material and supported by non-slip rubber feet, this gun butler offers stability and security for your firearm while you work. Conveniently sized at 22.3 x 9.3 x 4 inches it will fit neatly on your workspace or portable enough to take along with you to the range. The built-in compartments keep everything tidy and organized so you can find what you need quickly and easily. Enjoy greater accuracy and improved performance by giving your firearms the care they deserve with the Tipton Best Gun Butler. To make sure that you are completely satisfied we include a limited lifetime warranty provided by Tipton customer service on every product we sell should you need additional assistance.
8# Tipton Gun Vise 782731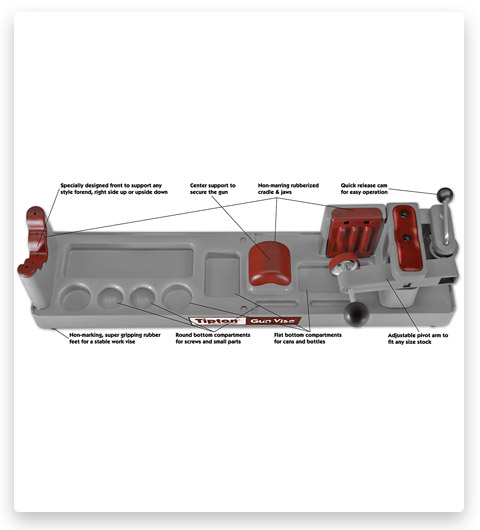 The Tipton Gun Vise is the perfect tool to help make the most out of your shooting experience. This vise is designed to provide secure and reliable support for guns so you can have peace of mind during use. It features a quick-release cam that allows you to easily and quickly secure your firearm in place. A front cradle supports nearly all forends, either right side up or upside down, and you will find small compartments on its base to store screws, jags, and brushes. Our findings show that this product also ensures years of hard use with its solvent-resistant polymer construction that won't mar the finish on your gun. Having Tipton's lifetime warranty as backup makes it even more ideal for hunters and shooters who value reliability and durability in their equipment. With its superior build quality, easy setup process, and adjustable fit for versatile firearm types, choosing the Tipton Gun Vise 782731 is a no-brainer for anyone who wants maximum performance in the field or at the range.
9# Tipton Ultra Cleaning Set 554400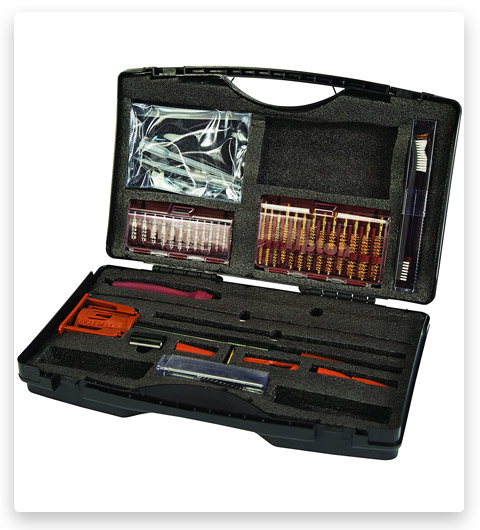 The Tipton Ultra Cleaning Set offers the best of both worlds—durability and convenience. With its 3-piece rod constructed from extremely high strength 17-4 PH Stainless Steel, you can trust that this set is built for longevity. Not to mention, it comes complete with the Tipton 13-Piece Ultra Jag Set and Best Bore Brush Set to help keep your hunting or shooting tools in top shape. Easily clean all calibres of firearms from .17 all the way up to .45 with a variety of jags and brushes. The Rapid Deluxe Bore Guide keeps everything organized and efficiently directs solvents right into the barrel with 4 muzzle guides. Even more, this kit includes a customized storage case with die-cut closed-cell foam that has enough room to accommodate cleaning patches and even liquids. And you can use this set in confidence knowing it is backed by a limited lifetime warranty. Get ready to take on any adventure knowing your weapons will stay safe and reliable with the Tipton Ultra Cleaning Set
Assembly 🎯
🚩 1. Unpack the Tipton Ultra Gun Vise and lay out all of its pieces to ensure you have everything needed for assembly
🚩 2. Assemble each component of the vise, starting with the main frame and then adding in the adjustable arms, clamps, and other components
🚩 3. Securely fasten all screws, bolts, nuts, washers etc., making sure they are tightened properly so that nothing becomes loose or falls apart during use
🚩 4. Place your firearm into the vise and adjust it to fit securely within the jaws of the vise
🚩 5. Once your gun is secure in place, make any further adjustments needed to get a snug fit before using any tools on it
🚩 6. Use a wrench or pliers to tighten down all knobs firmly so that no movement can occur when working on your gun
🚩 7. Test out your newly assembled Gun Vise by lightly clamping down a few times before applying more force to check for stability
Watch this video to find more information 💻
FAQ 🤠
 Conclusion 🌟
Overall, the Tipton Ultra Gun Vise is a great product for anyone looking to take their gun cleaning and maintenance to the next level. Its sturdy construction provides excellent stability when working on firearms and its adjustable features make it easy to use with nearly any size rifle or shotgun. With all of these features in mind, you can be sure that your investment in this gun vise will pay off for years to come. Whether you are an avid hunter or just someone who enjoys tinkering around with guns, having a quality vice like the Tipton Ultra Gun Vise is essential for proper firearm care and maintenance. Investing in one today could save you time, money, and frustration down the road! 😃🤝
Tags: #tipton best gun vise / #tipton best gun vise review / #tipton ultra gun vise / #best gun vise / #tipton standing ultra gun vise / #tipton best gun vise ar-15 mag well block / #tipton best gun vise best price / #tipton best gun vise limited edition