Affiliate Disclosure: AmmoCave.com sometimes gets paid for listings, through sponsors or affiliate programs like Lucky Gunner, Optics Planet, Brownells, Cabelas, Academy Sports & Outdoors, Rainier Arms, Palmetto State Armory, Sportsman's Guide, Ammo.com, Ammo Man, Primary Arms, MidWayUsa, Amazon, eBay, etс. Clicking a link helps keep AmmoCave.com free, at no extra cost to you!
Authors: Each article is verified by AmmoCave's expert team. Professional hunters, firearm trainers, gunsmiths, and gun experts write the articles. AmmoCave Team independently researches, tests, reviews, and uses recommendations from our community of gun owners. We may earn commissions from shopping links.
Note: The views and opinions expressed in this article are those of the authors and do not necessarily reflect any agency's official policy or position. The articles are for informational purposes only, share your opinions about Best Bore Sight 2023 in the comments and join the discussions. Let's share 💬 our ammo & gun experiences together!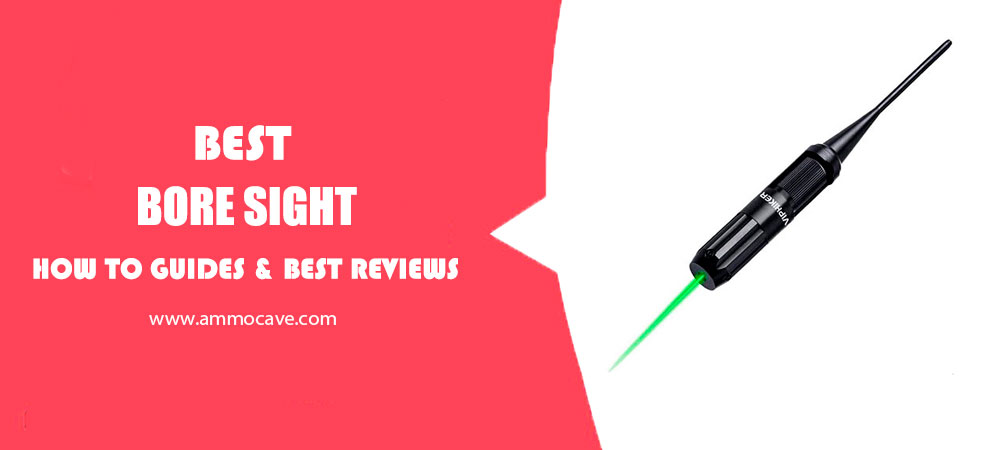 What are Laser Bore Sights? 💡
Laser Bore Sights are an essential tool for rifle shooters, providing precise sight alignment and improved accuracy. The device is essentially a laser that attaches to the gun's bore, projecting a bright red dot onto the target.
Our Top Pick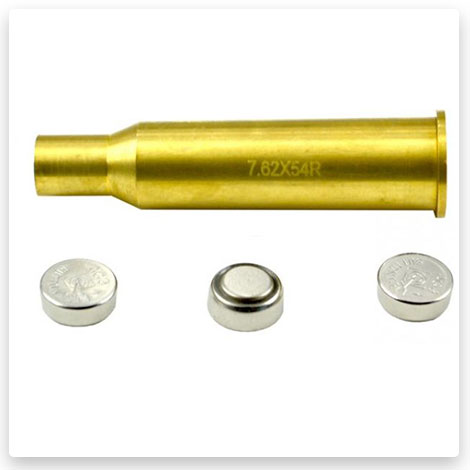 Sniper 7.62x54R Bore Sights
The bore sight is powered by batteries and is simple to operate, allowing you to quickly start your target practice. Plus, the bright orange laser beam out on almost any target surface so that each time you shoot you can be confident in your accuracy.
Buy Now On OpticsPlanet
If you click this link and make a purchase, we earn a commission at no additional cost to you.
How Laser Bore Sights Works? 🔋
⚡ This type of device works by projecting a laser beam from the back end of the barrel and allowing users to see where it will hit before they actually take aim and fire.
🌐 It uses a small laser diode, typically powered by batteries, to project a red dot onto a target.
The user aligns the projected dot with the centre of the crosshairs in the scope or iron sights, then adjusts until it is perfectly centred.
Once this is done, there's no need for further adjustment during shooting.
This can save valuable time and ammunition when sighting in scopes and iron sights alike.
🌐 They are often used when mounting scopes and other optics to firearms as they allow shooters to quickly get close to proper zero without relying solely on trial-and-error adjustments at the range.
Because they don't require ammo, laser bore sights are much safer than traditional methods of sighting in firearms.
These devices allow users to practice their shooting skills without expending a lot of money – they only need to buy batteries and reset targets if needed.
Watch this video to find more information 💻
Types 🔌
🚩 The most common type is an optical bore sighter, which uses either a visible-light or invisible-light laser diode to project a crosshair reticle on the target. This allows the shooter to set their sights quickly and easily without having to fire a single shot.
🚩 For more precise shooting, magnetic bore sighters are also available.
These systems mount directly onto the barrel of the firearm, providing an unerringly accurate reference point for sighting your weapon.
However, this type of system requires you to remove the bolt or action before mounting, making it less convenient than using an optical bore sighter.
🚩 Another popular type is the digital bore sight, which is essentially an electronic version of the optical one.
It uses LED lights instead of lasers, allowing you to adjust your aim with much greater precision than with an optical version.
Digital sights typically have extra features such as multiple reticles and even recoil simulation capabilities that give you an even more precise aiming experience.
🚩 There are infrared (IR) bore sighters that use an invisible IR laser pointer to make targeting easier in low-light conditions such as dusk or dawn. While these are convenient for some applications, they are not suitable for general use since they only work in total darkness or very dim lighting conditions.
Here is the video about the best Laser Bore Sights 💻
Best 💣 Laser Bore Sights Review
1# EZshoot BoreSighter Bore Sight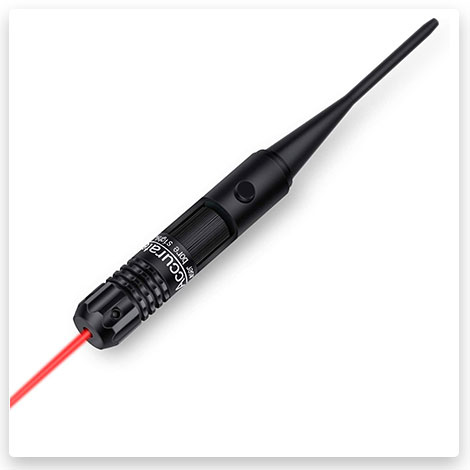 The EZshoot BoreSighter Bore Sight is a great tool for improving accuracy and zeroing in on your target. With nine different bore adapters, it can be used on all .177-.54 caliber rifles and pistols. The push button switch makes it easy to control, and the bright red laser beam is visible even in low light conditions. Simply place the bore sight in the muzzle of your weapon and you're ready to go. This simple, cost-effective tool is a great way to get your firearm sighted in quickly and easily.
2# MidTen Bore Sight kit with Big Button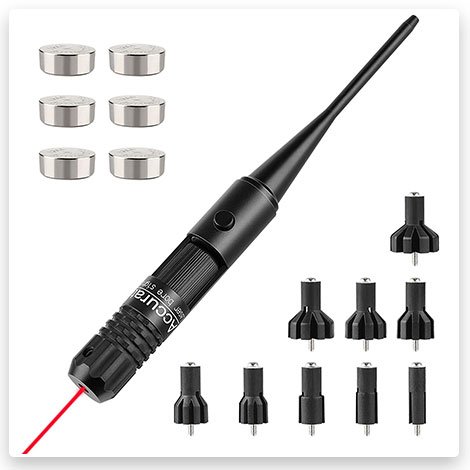 Looking for a high-quality, easy-to-use bore sight kit? Look no further than the MidTen Bore Sight kit with Big Button! This top-of-the-line bore sight kit features a red laser sight that is perfect for zeroing in your rifle. Simply attach the laser sight to the end of your barrel and use the big button to turn it on. The red dot will show you exactly where your bullet will hit, making it easy to make adjustments to your sights. The laser sight is also great for use at night or in low-light conditions. Made from premium aluminium, this bore sight kit is built to last. It also has a max output of 5 mW and a wavelength of 532nm. So don't wait any longer, order the #2 MidTen Bore Sight kit with Big Button today!
3# Tyseam Laser BoreSighter Bore Sight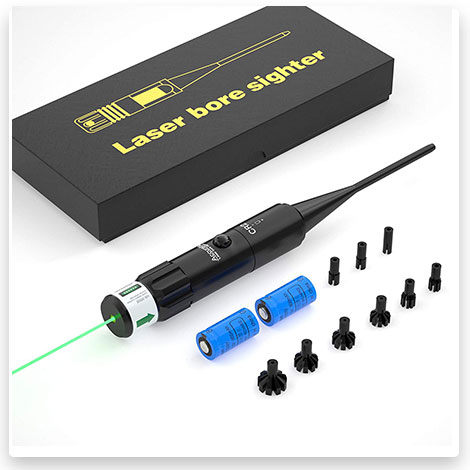 The Tyseam Laser BoreSighter Bore Sight is an easy-to-use and accurate tool that will save you time and ammunition when sighting in your red dot sight. It is also helpful for zeroing in at long distances outdoors, thanks to the bright green laser it emits. The Tyseam Bore Sight is made of premium aluminum and is powered by a CR2 battery. It comes with a bore adapter to lock onto your barrel, and its compact size makes it easy to take with you wherever you go.
4# VIPHIKER Green Laser Bore Sight Kit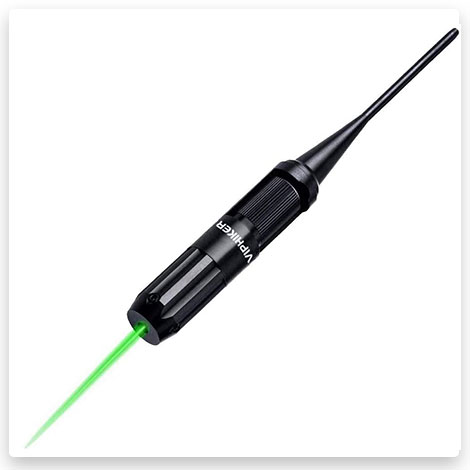 The VIPHIKER Green Laser Bore Sight Kit is a high-accuracy sighting tool that is perfect for hunters and gun enthusiasts. With a sighting range of 50 to 100 yards, it allows for quick and accurate resetting of any sights. The kit comes with 6 adapters that fit calibers from .22 to .50, making it versatile and durable. Made of aerospace aluminium alloy, it is simply the best choice for resetting any sights. 2 set of batteries included make it last longer.
5# DIK Green Bore Sight Kit Laser Sight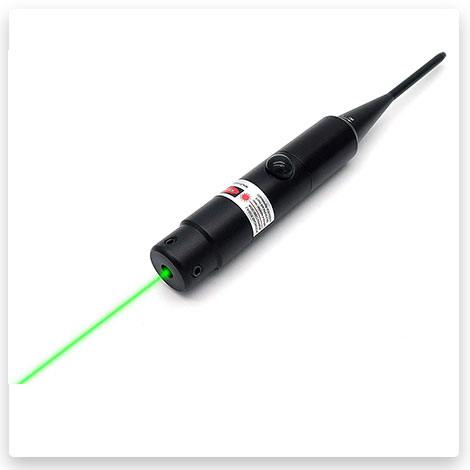 The DIK Green Bore Sight Kit contains everything you need to get your firearms on target quickly and easily. The kit includes 8 different adapters to fit a variety of 0.17 to 0.54 calibre pistols and rifles, and the switch design makes it easy to turn the light on and off. This bore sight is also made of all aluminium for durability and is water-resistant for added protection. With a bright and tight beam, this bore sight will help you get on target quickly and easily. Get your firearms ready for action with the DIK Green Bore Sight Kit.
6# Tipfun Bore Sight Kit Red Boresighter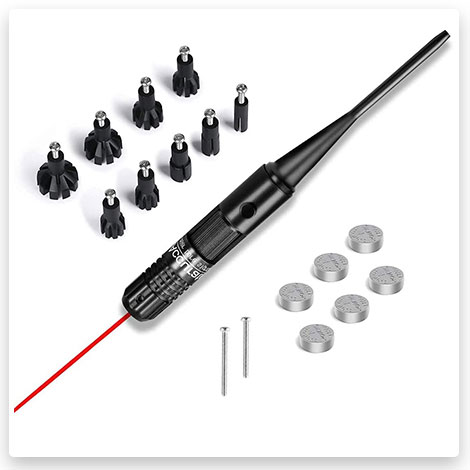 The Tipfun Bore Sight Kit is a handy tool for any gun owner. With 12-bore adapters, it can be used with all .177-.78 calibre rifles and pistols. The quality of the material is great for the price, and it fits well in the bore of most shotguns and pistols. The bore sighter helps with sighting in your gun no matter the calibre, making it easy to set up and use. The laser class is IIIA and has a wavelength of 630-680nm. It also has a max output power of 5mW. This makes it a great choice for anyone looking for an easy-to-use, accurate bore sight kit.
7# LASERLYTE universal laser BORE SIGHT kit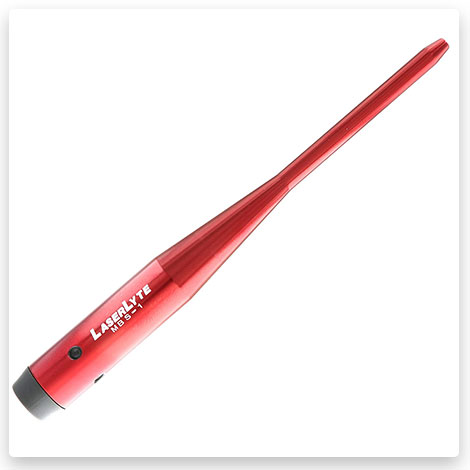 The LASERLYTE universal laser BORE SIGHT kit is the perfect tool for sighting both iron sights and optics. With careful adjustment of the correct screw plug, you can achieve a snug fit and a parallel reference light. This saves time and ammo by allowing you to sight most of the way without even being on the range or firing a single round. Once in the field, three shots will establish a proper zero and you'll be locked and ready to go. This product features a 5mW peak, 630-670nm, Class 3A visible red laser that is in conformance with and complies with 21 CFR 1040.10 with a max power output of "5mW" for a "Class 3R Red Laser" – the brightest beam allowed by law. So don't waste any more time or ammo – get the LASERLYTE today!
8# LuDing Laser Bore Sight Kit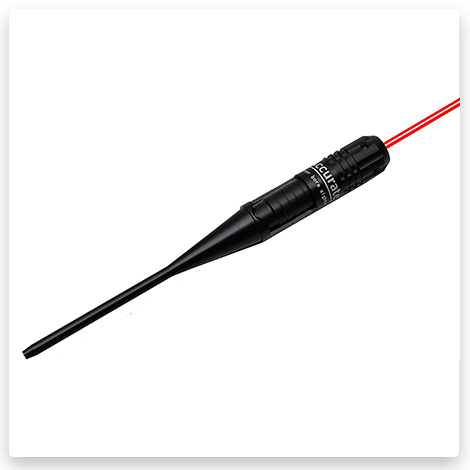 Introducing the LuDing Laser Bore Sight Kit! This handy tool is perfect for anyone who wants to get the most out of their firearms. The bore sight projects a red beam from the centre of the barrel axis, providing a precise reference for zeroing in on your target. Simply choose the calibre adapter and place the unit in the muzzle. The long sighting range and light weight make it perfect for resetting any sights. Get yours today and hit your targets with precision!
9# SightMark Laser Bore Sights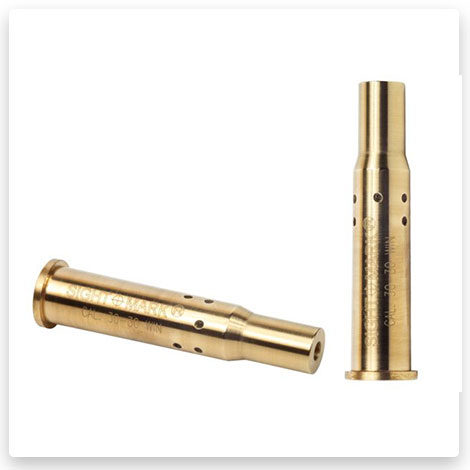 If you're looking for a quick and easy way to get your gun sights zeroed in, then you need a SightMark Laser Bore Sight. These sights are designed to help you get on target fast, so you can spend more time shooting and less time worrying about your accuracy. Manufactured to last, these bore sights are made from high-quality materials and feature a state-of-the-art design that makes sighting in a breeze. Plus, the included carrying case keeps your sight protected from damage when not in use. So don't waste any more time at the shooting range struggling to get your gun sights aligned. Pick up a SightMark Laser Bore Sight and make a sighting in a snap.
10# XS Sight Systems Bore Guide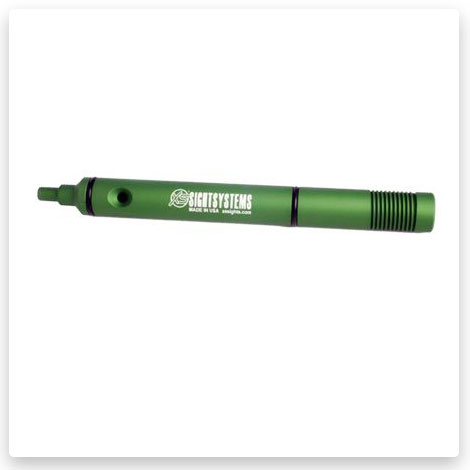 The XS Bore Guide is a top-of-the-line product designed to keep your cleaning rod centred in the receiver for optimal effectiveness and accuracy. This guide is 100% made in specialized factories from 6061-T6 aluminium alloy and is finished with a hard coat anodized in XS Green for durability. CNC precision machined, this guide is a perfect fit for AR-15s in all calibres with diameters between .223 and .30. Invest in the best with the XS Bore Guide.
11# Firefield Laser Bore Sight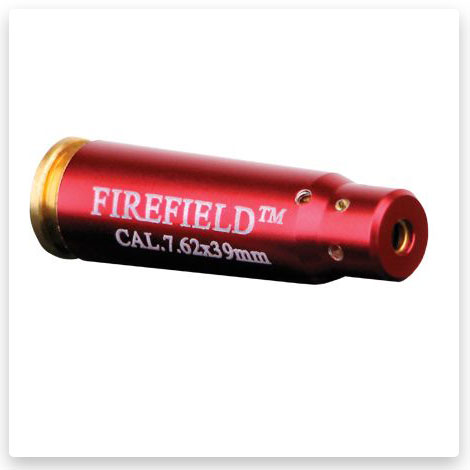 The Firefield Laser Bore Sight is a must-have for any gun enthusiast. This highly accurate bore sight is designed to fit a variety of weapon chambers, making it a versatile tool for your collection. The laser light shows exactly where your firearm is aimed, so you can easily sight in and fine-tune the aim of your weapon. With the Firefield Laser Bore Sight, you'll never have to waste live ammunition to sight in your gun. Simply load the bore sight into the chamber like a standard cartridge, and you're ready to go. The Firefield Bore Sight is perfect for effortless gun zeroing and ensures that you always hit your target.
12# LaserLyte Laser Bore Sight Deluxe Kit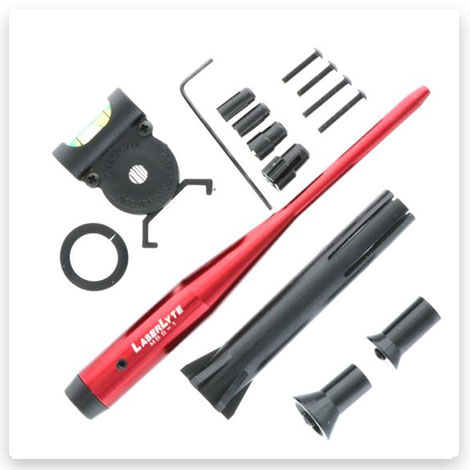 Looking to sight your firearm faster and with more accuracy than ever before? Look no further than the LaserLyte Bore Sight! This innovative tool is designed to save you time and money and can get your gun sighted with 100% accuracy in just 2-3 shots. The Deluxe Kit includes the laser bore sight, storage case, batteries, practice target, bubble level, and a wide range of adapters to fit popular calibres like 12-gauge and 20-gauge shotguns. Setup is a breeze, and the results are undeniable. Just shine the bore sight laser 25 yards out, adjust your crosshairs to the dot, and fire your first 100-yard shot. The LaserLyte slides right into your barrel and is compatible with all weapons with 3-inch barrels. Get the most out of your firearm today with the LaserLyte Bore Sight!
13# Sniper 7.62x54R Bore Sights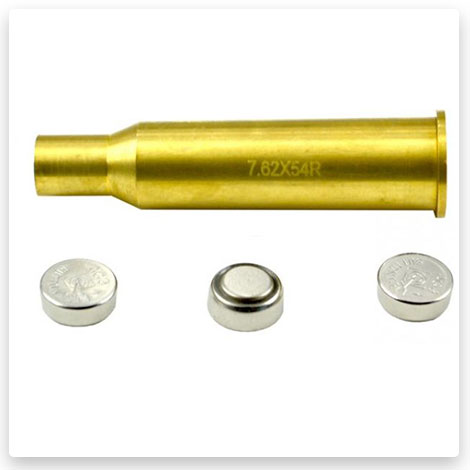 The Sniper 7.62x54R Bore Sight is a great choice for anyone looking for a high-quality, precision machined bore sight for their 7.62x54mm firearm. The bore sight comes with batteries and is easy to use so you can get on with your shooting practice as soon as possible. The bright, orange colour of the laser makes it easy to see against most targets, so you can be sure you're on target every time. This bore sight is an excellent choice for the serious marksman.
14# Laserlyte – Laser Bore Sighter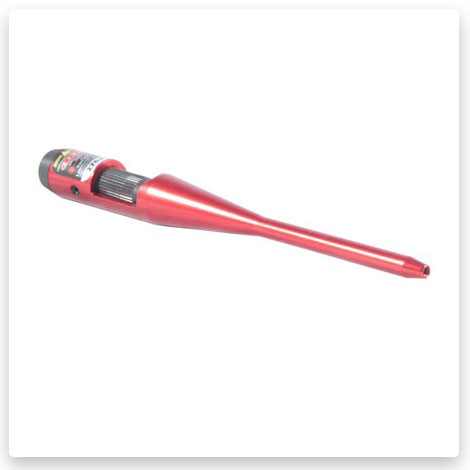 If you're serious about getting the most accurate shot possible, you need a reliable way to sights your scope, red dot, or iron sights. The Laserlyte – Laser Bore Sighter is one of the most reliable and easy-to-use bore sights on the market. With its cone-shaped spud and interchangeable inserts, it automatically centres the laser unit in the bore of any .22 to .50 calibre gun with a 4″ or longer barrel for standard models and 3″ or longer for mini models. And because it's permanently calibrated with precision alignment tooling at the factory, it projects a 2″ to 3″ diameter dot at 100 yards with ease. Plus, it's made from durable aluminium and hard coat anodized to protect against nicks, dings, and surface wear. So whether you're sighting in your rifle for hunting season or just wanting to be as accurate as possible at the range, the Laserlyte – Laser Bore Sighter is a must-have.
15# Sightmark – Laser Boresighter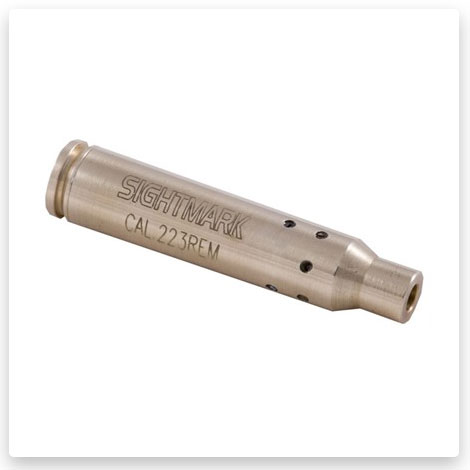 The Sightmark Laser Boresighter is an easy-to-use, self-contained boresighting system that fits in the chamber of your rifle or pistol. It projects a powerful red laser beam aligned with the bore axis, so you can sight to the point-of-aim without firing a shot. This durable, machined brass housing looks like a cartridge case but actually contains the entire laser system and batteries. Just insert the batteries and screw the cap on the housing to turn on the laser; remove the batteries to turn it off. Insert the entire assembly into the chamber, gently close the action, and aim at a target 20-30 yards away. Adjust windage and elevation of the scope or sights so point-of-aim is zeroed on the dot, compensating for sight offset to prevent the gun from shooting high. With the Sightmark Laser Boresighter, you can get on target quickly and easily – without wasting any ammunition.
16# Site-Lite – Laser Bore Sighter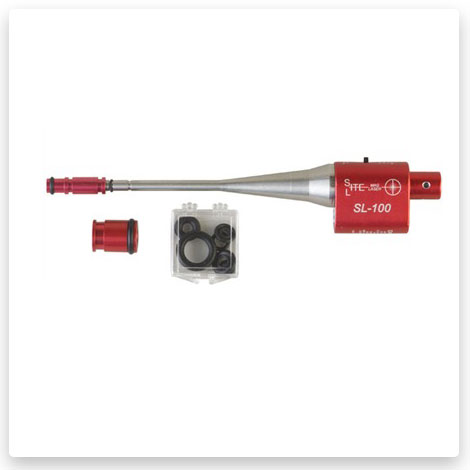 The Site-Lite Laser Boresighter is a quick and easy way to get your scope or sights properly aligned. Just place the special laser target 25 feet away and aim the laser at it, then adjust the scope till the crosshairs align with the target. The laser is mounted to a cone-shaped, aluminum spud, which is held in place by an O-ring and powerful magnet. This system lets one unit fit all firearms from .22 to .50 caliber, plus 12 and 20-gauge shotguns. The Boresighter also includes the SRL-100 adapter, which slips over the lens to convert it into a highly accurate Scope Reticle Leveler. This feature refocuses the laser to a horizontal beam, allowing for precise crosshair alignment.
Installation 🧷
Necessary parts and tools 🔨:
Laser bore sight;
adapter ring;
battery;
any other accessories that may have been included with the purchase.
📌 The first step is to attach the adapter ring to the barrel or muzzle of your firearm.
The adapter ring should be placed so that it lines up with the bore of your gun and there should be no obstruction preventing sight from being able to fit inside.
Once it has been secured in place, you can begin inserting the laser into the adapter ring and securing it using screws or clamps.
📌 Insert its battery into its designated slot located at either end of the device.
After powering on your device, you will want to adjust its settings according to your firearm's range and distance requirements – typically done by pressing buttons located near either end of the device or by plugging it into a computer via a USB cable.
This will allow for precise adjustments within a few seconds so that when you start shooting at targets they will appear exactly as they should!
📌 Finally, after setting up your laser bore sight properly, take shots at targets that are closer than what it was calibrated for (50m-100m). This will help confirm if everything was set up correctly and ensure accuracy before attempting longer distances. Afterwards, if all checks out more distant targets may be tried until satisfied with the results!
Please watch this video to learn more information📺
FAQ 🤠
 Conclusion 😎
When it comes to sighting your firearms, the best bore sight is an invaluable tool. There are a number of different types and brands on the market, so it can be difficult to know which one is right for you. In this article, we've provided reviews of some of the most popular items available and shared some tips about how to choose the right one for your needs. We hope that this information will help you make an informed decision which one is best for you.
Tags: #best bore sight / #best laser bore sight / #best laser bore sight for ar15 / #best 5.56 laser bore sight / #best bore sight kit / #what is the best laser bore sight device