Affiliate Disclosure: AmmoCave.com sometimes gets paid for listings, through sponsors or affiliate programs like Lucky Gunner, Optics Planet, Brownells, Cabelas, Academy Sports & Outdoors, Rainier Arms, Palmetto State Armory, Sportsman's Guide, Ammo.com, Ammo Man, Primary Arms, MidWayUsa, Amazon, eBay, etс. Clicking a link helps keep AmmoCave.com free, at no extra cost to you!
Authors: Each article is verified by AmmoCave's expert team. Professional hunters, firearm trainers, gunsmiths, and gun experts write the articles. AmmoCave Team independently researches, tests, reviews, and uses recommendations from our community of gun owners. We may earn commissions from shopping links.
Note: The views and opinions expressed in this article are those of the authors and do not necessarily reflect any agency's official policy or position. The articles are for informational purposes only, share your opinions about Best Tactical Pistol Sights 2023 in the comments and join the discussions. Let's share 💬 our ammo & gun experiences together!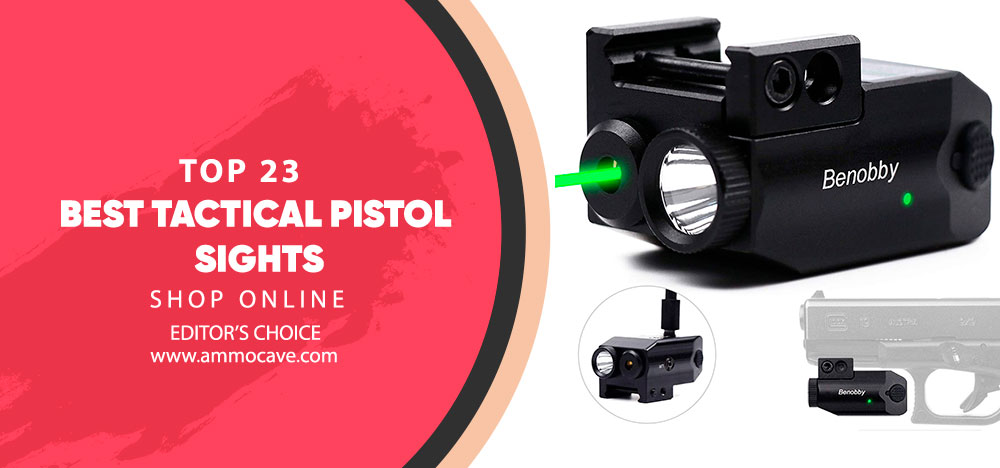 Top 23 Tactical Pistol Sights
One of the most important things about using your weapon is definitely accuracy. And yes, the shooter's experience is mostly responsible. We came a long way from not-so-accurate black powder muzzle-loaders to compact and precise tools of self-defense and target shooting such as pistols. To maximize its potential, it is wise to add an aftermarket sight system to your weapon such as reflexes, red dots, or even a simple laser that will do the trick. We gathered 23 different models of tactical pistol sights, so you could choose exactly what you want, depending on the type of sights and your budget.
#1 JDAMALEYWO Tactical Laser Sight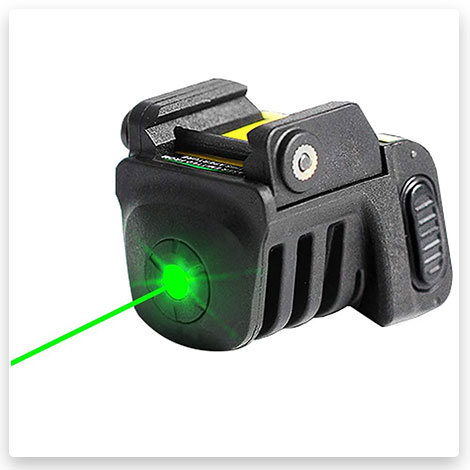 The first model on this list is a laser sight. A small, lightweight, and compact piece of technology encased in fiberglass-reinforced nylon attach easily to the bottom accessory rail. Good thing it weighs only 40 grams or 1.4 ounces, so it wouldn't be able to affect the balance of your firearm noticeably. JDAMALEYWO also puts a rechargeable battery in it with a USB charger, so you wouldn't "run out of juice" in the range of being unable to find a replacement for a dead battery. USBs are everywhere – so just plug it in for a quick refill, and you are good to go. And its small size makes it a great fit for subcompact pistols, allowing carrying your pistol with no drawbacks in comfort.
#2 EZshoot Red Dot Laser Sight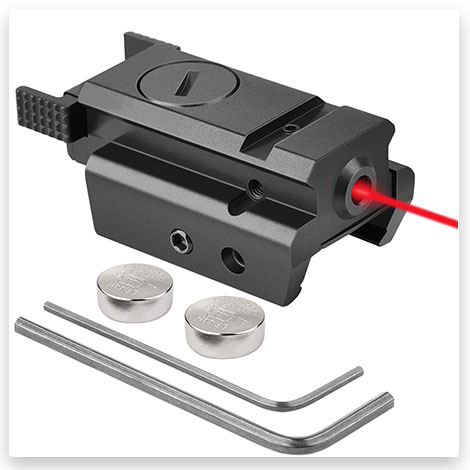 This is another nice alternative if you've decided to buy yourself a decent laser sight. Made with high-grade premium aluminum alloy means being lightweight while remaining durable and sturdy. This laser sight also has two attachment screw holes, so it can be secured at an acceptable distance more reliably, will hold zero generally better, and could be adjusted in the position you are more comfortable with a better range of positions. However, this laser sight uses non-rechargeable LR44 batteries, which can be a turnoff for some laser enthusiasts.
#3 Pinty Compact Tactical Red Laser Sight with Picatinny Mount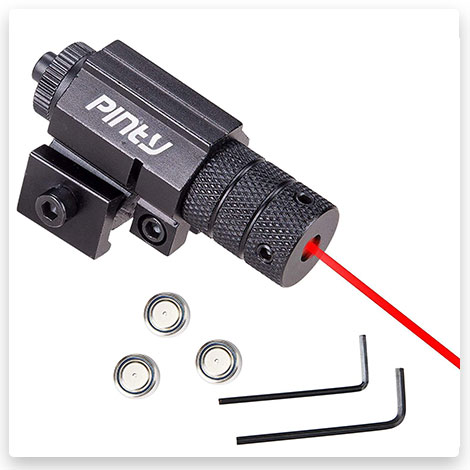 This is another great alternative laser sight for your shooting needs. This one will fit at everything with a 20 mm rail on it. The laser sight even comes with a handy riser that you can take it off if you would ever need a smaller profile, and this makes for a neat little attention to details from Pinty. Doesn't matter if you are a hunter, airsoft player, or just a regular shooter – this laser will be perfectly versatile in any condition. This red laser sight also uses LR44 batteries, but it uses three of them, so they would hold the charge longer.
#4 FL2000T Tactical Green Laser Sight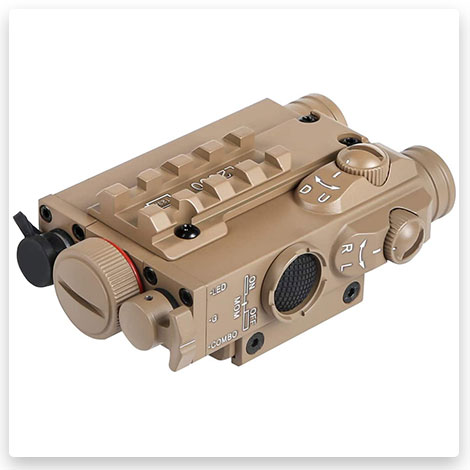 This is the first combo sight on the list, but it is certainly not the last one. By combining a flashlight and a laser sight into a single block, not only you are going to have the benefits both of those devices provide, but will also save some space which could've been making the weapon itself too bulky and would have compromised its compactness. This great tactical green laser sight even comes with its own remote, so you can attach the pressure pad anywhere on the gun you feel would be most comfortable for you.
#5 Streamlight Tactical Pistol Mount Flashlight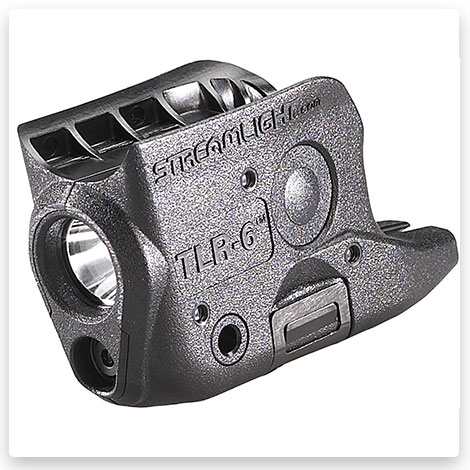 Here we have yet another flashlight+laser combo, but at this time it's a very specific one. Being designed to fit subcompact Glock pistols, this device sits tight and snug on the following models: Glock G42, G43, G43x, and G48. However, being designed for these models of firearms in particular it won't fit on any other pistol, so the buyer has to keep that in mind when purchasing. Otherwise, if you are an owner of those pistols listed – then you will be happy with your purchase, this flashlight laser combo fits them like a glove without sacrificing any compactness and being a very durable build.
#6 Crimson Trace 2.0 MOA Compact Tactical Red Dot Sight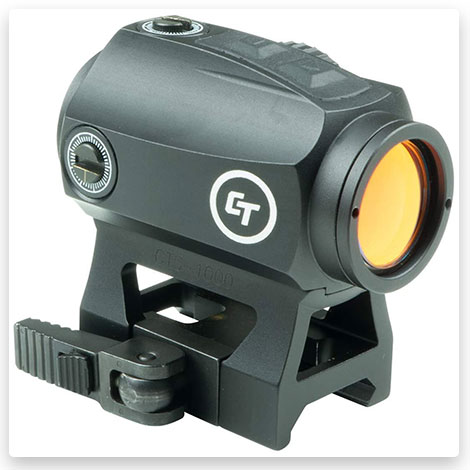 Now for something completely different – a red-dot style of electronic sights. This one is a great example of tactical thinking being brought to reality with a quality build. The sight comes with a quick detachment (QD) system that allows you to swap sights on the fly, in the field, if needed. Also, the battery cap can be removed and battery replaced without it even affecting your zero – and that is a neat little touch. Scope lenses come with an antifogging technology, both shock and water-resistant, and the little red dot is clear and bright, so you will never miss your shot. A great sight, but it can be a little bit pricey.
#7 AT3 Tactical ARO Micro Red Dot Sight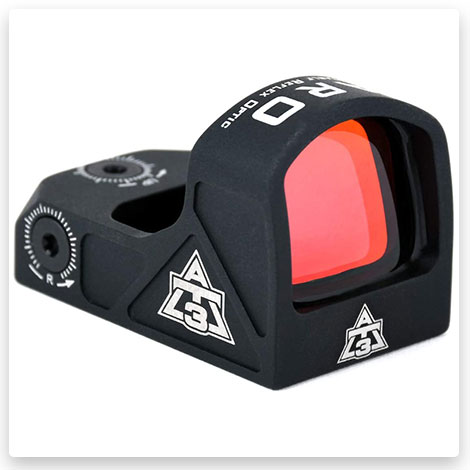 Now let's talk about reflex sights: they are optimal for mounting to handguns, being almost irreplaceable to any tactical-savvy firearm owner. While they give all the benefits of having a laser sight, they are not sacrificing your field of view, so you are always aware of your surroundings. This AT3 Tactical Micro Red Dot is made out of quality metal, anodized, and coated, giving it nice protection from almost any weather condition. This sight is amazing for a both-eyes-open shooting style because of its parallax-free design, which means that the red dot is always shown on the target, no matter where your eyes are.
#8 QR-Laser R Rechargeable Tactical Flashlight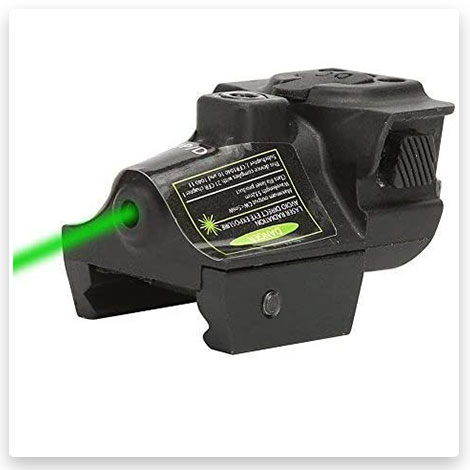 Here we have another compact, neat little laser sight, now with quick-detachable technology. This allows you to remove your laser with nothing but a simple push of a button when it can be cleaned, maintained, and placed back without losing its zero. This also allows you to detach it for a quick charge because it's one of those fancy USB-rechargeable lasers. Full charge in 40 minutes for a three-hour runtime – that is pretty impressive. The other great thing about this laser is its anti-vibration design, which really drives the idea of never losing your zero home. Great product for a laser sight fan!
#9 BattleBeam V1 Laser Sight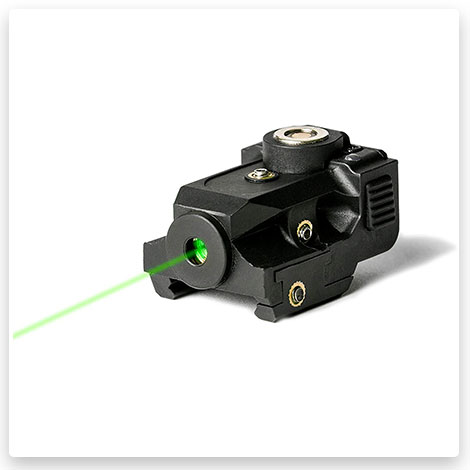 Here we have another great choice for a laser sight with a bit of a magnetic twist to it. This tiny little sight has almost nonexistent weight (1.0 oz), a small and compact body that won't affect your gun's outline too much. This sight comes with its own proprietary magnetic USB charging cable that grabs and holds just tight enough to secure a comfortable recharging experience. The second great thing about this laser sight is that comes in different colors – so you are welcome to choose whatever fits your style best. Bright red is too much for your eyes? Get a blue or a green one. The possibilities are there!
#10 Pinty Tactical Green Dot Sight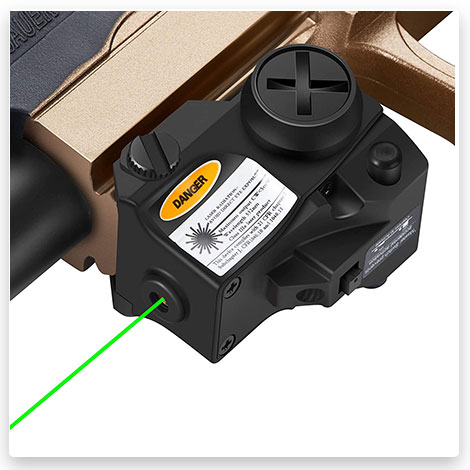 This tactical green dot laser sight can be mounted to most firearms, but we think that it would look just right on a pistol. Made out of high-performance aluminum alloy, this sight can definitely stand a beating and continue to work reliably, and the ambidextrous controls will make your experience with it good and enjoyable. This Pinty Tactical sight also comes with a 6-month warranty, so user satisfaction is almost guaranteed at this point.
#11 Gmconn Green Laser Sight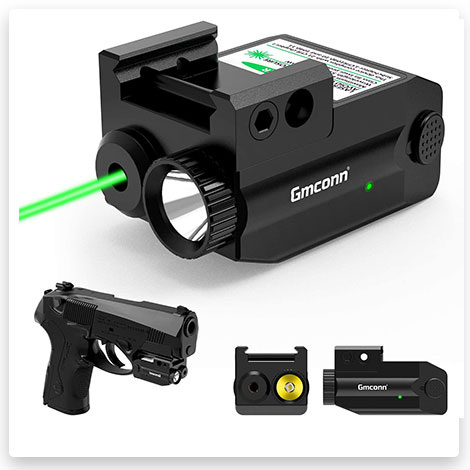 Gmconn Green Laser Sight is one of those handy laser sight and flashlight combos with pre-built micro-USB charging – and that is a very impressive package indeed. Throw in shock-resistance, strobe light mode, and some water resistance – and we are having a near-ideal combo sight to put onto your firearm. The whole system is tiny too – fits great on g3s and subcompacts like those.
#12 Taction BattleBeam V1 Laser Sight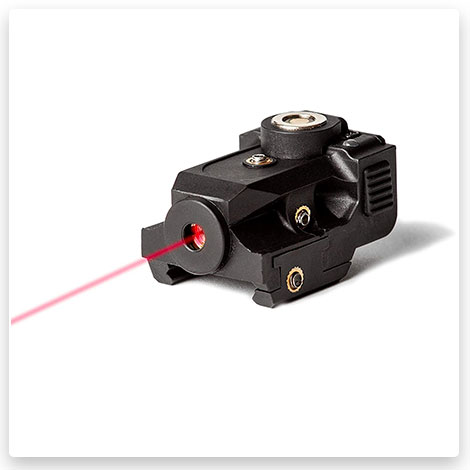 This laser was created by a battle veteran, so you can trust that it is made by someone who understands what matters: overall quality, as well as durability, and dependability. This laser sight charges very quickly, resulting in 30 minutes charge time for 3 hours of the overall runtime. The neat magnetic cable is back too, so you can be always sure the contacts will align perfectly.
#13 CREATIVE XP HD Red Dot Sight 3 MOA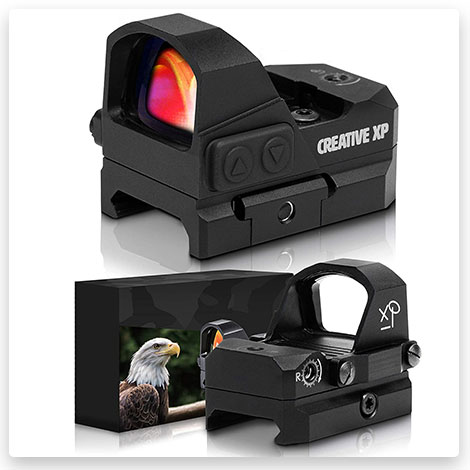 Here we have two red dot sight options – RD EAGLE and RD FALCON. The first one is a reflex sight and the second one is more of a classic red dot form-factor. Both of them by first look would seem like a pretty regular sight, but when you take your time and study the difference in specifications the differences are beginning to be obvious. First of all, the brightness levels are so much more customizable, having 8 levels for daytime and 2 for dusk/nighttime shooting. Creative XP is also providing all the stuff you might need with every purchase – sets of wrenches and nuts, mounting plates, and silicone lens covers, all neatly packaged into the carrying case. Truly a great gift for a shooter.
#14 ARKSight Pistol Sight and LED Flashlight Combination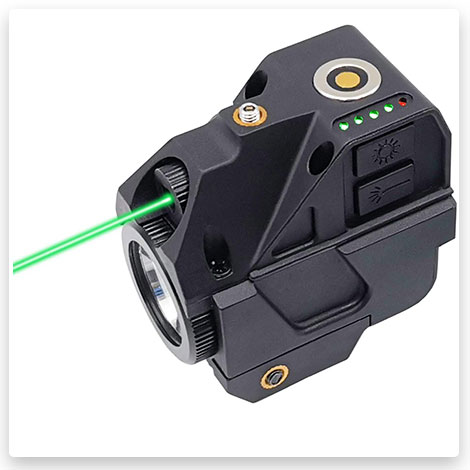 This must be one of if not the very best LED flashlight and laser combos on this list, and here is why. The device has a built-in battery level indicator. It also has magnetic cable charging, which is really handy. Plus, it has double the amount of buttons (for left and right-handed use). Not only, you will now see when the charge is getting too low, so you would know to preserve it or recharge while in the field – but it will also make sure you are never caught off-guard while in a dangerous situation. The light-laser combo also includes the strobe light mode, which can be useful in some of the most dangerous encounters. Overall – greathandy little device.
#15 KingFurt Tactical Red Laser Beam Dot Sight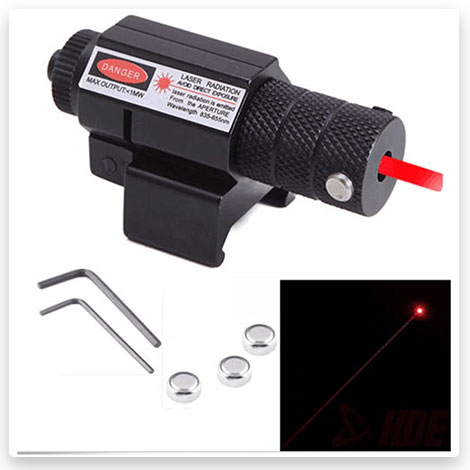 This one is pretty basic but it is not a bad thing. Sometimes basic means cheap yet reliable, and this is probably the exact point here. Basic design, three LR44, and an aluminum housing – built to last and to serve its purpose. This laser beam dot sight would also be a great way for the novice shooter to test laser sights as an attachment and general, to see if they like them or not before moving on to a more expensive model.
#16 HILIGHT  Tactical LED Flashlight and Blue Laser Sight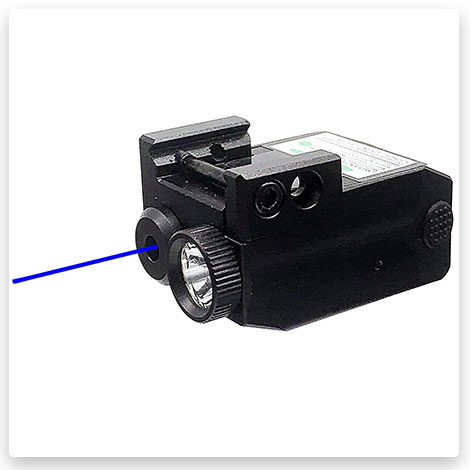 This tactical combo device combines a flashlight and laser sight into a single compact package that can be mounted on any acceptable railing to serve all of your tactical needs. The housing is made out of high-quality anodized aircraft-grade aluminum, which serves both the durability of the device itself and its relatively low weight. The red laser variant gives you longer battery life, the green one is best in terms of visibility and the blue one is more resistant to cold conditions. The flashlight itself is decent too, making HILIGHT Tactical LED flash laser combo a good choice for airsoft players, so for the gun enthusiasts.
#17 DefendTek Rechargeable Rail Mounted Red Laser Sight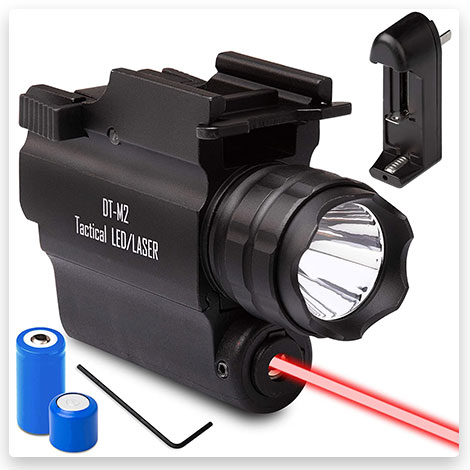 Laser sights are coming in all shapes and sizes, and this one is a bit bigger than the others listed. This device combines a flashlight and a laser sight into the single housing but, weirdly, uses different batteries for those attachments. Perhaps the main idea here is to have at least one of the two functions in the case of one of the batteries going flat, but still unusual. The package also contains a charger for the rechargeable CR123a battery. Probably the coolest thing about this laser sight combo is the quick-release system, which allows the user to quickly detach and reattach the sight to the gun for more comfortable maintenance and cleaning.
#18 Laswin Tactical Flashlight with Internal Green Laser Sight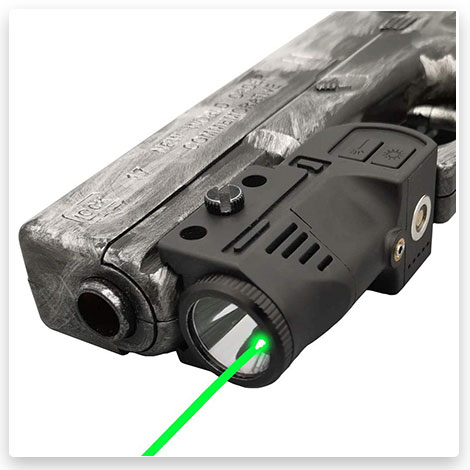 One of the best laser/light combos out there, no doubt. It cleverly hides a laser pointer behind the lens of the flashlight, giving protection to the laser sight, as well as looking neat and tidy overall. The device itself has 3 pairs of fit space holes, this expands the compatibility pool even further, allowing this laser sight to be mounted to a wider array of different firearms. The ON/OFF buttons are doubled at each side for ease of ambidextrous use. And as a cherry on top, it has magnetic charging, so there is that.
#19 Benobby Green Laser Sight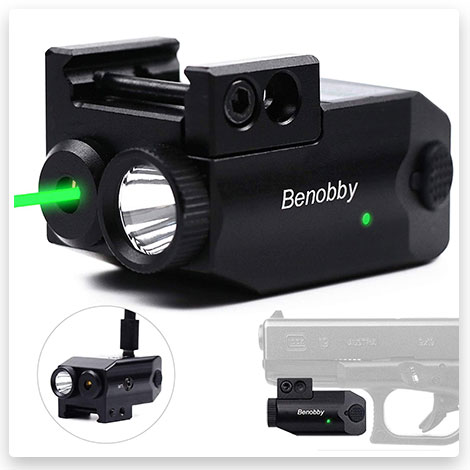 This laser+flashlight combo has many of the same features as the other ones, so it is better to focus on what makes it so different from them. Well, it has two pairs of attachment holes, for a start. The charging is done by using the standard mini-USB port, which makes finding a replacement cable a walk-in-the-park in clear contrast to magnetic ones. It comes pre-calibrated for accuracy out of the box for your best shooting experience, yet some tiny adjustments still may be needed. Overall, not a bad choice for a starter or a more experienced shooter.
#20 Streamlight Tactical C4 LED Weapon Light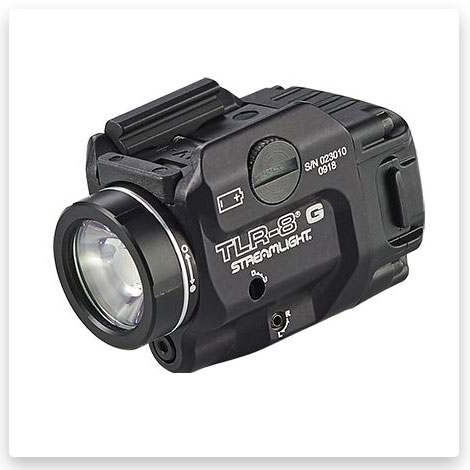 Now even by simply looking at this handgun light and laser combo you can already tell that it is a quality product. The price of this attachment confirms that, but if you want quality, you are pretty much expected to pay up a pretty buck for your gadgets and devices. This Streamlight tactical light system attaches firmly to the underside of your handgun, providing you with a highly visible laser beam and a flashlight for dark conditions. This neat little combo device also comes in two different beam colors: red and green, so you can always find the one that suits you best.
#21 Sig Sauer Romeo4T Tactical Compact Red Dot Sight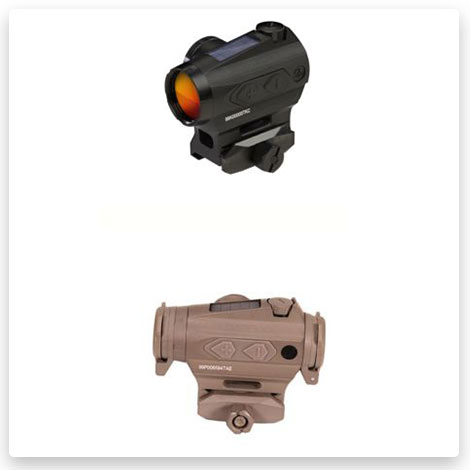 This Sig Sauer sight is also one of the most expensive things on this list, but once again – for a reason. Sig Sauer tech is being used by many government militaries all around the world, they are extremely high-performance devices and this sight is not an exception. Mil-Spec 810G testing, submersible up to 20 meters. It even has motion-powered illumination which automatically powers it on when senses the motion. The compact size makes it usable on shotguns, pistols, and many other acceptable platforms. In every way – a great choice for a professional, but comes for a fair, decently high price.
#22 AmeriGlo Spartan Tactical Operator Sights for Glock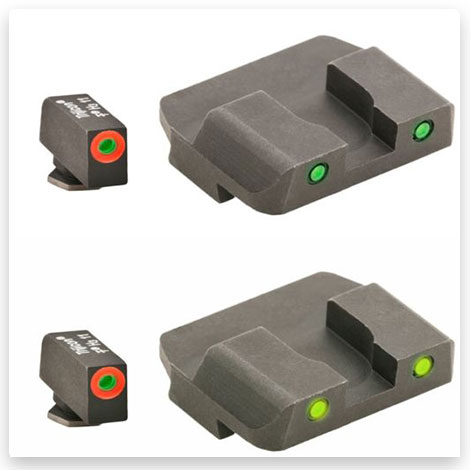 These little attachment parts are specific for Glock only, and they come in two different sight colors: yellow and lime green, but they certainly can make a difference in the field or at the ranch. The plastic-looking inserts light up in the dark with tritium, and bright colors are more visible and eye-catching, making aiming with these sights way faster and easier. A certain must-have for all Glock lovers out there!
#23 Viridian Universal Sub-Compact ECR Green Laser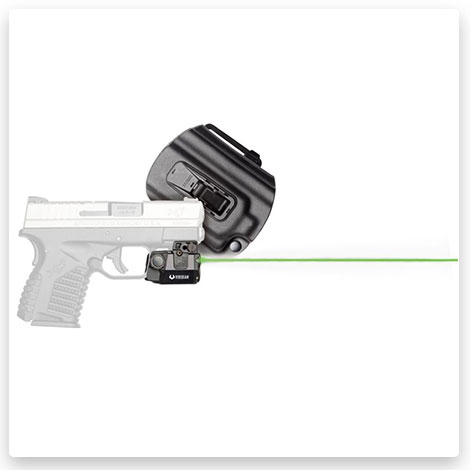 Viridian Universal Sub-Compact ECR laser and flashlight combo wouldn't let you down in any situations, being very well constructed and produced devices on the market nowadays. The buttons are ambidextrous as well, and the laser itself comes with a set of three different railings, making mounting to the gun way easier and customizable to the will of the gun owner. The only probable downside of this laser light combo is that in a temperature lover than -20 Fahrenheit it stops working completely, but that is to be expected from the laser sight of this price category.
Conclusion
There are many different types of sights. We have looked at a few of them, but you might want to try a different type to see what you like best. Everyone has their own opinion about what is practical and what isn't. In conclusion, we would love for you to take a closer look at the items from each budget category:
Tags: #best tactical pistol sights / #best tactical pistol sights pt pt111 g2 / #best sights tactical pistol / #best tactical sights for pistol / #best tactical pistol sights m & p