Affiliate Disclosure: AmmoCave.com sometimes gets paid for listings, through sponsors or affiliate programs like Lucky Gunner, Optics Planet, Brownells, Cabelas, Academy Sports & Outdoors, Rainier Arms, Palmetto State Armory, Sportsman's Guide, Ammo.com, Ammo Man, Primary Arms, MidWayUsa, Amazon, eBay, etс. Clicking a link helps keep AmmoCave.com free, at no extra cost to you!
Authors: Each article is verified by AmmoCave's expert team. Professional hunters, firearm trainers, gunsmiths, and gun experts write the articles. AmmoCave Team independently researches, tests, reviews, and uses recommendations from our community of gun owners. We may earn commissions from shopping links.
Note: The views and opinions expressed in this article are those of the authors and do not necessarily reflect any agency's official policy or position. The articles are for informational purposes only, share your opinions about Best 7mm STW Ammo in the comments and join the discussions. Let's share 💬 our ammo & gun experiences together!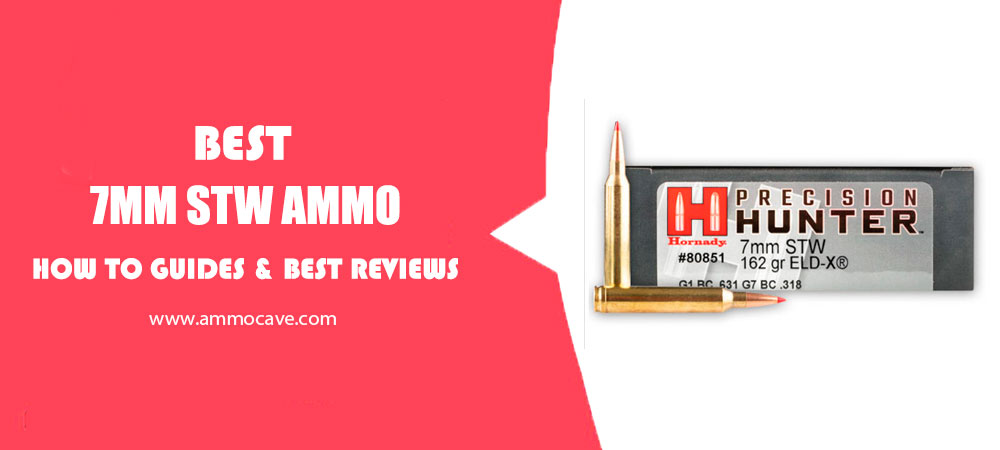 What is 7mm STW Ammo? 🧐
7mm STW, or 7mm Shooting Times Westerner, is a centerfire rifle cartridge developed by Layne Simpson in the 1970s. It uses an 8mm Remington Magnum case necked down to accept .284 inch (7.2 mm) bullets.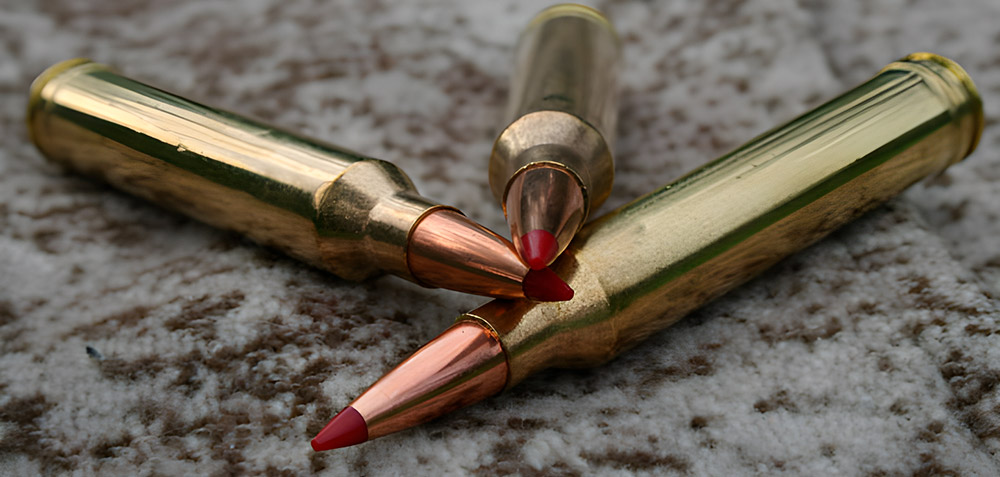 Features 😎
The 7mm STW Ammo is a caliber of ammunition specifically designed for hunting. 🔷 It has a high muzzle velocity, superior accuracy, and phenomenal knock-down power. This makes it an ideal choice for long-range shooting and big-game hunting.
➡️ It has several features that make it stand out from other calibers.
💥 These heavier bullets allow for better penetration and terminal performance, while their higher muzzle velocity gives them more reach.
💥 This ammo is also well-suited for reloading because of its uniform bullet size and consistent powder charge.
💥 It has a flatter trajectory than other rifle cartridges. This makes it easier to properly aim at long distances, giving you greater accuracy with fewer misses.
💥 Additionally, its relatively low recoil makes it comfortable to shoot even with larger rifles.
Our Top Pick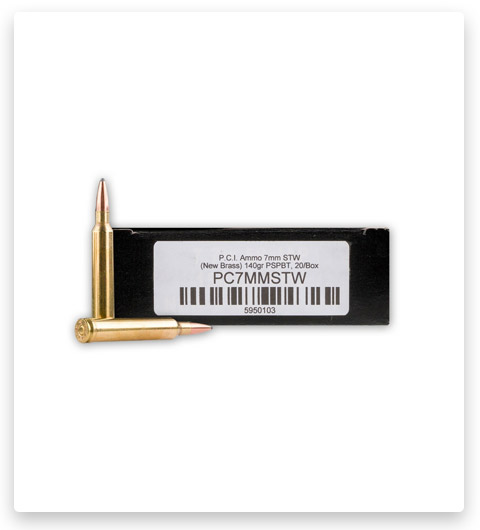 7mm STW - 140 Grain PSP BT - PCI - 20 Rounds
This cartridge, chambered in 7mm STW, is equipped with a 140-grain projectile that is perfectly suited for long-distance shooting. The bullet's boat tail design greatly improves its ballistic coefficient, providing greater downrange velocity and reducing sensitivity to crosswinds. Its pointed soft point design offers excellent aerodynamics, allowing it to cut through the air with ease. But this bullet's true strength lies in its exposed, softcore, which causes rapid expansion upon impact, making it ideal for taking down distant games.
Buy Now On LuckyGunner
If you click this link and make a purchase, we earn a commission at no additional cost to you.
Benefits 😍
7mm STW Ammo offers several benefits for hunters and shooters.
🔰 It is an incredibly versatile round, allowing you to use it in a variety of hunting applications from small game to larger animals, such as deer and elk.
🔰 It has a higher muzzle velocity than other popular rounds like the .30-06, making it ideal for long-range shooting.
🔰 The 7mm STW also offers excellent accuracy with minimal recoil, allowing for more comfortable shooting experiences.
🔰 Finally, the increased sectional density gives this round better penetration power than most other cartridges on the market.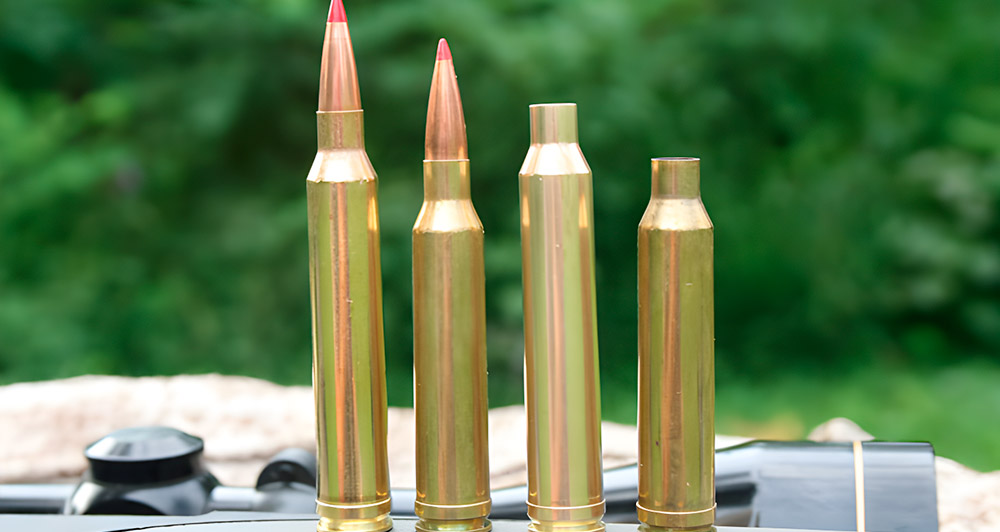 Ballistic Performance 💡
The 7mm STW is a powerful, long-range round that has gained popularity among hunters and target shooters over the years.
🔥 It is capable of delivering exceptional ballistic performance due to its high muzzle velocity and relatively flat trajectory.
✅ Ballistics is an important factor when selecting a cartridge, as they determine how well rounds penetrate targets, maintain their energy downrange, and reach their intended target accurately. Here's what you need to know:
🛟 Muzzle Velocity: This is one of the most important measures of any cartridge, and the 7mm STW has a muzzle velocity of 3,200 feet per second. This is faster than many other popular cartridges in this caliber range, making it a great choice for long-range shooting.
🛟 Penetration: This ammo has excellent penetration capabilities due to its large diameter and high velocity. It can penetrate heavy hide and bone with ease, making it an ideal choice for big game hunting.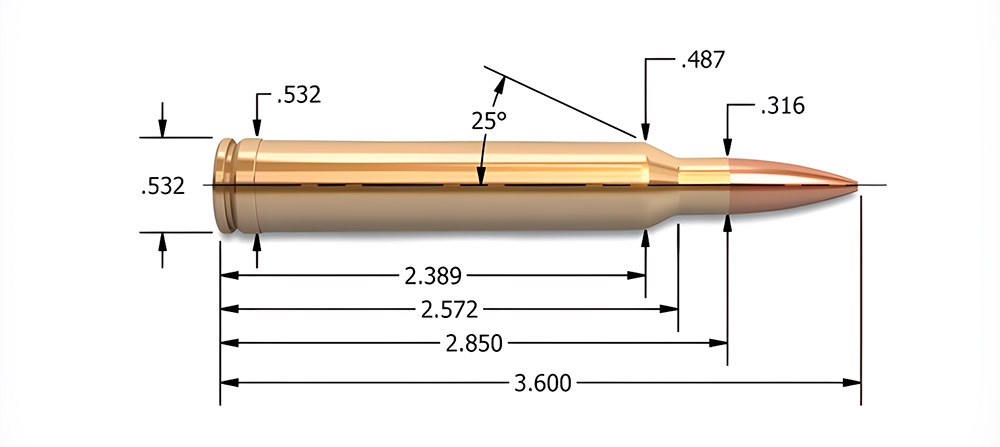 Best 🚀 7mm STW Ammo Reviews
1# 7mm STW – 162 Grain ELD-X – Hornady Precision Hunter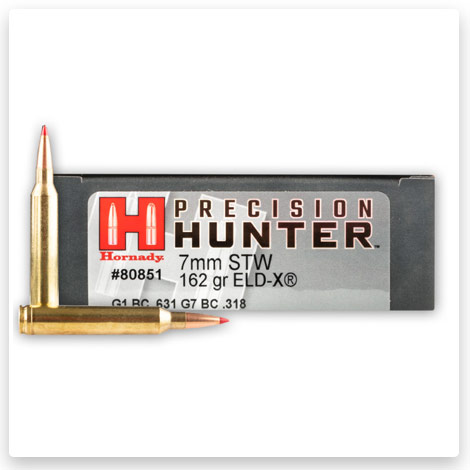 Are you looking for a high-quality, reliable hunting cartridge that can handle any game, anywhere? Look no further than the 7mm STW – 162 Grain ELD-X from Hornady Precision Hunter. This top-of-the-line cartridge is loaded with the most advanced all-range hunting bullet available, making it a great choice for any hunter. Combined with the streamlined secant ogive and AMP bullet jackets, this makes for a supremely accurate bullet with a high BC. And because it retains its velocity and expands rapidly, it's ideal for taking down larger game animals. So don't settle for anything less than the best – order the 7mm STW – 162 Grain ELD-X from Hornady Precision Hunter today!
2# 7mm STW – 140 Grain PSP BT – PCI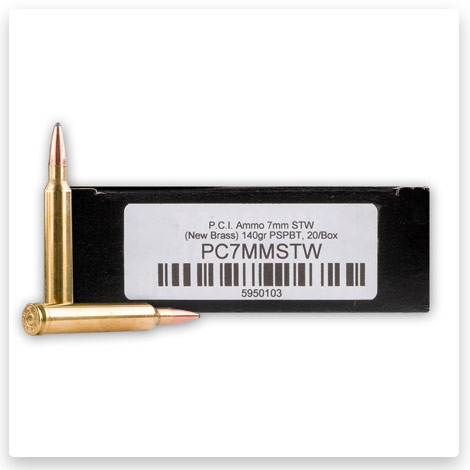 The 7mm STW – 140 Grain PSP BT – PCI from American manufacturer PCI is a unique and hard-to-find round that is perfect for taking down large game animals. The reloadable brass casing is fitted with a non-corrosive Boxer primer and causes maximum damage to the target. The reloadable brass casing and non-corrosive Boxer primer make this a reliable and long-lasting round that you can count on in any situation. Whether you're a seasoned hunter or new to the sport, the 7mm STW – 140 Grain PSP BT – PCI is an ideal choice for your next hunt.
Bullet Drop 🎯
The 7mm STW is a popular hunting round. It was designed in the early 1980s by Layne Simpson and has become increasingly popular among hunters due to its excellent ballistics.
💣 It produces approximate muzzle velocities of 2950 – 3100 fps with a wide range of bullet weights depending on cartridge construction.
💣 This creates an effective bullet drop for distances between 100 – 300 yards when using standard loads.
📝 For longer ranges, heavier bullets should be considered as they will have less drop over longer distances than regular-weight projectiles.
📝 Additionally, hand-loads and custom match-grade ammunition can also be used to tailor your shooting needs depending on the desired accuracy at extended ranges.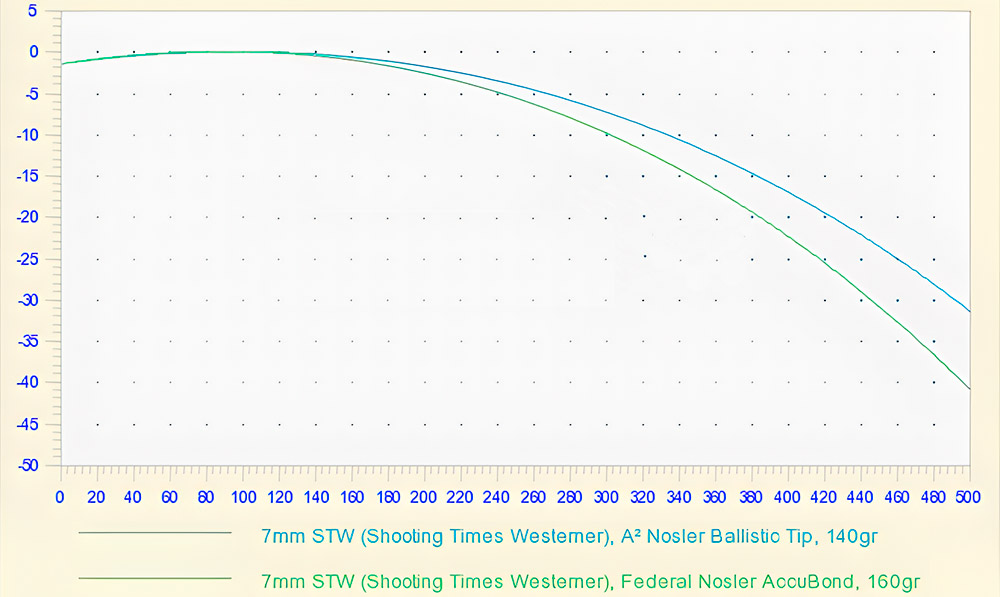 FAQ 🧐
Conclusion 😊
The 7mm STW ammo is a great choice for hunting and shooting sports enthusiasts looking for dependable performance with reliable, accurate loads. While there are many brands and models available on the market today, careful research can help you make an informed decision that will provide satisfactory results at a reasonable price point. We hope this guide has helped navigate the different options out there and that you have gained some useful insights about this ammunition. Happy shooting! 😎🎯