Affiliate Disclosure: AmmoCave.com sometimes gets paid for listings, through sponsors or affiliate programs like Lucky Gunner, Optics Planet, Brownells, Cabelas, Academy Sports & Outdoors, Rainier Arms, Palmetto State Armory, Sportsman's Guide, Ammo.com, Ammo Man, Primary Arms, MidWayUsa, Amazon, eBay, etс. Clicking a link helps keep AmmoCave.com free, at no extra cost to you!
Authors: Each article is verified by AmmoCave's expert team. Professional hunters, firearm trainers, gunsmiths, and gun experts write the articles. AmmoCave Team independently researches, tests, reviews, and uses recommendations from our community of gun owners. We may earn commissions from shopping links.
Note: The views and opinions expressed in this article are those of the authors and do not necessarily reflect any agency's official policy or position. The articles are for informational purposes only, share your opinions about Best 444 Marlin Ammo in the comments and join the discussions. Let's share 💬 our ammo & gun experiences together!
The 444 Marlin is a powerful hunting cartridge that's been gaining popularity in recent years. To get the most out of this cartridge, you need to use the right ammo. In this article, we're going to take a look at the best ammo for the 444 Marlin and show you a top pick. So, if you're looking to buy some ammo for your 444 Marlin, keep reading!​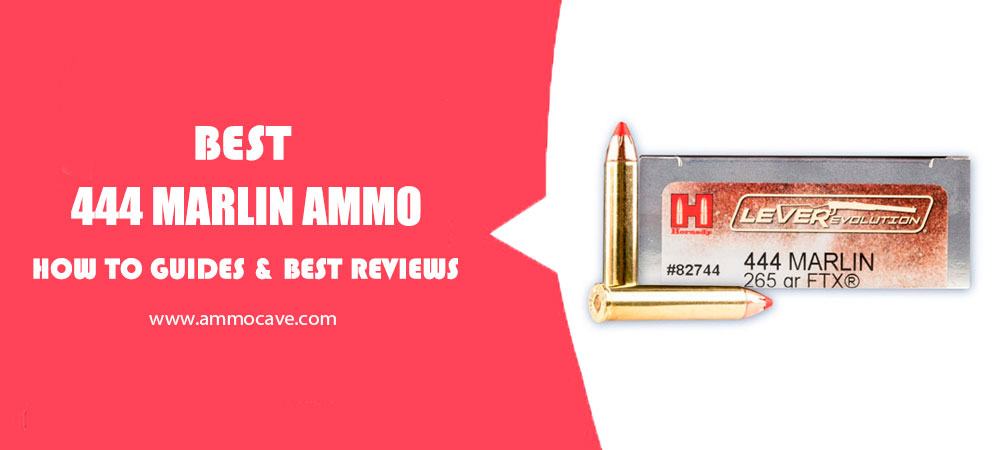 Best 444 Marlin Ammo Reviews
1# 444 Marlin – 265 Grain Interlock FSP – Hornady Superformance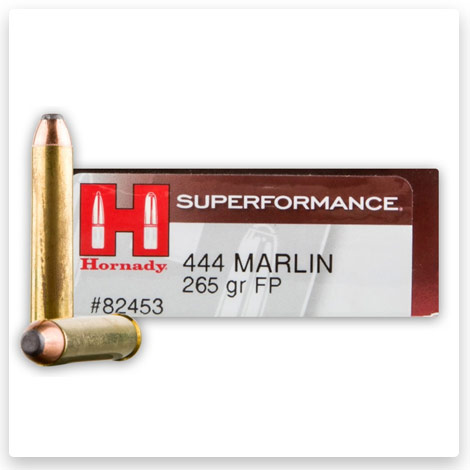 Looking for some high-quality, premium lever gun ammunition? Look no further than Hornady's Superformance line. This top-of-the-line ammo offers dramatically flatter trajectories and increased downrange energy for optimum terminal performance.
The Superformance propellant provides an extremely powerful load, surpassing the muzzle velocity of typical 444 Marlin rounds by nearly 300 FPS! And the Hornady FSP bullet gives this round incredible stopping power and controlled expansion while allowing smooth cycling of your lever action repeater. So don't settle for anything less than the best – grab a box of Hornady Superformance 444 Marlin ammo today!
2# 444 Marlin – 265 gr FTX LEVERevolution – Hornady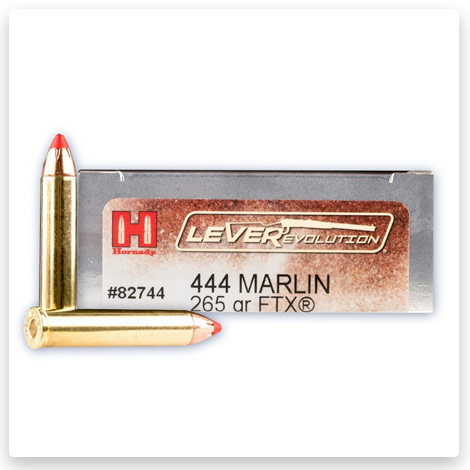 Need an edge in your lever gun ammo? Check out Hornady's FTX LEVERevolution line. With up to 40% more energy and 250 fps faster than traditional flat point loads, this custom-grade ammunition will give you the trajectory and terminal performance you need for success. The Elastomer Flex Tip improves the ballistic coefficient significantly over traditional rounds, producing flatter trajectories and devastating terminal performance. So don't settle for standard lever gun ammo – get the power and precision of Hornady's FTX LEVERevolution. 20 rounds per box.
FAQ
Is Marlin 444 discontinued?
No. Marlin 444 is not discontinued. It is still being manufactured by the company. There has been some speculation that the company might discontinue the 444 lines of ammunition, but so far, there is no evidence to support this claim. 444 Marlin ammunition is still widely available and popular among shooters.
What ammo does a Marlin 444 use?
The 444 Marlin uses a .444 Marlin cartridge, which is a centerfire rifle cartridge. The 444 Marlin is one of the most powerful lever-action cartridges ever created.
What is the best 444 Marlin ammo?
There are many different types of 444 Marlin ammo available on the market, so it can be difficult to know which one is the best. However, we have researched for you and have compiled a list of the best 444 Marlin ammo available. Each of these types of 444 Marlin ammo has unique benefits that make it the best choice for different situations.
Is 444 Marlin a good round?
Yes. 444 Marlin is a great round for hunting deer, hogs, and bears. It is also a good choice for target shooting.
What are the benefits of 444 Marlin ammunition?
444 Marlin ammo has several benefits including its affordability, accuracy, and effectiveness on large game animals.
How much does 444 Marlin ammo cost?
444 Marlin ammo typically costs between $25 and $35 per box of 20 rounds.
What is the difference between 45-70 and 444?
The 444 Marlin was introduced in 1964 by Marlin Firearms Company. It was specifically designed as a more powerful alternative to the 45-70 Government cartridge. The 444 Marlin is a rimless cartridge, while the 45-70 is a rimmed cartridge. This means that the 444 can be loaded into a magazine, while the 45-70 cannot. The 444 Marlin is also shorter than the 45-70.
Conclusion
444 Marlin ammo is a great choice for hunting large game. It has enough power to take down even the largest animals, while still being accurate enough to make a clean kill. In this article, we've reviewed some of the best 444 Marlin ammo on the market and given you some tips on how to choose the right product for your needs. We hope you found this information helpful and that it will help you make the most out of your next hunting trip.