Affiliate Disclosure: AmmoCave.com sometimes gets paid for listings, through sponsors or affiliate programs like Lucky Gunner, Optics Planet, Brownells, Cabelas, Academy Sports & Outdoors, Rainier Arms, Palmetto State Armory, Sportsman's Guide, Ammo.com, Ammo Man, Primary Arms, MidWayUsa, Amazon, eBay, etс. Clicking a link helps keep AmmoCave.com free, at no extra cost to you!
Authors: Each article is verified by AmmoCave's expert team. Professional hunters, firearm trainers, gunsmiths, and gun experts write the articles. AmmoCave Team independently researches, tests, reviews, and uses recommendations from our community of gun owners. We may earn commissions from shopping links.
Note: The views and opinions expressed in this article are those of the authors and do not necessarily reflect any agency's official policy or position. The articles are for informational purposes only, share your opinions about Best 300 H&H Mag Ammo in the comments and join the discussions. Let's share 💬 our ammo & gun experiences together!
The 300 H&H Magnum is a potent cartridge for big-game hunters seeking to take down huge animals. We'll go through some of the best ammo choices for this round so you can make the most accurate and ethical shots possible when hunting. We provide a buyer's guide to help you choose the right ammunition for your needs. Stay safe and have fun shooting!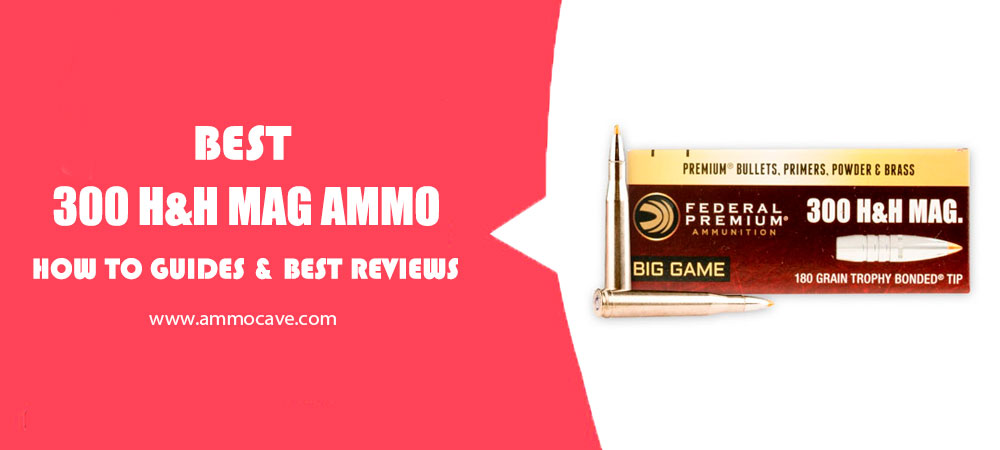 Best 300 H&H Mag Ammo Reviews
1# 300 H&H Magnum – 180 gr Trophy Bonded Tip – Federal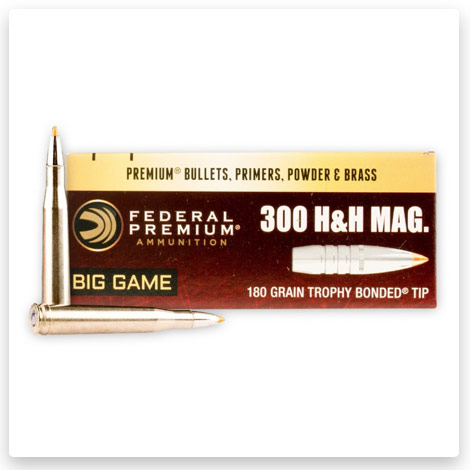 Don't trust just any hunting Ammunition- Federal's 300 H&H Magnum load with Trophy Bonded Tip is the reliable, high-quality option you've been searching for. This premium ammunition features a long-profiled boat-tail bullet designed for accurate flight and deep penetration, as well as high-weight retention thanks to the bullet's tough construction. The bullet is also tipped with a neon-translucent polymer tip for even greater accuracy. And because the casings and bullets are both nickel-plated, you can be sure this ammo will stand up to the elements, even if you're carrying it in a leather bandolier. So when you're headed into the field, make sure you've got a few boxes of this great ammo in your gun safe.
2# 300 H&H Magnum – 180 gr Interbond – Hornady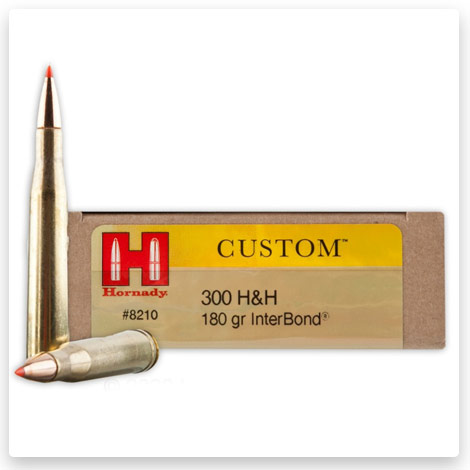 Do you want to get the most out of your 300 H&H Magnum? Look no further than Hornady Custom's 180-grain Interbond for an accurate and powerful round! This round is designed for optimum knockdown power, making it the perfect choice for target practice or plinking. Featuring a muzzle velocity of 2870 feet per second and muzzle energy of 3292 pounds, this round is sure to pack a punch. And because each round is hand inspected before packaging, you can be sure you're getting the highest quality ammunition on the market. So don't settle for less – choose Hornady Custom for your next trip to the range!
FAQ
What caliber is a 300 H&H?
The 300 H&H is a rifle cartridge that was introduced in 1925. It is based on the 300 Winchester Magnum, which itself is based on the 308 Winchester. The 300 H&H is one of the most popular cartridges for big game hunting. It is also used for long-range target shooting and varmint hunting.
The 300 H&H has a case length of 2.85 inches (72.4 mm) and a bullet diameter of 0.308 inches (7.8 mm). The cartridge has a maximum pressure of 61,000 psi (420 MPa).
The effective range of a 300 H&H rifle is about 1,000 yards (914 m).
How much recoil does 300 H&H Magnum have?
The 300 H&H Magnum produces a significant amount of recoil, especially when compared to other popular rifle cartridges. For example, the popular .308 Winchester produces around 20 ft-lbs of recoil energy, while the 300 H&H Magnum can produce over double that amount at 44 ft-lbs. While this may seem like a lot, it is important to remember that recoil is subjective and depends on the individual shooter. Some people may find the recoil of the 300 H&H Magnum to be manageable, while others may find it too much to handle. If you are considering purchasing a 300 H&H Magnum rifle, it is important to test fire the gun before making a purchase to ensure that you are comfortable with the level of recoil.
What are the pros and cons of 300 H&H Mag Ammo?
300 H&H Mag Ammo has several benefits that make it a popular choice for many shooters. The high velocity and flat trajectory of 300 H&H Mag Ammo make it ideal for long-range shooting, and the large bullet size can deliver a lot of power. Additionally, 300 H&H Mag Ammo is generally very accurate and has relatively low recoil, making it pleasant to shoot.
On the downside, 300 H&H Mag Ammo can be expensive, and it may not be available in all stores. Additionally, the large bullet size can make for some pretty hefty recoil, so it's important to be prepared for that if you're considering this caliber.
Is 300 Magnum the same as 300 win mag?
The 300 H&H Magnum and the 300 Winchester Magnum are not the same cartridges, though they are very similar. The 300 H&H was developed first, in 1925, and is based on the old 304 H&H British Nitro Express round. The 300 Winchester came along 30 years later and is based on the extremely popular Winchester Model 70 rifle.
Both cartridges are excellent choices for long-range hunting and shooting, but there are some key differences between them. The most obvious difference is that the 300 H&H uses a belted case, while the 300 Winchester does not. Belted cases tend to be more reliable and have less chance of Case head separations.
The other main difference between these two rounds is the way they are loaded. The 300 H&H is a rimless cartridge, which means that it can be fed from a magazine. The 300 Winchester, on the other hand, is a rimmed cartridge and must be loaded one bullet at a time.
So, which is the better round? That really depends on what you plan to use it for. If you need a reliable round for hunting large game at long range, then the 300 H&H Magnum is probably the better choice. If you want a cartridge that is easier to load and shoot, then the 300 Winchester Magnum might be a better option.
Conclusion
Now that you have read our Best 300 H&H Mag Ammo buyer's guide, we hope that you are better informed about the different types of ammo available on the market. We also hope that this article has helped to clear up any questions or concerns you may have had about Best 300 H&H Mag Ammo. Thank you for reading!