Affiliate Disclosure: AmmoCave.com sometimes gets paid for listings, through sponsors or affiliate programs like Lucky Gunner, Optics Planet, Brownells, Cabelas, Academy Sports & Outdoors, Rainier Arms, Palmetto State Armory, Sportsman's Guide, Ammo.com, Ammo Man, Primary Arms, MidWayUsa, Amazon, eBay, etс. Clicking a link helps keep AmmoCave.com free, at no extra cost to you!
Authors: Each article is verified by AmmoCave's expert team. Professional hunters, firearm trainers, gunsmiths, and gun experts write the articles. AmmoCave Team independently researches, tests, reviews, and uses recommendations from our community of gun owners. We may earn commissions from shopping links.
Note: The views and opinions expressed in this article are those of the authors and do not necessarily reflect any agency's official policy or position. The articles are for informational purposes only, share your opinions about Best 243 Ammo in the comments and join the discussions. Let's share 💬 our ammo & gun experiences together!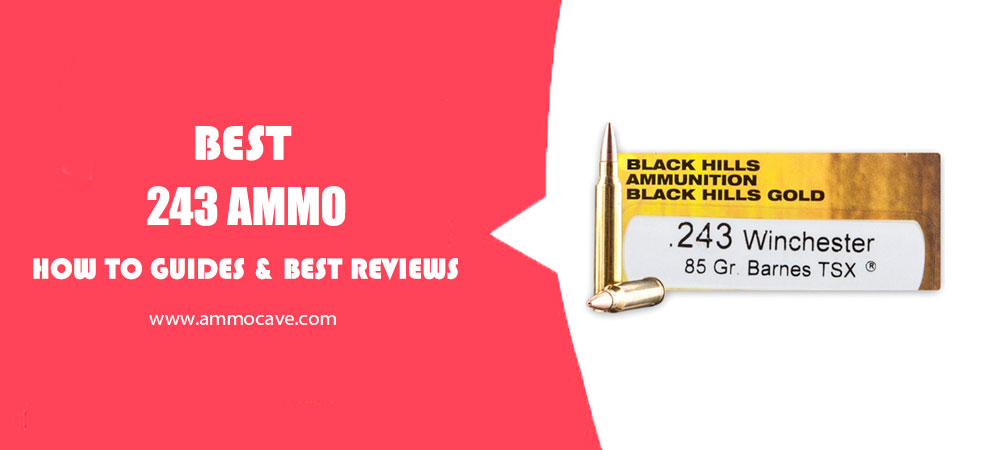 What is 243 Ammo? 📡
It is a type of ammunition specifically designed for small to medium-game hunting. It is a centerfire rifle cartridge and is a popular choice among hunters due to its small size and light recoil.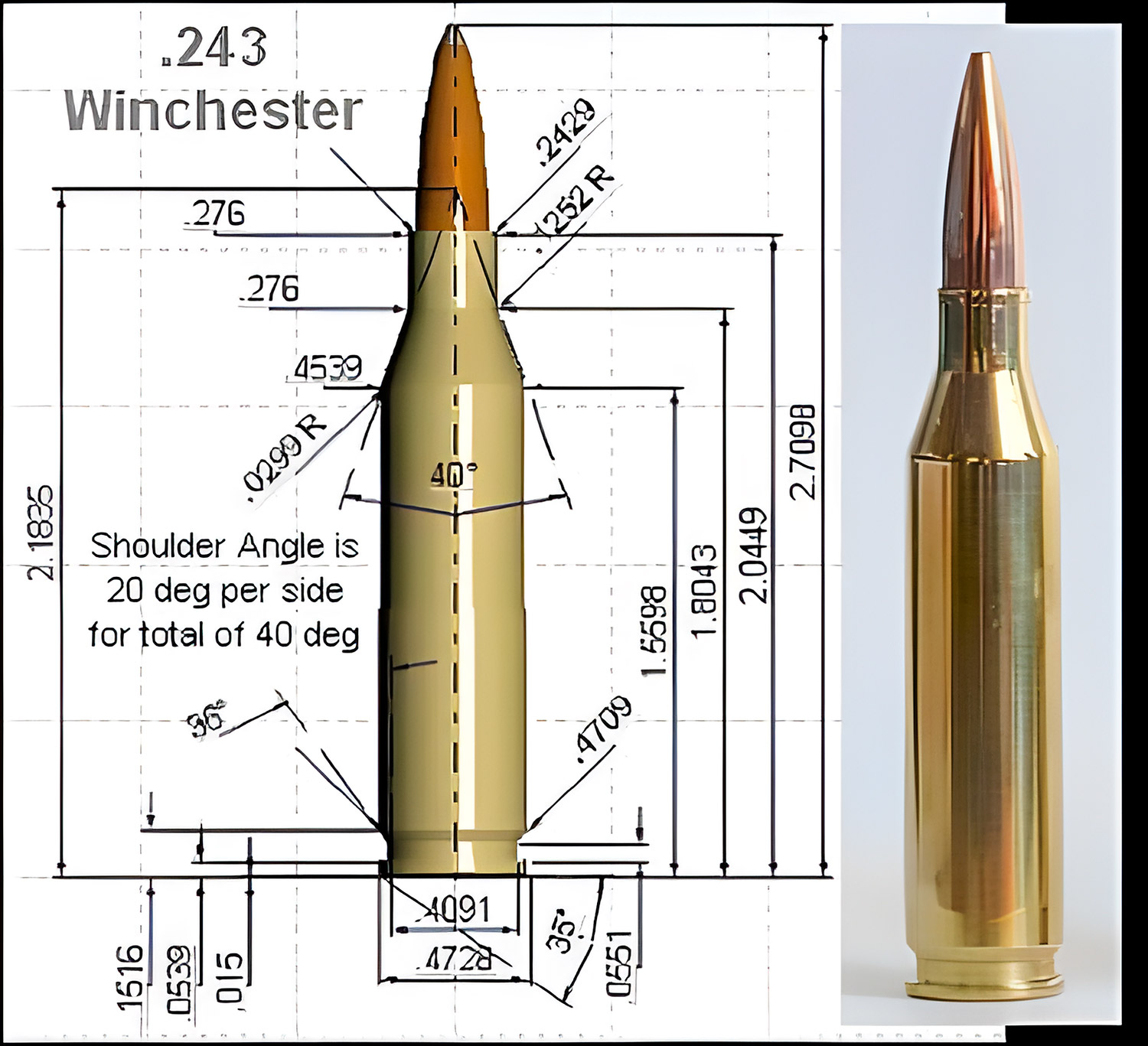 Features ⚡
💎 It is good for hunting medium-sized games.
💎 It offers an excellent combination of accuracy, power, and flat trajectory that makes it suitable for long-range shooting.
💎 It is also offered as both factory-loaded ammunition as well as hand loads made by reloaders using their own components.
💎 Common bullet weights range from 55 grains to 100 grains with a muzzle velocity from 2,580 fps to 3,200 fps respectively.
💎Its flat trajectory helps shooters make more accurate shots at further distances than other cartridges that experience significant drops over time when fired at longer ranges.
Watch this video to find more information 💻
Types 🔊
🎯 Soft point bullets are designed to expand upon impact and cause more damage to the target than a full metal jacket round. This makes them ideal for hunting purposes, as they provide greater stopping power and accuracy than some other rounds.
🎯 Hollow points, which are designed to open up on impact and create a larger wound channel for maximum tissue damage. These are often used for self-defence scenarios where an attacker's intent is to do serious bodily harm.
🎯 Full metal jacket rounds that offer less penetration and expansion but significantly more accuracy when fired at long-range targets.
🎯 Speciality rounds such as frangible bullets disintegrate upon impact instead of penetrating deeply into a target. These can be useful in areas with a high risk of ricochets due to their low penetration capabilities.
Our Top Pick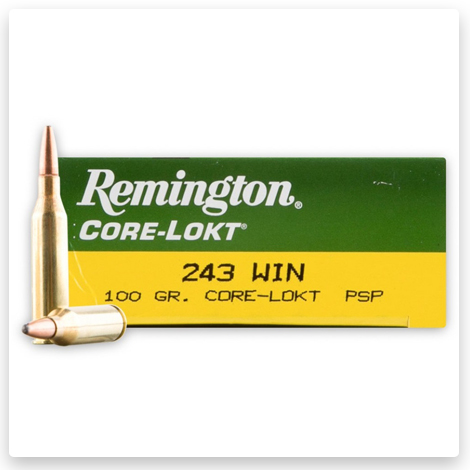 243 – 100 Grain PSP – Remington Coke-Lokt
The Core-Lokt provides more accuracy and power in a hunting bullet than ever before. Its spitzer profile makes it aerodynamic, while the higher 0.356 ballistic coefficient ensures superior precision to give you the best chance of success on your hunts. It's no wonder this is one of the most sought after bullets today!
Buy Now On LuckyGunner
If you click this link and make a purchase, we earn a commission at no additional cost to you.
Best 💣 243 Ammo Reviews
1# 243 – 95 Grain SST Polymer Tip – Black Hills Gold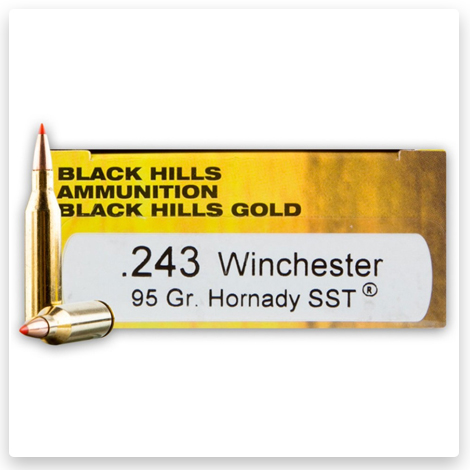 Whether you are an experienced hunter or just getting started, you can't go wrong with Black Hills Gold 243 Winchester ammunition. These rounds are perfect for taking down deer and boar, thanks to the SST polymer tip projectile. Weighing in at 95 grains, the SST bullet provides controlled expansion and excellent accuracy. The Black Hills has been making top-quality ammunition since 1981, so you can trust their products to perform when it matters most. Pick up a few boxes of this 243 Winchester ammo today and be ready for your next hunting trip!
2# 243 – 85 Grain Barnes TSX HP – Black Hills Gold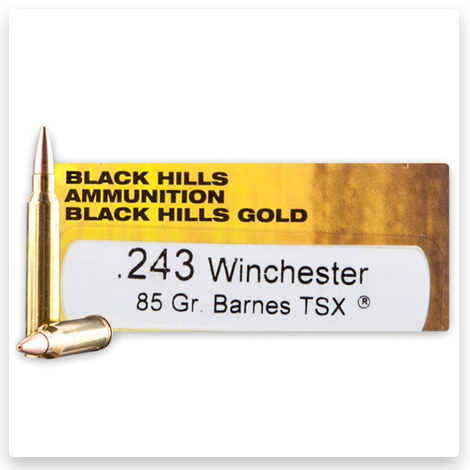 Do you need a versatile and powerful round for hunting? If so, look no further than the 243 Winchester from Black Hills Gold. This round originally designed for varmints has the power to take down deer, boar, and coyotes with the proper ammunition. The Black Hills is a great choice for ammo thanks to its reputation for producing premium products. The US Military even buys their match-grade ammo for their long-range competitions. BHA loads these rounds with the legendary Barnes TSX hollow point bullets. With Barnes TSX projectiles, you have the incredible terminal performance and accuracy you need to bring down deer and boar. These 85-grain rounds come loaded in premium brass casings that are boxer primed and re-loadable. Don't miss your chance to get your hands on this top-of-the-line ammunition. Order now!
3# 243 – 100 Grain SP-BT – Federal Premium Sierra GameKing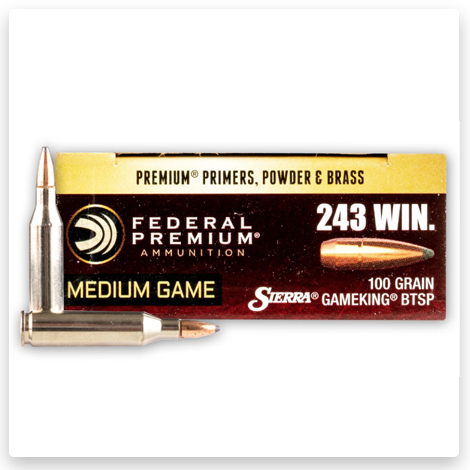 Federal Premium's Vital-Shok line of ammunition loaded with Sierra GameKing projectiles is the perfect choice for your next big hunt! The 243 – 100 Grain SP-BT – Federal Premium Sierra GameKing cartridge is ideally suited for hunting games at longer distances, where a premium bullet is required to get the job done. This load features Sierra's GameKing bullet, which is designed with a boat tail contour at its base, resulting in less wind drift than conventional flat base bullets. This improved accuracy yields quicker, more humane kills. The match-grade accurate bullet features a soft point at the tip of the bullet that is designed to mushroom on impact, creating a larger wound cavity to quickly bring down the game. With its deadly accuracy and superior ballistics, the 243 – 100 Grain SP-BT – Federal Premium Sierra GameKing is the perfect choice for your next hunt!
4# 243 – 58 Grain V-Max Polymer Tip – Hornady Superformance Varmint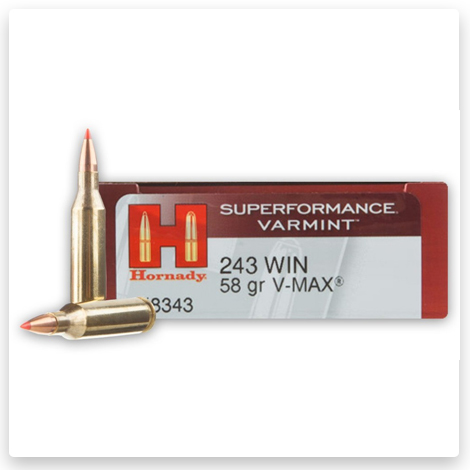 Looking for the perfect varmint hunting round? Look no further than the 243 – 58 Grain V-Max Polymer Tip – Hornady Superformance Varmint. Based on the .308, this necked-down version was originally designed specifically for varmint hunting. With its accurate, high-velocity cartridge, you have everything you need to take care of those pesky varmints quickly and efficiently. Founded after the end of the Second World War, Hornady has become one of the most innovative manufacturers of premium ammunition in the world. Their commitment to quality and performance has made them a favorite among serious shooters and hunters alike. These Hornady Superformance Varmint rounds feature 58-grain V-Max projectiles that provide explosive expansion, high accuracy, and consistent performance. So whether you're looking to take out some target practice or finally rid your property of those pesky varmints, make sure you're doing it with Hornady Superformance Varmint ammunition.
5# 243 – 100 Grain SPBT InterLock – PMC Precision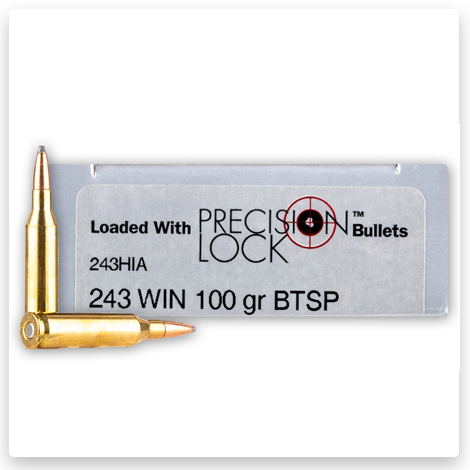 The 243 – 100 Grain SPBT InterLock – PMC Precision is the perfect hunting cartridge for those who want the best of Nebraska and South Korea. This round is socketed with a 100-grain InterLock projectile, making it perfect for taking down games of all sizes. The InterLock bullet is designed to penetrate to the depth where expansion is most effective, and its one-piece core retains exceptional mass and energy. With its cannelure and signature InterLock ring, the bullet won't splinter apart on impact, ensuring that your shot is clean and efficient.
6# 243 – 100 Grain PSP – Remington Coke-Lokt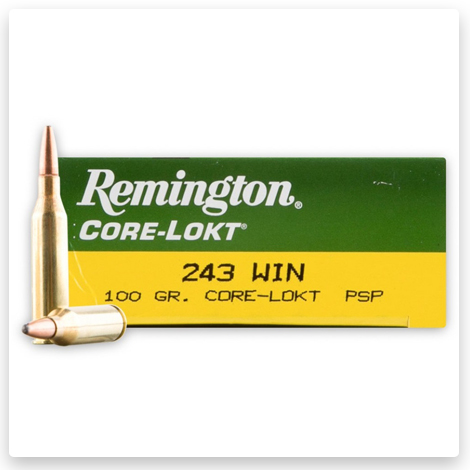 When you're ready to take your hunting to the next level, reach for Remington's 243 – 100 Grain PSP – Remington Coke-Lokt. This top-of-the-line hunting bullet has been around for more than 80 years, and for good reason – it simply gets the job done. The Core-Lokt is a pointed soft point bullet with a spitzer profile, meaning it's more aerodynamic than a round nose bullet. It also has a higher 0.356 ballistic coefficient, making it one of the most accurate and powerful hunting bullets on the market today. With nearly 1,100 ft-lbs of energy at 300 yards, this bullet has enough power to take down even the biggest game humanely. But it's not all about brute force – the Core-Lokt is designed to expand quickly upon impact, ensuring that your target is taken down quickly and humanely. When you're ready to up your hunting game, reach for Remington's 243 – 100 Grain PSP – Remington Coke-Lokt.
7# 243 – 80 Grain PSP – Remington Rifle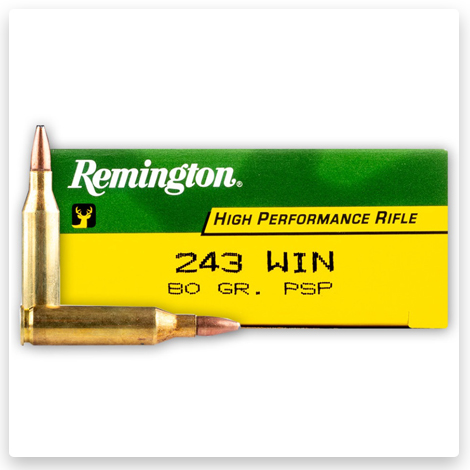 The Remington Arms Company is a legendary name in the firearms industry, and their 243 – 80 Grain PSP – Remington Rifle is a perfect example of their commitment to quality. This brand new brass-cased, boxer-primed, non-corrosive, and reloadable ammunition is perfect for hunting or target practice. It's reliable, accurate, and powerful, making it a great choice for any shooter.
8# 243 – 75 Grain AccuTip – Remington Premier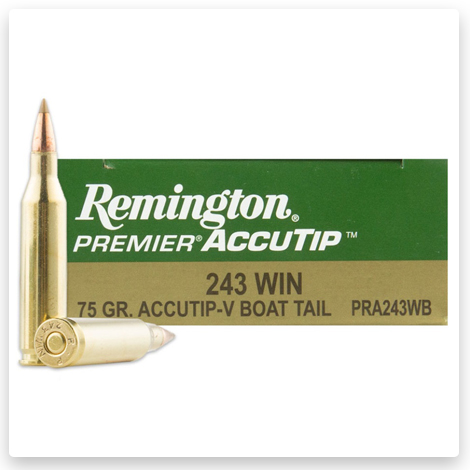 Looking for an accurate and reliable round for big game hunting? Look no further than Remington's Premier 243 – 75 Grain AccuTip. This round is equipped with a polymer tip for improved flight dynamics and more accurate, repeatable grouping. Manufactured by the legendary Remington Arms Company, this product is brand new, brass-cased, boxer-primed, non-corrosive, and reloadable. It is a staple range and varmint hunting ammunition used by many law enforcement agencies and avid shooters. So when you need a trusted round that will perform in any situation, reach for Remington's Premier 243 – 75 Grain AccuTip.
Reloading 🔌
📌 The first step is preparing the brass casing by cleaning off any residue or dirt, resizing if needed, and trimming it back to the proper length.
This is followed by loading the primer, powder, and bullet into the case using a press or other reloading tools.
It is important to refer to reloading manuals for correct measurements when preparing your cases for reloads.
📌 Ensure you have all the necessary components handy – these include bullets, primers, and powder.
The type of bullet used in 243 ammo reloads depends on what type of shooting you plan on doing; soft-point bullets are typically best for hunting while hollow points are ideal for self-defence applications.
When choosing primers, look for those with resistance to misfires and a higher sensitivity rating for reliable ignition every time.
Select an appropriate powder that is safe yet powerful enough for your needs; ball powders work great with small cartridges such as those fired from 243 rifles or handguns.
📌 The next step is to prime each individual casing using a primer tool set to put even pressure on each primer.
📌 Then fill each casing with powder using an adjustable powder measurer set to your specific load size before dropping a wad inside followed by your desired shot weight.
📌 Now place a wad column over top of your loaded shells before crimping them tightly closed using a crimp tool specially designed for your chosen shells.
📌 Finally, inspect your now fully reloaded 243 rounds before loading them into your firearm.
We believe this video can be helpful for you 📺
FAQ 🕵️‍♀️
Conclusion 🤠
243 ammo is a great choice for anyone looking for an affordable round that delivers good performance. It has become increasingly popular in recent years, and there are now many different types available on the market. In this article, we have reviewed some of the best ammo options currently available and shared some tips on how to select the right type of ammo for your needs. We hope you found this information useful! ❤️‍ 🔥