Affiliate Disclosure: AmmoCave.com sometimes gets paid for listings, through sponsors or affiliate programs like Lucky Gunner, Optics Planet, Brownells, Cabelas, Academy Sports & Outdoors, Rainier Arms, Palmetto State Armory, Sportsman's Guide, Ammo.com, Ammo Man, Primary Arms, MidWayUsa, Amazon, eBay, etс. Clicking a link helps keep AmmoCave.com free, at no extra cost to you!
Authors: Each article is verified by AmmoCave's expert team. Professional hunters, firearm trainers, gunsmiths, and gun experts write the articles. AmmoCave Team independently researches, tests, reviews, and uses recommendations from our community of gun owners. We may earn commissions from shopping links.
Note: The views and opinions expressed in this article are those of the authors and do not necessarily reflect any agency's official policy or position. The articles are for informational purposes only, share your opinions about Best AK 47 Compensator 2023 in the comments and join the discussions. Let's share 💬 our ammo & gun experiences together!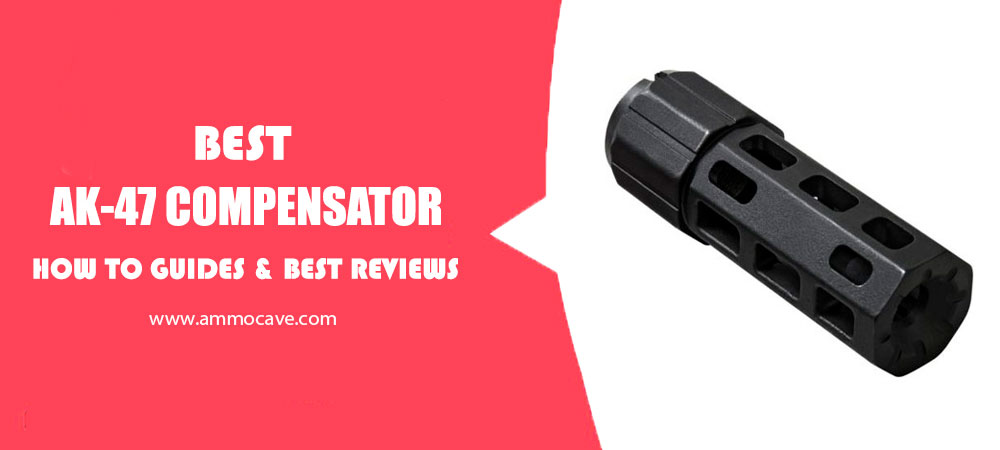 What is AK 47 compensator? 🧐
It is a muzzle device designed to reduce the amount of recoil felt when firing an AK 47 rifle. Compensators work by releasing some of the gases created during firing, which counters the gun's tendency to kick back and reduces muzzle climb.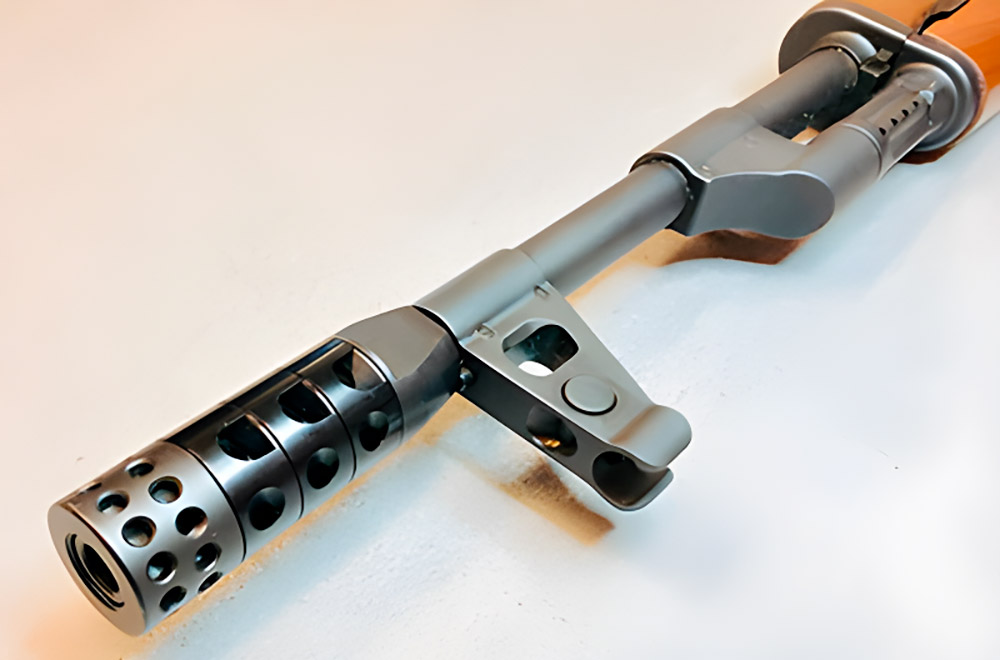 Features 💥
Compensators are an essential accessory for many AK 47 owners. They provide recoil reduction, improved accuracy, and faster follow-up shots for a shooter's overall performance. 
❇️ Weight: lighter compensators will reduce the overall weight of your firearm while heavier compensators absorb more of the recoil energy generated with each shot.
✴️

When choosing between lightweight and heavy compensators, it is essential to consider how the rifle will be used and what type of shooting it will be used for. 

❇️ Size: a larger size may extend beyond the barrel length of your weapon, which can increase muzzle flip, whereas a smaller size may not completely control all of the muzzle blasts from each shot fired. 
✴️

Choosing the proper size ensures that you can get optimal results from your compensator without having too much muzzle rise or excess noise escaping from your gun. 

❇️ The construction materials: steel is usually preferred due to its durability and resistant qualities against corrosion or wear over time. But aluminum can also be found on lighter models that won't add additional weight to your gun as well as other materials like polymer composites which are designed to be both lightweight and durable at the same time. 
😎 The best compensator should offer optimal muzzle control without sacrificing accuracy and reliability while remaining lightweight enough for extended use without causing fatigue or discomfort during practice sessions or competitions.
Our Top Pick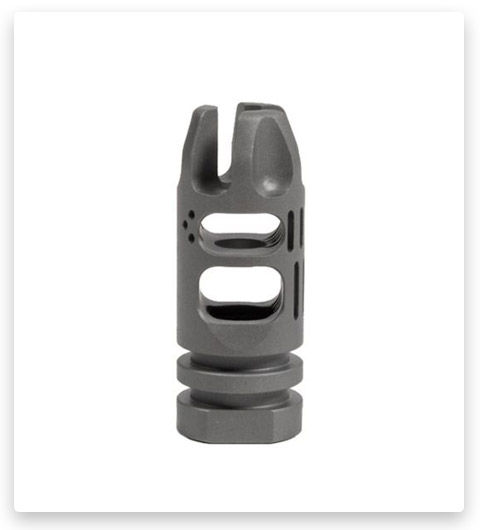 VG6 Precision Episilon AK BBSS Muzzle Device
This finely-crafted product gives you ultimate comfort, safety, and control with its ergonomic design, making it easier to stay on target with every shot you take. It is expertly designed to provide superior recoil management through a combination of controlled expansion chambers, uniform pressure curves, and diminished concussion production. Its unique baffle geometry eliminates muzzle rise while reinforcing the standard AK platform features – giving you a more secure and accurate grip during shooting.
Buy Now On OpticsPlanet
If you click this link and make a purchase, we earn a commission at no additional cost to you.
Benefits 🔥
Compensators are an important part of any rifle, and they can provide many benefits when used correctly.
☑️ They work by redirecting gas generated from firing to the sides or upward instead of out the front end of the barrel. As a result, you get more control with less effort and reduced fatigue when shooting for extended periods.
☑️ Moreover, with their easy installation and lighter weight compared to other accessories such as muzzle brakes, compensators are ideal for those looking for a quick way to improve accuracy and shoot faster without spending too much money.
☑️ They are also beneficial in that they don't increase sound signature like other muzzle devices do since they don't vent gas forward in large quantities. This makes them ideal for indoor ranges where sound must be kept to minimum or outdoor competitions where shooters need maximum accuracy.
☑️ Finally, it offers improved performance in terms of accuracy while also providing stability in rapid-fire situations thanks to its design characteristics which create a counter force against recoil forces, allowing you to maintain better control over your firearm during prolonged shooting sessions or competitive events where accuracy is critical.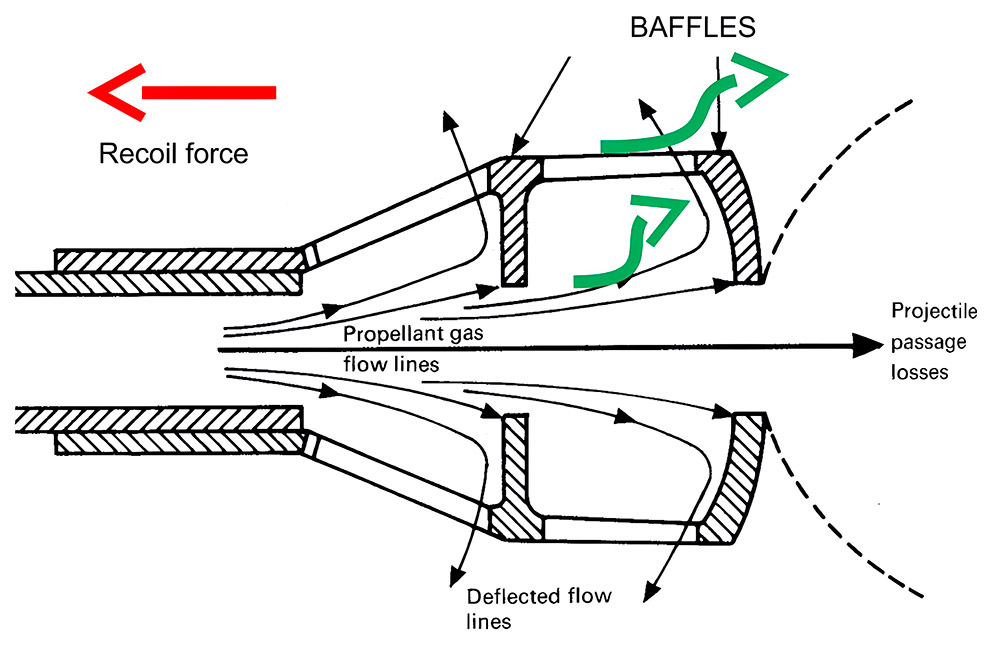 ⚙️How to time muzzle device? ⚙️
Timing a muzzle device correctly is an important step. Here's how to time the AK 47 compensator: 
➡️ Start by ensuring your compensator is firmly secured on the firearm and that it has been torqued to its appropriate range using a quality torque wrench.
➡️ With a cleaning rod or other tool, depress the operating rod handle deeply into the battery position and then remove it from the compensator. This will ensure that your device is lined up with the bore of your firearm for proper installation.
➡️ Once you confirmed that your compensator is lined up correctly, use a quality indexing tool to ensure that it is secured in place. The compensator should be indexed so that it does not interfere with further components of your firearm.
➡️ Finally, once you have confirmed that it has been properly installed and indexed, fire several rounds to test for functionality and accuracy.
The 10 Best 🔥 Compensators for My AK 47 –
Editor's Choice
| Image | Product | Brand | |
| --- | --- | --- | --- |
| | VG6 Precision Epsilon AK Muzzle Device APVG100015A | VG6 Precision | |
| | NcSTAR AK-47 Muzzle Brake VAMAKT | NcSTAR | |
| | DoubleStar Carlson Nitro Flash Enhancer AK47 Muzzle Brake | DoubleStar | |
| | DELTAC Slingshot Muzzle Brake AK47 SKS BRK110 | DELTAC | |
| | Ultradyne Vostok AK-47 Compensator 14x1 LH UD10870 | Ultradyne | |
| | SGM Tactical VEPR AK-47 Conical Rifle Muzzle Brake SGMTAKMB | SGM Tactical | |
| | Arsenal Inc AK 47 74 Style Brake AISAK-140US | Arsenal Inc | |
| | VG6 Precision Episilon AK BBSS Muzzle Device APVG100019A | VG6 Precision | |
| | Century Arms Draco Dual Port Muzzle Brake PADR013 | Century Arms | |
| | SLR SR47 AK Series Muzzle Brake LH Thread | SLR | |
| | Magpul AK-47 Zhukov M-LOK Polymer Furniture Set | Magpul | |
| | Magpul Industries Zhukov-S Folding Collapsible Stock AK47 AK74 | Magpul Industries | |
1# VG6 Precision Epsilon AK Muzzle Device
The VG6 Precision Epsilon AK Muzzle Device is the perfect choice for the discriminating shooter and professional end-user. This true combination muzzle brake/compensator/flash hider offers the best in muzzle control and recoil mitigation, while also providing an amazing look. The difference in porting is noticed on the underside of the device where it has 6 valve holes to allow the fastest gasses reaching the second chamber to exit. This creates a very soft low energy recoil that allows for absolute control. Get the best of both worlds with the VG6 Precision Epsilon AK Muzzle Device!
2# NcSTAR AK 47 Muzzle Brake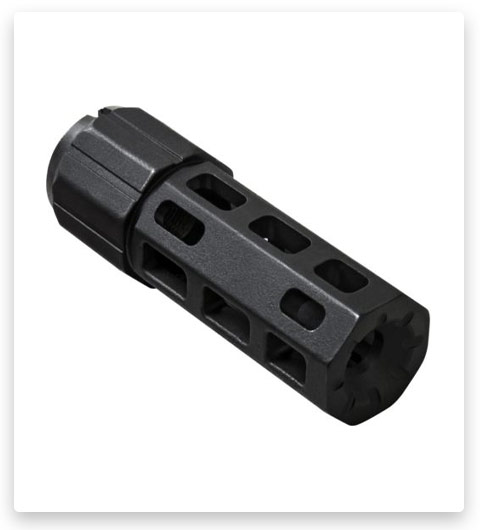 Check out the NcSTAR AK 47 Muzzle Brake if you want a reliable method to decrease muzzle rise on your AK 47. This muzzle brake is designed to eliminate all muzzle rise, making it a great choice for target and competitive shooting. The design of the muzzle brake is very clever, and it ensures positive alignment during installation. Installation is simple: screw on the whole assembly, using a small screwdriver to hold down the stock detent pin until the brake is seated. With the NcSTAR AK 47 Muzzle Brake, you'll be able to shoot with confidence, knowing that your AK will have reduced muzzle rise.
3# DoubleStar Carlson Nitro Flash Enhancer for AK 47 Muzzle Brake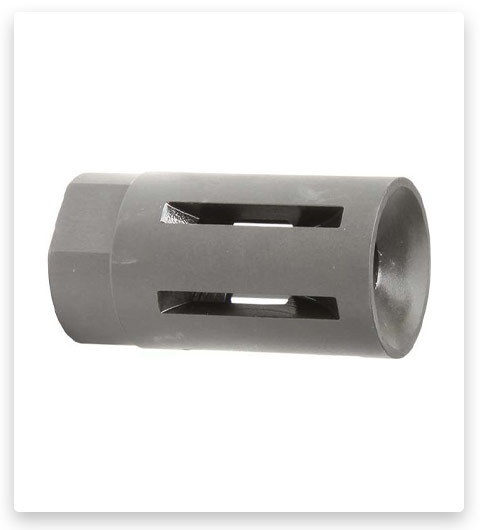 The Carlson Nitro Flash Enhancer for AK 47 Muzzle Brake from DoubleStar is a must-have accessory for your AK 47 rifle. This muzzle brake will help you get the most out of your shots, with the gas rapidly escaping through the convex ports and creating a large muzzle flash. This flash enhancer also acts as a compensator, diverting the gas away from your face and making your shots more accurate. The Nitro Flash Enhancer is a great way to turn heads at the range and have more fun with your AK 47 rifle.
4# DELTAC Slingshot Muzzle Brake For AK 47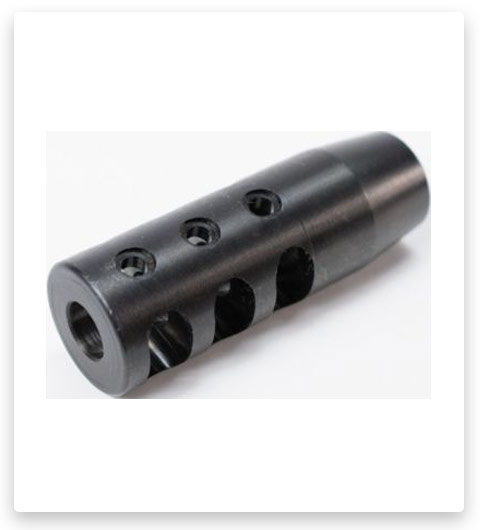 The DELTAC Slingshot muzzle brake is a fantastic option for individuals who want to minimize the shock and muzzle climb of their weapon. Made of weapon-grade 4130 steel, it is designed for strength and durability. This muzzle brake will reduce the felt recoil by up to 70%, making it easier on your shoulder and allowing you to keep on shooting. It also has an attractive brushed finish that will add a touch of style to your gun.
5# Ultradyne Vostok AK 47 Compensator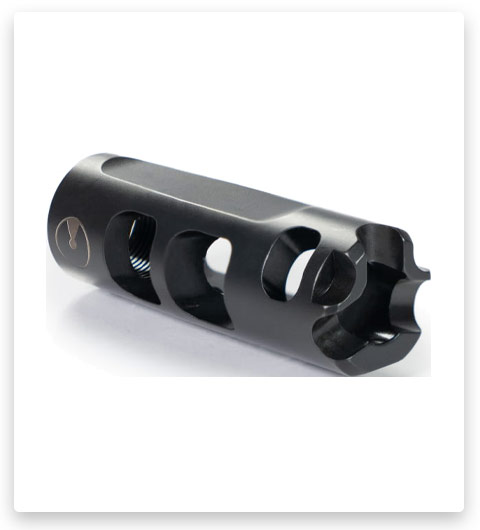 Ultradyne's Vostok AK 47 Compensator is the perfect choice for shooters seeking a high-performance muzzle device. The 2-port design is compact and lightweight but offers impressive performance that will help shooters stay on target. Gases are strategically diverted away and out of the shooter's line of sight. Vostok strongly reduces recoil and minimizes muzzle rise helping the shooter get back on target quicker to ensure more accurate follow-up shots. A crush washer is included for precision installation.
6# SGM Tactical VEPR AK 47 Conical Rifle Muzzle Brake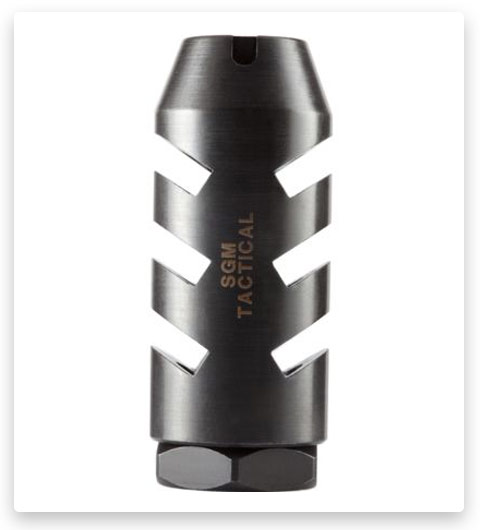 The SGM Tactical VEPR AK 47 Conical Rifle Muzzle Brake is a great addition to your firearm. This muzzle brake will drastically improve accuracy and reduce recoil. The two-piece conical design will deflect flash and smoke to the sides, allowing you to get back on target quickly. This muzzle brake is made from heat-treated steel and has a black oxide finish. Don't miss out on this great muzzle brake!
7# Arsenal AK 47/74 Style Brake
Arsenal AK 47/74 Style Brake is a high-quality AK part, that combines a slick design with detailed attention to perfect functionality and workmanship. This brake is made in one piece and incorporates the ever-popular crescent design. The one-piece design creates a perfectly symmetric compensator, resulting in an equal amount of excess gas escape and uniform recoil reduction with no negative effect on accuracy. The 3 ports on the top are positioned to counter the natural "high and to the right" recoil by forcing gas pressure out of the holes to counter muzzle rise.
8# VG6 Precision Episilon AK BBSS Muzzle Device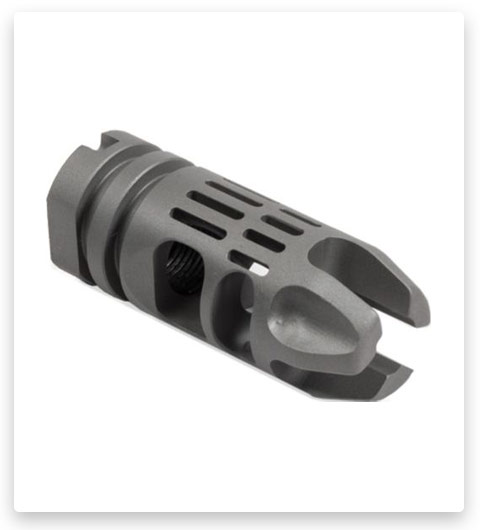 Formulated using some of the most heavy-duty and dependable substances around, this VG6 Precision Episilon AK BBSS Muzzle Device. This muzzle device will provide you with a great deal of stability. VG6 Precision has been generating high-quality merchandise for a very long time, and the VG6 Precision Episilon AK BBSS Muzzle Device is their approach to demonstrating how much they care.
9# Century Arms Draco Dual Port Muzzle Brake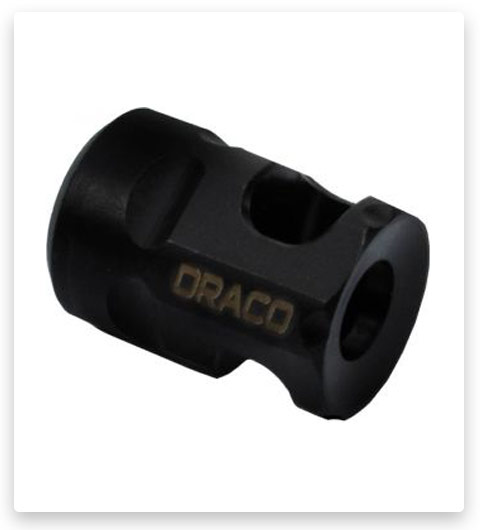 Looking for a little something to spruce up your AK? Check out our new Draco Dual Port Muzzle Brake! It's machined from steel for maximum durability and finished in black nitride for a sleek, professional look. Even better, it does an incredible job of reducing felt recoil. So if you're searching for a muzzle brake that looks great and performs even better, the Draco is the way to go!
10# SLR SR 47 AK Series Muzzle Brake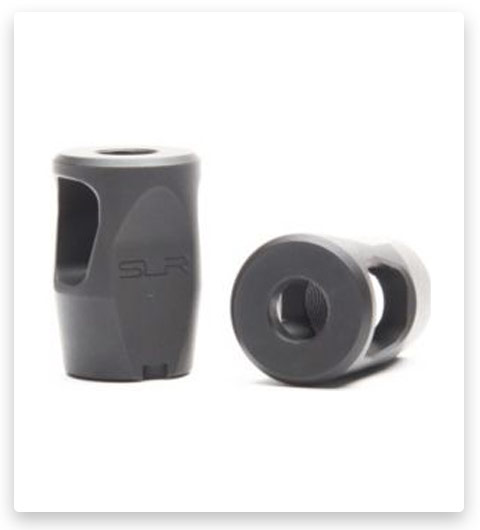 Introducing the SLR SR 47 AK Series Muzzle Brake! It's only 1.2 inches long and 1.5 ounces, but don't let the size fool you. This muzzle brake is one of the most effective ways to reduce muzzle rise and recoil on your AK 47. It's also compatible with AK 74 rifles and performs just as well. The single port design and steel construction with melonite QPQ finish make this muzzle brake tough as nails. If you need a small but mighty muzzle brake, the SLR SR 47 AK Series Muzzle Brake is the way to go!
Installation 🛠️
✅ Once ready, begin by disassembling your AK 47 rifle and removing the gas block, which will be replaced with the compensator.
✅ Once removed, locate the muzzle device threads on the barrel, and install a threaded muzzle device bushing onto the end of your barrel. This will allow for proper alignment of the compensator when attaching it to the gun.
✅ Use thread locking compound on both sides of the muzzle device bushing before sliding it into place.
✅ Then put some thread-locking compound on the threads of your compensator and secure it to the bushing.
✅ Make sure to tighten it down securely. Double-checking to make sure everything is safely in place❗
✅ When finished, reassemble your rifle and test your comp by shooting at a target.
🧑‍🔧 Always take proper safety precautions when installing any type of firearm accessory or accessory part!
FAQ 🤠
Conclusion 😊
When searching for a compensator for your AK 47, it is important to consider the factors mentioned in this article. Hopefully, this buyer's guide has helped you narrow down your choices and make an informed decision about which compensator is best for you and your rifle. Good shopping and thanks for reading! 🥰❤️‍🔥
Tags: #best compensator for ak 47/ #best ak 47 muzzle / compensator for accuracy / #best ak 47 muzzle compensator / #best compensator for my ak 47