Affiliate Disclosure: AmmoCave.com sometimes gets paid for listings, through sponsors or affiliate programs like Lucky Gunner, Optics Planet, Brownells, Cabelas, Academy Sports & Outdoors, Rainier Arms, Palmetto State Armory, Sportsman's Guide, Ammo.com, Ammo Man, Primary Arms, MidWayUsa, Amazon, eBay, etс. Clicking a link helps keep AmmoCave.com free, at no extra cost to you!
Authors: Each article is verified by AmmoCave's expert team. Professional hunters, firearm trainers, gunsmiths, and gun experts write the articles. AmmoCave Team independently researches, tests, reviews, and uses recommendations from our community of gun owners. We may earn commissions from shopping links.
Note: The views and opinions expressed in this article are those of the authors and do not necessarily reflect any agency's official policy or position. The articles are for informational purposes only, share your opinions about Best AK Grip 2023 in the comments and join the discussions. Let's share 💬 our ammo & gun experiences together!
What is AK Grip? 🤔
It is a type of pistol grip designed specifically for AK-style rifles. Unlike traditional pistol grips, they are designed to be more ergonomic and provide better control over the rifle while aiming and firing.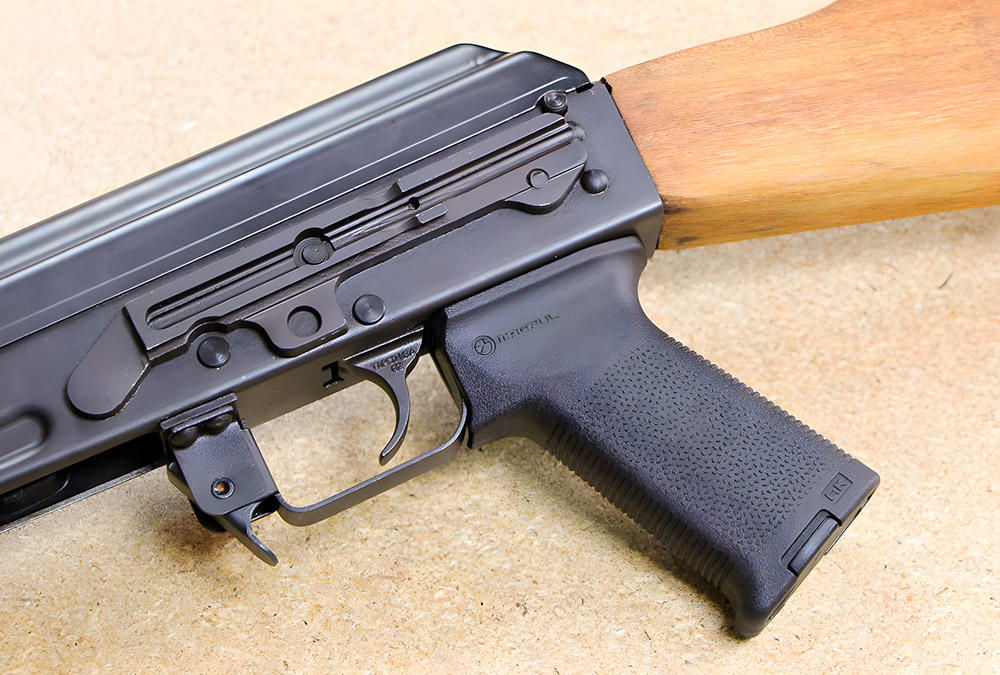 Features 🔥
When it comes to choosing the best AK grip, there are a lot of options available. Here are some features:
☑️ Ergonomic Design – that allows for easy gripping and superior control. Many grips feature finger grooves or rubberized inserts to improve your grip on the gun.
☑️ Textured Surface – improves friction and keeps your hands from slipping off during use. This can be achieved through rubberized coatings or specialized finishes like stippling, which adds additional texture to the grip and increases its traction.
☑️ Weatherproof – it is made from durable materials that are capable of withstanding all types of weather conditions.
☑️ Lightweight – weight is always a concern when carrying any type of firearm; therefore, it's important to select an AK grip that is lightweight yet still provides good strength and durability.
☑️ Customizable Options – many grips offer customizable features such as adjustable length, ambidextrous design, or integrated laser/flashlight mounts so you can customize your weapon setup according to your preference.
☑️ Aesthetics – many manufacturers now offer grips with vibrant colors and visually appealing designs so you can find one that matches your style and complements the rest of your gear nicely.
Our Top Pick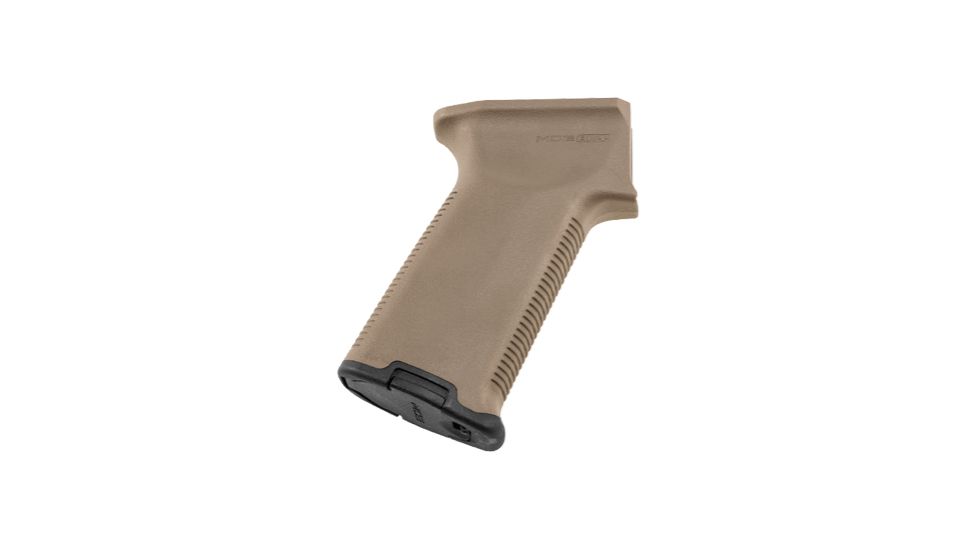 Magpul Industries AK MOE-AK Grip
With this grip, you can reap the full benefits of better control, comfort, and accuracy. This rugged but lightweight piece of equipment is optimally designed for both milled and stamped receivers with added grip reinforcement plates. Spoil yourself with a one-piece reinforced polymer construction, complete with an aggressive Trapezoidal Surface Projection (TSP) texture that allows for reliable handling of the gun in any environment.
Buy Now On OpticsPlanet
If you click this link and make a purchase, we earn a commission at no additional cost to you.
Benefits 😍
AK grips have many benefits that make them an ideal choice for a variety of firearms. 
💥 Firstly, they offer a great amount of control and stability when shooting, providing users with excellent accuracy and precision.
💥 The ergonomic design allows the shooter to comfortably hold the weapon and align their sights correctly, while also helping reduce fatigue during extended periods of firing.
💥 Additionally, they are often lightweight and easy to install on most AK-style weapons.
💥 Furthermore, some grips feature finger grooves which allow for increased tactile feedback between your fingertips and the trigger or safety button location.
💥 Finally, they come in many different styles and materials so you can find one that fits your particular needs and preferences.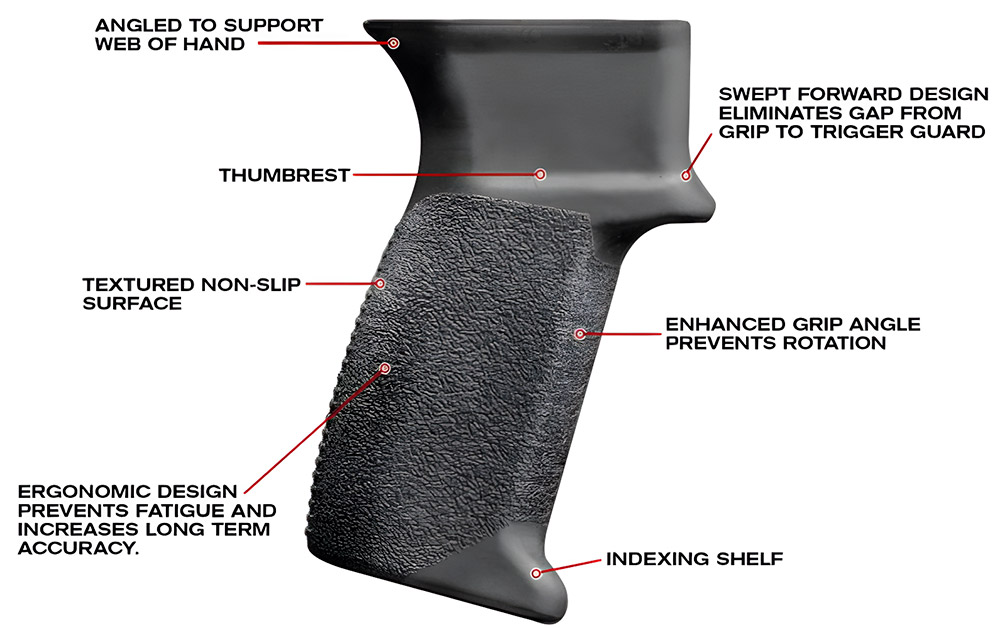 Types 🤠
When searching for AK grips, there are several different types to choose from. 
❇️ The most popular type is the standard polymer grip. This option provides plenty of grip and comfort with its ergonomic design, making it suitable for both long and short-term shooting sessions.
❇️ For those who need even more support, a rubberized texture version is available as well. This can provide extra stability when firing in addition to providing increased recoil control and accuracy.
❇️ For those wanting an ultra-lightweight and comfortable solution, there are also grips made from carbon fiber or aluminum. These materials offer superior weight reduction without sacrificing durability or performance, making them popular choices among competitive shooters.
❇️ Finally, tactical grips offering various options such as finger grooves and stippling are also available for those looking to customize their grips even further.
😉 No matter what type of AK grip you choose, it's important to ensure that it fits your hand comfortably❗ Additionally, keep in mind that most grips require some degree of installation and may need to be custom fitted for your specific model of rifle.
Our Selection 🔥 10 Best 🔥 AK Grip
| Image | Product | Brand | |
| --- | --- | --- | --- |
| | HOGUE AK-47 PISTOL GRIP | HOGUE | |
| | TANGODOWN BG-AK RIFLE GRIP | TANGODOWN | |
| | MAGPUL AK-47 MOE-K2 GRIP | MAGPUL | |
| | FAB Defense Gradus Ergonomic AK Pistol Grip | FAB Defense | |
| | Magpul Industries AK MOE-AK Grip | Magpul Industries | |
| | FosTech Outdoors Sabre AK-47 Comfort Grip 2501 | FosTech Outdoors | |
| | Sniper AK Rear Pistol Grip GPAK | Sniper | |
| | JE Machine Tech AK-47 Operator Pistol Grip | JE Machine Tech | |
| | TangoDown AK Rifles Battlegrip Grip BG-AK | TangoDown | |
| | Hogue AK Rubber Gun Grip Finger Grooves 74000 | Hogue | |
| | US Palm AK Pistol Grip | US Palm | |
| | Phoenix Technology AK Featureless Pistol Grip | Phoenix Technology | |
1# Hogue AK 47 Pistol Grip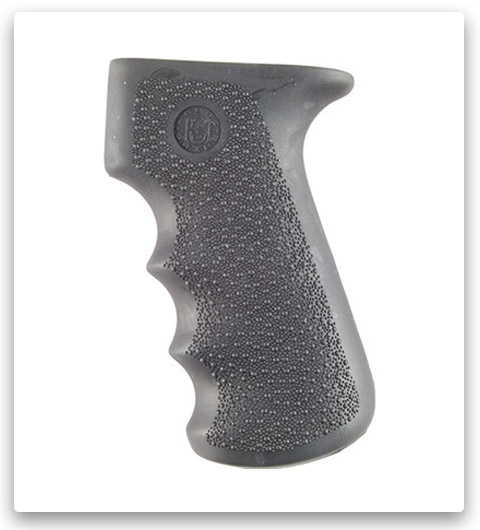 View on Brownells View on OpticsPlanet
The Hogue AK 47 Pistol Grip is a must-have accessory for your AK 47 rifle. This rubber "over-molded" pistol grip replaces the small, stubby original wood grip and gives you a solid purchase. Orthopedic shape with palm swells and finger grooves reduces shock, increases shooting comfort, and improves control. Fits solidly against the frame, resists wear, and won't loosen. The Hogue AK 47 Pistol Grip is an essential upgrade for your rifle.
2# Tangodown BG-AK Rifle Grip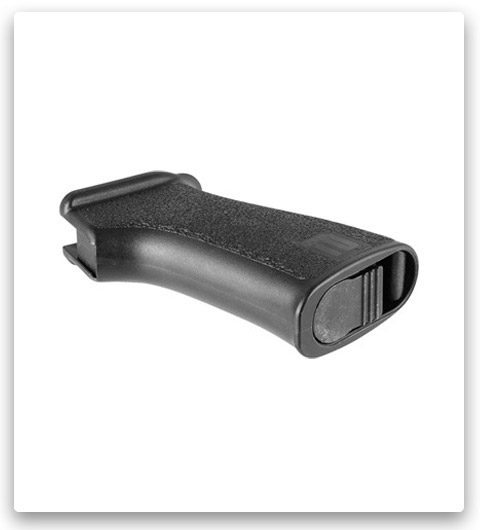 View on Brownells View on OpticsPlanet
If you need a replacement grip for your AK rifle that will improve your weapon control and comfort, look no further than the TangoDown BG-AK Rifle Grip. This ergonomic grip is designed to provide a comfortable hold while also thanks to its generous interior storage compartment, it's versatile and practical too. The inner storage of the grip is weather-resistant, perfect for storing batteries and other small parts for easy access on the range. Thanks to its improved design, this grip provides a smoother, more comfortable experience so you can stay focused on the task at hand.
3# Magpul AK 47 MOE-K2 Grip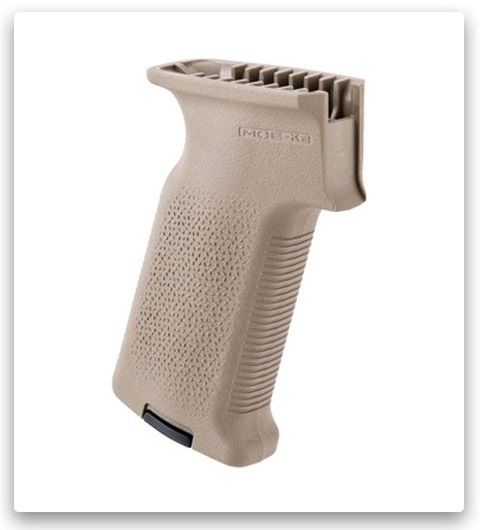 The Magpul AK 47 MOE-K2 Grip is the perfect grip for anyone looking to improve their shooting experience on an AK 47 or 74. With its comfortable design and improved control, this grip will help you shoot with more confidence and accuracy. This grip offers a more vertical grip angle, which is ideal for shorter LOP rifles that bring the primary hand in closer to the body.
4# FAB Defense Gradus Rubberized Ergonomic AK Pistol Grip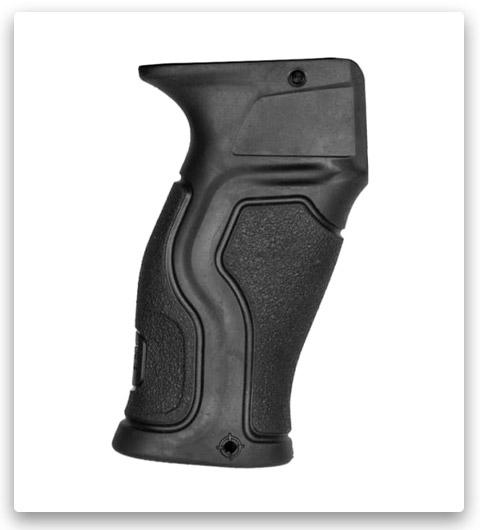 Whether you're in close-quarters combat or zeroing in on a target from afar, you need a grip that will give you the precision and control you need to get the job done. These AK/AKM parts are designed with a 15-degree reduced grip angle to enhance your accuracy in any situation. The durable polymer construction is covered in a textured rubber over-mold for a comfortable and reliable grip, even when moisture is present. So if you're searching for a pistol grip that will give you the edge you need, look no further than the FAB Defense Gradus Rubberized Ergonomic AK Pistol Grip.
5# Magpul Industries AK MOE-AK Grip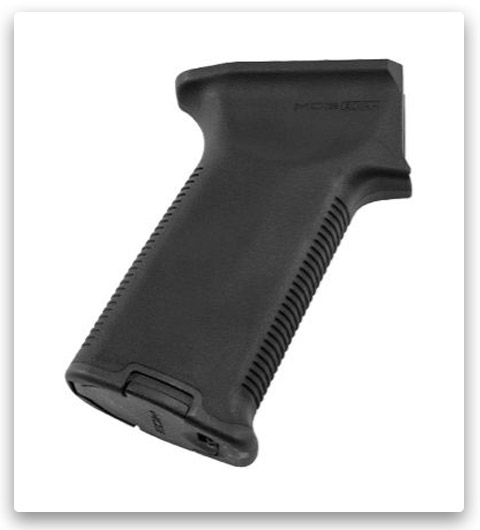 No matter what type of environment you're in, the Magpul Industries AK MOE-AK Grip will give you the advantage. This tough grip is made from reinforced polymer and features a textured surface that will provide positive weapon control in even the most challenging situations. The ergonomic design and rubber over-molding make this grip extremely comfortable to shoot with, and it also comes with a basic grip cap and mounting hardware.
6# FosTech Outdoors Sabre AK-47 Comfort Grip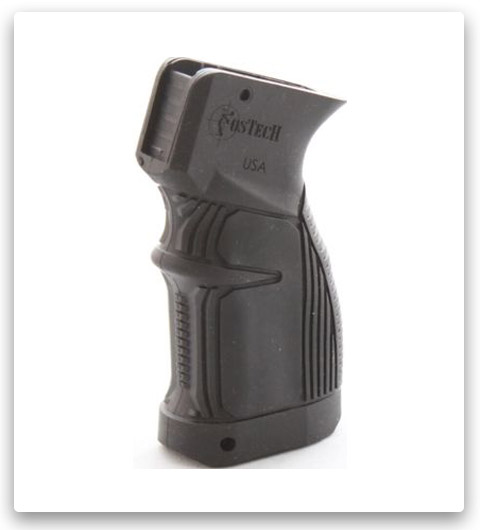 The Sabre AK Comfort Grip from FosTecH is perfect for anyone seeking a competitive edge. This grip is made from reinforced polymer and has a rubberized exterior for maximum comfort and control. The multi-texture surface provides a nonslip grip even when your palms are sweating, and the extended beavertail gives you added control. So don't go into battle without the best – equip your gun with a Sabre AK Comfort Grip and be ready for anything!
7# Sniper AK 47/74 Rear Pistol Grip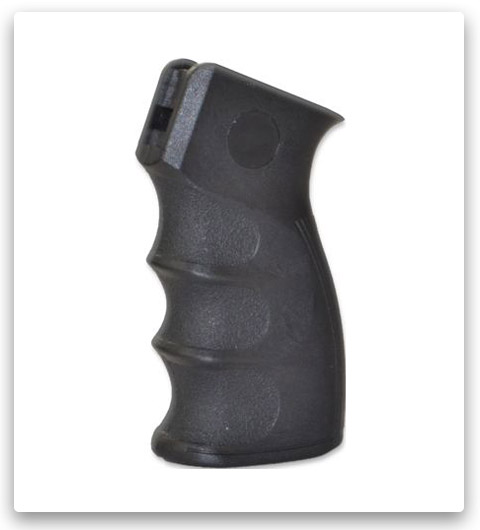 Looking for a comfortable rear pistol grip for your AK 47 or an exact variant? Look no further than the Sniper AK 47/74 Rear Pistol Grip GPAK! This affordable grip closely resembles the much more expensive Fab Defense AK grip and is perfect for anyone who wants a good grip without spending a fortune. came without a connecting screw, but no big deal – mount it with any old wood screw and you're good to go!
8# JE Machine Tech AK 47 Ergonomical Operator Pistol Grip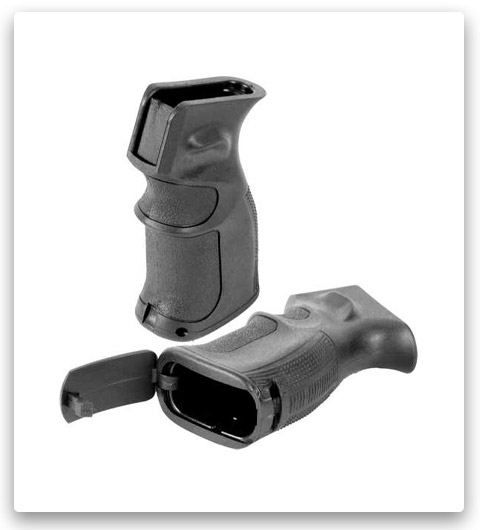 The JE Machine Tech AK 47 Ergonomical Operator Pistol Grip is the perfect grip for your AK 47/74! With an ergonomic design that prevents wrist fatigue and textured grooves for a secure grip in wet conditions, this pistol grip will make your shooting experience more pleasant and improve your trigger operation. Plus, its built-in storage compartment is perfect for keeping small tools or other items close at hand.
9# US Palm AK Pistol Grip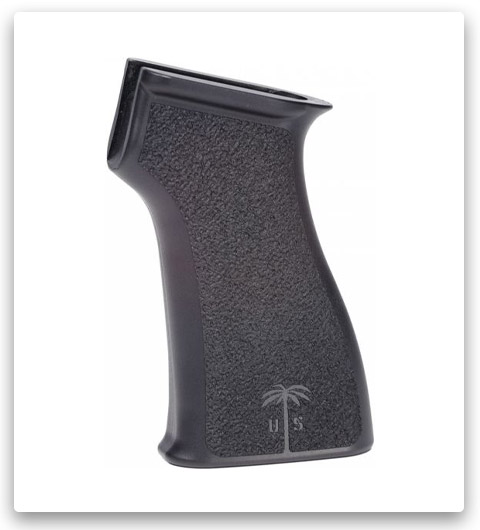 The US Palm AK Pistol Grip is a full-size Westernized rifle grip that is designed to drive the user's hand up into the receiver/grip junction. It features aggressive stippling to ensure a positive grip and is virtually indestructible and ambidextrous. The Pistol Grip fits AK 47, AK 74, AKM, and RPK rifles of virtually any vintage or manufacturer. The grip screw and washer are included.
10# Phoenix Technology AK Featureless Pistol Grip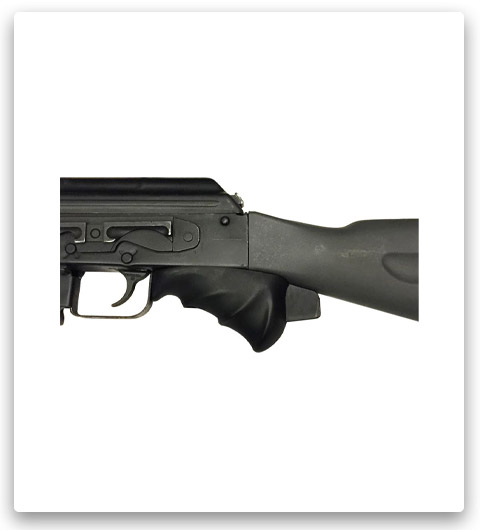 Are you having trouble making your AK 47 compliant in states that ban assault weapons? Phoenix Technology has the perfect solution for you with their AK Featureless Pistol Grip! The finger grooves may not be everyone's cup of tea, but they provide a more solid grip when shouldered, making this an ideal choice for those who need a more comfortable shooting experience. So don't let restrictive gun laws get you down – pick up a Phoenix Technology AK Featureless Pistol Grip today!
How to install a grip? 🛠️
🪛 Installing a grip is straightforward. To get started, you will need a few tools, including an Allen key or screwdriver to fit the grip screws, a wooden dowel for hammering the retaining pin into place, and some masking tape to protect your firearm from scratches.
➡️ First, remove your existing grip. This is done by removing the two screws and holding them in place with an Allen key or screwdriver.
➡️ Then use a wooden dowel to gently tap out the retaining pin that holds it in place.
➡️ Next, apply some masking tape to your firearm's frame so that any accidental scratches incurred during installation are avoided.
➡️ Now you're ready to install your grip! Place it on the frame and loosely fit the two screws.
➡️ Once it is in place, use your Allen key or screwdriver to tighten the screws until they are snug.
➡️ Now hammer the retaining pin back into its place using a wooden dowel and you're done!
FAQ 🧐
Conclusion 😊
In this article, we've outlined what you need to look for when choosing an AK grip and highlighted some of the best options on the market. We hope that this information will help make your decision easier and allow you to find the perfect grip for your AK rifle. Thanks for reading!❤️‍🔥