Affiliate Disclosure: AmmoCave.com sometimes gets paid for listings, through sponsors or affiliate programs like Lucky Gunner, Optics Planet, Brownells, Cabelas, Academy Sports & Outdoors, Rainier Arms, Palmetto State Armory, Sportsman's Guide, Ammo.com, Ammo Man, Primary Arms, MidWayUsa, Amazon, eBay, etс. Clicking a link helps keep AmmoCave.com free, at no extra cost to you!
Authors: Each article is verified by AmmoCave's expert team. Professional hunters, firearm trainers, gunsmiths, and gun experts write the articles. AmmoCave Team independently researches, tests, reviews, and uses recommendations from our community of gun owners. We may earn commissions from shopping links.
Note: The views and opinions expressed in this article are those of the authors and do not necessarily reflect any agency's official policy or position. The articles are for informational purposes only, share your opinions about Best Glock 26 Magazine Extension 2023 in the comments and join the discussions. Let's share 💬 our ammo & gun experiences together!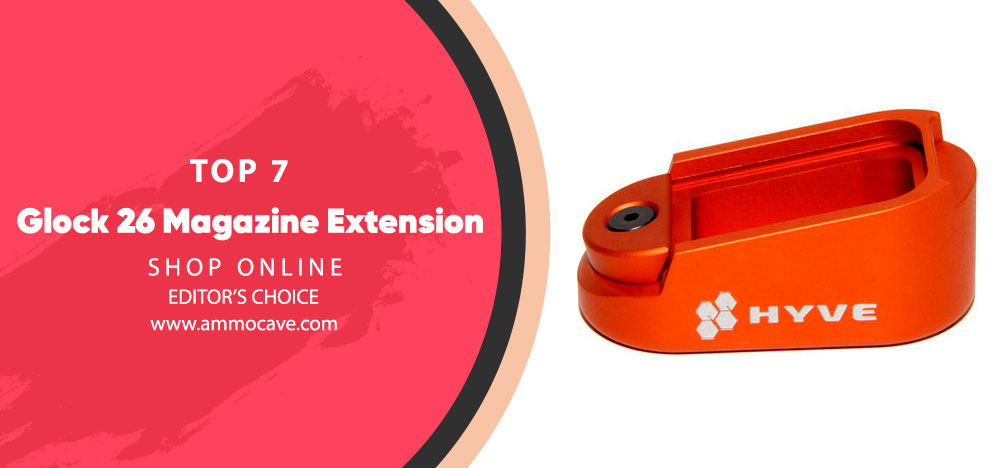 What are Glock 26 Magazine Extensions? 😏
It is an accessory designed to provide additional capacity and accuracy to your Glock 26. They attach to the bottom of the magazine, adding length and typically increasing capacity by several rounds. This allows for longer shooting sessions without having to reload as often, saving time on the range.
Our Top Pick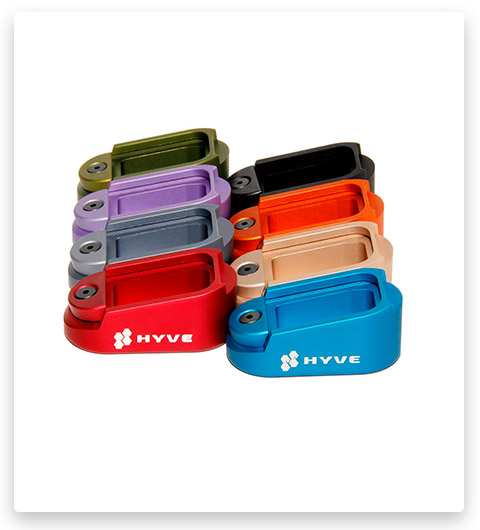 HYVE Technologies Glock 26 Magazine Extensions
We craft our 26 plus 2 product in-house and finish it with one of eight gorgeous anodized shades. Unlike similar single-stack designs, this two piece design comes equipped with Mag-Stop to ensure that magazines are firmly held in place.
Buy Now On OpticsPlanet
If you click this link and make a purchase, we earn a commission at no additional cost to you.
Benefits 🔥
🎯 Increased Capacity: A magazine extension can increase the capacity of your Glock pistol by up to three rounds. This gives you more flexibility when it comes to carrying additional ammunition and allows you to gain a tactical advantage in situations where reloading is not an option.
🎯 Enhanced Balance & Handling: Adding an extended magazine helps balance the weight of your handgun and makes it easier to handle when shooting with both hands. The increased weight also reduces felt recoil, making follow-up shots quicker and more accurate.
🎯 Easier Reloading: Adding a longer magazine also leads to faster and smoother reloads as you don't need to fumble around with the short factory version.
🎯 Improved Comfort: With improved balance, recoil reduction, and easier reloads all provided by adding a magazine extension – shooting your Glock becomes much more comfortable overall. You won't have to worry about dealing with uncomfortable recoil or having difficulty loading up your pistol any more thanks to the aid of this handy accessory.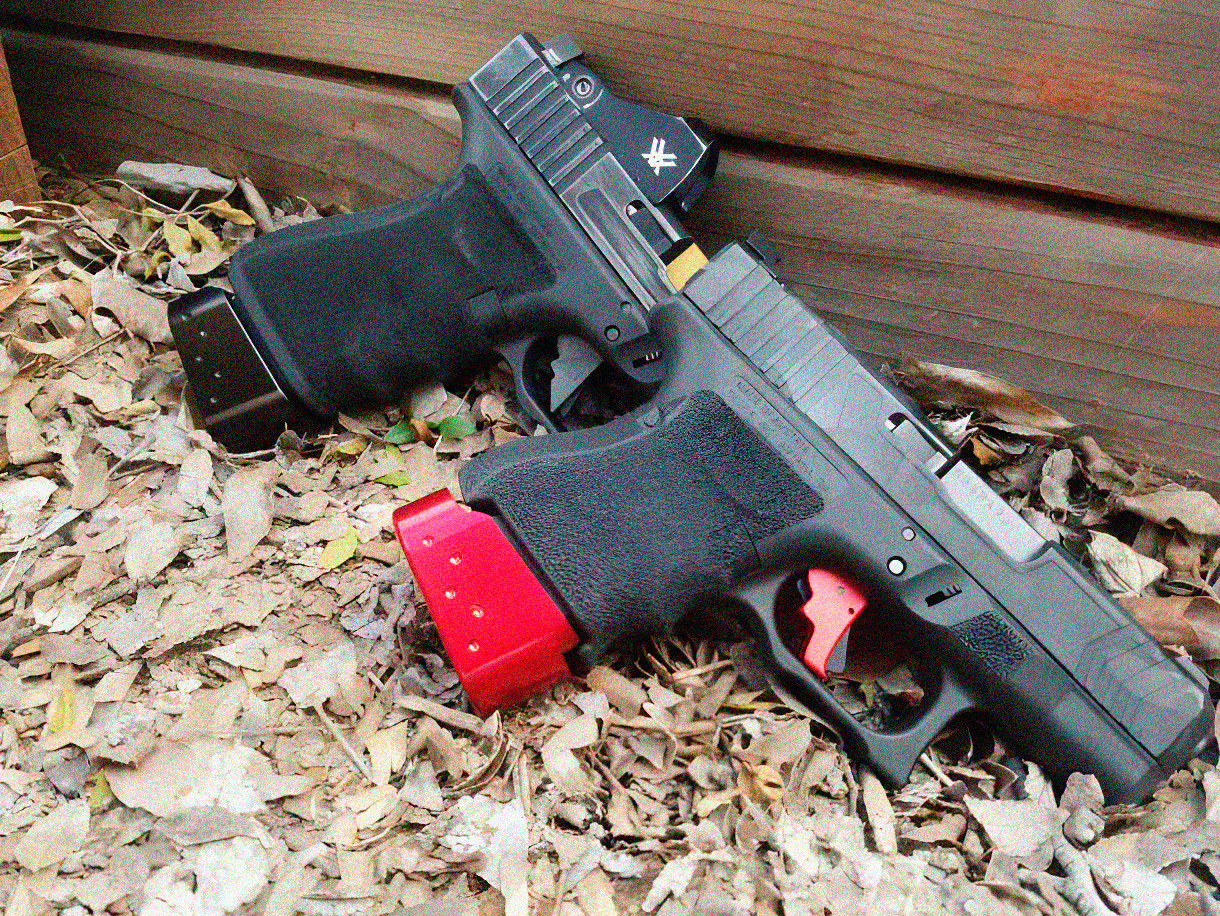 Types 🔰
🚩 The most common type of magazine extension is the +1 or +2, which allows for an additional round to be carried in the magazine. These extensions are usually constructed from aluminium or polymer and fit onto the bottom of Glock magazines.
🚩 Some shooters prefer an extended base plate that adds a bit more length to their gun grip without adding extra rounds into their magazine capacity. These extended magazine base plates typically extend out 1-2 inches past the existing base plate and can provide added stability while shooting.
🚩 For those looking for even more rounds in their magazines, extended capacity magazines are available for Glocks 26s chambered in 9mm or .40 S&W handguns. These work similarly to other extended capacity magazines but feature cutouts at specific points along its length to allow for additional rounds to be loaded into it without changing its external size or shape compared to standard capacity magazines.
🚩 Finally, full-length "extra-long" Glock 26 magazines are also available on the market today which add as much as five extra rounds over standard capacity magazines while maintaining a comfortable feel in the hand when shooting. components!
Please watch this video to learn more information📺
Best 💣 Glock 26 Magazine Extension Reviews
1# TRYBE Defense Magazine Extension Base Pad for Glock 26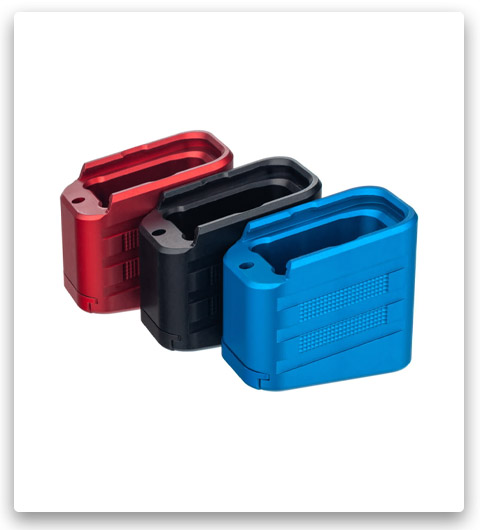 Introducing the TRYBE Defense Magazine Extension Base Pad for Glock 26! This lightweight and durable magazine extension is the perfect addition to your Glock pistol, adding 5 extra rounds to any 9mm model and 4 extra rounds to any .40 S&W model. The reliable spring ensures consistent feeding every time, making this extension a must-have for any serious shooter. With its sleek design and availability in a number of finishes, the TRYBE Defense Magazine Extension Base Pad is the perfect way to upgrade your Glock pistol. So don't wait any longer, pick up your extension today, and be prepared for anything!
2# HYVE Technologies Glock 26 Magazine Extension Base Pad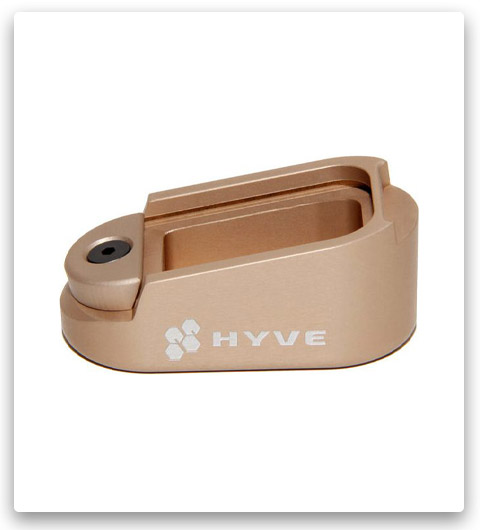 Need an incredibly sturdy magazine extension for your Glock 26? The HYVE Technologies Glock 26 Magazine Extension Base Pad is the perfect solution for your needs! This high-quality extension is machined in-house from solid aluminium and then anodized in eight colors for a long-lasting finish. It features a two-piece design with our Mag-Stop holding the magazine securely in place. With this extension, you'll get a plus 2 for the Glock 26, giving you a full-size feel. The straight spring push doesn't require a plus spring. Installation is quick and easy, so you can be up and running in no time. Note: These extensions are designed to fit Gen4/5 magazines with two cutouts for the magazine catch. Some older gen 3 magazines will not allow these extensions to lock into the firearm. Please make sure to install these on magazines with cutouts on both sides of the magazine.
3# HYVE Technologies CA Edition Glock 26 Magazine Base Pad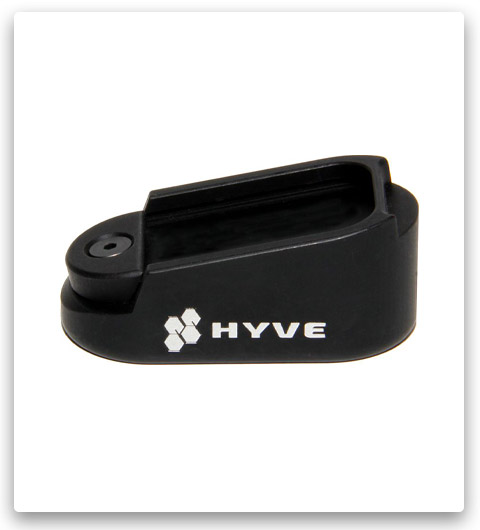 The next model of Hyve Technologies magazine extensions has arrived! The HYVE Technologies CA Edition Glock 26 Magazine Base Pad is the perfect addition to your Glock 26/27/33, giving you a full-size feel. This product is machined in-house and then anodized in eight colors. Unlike the single stack designs, the 26/27/33 plus 0 features a two-piece design with Mag-Stop holding the magazine securely in place.
4# Pearce Grip Magazine Extension for Gen5 Glock 26 PGG526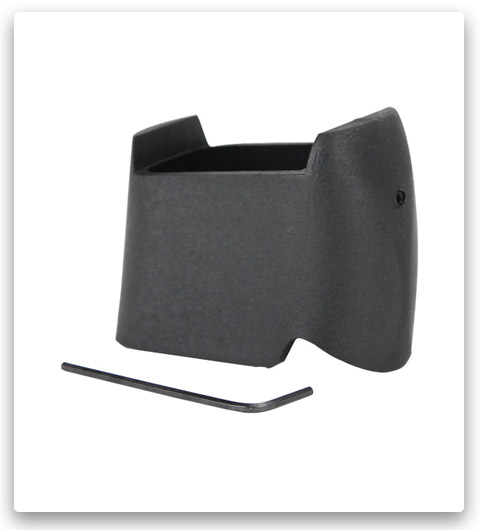 The Pearce Grip Magazine Extension for Gen5 Glock 26/27 is the perfect option for anyone in need of a high-quality extension. These extensions are made from durable and reliable components, so you can be sure they will last for many years. Pearce Grip has been producing high-quality products for a long time, and this extension is their way of showing you just how much they care. With its superior design and construction, the Pearce Grip Magazine Extension for Gen5 Glock 26/27 is sure to provide you with the performance you need. Order yours today!
5# KCI USA Magazine 9mm For Glock 26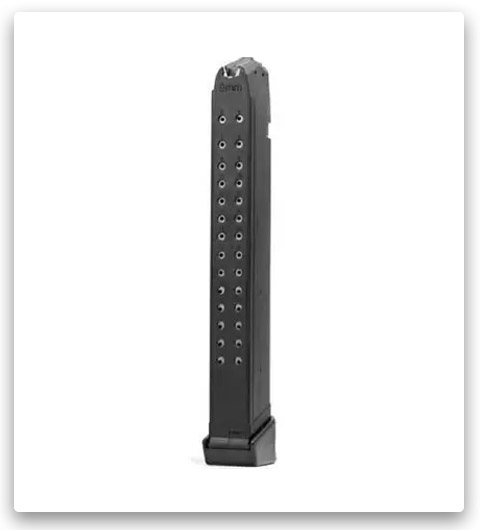 Need a high-quality, long-term Glock 19 or 26 magazine? The KCI USA 9mm Magazine is the answer. This magazine is built to the same exacting standards as factory magazines, with a polymer body and internal steel reinforcing tube for durability. The removable baseplate makes it easy to clean, and the witness holes help you keep track of your round count. Compatible with any accessories that fit Glock factory magazines, this magazine is a great choice for anyone looking for a top-quality option.
6# Elite Tactical Systems Group Translucent Magazine For Glock 26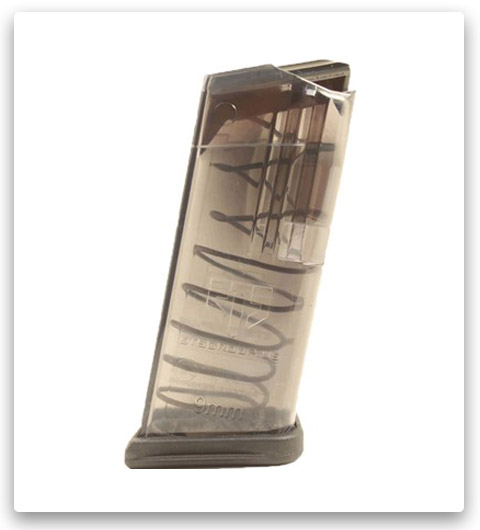 The all-new ETS transparent Glock magazines take visibility and safety to a whole new level. Users can quickly determine the round count and ammo type from any viewing angle. These mags have been put through rigorous testing, including several thousand rounds fired without failure, using all generations and sizes of Glock pistols. Several different brands of ammo were used in testing, including hollow points. Glock's ETS Translucent Magazine is a top-quality, dependable magazine that will give you an edge over the competition!
7# KCI USA MAGAZINE 9MM GLOCK 26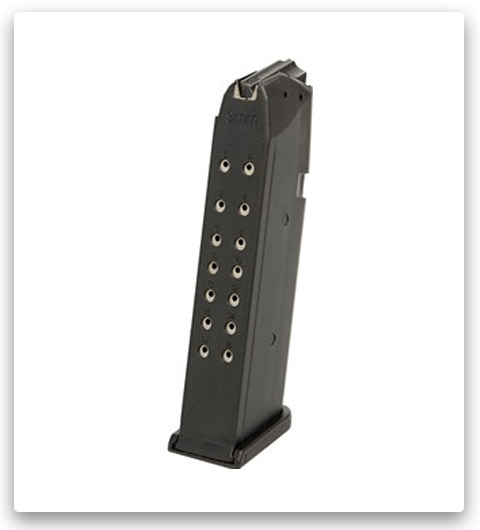 The KCI USA Magazine 9mm Glock 26 is a direct replacement for your 17-round factory magazine. Featuring a sturdy polymer and steel construction, this mag is built to withstand rough use and tactical training. The smooth polymer follower and baseplate that removes easily for cleaning make this an ideal option for those who need a reliable magazine that can stand up to repeated use.
How To Install Magazine Extensions on Glock 26? 🤔
💥 First, you'll need to purchase the right magazine extension for your specific needs. Most aftermarket Glock extensions are made out of metal and come in various lengths, diameters and other features such as extended finger grooves or texturing on the outside. Make sure you get the right length extension for your particular Glock model; too short an extension may cause feeding problems and too long may not fit in your holster properly.
💥 Next, start by unloading your Glock and ensure all ammunition is removed from both the slide and chamber before proceeding any further. Now separate the slide from the frame by removing the slide lock lever located on either side of the frame at the rear of the slide lock notch in front of the trigger guard. Then remove any existing mag baseplate by pressing down on one side with a flat-head screwdriver until it comes loose from its retaining pin at bottom of the magazine body inside the frame.
💥 After that line up the new magazine extension with the lip of the existing mag body (ensuring it's flipped correctly if necessary) and press down firmly until it clicks into place over its retaining pin at the bottom inside the frame.
💥 Finally, replace the slide onto the frame and reinsert the slide lock lever as normal to secure it in place, then test fit the empty magazine into the mag well to ensure proper fitment before loading it with ammunition again.
We believe this video can be helpful for you📺
FAQ 😎
Conclusion 😉
Glock 26 Magazine Extensions are a popular way to improve the shooting experience for Glock 26 owners. There are many different extensions on the market, so it can be tough to decide which one is best for you. In this article, we've reviewed some of the most popular  Magazine Extensions and given you some tips on how to choose the right one for your needs. We hope that this information will help you find the perfect extension for your Glock 26! 🤩❤️