Affiliate Disclosure: AmmoCave.com sometimes gets paid for listings, through sponsors or affiliate programs like Lucky Gunner, Optics Planet, Brownells, Cabelas, Academy Sports & Outdoors, Rainier Arms, Palmetto State Armory, Sportsman's Guide, Ammo.com, Ammo Man, Primary Arms, MidWayUsa, Amazon, eBay, etс. Clicking a link helps keep AmmoCave.com free, at no extra cost to you!
Authors: Each article is verified by AmmoCave's expert team. Professional hunters, firearm trainers, gunsmiths, and gun experts write the articles. AmmoCave Team independently researches, tests, reviews, and uses recommendations from our community of gun owners. We may earn commissions from shopping links.
Note: The views and opinions expressed in this article are those of the authors and do not necessarily reflect any agency's official policy or position. The articles are for informational purposes only, share your opinions about Best Glock 17 Trigger 2023 in the comments and join the discussions. Let's share 💬 our ammo & gun experiences together!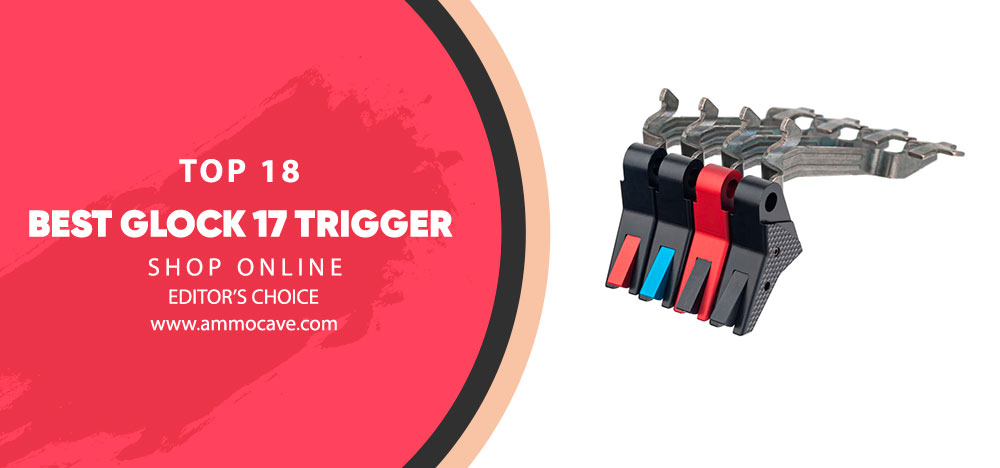 Glocks are popular among shooters because of their simple construction and shooting mechanisms with smooth triggers. Glock 17 is a striker-fired pistol, of average size (8.03 inches long and 24.87 oz weight with empty magazine) with a barrel length of 4.49 inches. It uses cartridges (9x19mm). Glock 17 with a standard magazine capacity of 17 rounds, is good for an open carry with an Outside the Waistband (OWB) holster, however, if you need concealed carry, choose Glock 19.
Why Do We Need Glock 17 Triggers?
The main purpose of the Glock 17 is to ensure high capacity with great dependability and range. The trigger spring usually loosens up over time, other metal-to-metal components wear in. Upgrading with a modern light trigger will improve the accuracy and general performance of Glock 17.
Best Picks
Timney Triggers Alpha Competition Trigger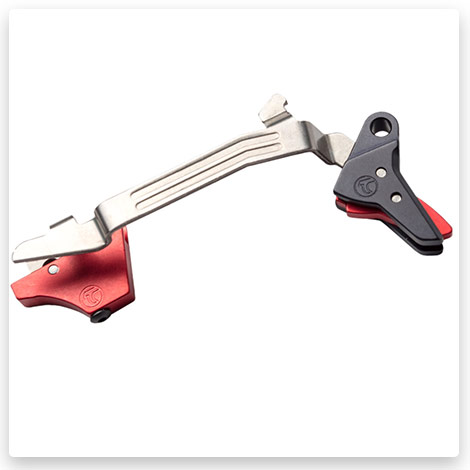 This Straight Aluminium trigger with enhanced design is light, crisp, without creep. Due to stretching the reset spring, the trigger pull can be 4.5 LBS.
Apex Tactical Specialties Glock Action Enhancement Trigger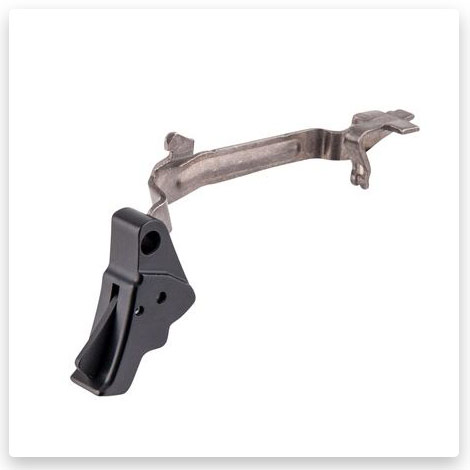 These triggers feature a crisp trigger break during the smooth uptake and reset. Large face to trigger makes an exact trigger squeeze.
Top 18 Glock 17 Trigger
#1 Glock SKIMMER Enhanced Carry Trigger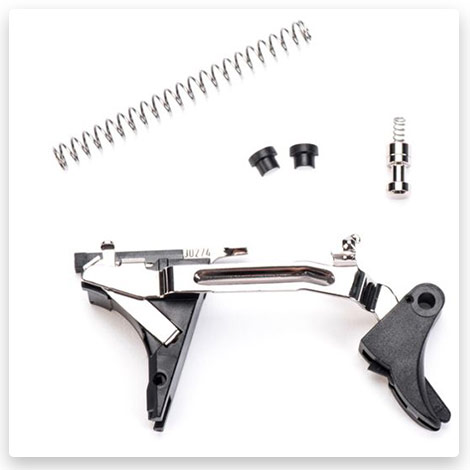 The system consists of a smooth trigger with trigger bar, modified to Reduce Pre-Travel, trigger Housing with Ejector, both minus and optional 5.5 lb. standard connectors, both trigger and Firing Pin spring, firing pin safety with spring, and spring cups. The mated surfaces slip easily, adding a sleek short transition into an adjacent wall. The trigger break is clean and precise, decreasing muzzle movement.
#2 Apex Tactical Specialties Glock Trigger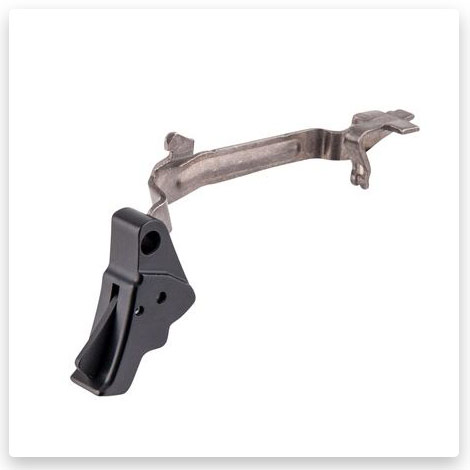 These triggers feature a crisp trigger break during the smooth uptake and reset. If you will pair this trigger with the Apex Ultimate Safety Plunger for Glock, a sleeker trigger uptake can be reached. This trigger with Trigger Bar (Gen 3) allows an on-the-spot drop-in replacement of the factory polymer one, diminishing overall trigger travel. The system is good for home defense or duty; for competition spring upgrade kits will be necessary.
#3 ZEV Technologies Fulcrum Adjustable Drop-In Trigger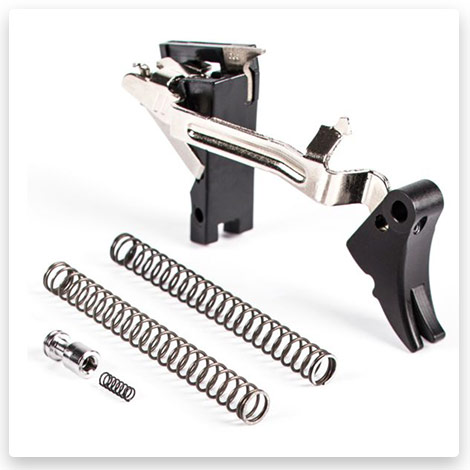 The trigger bar is positioned as a professional replacement trigger bar for Glock, delivering exact trigger pull while keeping all factory Glock safeties intact and decreasing travel. The manufacturer guarantees 100 % safety of the trigger, having undertaken hundreds of thousands of testings. These triggers should be used only for competitions.
#4 HYVE Technologies Glock Trigger System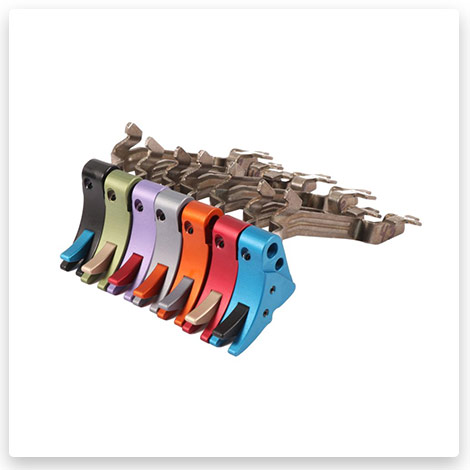 This trigger system integrates a trigger bar, which is completely regulable for Pre-travel and the Reset due to Allen screws on the trigger front and back. The trigger is designed in machined Traditional Curved Shape. The Monarch trigger is crafted from durable Aluminum (6061-T6) bar stock, with an anodized finish.
#5 TRYBE Defense Glock Gen 5 Trigger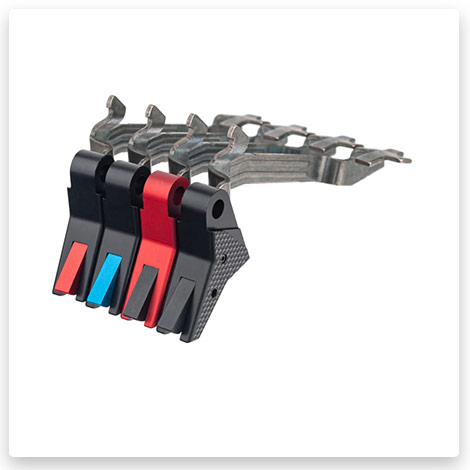 The single-stage trigger features a smooth, crisp pull weight (4.5lbs) to deliver the due amount of resistance for a clean pull. These triggers can be used for hunting, match shooting range, or training.
#6 ZEV Technologies PRO Flat Face 9mm Glock Trigger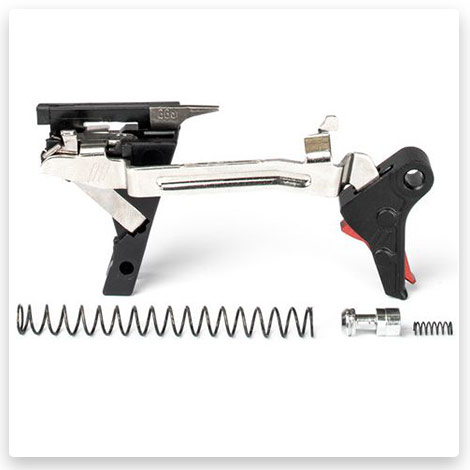 The trigger consists of PRO Trigger Bar, PRO Connector, Trigger Spring Ejector Housing, Firing Pin Safety Spring, PRO Striker Spring, Firing Pin Safety, PRO Flat Face Riveted Trigger.
#7 Agency Arms Drop-In Trigger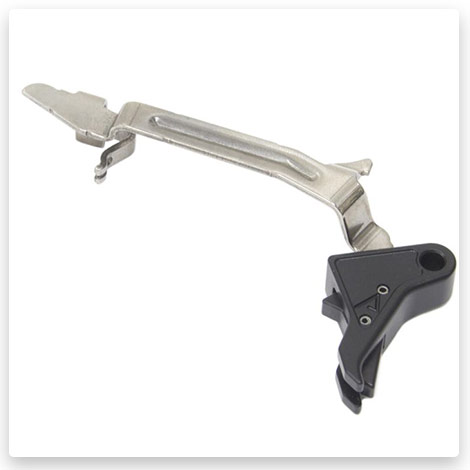 Agency Arms designed a flat-faced trigger shoe to diminish pre-travel, ensuring a precise break, and a short tactile reset. The trigger is crafted from Aluminum (6061). The flat face delivers a large flat surface to put even pressure across the trigger face. The small trigger toe helps in indexing the trigger finger. The installation of triggers by certified gunsmiths is recommended.
#8 ZEV Technologies Fulcrum Adjustable Ultimate Trigger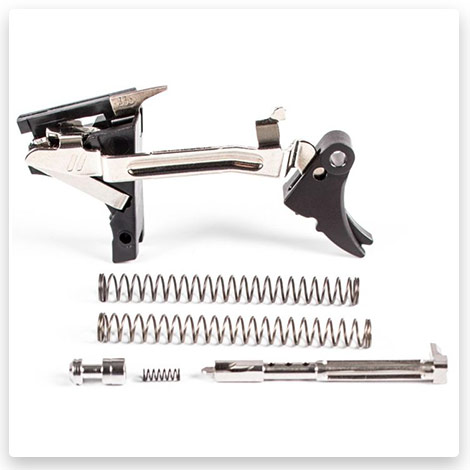 ZEV professional Trigger Bar with all factory Glock safeties intact is replaceable for Glocks, diminishing travel, and delivering crisp trigger pull. The trigger is made from Aluminum (6061-T6), Stainless Steel, covered with Black Hardcoat Anodized. These triggers should be used for competition.
#9 LANTAC E-CTG9 Upgrade Glock 17/19 Trigger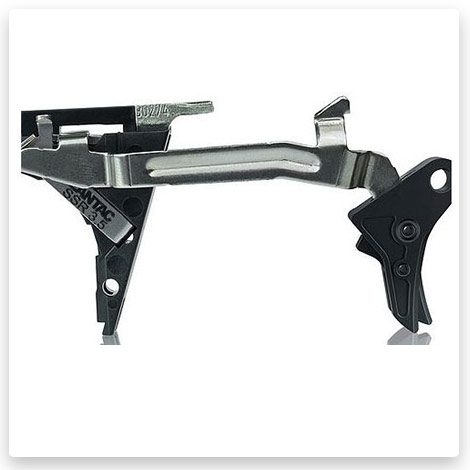 #10 Timney Triggers Alpha Competition Trigger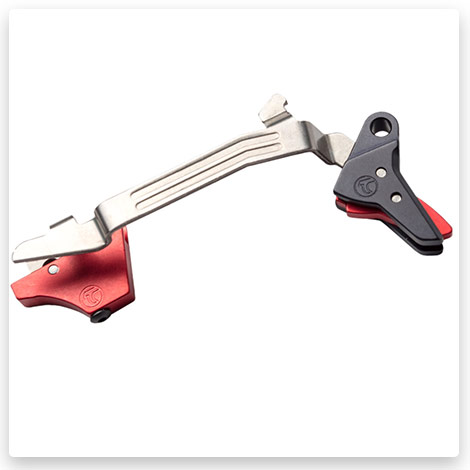 This Straight Aluminium trigger with enhanced design does not need gunsmith's installation, it is factory calibrated and ready to shoot. The trigger Bar And Sear are crafted from Teflon Nickel (Np3) with Anodized Safety Blade. In case of issues with a sticky trigger reset, bend the connector back towards the frame, as the connector makes the trigger bar drag against the frame. In some cases, a finesse install of the reset spring may be necessary.
#11 ZEV Technologies PRO Flat Face Glock Ultimate Kit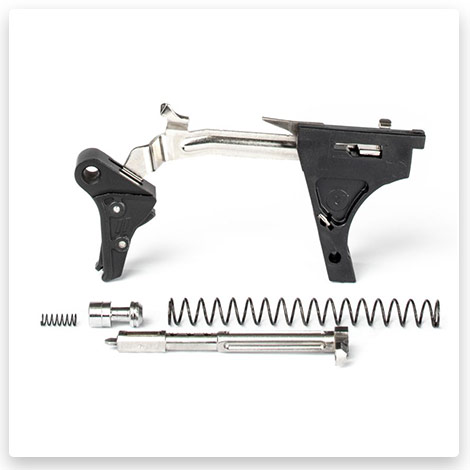 This Ultimate Kit Trigger comprises Mil-Spec hard-anodized aluminum construction, integrating a new proprietary trigger bar and professional connector. The PRO Flat Face trigger provides a clean, crisp trigger pull. The trigger pad is assembled with rivets.
#12 Cross Armory Glock Gen 1-3 Enhanced Flat Faced Triggers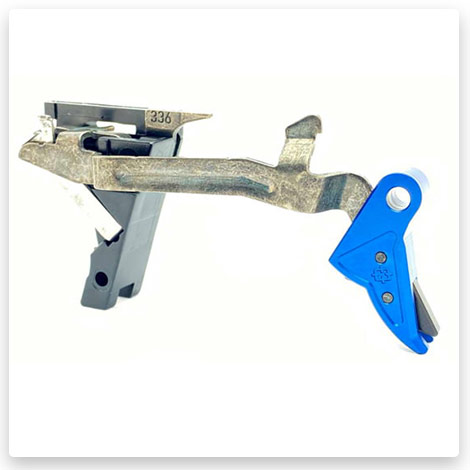 These Glock Triggers with a hybrid design, including drop-in Shoe, 3.5 Spring, Bar combine a functionally of Gen 1- 4 Full Frame Glock and its esthetic look. The flat face trigger pad for the shooter's index finger ensures optimum response and control; a small curve at its bottom delivers the shooter an area to reset after each shot. The Trigger is CNC precision-machined (not cast) from Billet Aircraft Aluminum (6061-T6), covered with an anodized finish.
#13 Apex Tactical Specialties Action Enhancement Kit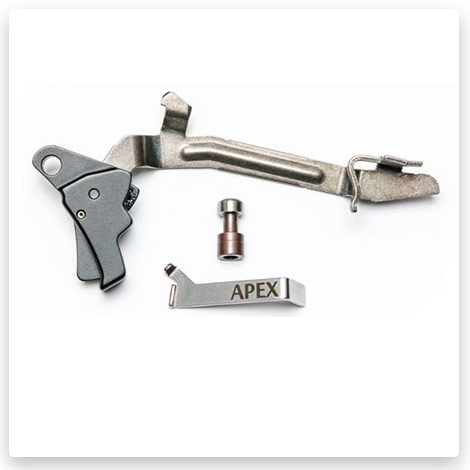 This Glock polymer trigger comes with Apex Ultimate Safety Plunger, Gen 3 Factory Trigger Bar, and Apex Performance Connector. The direct drop-in replacement trigger provides a smoother trigger pull with a crisp break, decreased travel and reset, and about a 1 lb. decline in trigger pull weight. This trigger isn't compatible with the .45 ACP, .45 GAP, 10 mm caliber Glock models, or the new Gen 5 models. In case of issues with the connection, bend the connector to fix them.
#14 ZEV Technologies PRO 9mm Curved Face Trigger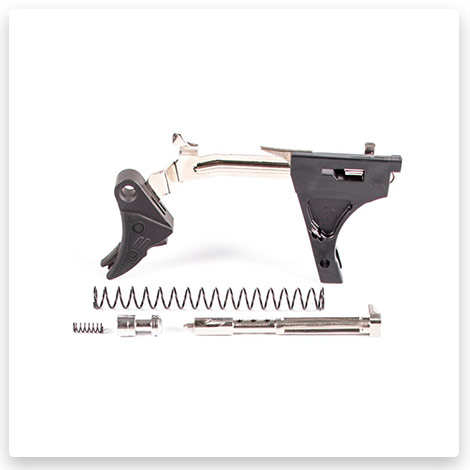 #15 Apex Tactical Specialties  Kit Glock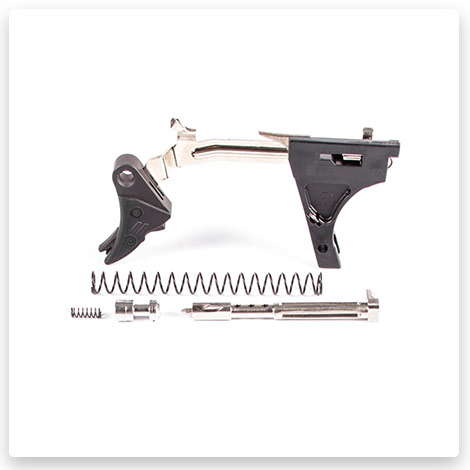 The Action Enhancement Kit is designed for Gen 5 Glock guns, including an Aluminum drop-in trigger with Gen 5 Bar, and Performance Connector. This kit with Red Finish ensures a smoother trigger pull with a crisp break, diminished travel and reset, and around a 1 lb. reduction in trigger pull weight.
#16 Apex Tactical Specialties Action Enhancement Kit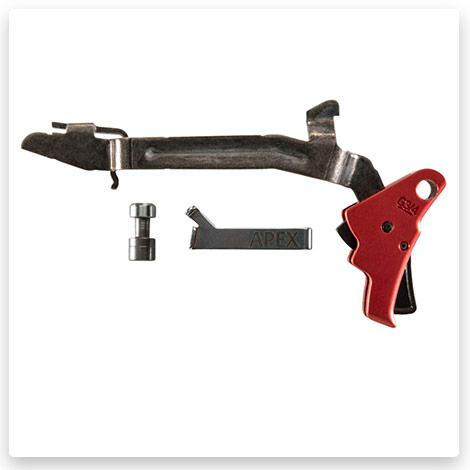 This Apex kit (102155) is similar to the Apex one (102156), they differ by Glock's compatibility: the first assembly fits 22, 23, 24 (Gen 3), while the second one – 19x, 34, 45 (Gen 5). The Aluminum trigger for Glock guns integrates Gen 3 Bar and Performance Connector. The Apex Tactical kit with Red Finish delivers a smooth trigger pull with a crisp break, decreased reset and travel, and about a 1 lb. mitigation in trigger pull weight.
#17 TIMNEY – ALPHA TRIGGER FOR GLOCK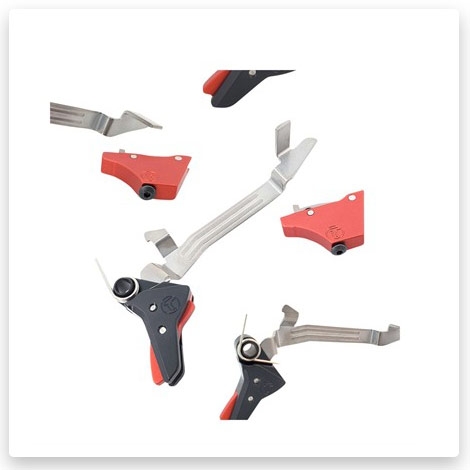 These triggers come with a Teflon-nickel-treated trigger bar and sear, as well as an anodized aluminum straight trigger blade. Timney developed reliable and safe triggers with enhanced trigger pull for high Glock performance. The factory-tuned parts deliver a crisp, clean trigger pull at about 3lbs. Properly decreased weight allows a very lightweight trigger but is still safe for the finger.
#18 CROSS ENGINEERING LLC – LOWER PARTS KIT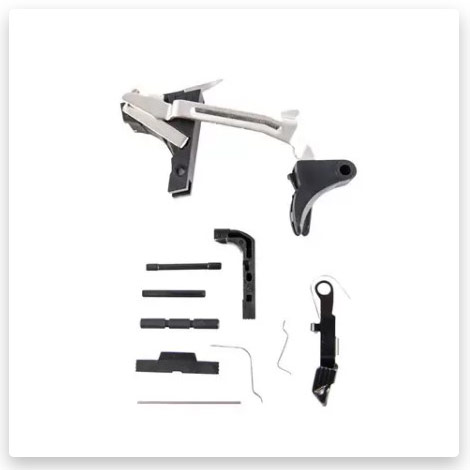 Complete Trigger with Polymer trigger shoe and 5.5 Connector, includes 3 Pin set, Extended Magazine Catch with Spring, Extended Slide Lock and Stop, Slide Lock Spring for G17 and G19. If at first install this can be a bit rough and hard to pull the trigger, you will need to file it a little and polish it.
FAQ
Conclusion
It is important to check the factual trigger pull weight, as at times can differ from advertised ones. Note that incorrect trigger pull weight can result in imprecise aiming after squeezing the trigger. The reliable triggers should be with smooth trigger pull and well-polished surfaces to deliver pulling action for sleeking the trigger up, which influences due performance.
Tags: #best glock 17 trigger / #best trigger for glock 17 / #best glock 17 trigger upgrade / #best trigger for glock 17 gen 4 / #best trigger job for glock 17