Affiliate Disclosure: AmmoCave.com sometimes gets paid for listings, through sponsors or affiliate programs like Lucky Gunner, Optics Planet, Brownells, Cabelas, Academy Sports & Outdoors, Rainier Arms, Palmetto State Armory, Sportsman's Guide, Ammo.com, Ammo Man, Primary Arms, MidWayUsa, Amazon, eBay, etс. Clicking a link helps keep AmmoCave.com free, at no extra cost to you!
Authors: Each article is verified by AmmoCave's expert team. Professional hunters, firearm trainers, gunsmiths, and gun experts write the articles. AmmoCave Team independently researches, tests, reviews, and uses recommendations from our community of gun owners. We may earn commissions from shopping links.
Note: The views and opinions expressed in this article are those of the authors and do not necessarily reflect any agency's official policy or position. The articles are for informational purposes only, share your opinions about Best Binary Trigger 2023 in the comments and join the discussions. Let's share 💬 our ammo & gun experiences together!
Every fan of weapons sooner or later is faced with the problem of the price and inaccessibility of good automatic weapons. Indeed, automatic weapons today cost quite a lot, plus they require special care for themselves and entail several more problems that you may have.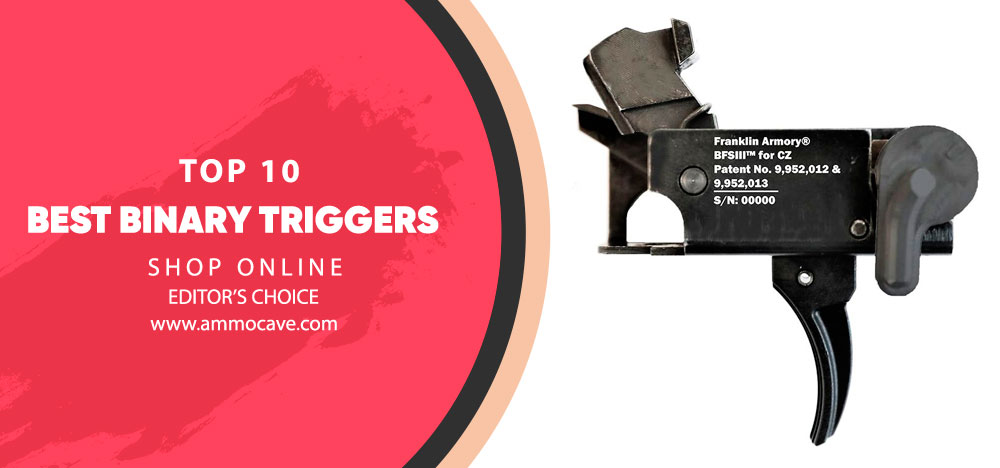 Fortunately, there's a simple mechanism that's a great tool to spice up your shooting practice or improve the defenses of your home. Yes, we're talking about binary triggers! In this article, we'll show you 9 of the best binary triggers that are perfect for any gun lover, no matter what you prefer!
| Image | Product | Brand | |
| --- | --- | --- | --- |
| | Franklin Armory Binary Trigger BFSIII B&T C1 | Franklin Armory | |
| | Franklin Armory Binary Trigger BFSIII HK-C1 | Franklin Armory | |
| | Franklin Armory Binary Trigger BFSIII AK-C1 | Franklin Armory | |
| | Franklin Armory Binary Trigger BFSIII AR-C1 | Franklin Armory | |
| | Fostech Outdoors Echo AR-II Binary AR Trigger | FosTech Outdoors | |
| | Franklin Armory Binary Trigger BFSIII CZ-C1 | Franklin Armory | |
| | Franklin Armory Binary Trigger BFS III ACR-C1 | Franklin Armory | |
| | Franklin Armory Binary Trigger BFSIII 22-C | Franklin Armory | |
| | Faxon Firearms Ar-9 Complete SAMMI Upper Receiver | Faxon Firearms | |
| | Timney Triggers AR-15 Competition Trigger | Timney Triggers | |
| | TRYBE Defense AR-15 Curved Drop-In Trigger | TRYBE Defense | |
| | CMC Triggers AR-15/AR-10 Single Stage Drop-in Competition Trigger | CMC Triggers | |
| | RISE Armament RA-140 Super Sporting Trigger | RISE Armament | |
| | RISE Armament RAVE 140 Drop-In Trigger | RISE Armament | |
What is a Binary Trigger?
Binary triggers are small, simple devices that allow you to greatly increase the rate of fire of your carbine, pistol, or rifle without breaking any laws. After replacing your standard trigger system with a binary one, your weapon will move closer to fully automatic. Binary triggers allow you to increase the rate of fire of your weapon by 2-3 times and it costs much less than buying a fully automatic weapon. This is a very useful thing, if you've ever thought about buying an automatic weapon, then you should look at binary triggers too.
Benefits of Binary Triggers
Cheaper than automatic weapons. The main advantage of binary triggers is that they're much cheaper than buying automatic weapons. Unlike a full weapon, you don't need to care for the trigger so much, you can replace the trigger with a new one at any time, and you can don't be afraid to lose or break them.
Very compact. Binary triggers take up very little space and you don't need to buy a safe specifically to store a binary trigger, you can put it right in your desk drawer or small safe. Automatic weapons are usually quite cumbersome and you need to constantly think about where to store them.
Little weight. Typically, triggers don't weigh more than 10 pounds. You can attach the trigger to your pistol or lightweight carbine without feeling heavy in your hands. An automatic weapon is much heavier than a binary trigger.
Versatility. A binary trigger can work on several platforms and calibers at once. This means that you can easily remove the trigger from your 5.56 NATO and install it on the Rimfire. Also, the best triggers now have compatibility with any BCG.
Easy to use. You don't have to get used to using binary triggers or spend hours figuring out how they work. You just set it up and forget. Triggers usually have 3 positions, which won't take much time to figure out how they work.
Almost legal. Unlike common guns, binary triggers are legal in many states. Despite all their advantages, it's best to find out the laws of your state and find out if triggers can be used without a license. Because some legislations consider binary triggers as part of the gun, so you'd better clarify this point.
TOP Best Binary Triggers – Editor's Choice
Well, now let's take a look at the best binary triggers that are going to be a great tool to improve your shooting!
1# Franklin Armory Binary Trigger BFSIII B&T C1 – Best Pick Overall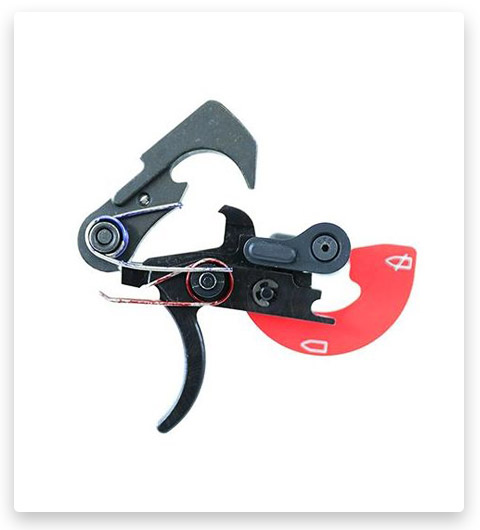 View on Opticsplanet View on Brownells
Franklin Armory is one of the most famous companies in the United States that manufactures weapon tools. The company has the status of a reliable and versatile manufacturer that can satisfy any gun lover. We present to you one of their best designs – the BFSIII B; T-C1 Trigger. Franklin Armory Binary Trigger is very easy to install and use, you hardly need a whole toolbox, just a couple of screwdrivers, and a thread locker. Besides, hundreds of videos on installing this binary trigger are available on the Internet.
The selector can be set in 3 positions: safe, classic semi-automatic, and binary automatic, which will fire every time you pull the trigger and release it. Once you've pulled the trigger, you can cancel firing by putting the trigger in semi-automatic mode. It a very convenient function and easy to use. In addition to the trigger itself, the manufacturer gives you an excellent buffer spring, which reduces recoil and increases the life of the binary trigger. You may need to spend a little time after purchase to get used to binary shooting. But when you get the hang of it, you will be second to none.
2# Franklin Armory Binary Trigger BFSIII HK-C1 – Best H&K Pick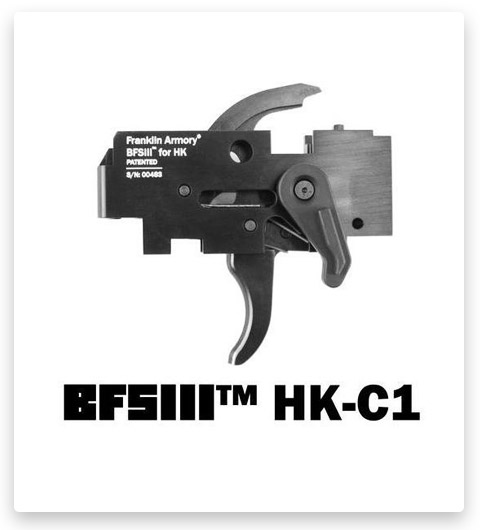 View on Opticsplanet View on Brownells
This system will definitely please H&K owners. A very flexible and versatile model, to be honest, we tested it on different weapons and found that you can install it on any version of the HK91 and 93, almost on any modification of the MP5, including civilians. The HK-C1 offers you everything that previous Franklin Armory models did, including clear installation instructions and red stickers. On the shooting range, this model works without errors, everything works as stated by the manufacturer – smoothly, clearly, and pleasantly. After a hundred shots of ammunition, we encountered only one stumbling when ejected, which we eliminated in 2 seconds. With this trigger system, you get speed as you've never seen before.
3# Franklin Armory Binary Trigger BFSIII AK-C1 – Best AK Rifles Pick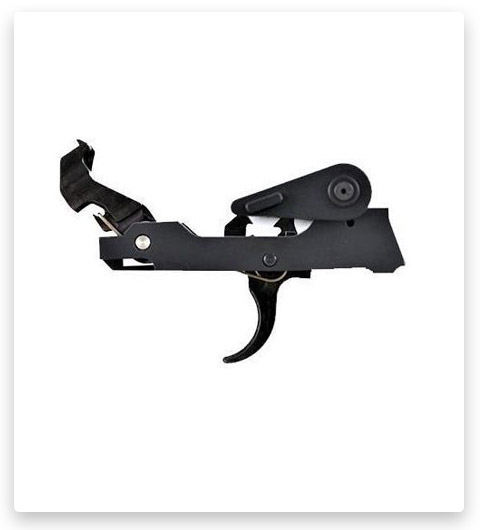 Another great binary system, but this time for AK. This also includes a separate model for the 9mm version. How the installation will go directly depends on what kind of weapon you have. It lacks the versatility and simplicity of the B&T C1. For example, to put this trigger on Saiga 7.62 * 39 you'll hardly need any effort. But VEPR may require both grinding and professional installation. But in any case, it's worth the effort spent on installation. Because once you're done, this trigger will breathe new life into your rifle. The trigger is very high quality and it's a pleasure to use it.
4# Franklin Armory Binary Trigger BFSIII AR-C1 – Most Popular Pick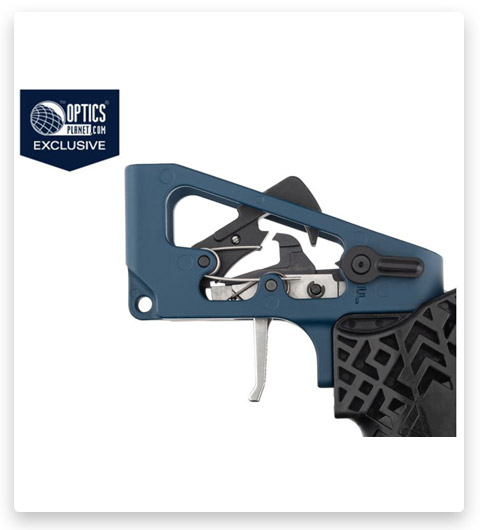 This trigger from Franklin Armory is the most popular among gun lovers, probably because it's very versatile and convenient. And when we installed it on our AR, we were once again convinced of this. This model is very easy to install, you don't even have to watch a video to put it on your weapon. Personally, the simple instructions in the kit were enough for us. The manufacturer has also equipped this binary trigger with a buffer spring, which reduces recoil and makes the trigger more durable. So you can comfortably use the system for a long time. The only thing we didn't like about this model was the not very convenient and not very high-quality red warning sticker that was glued under the selector. Otherwise, this is an almost perfect model for your weapon.
5# Fostech Outdoors Echo AR-II Binary AR Trigger – Best Durable Pick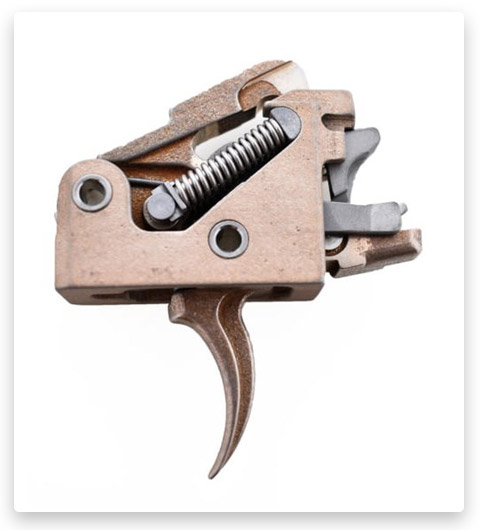 FosTech, like Franklin Armory, makes great binary systems. Their models are characterized by great durability and strength. Although you'll have to work hard to set this trigger correctly, it'll be a great workhorse for you in the long run. This model is compatible with almost any AR and doesn't require professional installation and grinding, even a novice gunsmith can easily put it on his AR. But you need to be quite careful because this trigger likes to be "naughty" when installing. We said for a reason that this is an ultra-durable system. The entire system is made of durable stainless steel and features a comfortable curved trigger. Traditionally, after assembly, you can select safe, semi-automatic, and automatic (Echo) firing mode. In Echo mode, you get that double-tap that allows you to accurately shoot targets and bring your speed up to 400+ rpm. The only drawback of this model is that it's quite heavy. For example, the trigger spring could be much lighter, and so would a couple of screws in the system.
6# Franklin Armory Binary Trigger BFSIII CZ-C1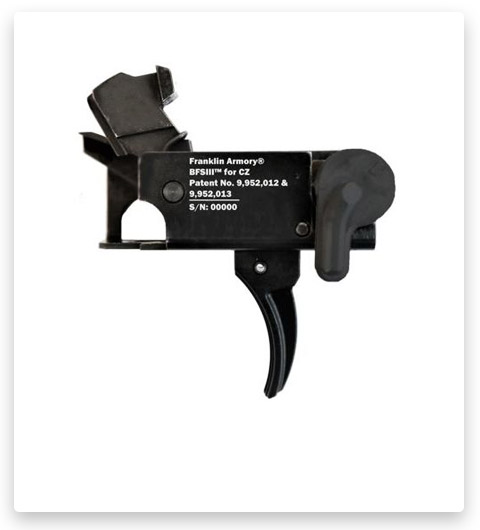 View on Opticsplanet View on Brownells
Franklin Armory The BFSIII HK-C1 Binary Trigger is also from the BFSIII range but much better suited for use in semi-automatic pistols like the CZ Scorpion and others. When ordering this kit, Franklin Armory will supply you with everything you need. Each element of the kit is made of high quality, so you can be sure that this trigger will last you a long time. Although the installation is pretty simple both in the manual and in the video, there are some issues we encountered with the installation. If you order the "World Legal" configuration, the disconnection will be more difficult than usual. The cover screw is quite tight, so you have to work hard to unscrew it. We also heard some complaints from users with problems with the V1 and V2 versions of Scorpion. Plus, this gear is quite expensive for 9mm. Like the previous model, this version has three modes allowing you to shoot in safe, semi-automatic, and binary modes. The trigger here is pretty good and all-important shoots will be accurate and fast, which is a pleasure.
7# Franklin Armory Binary Trigger BFS III ACR-C1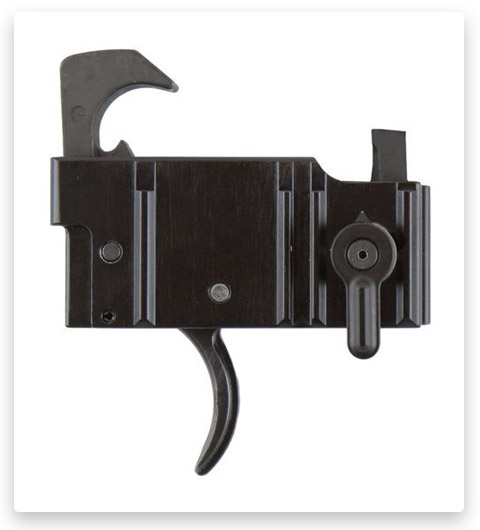 For a fully modular Bushmaster, this binary trigger is best suited. The biggest Bushmaster ACR problem is that the configurations for the military and police differ in that the military version is only available in semi-automatic mode. Franklin Armory solves this problem with the BFS III ACR-C1 trigger. This model will allow you to unleash the full potential of your rifle without breaking the law. The binary trigger has a very simple design: a pair of hex key screws, levers, and indicator stickers. Of all the installations that we reviewed, this seemed to us the simplest. This is not only because the Franklin Armory makes great gear, but also because Bushmaster made a great rifle for setting the trigger inside. All checks, dry fire, and testing passed without any problems and this trigger proved to be its best on the shooting range.
8# Franklin Armory Binary Trigger BFSIII 22-C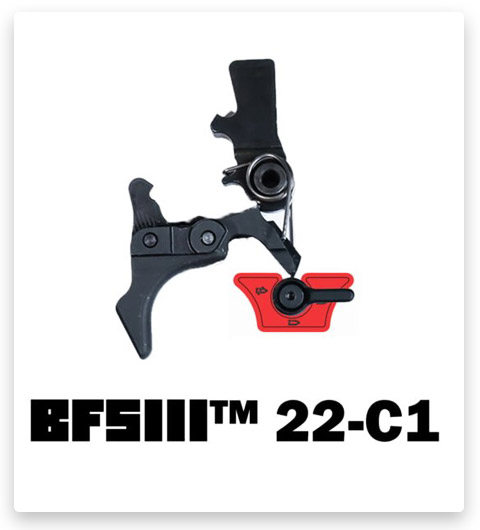 For those who are looking for something budget for their rifle, the 22-C1 trigger will be a great solution. Despite the price, it performs well when shooting. While it does have some set and drop issues, overall performance is good. Franklin Armory provides you with a standard kit with stickers, screws, trigger. How long you install will depend on the type and model of your rifle. We had to spend a bit of time sanding before the trigger got into position. Overall, this trigger feels nice when firing and gives you a fairly high rate of fire.
9# Faxon Firearms Ar-9 Complete SAMMI Upper Receiver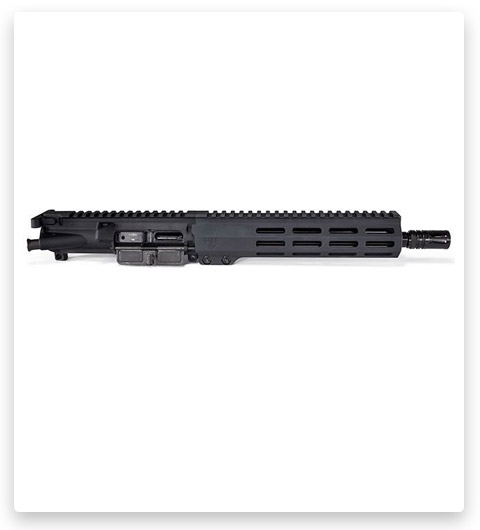 Faxon Firearms makes a pretty impressive line of overhead receivers for the AP-15, so we decided to take one of the best models and review it for you. This upper is made to be as compatible as possible with 9mm carbines, Glocks, and Colts. The receiver has a 10-inch barrel with a solid steel flame arrester and an aluminum alloy handguard with modular slots for 3, 6, and 9 o'clock locks. Add to that compatibility with binary triggers, and you take your gun to the pinnacle of efficiency.
How Does Binary Trigger Work?
Binary triggers work by lowering the sear in binary mode. Simply put, the weapon fires not only when you press the sear, but also when you release it. Besides, good binary triggers have several modes that allow you to leave the weapon on the safety lock (position 0), but the weapon in normal semi-automatic mode (position 1), and put the weapon in fully automatic mode, firing on pressing and releasing the sear (position 2).
How Do I Install A Binary Trigger?
Okay, you bought a binary trigger, but what do you do next? Now we'll tell you how to correctly set a binary trigger using the example of Franklin Armory BFSIII. If your trigger is different from ours, then you don't have to worry, because each trigger comes with installation instructions and, in general, all installation steps will be similar to those that we presented in our guide.
Before you start, get all the necessary tools you need ready. This is a thread locker, protective glasses, a flat and cross screwdriver, and a hammer. Depending on the trigger itself, you may need other tools, so keep your toolbox close at hand.
The first thing you need to do is to make sure there is no oil residue on the left side of the bottom receiver that could prevent you from sticking the safety indicator sticker. If necessary, use alcohol or other liquid to remove oil residues from the surface. Then remove the sticker with the security switch indicator and attach it to the left side of the receiver.
The trigger is almost completely assembled at the factory, the only thing that can fall out during installation is the slave pin. Therefore, you may need to reposition the disconnect so that the pin can be inserted into the right side of the trigger. Do not move the slave pin past the disconnect until the IDS spring is in place.
On the left side of the trigger, insert the IDS, go through the pinhole, and guide the IDS spring back into the IDS slot. Use a pick to squeeze the spring so that the pin can be pushed all the way to the left side of the trigger.
Place the spacers on either end of the trigger with the half-round portion facing upward on the outside ends. Wrap one of the two trigger springs around the assembly.
Insert the trigger sub-assembly into the lower receiver. Insert one trigger pin through the left side so that it barely holds the left spacer, then insert the second pin from the right side. It's best to have the smooth end of the trigger pin enter from the right side of the receiver and be lightly tapped until the other trigger pin and slave pin have drifted out.
Wrap the hammer spring around the hammer. If you choose to use the clear springs that are used with hard primer weapons, the overall pulling force will be slightly different, but the steps are the same.
Make sure the hammer is cocked and set the safety switch on the left side of the receiver. Install the safety latch into the corresponding hole in the receiver. Then put on the safety spring, handle, and grip screw.
With the selector in place, attach the short paddle to the safety selector with the screw (usually included, but you can use your own). Then apply a little thread locker to the selector screw and tighten the paddle screw with the hex wrench.
The last steps remain. Insert the buffer and buffer spring into the receiver extension. Then follow the dry fire checklist. If the trigger didn't fail, then you did everything right and the weapon is ready to go. If something breaks or crashes, then it is better to reread the instructions for your trigger or this manual again.
FAQ
We understand that it's impossible to make a guide that would provide all the information that will help you in using binary triggers. But we try to get as close as possible to this. Therefore, we've collected for you the most frequent questions that users have when using binary triggers. Scroll down and you will find what interests you so much!

Our Final Verdict
Let's summarize a little and select the best models from our list that impressed us with their characteristics and effectiveness. Here they are:
Now you know very well how good binary triggers are and how much more effective they can make your weapons and your shooting. By choosing any trigger from our list, you can be sure that they will serve you well, you will not experience any problems with spitting out and using, because we only trust quality manufacturers and stores.