Affiliate Disclosure: AmmoCave.com sometimes gets paid for listings, through sponsors or affiliate programs like Lucky Gunner, Optics Planet, Brownells, Cabelas, Academy Sports & Outdoors, Rainier Arms, Palmetto State Armory, Sportsman's Guide, Ammo.com, Ammo Man, Primary Arms, MidWayUsa, Amazon, eBay, etс. Clicking a link helps keep AmmoCave.com free, at no extra cost to you!
Authors: Each article is verified by AmmoCave's expert team. Professional hunters, firearm trainers, gunsmiths, and gun experts write the articles. AmmoCave Team independently researches, tests, reviews, and uses recommendations from our community of gun owners. We may earn commissions from shopping links.
Note: The views and opinions expressed in this article are those of the authors and do not necessarily reflect any agency's official policy or position. The articles are for informational purposes only, share your opinions about Best Trigger Lock 2023 in the comments and join the discussions. Let's share 💬 our ammo & gun experiences together!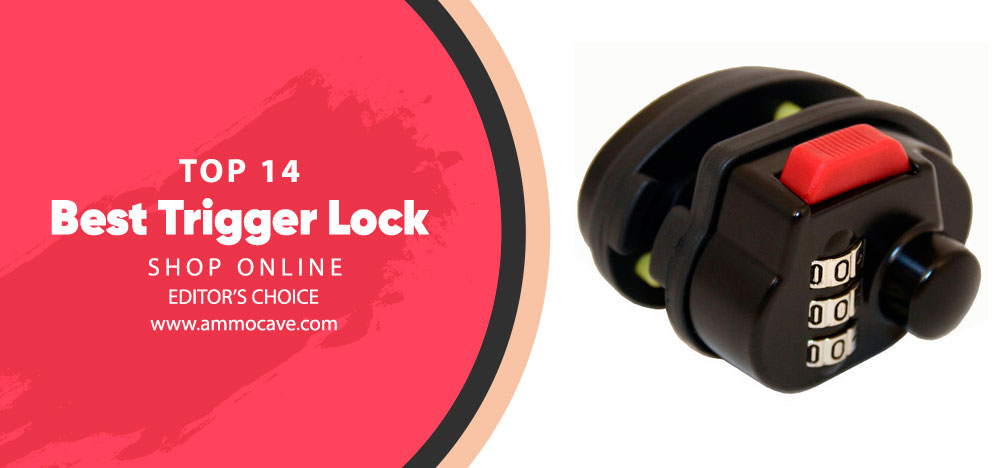 What is Trigger Lock? 💡
It is a safety device designed to prevent unauthorized access to firearms by securing the trigger mechanism. It is a device that locks the trigger guard of a firearm, rendering it inoperable until the lock is removed by an authorized person. Trigger locks are an effective way to prevent accidental discharges and keep firearms out of the hands of unauthorized users, including children and thieves.
Our Top Pick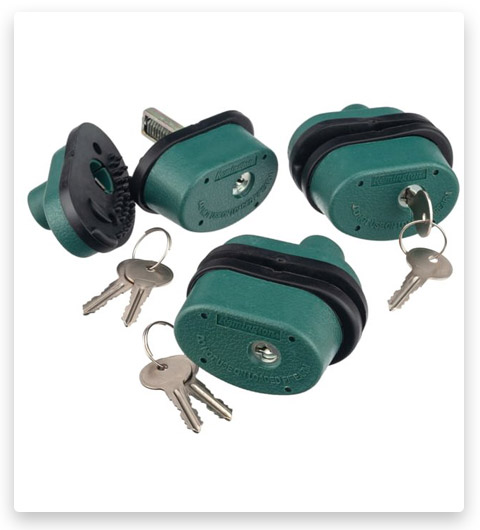 Remington Trigger Block Keyed Alike
Remington has created a pack of three trigger locks, each with two keys, designed for Shooting and Hunting purposes. These locks are only accessible to authorized users. The Block Three Pack is made of hardened steel and features rubber inserts to prevent scratches. The locks are compatible with the same set of keys.
Buy Now On OpticsPlanet
If you click this link and make a purchase, we earn a commission at no additional cost to you.
Types ⌛
🔰 1. Keyed Trigger Locks
📌 They come with a key that you can use to unlock and lock the device to secure your firearm.
📌 They are easy to use and offer a high level of security.
📌 However, losing the key can result in rendering the lock useless, and they are not childproof.
🔰 2. Combination Trigger Locks
📌 They use a combination code to lock and unlock your firearm.
📌 They offer an added layer of security because only the person with the correct knowledge of the combination code can unlock the device.
📌 Moreover, they eliminate the need for a key, ensuring maximum convenience.
📌 However, forgetting the combination code can lead to access denial to the firearm.
🔰 3. Cable Trigger Locks
📌 They consist of a flexible cable that runs through the trigger guard, allowing you to secure your firearm.
📌 They offer an alternative option to the traditional lock types and are ideal for semi-automatic or long guns.
📌 The flexibility of the cable is highly advantageous and ensures that you can lock your gun to an anchor point while also making it impossible to load or shoot guns while still locked.
🔰 4. Biometric Trigger Locks
📌 They use fingerprint technology to lock and unlock your firearm, providing extra security and quick access.
📌 They offer highly superior security and quick access to authorized gun owners, making them ideal for home defence situations.
📌 However, they are relatively expensive compared to other types of trigger locks.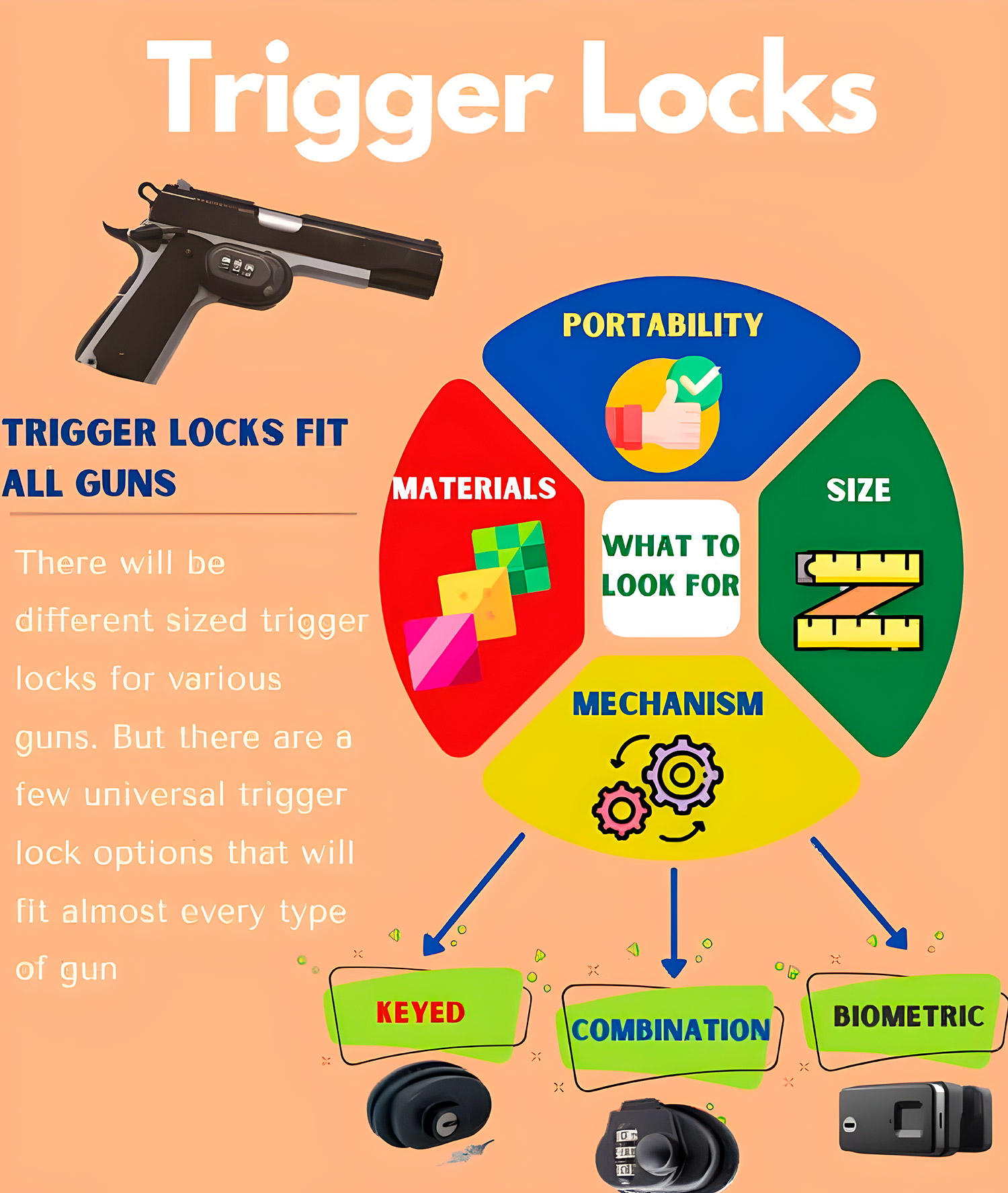 Features 🔥
✅ 1. Compatibility
🧷 They come in different sizes and shapes, and not all of them will fit all guns. It is important to choose a lock that is designed to fit your firearm and to make sure that it is securely fastened in place.
🧷 Some of them come with adjustable sizing mechanisms or multiple attachments to fit a variety of firearms.
✅ 2. Ease of use
🧷 A high-quality item should be easy to install and remove, but also difficult for unauthorized individuals to tamper with.
🧷 Some locks require the use of keys or combination codes to unlock, while others are designed to be easily accessible in case of an emergency.
🧷 It is important to choose a lock that strikes a balance between ease of use and security.
✅ 3. Durability
🧷 A lock that is made of cheap materials or has weak construction is more likely to fail or be tampered with.
🧷 Look for locks that are made of high-quality materials, such as steel or heavy-duty plastic, and that have been tested for strength and durability.
✅ 4. Versatility
🧷 A versatile lock can be a great investment, especially if you own multiple firearms of different types.
🧷 Look for locks that are adjustable, and that comes with multiple attachments or adapters to fit different guns.
✅ 5. Additional features
🧷 Some of them come with additional features that can make them more effective or convenient to use.
🧷 For example, some locks have alarms or sensors that will sound if the lock is tampered with, while others have rubberized pads to protect the gun's finish.
🧷 When choosing a lock, consider any additional features that may be important to you.
We believe this video can be helpful for you 📺
 Best Gun Trigger Locks On the Market 🚀
1# Bison L1 Biometric Fingerprint Trigger Lock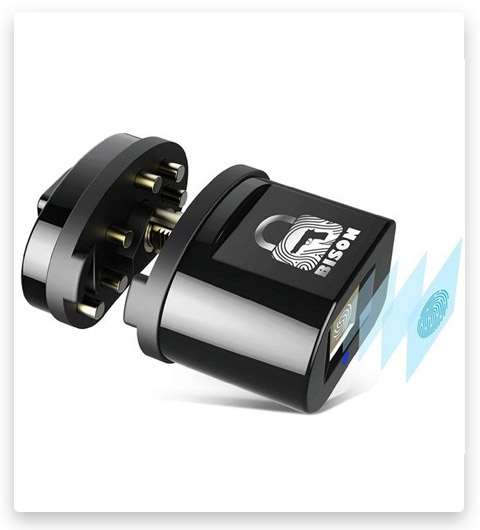 The biometric trigger lock features an almost universal fit for trigger guards up to 2.67 L x 1.37H x 0.70W in, providing enhanced tensile strength to deter gun tampering. This Fingerprint device is unlocked in just 0.3 seconds with a minimal error rate (about 0.001%) and can be programmable for up to 10 users with six different fingerprint patterns for each one. After we tested it in practice we found an extra option to unlock the device when the internal battery dies is a backup butterfly tumble key lock. The Lock comes with keys, USB Charging Cable, and a fingerprint Setting Tool.
2# DENTILOCK GLK-A1 Biometric Trigger Lock for Glock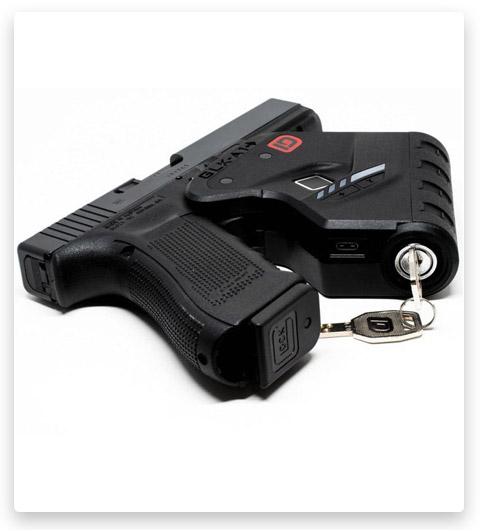 Introducing the Dentilock GLK-A1 Biometric Trigger Lock for Glock. The perfect way to keep your firearm secure and out of reach from children! With 360-degree fingerprint recognition, you'll be able to access your firearm with an instant unlock time. Rechargeable lithium-ion battery provides 6+ months of use with each charge. Identilock combines advanced technology with adaptive software to ensure you have peace of mind knowing your firearm is safe and secure. The lock is made from durable, long-lasting black material and fits most Glock Firearms. Keep yourself and those around you safe with the Dentilock GLK-A1 Biometric Trigger Lock for Glock – the only gun lock you can trust.
3# IDENTILOCK S&W-B1 Biometric Trigger Lock for Smith & Wesson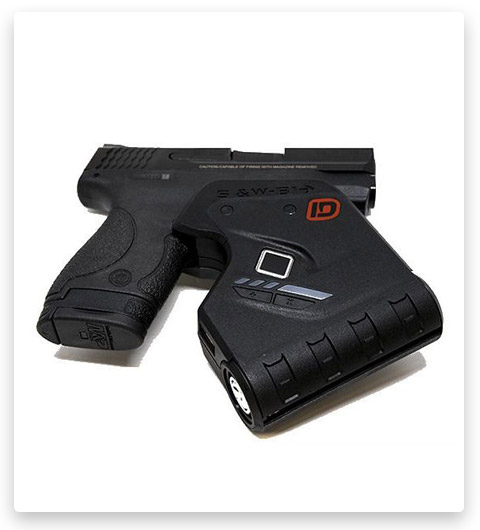 The lock opens with the fingerprint touch in about 0,3 seconds, programming up to 3 authorized shooters to use the gun. IDENTILOCK ensures to keep the firearm is safe, preventing it from accidentally being discharged by children, guests, or criminals. The lock is convenient for storage and staging methods of pistols due to the suitable weight and size. It's necessary to unload the firearm before installing the trigger lock to prevent accidental discharge of the loaded gun while opening the lock. Keep away from moisture and direct sunlight. After we tested it in practice we found that the lock is engineered for only these firearm models: Smith & Wesson M&P40 SHIELD and Smith & Wesson M&P9 SHIELD. The locking device comes with a Key, USB cable, Sticker, and Quick Start Guide. There are 2 models, one is with Factory DEMO condition.
4# IDENTILOCK SIG-A1 Biometric Trigger Lock for Sig Sauer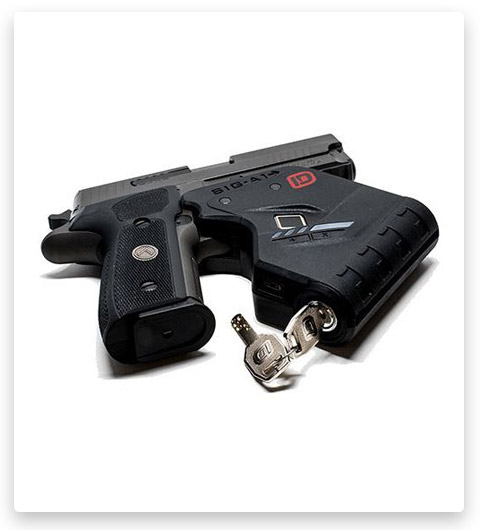 IdentilockSIG-A1 Biometric Trigger Lock features the same characteristics as Identilock S&W-B1 Biometric Trigger One, the difference between them is firearms' compatibility: the first is designed for Sig Sauers and the second is for Smith & Wesson. This locking device in the polymer frame with LED indicators on the Key Lock Cover comes with a Key, USB cable, Sticker, and Quick Start Guide. The appropriate lock weight and size allow for comfy storage and staging methods for pistols. Every time unload the gun before locking the trigger and keep away from moisture and direct sunlight as well.
5# IDENTILOCK SPR-C1 Biometric Fingerprint Trigger Lock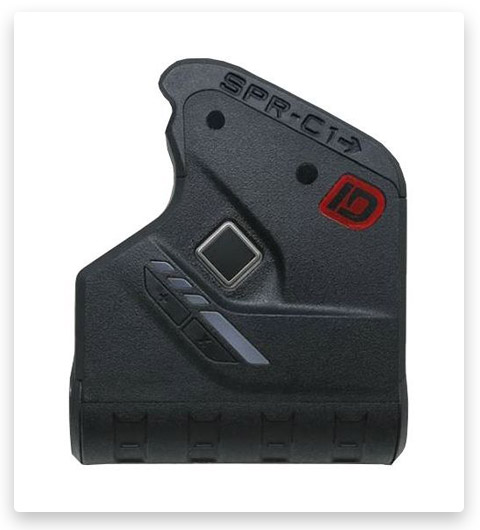 Introducing the Identilock SPR-C1 Biometric Fingerprint Trigger Lock, designed for the serious hunter or shooter. This ultra-secure trigger lock reduces accidental firearm discharge by combining state-of-the-art biometric technology and a key lock. The sleek black design is made of durable metal polymer and has a rechargeable lithium-ion battery with over six months of standby life. It offers 360 fingerprint recognition, LED indicators, a Type-C USB charging port, omnidirectional dimple keys and a key lock cover. Its compact dimensions are 4 in x 5 in x 1.5 in and at 11.3 oz, it's lightweight enough to bring to target practice without weighing down your bag. With its advanced features and robust construction, the Identilock SPR-C1 Biometric Fingerprint Trigger Lock ensures you can rely on it for security now and for years to come.
6# Bulldog Cases Trigger Lock With Combination BD8000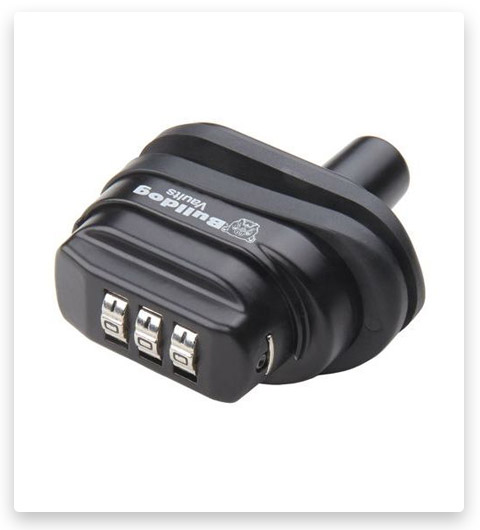 Introducing the Bulldog Cases Trigger Lock With Combination BD8000: a secure locking solution for most handguns, rifles, shotguns and MSRs. The special combination lock feature makes it easy to quickly unlock the device with just several numbers and an added layer of security to your firearms when you're away from home. Made with high-quality materials, this handgun lock will ensure that your firearm is held securely in place and offers reliable performance for years to come. Whether you're a hunter or shooter, the Bulldog Cases Trigger Lock With Combination BD8000 provides convenient security solutions for any type of firearm owner. Based on our own experience -the simple design makes it easy to carry around and set up anywhere. Plus, with California's Proposition 65 compliant warnings ensuring safety at all times, you can trust this product when storing your important firearms. Get ready for the ultimate in gun security with the Bulldog Cases Trigger Lock With Combination BD8000 – sure to be a fantastic addition to any shooter's collection!
7# Master Lock Resettable Combination Lock w/Pin Tumbler Security 94DSPT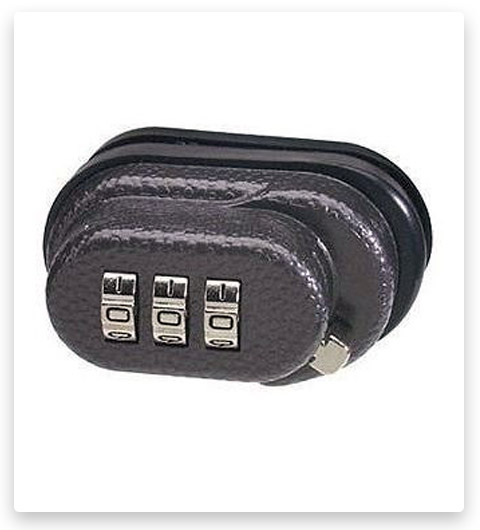 The Master Lock Resettable Combination Lock w/Pin Tumbler Security 94DSPT offers maximum security for your firearms. The solid die-cast construction and dedicated pin tumbler design provide an extra layer of protection to ensure your firearms stay securely locked away. With adjustable sizing, this lock can easily fit most trigger guards. This gun lock is available in a sleek black finish that looks great and blends in with any firearm storage space. Whether you are shooting at the range or heading out into the field, you can trust the level of security and peace of mind that this Master Lock provides.
8# Allen ALC Trigger Gun Lock Single Keyed Comes With Two Keys 15415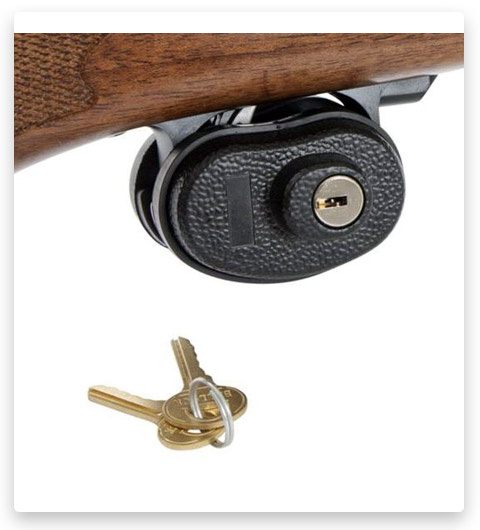 Get the peace of mind and security you need with the Allen ALC Trigger Gun Lock, Single Keyed, with two Keys. This heavy-duty, durable locking device attaches in a matter of seconds to most shotguns, rifles, revolvers, and pistols (not for lever-action rifles) for instant protection. Just insert the key into the security lock, turn it, and open it – no need to unscrew long fasteners. This one-size-fits-most design is California-compliant and meets Proposition 65 requirements – so you know your firearms are safely secured. The Allen ALC Trigger Gun Lock comes with two keys and is perfect for hunters, shooters and anyone who needs extra security. Get ready to enjoy ultimate safety and reliable protection!
9# DeSantis F.A.M.S. Holster w/Lock Hole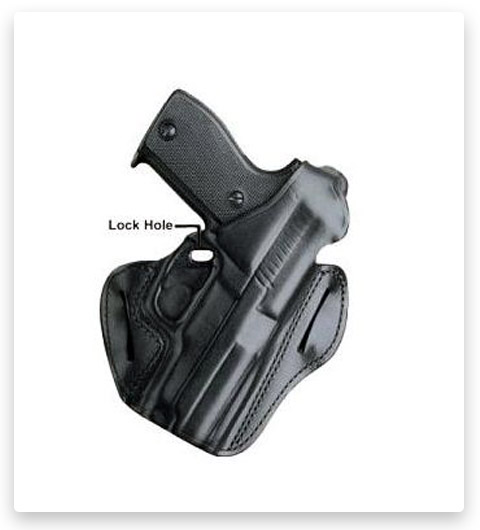 Based on our observation this Full-Size Black Leather Belt Holster with Plain coating is suitable for Daily Concealable Carry, Range, or Competition. The holster is equipped with Belt Loop (slot is 1 ¾ in wide) for mounting and Thumb Break Fastener. The hole is equipped with a padlock or standard handcuff behind the trigger allowing the weapon to remain holstered and loaded but locked and safe. DeSantis F.A.M.S. is used as an asymmetrical design, which is standard for the U. S. Secret Service and other Federal Law Enforcement agencies.
10# Bulldog Cases Trigger Lock With Key 3 Pack BD8003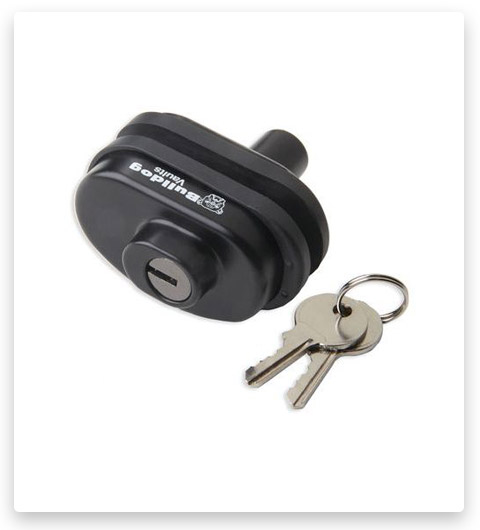 Bring your firearm security to the next level with the Bulldog Cases & Vaults Trigger Lock With Key 3 Pack. This heavy-duty trigger lock set is designed to lock out unauthorized firearms users. The integrated key holes offer quick and convenient access while the matching keys ensure secure locking of your firearm anywhere you choose. Crafted from a rugged steel material, these trigger locks are rust and corrosion-resistant so they will last for years to come. With their protective black finish, these trigger locks blend seamlessly with any gun or rifle collection. Along with making your guns safer for storage, this trigger lock will also provide additional safety when carrying or storing firearms away from home. So get the ultimate in firearm protection and invest in this three-pack of trusted Bulldog Cases & Vaults trigger locks today.
11# Lockdown Trigger Lock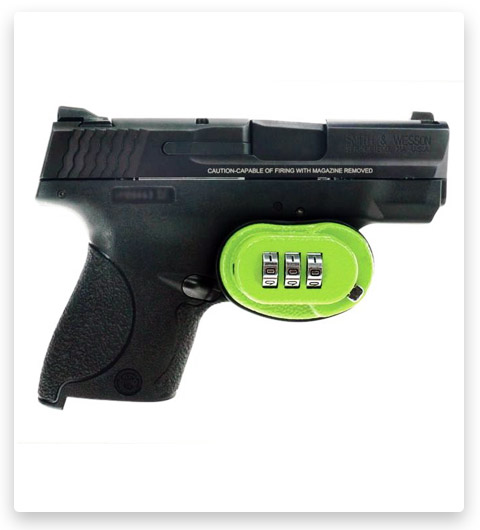 The Lockdown Trigger Lock is designed to protect your firearms from unauthorized access by keeping other trigger fingers away. We understand that when it comes to gun safety, nothing can be taken lightly. That's why the Lockdown Trigger Lock is certified by the California Department of Justice so you can feel secure knowing that your firearms are locked down tight. With both a keyed and combination version available, you can choose whatever level of protection works best for you. The black colour ensures discretion while giving an air of sophistication. It's time to tighten up the security of your guns with Lockdown Trigger Locks – this product is perfect for hunters and shooters.
12# Remington Trigger Block Keyed Alike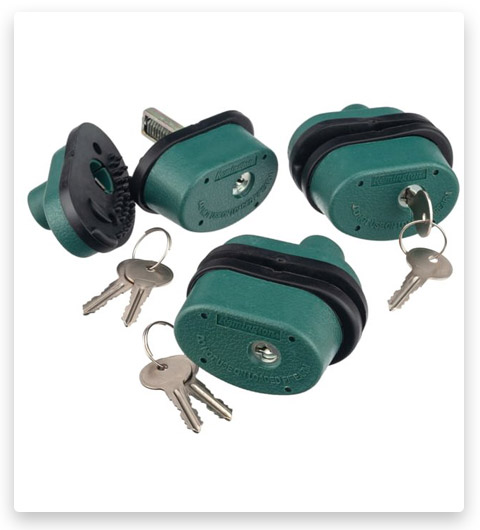 The Remington Trigger Block Three Pack is the perfect security solution for any hunter or shooter looking to keep their firearms safe. With this set, you can rest assured that your guns are securely locked away and cannot be activated without authorized use. According to our experience the hardened steel centre locking point provides superior strength and stability, while the rubber inserts protect your weapons from scratches or marring. This set even includes 2 keys that are keyed alike so you can quickly unlock your guns when needed. Invest in the well-being of your family with the Remington Trigger Block Three Pack—the trusting solution for secure firearm storage.
13# DAC Technologies Winchester Single 1 PK Trigger Lock WINMTL099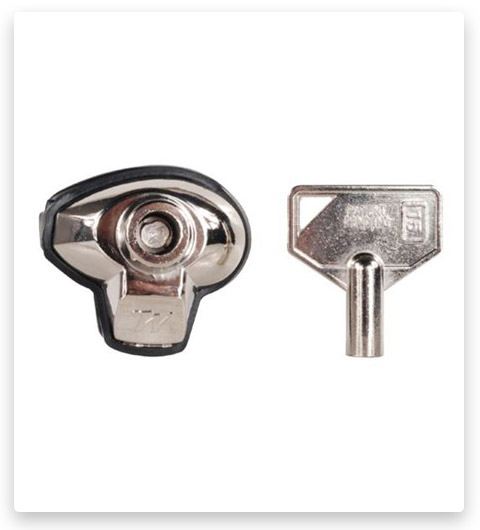 Keep your firearms safe and secure with the Winchester Trigger Lock, brought to you by DAC Technologies. Armed with a key-style lock and rubber bumpers to protect your firearm's finish, this Winchester Trigger Lock provides added protection while storing or transporting your weapon. Compatible with most firearms (excluding lever action or Derringer-type firearms), this single pack is the perfect solution for hunters, shooters and gun enthusiasts alike. Plus, this product meets all applicable California regulations. Don't trust your firearms' safety to anything less than the best – get trusted protection today with the DAC Technologies Winchester Single 1 PK Trigger Lock!
14# Masterlock 90TRISPT Gun Locks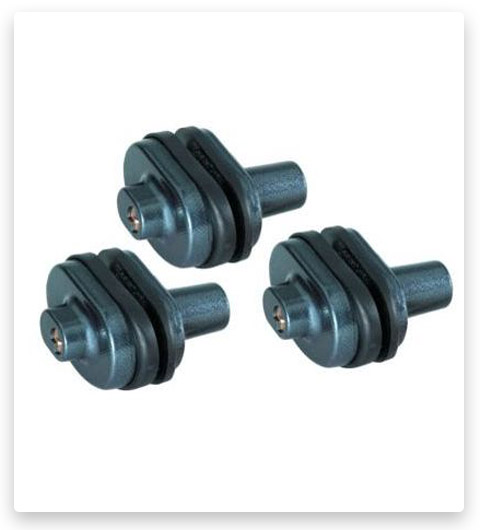 Look no further than the Masterlock 90TRISPT Gun Lock Gun Locks for maximum security and protection of your firearms. Featuring a steel and zinc body to repel more potential attacks, these gun locks are designed with a 4-pin tumbler cylinder to help ensure that any attempts at picking will be unsuccessful. Special rubber pads along the lock also prevent marring or scratching the gun's finish, making it an ideal choice for all types of rifles, shotguns, and handguns. With the added perk of all three locks using the same key for convenience, the Masterlock 90TRISPT Gun Lock Gun Locks is your number one choice for the safety and secure storage of your firearms.
How To Use? 🔊
🎯 Step 1: Choose the Right Trigger Safety Lock. When selecting an item, make sure it's compatible with your firearm. Some gun models have unique trigger mechanisms, so you'll need a lock that fits properly.
🎯 Step 2: Clear Your Gun. Before installing, make sure your gun is unloaded. Remove the magazine and check the chamber to ensure there are no live rounds.
🎯 Step 3: Install the Trigger Safety Lock. Follow the instructions on the safety lock to install it properly. Typically, you'll need to place the lock over the trigger guard and secure it with a key or combination lock.
🎯 Step 4: Test the Lock. Once it is installed, test it to ensure it's functioning correctly. Try to pull the trigger to confirm that the lock prevents the gun from firing.
🎯 Step 5: Store Your Gun Safely. Now that your gun is secured with a lock, make sure to store it safely. Keep it in a locked gun safe, cabinet, or case, and store the key or combination in a separate location.
Please watch this video to learn more information 📺
FAQ 😎
Conclusion 🗒✏️
Choosing Trigger Lock, consider its portability as it is important to keep their guns secure while carrying them or travelling with them. The locks' materials should be durable such as stainless steel or zinc to provide their direct function of protecting the gun against unpermitted use. Low-priced devices are usually manufactured from plastics or polymers that aren't break-in-resistant. Remember about trigger lock size, which should fit your firearm. Beforehand check your local laws if locks are required and which ones. 🙌