Affiliate Disclosure: AmmoCave.com sometimes gets paid for listings, through sponsors or affiliate programs like Lucky Gunner, Optics Planet, Brownells, Cabelas, Academy Sports & Outdoors, Rainier Arms, Palmetto State Armory, Sportsman's Guide, Ammo.com, Ammo Man, Primary Arms, MidWayUsa, Amazon, eBay, etс. Clicking a link helps keep AmmoCave.com free, at no extra cost to you!
Authors: Each article is verified by AmmoCave's expert team. Professional hunters, firearm trainers, gunsmiths, and gun experts write the articles. AmmoCave Team independently researches, tests, reviews, and uses recommendations from our community of gun owners. We may earn commissions from shopping links.
Note: The views and opinions expressed in this article are those of the authors and do not necessarily reflect any agency's official policy or position. The articles are for informational purposes only, share your opinions about Best Remington 700 Trigger 2023 in the comments and join the discussions. Let's share 💬 our ammo & gun experiences together!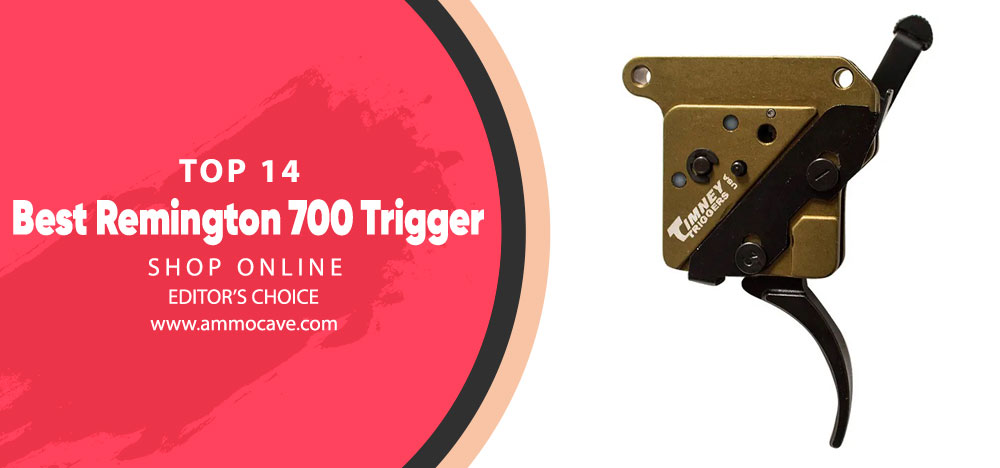 Our Selection of the 14 Best Remington 700 Trigger on the Market
Remington 700 platform has remained at the top of the bolt-action centerfire rifles ranks for almost 60 years by this day. But despite being such an old-timer it is one of the most aesthetic rifles on the market that still packs a formidable punch in a matter of reliability and accuracy. It also possesses an unmatched versatility with a plethora of aftermarket gun parts that are constantly being produced by reputable gunsmith companies making this rifle fully adjustable and customized to fit your needs.
This article is devoted to a small but essential mechanism of your gun – its trigger. When the time of aesthetic contemplation and polishing your beloved rifle is over it becomes clear as day that all enjoyment of the shooting process starts with and revolves around this little thing. To operate a quality trigger with no stack and creep issues and that provides only smooth and clean sensations during all phases of its sequence is not only effective but utterly satisfying. As well as a bad one or an improper trigger may ruin the experience from the finest gun.
Prior to a closer look at the 14 best Remington 700 triggers, we should mention that each of them possesses its own blend of three key features – pull weight, durability, and design. Keep these in mind choosing a trigger for harsh environment hunting as it may be significantly different from the one applicable for bench-rest shooting.
| Image | Product | Brand | |
| --- | --- | --- | --- |
| | Timney Triggers Remington 700 Hit Trigger | Timney Triggers | |
| | Timney Triggers Remington 700 Calvin Elite Stage-2 Trigger | Timney Triggers | |
| | TriggerTech Remington 700 Primary Trigger | TriggerTech | |
| | Timney Triggers Elite Hunter Remington 700 Trigger | Timney Triggers | |
| | Timney Triggers Remington 700 2-Stage Straight Trigger | Timney Triggers | |
| | Timney Triggers 520CE-A Calvin Elite Custom Remington 700 RH Trigger | Timney Triggers | |
| | Triggertech Remington 700 Trigger | Triggertech | |
| | Triggertech Remington 700 Diamond Trigger | Triggertech | |
| | TriggerTech Remington 700 Special Trigger | TriggerTech | |
| | Triggertech Remington 700 Two-Stage Special Trigger | Triggertech | |
| | Triggertech Remington 700 Two-Stage Special Trigger Pro | Triggertech | |
| | Timney Triggers Benchrest Remington 700 Single Stage Trigger | Timney Triggers | |
| | Triggertech Remington 700 Diamond Trigger w/ Bottom Safety | Triggertech | |
| | Triggertech Remington 700 Two-Stage Diamond 2 Trigger | Triggertech | |
1# Timney Triggers Remington 700 Hit Trigger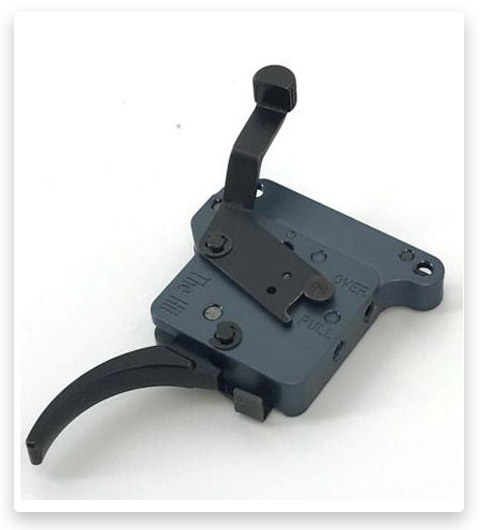 Featuring the new geometry and Sear Engagement Adjustment Lock design the Hit is a frequent choice for many Remington 700 owners that require good long-range precision. Coming with an 8 oz pull weight it can be adjusted up to 2 lbs and feels like a true relief after the factory one. Unfortunately, it misses the easy pull weight adjustment via trigger guard and barrel action needs to be removed from a chassis in order to do so. The trigger is available in curved and straight lever shapes with classical anodized aluminum alloy housing, steel NP3 plated sear and nitric oxide coated lever. It is a solid and reliable trigger with no loose parts, easy to install and handle, besides it's backed up by the manufacturer's lifetime warranty. If you need to do a lot of quick but yet accurate shooting go for Hit Remington 700 Trigger, you won't miss it.
2# Timney Triggers Remington 700 Calvin Elite Stage-2 Trigger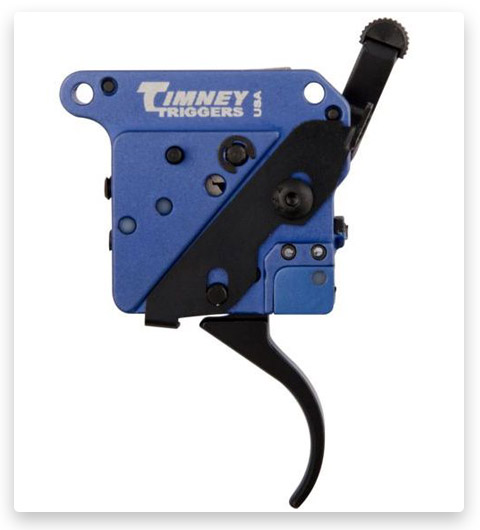 A couple of words about two-stage triggers in general. We've seen a lot of debates about single and two-stage triggers and their applicability for various shooting environments. We think that it's still up to the person that wields a gun which one to choose in the end. But we also believe that marksmanship and unhurried precise shooting are exactly where a two-stage trigger will shine. Let's start with Timney Calvin Elite Stage-2 trigger. It is performed in an anodized aluminum housing with all parts that are involved in the trigger mechanism made of steel, external elements can be either black or nickel-plated to your choosing. Besides the sear engagement and overtravel adjustments, there are two separate bolts for precise tweaking of trigger pull weight on every stage. The first stage pull weight is from 8 oz to 1.5lbs, and the second from 8 oz to 2 lbs and thus you have quite a good field for experiments. The trigger is firmly assembled and easy to install. The best choice if you want to start your experience with two-stage triggers.
3# TriggerTech Remington 700 Primary Trigger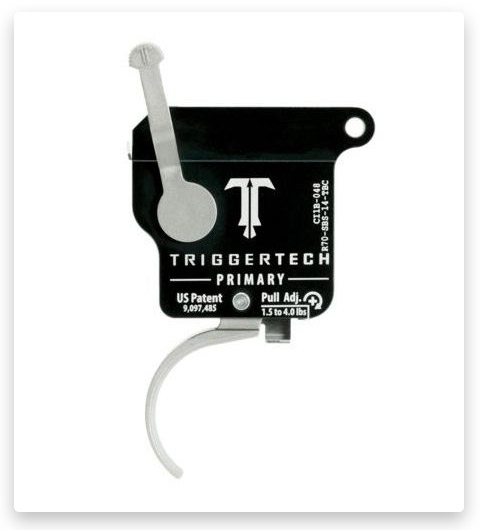 You can notice that Rem 700 trigger from TriggerTech has three manufacturing variants – Primary, Special, and Diamond (this is also applicable to some other models of triggers for bolt-action rifles). All of them feature branded technologies to provide extra comfort on every step of interaction from installing and adjusting to the process of shooting. You can see them as acronyms on the related product page and here we will unveil some of them. CLKR Technology means that you'll hear clicking sounds twisting the pull adjustment screw, simple yet very effective. Frictionless Release Technology (FRT) is based on the roller that makes the sliding between sear surfaces much more fluent and totally "creepless" in comparison with conventional stock triggers, it works in tandem with minimized overtravel for the steadiest aim possible. Rem 700 Primary trigger has adjustable pull weight from 1,5 to 4 lbs which is suitable for the majority of all-around hunters and amateur shooters. Last but not least is a thoughtful approach to the materials that have a direct impact on the trigger longevity – 440C hardened stainless steel for all moving parts and 7075 aluminum alloy for housing is really astonishing for the 150USD trigger.
4# Timney Triggers Elite Hunter Remington 700 Trigger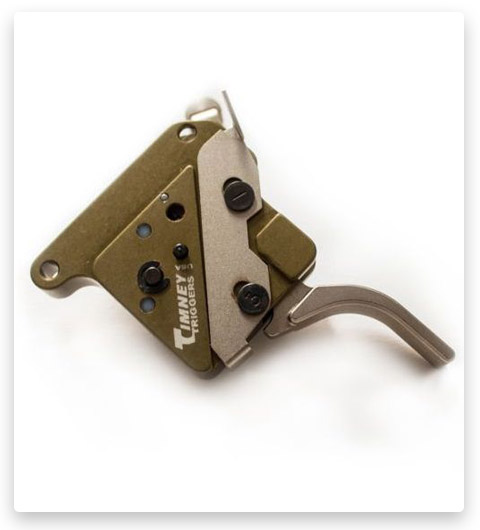 A quality yet affordable decision for the replacement of your hunting rifle's factory trigger. Besides the price, another forte of this model is in its variations as it can be ordered with either black or nickel-plated finish on its moving parts, left or right-handed, and with a straight or traditional trigger design. The pull weight adjustment can be factory preset from 1.5 to 4 pounds, however, it is fully adjustable before you install the trigger as well as the overtravel setting. This trigger features the usual combination of steel parts and aluminum housing and is going to have a very long life span if maintained right. We consider it to be a great all-around trigger made for hunting, with a sharp and clean break, a good range of pull weight adjustment that is appropriate both for shooting in gloves and with bare hands. And what is of the utmost importance and it doesn't hurt your wallet.
5# Timney Triggers Remington 700 2-Stage Straight Trigger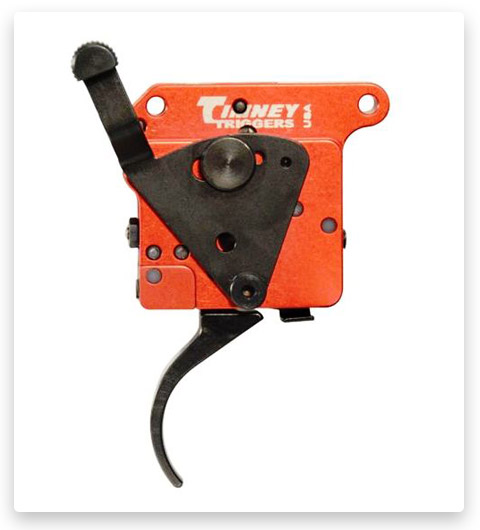 Another two-stage Remington 700 trigger from Timney Triggers. Performed in an anodized aluminum body with A2 tool steel moving parts that are Teflon-nickel coated to provide smooth frictionless work of the trigger mechanism. To increase the wear and corrosion resistance of external parts there is a bit pricier nickel-plated version. The adjustment screws allow you to set up the trigger pull weight for the first stage from 8oz to 1,5lbs and from 8oz to 2,0lbs for the second. It works extremely clear and breaks as glass after the perfectly tangible first stage's wall. However, keep in mind that the straight version is incompatible with Magpul hunter stock, always refer to the compatibility list before buying a trigger. Overall it is a great upgrade to get familiar with two-stage triggers. Top-level price to quality ratio.
6# Timney Triggers 520CE-A Calvin Elite Custom Remington 700 RH Trigger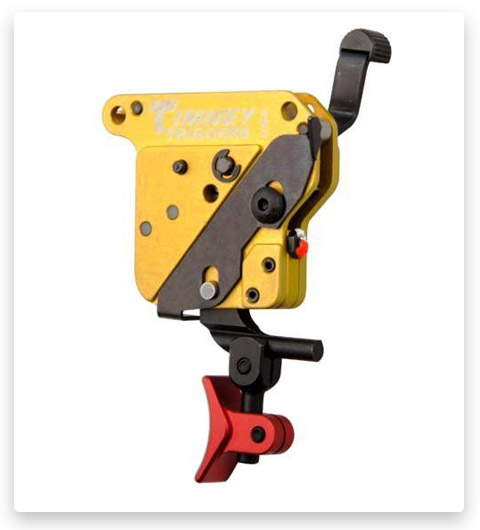 The first thing that catches your eye is the adjustability provided by the special joints that allow you to tweak the trigger shoe both on the vertical and horizontal axis. You can even set it up to an angled position. Pull weight (8 oz – 2 lbs), sear engagement, and overtravel (experts only!) are fully adjustable and thus this trigger becomes a great choice for any gun enthusiast that loves to tune everything to perfection. All moving parts are made of A2 tool steel that grants solid abrasion resistance, but this is definitely not the best choice for corrosion resistance. However, this characteristic is partially boosted by the Teflon-nickel coating (as long as it remains intact) and 6061-T6 anodized aluminum alloy housing. Overall it is a good and easy to install drop-in trigger appropriate for every action where light pull weight and customization are required.
7# Triggertech Remington 700 Trigger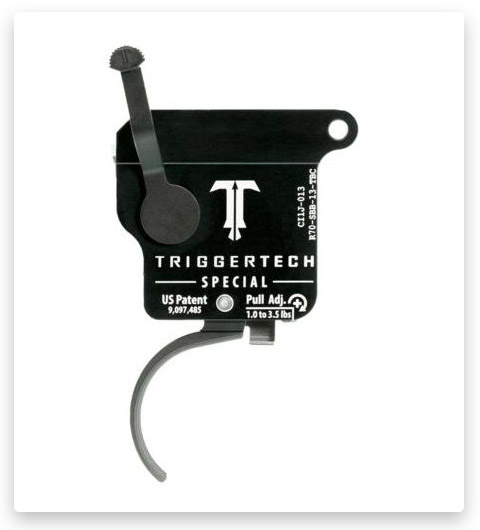 We've already introduced you to the junior of TriggerTech's Remington 700 single-stage triggers family – a well-known Primary model. This one is the middle brother that keeps all its family traits but comes with a more refined pull weight-adjustment with 1 oz regulation steps via CLKR system in 1-3,5 lbs range. This is a truly all-environment trigger that will withstand whatever nature has to throw at it, but now with PVD coated trigger and safety levers for ultimate longevity. Take it, drop it in and enjoy this dream trigger!
8# Triggertech Remington 700 Diamond Trigger

The elder brother of TriggerTech's Remington 700 single-stage triggers family – the Diamond model. Combining all the strong sides of his brethren it is the pinnacle of engineering with thoroughly matched internal components to provide the sub-4 oz trigger pull weights with extremely precise dynamic adjustment up to 32 oz, a must-have part of any competition or bench rest shooter. It won't turn a rookie into a marksman in a blink of an eye but expect the tighter groups even from inexperienced rifle users. Professionals and experienced enthusiasts could appreciate its merits to the full.
9# TriggerTech Remington 700 Special Trigger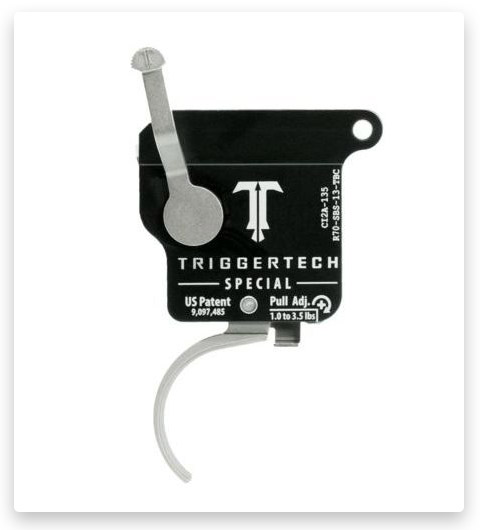 We can't get enough of exceptionally good TriggerTech Remington 700 Special Trigger and that's the reason we put it again in our review but this time with no PVD coating which will save you a whole 10$. 440C hardened stainless steel is good enough to put your trust in without any additional protection, however, with proper maintenance, it will serve you much longer.
10# Triggertech Remington 700 Two-Stage Special Trigger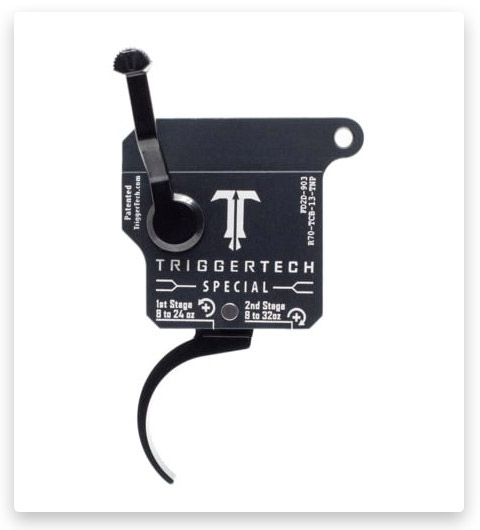 The first in the line of Rem 700 Two-Stage triggers, yet fully inheriting all TriggerTech's technologies and reliability. It doesn't matter what your occupation as a shooter is and the environment your rifle is used in, as this trigger can withstand everything. Externally adjustable pull weight goes from 8-24 oz for the first and 8-32 oz for the second stage that is rather versatile and will suit every Remington 700 operator from a hunter to a day-off shooter. A great all-rounder and one of the best choices to fully experience advanced two-stage trigger for a reasonable price.
11# Triggertech Remington 700 Two-Stage Special Trigger Pro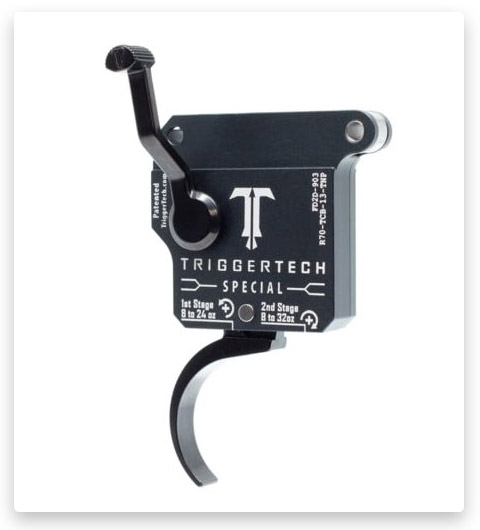 As in all its triggers, Triggertech puts a lot of attention into sealing them from dust and dirt that could get inside the mechanism. But even if it happens 440C Stainless Steel internal components surely can cope with this and withstand it until the next maintenance with no abrasive or corrosive damage at all. The main difference of the Pro version is in the trigger lever design. Pro Curved lever is a hybrid between Straight Flat and Curved that combines the feeling of a curved lever with a flat face to ensure trigger pulls are being consistently straight away from your intended target. We find the Pro trigger very comfortable to use, but the same could be applied to any of the trigger lever designs Triggertech features and thus it is up to you which one to pick.
12# Timney Triggers Benchrest Remington 700 Single Stage Trigger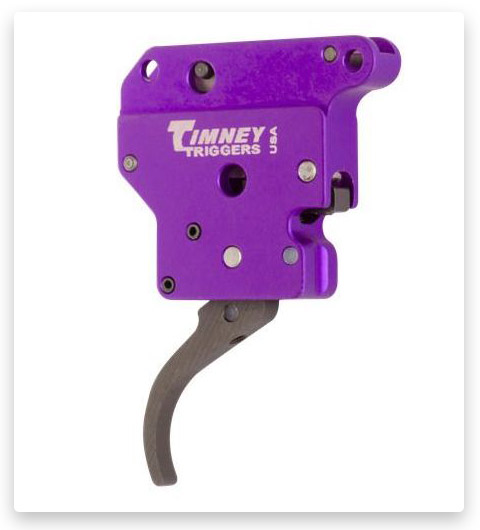 The name says it all. This trigger was designed especially for benchrest competitors. It means that there is nothing extra like the safety lever or the bolt stop, only the trigger itself and its adjustments. Speaking of which the pull weight can be tweaked in extremely light range only from 3 to 6 oz and it is externally reachable as well as the overtravel screw. If you never fired such a light trigger you definitely should practice getting used to the feeling that it goes off almost with no pressure of your index finger. The absence of some options that standard trigger possesses made this one very easy to install, so you're unlikely to stumble upon any difficulty even if you're a rookie. We see this trigger as a quality niche product that Timney created and that surely will find its fans among bench rest shooters.
13# Triggertech Remington 700 Diamond Trigger w/ Bottom Safety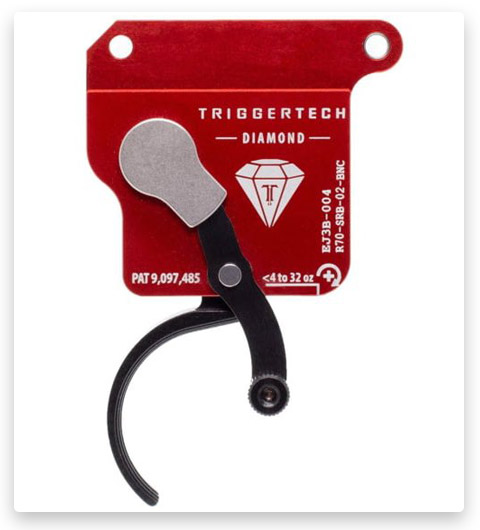 For the cases when you don't want to go for a standard safety lever location due to larger action or other reasons, TriggerTech offers you the bottom safety lever inside the trigger guard. You must first push your finger forward to take the safety off and then pull the trigger lever in order to perform a shot. Available with Curved, Flat and Pro Curved design with sub-4 to 32 oz trigger pull weight it is a true marksman's competition trigger for those who stick to single-stage ones. Diamond version is always a pinnacle of Triggertech's engineering, so expect a flawlessly working and reliable product.
14# Triggertech Remington 700 Two-Stage Diamond 2 Trigger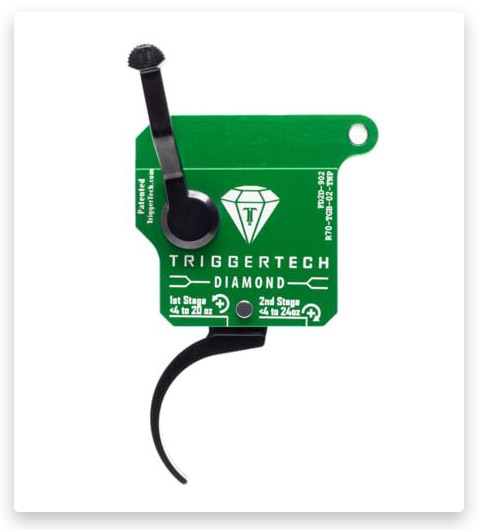 The ultimate trigger for competitive shooting – that's the role that is predefined for all Diamond triggers. Mechanism parts of this trigger were matched to grant you outstandingly precise pull weight adjustment for both of its stages from 4-20 oz and 4-24 oz relatively. Like its kin, the Two-Stage Diamond Trigger is built in 7075 anodized aluminum housing with all wear components made of 440C Stainless Steel. It features the same unmatched 4 points of safety and other technologies like FRT, TKR, CLKR that we mentioned before and no bolt release option for this model. This trigger provides the unique satisfying feeling of an incredibly clear brake with zero overtravel. It is a great complement to every marksman's rifle for top precision and durability.
Conclusion 
We're sure that everyone has already outlined the most appropriate and appealing Remington 700 trigger among those we've listed here. Assignment and application may vary but one thing remains common for all of them – these are top-notch triggers from the best manufacturers, they are safe, quality, and thoroughly elaborated. For ourselves we've outlined the following trio: 
We wish you steady aim and tight groups. Stay safe! 
FAQ