Affiliate Disclosure: AmmoCave.com sometimes gets paid for listings, through sponsors or affiliate programs like Lucky Gunner, Optics Planet, Brownells, Cabelas, Academy Sports & Outdoors, Rainier Arms, Palmetto State Armory, Sportsman's Guide, Ammo.com, Ammo Man, Primary Arms, MidWayUsa, Amazon, eBay, etс. Clicking a link helps keep AmmoCave.com free, at no extra cost to you!
Authors: Each article is verified by AmmoCave's expert team. Professional hunters, firearm trainers, gunsmiths, and gun experts write the articles. AmmoCave Team independently researches, tests, reviews, and uses recommendations from our community of gun owners. We may earn commissions from shopping links.
Note: The views and opinions expressed in this article are those of the authors and do not necessarily reflect any agency's official policy or position. The articles are for informational purposes only, share your opinions about CMC Triggers 2023 in the comments and join the discussions. Let's share 💬 our ammo & gun experiences together!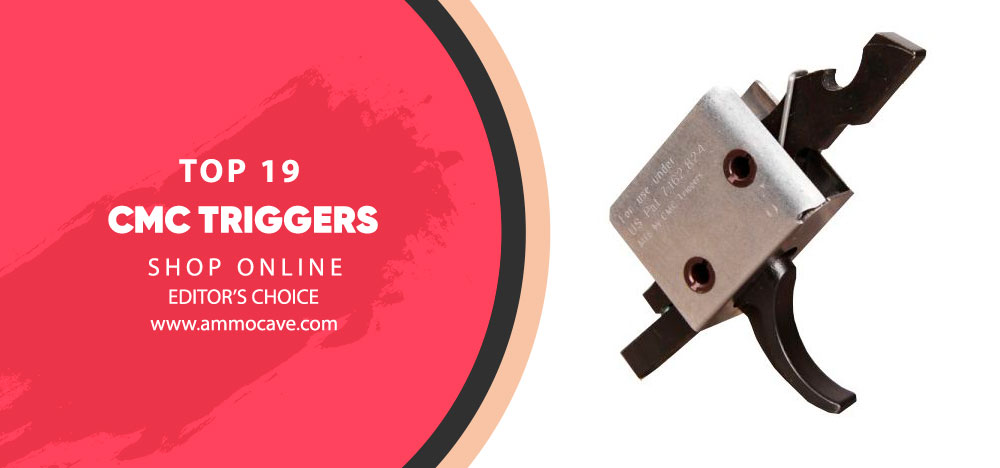 What is a CMC Trigger? 🔍
It is a drop-in trigger assembly for firearms produced by the CMC Trigger company. These triggers are designed to provide a smoother, lighter, and more consistent trigger pull than the stock trigger that comes with most firearms.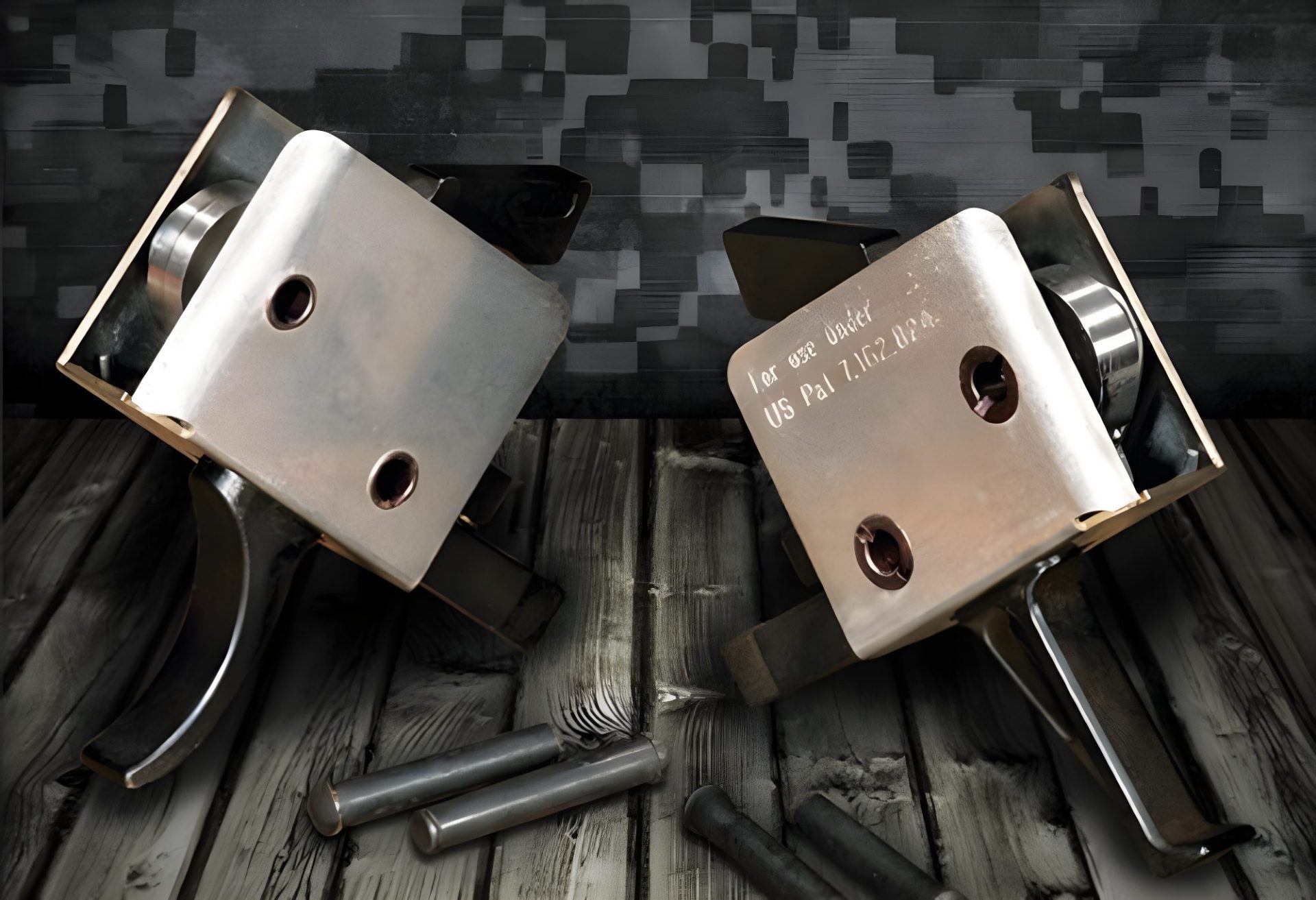 Features 💎
💣 Precision-machined from high-grade materials
💣 Available in single-stage and two-stage designs
💣 Adjustable for overtravel and reset
💣 Drop-in installation for easy installation without gunsmithing
💣 Compatible with a wide range of firearms platforms
Our Top Pick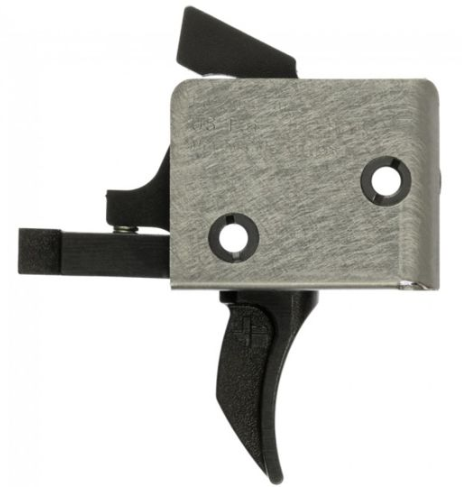 OpticsPlanet Exclusive CMC Triggers
Not only does this preset trigger feel smoother when pressing, but it also returns faster and produces a much more precise break. Therefore, replacing your current one is definitely an advantageous decision.
Buy Now On OpticsPlanet
If you click this link and make a purchase, we earn a commission at no additional cost to you.
Benefits 🔐
| | |
| --- | --- |
| ⚡️ Provides a smoother, lighter, and more consistent trigger pull compared to stock triggers | ⚡️ Enhances safety by reducing the risk of accidental discharges |
| ⚡️ Reduces trigger fatigue, improving accuracy and speed of follow-up shots | ⚡️ Allows for faster and more accurate shooting in high-stress situations |
| ⚡️ Increases trigger control and confidence for shooters of all skill levels | ⚡️ Improves overall firearm performance and reliability |
Our Top Pick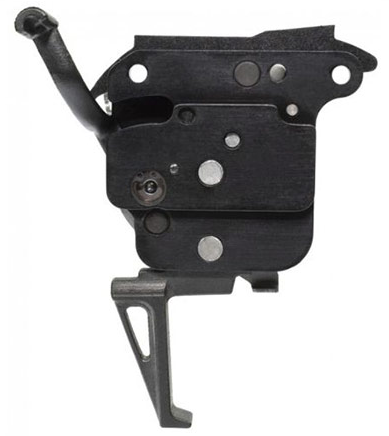 What are the types of CMC Triggers?💡
🔔 Here are some of the most popular types:
🔗 CMC Single Stage Trigger ➜ features a smooth, crisp trigger pull with a consistent break. It is designed for easy installation and does not require any gunsmithing.
🔗 CMC Two-Stage Trigger

 ➜ features a two-stage design that allows for a more precise and deliberate trigger pull. It is ideal for precision shooting and long-range applications.
🔗 CMC Flat Trigger

 ➜ features a flat face design that provides a wider surface area for the shooter's finger to rest on. This can help improve accuracy and control, particularly during rapid fire.
🔗 CMC Curved Trigger

 ➜ features a traditional curved design that is comfortable for most shooters. It is available in both single-stage and two-stage configurations.
🔗 CMC AK Elite Trigger

 ➜ is designed specifically for AK-47 rifles and features a lightweight, high-performance design with a crisp trigger pull and short reset.
🔗 CMC Glock Trigger

 ➜ is designed specifically for Glock pistols and features a drop-in installation and a crisp, clean trigger pull.
Our Top Pick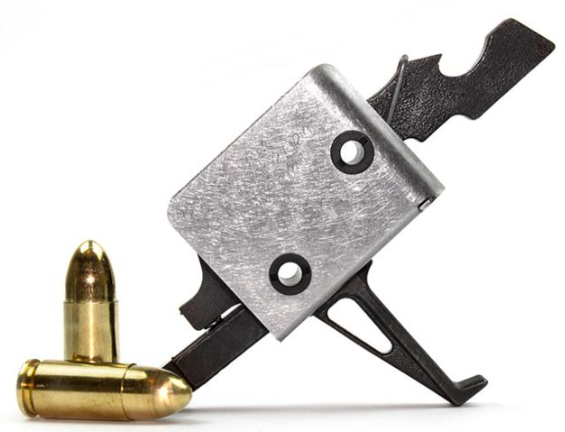 CMC Triggers AR-15/AR-10 9mm PCC Single Stage Drop-In Trigger
Step into a whole new world with the CMC Triggers for the AR-15 / AR-10 9mm PCC Single Stage. The extreme smoothness of pressing will bring you back to sweet memories, while its versatility and speed when using ammo is sure to rock your socks off!
Buy Now On OpticsPlanet
If you click this link and make a purchase, we earn a commission at no additional cost to you.
Top 19 🎯 CMC Triggers
1# OpticsPlanet Exclusive CMC Triggers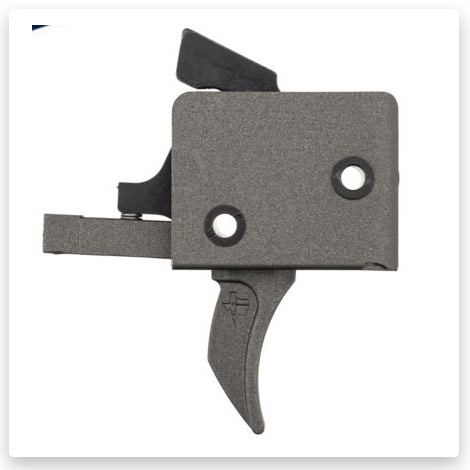 CMC Triggers AR-15 / AR-10 is another great alternative to replace the annoying mil-spec trigger. The preset trigger does not differ in the softness of pressing, the speed of return, or the clarity of the break, so replacing it is a necessity. To get a significant increase in comfort, you do not have to shake the last money out of your wallet, because this offer has everything you need and at a good price.
Like most CMC Triggers products, it uses 8620 alloy steel and S7 tool steel for impact parts. The balanced ratio of hammer weight and spring rate ensures minimal lock-up times and freedom of choice between commercial and military-grade ammunition. Machining tolerances do not exceed + / .001″, which means precision and manual quality control create a product with a high level of quality and reliability. The trigger is drop-in and requires only small Anti-Walk pins (.154), which are added to the kit.
In this offer, you will find two triggers and curved hammers at once. By choosing "Tungsten Cerekote" you can save a little while the discount is valid, but you need to hurry up. Otherwise, the single-stage trigger works as advertised, smooth and crisp break, short reset, and a significantly better feel. The launch weight is already preset at 3.5 pounds and cannot be adjusted by the user. This trigger is compatible with all MIL-SPEC AR-15 and AR-10 rifles (except Colt from 1991 to 2009 because it uses a large pin). Installation is quick and does not require any special knowledge or skills. Just follow the instructions (included in the kit) and you will succeed.
2# CMC Triggers AR-15/AR-10 9mm PCC Single Stage Drop-In Trigger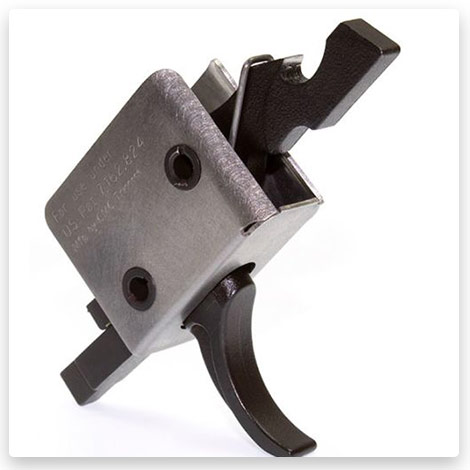 This trigger will show your weapon from a new perspective. Everything you've experienced before may be rubbish compared to the CMC Triggers for the AR-15 / AR-10 9mm PCC Single Stage. The smoothness of the press will bring you back to memories of the first date and the first kiss, and versatility when using ammo and the speed of dropping will show what real rock and roll is. This trigger is optimized for 9mm caliber but can be used with other AR-15 / AR-10 rifles.
Just like other triggers from SMS, this one is constructed from 8620 alloy steel and S7 tool steel. Machining tolerances are only +/- 0.001 inches, which is comparable to the best military specialty products. A special feature of the CMC PCC trigger is the resized size, which makes the trigger compatible with bolt holders from different manufacturers. A one-stage push will require over 3.5 pounds of resistance, but this is the upper limit. You will most likely get a trigger with lower trigger weight, closer to 3 pounds, and this is not adjustable. Since it is a Drop-in Trigger, the setup is simple and very fast. All you need to do is follow the directions in the instructions and use the CMC Anti-Walk pins (small, large, and M&P 15/22) that are included in the kit.
3# CMC Triggers AR-15/AR-10 Trigger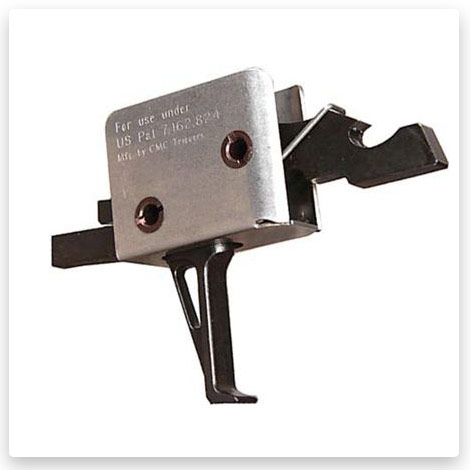 A "good" trigger becomes only when the declared quality fully meets the price and even exceeds it. Therefore, SMS relied on accuracy and attention to every element of the design to exceed all the expectations of skeptics. By purchasing this premium trigger you expect to get more than a trigger. These are the smoothness of pressing, short travel, minimal trigger weight, breakage like glass, and slightly perceptible creep. What else do you need to make your groups shrink to a minimum?).
This trigger is created according to the classic recipe from SMS. Reliable components are assembled into a single drop-in unit. You can install everything yourself, without the help of a gunsmith and without spending additional money on it. Even if you are a beginner it only takes about 15 minutes and turns out to be like an easy walk.
To find your specific place in the trigger market, you had to set specific goals. The recommendations of the three best shooters were taken as a technical task and the new trigger fully satisfied their needs for training and competition. A light trigger weight of about 2.5 pounds allows you to focus on the target rather than aiming. When your favorite AR-15/10 rifle fulfills your intentions from the first touch, it's a damn good feeling.
Whether you choose a straight or curved trigger model, you get an aluminum body and steel core trigger. The patented Drop-in design is fully compatible with Mil-Spec pins. In the kit, you will find two set screws, which make the installation of the pins even easier.
4# CMC Triggers AR-15/AR-10 Rifle Drop-in Trigger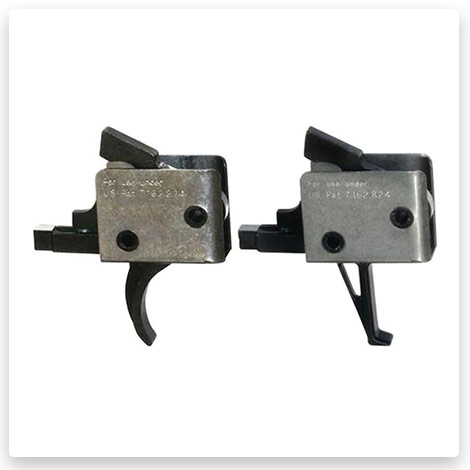 The 3.5 lb single-stage trigger is already a good replacement for the base kit. But when you know that this is a trigger from SMS, you are sure of its reliability and you know for sure that you are not overpaying for a "loud" brand name.
Like all CMC products, this trigger is crafted (hand-tested) from 8620 alloy steel and S7 tool steel. The most important difference from competitors who use EDM in the manufacture of components is a unique patented processing method. This makes it possible to achieve a surface roughness of 1-2 RMS, which is very close to mirroring smoothness.
In terms of user experience, the trigger works as expected (good and reliable). It has a solid wall, a clear break, and a very short reset. As an additional argument, the set has already added pins that prevent walking. At a minimum, this allows you not to make an additional purchase.
The only feature you should be aware of is "design features". 4 small screws are used to fix the pins, to fix from multiple sides. If that doesn't bother you, this trigger is for you. In general, the installation will not take more than 10 minutes, even if you are new to gunsmithing. By the way, you can choose between straight and curved triggers and even choose a trigger with small or large pins (depending on the bottom of your rifle).
5# CMC Triggers AR-15/AR-10 Duty/Patrol Trigger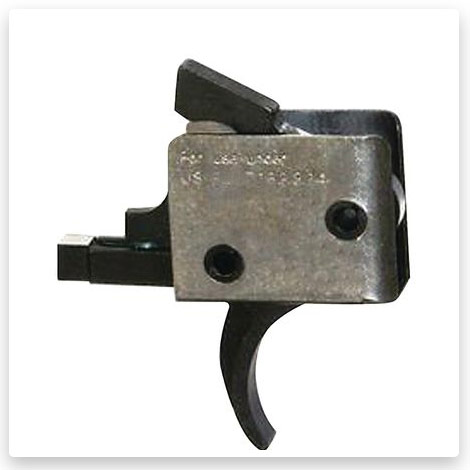 A good trigger can be any trigger weight, from super light to moderately heavy. The only condition to which he must comply is the preferences of the shooter. High sensitivity reduces safety, excessive resistance makes shooting uncomfortable. The CMC Triggers AR-15/AR-10 Duty/Patrol Single Stage Trigger Module solves this problem simply and strikes a balance in this multitude of combinations.
This single-stage trigger cannot be adjusted after the final tests, so it is necessary to determine the desired pulling force in advance. Preset trigger weights are available: 3.5, 4.5, 5.5 and 6.5 pounds and there are options in shoe shape (curved/tactical straight) and even locking pin sizes. If you have specific preferences, be sure to tell the manager about them. If you don't, you will (most likely) end up with a 4.5-pound trigger with small pins.
While using the trigger, you can expect a smooth and short travel, a crisp break, and a noticeable positive reset with about 1/8″ of travel. At the same time, the collection is felt tactilely and with an audible signal. The trigger is pleasant and comfortable to press. The front side is wide enough and has good edges.
If you want to increase your accuracy and reduce groups to 2-3 inches at 200+ feet – add this product to your wish list. All the same quality and precision workmanship, affordable price, and it's all inside a stand-alone one-piece assembly. In addition, this lot has an absolutely impeccable reputation, which is another argument in favor of updating the current trigger.
6# CMC Triggers AR-15/AR-10 Match Grade 2-Stage Trigger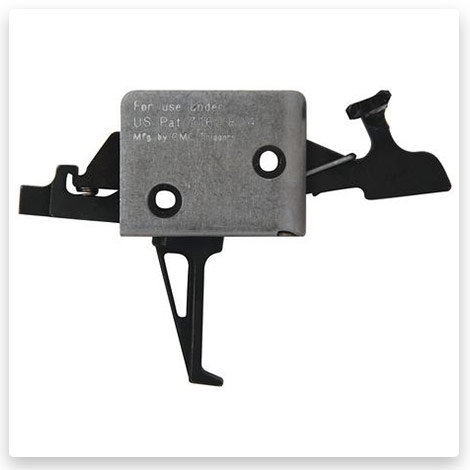 Accurate shooting over long distances requires maximum concentration. The shooter must have complete control not only of his weapon but also of his breathing and even his heartbeat. To get the best result and show maximum accuracy – professionals recommend using two-stage triggers. They allow you to go halfway through the pressure and adjust the rifle again, before the shot itself. This trigger from CMC is designed to do just that.
7# CMC Triggers AR Single Stage Trigger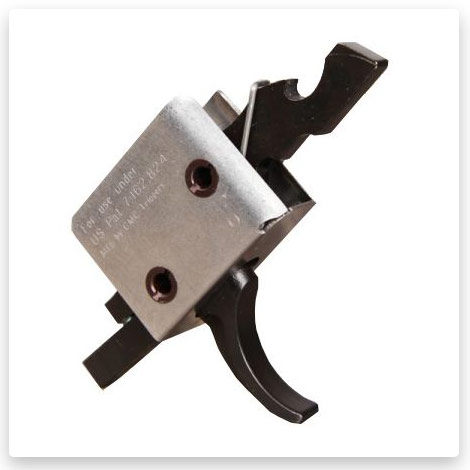 Upgrading the base AR15/10 can consume an unreasonable amount of time and money. To feel a significant difference in accuracy and increase the pleasure of the shooting process, it may be enough to replace the preset trigger. MIL-SPEC does work, but it's not enough for advanced shooters. The trigger must be 100% reliable and completely predictable. If you like (for example) a 3.5-pound push, then it should be just that, no grit, no slippage, no misfires. Even if you combine using 9mm commercial or military-grade ammunition, you will love this one-step trigger.
Modifications to this trigger allow it to be installed in rifles with a large and small pin receiver and an M&P 15/22 trigger. You can choose between 3.5, 4.5, 5.5- and 6.5-pound drawbar weights to suit your preference. The CMC 95503 is designed for 9mm AR firearms, so the choice of ammunition must also be considered here. Installation is simple and fast. The necessary pins are already included in the kit, which means that your investment has been effective.
Otherwise, it's all the same hardy hard worker with whom it's really fun and pleasant to spend time. Therefore, your rifle will not be able to lie on the shelf for a long time and will make you fork out for ammunition.
8# CMC Triggers AR Match Grade 2-Stage Trigger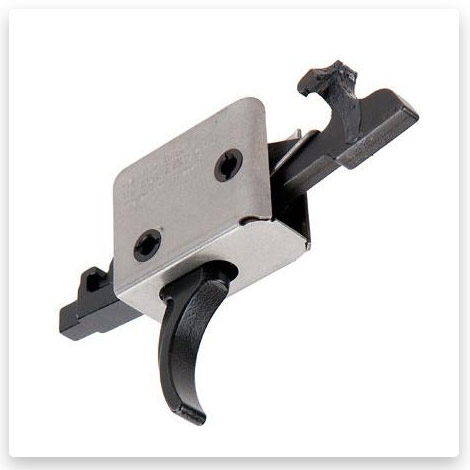 The 2-Step Trigger is the perfect solution for target practice or pre-competition preparation. Since the length of the trigger travel (for most secondary triggers) is already minimal, additional separation of this path with a change in pull weight improves the actual accuracy by more than 25-50%. Before the bullet starts, you can make final adjustments and show your best score. This is exactly what CMC Triggers AR Match Grade 2-Stage Trigger was created for. With it, you can choose the transition that is best for you and always remain an accurate shooter.
The peculiarity of this match class trigger is the separation of the first ("installed") and second ("release") stages of combination thrust. CMC Triggers has a fairly large line of pull scales: 1lb-3lb, 2lb-2lb, 2lb-4lb, 2lb-5lb, 2lb-4lb and 6.5lb. With such an assortment, you can easily find a suitable option for yourself.
In keeping with CMC's tradition, these triggers are manufactured from S7 tool steel and 8620 alloy steel with machining tolerances of +/- 0.001 inches. The entire design goes through a cycle of manual testing and receives the final characteristics at the factory. Once packaged, the trigger can no longer be modified or reconfigured.
To make the ultra-sharp trigger for MIL-SPEC AR-15 and AR-10 rifles even better, modifications allow the use of small and large pins (and M&P 15/22). Anti-Walk pins will be waiting for you in the kit, CMC Triggers kindly adds them to each box. By following the simple instructions (which are included in the box) or the official video, you can do everything yourself without resorting to gunsmiths. As it is a completely self-contained one-piece assembly, all you have to do is insert it into the bottom of your rifle, install the pins and press them down with small screws. It is difficult to think of an easier way to replace it.
9# CMC Triggers Match Grade Trigger for Ruger 10/22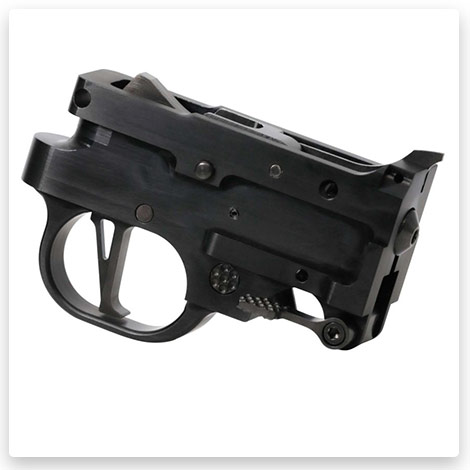 The AR10/AR15 rifles are certainly popular, but they're not the only shooters' favorites. Ruger 10/22 is a very common standard and is often used in hunting and competition rifles. A good trigger will not only expand the capabilities of the weapon but also make the shooting process really enjoyable. That's exactly what the CMC Triggers Match Grade Drop In Trigger for the Ruger 10/22 was made for. This update is your way to show the status of your weapon, how valuable it is to you.
The 8620 alloy steel and S7 tool steel components of this trigger are precision machined. Assembly, adjustment to 3.5 pounds of thrust, and testing are done only by hand directly at the factory (Texas). This allows you to fully guarantee the lifetime performance of each trigger.
Of the features of the trigger, one can note the combination of the trigger mechanism together with the magazine receiver with ammunition. As a result, this affected the automatic bolt drop in the open position and an improved bolt release button. The store unlock has also received due attention. Here you will find double-sided textured paddles for maximum comfort even when wearing gloves.
Otherwise, this is a completely self-contained build with excellent survivability and a lifetime warranty. Choose between a recurve bow and a tactical flat and enjoy new experiences and new marksmanship.
10# CMC Triggers AR Duty/Patrol Single Stage Trigger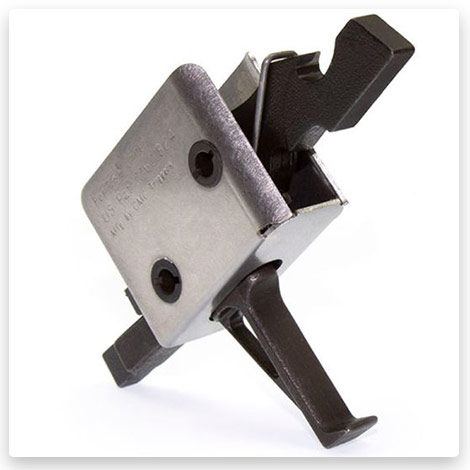 MIL-SPEC preset triggers are a headache for many shooters. It does work, but the grit in the pull, slippage, and excessive trigger drag create an uncomfortable feeling. To fix this, just look at the many offers of the secondary market. CMC Triggers AR Duty/Patrol Single Stage Trigger Group combines the improvement of all basic aspects, but at the same time does not make your wallet lose a lot of weight.
The confusion in the description may mislead you. This group of single-stage triggers is calibrated for 5.5 and 6.5 lb pull weights and features a tactical flat, traditional curved trigger. Otherwise, these are the same components made of 8620 alloy steel and S7 tool steel. The reactive wire spring activates the hammer with enough force to handle commercial or military-grade ammunition normally. And of course, there is no feeling of creep and sand. Everything works as advertised.
Since this trigger is a completely self-contained assembly, installation is very simple and does not require complex manipulations. The CMC Anti-Walk pin set is already included in the box. All you have to do is add the trigger to your wishlist.
11# CMC Triggers AR15 Curved Match Trigger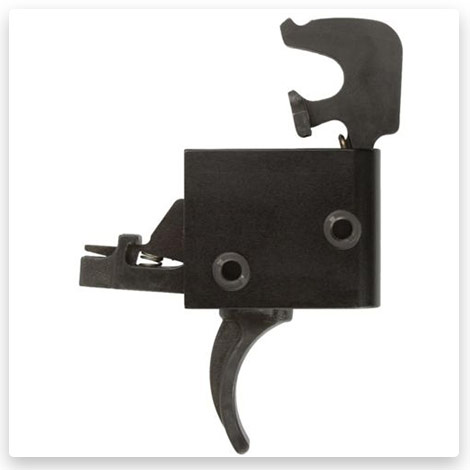 Weapon components intended for the military and law enforcement agencies are always a step above civilian products. This is due to increased requirements for safety and reliability, but with strict compliance with all performance characteristics.
The semi-automatic mode turns this two-stage trigger into something truly incredible. In fully automatic mode, CMC Full-Auto provides a smooth, continuous trigger pull and a sharp release of the hammer. For a full trigger symbiosis with your weapon, the rifle must have a fully automatic action group. This will work quite correctly and flawlessly, but you will only be able to enjoy fully automatic mode if you have an FFL build and you were able to find a way out of the legislative ban. The paradox is that it is absolutely legal to sell and buy such triggers, but there are restrictions for using them in automatic mode.
In addition to the usual components of 8620 alloy steel and S7 tool steel, an additional secret is hidden here. The sear overlap of CMC triggers is 6-8 times greater than many manufacturers. This increases the durability of the trigger to the "immortal" level, which means safety and reliability at the highest level.
Admirers of classic curved triggers will be pleased with the traditional shape of the shoe. Smooth pressing and ultra-clean break will not leave you indifferent. Optimal blocking time and instant positive reset leave only pleasant pressing sensations. An additional set of CMC Anti-Walk pins will also please you. The price might bite you, but being able to full-auto fire from a military-grade trigger is well worth the money.
12# CMC Triggers AR15 Single Stage Flat Match Trigger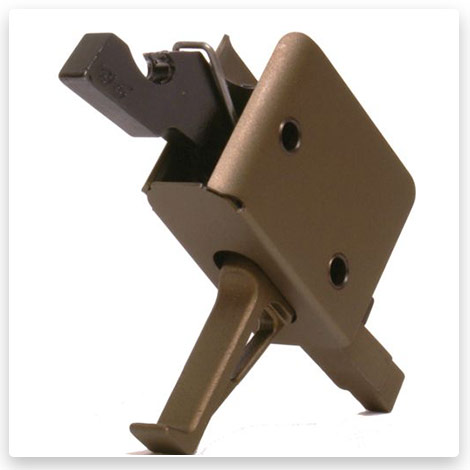 If your trigger requirements go beyond mere reliability and good looks are important to you, consider the CMC Triggers AR15 Single Stage Flat Match Trigger. The burnt bronze color has a slight matte sheen that highlights the trigger status and makes your AR15/10 build even prettier.
The external beauty and elegance of the trigger are complemented by the internal strength of the components. The internal parts are made from durable 8620 alloy steel and the impact parts are made from S7 tool steel. Minimal errors and smoothness close to a mirror make the trigger durable and very hardy. CMC engineers had to work hard to make this trigger truly innovative and standalone. Increased strength indicators required additional investments, but after optimization, it was possible to maintain a competitive price.
The dynamics of pressing the trigger cause only pleasant emotions. Creep is completely eliminated, the break is as clear as glass, and the pull weight is only 3.5 pounds, which is quite pleasant for beginners and advanced shooters. Minimum block time and positive reset allow you to enjoy dynamic firing of military and commercial-grade ammunition. The trigger design is "monolithic" and does not provide for adjustment after factory calibration and testing. When choosing this product, you can get pin sets: small, large, and M&P 15/22. The kit also comes with instructions that make installation a breeze.
13# CMC Triggers Ultra Precision Remington 700 Rifle Trigger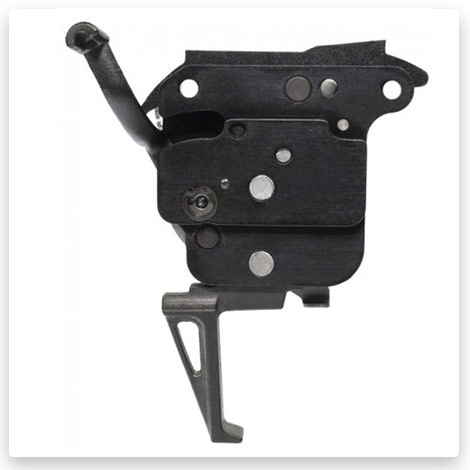 For Remington 700 owners, there is a really interesting offer that is designed to significantly improve your life. Introducing the Ultra Precision Remington 700 Rifle Trigger. Great traction range, good looks, and a solid safety system, all in a neat nitride-coated 7070 T6 aluminum body.
To create this trigger, the experience of developing triggers for AR was taken as a basis. The design is designed so that the patented Dynamic Center Locking System (OCD Locking System) completely immobilizes all active trigger components. In addition, the concept of the fire control system was redesigned. Now the locking mechanism does not only affect the sear, but the material of the components has become much stronger (cast from S7 steel) and the setting of the traction weight no longer affects the safety mechanism. Additionally, all components are coated with a proprietary blend of advanced PVD and hexagonal boron nitride. After processing, the resistance of the trigger to corrosion increases many times, and the coefficient of friction between the parts becomes as low as possible.
Trigger adjustments can be made from 8 ounces to 3.5 pounds without removing the bolt from the stock. You get an adjusted trigger for 2.5 lbs of pull weight as standard, but in just a moment this can be easily fixed. It is also easy to install, for which additional tools are not needed. But for even more friendliness, the engineers were able to simplify the installation process by adding a built-in shutter latch.
The trigger feels light and reliable. With this trigger, long-range shooting (or hunting) becomes even more enjoyable and productive. Definitely worth your money.
14# CMC Triggers AR15 Single Stage Curved Match Trigger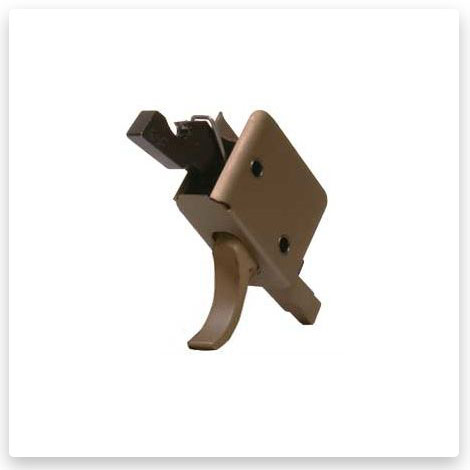 Take your shooting to the next level with the CMC Triggers AR15 Single Stage Curved Match Trigger. This high-performance trigger is designed for competitive shooters who demand the utmost precision and accuracy. The single-stage design ensures a crisp, clean break every time, while the curved shape provides a more comfortable feel during firing. The trigger is also finished in a durable burnt bronze finish that adds a touch of style to your rifle. Whether you're looking to improve your shooting skills or simply want to add a little something extra to your gun, the CMC Triggers AR15 Single Stage Curved Match Trigger is a perfect choice.
15# CMC Triggers – AR Combattrigger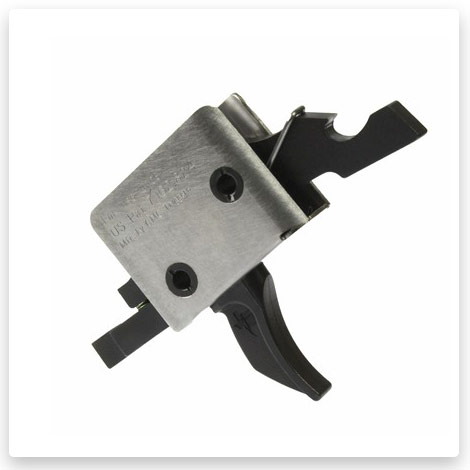 The AR Combat Curve by CMC Triggers is a new generation trigger with an improved and innovative design. Designed specifically for the AR .308 and AR-15 platforms, this one-stage trigger comes with signature anti-walk pins and is a great addition to any build.
Since the main trigger concept has been revised, updates have been directed towards increasing the number of trigger cycles. For this, the sear overlap was increased by 6-8 times (relative to competitors). This provides a much safer descent and significantly increases the endurance of the trigger. All trigger components are cast from 8620 alloy steel and S7 tool steel and machined to +/-.001" tolerances. The trigger is hard to beat on price and (probably) impossible to beat on quality.
The appearance of the trigger is not the pride of the owner. First of all, this is a part for installation inside a rifle, which means that a glossy / matte finish of the body is not required here at all. The curved trigger has a classic curve and an additional stiffening rib on the backside. Clicking is smooth, with a clean break and instant reset. The trigger pull is 3.5 pounds and cannot be adjusted by the purchaser.
This could be a great motivational gift for any AR .308 and AR-15 owner. CMC Triggers gives a lifetime warranty on their products and prices are still affordable. Time to rethink this offer, because it's incredibly hard to surpass a deal.
16# CMC Triggers – AR-15 Tactical Blk Trigger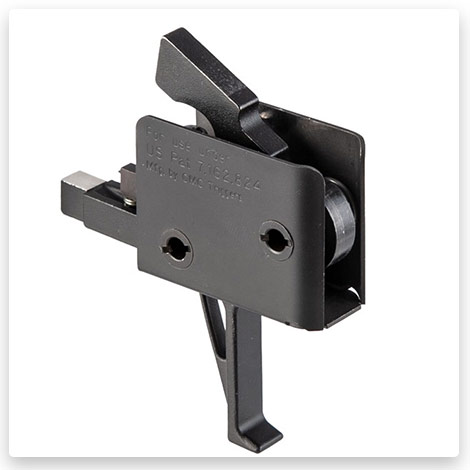 This trigger was designed for the AR-10 .308 win / AR-15 and is only available from Brownells. For this exclusive, Brownells and CMC Triggers partnered and developed together. The single-stage trigger received all the advantages of its brothers from CMC Triggers and was called the "AR-15 tactical blk trigger". Nice design, good performance, and competitive price have earned this trigger a place in here.
Among the design features of the trigger, the addition of a Rocket Wire spring can be noted. With its help, even hard capsules can be perceived normally by the rifle, and the quick locking increases the potential of the entire assembly. The rest of the components are still cast in 8620 alloy steel and S7 tool steel. The entire production run has also been redesigned, so machining tolerances remain extremely tight (+/- 0.001 inches). Thanks to this, there is no backlash and rattle in the triggers.
The AR-15 tactical blk trigger has a flat arc trigger and gives you full control over your pull. The 3.5 lb. pressure is non-adjustable, which is optimal for long-range shooting (over 200 ft.) at the range or while hunting. Short stroke, crisp break, and positive reset will not leave you indifferent. If you are still using the mil standard, now is the time to fix it.
17# CMC Triggers – M16 Full Auto Triggers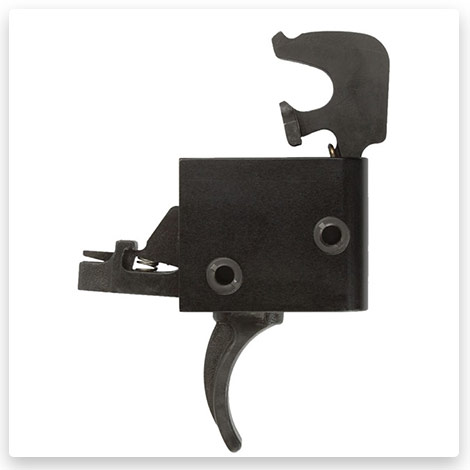 Strict restrictions on civilian ownership of fully automatic rifles (M16) under NFA regulations have been in place since 1986, but restricted does not mean prohibited. Even military and law enforcement weapons require high-quality components and aftermarket upgrades to keep combat effectiveness at a maximum level. It may not be the biggest segment of the market, but CMC Triggers really tried and managed to create a worthy improvement for the legendary rifle.
The main difference between this trigger and other CMC products is, of course, the switch between single shots and fully automatic mode. When the selector switch is switched to full auto, the trigger retains a smooth pull and will instantly stop firing when released. You will also have the option to switch steps. With single-stage push mode, the pulling weight will be 4.5 lbs. The 2-stage weights start with 2 pounds of resistance and add another 2.5 pounds to bridge the gap. If you reduce the traction force during automatic shooting, you will be able to receive short bursts and send a bunch of bullets to the target and not a whole clip.
The rest of the CMC Triggers M16 Full Auto Trigger has positive reset, smooth running, and good durability. The anodized aluminum housing creates a monolithic structure ready for installation at any time. The kit also includes a set of anti-walk pins, instructions, and a lifetime warranty.
18# CMC Triggers – AR-15 Two Stage Triggers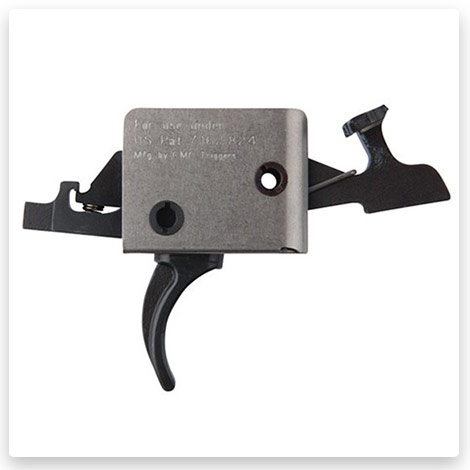 If you need a trigger upgrade for your AR-15, look no further than the CMC Triggers Two Stage Trigger. This easy-to-install trigger replacement will give you a much smoother, more consistent pull with a clean break and short reset. It's perfect for competition shooting and other applications where precision is key. The CMC Triggers Two Stage Trigger is based on the drop-in trigger module originally designed by competition shooter Chip McCormick. It provides all the advantages of a fine, match-grade trigger without the need for hand-fitting or trial-and-error. These triggers come in a variety of first ("set") and second, ("release") stage pull weights, so you can choose the combination that best suits your needs. You can also choose between a traditional Curved trigger shoe or an eye-catching Flat shoe with a different finger-to-trigger feel that some target shooters prefer. Either way, you'll be getting a huge upgrade in performance from your stock trigger. So don't wait any longer, order your CMC Triggers Two Stage Trigger today!
19# CMC Triggers – AR-15 Tactical Trigger Group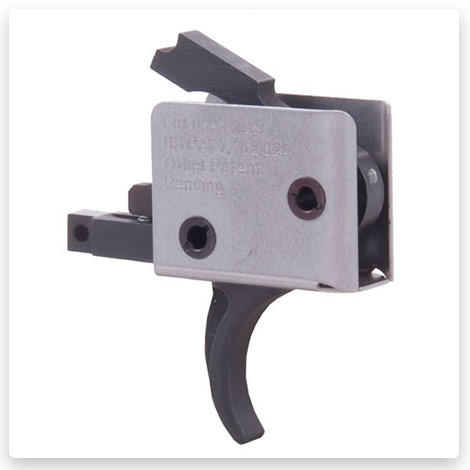 Looking for a crisp, clean trigger pull with a consistent pre-set pull weight? Look no further than the CMC Triggers AR-15 Tactical Trigger Group. This self-contained, drop-in trigger module replaces the heavy factory trigger found in many commercial AR-15s, providing a lighter, smoother pull that's perfect for competition shooting. The rigid steel trigger housing holds all the factory-tuned internal components in proper alignment for easy, fast installation, while the generous, precision-ground sear/hammer engagement surfaces provide a remarkably clean, crisp release. Add in reliability and easy installation, and you've got the perfect upgrade for your AR-15. Order yours today!
CMC Triggers: Single vs. Two Stage ⚔️
⛓ CMC Triggers are available in both single-stage and two-stage designs. 🔐 Here are some of the key differences between the two:
📍 A single-stage trigger is designed to have a consistent trigger pull throughout the entire length of the pull. This means that when you press the trigger, the trigger weight will be consistent from the beginning to the end of the pull, and the trigger will release the hammer or striker as soon as you apply enough pressure.

📍 A two-stage trigger

is designed to have a two-part trigger pull. The first stage takes up the slack or travel in the trigger, while the second stage is where the trigger breaks and releases the hammer or striker. This two-stage design allows for a more precise and deliberate trigger pull, which is ideal for precision shooting and long-range applications.
💣 The main benefit of a single-stage trigger is simplicity. It is generally easier to use and requires less training to become proficient with. Single-stage triggers are ideal for applications where speed is a priority, such as in tactical or self-defense scenarios.

💣 The main benefit of a two-stage trigger

is increased accuracy. The first stage allows you to take up the slack and prepare for the shot, while the second stage provides a clean and consistent break, reducing the likelihood of jerking or flinching the trigger.
🎥 Hope the video will be helpful for you:
📢 Overall, the choice between a single-stage and two-stage CMC Trigger depends on your individual shooting needs and preferences. 📌 If you prioritize speed and simplicity, a single-stage trigger may be the better option, while if you prioritize accuracy and precision, a two-stage trigger may be the better choice.
FAQ 🤔
Conclusion 🧾
In this buyer's guide, we reviewed some of the best CMC triggers and shared some tips on what types of them there are, and some reviews about each option. Hope you have found it useful and informative. If you have any questions or feedback, please, let us know in the comments section below. Thank you for reading! 😉❤️
Tags: #cmc triggers / #cmc triggers amazon / #cmc triggers glock / #cmc triggers review / #cmc triggers for sale